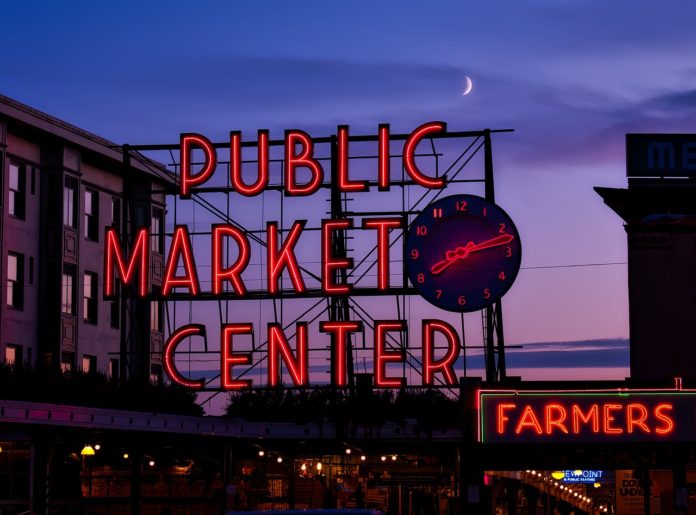 Hey there! This post contains affiliate links.  Using my links means I earn a commission, which helps me create more rad content.  More on affiliates here.
I love traveling (I'm BFFs with several major airlines, as my banking statement will show you, lol), and I've been spending quite a bit of time in the Pacific Northwest, specifically, Seattle!
Seattle is a bustling tech city, and there's lot of fashion/LGBT events happening there.  If you're visiting Seattle for work (or for pleasure!), here are some must-sees:
1. Capitol Hill
Capitol Hill is the popular "gayborhood" of Seattle, and has a lot of really fun bars, restaurants and stores that celebrate the LGBT community.  it's also a great place to take pictures, as it's full of rainbow crosswalks and murals!!
2.  The Space Needle
An iconic part of the Seattle skyline, the Seattle space needle is one of those "touristy-musts" of the city.  The views are beautiful, and tickets are around $25 (depending on day + package).  Seeing and experiencing everything will take between 2-3 hours.
3. Museum of Pop Culture
OMG, this museum is SO COOL.  It celebrates science fiction/fantasy, and has exhibits that span genres.
When I went, the Star Trek exhibit was installed – a whole FLOOR dedicated to Star Trek.  (Yes, I grew up watching Star Trek, and I love it unabashedly.) They have an actual Bridge that you can walk around, and I died seeing the costumes of Captain Janeway et al.  The exhibit is now on tour (next stop is the Indianapolis Children's Museum at time of writing).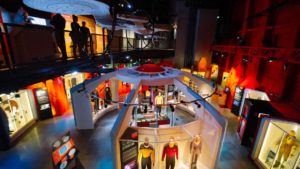 I went to the museum when the Jim Henson exhibit was in town, which was just the cutest thing ever.  All in all, I spent about 4 hours here and saw everything.  The food in the cafe isn't that great, so I recommend going elsewhere.  They also have baggage check, so I visited just before heading to the airport (after checkout!).
Base admission to the museum is between $24-$36, plus around $10 for traveling exhibits.
4. Chihuly Garden and Glass Exhibit in Seattle
5. Breweries Galore!
I'm not really a fan of beer, but if you love craft brewing Seattle is a city made for you!  There are various brewing tours you can go on, and I recommend checking Trip Advisor for reviews and packages!!
6.  Pike's Place Market
Pike's Place is an ICONIC part of Seattle, and I recommend going in the morning (and avoiding the weekend, unless there's a specific market you must attend).  Buy food and walk around, smell flowers and buy goods from local Seattle vendors.  Be sure to stop by Nature's Twist's booth, and tell them hello!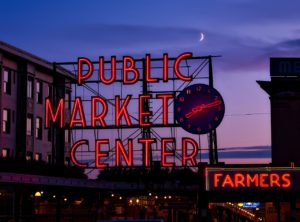 7. Whale Watching, OMG
Seattle is a port city, so it's surrounded by water.  I've never been on a whale watching tour, but it's ABSOLUTELY on my list for the next time I go.  Be sure to get bundled up, because it is COLD out on the water, even in summer.  Like multiple layers and a coat + poncho, babe!!
A lot of tours actually take place outside of Seattle, so you'll get on a bus and then a boat.  It's generally a full-day activity. Check Groupon and Trip Advisor for packages & reviews!
8. City Parking, Airports & Other Misc Tips
Because of the tech boom, Seattle's infrastructure is struggling to handle the number of people on the road.  I recommend that you use Lyft to get around the city, and don't worry about renting a car unless you're going outside of Seattle for outdoorsy hikes and camping.
The SEA-TAC airport's security line can be long and unwieldy, but airport pickup (whether rideshare, hotel shuttle, etc) works pretty well.  They do have free & unlimited wi-fi, but be sure not to access banking or other sensitive sites while on it!
Overall, "Seattleites" are very polite and helpful.  Like, the kind of polite-ness where they'll walk around you or wait if you're getting that pic for the gram!  If you get lost, don't hesitate to say, "Excuse me, do you know where (x) is from here?"
Did you love this travel post?  Be sure to join me on Instagram, where I share lots of BTS travel goodness on my Instagram Story!!