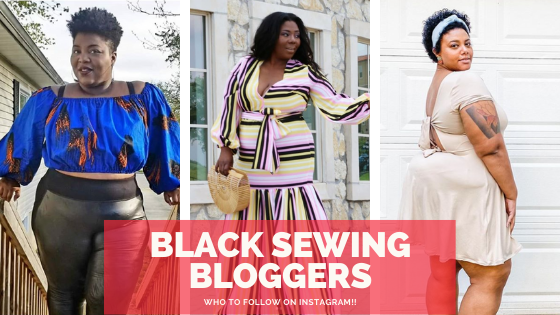 Hey there! This post contains affiliate links.  Using my links means I earn a commission, which helps me create more rad content.  More on affiliates here.
Hello hello!
My article on the lack of diversity shown in sewing machine company campaigns has been seeing a resurgence, so I wanted to pop in with 11+ Black and African American sewing content creators. While we need to hold companies accountable, we should also be celebrating and uplifting Black creators in this space!
Aaronica is one of my fave humans on planet earth, and I love her posts about slow fashion and reading her reviews of indie pattern designers! Aaronica is also really great with knits and stretch fabrics.
From Aaronica: "My mom gifted me my first sewing machine at 13 along with 1 set of sewing lessons that I took with my neighbor. We made these super lame drawstring bags and I was over sewing before I'd really given it a chance. When I was in my first marriage, I think my mom saw that it was getting ready to end so she gifted me with yet another sewing machine so that I could have a hobby that was just mine. As a plus size woman struggling with finding clothes that I loved, I was ready to rock this sewing thing out–until I saw the directions for what was supposed to be a simple dress."
Follow Aaronica on Instagram, here!
Mac is a self-taught sewist and working mom in the Washington DC area! I love her use of head wraps!!
Follow Mac on Instagram here!
Constance is a Black crafter and sewist, who makes content in a variety of format (both video and posts!) to help folks learn how to make garments.
Follow Constance on Instagram here!
Okay, I REALLy want to hang out with Jasika! She posts everything from sewing and craft projects to show making to some FIRE selfies. LOVE ALL OF IT!!
Follow Jasika on Instagram here!
From Jas: "I'm a wife, mom, seamstress, wife, book collector and wanna be homesteader."
Follow Jas on Instagram here!
This Seattle-based blogger and vintage collector posts fabulous looks and pattern reviews!
Follow Jacinta on Instagram here!!
Monica is a special events planner who loves sewing, design, and all things DIY!
Follow Monica on Instagram here!
From Laquana: "DIY Blogger, mostly sewing, who happens to be plus size!"
Follow Laquana on Instagram here!
Sewist Blogger #9: Martha McIntosh of Garichild
From Martha: "A sewing enthusiast learning how to sew for her curvy, plus size body and other shenanigans!"
Follow Martha on Instagram here!
From Michelle: "Sewing tips, dressmaking projects, pattern reviews, and my own sewing patterns."
Follow Michelle on Instagram here!
Okay, so Terrence has inspired me to go out and buy 17 eyeshadow palettes!!
Follow Terrence on Instagram here!
Juliet is the winner of the Great British Sewing Bee'19! She shares a variety of sewing and lifestyle content.
Follow Juliet on Instagram here!
Daniela is a fashion designer, and I instantly followed her upon finding her feed! She laso teach sewing tutorials from scratch on YouTube!
Follow Daniela here!
Carolyn is a sewist over 60, and she has such a fun energy and vibe in her photos!
Follow Carolyn on Instagram here!
Based in Houston, Texas, @SewNaturalDane has a wonderful and colorful feed! She has a lot of resources for plus size sewists.
Follow Dane on Instagram here!
Who Needs to Be Added?
I have been gathering suggestions for this blog post, and I'd love to add more Black creators – especially those who are plus size and/or LGBT!
Drop me a line here or DM on Insta! <3
What to Read Next!
Sign Up for More Plus Size Fashion Recommendations!
If you want to stay up-to-date on my reviews, I recommend joining me on your favorite social media platform (Facebook, Instagram or Twitter).
More of an email kind of person? Subscribe here!