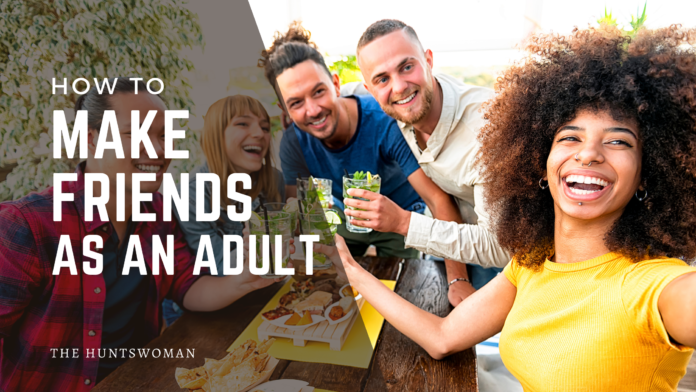 Hey there! This post contains affiliate links.  Using my links means I earn a commission, which helps me create more rad content.  More on affiliates here.
Today on the blog, I'm going to share specific tips and strategies on how to make friends as an adult.
This is a topic that I've been exploring in my own life, so I thought it might be helpful to share specific tips and tricks on how to make friends as an adult – specifically as a self-employed person, freelancer or someone who works remotely!
I'm writing this post to answer the question, "WHERE do you go to make new friends as an adult?"
Like, we need a specific LIST!!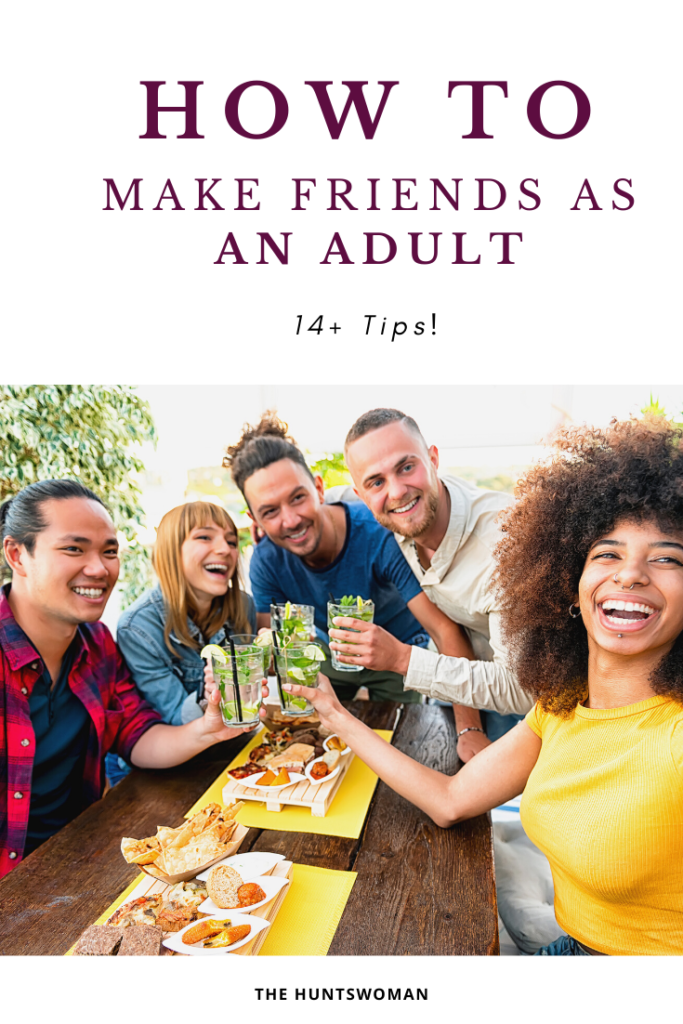 How to Make Friends as an Adult
When I'm writing advice posts like this (from how to prepare for a job interview to how to improve your credit score), I like to share an overview of where we're going in the guide, so you can skip around!
Part 1: My Background | I'm going to share a bit about my background, because I'm writing this blog post from my experience!
Part 2: Defining your Comfort Level | Making new friends as an adult can be scary! Let's talk about it!
Part 3: Specific Tips on Making Friends as an Adult
Part 1: My Background
Ok, so, broad overview here:
I'm 31 (at time of writing)
I own my own business (and this blog!)
I have a lot of friends, but not a whole lot of friends who live in Salt Lake city (where I am)
I don't have kids
I don't live with a romantic life partner
I'm pretty extroverted – but I can be shy in new situations
I'm white, cisgender and a VIP member of the LGBQ+ squad
I'm sharing all of this so you have a better idea of my perspective, so you can better ruminate on the advice I share.
Part 2: Defining Comfort Level
When it comes to figuring out how to make friends as an adult, it's important to be aware of your comfort level.
Like, yes, you are going to have to get out of your comfort zone.
Buuuut, it's also important to understand where you feel comfortable. What you like to do!
From there, you can ask yourself, "Where do people go to do these things? What conferences or conventions do they attend? What events? What are their other hobbies?
Then, go there!
Now, that's pretty vague advice on how to find friends as an adult, which is why I've shared more actionable information below!
Part 3: Specific Tips on How to Make Friends as an Adult
Alright, let's get to the specific tips on how to make friends as an adult!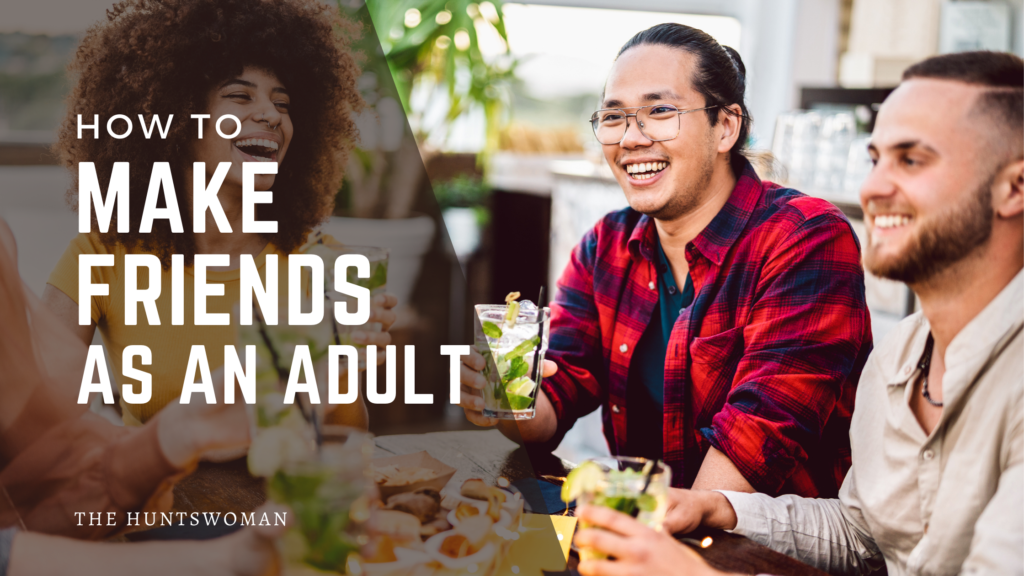 Tip #1: Get a (Super) Part-Time Job \\ How to Make Friends as an Adult
I was just talking with my friend, Logan about this! Logan is a diversity and inclusion consultant for ballet companies, as well as a dance instructor.
We were talking about meeting new folks in Salt Lake City, and we realized a pretty straight forward way for us to do this would be to get a super part-time job at a local place frequented by folks we'd like to meet.
(Read: An event space for LGBTQ+ folks in Utah, lol.)
Getting a part-time job (like, one shift a week) can be a great way to meet folks – because it gives you a reason to talk to new people! Specifically, a social job where you're talking to new people!
Getting a part-time job can be a great way to meet folks – because it gives you a reason to talk to new people!
Getting a seasonal job is also an option!
This is a great way for more introverted folks to meet people – because you will have a reason to talk to new people!
Next Steps: Check Craigslist and local facebook groups for side-job listings!
Tip #2: Volunteer to Help Organize a Big Event \\ How to Make Friends as an Adult
Ok, so I tried this effort to make new friends this past year with… mixed results.
I recommend finding an organization that fits your interests, and then volunteering for their big annual event.
Most non-profits have these events, and they need a lot of staff!
Why an event?
I like to volunteer for a specific event because:
There are usually more volunteers onsite, which means meeting new people
Volunteering for an event is easier to fit into a calendar
You can vet the organization before making a larger commitment
Next Steps: I would use Donors Choose or google search to find local non-profits in your area!
Tip #3: Walk around your apartment complex every morning
This tip makes me laugh, but it works! I've actually met a number of new people doing this.
Every day, I walk around my apartment complex to get my steps in (yes, I'm a nerd). I do it around the same time, and it's led to me meeting my neighbors.
i don't have a dog, so I make it a point to say hi to all the people with dogs, lol. I'm not weird or pushy, most walks I don't talk to someone.
But as you walk more around your apartment complex (or neighborhood) people remember you!
Bonus tip: If you're going to do this, don't put in headphones. People will not talk to you!
Next Steps: Set an alarm in your phone to go for a 20 minute walk around your neighborhood!
Tip #4: Board Game Clubs
Ok, I haven't tried this tactic to make friends as an adult – but it's on my list!
A great way to meet people is through Board Game Clubs! These are often organized by a game/comic book store, or other retail space.
Next step. Find a local Board Game Club by checking local stores, your library and Meetup.com!
Tip #5: Coworking Spaces \\ How to Make Friends as an Adult
I love that I can work from anywhere (woo owning my own business), but it does make making IRL friends more difficult!
If you work remotely, a great place to meet people are coworking spaces!
As a business owner, I can spend days with just me and my laptop!
Going to a coworking space can be a great way to meet other business owners, and make some new friends! For this to work, you'll need to go 2-3x a week.
Note: Before signing up for a monthly membership, i recommend attending a few in-person events!
Tip #6: Join Online Facebook Groups
I tweeted about this and asked for folks advice, and here's what Juleen shared:
"Facebook groups. All of my adult friends not made through friends of friends, have been made through groups with a shared interest. I've found a couple local people in travel groups and we've gone out to brunches, happy hours, etc."
She added, "I've also joined city-focused groups which host events or post in the group asking for people who want to meet up to do a particular activity or attend a local festival together"
On Facebook, you can search for groups in your area by typing in your city (nearby cities), as well as various interests you have!
Next Step: Spend 20 minutes looking at different Facebook groups. and join groups that show 5+ posts a day.
Tip #7: Attend Local Lectures \\ How to Make Friends as an Adult
Ok, I just learned about this recently! Many universities hold free lectures on just about every topic.
These spaces can be a great way to meet other folks with similar interests.
To Do: Google "[University name] free lectures" and see what pops up!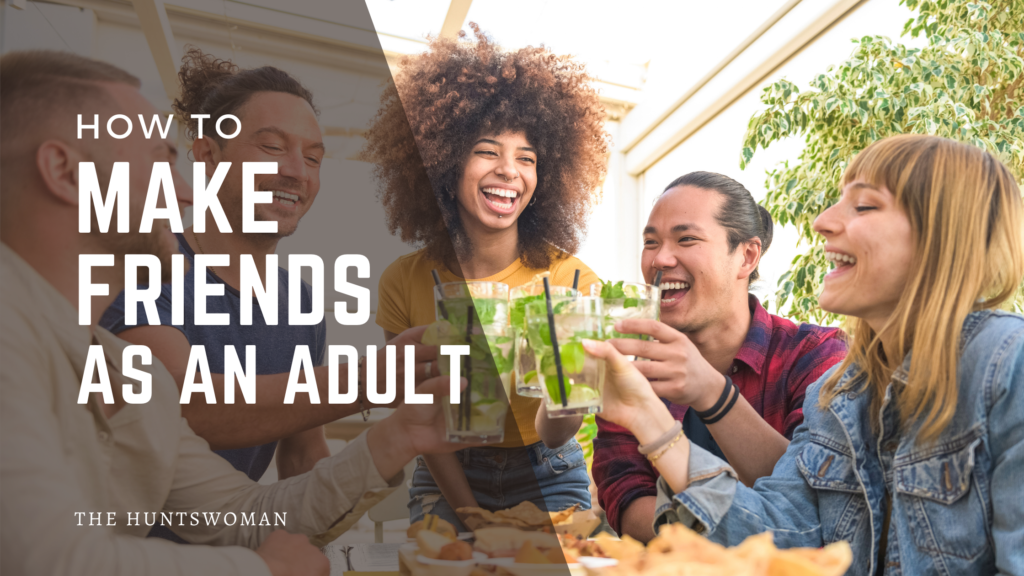 Tip #8: Take a *Beginner* Class \\ How to Make Friends as an Adult
When trying to figure out how to make friends as an adult, I went to google, naturally.
So many posts had vague advice, and a lot of writers recommended "joining a class."
That's vague, and unhelpful!
So, of course, I'm going to one-up everyone!
When it comes to meeting new people, I recommend taking a *beginner* level class where you're doing something with your hands – and has at least 4 sessions!
Classes to Research:
Floral Arranging Class (call your local florist for info)
Beginning Cooking Class (Sur La Table has these!)
Beginning Sewing Class (many locally owned fabric shops have these!)
Silversmithing Class // Jewelry Making class
It's important that the class be for absolute novices, so you can bond over being bad at something. I also think it's important you *make* something in the class, so you can talk to other people!
To Do: Look up local classes in your area!
Tip #9: Start a City- Focused Podcast or Blog
Ok, so this one is a bit more niche – but whatever! I'm all about sharing specific ideas.
A great way to make friends as an adult in your city is to start a blog or podcast where you interview people in your city.
Having a blog or podcast is a great excuse to meet other folks! Plus, a blog or podcast can earn you residual income. (My tips on starting a blog here.)
Additionally, a blog can help you meet other folks!
Shares Victoria of Fly for a Ginger, "I've met ppl through Instagram – geotags for local babes and niche hashtags for my online blogger friends. I don't go into work anymore (or leave the house much for that matter) so online is the best for me. Oh and also bumble bff!"
Tip #10: Join a DND or LARP-ing Group
Ok, so real talk – DND people are some of the most welcoming people I've ever met – same with LARP-ers.
Because of my schedule, I haven't been able to commit to a DND campaign, but this is a great way to meet other folks who might also be introverts!
A great way to find a DND group is by checking in with a gaming store or searching Facebook groups.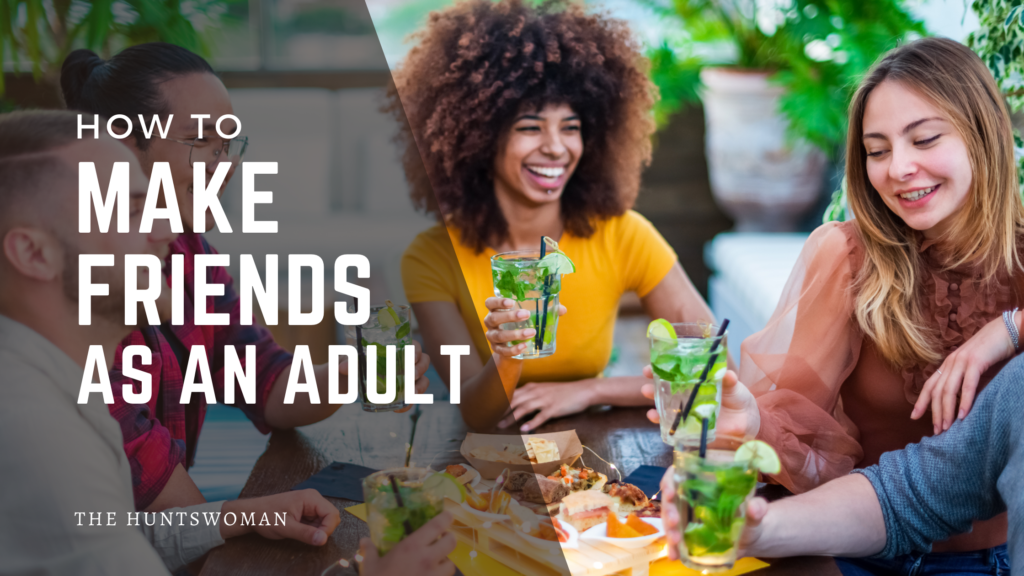 Tip #11: Attend Trade or Pop Up Vintage Markets
Many cities have folks who organize "trade" events, where folks bring clothing, furniture, etc – and trade!
Shares L Brinks on Twitter, " I love a good vintage pop up event and meet rad people there! There's a lots of small biz rad humans at vintage pop ups. Plus I'm supporting the local economy AND meeting cool locals that KNOW the area and usually have their ear to the ground for other cool events."
Because you're talking to people, you meet people! L shared that they find these events through local Facebook groups!
Tip #12: Use an App to Make Friends
I haven't had much luck with these in Utah, but Bumble BFF and VINA can be a great place to meet new friends!
Tip #13: Check out Your "Local" – Bars Host Community Events
This isn't a fit for everyone, but my friend on Twitter mentioned going to events at a locally owned bar!
This jogged my memory, and this is such a good tip! Many places in Salt Lake City have specific meetups or Drag Brunches folks can attend to meet people!
Tip #14: Join the LGBT Chamber of Commerce
As I was wrapping up this post on how to make friends as an adult, I rememberd that Alysse of Ready to Stare met her husband, Gio, at an LGBT+ networking event hosted by ThinkPlexus!
It was for a chamber of commerce in Ohio!
Other Chamber of Commerce events can also be a great place to meet people who are looking to network and meet folks in your city/area!
Tip #15: Join Community Theater
Ok, before the introverts run away screaming – you do not have to get onstage! (Thanks to my friends, Step Decker and Christen for this tip!)
Community theater is a great way to meet people (many of whom are extroverts and make friends easily). If you're not into performing, you can volunteer behind the scenes (costuming, props, etc).
My friend Z shared this on twitter, and I wanted to be sure to include it. Shares Z, "I went to one of these, and it seems like a great curated way to meet friends, too."
"Are you a nice person who just wants to meet another nice person? This event is for you! These carefully crafted, structured events, which involve things like writing exercises, opportunities to talk one-on-one, and all-group activities, are all about connection. They're fun. And surprising. And weird! And real."
Read more about the event here!
How to Make Friends as an Adult
When it comes to making friends as an adult, I think it's important to remember that you're going to try a BUNCH of things – and 1 or 2 will work out.
I recommend setting a day of the week or month you'll try to meet people – and then regularly show up!
What to read next —->
Loved this blog post? Here are a few you may like to read next:
Subscribe for More Tips & Reviews —>
Subscribe to my email list for more tips + reviews!