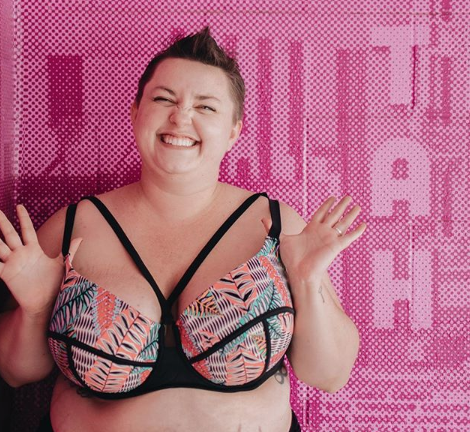 Hey there! This post contains affiliate links.  Using my links means I earn a commission, which helps me create more rad content.  More on affiliates here.
Finding plus size swimwear *used* to be really difficult. The options were, how shall we say, more "matronly" than what one would like. Weird dated floral prints and "swim skirts" abounded.
In the past few years, we've seen quite a few plus size swimsuit brands pop up! I'm a bustier babe (48H – and this is my go-to bra), so I've noted the brands that make more supportive tops.
Don't see your fave brand on the list? Be sure to drop me a line so I can add it!
[Heads up! This post uses affiliate links, and you help me earn $$ when you use my links. More on affiliate links here!]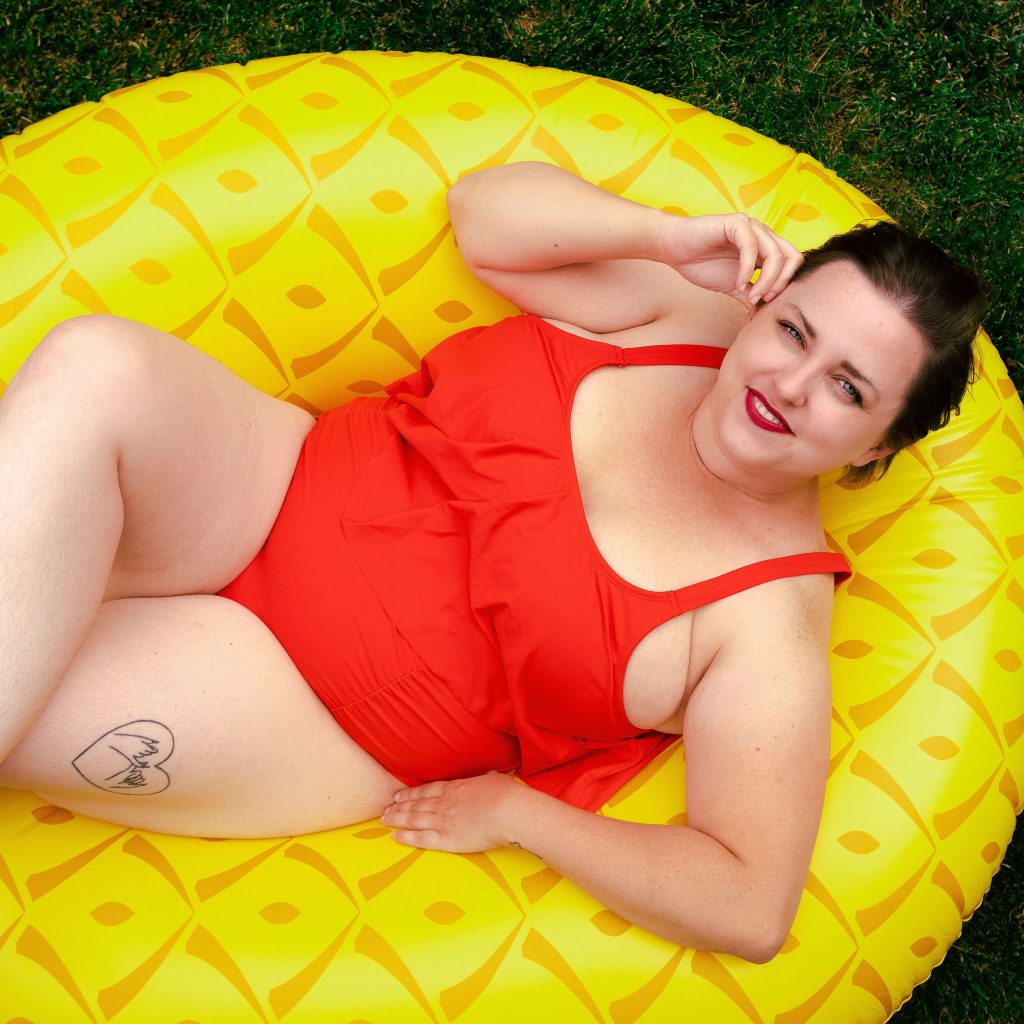 Plus Size Swimsuit Brand #1: Amazon
I did a whole photoshoot dedicated to plus size swimsuits and bikinis from Amazon! I love this black strappy plus size bikini, and his plus size red swimsuit that's available in a variety of colors!
Check out the post on plus size swimsuits from Amazon HERE!
Here is my favorite plus size swimsuit on Amazon for larger busts.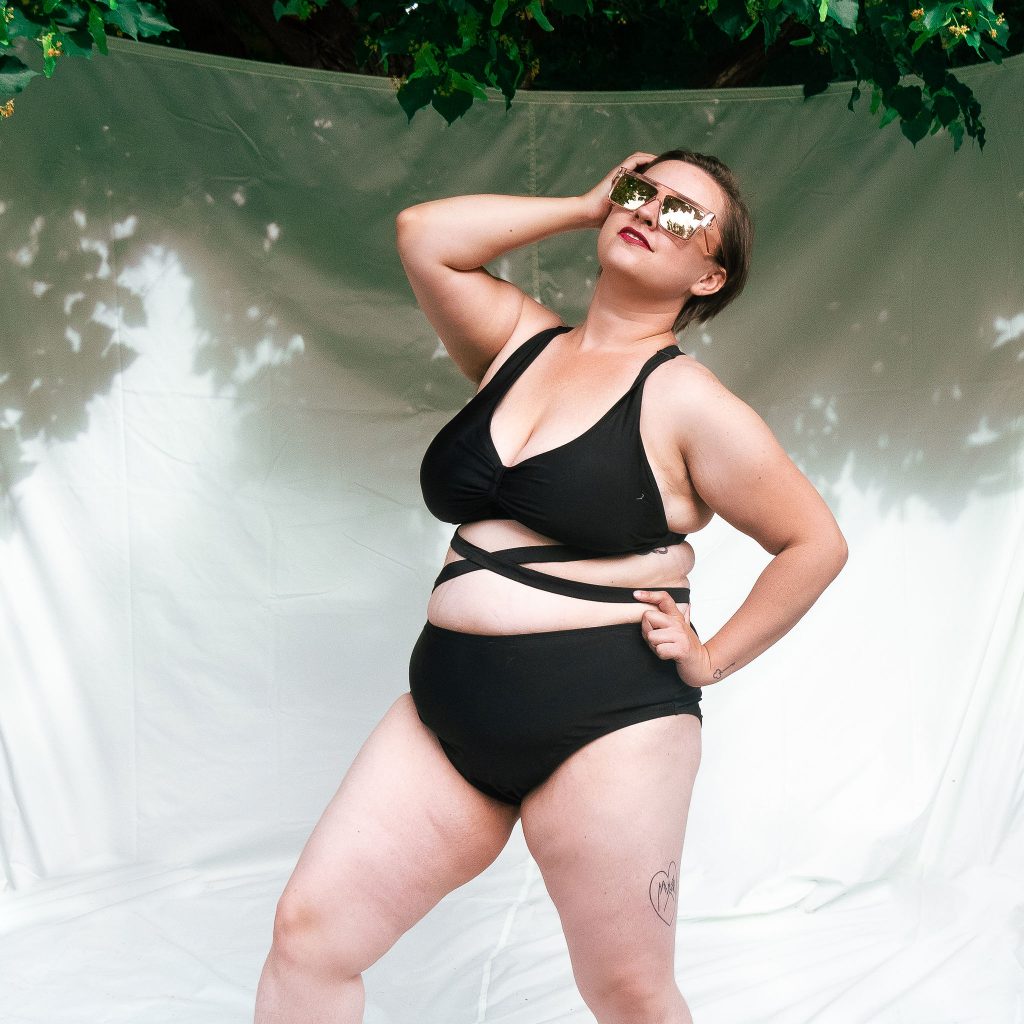 Plus Size Swimsuit Brand #2: Torrid
I love love loveeeeeee Torrid's plus size swimsuits, because they many have UNDERWIRE. If I'm at a waterpark, I'm running around and frolicking – and mama needs that support!
Torrid has a mix of fun prints and more subdued suits, perfect for any style! Shop Torrid plus size swimsuits (with and without underwire!) by clicking here.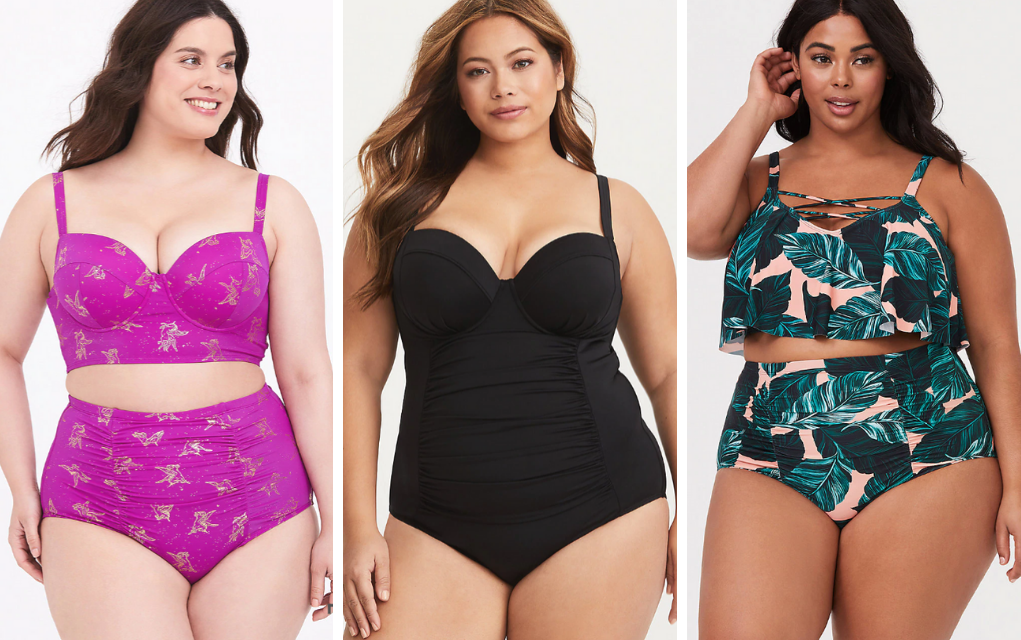 Plus Size Swimsuit Brand #3: Eloquii
OMG, who also is obsessed with Eloquii? This brand makes swimsuits in up to a size 28, and they have some super cute striped one piece swimsuits.
Shop fashion forward plus size swimsuits here.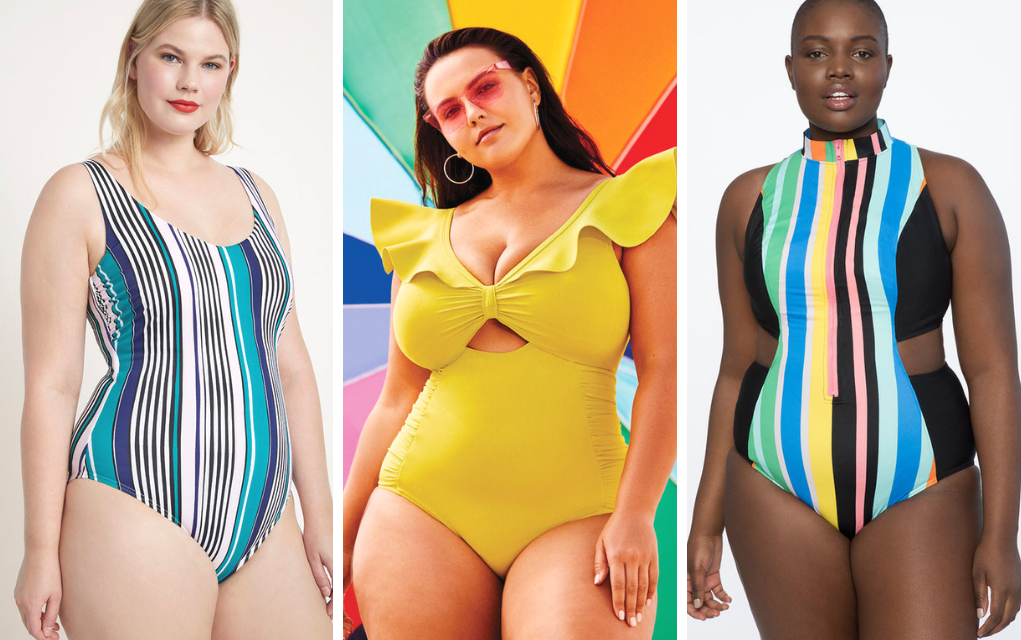 Swimsuits for All has plus size swim dresses, one pieces, tankinis, binikis, cover ups, etc etc. The GabiFresh collection is always a fave, and her vintage inspired swim shoot was AMAZE this year.
Keep in mind that there are wayyyy more plus size swimsuits besides the GabiFresh collection! Shop here.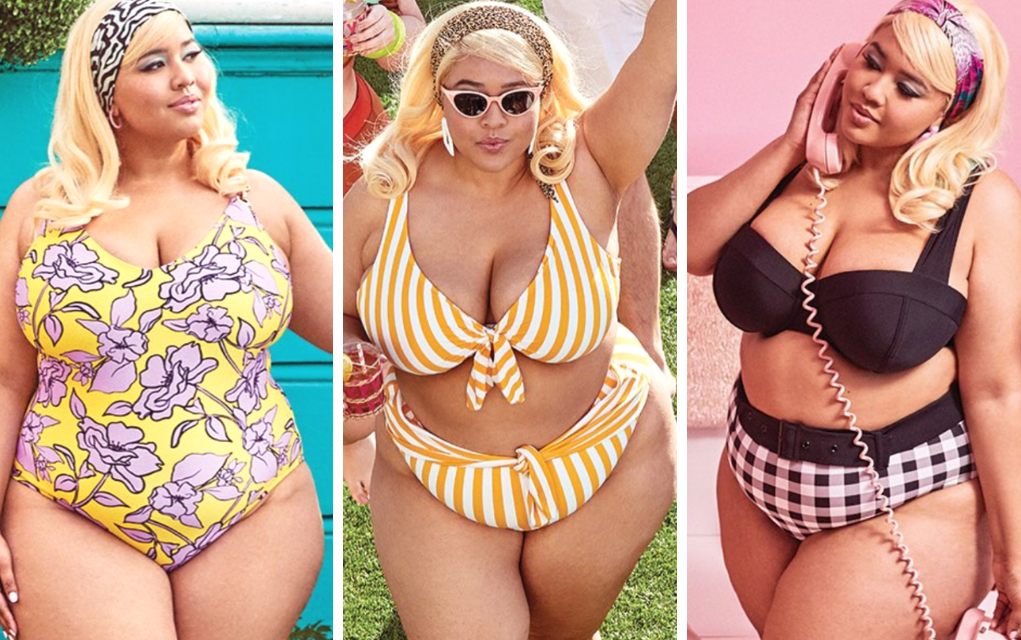 Plus Size Swimsuit Brand #5: ModCloth
Hellooo, ModCloth! I love ModCloth's one piece swimsuits, and this year their collection has so many fun patterns and colors. Polka dots, stripes, florals, gingham, zippers – the design team really outdid themselves providing diverse options for fashionable curvy ladies!
Shop curvy vintage inspired swimsuits here.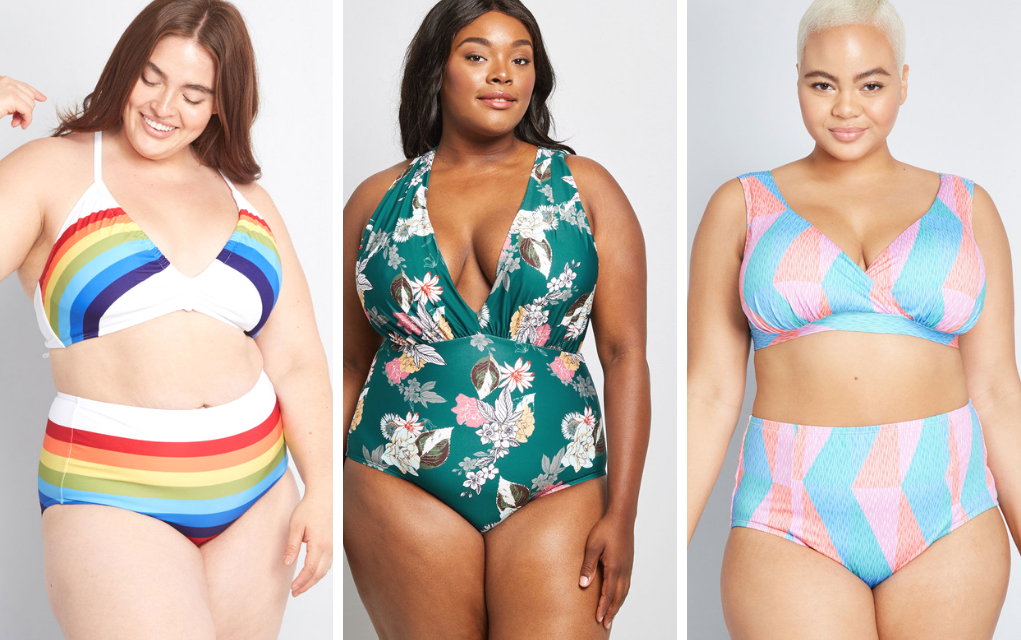 Plus Size Swimsuit Brand #6: ASOS Curve
Hellooooo, animal print! ASOS Curve showed up and showed OUT this year with plus size bikinis in animal print. Leopard, cheetah, snakeskin and DALMATION?!?! – they are making statements!
Shop ASOS Curve here.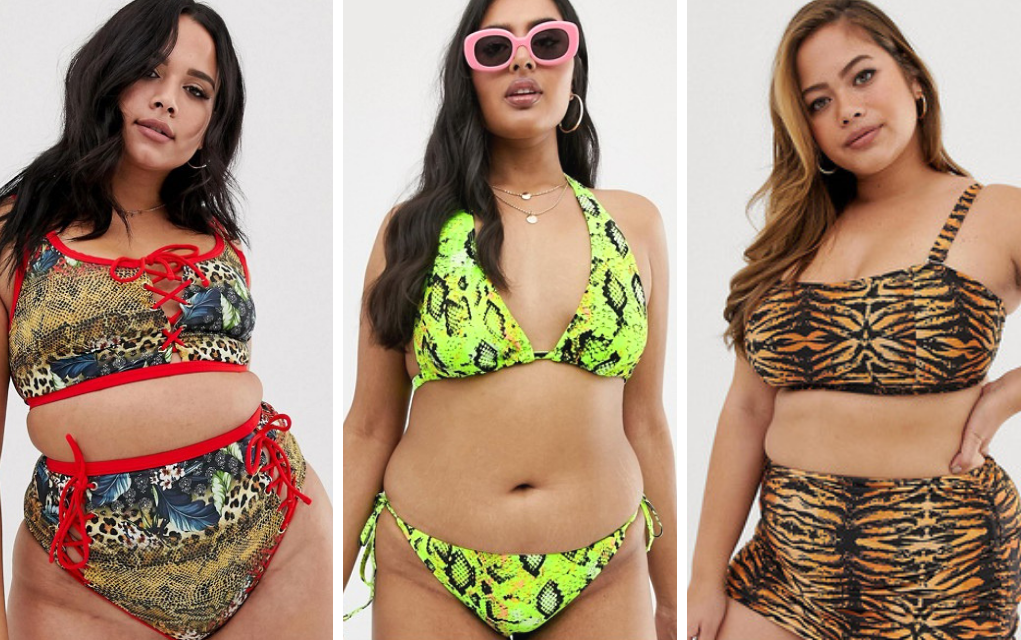 Want more plus size fashion upates? Be sure to subscribe to The Huntswoman Newsletter.
Plus Size Swimsuit Brand #7: CoEdition
I love CoEdition, because they have swimsuits from multiple brands all in one place! If you're shopping for multiple plus size bikinis or swimsuits for a vacation, you can buy from CoEdition and pay one shipping fee (instead of multiple fees to different retailers).
They also have plus size rash guards and long sleeved swimsuits if you're looking for more coverage!
Shop higher end simwsuits from CoEdition by clicking here.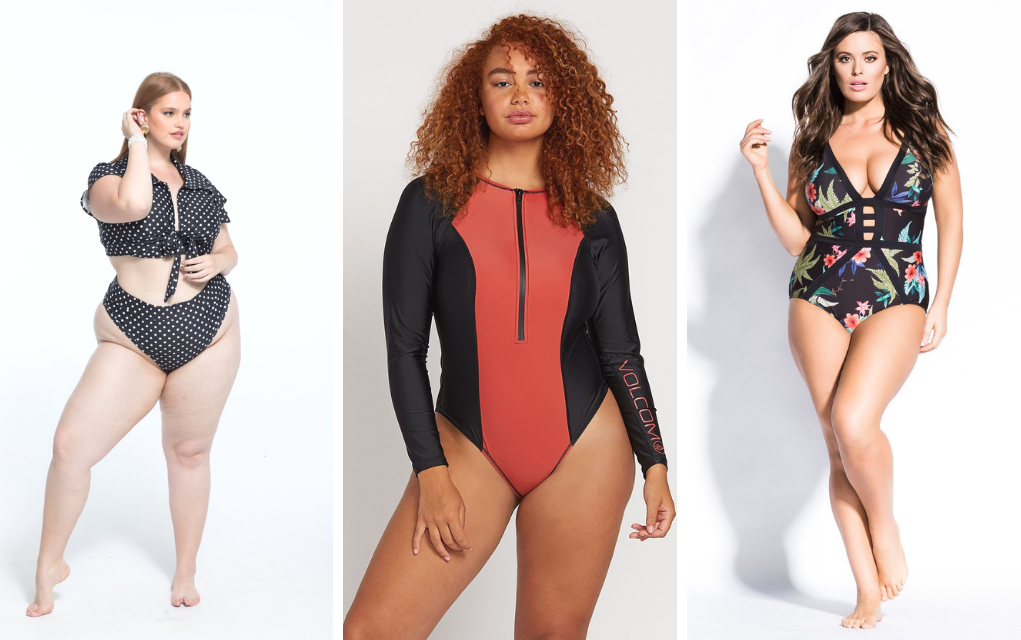 This brand has *quite* the cult following, and I love their editorial shoots! Their suits don't come with underwire, but I've heard this suit is supportive. i haven't tried an ABS swimsuit yet, butI hope to soon! Great for babes who want to let their boobs just do their own thing!
This brand is also great for babes who are smaller busted.
Check out more editorial shots from Alpine Butterfly Swim here.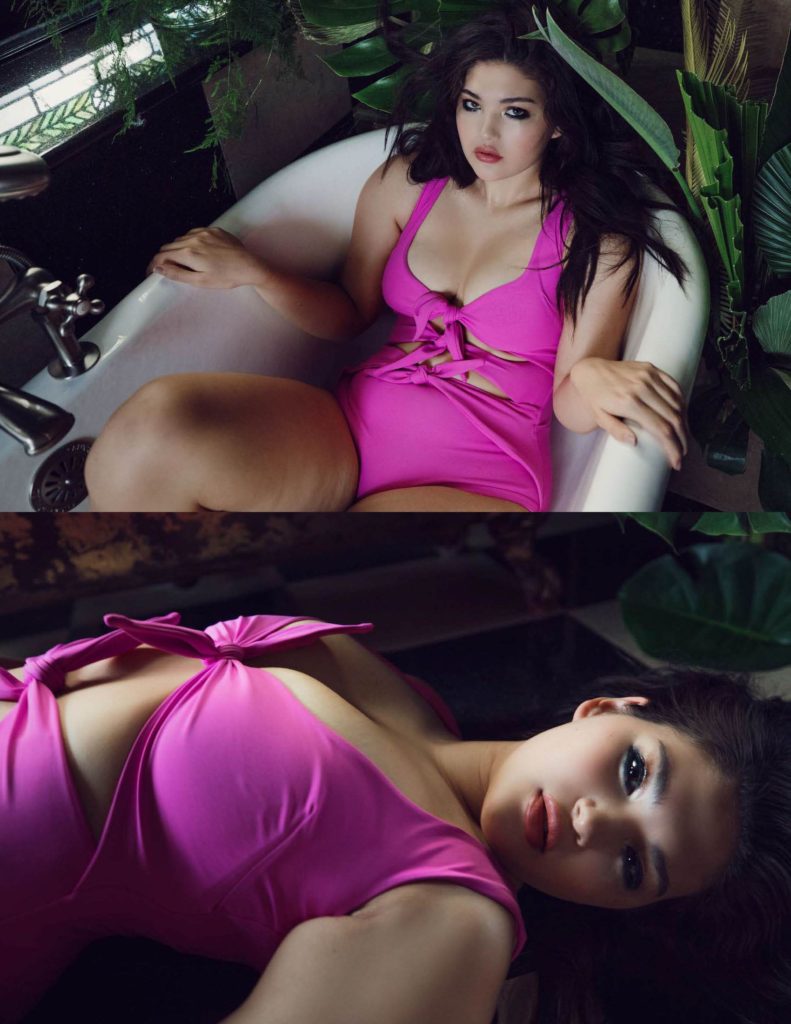 Plus Size Swimsuit Brand #9: 11 Honoré
11 Honoré is basically a plus size version of Moda Operandi, going a step further and helping luxury fashion brands expand their size range. (11 Honore connects high end and luxury houses with pattern makers, fit models, etc.)
If you're looking for beautiful resort wear or a whole new set of swimsuits for a rip to Ibiza, this is 11 Honoré is your new BFF!
Shop 11 Honoré swim here.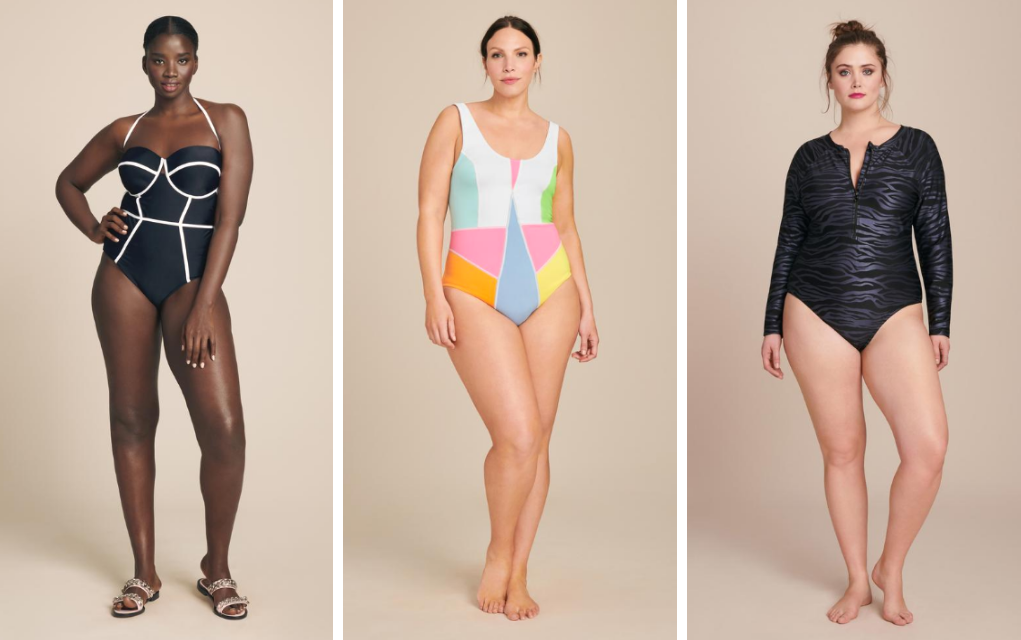 Plus Size Swimsuit Brand #10: City Chic
City Chic is known for producing amazing plus size gowns and business suits, and their swimwear is *ALSO* amazing. Graphic detailing and pieces that really pop!
Shop plus size two piece swimsuits at City Chic by clicking here.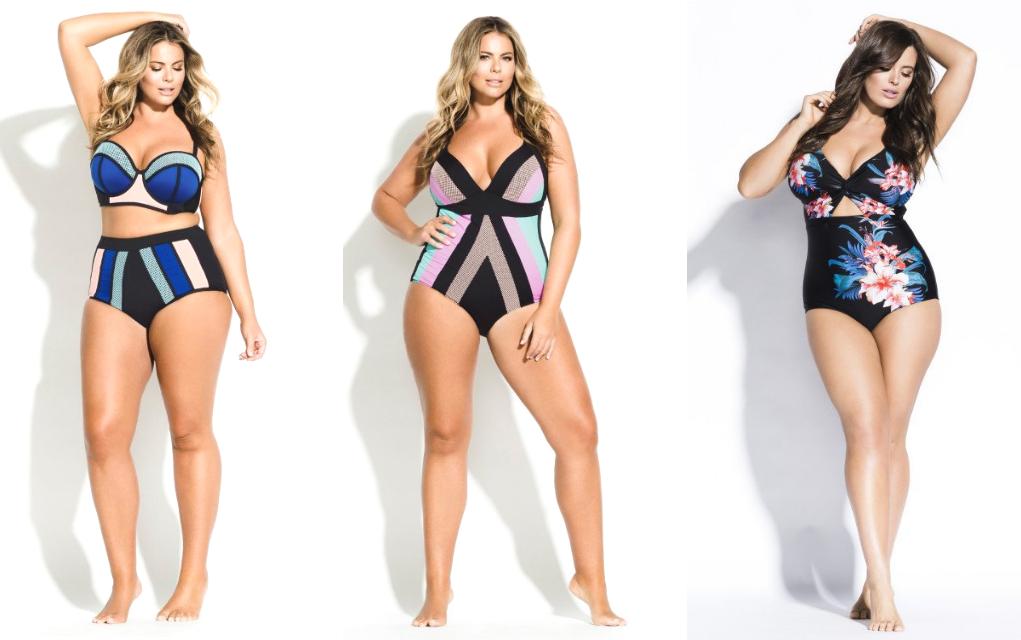 This indie brand is perfect for queer folks or people who want to be a little more covered up. My bestie Suma (pictured below) rocked a Beefcake suit with their brother, Andrew!
Shop Beefcake Swimwear here.
Plus Size Swimsuit Brand #12: CHROMAT
Also queer owned, CHROMAT is known for some pretty amazing runway shows at NYFW. The brand is inclusive on all fronts, and I am such a fun of their models! I haven't tried a CHROMAT suit yet, but they're on my list!
Shop CHROMAT here.
Plus Size Swimsuit Brand #13: Curvy Kate
Curvy Kate is a lingerie and bra company based in the UK, that also offers very supportive swimsuits. They go from a D-K cup in UK sizes, which is a D-O in US cup sizes, with up to a 44″ band size!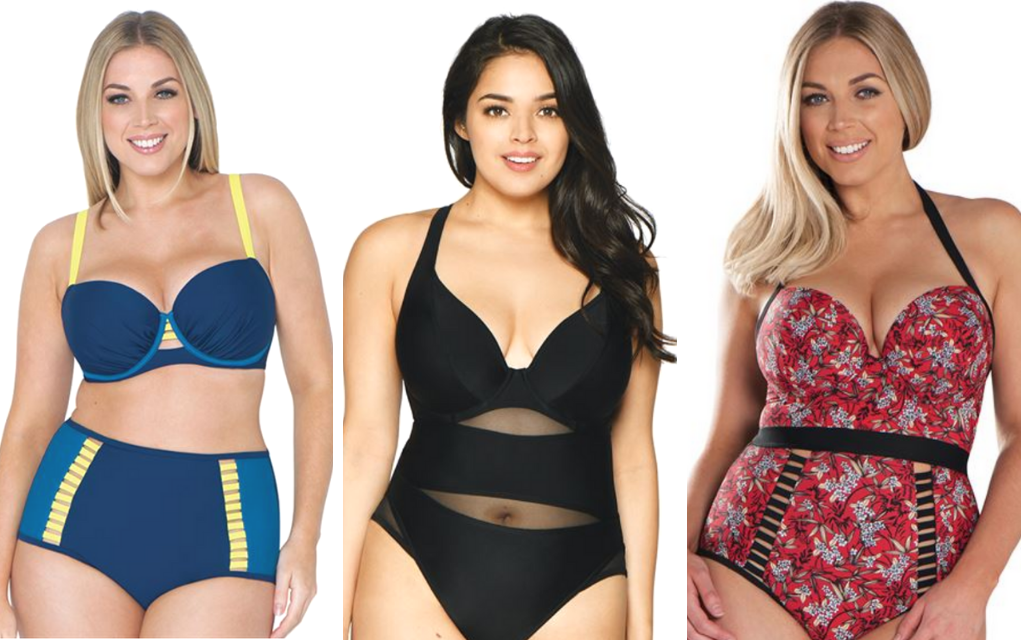 Want to stay in-the-know on new plus size brands? Be sure to subscribe to The Huntswoman Newsletter.
More Plus Size Swimsuit Blog Posts
[FTC Notice:  This post contains affiliate links, meaning I earn a small commission if you purchase a product through my link. Affiliates help me write more great content, and I only endorse products I truly love.]