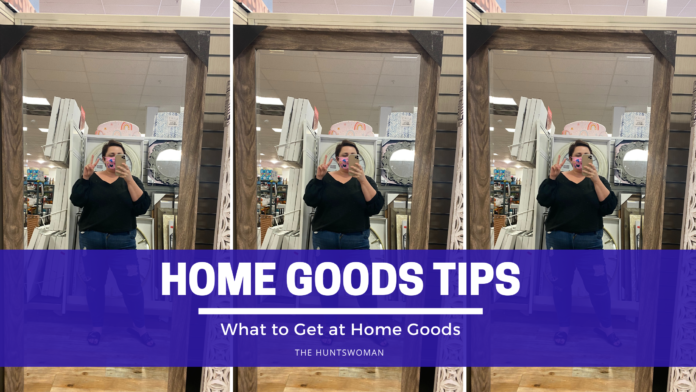 Hey there! This post contains affiliate links.  Using my links means I earn a commission, which helps me create more rad content.  More on affiliates here.
Today, I'm sharing my guide on what to get at Home Goods!
I moved into my apartment this summer, and I've been doing a lot of online shopping. (Seriously, sometimes my living room looks like a shipping center with all the cardboard and packing material, lol.)
What to Get at Home Goods
So, when I first started shopping for home products and interior design finds, I didn't really think to go to Home Goods.
My style has been described by besties as "Victorian Maximalism" or "High Femme Glam." I'm definitely not into "Traditional Farmhouse" or what have you.
No hate! I just don't like it.
And minimalism? I don't know her!
So, I decided to go through my Local Home Goods just to see what they had – and holy WOWZERS, I'm so glad I did!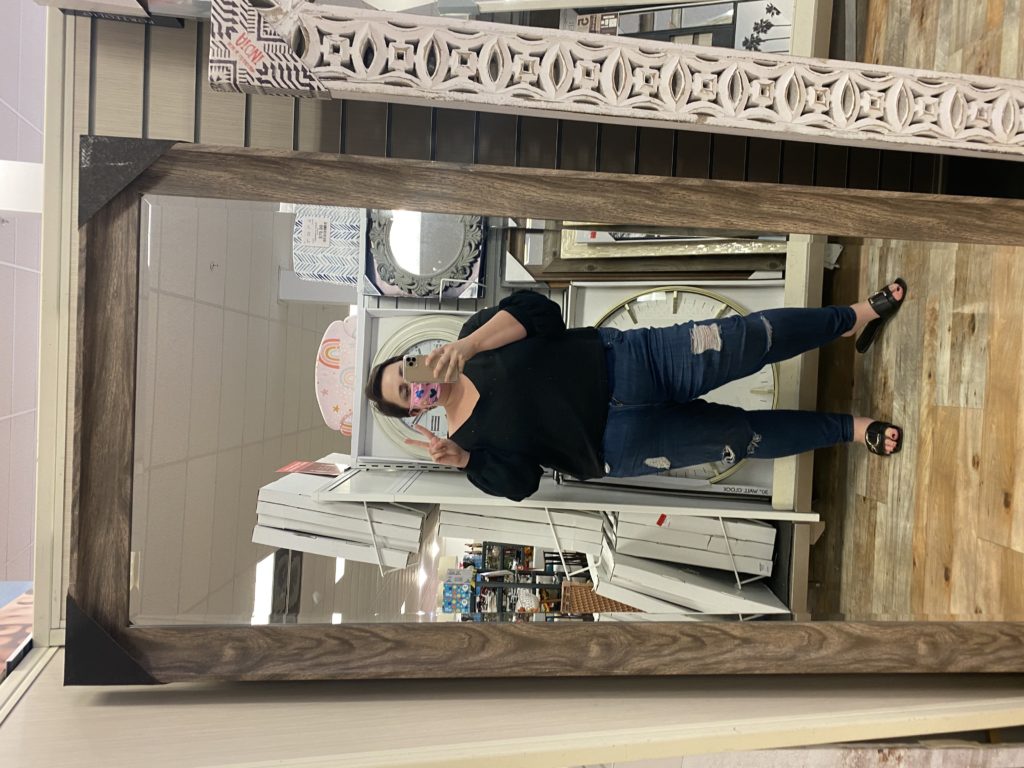 Heads Up – Home Goods Shopping Tip
Every Home Goods is different and has different stock. I have about 4-5 Home Goods in my area that I check out (yeah, I'm a fan girl lol) and each Home Goods has different specialties.
That is to say, it's almost like each store has a main focus or aisle that they get a lot of stock for.
So, if you're doing a lot of shopping for home products – I would be sure to try to visit multiple Home Goods over a weekend.
#1 | What to Get at Home Goods – Shopping Tip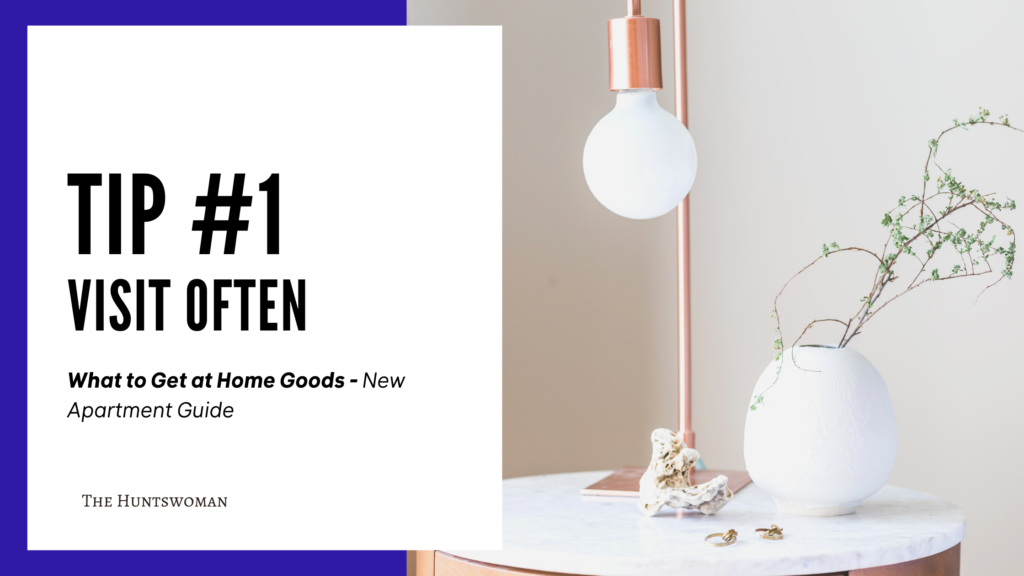 Ok, so Home Goods is all about hunting for what you want – and then going in frequently to "catch" what you're looking for.
It's not like shopping at IKEA, where you have a list and mark everything off.
Instead, I recommend having a list of items you want to buy in the next couple of months – and then going to Home Goods every week to walk through and see what they have.
Plan a weekly trip to Home Goods to snag items on your list!
Plan a weekly trip to Home Goods to snag items on your list!
#2 | What to Get at Home Goods – Holiday Decor 3 Months Early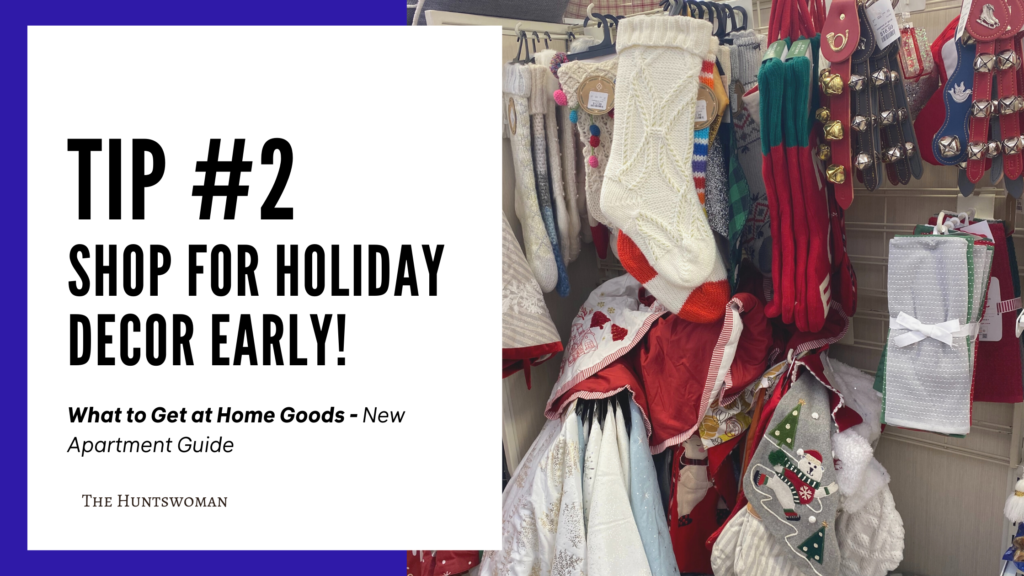 As I'm writing this, it's October – and I started seeing Christmas decorations a few weeks ago. Halloween home decor at Home Goods showed up in like August.
SO, if you're planning on putting together cute holiday home decor, and want to use items from Home Goods – get in early!
Start shopping for holiday decor 2-3 months early!
#3 | What to Get at Home Goods – Home Goods Mirrors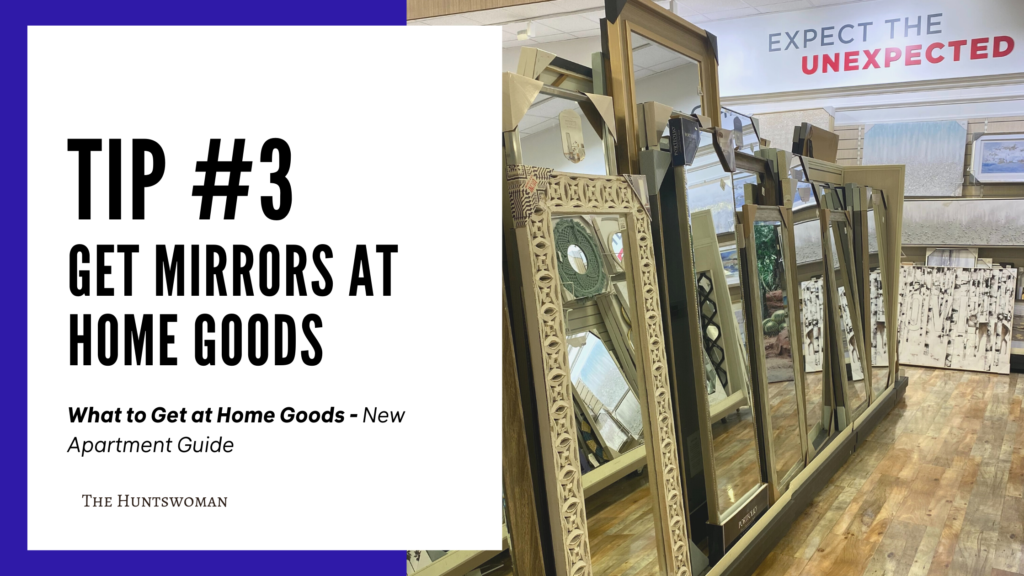 Okay, we all love a big mirror to lean up against a wall for outfit selfies – but finding one online can be a challenge. And the Home Goods Mirror section? AMAZING!
Home Goods has a whole section dedicated to large mirrors, and the prices are pretty rad and on point. The stock switches out often, so this is the go-to place for large mirrors.
#4 | What to Get at Home Goods – Furniture Shopping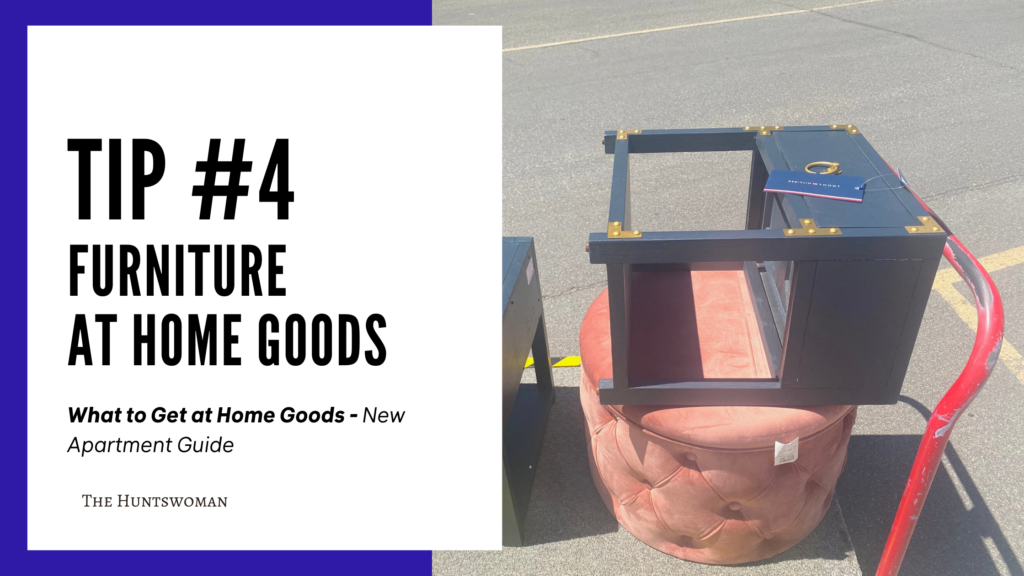 Ok, so furniture is a tricky item for Home Goods. My local Home Goods stores in Northern Utah have a lot of nightstands (I got my nightstands from Home goods), ottomans, side tables, entry tables, floor lamps, and wall decor.
Home Goods does get couches in, but it's almost serendipity to snag one. Every time I've gone to a Home Goods, the couches on the floor are almost all claimed.
Home Goods has a lot of ottomans, nightstands and small tables.
I've heard of folks asking to see what couches are "in the back," but that's not always an option.
So for larger furniture, like dining tables, armchairs, dressers, and couches – I would ask staff at your local Home Goods the best day or time to come to snag those.
#5 | What to Get at Home Goods – Organizer Bins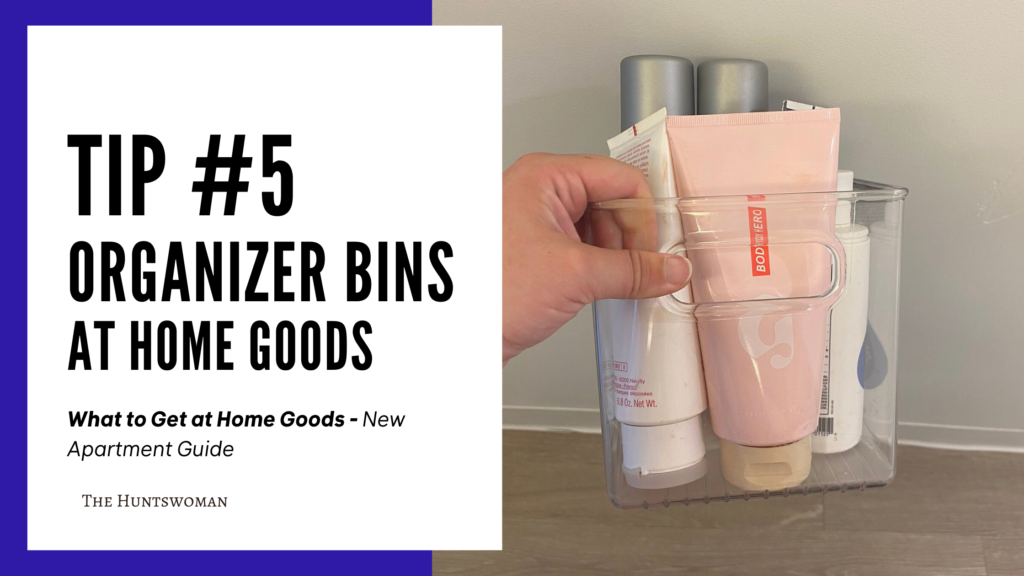 Moving into my new apartment, I realized that I need to get a LOT of organizer bins. And those little hunks of plastic and acrylic can be super pricey.
Buuuut at Home Goods, they have a ton of acrylic bins, organizers, trays, etc, for a steal.
Like, listen, I'm all about buying quality. I'm at a point in my financial life where I can invest. But I also know it's silly to pay 3-4x more for items that are mega deals at Home Goods!
I've gotten storage bins, acrylic boxes for my bathroom, closet organizers, etc!
#6 | What to Get at Home Goods – King Size Bed Sheets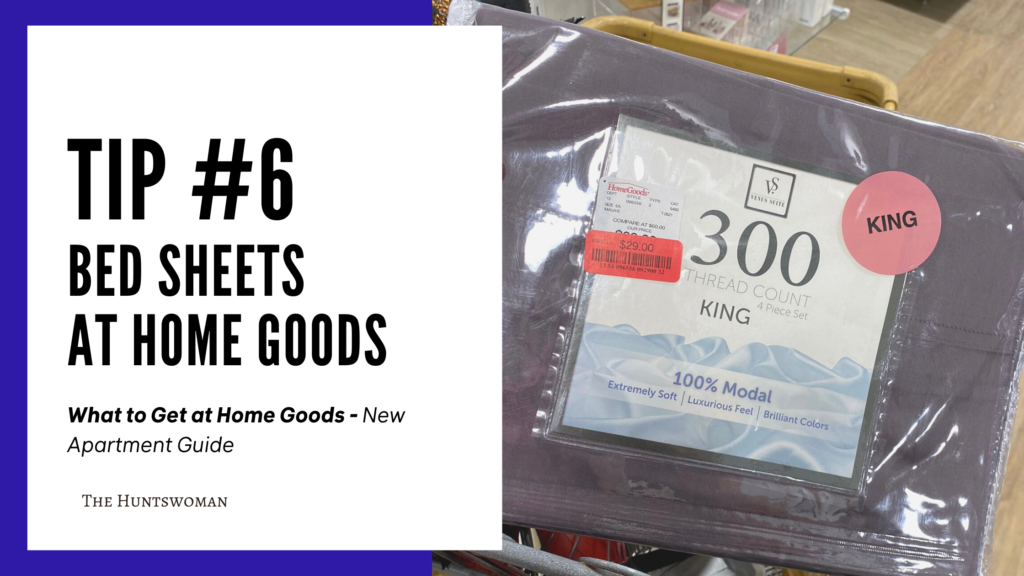 Something I always keep my eyes out for at Home Goods is King size bed sheets.
When I moved into my new apartment, I upgraded to a King Bed – which meant needing new sheet sets!
Looking around, even super basic sets run minimum $60 – and the sheets that I adore are around $150.
Home Goods often has really great deals on sheets. I snagged a set of sheets that feel super luxe for $30!
Finding good king size sheets at Home Goods isn't as reliable as say, the organizers from #4. But I check every time I go on my weekly Home Goods trip, and purchase when I find a set I love!
Check the sheet section every time for deals!
#7 | What to Get at Home Goods – Step Garbage Cans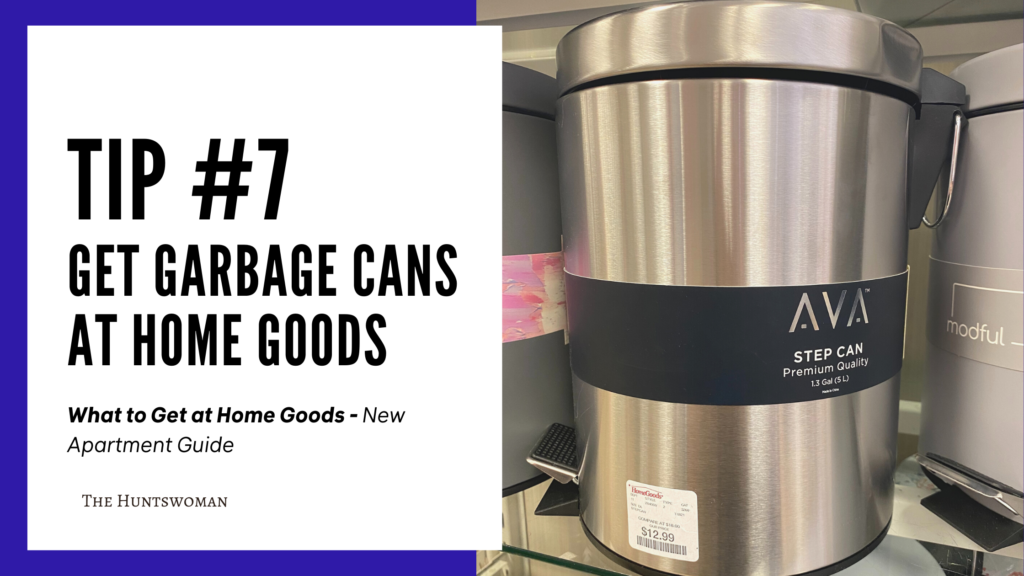 There's a joke or meme on the internet about finding certain items to be super pricey.
Buying small garbage cans for my bathrooms, bedrooms and office was super eye opening. A small garbage can at a big box store can be $30 – $50.
Those same small garbage cans are around $12.99 at Home Goods – and they have larger step garbage cans for the kitchen and other spaces. (I'm extra and bought a robotic garbage can that opens with motion, but do you!)
Get small step garbage cans at Home Goods!
#8 | What to Get at Home Goods – Kitchen Gadgets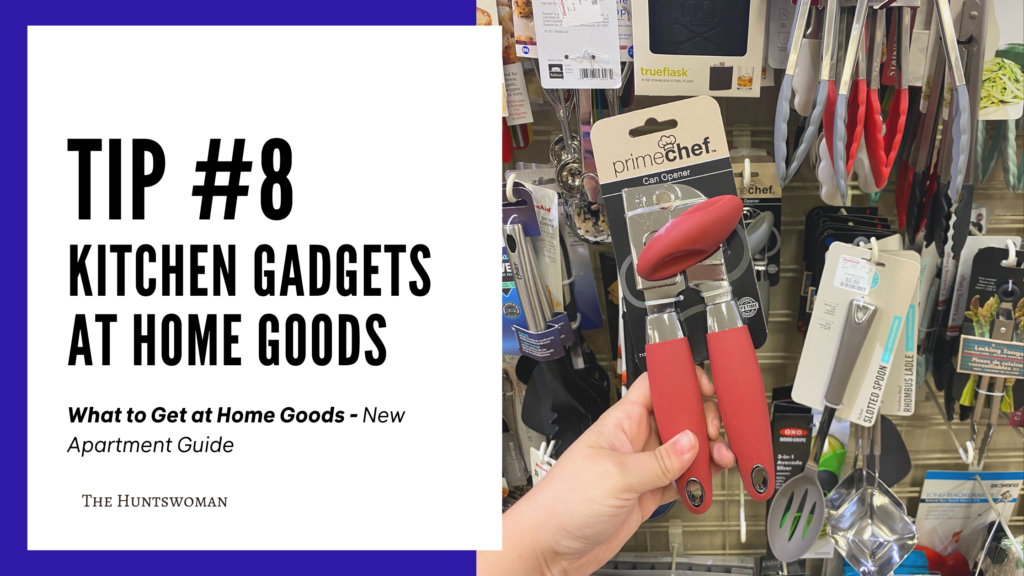 Ok, so some folks are SUPER into cooking (like my friend Rebecca, who runs a body positive cooking blog called The Practical Kitch) – and some of us are not into cooking.
Like at all, lol.
When it came to equipping the kitchen my new apartment, I bought a LOT of sets. Those bundles that have like 20 items for a kitchen? I was all over those, lol.
There were a list of items I still needed to buy, so I was ready to place a massive order online and get it all delivered.
Until I walked through the kitchen gadget aisle at Home Goods, and saw the prices. Home Goods had the same brands or better brands, for 1/5 the price.
Like, listen, I'm not going to go out of my way to save $4. I optimize to save time, because that's truly a limited resource.
But, because I was buying so much from Home Goods – buying almost all of my gadgets there easily saved me a few hundred dollars.
So, if you're furnishing a new home or apartment – and you have a lot of kitchen stuff to buy – Home Goods should def be on your list!
Check Home Goods for kitchen gadgets!
#9 | What to Get at Home Goods – Pet Goods & Dog Beds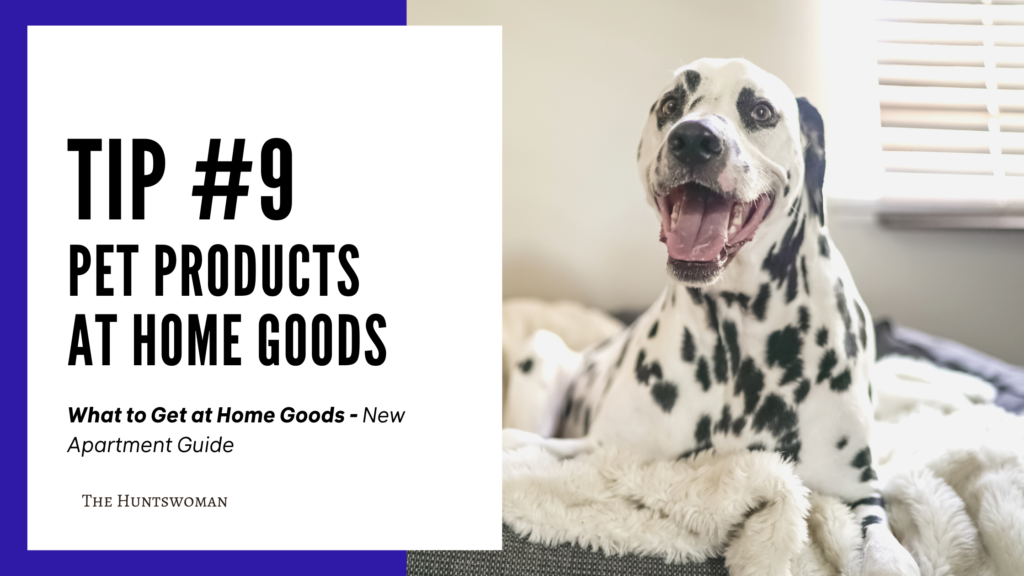 Ok, so I don't have pets – but a lot of my besties and readers do! And holy WOWZERS, Home Goods has a lot of pet beds, treats, toys and goodies. These items can be pricy (who doesn't love spoiling their fur child?!), and Home Goods has a lot of pet products, mostly for dogs and cats.
This includes cat trees, food dishes, pet beds of all sizes, etc.
#10 | What to Get at Home Goods – Bath Rugs & Laundry Baskets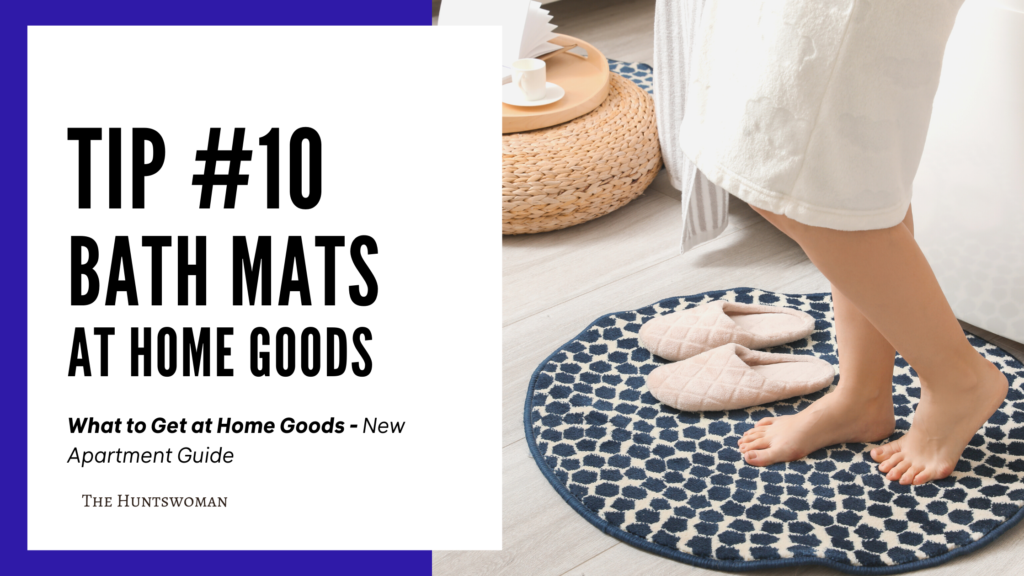 I don't get towels at Home Goods, because I prefer to get extra long towels for my plus size self – but I am so impressed with their offering of laundry baskets, bath rugs and laundry baskets.
They have a range of options for different aesthetics, and this product often turns over quickly.
What I Don't Think You'll Find at Home Goods
While I'm a fan girl of Home Goods, it's helpful to know what will be tough to find at your local store:
Dinnerware (plates, bowls, etc)
More than 1 box of the same flatware // silverware
Couch
Large office desks
Dining table
Come Back Next Week – Don't Settle at Home Goods
There's my tips for what to shop for at Home Goods! Overall, my final thought is this:
Home Goods has a revolving selection and items, so you don't need to feel pressured to buy something you don't truly like. I really adore ALL of the furniture and pieces I've got from Home Goods, because I go frequently enough I don't feel the need to settle.
Highliy recommend this approach!
New Apartment Guide! What to read next —->
Do you love blog posts about decorating a new apartment and new home products to read? Here's a few blog posts you should check out: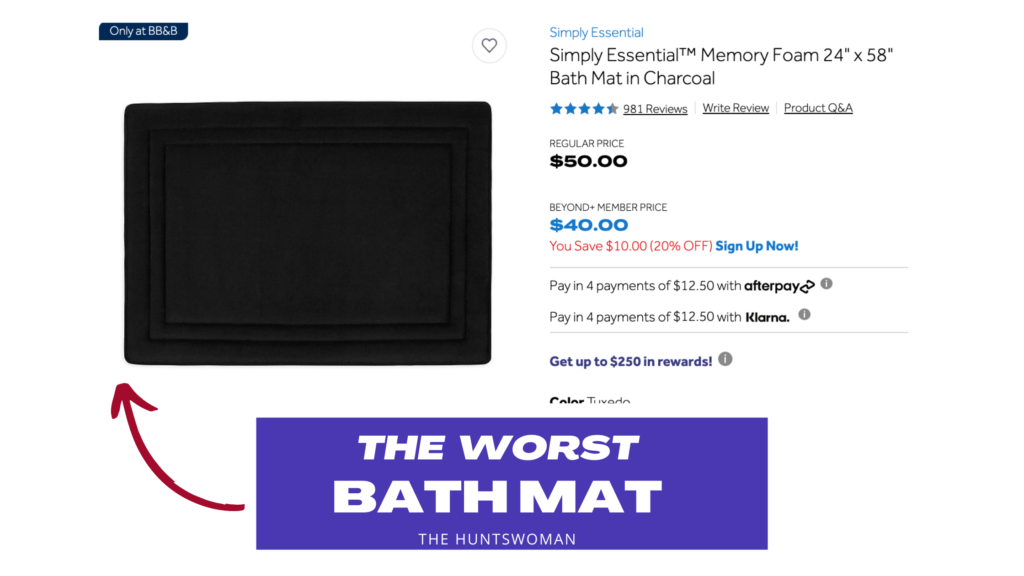 Join my email list – HERE!
Wanna hang out? I send about 1 email a week to my subscribers, on topics in fashion, career, travel and fun LGBT topics. I'm sure you'll learn a thing or two!