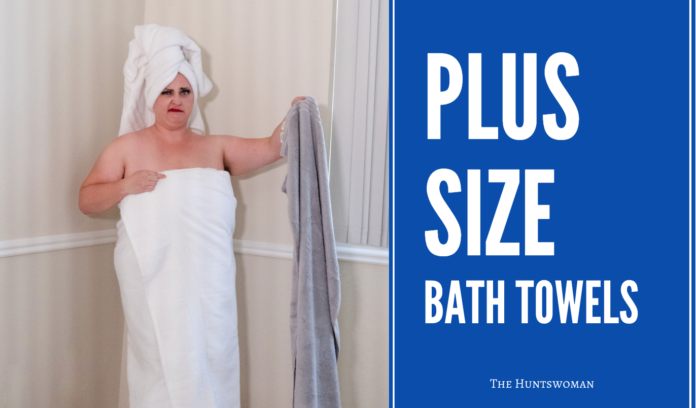 Hey there! This post contains affiliate links.  Using my links means I earn a commission, which helps me create more rad content.  More on affiliates here.
Today on my blog, I want to share my info on where to find plus size bath towels in wide widths for plus size and curvy babes! This isn't something we talk a lot about in the plus size fashion space, and it can be a bit of an emotionally sensitive topic.
Let me explain: As a plus size person, I can't use "regular" towels.
The average length of a bath towel from a department store is 54″ long. My hips are 50″ wide, making it so I can't wrap a towel around me.
It's annoying, frankly!
While I love a plus size robe (my recs on those here), sometimes I just want to hang out in my towel while putting on my makeup. Regular towels gape awkwardly, and it's really honestly a pain.
This blog post is all about where to buy plus size bath towels.
[Heads up! This post was originally published on February 21, 2020. I have updated since then, with the most recent update on August 3, 2023! While I do my best to keep my blog posts updated, brands do like to switch things up! Please check all details with the brand before snagging your plus size towel ]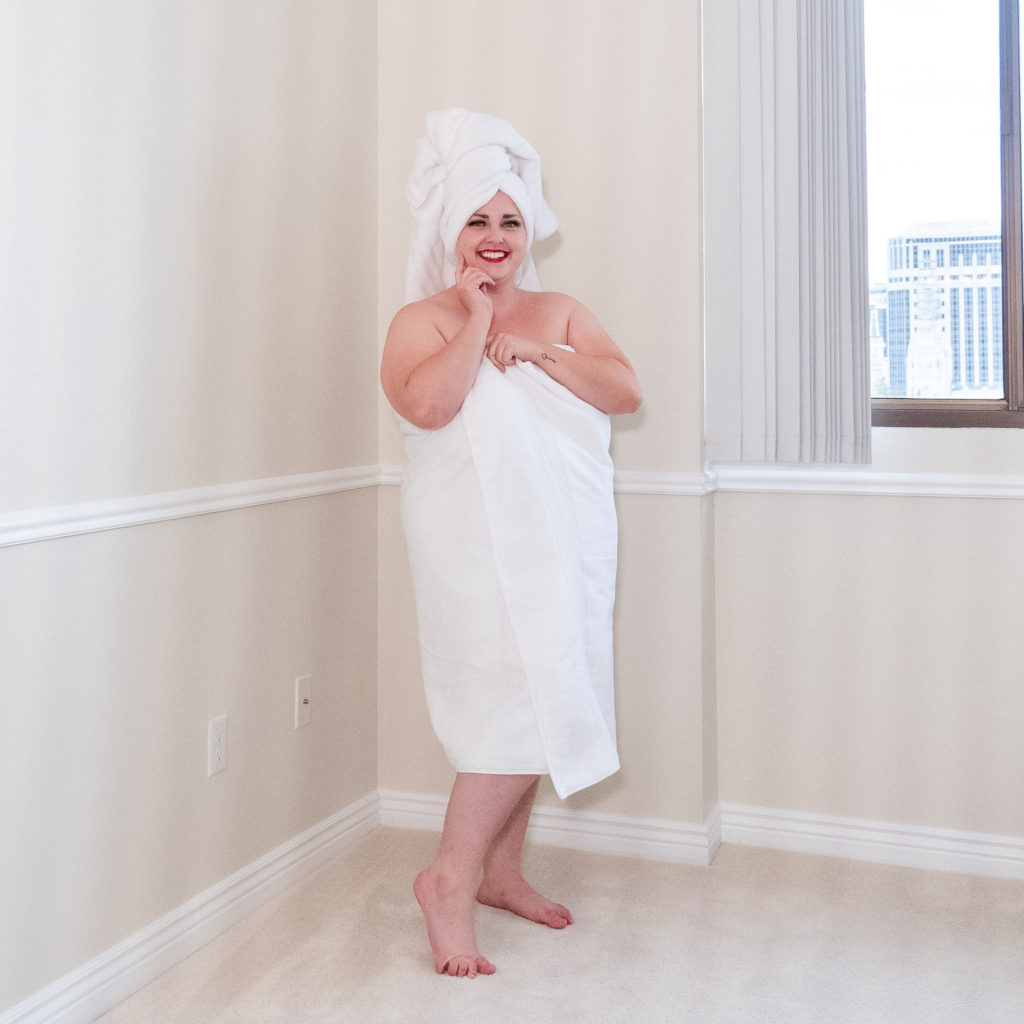 Where are the Wide Width Bath Towels?
I know I could use an extra long beach towel, but I want an AESTHETIC darling. I have a HOME DECOR vibe. I want to do a sheet mask with a towel on, not feel like I'm on my way to the waterpark!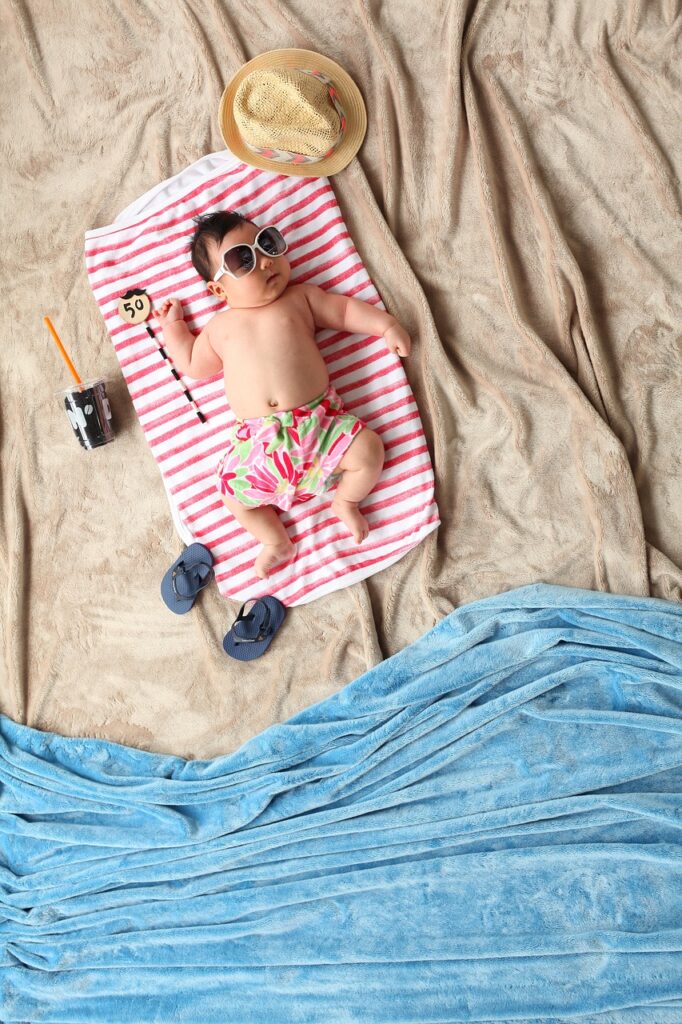 I've FOUND Plus Size Towels!!
When I first started this blog post, I honestly didn't know what the price range for a plus size bath towels IS. Therefore, I've shared a variety of price points of plus size or wide width towels in this post. I did a lot of this research for myself, then realized, "Oh! I should share this with my readers!"
So here we are!
Before we get started, a few tips for shopping for plus size bath towels:
Tip #1: Bath Towels vs SHEETS: When shopping, some brands will purposefully (in my opinion) confusing on this front. Bath towels are made of that fluffy terrycloth fabric, and bath SHEETS are thinner. Be sure you know what you're buying!
Tip #2: Doublecheck measurements: In doing research, I found some brands being a bit confusing on how large their towels are. Sometimes clicking a different color would result in different measurements. Be sure to triple check this!
Tip #3: Check the reviews! And, as always, if ALL the reviews are stellar — something may be a bit fishy.
Below, I've shared some of my fave finds for plus size towels. For more content and recommendations like this from me, join my email list here!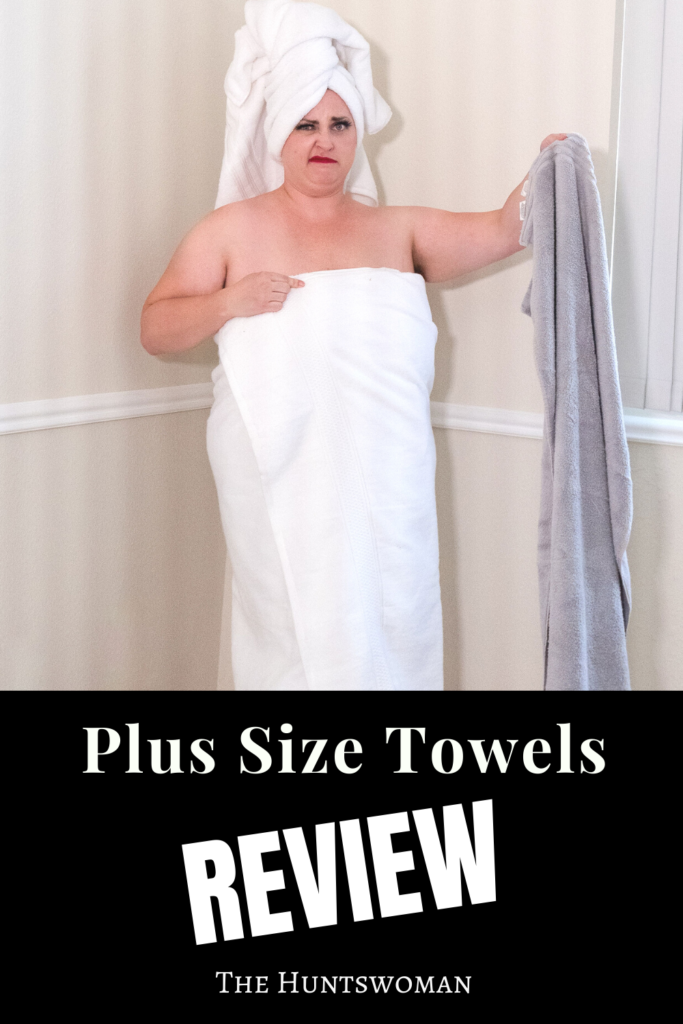 These 100% cotton plus size bath towels are 35×70 inches, making them work for up to around a size 26. Ish. Depends on how you wrap your towel! They're 100% cotton and are sold two in a set (at time of my update)!. I freaking LOVE this brand, and these are the plus size towels that I bought for myself!! I have bought them to have white plus size spa towels for Self-Care Night! I love a bright white towel – there's something SO luxurious about it!
Sizing: 70 inches wide, good for folks who are up to a Torrid size 4 or size 26!
Colors: These extra large towels are available in 12 colors, including: Black, Dark Brown, Pink, Plum Purple, Sage Green, White, Burgundy, Electric Blue, Grey, Navy Blue and Turquoise!
From the brand: "Set includes two luxury cotton bath sheets measuring 35 by 70 inches each. Our bath towels are manufactured with premium quality 100% ring spun cotton making them elegant yet functional."
Shop my fave plus size bath towels HERE!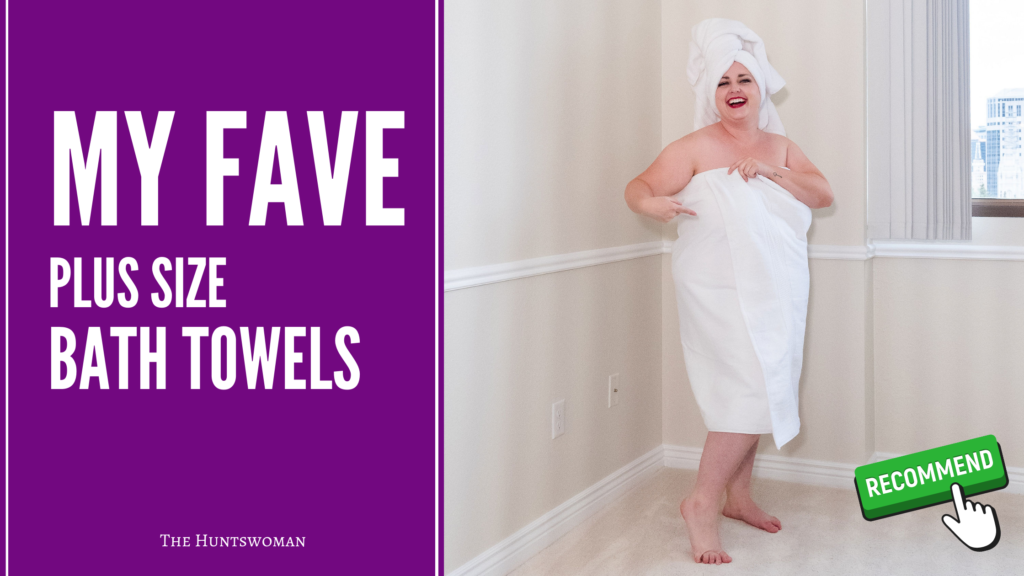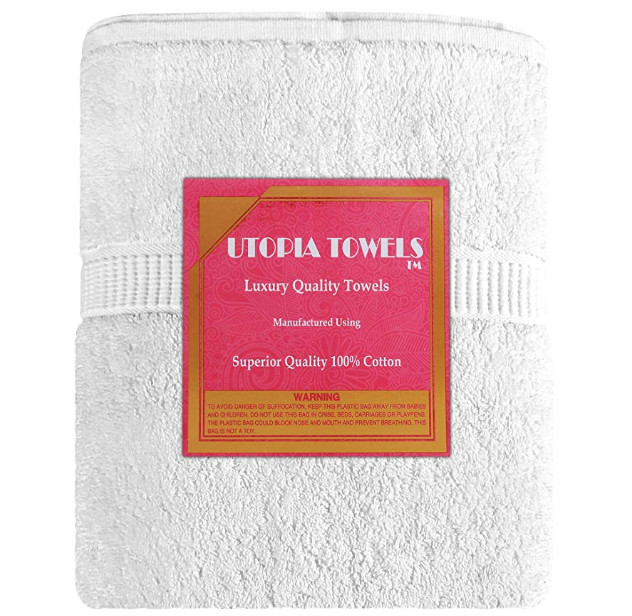 Folks I could not BELIEVE IT when my bestie, Kate, told me about these extra wide bath towels from Target – that are $12 each?!!? I ended up buying around 8 of these plus size bath towels in black for my new apartment! They held up very well to a lot of washes, and i didn't have issues with them falling apart (like some towels, cough cough). I have recommended these extra wide plus size bath towels to my followers on Instagram many times!!
THEY'RE SO GOOD!
These plus size towels are soft and high quality. I couldn't believe it!
Sizing: These plus size bath towels are 63 inches by 30 inches, and fit comfortably around my size 20 self!
Colors: These wide width towels come in 12 colors! Blue, Tan, Grey, Aqua Blue, Gold yellow, Olive Green, Black, White, Rose Pink, Maroon, Orange and Navy
From the brand: "Heavyweight bath towel in solid hue with a hanging loop. 100% cotton fabric with terry construction for breathability and greater absorbency. Trimmed with textured fabric border for a polished look. Machine-washable construction makes for easy care and maintenance."
Shop these plus size bath towels HERE!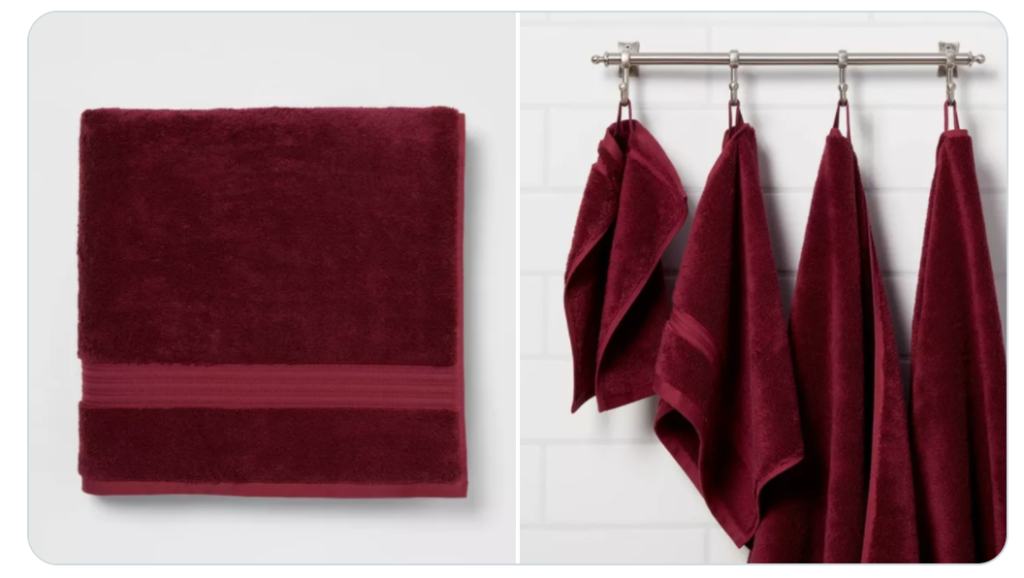 I was SO excited when I found these plus size bath towels! They're 90 inches wide, making them more inclusive than other brands listed. For reference, 90 inches wide is almost a foot longer than a beach towel. These plus size towels are made from 100% ring spun Turkish cotton. TLDR? They're FLUFFY!
Sizing: 90 inches wide
Colors: These plus size towels are available in 9 colors! Aqua Blue, Black, Green, Gray, Navy, Orange, Pink, White, & Yellow!
From the brand: "NINE WEST extra large bath sheets measure a generous 40"x80" inches. Each bath towel is lightweight and features a classic but elegant solid color design. Wrap your entire body around and feel the luxury with our soft to the touch natural cotton body wrap towels."
Shop these plus size towels here!
Next up, we have these plush and cozy plus size bath towels from BrookLinen!
From the brand: "Our bestselling towel weave, Super-Plush is ridiculously soft and luxurious, perfect for turning your bathroom into your dream spa. Slightly larger than bath towels, these bath sheets have a substantial 820 GSM and durable z-twist construction. Comes in a set of two."
Shop high end plus size towels here!
Brand #5: Plus Size Towels From Frontgate Resort Collection
I love the feel of luxury resort towels (sign me up, right?!) and Frontgate brings those gorgeous luxury hotel towel vibes to your home! The bath towel is about 72 inches, and they also have bath sheets!
From the brand: "Softer and longer than towels found at many five-star hotels and spas, our Resort Cotton Bath Towels are lofty, thick, and as luxurious as any in the world. These towels are crafted of specially woven 100% long-staple Turkish cotton for luxurious softness and absorbency that outperforms others."
Sizing: 72 inches wide
Colors: These plus size towels are available in 27 colors!
Shop plus size towels here!
Brand #6: Plus Size Towels – 100 Inch Wide Towel from Really Big Towel Co
I got frustrated seeing so many brands brag about their "Extra Wide!!! bath towels" only to see they were like, 60 inches. -_-
So I jokingly just typed in 100 inch wide bath towel, and you know what?! A brand came up! Huzzah for being a little angry Googler, lol. The brand has their 100 inch wide bath towel in 7 colors!
Sizing: 100 inches wide
Colors: These plus size towels are available in 7 colors! Black, Burgundy, Grey, Peach, Sage Green, Taupe and Purple!
Shop plus size towels here!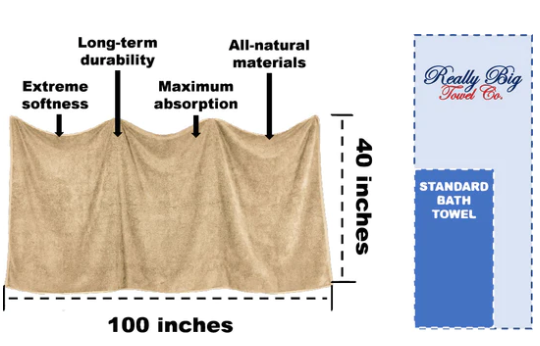 Recently, I've been intrigued with plus size towel wraps, to wear while I get ready! These are nice, because you don't have to keep adjusting your towel to stay on.
I know I could use a plus size robe, but I don't want to get makeup and haircare products all over my robe!
Sizing: Up to a size 38/40, which on their size chart is a up to a 61 inch waist.
Colors: Lemon Mist, Emerald Green, Black, Ultra Blue, White, Paradise Blue, Classic Red, Deep Teal, Rich Magenta, Soft Iris, Evening Blue, Sweet Coral, Pink Burst and Rich Violet.
Shop this plus size towel dress here!
Alternative to Plus Size Towels: Bath Sheets!
While on the hunt for plus size towels, i found out about something called a "Bath Sheet."
Sounds a little weird, but I'm down to try things!
A bath sheet is basically a lighter weight towel. You use your fluffy towel to dry off after a shower, and then wrap yourself in a bath sheet (thicker than a regular sheet).
Wild!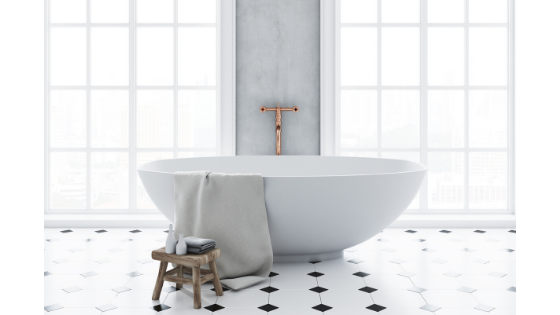 Want to feel the plus size towel before you buy it? Bed Bath & Beyond has Turkish towels that go up to 68″ from SALT®! Not all stores have this line, so be sure to check online if your local store does!!
Sizing: 66 inches wide
Colors: White, Cream, Latte Brown, Tea Rose, Medium Blue, Navy Blue, Light Gray, and Dark Gray
These plus size bath towels start at $33.59.
Shop plus size towels here.
Okay, so these plus size bath sheets can be more thin than your average towel, as they don't have that "plushness" factor!
Sizing: 80 inches wide
Colors: Rockridge Gray, Black, White, Burgundy Red, Chocolate Brown, Blue, Dark Gray, Lemon yellow, Malibu Peach, Navy Blue, Sage Green, Sand Taupe, Sky Blue, Turquoise Blue, Violet Purple & Pistachio Green.
Shop these plus size bath sheets here!
Next up, we have plus size bath sheets from Lands End. Again, bath sheets are a bit more thin and rough, see the picture below! Honestly, I didn't know Lands End *made* towels before doing research for my own life, so I'm glad I found this out!
Sizing: 70 inches wide
Colors: These plus size towels are available in 8 muted and soft colors!
Shop plus size towels here!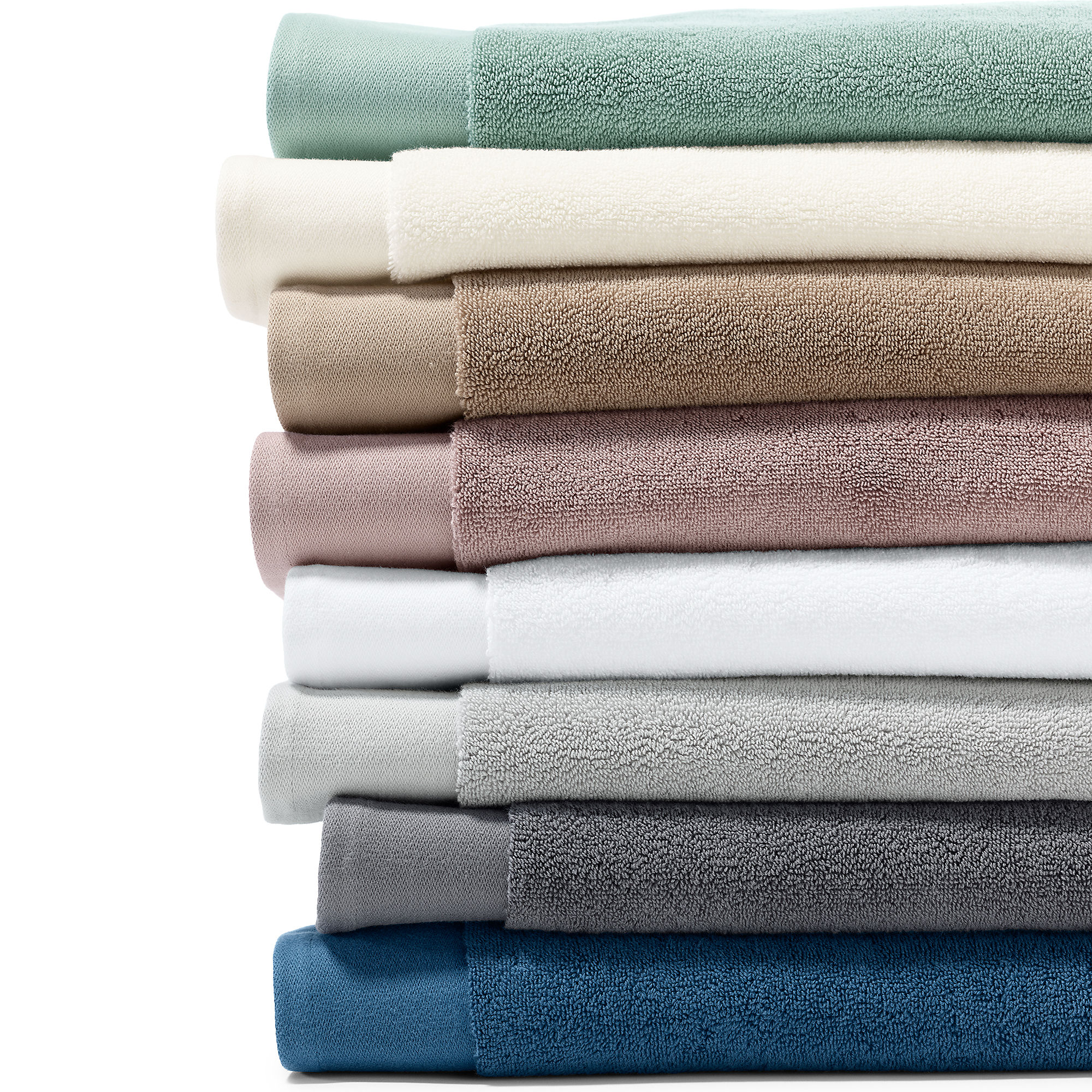 Are you looking for more plush plus size bath sheets?! I got you! Brooklands has a bunch of measurements to show why THEY should be your choice for a super plush bath sheet.
Sizing: 70 inches wide
Colors: These plus size towels are available in 7 colors! Aquamarine blue, blue, dark blue, gray, white, purple and violet!
Shop plus size towels here!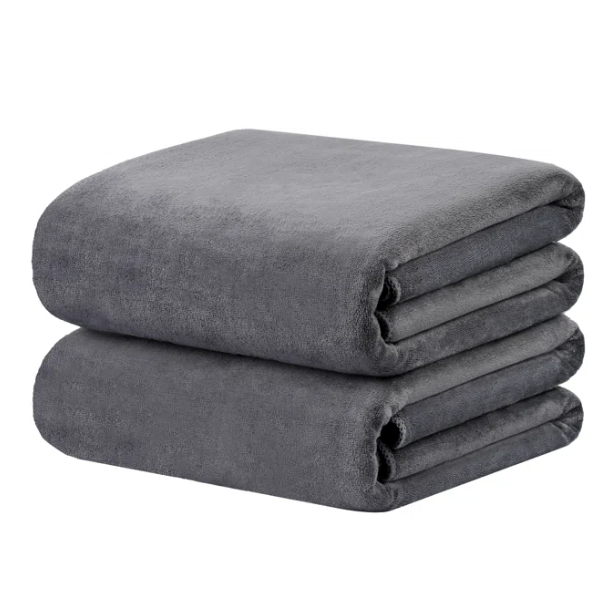 Bath Sheets usually use a "waffle knit" making them absorbent, but still light! These are a great alternative to robes, and they're often used in spas to be more inclusive.
After searching through Google results, I think the Cotton Craft bath sheets are a good bath sheet to try out. They've got good reviews!
I'll definitely be taking mine on my next trip, as robes take a lot of luggage space!
Shop these bath sheets HERE!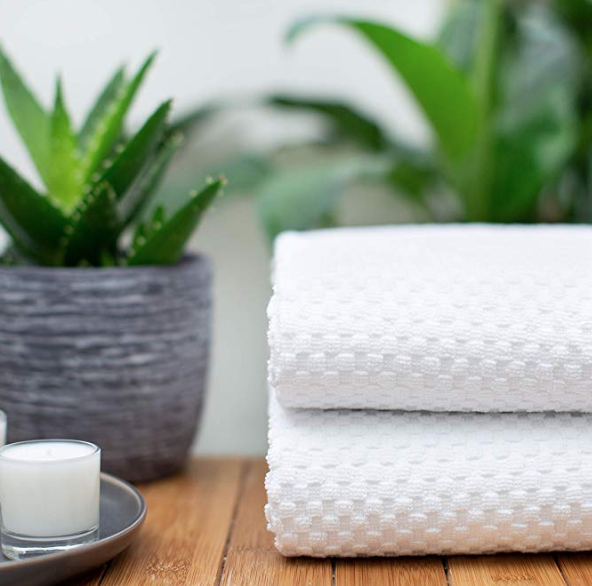 This blog post was all about where to buy plus size bath towels.
What to read next:
Keep in Touch for More Plus Size Reviews!
If you want to stay up-to-date on my reviews, I recommend joining me on your favorite social media platform (Facebook, Instagram or Twitter).
More of an email kind of person? Subscribe here!