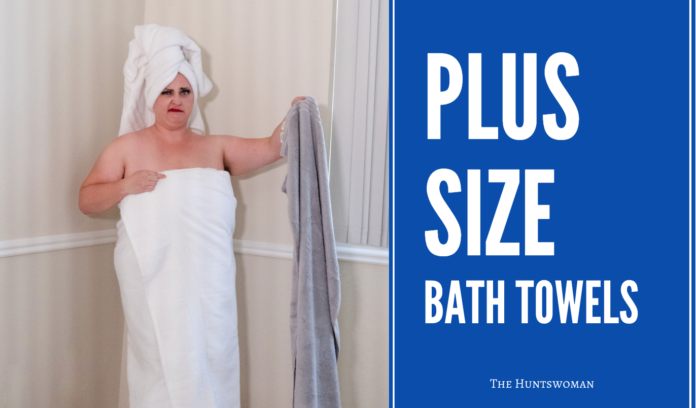 Hey there! This post contains affiliate links.  Using my links means I earn a commission, which helps me create more rad content.  More on affiliates here.
As a plus size person, I can't use "regular" towels.
The average length of a bath towel from a department store is 54″ long. My hips are 50″ wide, making it so I can't wrap a towel around me.
It's annoying, frankly!
While I love a plus size robe (my recs here), sometimes I just want to hang out in my towel while putting on my makeup. Regular towels gape awkwardly, and it's really honestly a pain.
[Heads up! This post was originally published on February 21, 2020. I have updated it twice since then, with the most recent update on July 15, 2021!]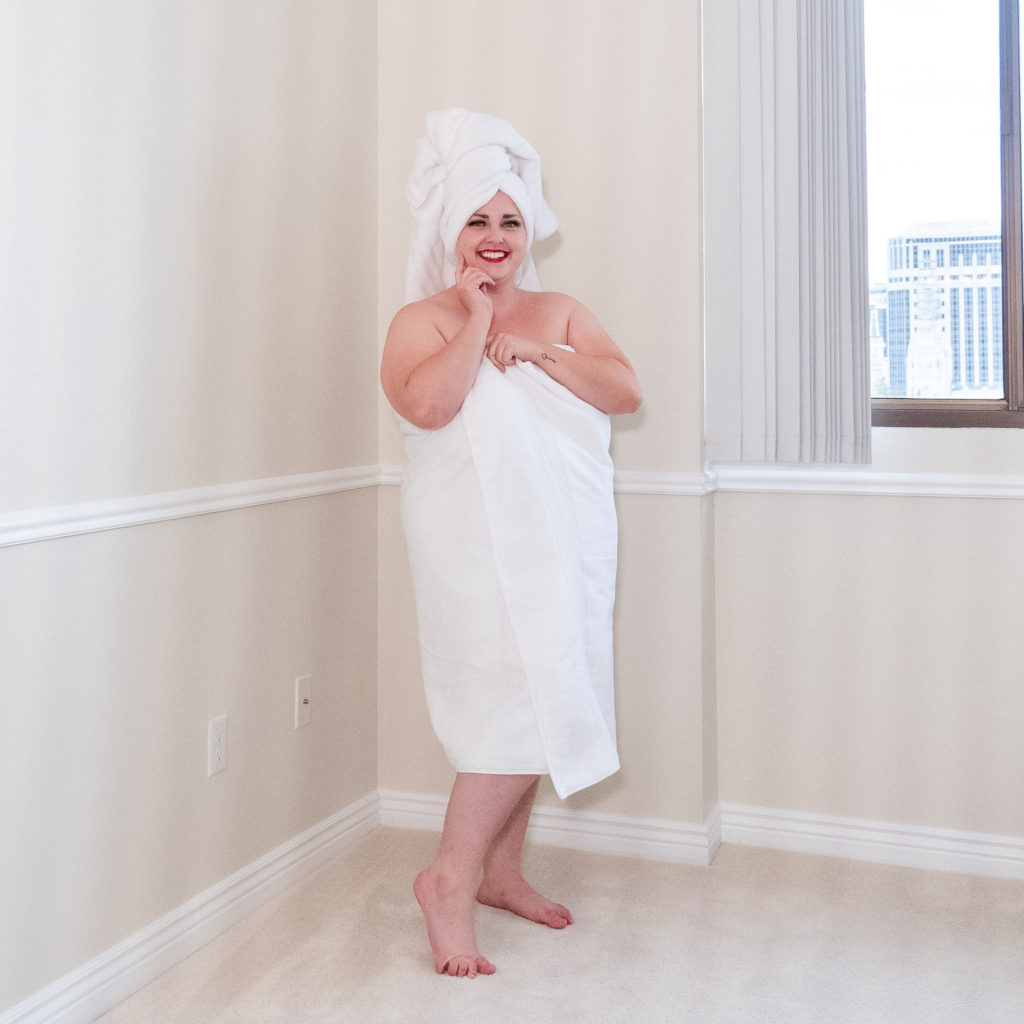 Where are the Wide Width Bath Towels?
I know I could use a beach towel, but I want an AESTHETIC darling. I have a HOME DECOR vibe. I want to do a sheet mask with a towel on, not feel like I'm on my way to the waterpark!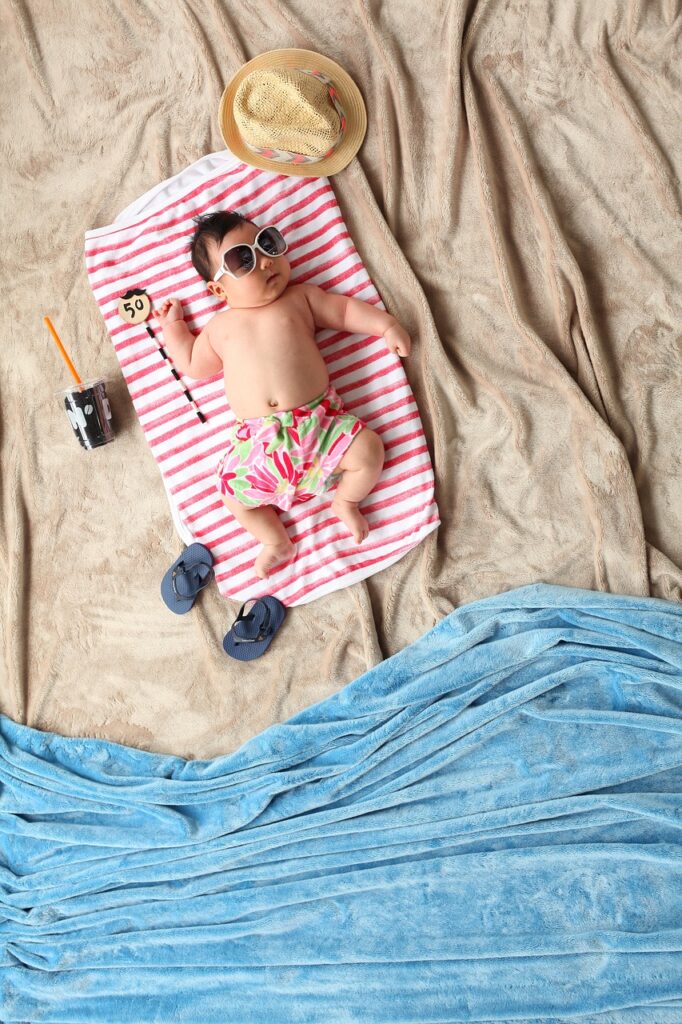 I've FOUND Plus Size Towels!!
When I first started this blog post, I honestly didn't know what the price range for a plus size bath towels IS. Therefore, I've shared a variety of price points of plus size or wide width towels in this post.
Below, I've shared some of my fave finds for plus size towels. Did I miss your favorite brand? Drop me a line here or via Instagram DM!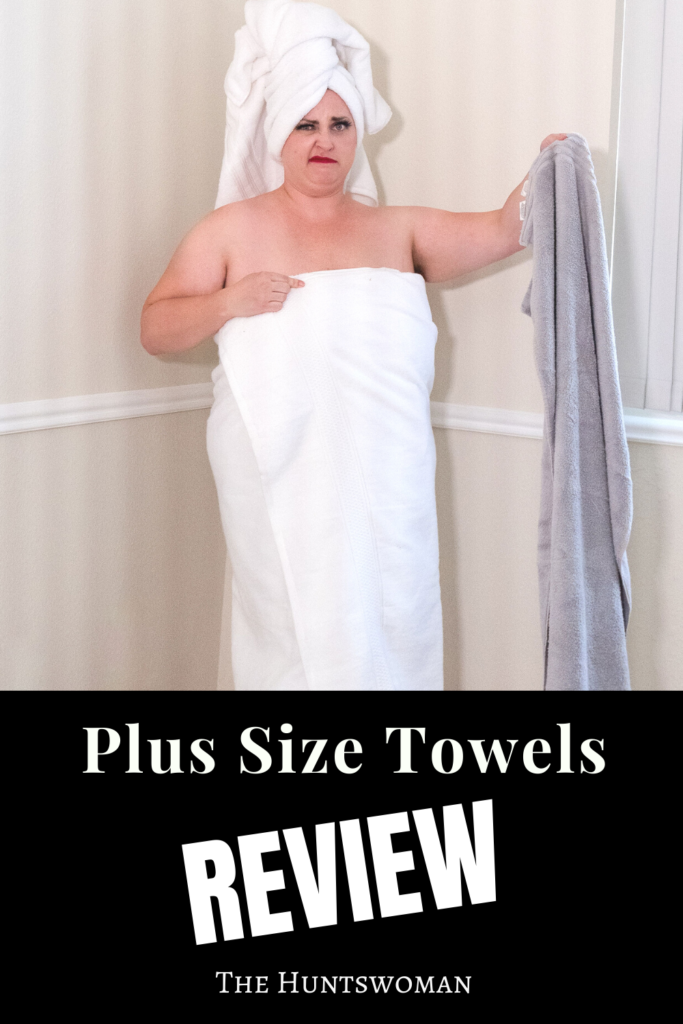 These 100% cotton plus size bath towels are 35×70 inches, making them work for up to around a size 26. Ish. Depends on how you wrap your towel! They're 100% cotton and $19.99 each.
I freaking LOVE this brand, and these are the towels that I bought for myself!! These plus size bath towels are available in 12 colors, including: Black, Dark Brown, Pink, Plum Purple, Sage Green, White, Burgundy, Electric Blue, Grey, Navy Blue and Turquoise!
Shop my fave plus size bath towels HERE!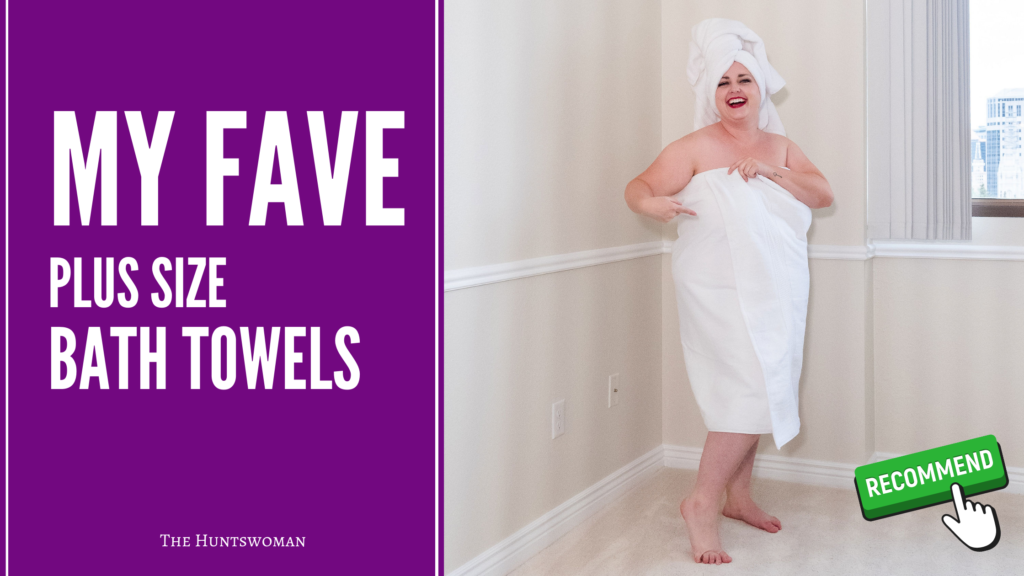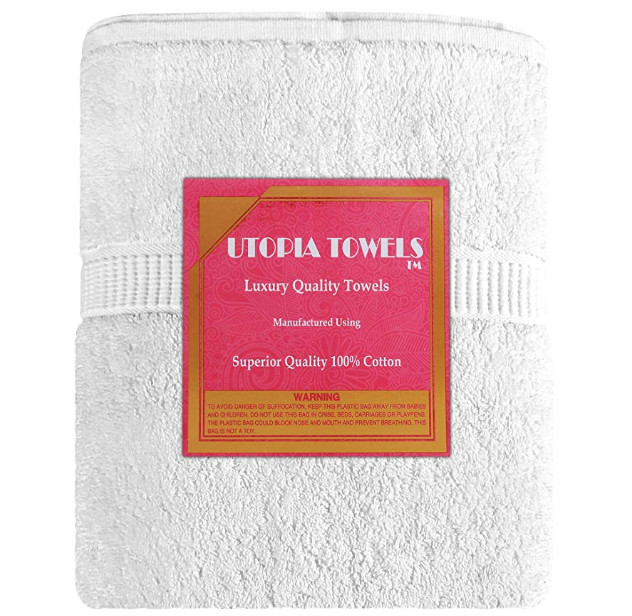 Folks I could not BELIEVE IT when my bestie Kate told me about these extra wide bath towels from Target – that are $10 each?!!?
WHAAAAT?!
These towels are soft and high quality. I couldn't believe it! These plus size bath towels are 63 inches by 30 inches, and fit comfortably around my size 20 self!
They also come in 12 colors (Blue, Tan, Grey, Aqua Blue, Gold yellow, Oliva Green, Black, White, Rose Pink, Maroon, Orange and Navy.)
Shop these plus size bath towels HERE!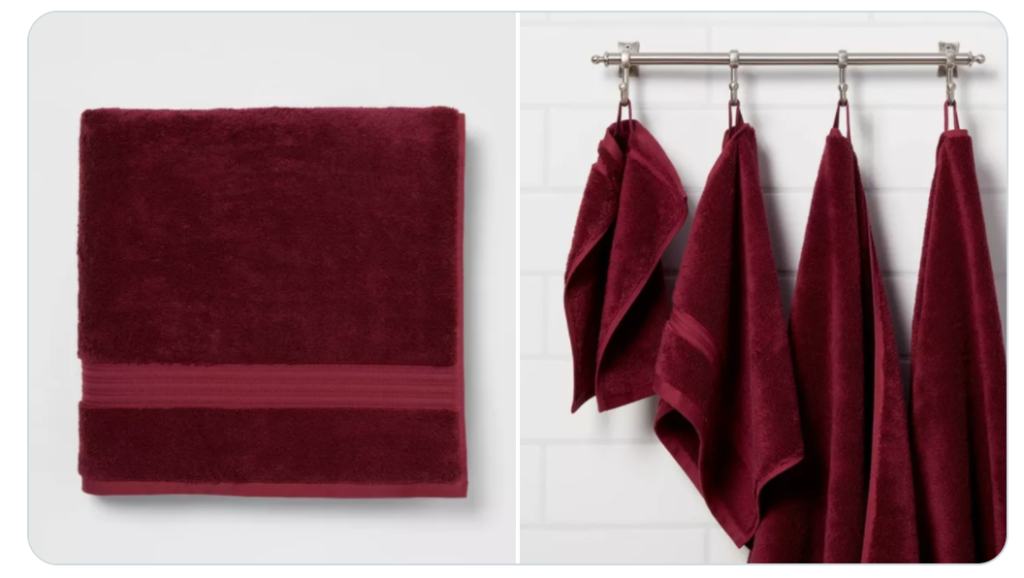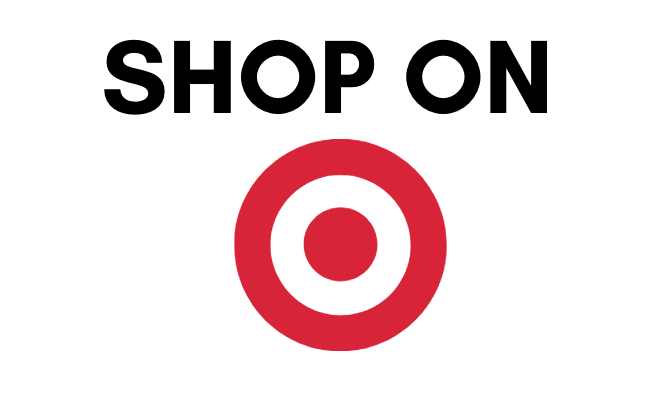 Brand #3: Plus Size Bath Towels from Chakir Turkish Linens ($36.99)
I was SO excited when I found these plus size bath towels! They're 80 inches wide, making them more inclusive. These plus size towels are made from 100% ring spun Turkish cotton. TLDR? They're FLUFFY and these plus size bath towels are available in 5 colors (beige, cranberry red, gray, wedgewood blue and white)!
They're available in 6 colors, and are priced at $36.99 each.
Shop these plus size towels here!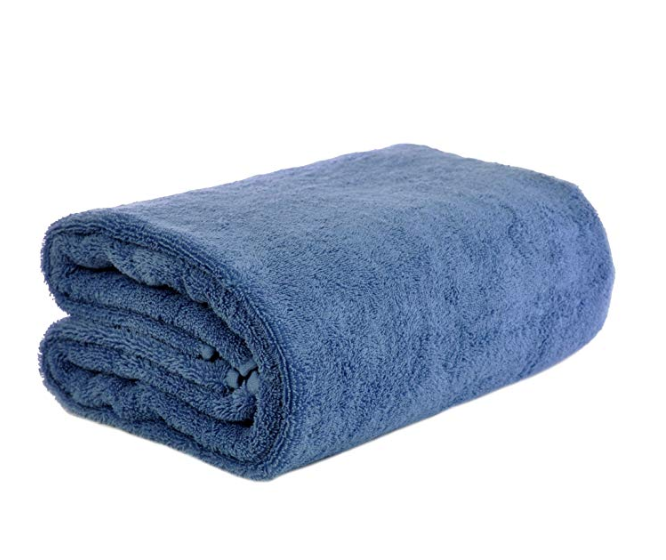 Want to feel the plus size towel before you buy it? Bed Bath & Beyond has towels that go up to 68″ from SALT®! Not all stores have this line, so be sure to check online if your local store does!!
These plus size bath towels are priced at $14.99 and available in 4 colors (beige, blue, white and gray).
Shop plus size towels here.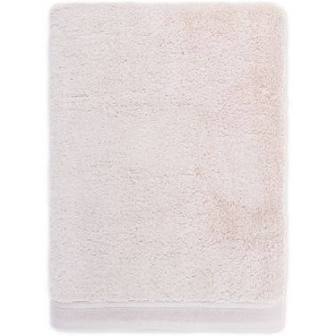 Alternative to Plus Size Towels: Bath Sheets!
While on the hunt for plus size towels, i found out about something called a "Bath Sheet."
Sounds a little weird, but I'm down to try things!
A bath sheet is basically a lighter weight towel. You use your fluffy towel to dry off after a shower, and then wrap yourself in a bath sheet (thicker than a regular sheet).
Wild!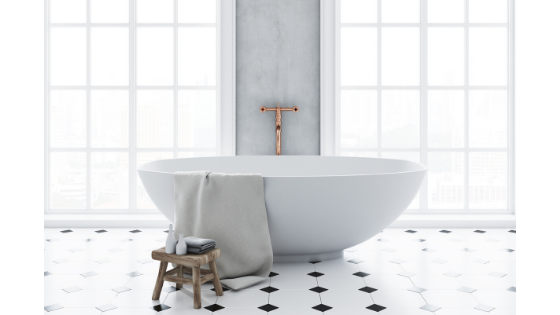 Bath Sheets usually use a "waffle knit" making them absorbent, but still light! These are a great alternative to robes, and they're often used in spas to be more inclusive.
After searching through Google results, I think the Cotton Craft bath sheets are a good bath sheet to try out. They've got good reviews, and are priced at $26.99.
I'll definitely be taking mine on my next trip, as robes take a lot of luggage space!
Shop these bath sheets HERE!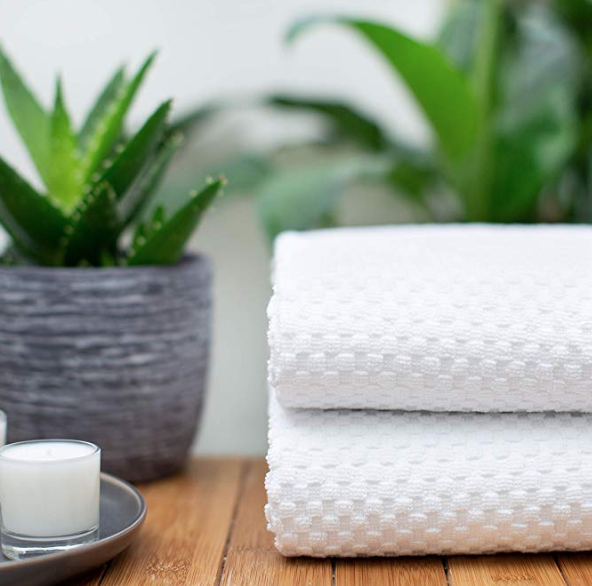 What to read next:
Keep in Touch for More Plus Size Reviews!
If you want to stay up-to-date on my reviews, I recommend joining me on your favorite social media platform (Facebook, Instagram or Twitter).
More of an email kind of person? Subscribe here!
[FTC Notice: This post contains affiliate links, meaning I earn a small commission if you purchase a product through my link. Affiliates help me write more great content, and I only endorse products I truly love.]