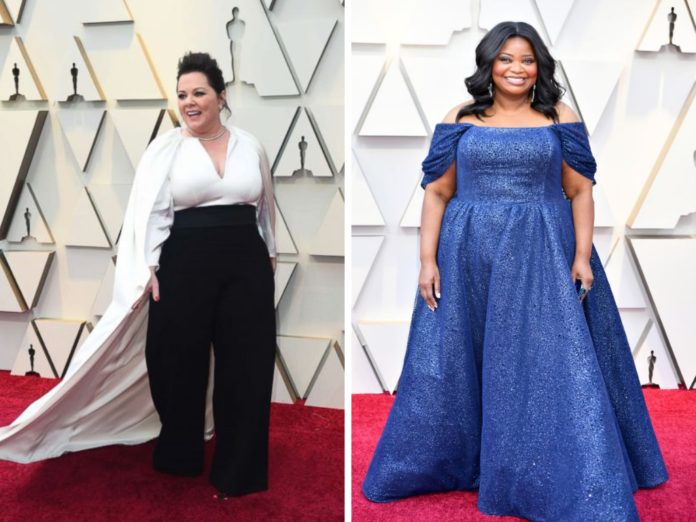 Hey there! This post contains affiliate links.  Using my links means I earn a commission, which helps me create more rad content.  More on affiliates here.
Fashion time!!
ALERT! Looking for the plus size Oscar looks for 2020? Click here.
Y'all, I LOVEEEEE Award Season. I am HERE to see creatives achieving their dreams, and making a statement while doing so.
I think of Oscars fashion as more traditional, with the real mind-bending looks taking place at The Grammy's. I said it. I meant it.
There were definitely some artistic and high fashion looks on the red carpet for The Oscar's. I really loved J.Lo's dress and I would wear the hell out of that Kacey Musgraves number!
Seeing reactions to red carpet fashion is FASCINATING. Some viewers will rip apart anything new, saying it's ugly. But this really only incentivizes stars to dress boring for the red carpet – and then get censure for that.
I honestly think some of the best fashion is relegated to the "Worst Dressed" list, because looks that end up there have a point of view.
Plus Size Fashion at The Oscars
Looking at the red carpet, there are considerably fewer plus size and fat people on it – it's definitely *not* a reflection of the population. But, we have some fabulous women breaking barriers for the rest of us, so let's review their looks!
Look #1: Octavia Spencer in Christian Siriano
Octavia is RADIANT on the red carpet, and I really loved her center part. This blue off-shoulder gown was designed by Christian Siriano, who has been dressing plus size starlets for years. (Cough wouldn't it be nice if other people caught on.)
I think is very traditional red carpet gown, overall.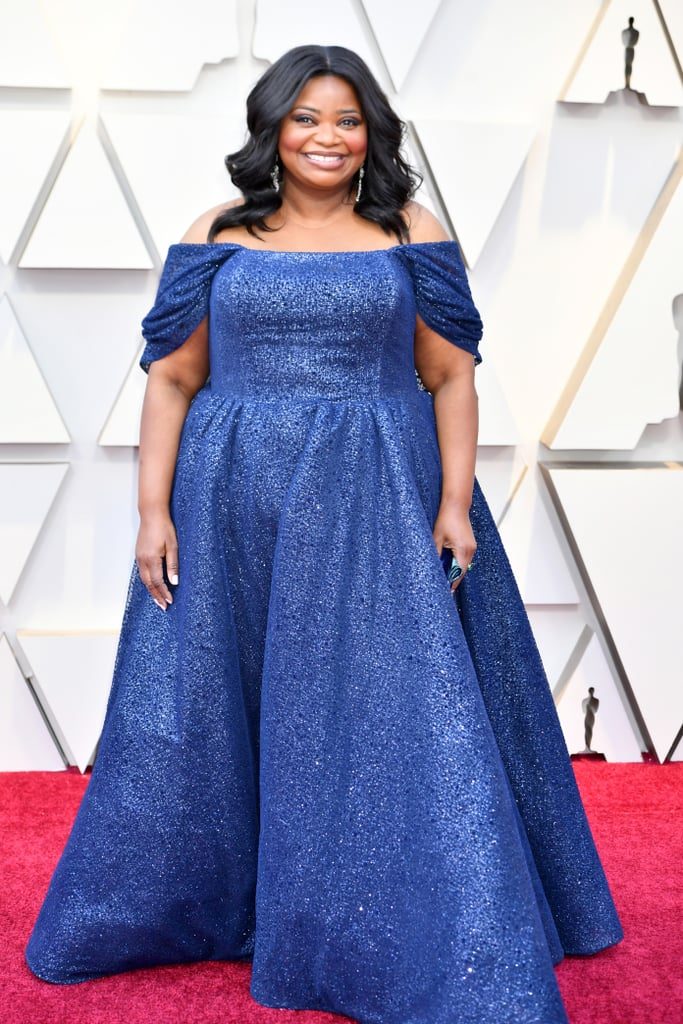 Look #2: Queen Latifah in Michael Costello
It appears that Project Runway designers (Michael Costello was in season 6 of PR) are leading the charge when it comes to dressing plus size starlets.
I really loved this look, especially the cutouts by the neckline. It looks almost "shard-like."
Also – I totally screeched when Queen Latifah presented "The Favorite." Play on words with "queen," plus some lady-loving representation?! I'm into it.
Look #3: Danielle Macdonald in Christian Siriano
Okayyy, so I shared a poll on my Instagram Story for takes on these dresses. Everyone seemed to agree that the dress was beautiful, but very ill-fitting.
I think Danielle needed a bustier and/or there needed to be a LOT more boning and understructure in this garment.
I love the train – especially the wide hem. The shoulders are stuning, and the bodice, well, doesn't work for me.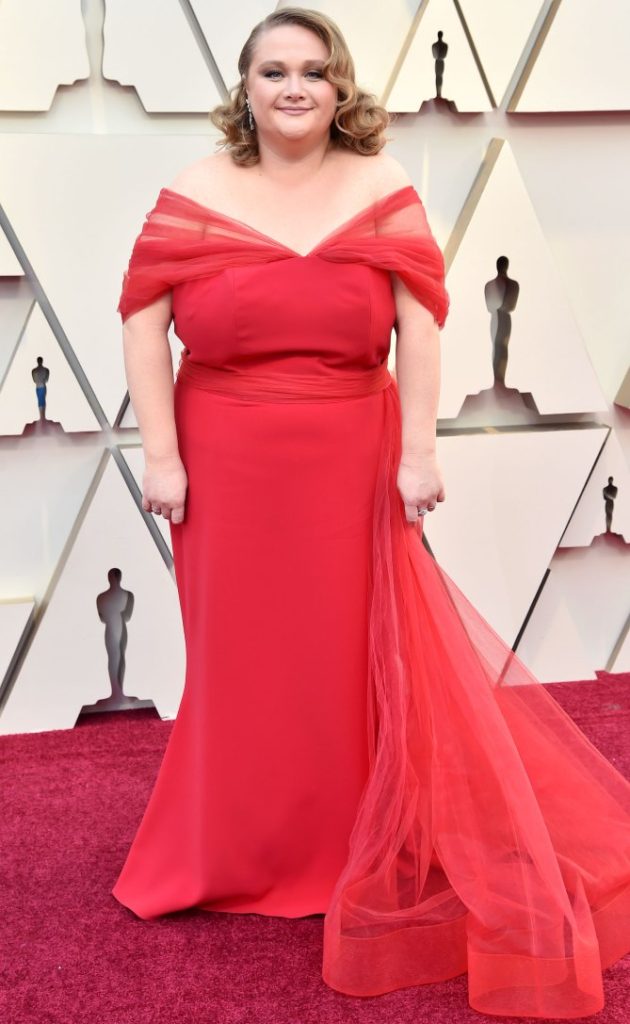 Look #4: Chrissy Metz in House Of Cyndarella
Critiquing Oscars fashion is tough for plus size people, because these starlets generally do not get even HALF the attention or resources of straight-size starlets. In an interview with Allure Magazine, Chrissy shared, "Indeed, according to Radar Online, Metz was seen shopping for dresses just hours before the red carpet."

Chrissy picked up her dress from the House Of Cyndarella.
While I like the color, I'm not really a fan of the overall structure. That said, i'm reticent to give a full-on critique, as Metz was limited in her choices.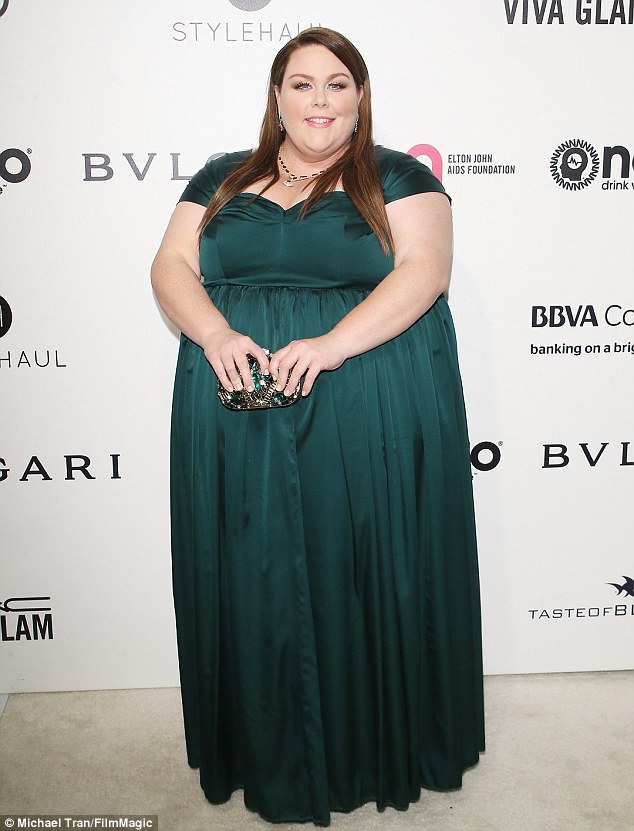 Look #5: Melissa McCarthy in Brandon Maxwell
Melissa continued the Project Runway trend in this Brandon Maxwell ensemble (Maxwell is a judge on v2.0 of Project Runway).
Y'all, I loved this look. I was traveling from San Fransisco while The Oscars was on TV, and I got off the plan to 5 texts from friends who KNEW I'd love this look.
I love the cape, I love the bust, I love it ALLLLLL! Its movement photographed BEAUTIFULLY!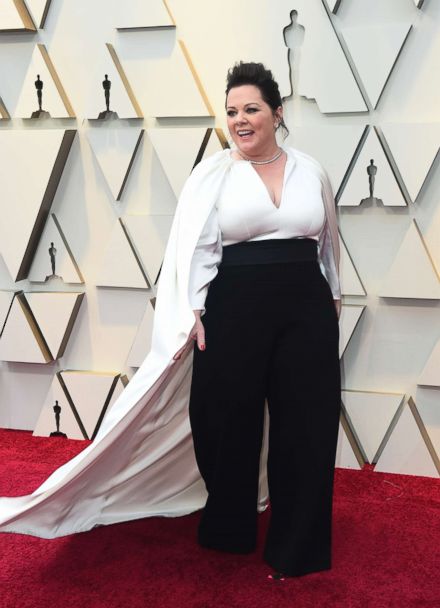 Looking Forward to 2020
In 2020, i hope we see more designers create fashion forward looks for plus size stars. Let's stop playing it safe and get WEIRD!
What look was your favorite at The Oscar's? Sound off in the comments!!