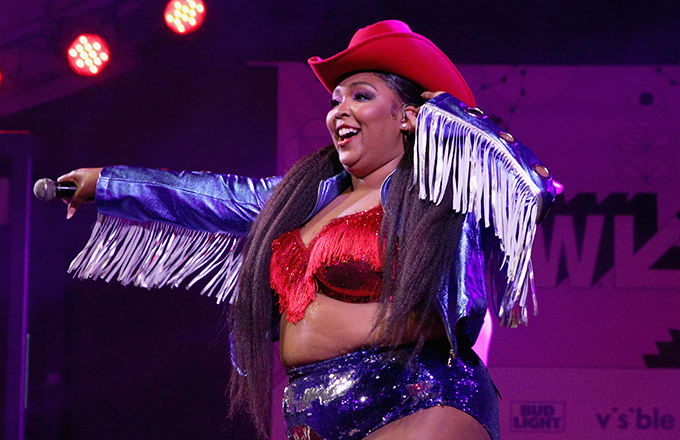 Hey there! This post contains affiliate links.  Using my links means I earn a commission, which helps me create more rad content.  More on affiliates here.
Normally, I would start this post with some background on who Lizzo is and why she is the Queen of Everything, but if you aren't in the know just head over to YouTube, mmkay?
WE GOT OUTFITS TO DISCUSS.
[Heads up! This post uses affiliate links, and you help me earn $$ when you use my links. More on affiliate links here!]
The Excitement in Dressing for a Lizzo Concert
Figuring out what to wear to a Lizzo performance is SUPER exciting and fun, because she is a fabulous performer and serves LOOKS all the damn time.
These performances are gonna be freaking plus size fashion runway shows, and I hope the extra amongst us plan to wear some custom AF looks.
I am ready for crop tops, thunder thighs and belles in fishnets – DO YOU HEAR ME?!?! This is a great time to go ALL OUT and be experimental in fashion.
Need Ideas?
Scroll on, bb. I got you! Below are some ready-to-order looks to wear while dancing and singing your goddamn heart out.
Looking through Lizzo's Insta, you're gonna see a loooot of sequins. Best way to attend her concert is in a similar style. This plus size sequin jumpsuit from Little Mistress has it all – wide legs for swishing while dancing, and statement making shoulders.
#2: PREMME PREMME PREMME
Listen, you know that Premme has SO MANY LOOKS that are perfect for a Lizzo concert. Crop tops, jumpsuits, sparkly fabrics – honestly, you may want to buy 2 and plan an outfit change.
Worried about wearing the same look as someone else? Don't be. You can mix and match looks, layer or "accessessorize" yourself to stand out.
I loveeee how Briana of @MamaFierceBlog styled Premme for a Lizzo concert in California. This FISHNET?! Space buns!?!?! LOVE. Shop this look here.
Continuing our theme of supporting plus owned brands, this "Fantasy Jumpsuit" from Plus BKLYN screams "Lizzo Concert." It's stretchy and breathable so you can dance, and it will also look fabulous under the lights and in pics.
We love a statement making pantsuit, and this one from LB also has leather detailing. Wearing it says, "I'm the biz bitch at this concert." Shop here.
Honey, you knew that I would be including ASOS Curve in this roundup! Please stay away from black, and have fun in loud prints (hello animal prints) or bright colors. If you feel overwhelmed by all of the options over at ASOS, be sure to check out @ASOS_Jazzmyne's feed dedicated to power clashing and noticeable fashion.
Y'all, the plus size fashion world is still trying to recover from the release of this collab between MUA Priscilla Ono and Eloquii. Sheer fabrics, bright colors and a fit to die for? Thank you, Fashion Jesus.
These pieces can be worn as-is or amped up for the show, and they can also be worn for, you know, events other than concerts.
My bestie Alex of Chubby Struggles rocked the pink bodysuit and palazzo Pants on a recent trip to NOLA:
<<I also share my fave outfits Twitter and Facebook, so if you love discussing OOTDs – come hang out!>>
#7: Simple Be
Think Limited Too, but 2009. Simply Be has some super fun looks for babes who want to bring some nostalgia to a Lizzo concert. Simply Be also carries clothes in sizes 8-28, so everyone can join in the fun!
This zipper front pinafore (I call this an "overall dress," lol) can be paired with a fun bright top, or a racey bra.
Hello, Paris! This plus size brand launched in 2018, bringing fabulous jumpsuits and sequins to our lives. I really love this skirt + top, because a gal could always use some fab separates.
Is the concert coming up, and you need your outfit TODAY? Woman and minority-owned retailer, RebDolls, offers 2-day shipping via Prime. They have fabulous and bright pieces made out of (mostly) stretch jersey that are easy to dance in.
This RebDolls Plus Size Dress is super cute, and you can pair with some statement jewelry/makeup to really go all out.
This checked plus size peplum dress is eye catching and super fun. The size range goes up to what we'd expect to see from a 4X, not a weird "Amazon Plus."
#11. City Chic
If you're looking for something flashy but understated – something that catches the lights at just the right moment, this City Chic metallic top is the way to go.
Pair with black skinny jeans, and stilettos (or flat boots) to lose yourself in singing withe the crows.
#12: Bodycons from Fashion to Figure
If you also love a bodycon, you have to check out the statement making dresses over at Fashion to Figure. These are attention grabbing, and totally perfect for a Lizzo concert.
Have a More "Understated" Style?
If these looks aren't you, that's okay! Grab your besties and charging banks, and be sure to head to the show.
<<EDITED TO ADD: Want to see what other fans are wearing to the show? Head to this post to see what concert outfits fans have posted.>>
Note: Blog posts on The Huntswoman often use affiliate links. If you purchase an item using my link, I may earn a small commission. I only review products I genuinely love, and your use of my links helps me create more fab content!