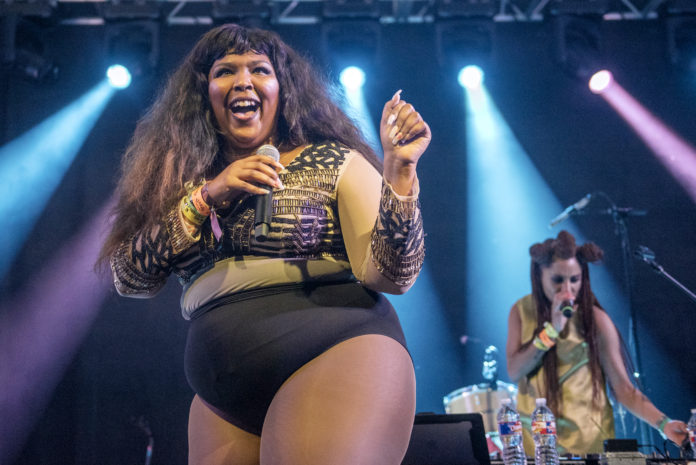 Hey there! This post contains affiliate links.  Using my links means I earn a commission, which helps me create more rad content.  More on affiliates here.
This blog post featured outfit ideas for a Lizzo concert has been getting lots of love, which shows me I am truly not alone in my quest for the perfect Lizzo Look.
As I've been scrolling through hashtags looking at what people are wearing to a Lizzo show, I've wanted to share a roundup. Howeverrrr, it's not always immediately clear whether someone is getting dressed for a Lizzo show, or if they're living their best life and using her concert hashtag, #BecauseILoveYou.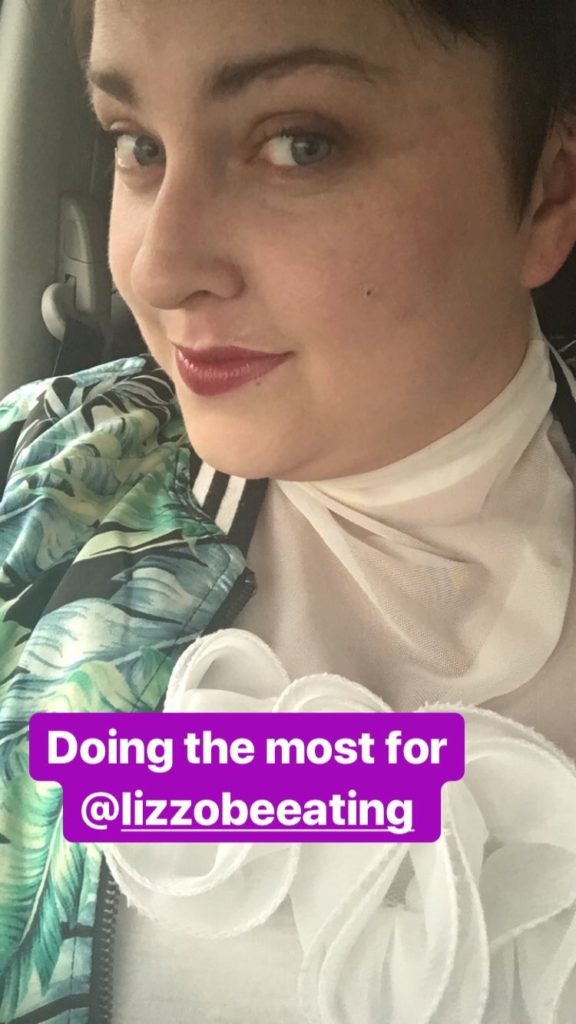 So, instead of getting all worked up about where these babes are headed, here's a round up of some of my favorite Lizzo concert looks from fans. If you'd like to be on the list, be sure to drop me a line!
Fabulous Babe #1: Pink & Lavender!
OMG Kortney is GLOWING in this ensemble for the Lizzo concert in SLC. This makeup and that color scheme? I die. Especially love the pearls on that denim jacket.
Fabulous Babe #2: Hello, LASHES!
These lashes + eye makeup? AMAZE. How heavy are these?!
Fabulous Babe (Duo) #3: "I'm Sailor Moon, Bitch!"
Pretty sure these outfits are a reference to this viral Lizzo tweet, and they are truly killing it.
Fabulous Babe#4: Glitter Punk
Pink hair + combat boots + the shiniest dress EVER? Into it.
Fabulous Babe (Duo) #5: Plus Besties
These two babes are some of my faves on the planet, and they killed their outfits for the Lizzo show in Atlanta! Also note their fanny packs!!
Fabulous Babe #6: Sheer FTW
You know I love a black sheer top, and I especially love that this Lizzo fan is rocking sheer LACE.
Fabulous Babe #7: Sheer STRIPES
Continuing the trend of sheer tops is Mr. Campbell showing why he's a VIP:
Fabulous Babe #8: 100% That Bitch
Okay, so this photo wasn't technically taken for a Lizzo show, but this photo needs to be SEEN. (Photo/Makeup: @smithzachry and Model: @tyler.capri)
Fabulous Babe #9: Advertise Your Needs
Honestly, the shirt truly says it all. What more could I possibly add?
Fabulous Babe #10: Fringe FTW
Listen, this top is perfect concert attire. Neon fringe paired with a fan?! And is that mesh I see under there? Killing it.
Fabulous Babe #11: Fanny Pack!!
Honestly, y'all. I realized I should've brought a damn fanny pack to the Lizzo concert in SLC. This cutie has shared a true PSA.
Fabulous Babe #12: Electric Blue
Nicolette Mason is killing me loudly with this winged eye makeup + icy blue coat. I want to see the whole OOTD!!
Need Outfit Ideas for a Lizzo Show?
Looking for other outfit ideas for a Lizzo show that's coming up? Check out this post.