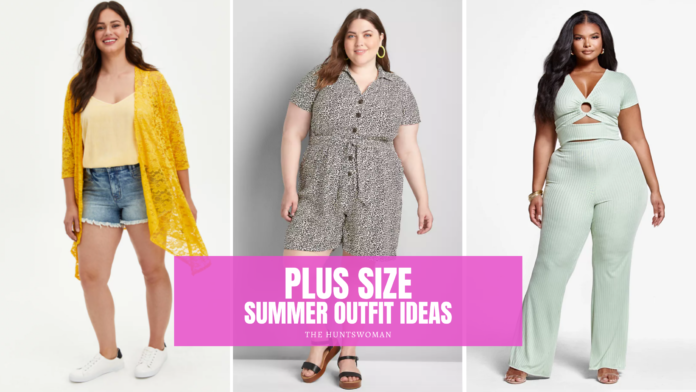 Hey there! This post contains affiliate links.  Using my links means I earn a commission, which helps me create more rad content.  More on affiliates here.
Hi hello! Today on my blog, I'm going to share 7 plus size summer outfit ideas for you. It's July in Salt Lake City, and it is FREAKIN' HOT!! Putting together cute and fun plus size summer outfits can be a CHALLENGE, so I've included my fave outfits in this roundup.
If you're asking yourself:
"Where do I find plus size summer outfits?!"
Then this post is for you!
While we're at it, have you subscribed to my email list? I share plus size fashion updates and sales about once a week, along with career tips! Sign up here!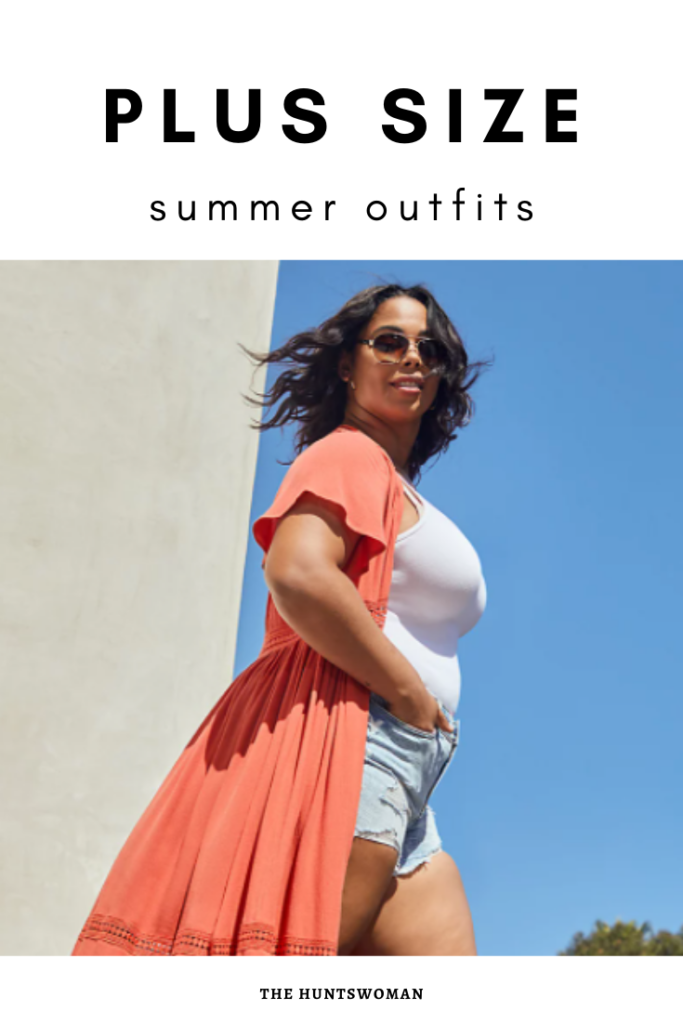 Plus Size Summer Outfit Ideas
In the listicle below i've done my darnedest to prioritize brands that go up to a size 30 or beyond! I've included styling tips for each plus size fashion brand, to make it easier for you to put together a fab plus size summer outfit!
HOT TIP: Finding plus size summer outfits in-store can be… complicated. A lot of brands have a small fraction of their offering in-store, so always check online!
Let's get going with this roundup of plus size summer outfit ideas!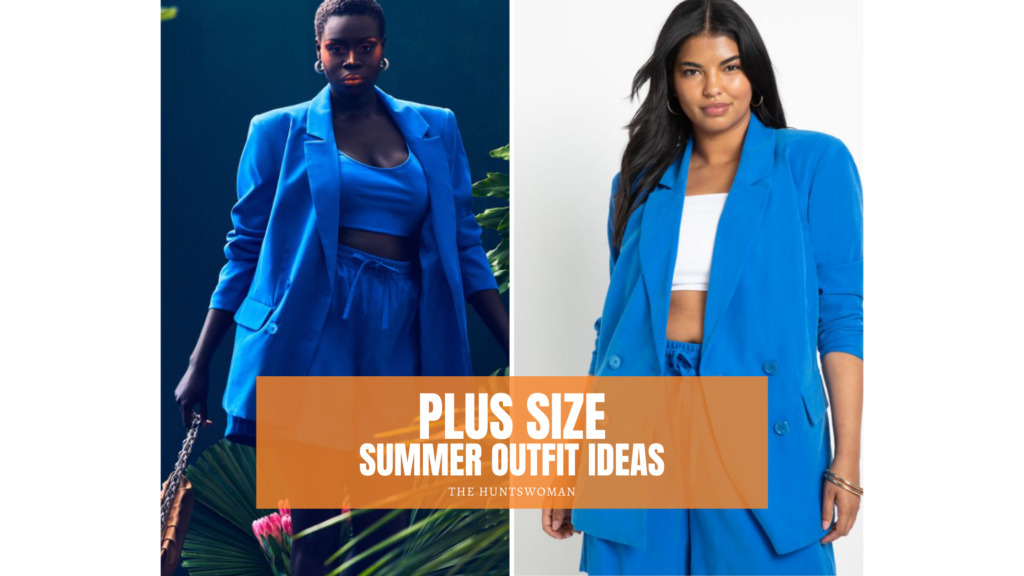 First up on our roundup of plus size summer outfit ideas is a PLUS SIZE BLAZER SET! Folks, this is the PERFECT outfit for folks who have to go into the office during the summer. The shorts keep things nice and cool, and you can drive/commute without the jacket, adding the jacket back on when you're in an air conditioned building.
I wrote a blog post featuring a LIST of fabulous plus size blazer sets, which you can check out HERE.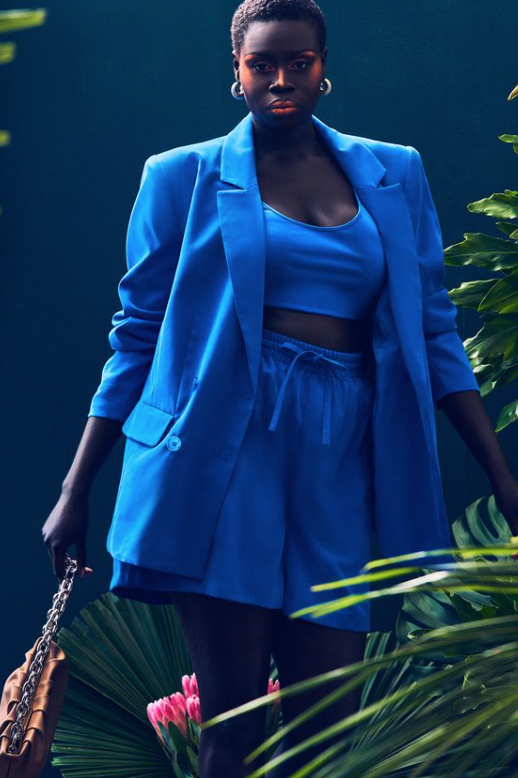 The plus size blazer set (pictured) is from Eloquii, and it goes up to a size 28/30. This blazer set is a bold and gorgeous blue, so I'd pair this with simple sandals and bold statement earrings! (Alternatively, gold hoops is a classy way to go.). If you want to go SUPER bold, you can add a statement clutch.
Shop this plus size summer outfit HERE!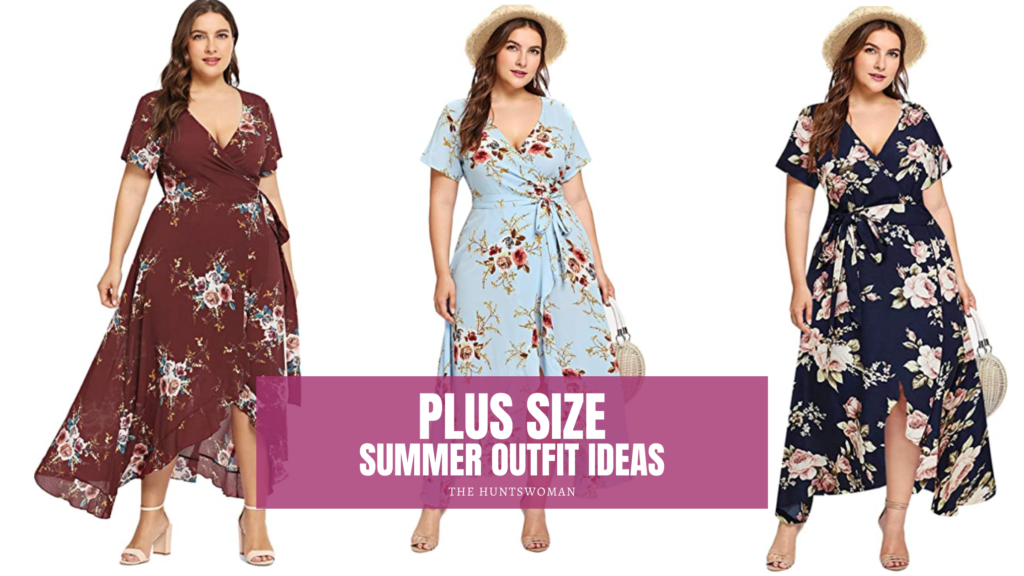 A maxi dress is a great way to keep cool during the summer, while also protecting your ski from the sun's harsh summer rays!
Amazon is one of my fave places to get plus size maxi dresses in cute patterns. This plus size maxi dress with sleeves has a high-low hem, adding movement while you walk!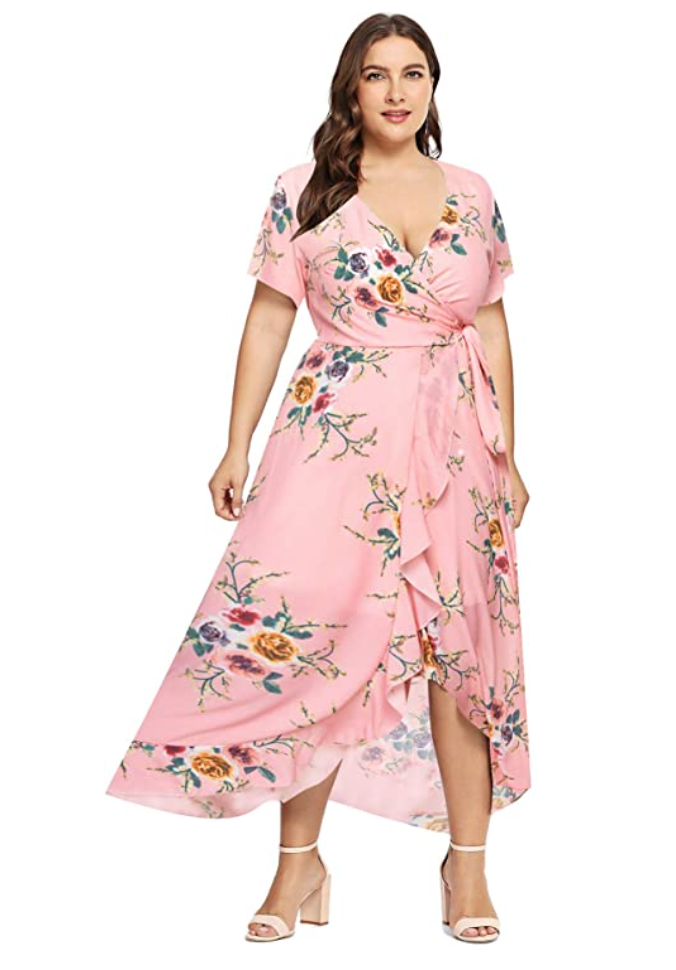 This is a versatile dress that can be worn on vacation or out and about during the week. It comes in 9 different patterns or colors!
Styling this maxi dress is simple. Add a fun hat (short or wide brimmed), some strappy sandals and sunglasses! Then you're good to go!!
Shop this plus size summer outfit here.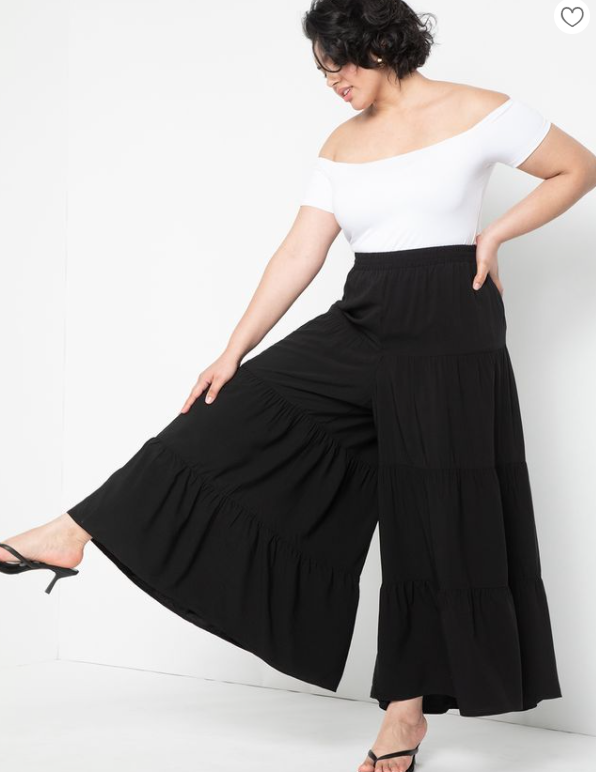 I love love LOVEEE plus size palazzo pants, and here's why: The pants move around your body, making it super fun to strut your stuff during the summer – and the movement of the fabric helps to keep you cool and dry!
it's wild!
I love these plus size palazzo pants from Eloquii. They paired the pants with a white off-the-shoulder top, making a glam and vintage-inspired summer outift!
To finish this look, I'd add heart shaped sunglasses and kitten heels!
Shop this plus size summer outfit here!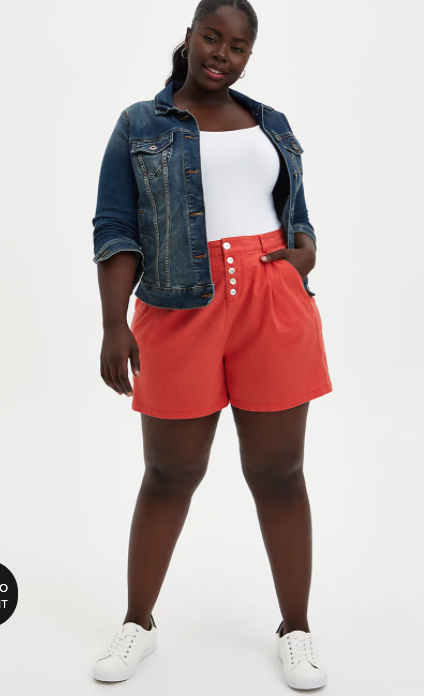 Looking to look a bit more put together than just a t-shirt and shorts? A great casual plus size summer outfit idea is wearing shorts in a color (orange, purple, olive, etc), paired with a tee and denim vest or denim jacket!
i love this outfit from Torrid! The brand goes up to a size 6X or size 30, and their shorts are my go-to as an apple-shaped person!
Torrid styled this outfit with white tennies, and I think it's perfect! This is a great daily
Shop this plus size summer outfit HERE!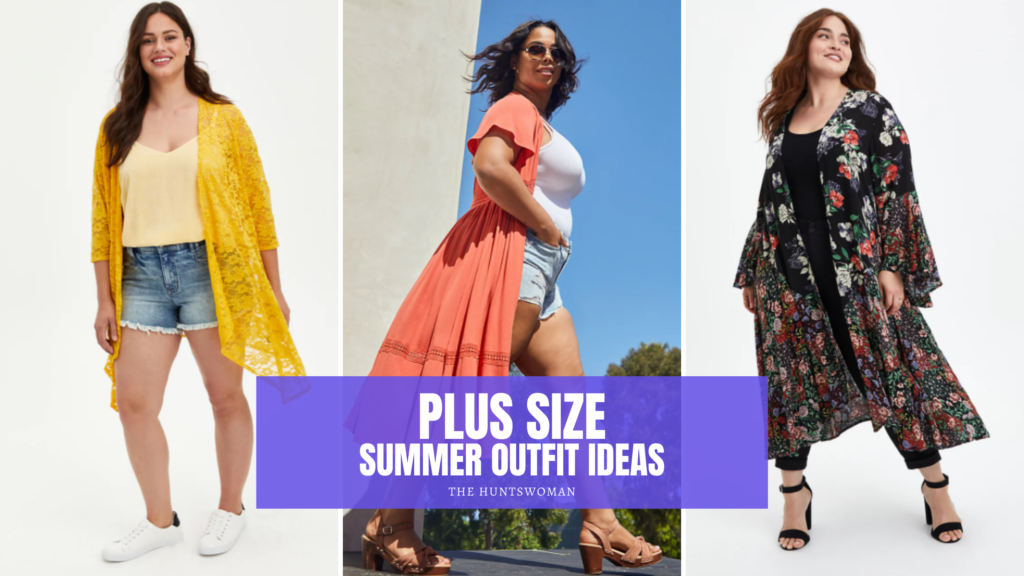 Next up on our list is my go-to summer look – pairing a simple plus size summer outfit (usually a black cami and shorts) with a colorful and fun SHRUG!
These pieces are also called "kimonos," but we don't want to participate in cultural appropriation – so "shrug" or "wrap" are the terms to use here.
A wrap can be see-through and gauzer like the yellow option pictured, a fun dark floral print (who doesn't love a dark floral?!) or a fun tie dye moment.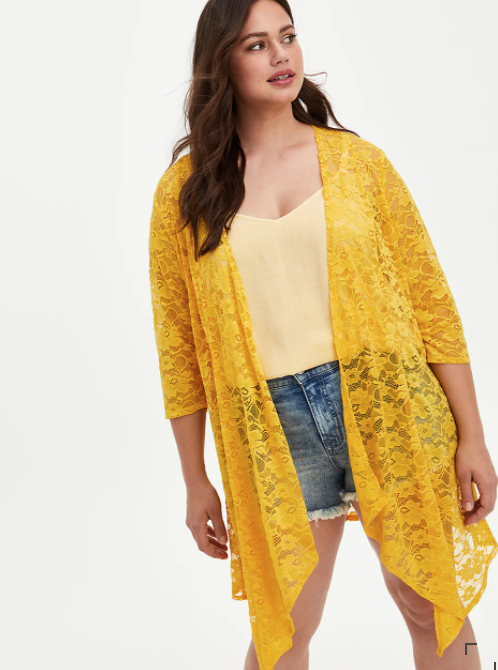 A plus size shrug can help make you look super put together, with minimal effort! I like to style my plus size shrugs with a bunch of gold bracelets and big gold jewelry – sometimes adding an anklet!
Shop plus size shrugs for summer HERE!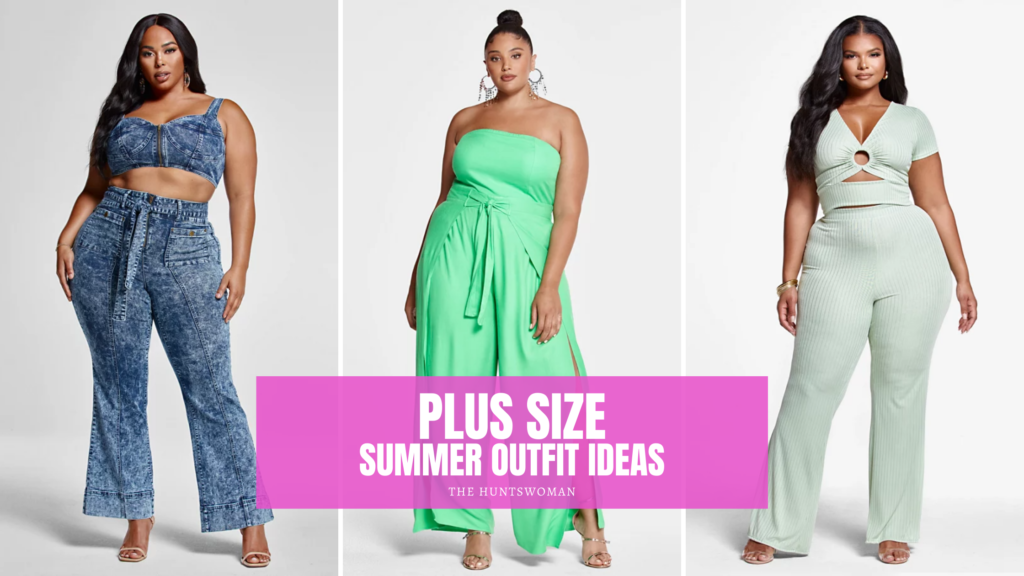 Ready for Hot Girl Summer?! I know I am! I have been loving the matching set trend, and seeing options for plus size babes makes my heart sing!
This trend focuses on crop tops and high waisted skirts, showing a little midsection for fun. Pieces can be used as pool coverups or as a fun fashion statement.
These sets really take the brainwork out of what to wear, as the whole outfit is complete! I like to pair these sets with fun and funky jewelry, especially if the set is a solid color!
Shop plus size summer outfit sets from Fashion to Figure here!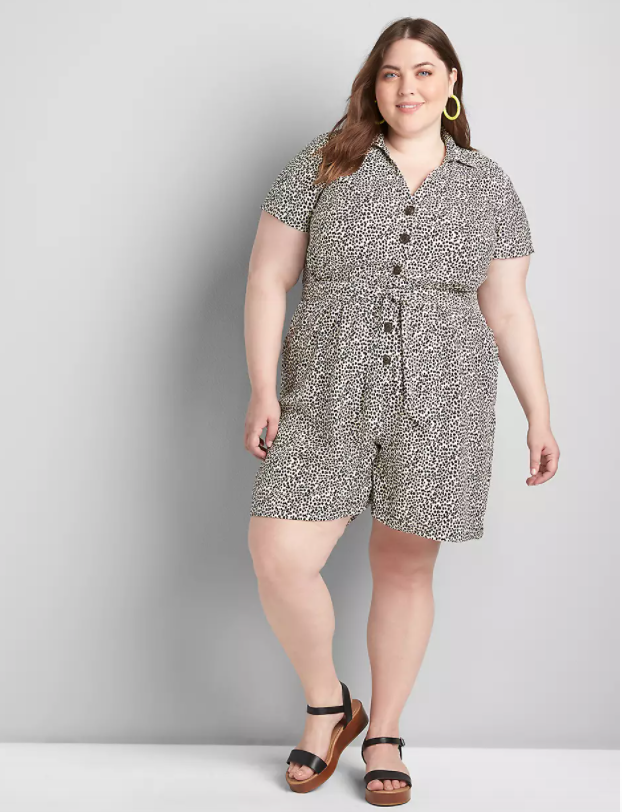 I freaking LOVE animal print, and I have been scooping up loads of plus size rompers in animal print this summer. Plus size rompers are a great plus size summer outfit option, because they're so dang easy to wear.
I love that plus size rompers don't have waistbands that dig into my sides. They keep me cool all summer long.
For a full list of my fave plus size rompers for summer, check out this post!
This plus size romper is from Lane Bryant, and it's available in up to a size 28/30.
Shop this plus size romper HERE!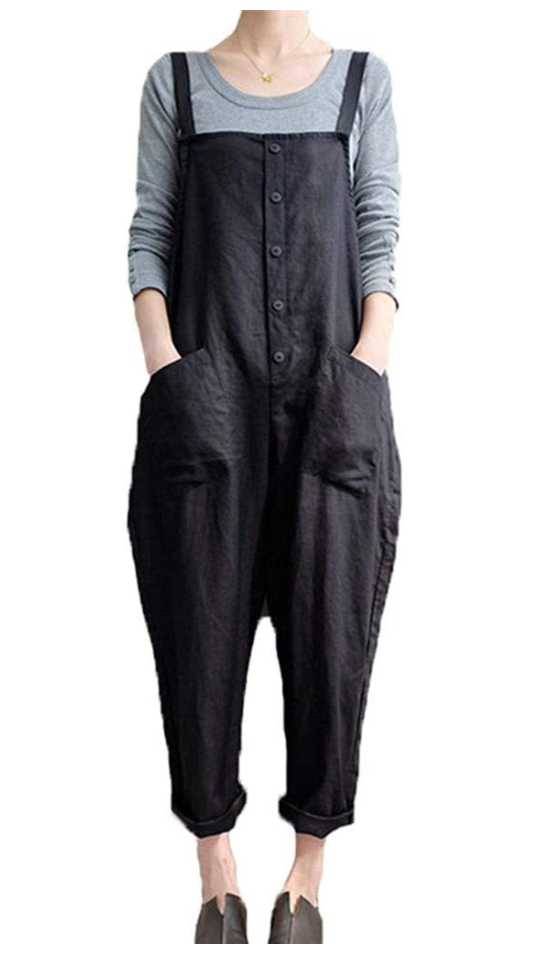 Last but never least on our roundup of plus size outfit ideas for summer are these plus size LINEN OVERALLS!
These overalls are famous in some plus spaces, because they're so dang comfy! Plus size babes can wear bandeaus, swim tops or graphic tees under the overalls, and this is a great casual plus size outfit for summer. (For more plus size overall options, check out THIS roundup of plus size overall options.)
These overalls go up to a roomy 4X, and you can snag them HERE!
More Helpful Plus Size Summer Fashion Blog Posts
Looking for new plus size brands to try? Here are 5 other plus size shopping guides to make plus size shopping more fun!
Be sure to bookmark your favorite posts, so they're there for you when you're ready to shop! 🙂 <3
Sign Up for More Plus Size Fashion Recommendations!
If you want to stay up-to-date on my reviews, I recommend joining me on your favorite social media platform (Facebook, Instagram or Twitter).
More of an email kind of person? Subscribe here!
[FTC Notice: This post contains affiliate links, meaning I earn a small commission if you purchase a product through my link. Affiliates help me write more great content, and I only endorse products I truly love.]