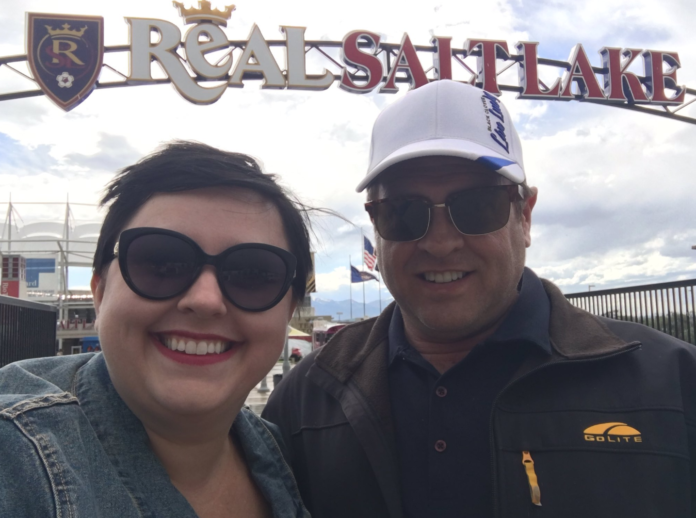 Hey there! This post contains affiliate links.  Using my links means I earn a commission, which helps me create more rad content.  More on affiliates here.
This past weekend I attended a Utah Royals FC soccer game with my dad, going to a game at the Real Salt Lake for the first time! I'm a big fan of USWNT (United States Women's National Team) soccer, and I cheered when I saw that the team had filed a US lawsuit against the U.S. Soccer Federation for alleged gender discrimination.
That's a bit of tangent (sorry not sorry), and below you'll find a recap on my first visit to the Real Salt Lake Rio Tinto Stadium, with helpful tips for first-time goers.
Preface: I'm an Accidental Soccer Fan
Since seeing the USWNT secure a gold medal at the 2014 Olympics, I've become an accidental soccer fan. Seeing a group of women communicate and kickass on a field made me go, "Oooooh, this is why people watch sports."
I'll always be a theater nerd, but I'm definitely a soccer fan.
Like how can you NOT be inspired by this badassery?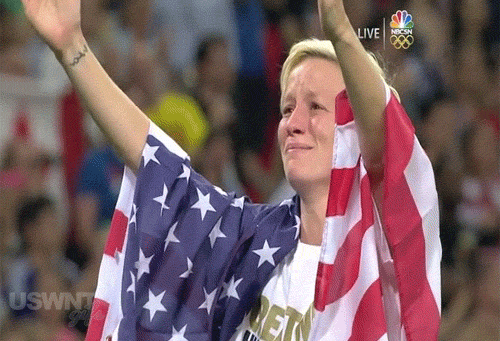 Visiting the Real Salt Lake Rio Tinto Stadium
Okay, so first things first. Where the heck does one PARK to go to a game? My dad and I parked in a business parking lot right next to the stadium, paying about $5.
We congratulated ourselves on our excellent parking planning, until we realized that Will Call for tickets was on the other side of the Main Gate. In retrospect, we should've parked behind the stadium.
So we trekked around the corner to pick up our tickets. Luckily, there was an entrance to stadium pretty close by, which we used. The helpful staff directed us to our suite which was pretty easy to find.
Suite via Suite Experiences
I was my Dad's +1 for the game, and he had tickets through Suite Experiences. It's a Utah-based company that gives companies "the ability to be more diverse in the experiences it offers to its executives, clients and employees."
It's common practice for a company to thank clients and employees with tickets to games, concerts, etc etc. Suite Experiences takes it one step forward, curating the guest list of every event to offer high-quality networking.
Many members buy tickets and use them for themselves, networking with other professionals getting stuff DONE in Utah.
Suite Experiences also offers concierge and travel experiences, so if you're intrigued head on over to their website. Be sure to ask for Mandi.
Ron McBride (former Head Coach of the University of Utah football team) was also in our suite, and I had a great time chatting with him about football, investing and his pretty rad socks.
I felt kind of embarrassed about wanting a picture (#FanGirling), but he was super gracious.
OKAY, Back to the Game!
We were in a suite on the third floor, with an inner room and seats just outside. The day was pretty stormy, so we were glad to have that inner room! We didn't get rained on, but it was nice to go back and forth. The room also had a TV if you wanted to chat and keep an eye on the game.
As part of the suite, we received wristbands comp'ing food. The stadium staff was courteous and really helpful.
The seats were comfortable, and I had a blast yelling at refs (yes, we're THOSE people) and cheering on the team with my Dad! The game ended 2-0 against the Orlando Pride.
LGBTQ+ Advocacy at Half-Time
Growing up in Utah, I'm used to feeling like an outsider or weirdo a lot of the times. Over the last 10 years, Utah has become a lot more welcoming. The half-time show included displaying a wide array of flags for the LGBTQ+ community, including the flag for transgender pride.
Seeing the ~12 flags, I smiled. You only really know to use multiple flags in a show like that if there are LGBTQ+ members on the Real Salt Lake company team.
What Should I Bring to a Utah Royals Game?
If you're like me, you need a packing list. Here's what you should being to a game:
Sunglasses! You're outside and need to protect your eyes. (My fave fashion sunglasses here)
Rain jacket (if applicable)
Spray Sunscreen (My rec here)
Blanket/seat cushion if you're not in a suite
Fanny pack or just a wallet  – keeping track of a purse is a pain! (Love this yellow fanny pack – gotta rock team colors!)
Comfortable shoes – I wore boots with a 3″ heel, and that was not a great life choice
BUSINESS CARDS – you never know who you'll be sitting next to
If you're also into wearing team jerseys, you can order online from the team store here.
Great Utah Activity for Girls & Women of All Ages
One of my favorite parts about attending the game was seeing young girls & teens in attendance. I think attending a women's soccer game is a great way to develop leadership skills and grit – with no lecturing required!
You can snag tickets to a Utah Royals FC Game here. Be sure to check out Suite Experiences if you're looking to level up your networking.
Do you love soccer? Should I review more games on The Huntswoman? Sound off in the comments below!
[FTC Notice: This post contains affiliate links, meaning I earn a small commission if you purchase a product through my link. Affiliates help me write more great content, and I only endorse products I truly love.]