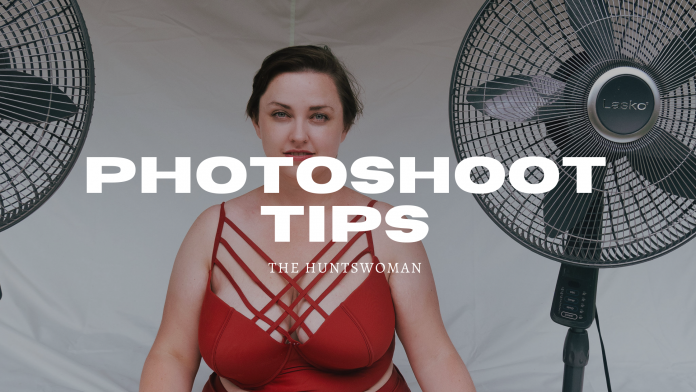 Hey there! This post contains affiliate links.  Using my links means I earn a commission, which helps me create more rad content.  More on affiliates here.
Since starting my blog almost 4 (!!) years ago, I've taken thousands, no, tens of thousands of photos. 90% + of those have been with professional photographers, who are kind enough to sort through the flubs and pick final photos of me, thank goodness!
And, while I'm not the END ALL BE ALL when it comes to taking photos, I have learned a few tricks. Below, I've shared 5 tips for taking lifestyle photos or photos of you to share on Instagram!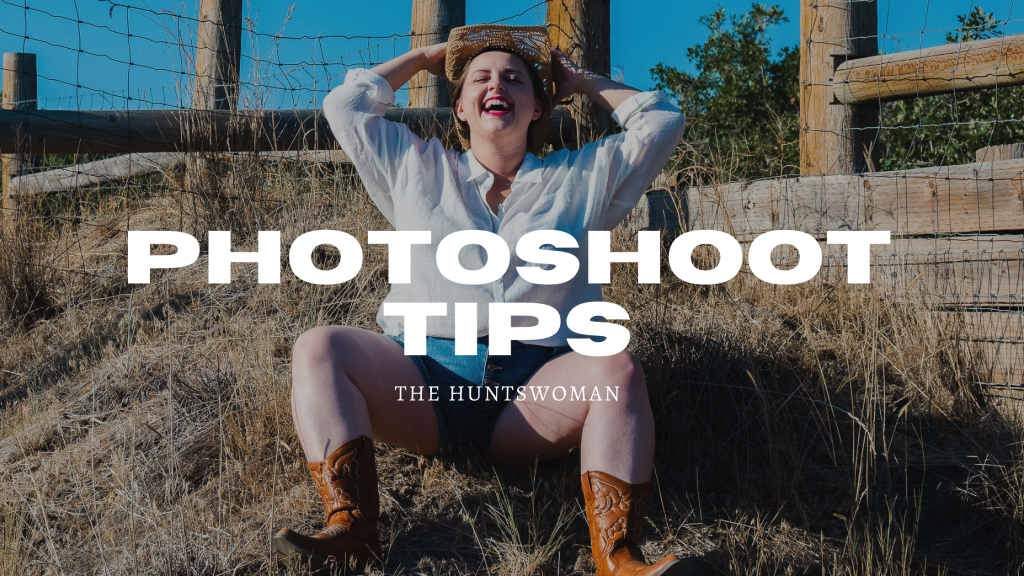 Tips for Taking Photos for Instagram
When it comes to taking photos, it's natural to feel silly. In fact, I have a rule that if I don't feel a little awkward or silly, then I'm not doing it right!! Give yourself permission to look a little ridiculous (or a lot!), and your photos will come out looking more natural.
You're Going to Hate 98% of Photos Taken – And That's OK!
You're Going to Hate 98% of Photos Taken – And That's OK!
When it comes to choosing a photo to post, know that it is TOTALLY normal to hate a bulk of the photos taken. From weird facial expressions to poses or background that didn't quite work – it's okay to not love every shot!
When it comes to choosing a final photo, I like to go through the shoot outfit by outfit, choosing to narrow about 100 photos down to 3 or 4 I love. I do several pass throughs, and I don't permanently delete anything – just in case I'm being too hard on myself!
(Looking for more tips for beginning influencers? Check out this post!)
Instagram Photoshoot Tip #1: Don't Let Your Hands DISAPPEAR! | Influencer Photoshoot Tip
It can be tempting to shove your hands in your pockets, because you're uncomfortable.
Don't do this!! This is visually confusing to the viewer! Be sure to leave your thumbs out, put your hand halfway into your pocket (putting only your fingers in your pocket) or just putting your thumbs in your pocket.
In the post below (check it on Instagram HERE), you can see that my thumbs are in my pockets, showing them off – but my whole hand is outside my pockets!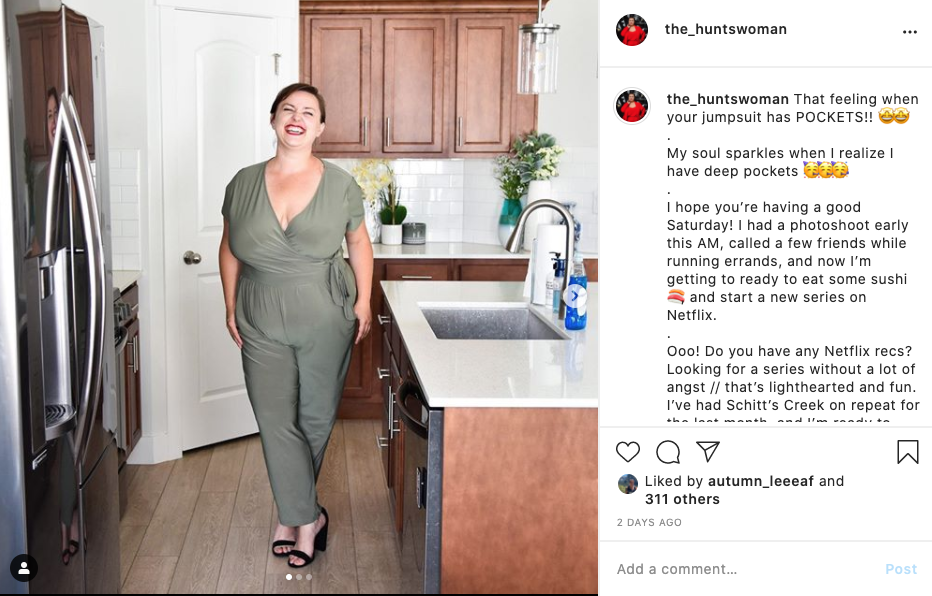 << Want more posts like this? Join my email list here, and my fashion email list here! >>
Instagram Photoshoot Tip #2: Take Photos of Yourself SITTING! | Blogger Photo Tips
A great way to stand out from the crowd is by taking photos of yourself SITTING. Scrolling through your feed, I'm sure you'll see a lot of folks (most bloggers and influencers, even!) don't take photos of themselves fitting.
Part of this is because of what our idea of "flattering" is, and the other part is that folks don't know how to pose!
So, here's a little checklist to run through when taking photos sitting:
Lean the bulk of your weight FORWARD. Don't sink into the couch (unless you're recreating that iconic Rihanna photo). Shift your energy and literal weight of your body FORWARD, towards the viewer.
Get your spine right! Imagine there is a string attached to the crown of your head, and it's pulling you up into alignment.
Tilt Chin Up: Stare straight ahead of you, and hten move your eyes up a bit – then have your head follow. Think of it as a slight angle (like 15 degrees).
(Love this swimsuit? Check it out here!)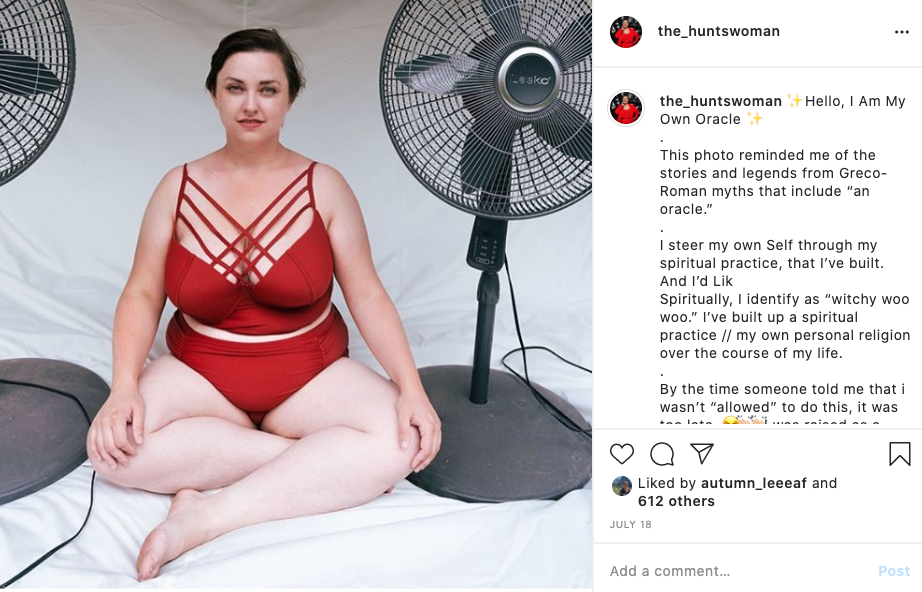 Instagram Photoshoot Tip #3: Whip Out Your Phone's Camera – Set to Square! | Influencer Photoshoot Tips
It can be hard to frame a shot, so when I'm on set, I'll sometimes whip out my iPhone Pro Max, open the camera – and put my photo to the square aspect ratio. I'll then look through my camera around the set, to help me "Frame" the shot for Instagram.
This makes it easier to set up a shot!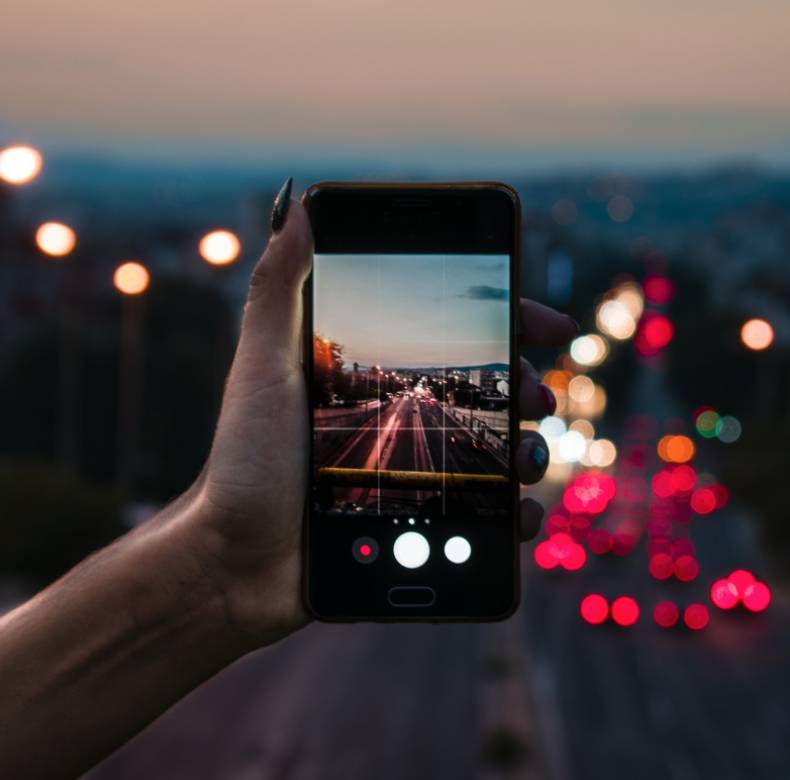 Instagram Photoshoot Tip #4: Dance around! Move! Sway baby, sway! | Instagram Photoshoot Tips
When I'm working with a client who is a new or aspiring blogger or influencer, this is one of the first pieces of advice I share. If you get in front of a camera, it's easy to freeze up and not think of any poses.
Because of this, I like to recommend that you sway or dance around a little bit. Shift your weight between your feet, sway from your hips, rock your shoulders a little, play with your hair, etc.
Movement shots look GREAT (some really suck, don't worry about that!), and this is a good way to take "natural photos."
For the Instagram post below, I swayed back and forth, shifting my weight from my front to my back leg!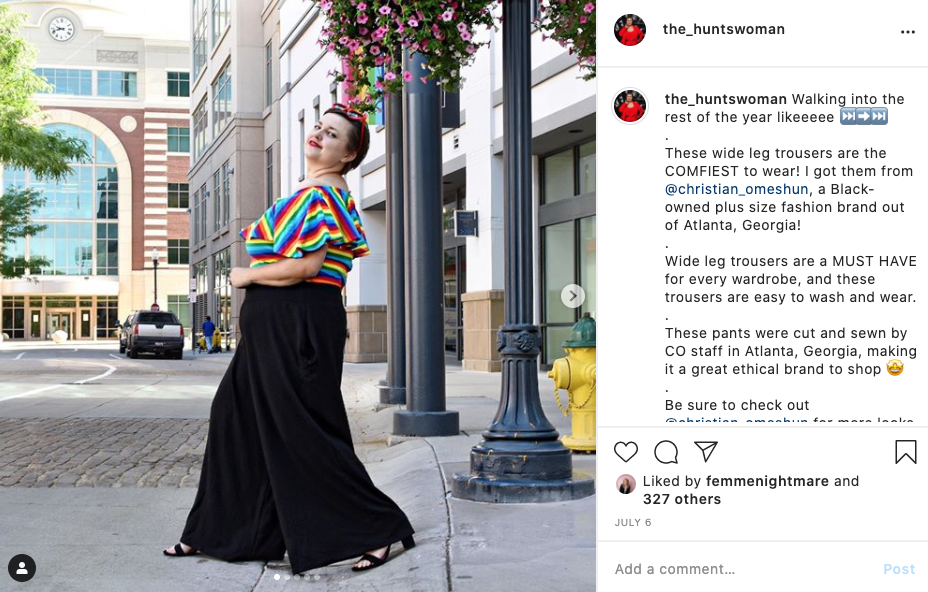 Instagram Photoshoot Tip #5: Save Poses to Your Instagram Collections or on Pinterest
When doing a photoshoot, it can be hard to keep track of everything that's happening, (heck, I have a whole system for keeping track of my car keys!). Because of this, I recommend having a "Pose" folder on your Instagram Collections or a Pinterest board.
As you see what other content creators are doing, you can save pose ideas to this board – and look through it pre-shoot. Eventually, you can graduate to compiling a full shot list with poses, planning for each outfit!
I loved this pose I saw in a magazine, and I snapped a photo of it – and saved to my Pinterest!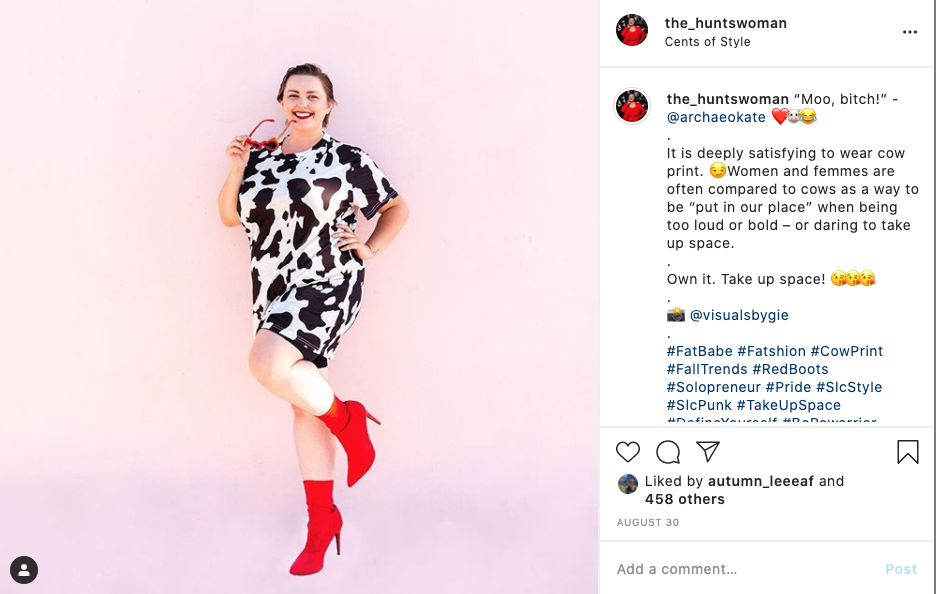 Want More Pose Inspiration? Join Me on Instagram!!
I make it a point to try loads of different poses (although, you can tell I have favorites, lol) for my Instagram. Be sure to join me there for photoshoot BTS and pose ideas!
What to Read Next —>
Love photoshoots featuring curvy models? Check out these posts below:
Want More Fashion Tips?
If you want to stay up-to-date on my blogger tips, I recommend joining me on your favorite social media platform (Facebook, Instagram or Twitter).
More of an email kind of person?  Subscribe here!