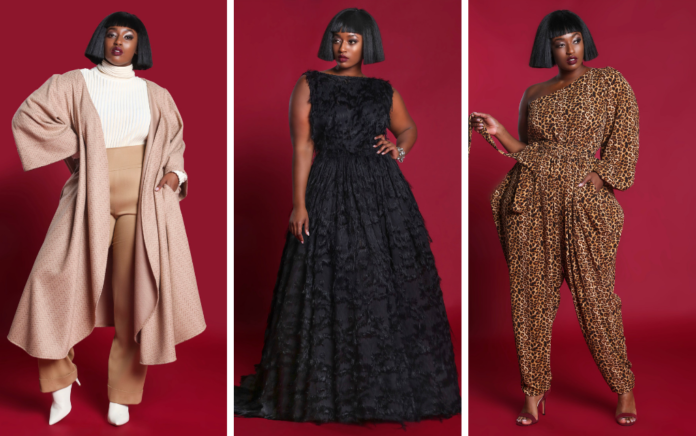 Hey there! This post contains affiliate links.  Using my links means I earn a commission, which helps me create more rad content.  More on affiliates here.
Y'all, I am LOVING The holiday collection drops from different indie designers.  Today, we're taking a look at the new JIBRI holiday drop.
About JIBRI
Founded by Jasmine Elder in Atlanta c. 2009, well before most high end designers even thought of offering plus, JJIBRI is (real talk) one of my favorite brands. Elder's signature draped silhouette has made its way to many a fashionista closet.
Plus Size Holiday Collection
And Elder is not messing around with the JIBRI holiday collection.  Featuring animal prints, velvet burnout and sumptuous wool, this collection is for the woman who is used to being the center of the room.
Says Elder:
"The Holiday Collection was a spin off of the fall collection.  Totally inspired by powerful women…warriors in a sense. I mixed soft luxe fabrics like Fil Coupe Chiffon & Textured Wool with practical suiting textiles & knits. It's what Olivia Pope might wear throughout the holiday season.  Sexy, but don't F with me."
I can 100% see Olivia Pope, and honestly many powerful women from Shondaland rocking this collection!
I'm particularly in LOVE with this whole creme ensemble, especially the
camel wool textured blanket jacket
($290).  Love a good mix of cremes!  It reminds me of the white Dolce & Gabbana ensemble Jenifer Lopez wore for Maid in Manhattan.
And, unlike Lopez's character in the film, these trousers + coat from JIBRI are a bit darker, so you won't have to sit on newspaper!  I especially love how it's styled with white boots.  Normally, white boots on a look seem contrived, but this WORKS.
Black Wedding Dress
If you're looking for plus size evening wear that doesn't read as "matron," JIBRI is here for you.  This dress ($700) is perfect for the non-traditional bride, or someone looking to make a statement at an end-of-year gala.  This is one of those pieces that becomes more fascinating the more you look at it, as its made from burnt out silk, which will move BEAUTIFULLY as you strut around the room.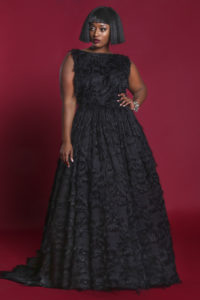 Sizing
You can view the JIBRI size chart here, and customizing (esp for petites!) is available.  I rock a size 4 in JIBRI.
Shop the holiday collection here.
If you'd like to keep in touch, be sure to subscribe to my newsletter, so you'll stay up-to-date on new brands and product reviews! 
What to Read Next: