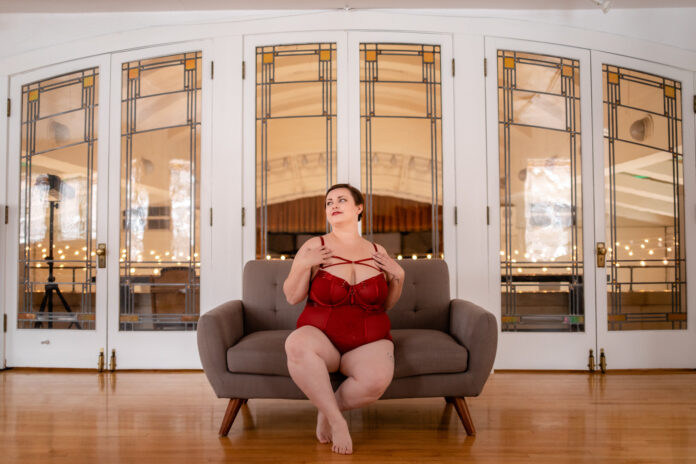 Hey there! This post contains affiliate links.  Using my links means I earn a commission, which helps me create more rad content.  More on affiliates here.
Are you looking for helpful tips on how to confidently wear lingerie as a plus size person?! Then this blog post is for you!
I recently shared a few blog posts about preparing for a plus size boudoir photography shoot and a recent session I did in Salt Lake City, and I so appreciate the overwhelmingly positive response I received to these posts!
As the DMs poured in on Instagram, a common question I was asked is, "How do you feel confident wearing lingerie?"
Note: This blog post was originally published on January 26, 2020. It was last updated on August 5, 2023!
This blog post is all about how how to feel confident wearing plus size lingerie!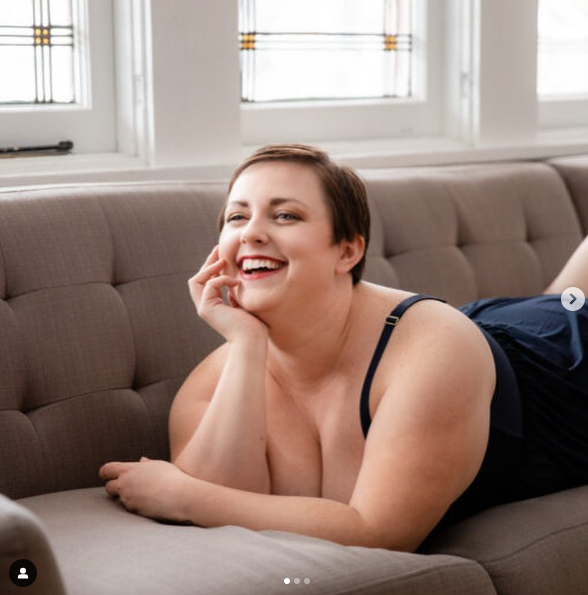 I think that people of all sizes struggle to feel confident in their body, and wearing lingerie is the equivalent of yelling "LOOK AT ME!!!!!" so I totally get the hesitancy here. Trying on lingerie for the first time can be intimidating!
This is made especially tough for fat-identified and plus size people, who often see an "idealized" plus size body modeling lingerie.
If you're not an "hourglass shape" it can feel pretty yucky to shop for plus size lingerie, ya know? It's a not-so-happy comparison party imho. There's definitely an "idealized" plus size form, and it can be hard to wear lingerie if you don't fit into that commercialized ideal. As an apple shaped person who carries my weight in my stomach, I deeply get it! <3
So, I thought pretty deeply on this question from my dear readers (that's you!), and I've come up with 4 actionable ways you can feel confident in your body and rock some pretty plus size sexy lingerie.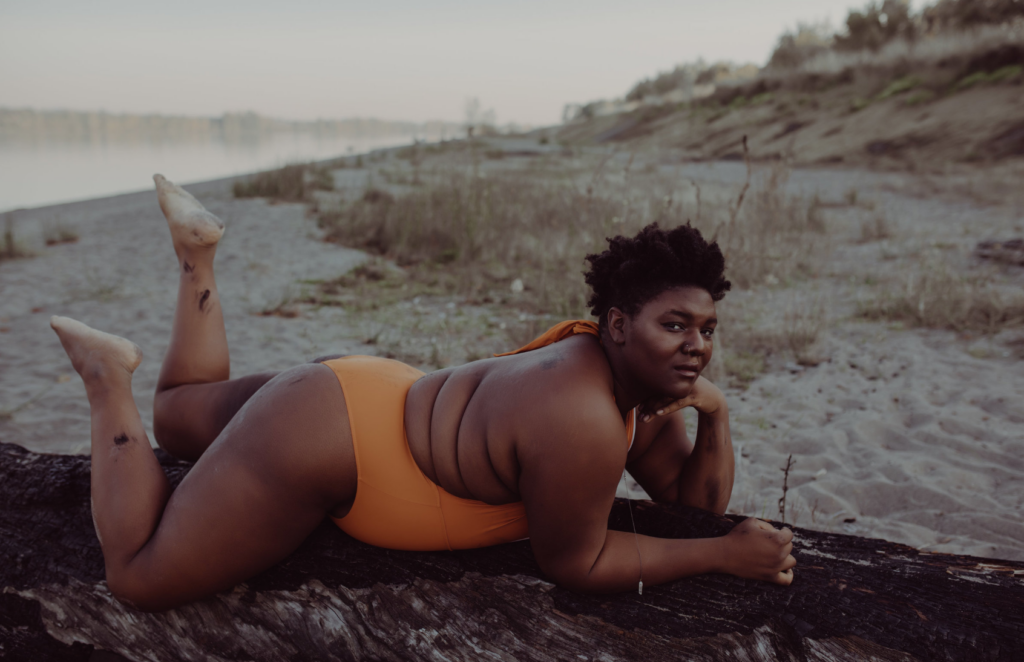 Quick Note – Wearing Lingerie for a Partner
I really believe – in my very bones – that wearing lingerie needs to be for the wearer. You need to wear lingerie for you!!!!! Don't contort yourself into someone's ideal of who you are! If a partner has inspired you to try lingerie, that's super! Make sure that you're honoring your Self and wearing it because you want to try it, too! If your partner is encouraging you to try wearing plus size lingerie and is cheering you on, love that! If they're bullying or pressuring you into it? I *hate* that!!! And you won't feel confident in that second scenario, no matter what you try, in my humble opinion!
Make sure that you're honoring your Self and wearing lingerie because you want to!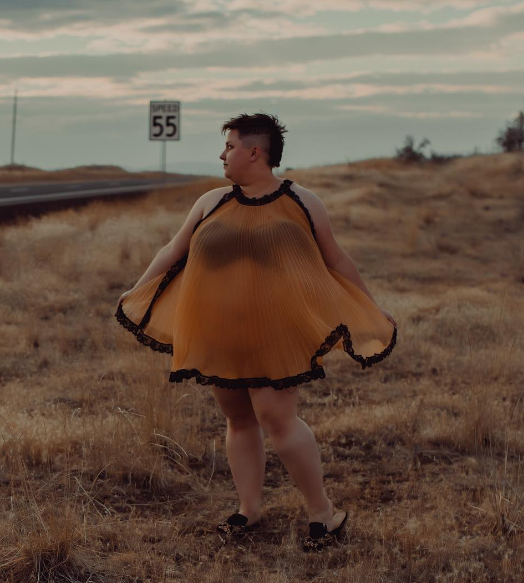 << Want more plus size fashion guides like this? I curate the very best plus size fashion posts for my email list! Subscribe here! >>
Plus Size Lingerie Confidence Tip #1: Follow Body Positive Accounts on Social Media
Ok, you're going to be a bit surprised at the get go here, because I'm going to tell you to get out your phone (or your social media apps if you're reading this on your mobile phone, lol).
Our first item on our to-do list to wear plus size lingerie with confidence is to CURATE YOUR SOCIAL MEDIA FEEDS! I'm talking Instagram! TikTok! Facebook! Twitter! YouTube!
Maybe start with the platform you use the most!
We spend a lot of time scrolling through social media, and seeing people live their #BestLives on the gram can awaken a whole set of feelings. It's easy to go from feeling inspired to feeling bad through a frame of comparison, especially when you may be seeing people in your feed with bodies that have been thoroughly photoshopped.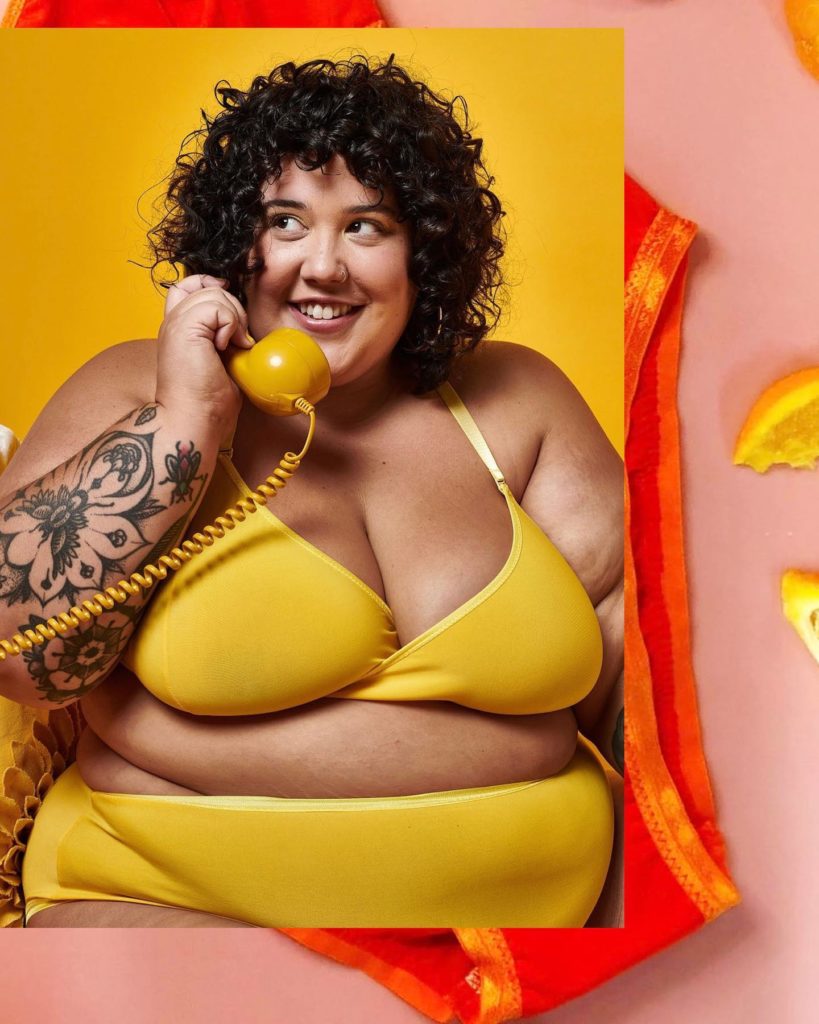 But we can use our feeds to our advantage by following people with shapes and bodies similar to ours. Specifically, I recommend going out into the wild blue yonder of the internet and making an effort to follow people who have a similar body shape to you!
By thoughtfully engaging with following people (won't do you any good to follow people if you don't LIKE and COMMENT on their stuff, because the algorithm won't show you their posts). AS you follow people who look like you, also make an effort to follow people who don't look like you — it's easy to find yourself in a social media blackhole where everyone looks the same. Be sure to follow a diverse set of people!
One of the best things I ever did for my self-confidence was to surround myself with imagery of other plus size babes who looked like me!!
One of the best things I ever did for my self-confidence was to surround myself with imagery of other plus size babes who looked like me!!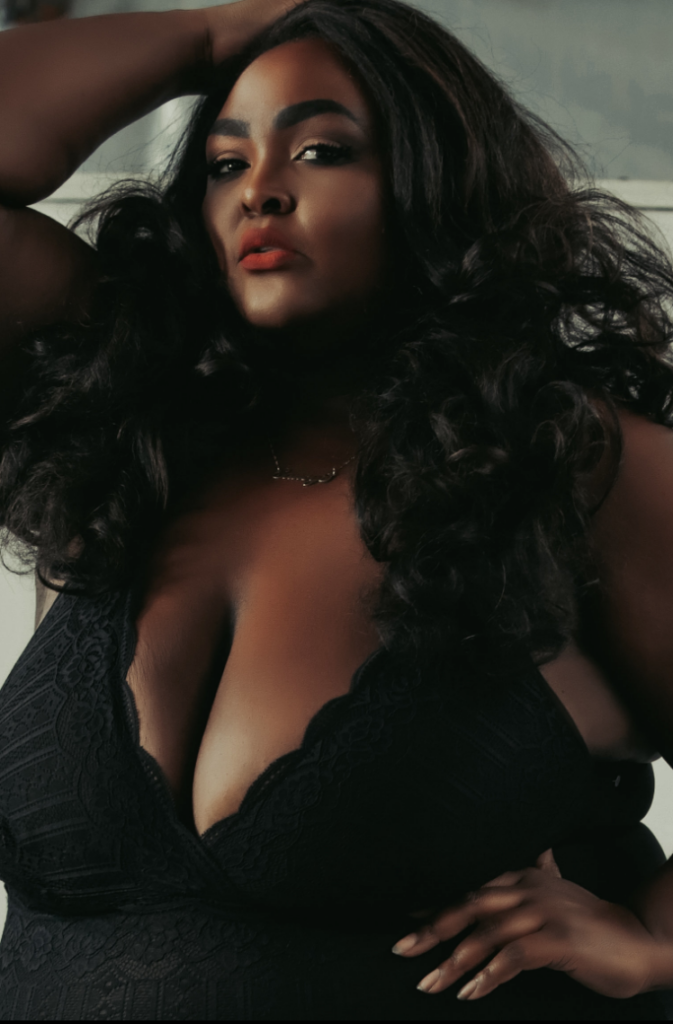 Maybe I need to do a roundup on plus size babes who rock lingerie, but a few folks I think you should follow for this kind of content are:
My Bonus Confidence Tip: You can take this one step further and follow hashtags on Instagram like #VisiblyPlusSize #AlternativeCurves and #FatAndFree to see diverse bodies show up in your feed!
Plus Size Lingerie Confidence Tip #2: Start with Flowy Lingerie
Ok, now that you've curated your social feeds (a continuous process!), I'm excited to share my second tip on how to confidently wear plus size lingerie.
For plus size babes who are just tipping their toe in new waters, I would recommend starting with a plus size babydoll set or chemise! I am all about strappy pieces (YES!) that show my body in all of its glory, but I didn't start out here.
More flowy pieces can help you feel more comfortable wearing lingerie, eventually inspiring you to expand your comfort zone! It's also ok to start with satin robes or other fun and flowy robes that make you sexy!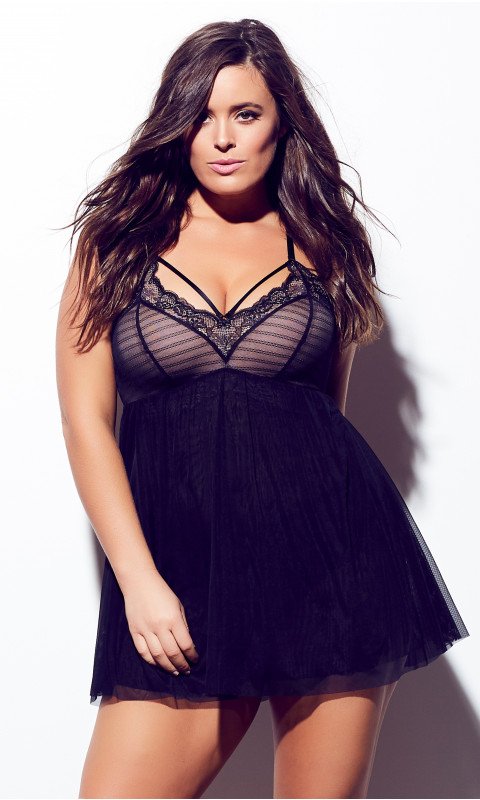 Here are a few places to get plus size flowy lingerie, with sizing info:
I also wrote this blog post guide with 25 plus size lingerie brands to check out — sizing included!
Plus Size Lingerie Confidence Tip #3: Hang Out at Home in Lingerie – By Yourself!
Wearing lingerie is different from wearing jeans and a t-shirt! If the first time you put on a piece of lingerie is before fun shenanigans, well, you're probably going to be a LOT more self-conscious.
I recommend that you treat it like clothing!
Get used to wearing lingerie by lounging in it! Get a cute lingerie set with a robe, and have a self-care night (maybe Sunday night?) where you pamper yourself while wearing lingerie! Maybe set a nightly ritual where you get home from work and put on something silky or satiny! Wear it so it still feels special, but don't try to pressure yourself into wearing it the FIRST time with an audience!
You'll be able to see how it moves (and how sturdy it is, cough), while having fun for you!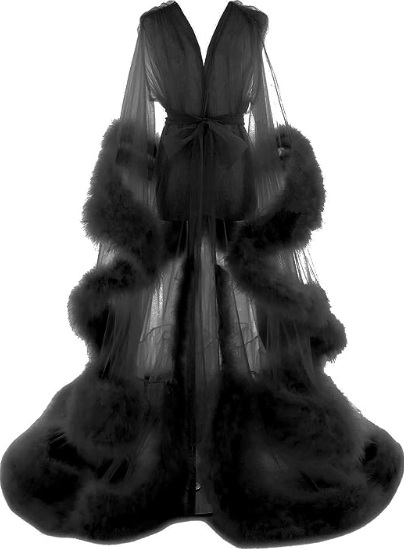 Plus Size Lingerie Confidence Tip #4: Boudoir Session & Selfies FTW
There's a scene in Schitt's Creek, where the ICONIC Moira Rose advises a younger woman to "take a million pictures of yourself. But believe me, one day you will look at those photos with much kinder eyes and say, 'Dear God, I was a beautiful thing.'"
So start taking those selfies!
Relatedly, I have heard from many readers that doing a boudoir photography session totally changed their view of their bodies. A good boudoir session shows you in all of your glory, and a boudoir photographer will understand how to work within your comfort zone to share some fabulous pictures.
Boudoir photography allows you to see yourself as others see you – helping you silence your mean inner critic.
I love Suma Jane Dark and Honey Lark Boudoir for boudoir sessions!
Selfies can also help you take fabulous photos! Have a fun photo session with yourself or grab a friend to help you take cute photos.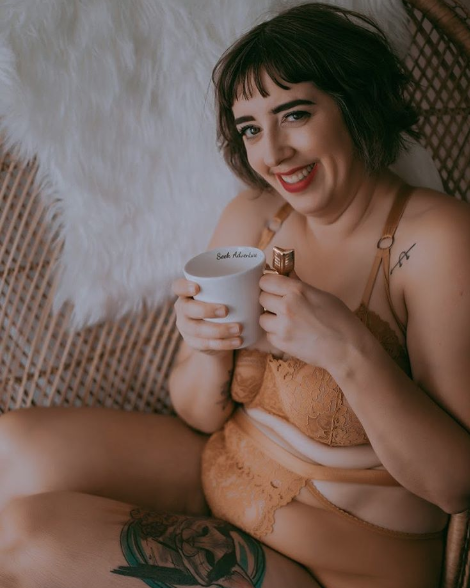 Finally, Your Partner(s) Know(s) What You Look Like!
My BFF Alex of Chubby Struggles totally changed my worldview with this hot tip:
"Your partner already knows what you look like!"
We have this idea that people are going to be totally shocked when they see us in lingerie, but babe, they already know where you carry your weight and what you look like! It's pretty unlikely that you're going to take off your clothes and they'll be like, "OMG!! YOU HAVE A FULL STOMACH?!!?!? THERE ARE JIGGLY THIGHS UNDER THERE?!?!?!?!?"
Unless you are wearing a large cardboard box day in and day out, chances are they know what you've got going on.
They know what they've signed up for, so rock your bad self!!! 😉
Where to Buy Plus Size Lingerie?
Okay, so now that you've read this post – you're ready to try new pieces! Check out this roundup with my fave plus size lingerie brands!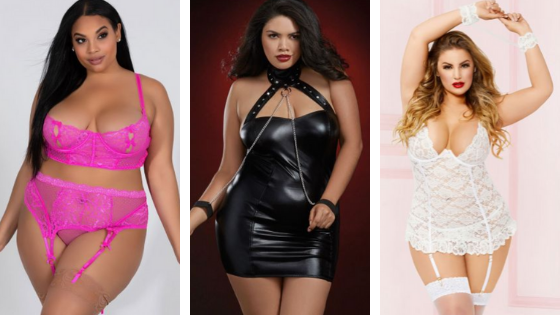 This blog post was all about how how to feel confident wearing plus size lingerie!
What to Read Next —>
Want more plus size lingerie goodness and body positive tips? Here are a few more blog posts to check out:
Keep Up with My Body Positive Journey
If you want to stay up-to-date on my body positive journey, I recommend joining me on your favorite social media platform (Facebook, Instagram or Twitter), where I regularly talk about fashion, feels and life!
More of an email kind of person?  Join my VIP list here!