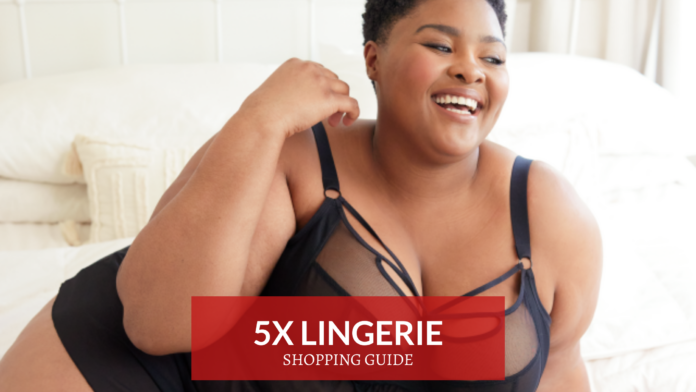 Hey there! This post contains affiliate links.  Using my links means I earn a commission, which helps me create more rad content.  More on affiliates here.
Are you looking for 5X lingerie? Then this post is for you!
I've been blogging about plus size lingerie for a minute, sharing my fave tips to wear plus size lingerie confidently – along with my favorite plus size lingerie brands!
That said, I've noticed something… pretty dang annoying when it comes to shopping for plus size lingerie –
Most of the brands stop at a 3X, maybeeee getting to a 4X!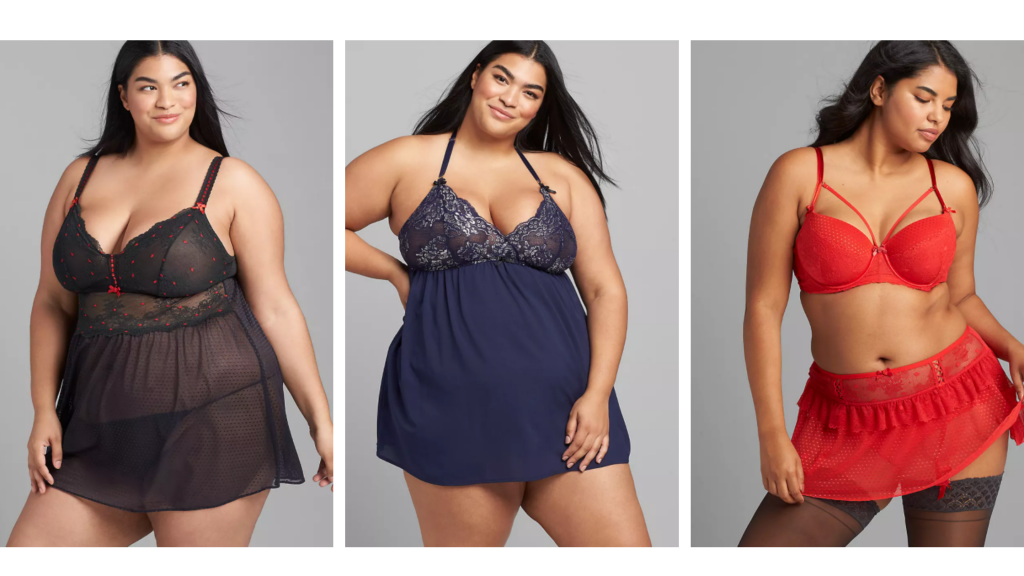 5X Lingerie – Plus Size Lingerie
This is baloney!! Plus size babes of all sizes deserve to have fun and sexy lingerie. So, today I'm sharing a roundup of 7 plus size lingerie brands that carry a 5X in lingerie.
A note on sizes: While some brands brag about going up to a 5X in lingerie, their 5X is like… an XL in other brands. I'm basing this roundup off of the lingerie one can buy if you went into a big box plus size store and got a 5X or 26/28.
[Heads up! This post was originally published on February 10, 2021. I have updated it twice since then, with the most recent update on April 28, 2022! While I endeavor to keep my blog posts updated, plus size companies do like to switch things up! Please check all details with the brand before snagging your new lingerie ]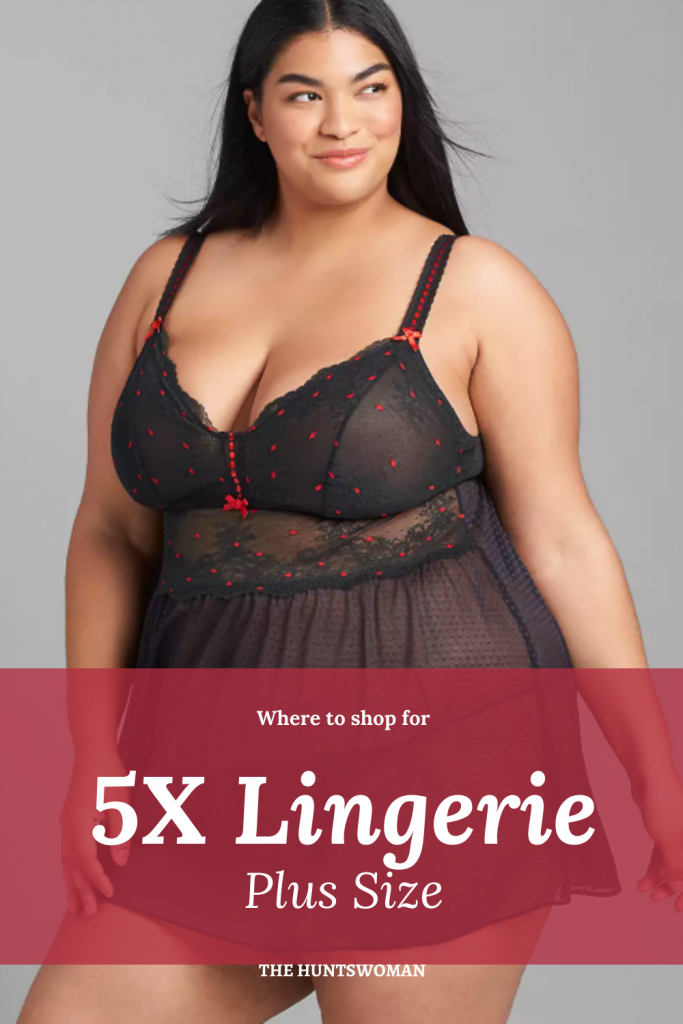 First up on our list of brands that carry 5X lingerie is Torrid!
I love Torrid's array of plus size lingerie, bodysuits featuring two piece matching sets, plus size baby dolls and plus size corsets that one can move in! If you're not super busty, then I recommend going with a separates set, so you can snag the best fitting size.
Sizing: Torrid carries up to a 6X in plus size lingerie – fitting a waist of 60-64″. Their 5X lingerie stops around 52″.
Pieces start at around $40, going up to $120 ish!
Shop Torrid 5X Lingerie here!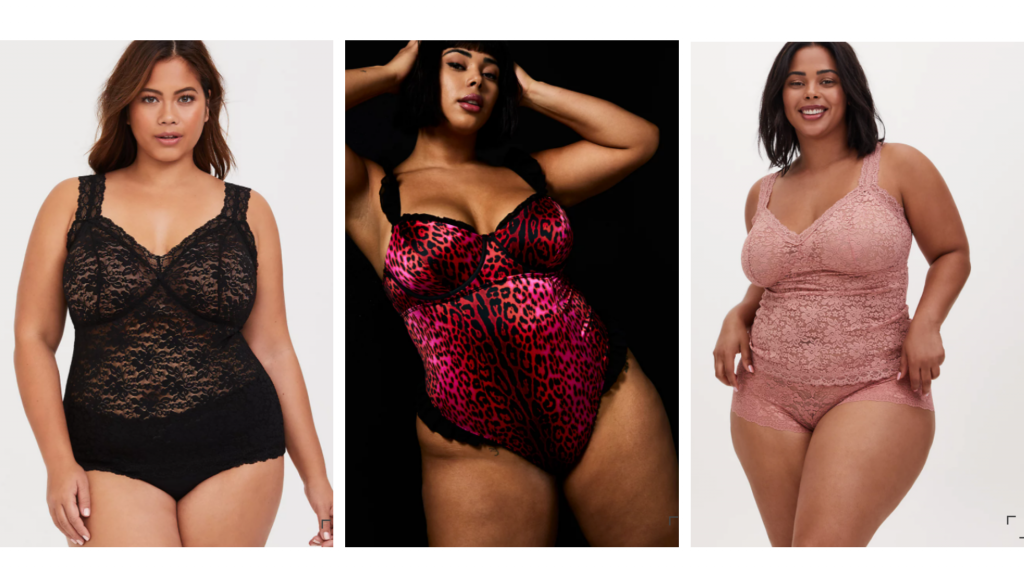 Brand #2: Woman Within 5X Lingerie
Next up on the list is Woman Within, a go-to option for many lovers of plus size lingerie! Shopping lingerie on the Woman Within site was a bit hard for me – the fun stuff is usually under "nightgowns"! The look below is called a "pegnoir," and I think it's quite lovely! I wish the brand would use plus size models, smh.
There are limited options, so here are the two 5X lingerie silhouettes I like:
Shop Woman Within 5X Lingerie HERE!
Brand #3: Cacique by Lane Bryant 5X Lingerie
Okay, I've personally found that Cacique 5X lingerie can fit differently depending on where one is fullest, so I recommend ordering a few pieces with the expectation that one will fit juuust right. Cacique has a variety of 5X lingerie, from plus size babydolls to bodysuits to rompers!
Sizing: Pieces go up to a 26/28, which is about a 54″ waist.
Shop 5X lingerie from Cacique HERE!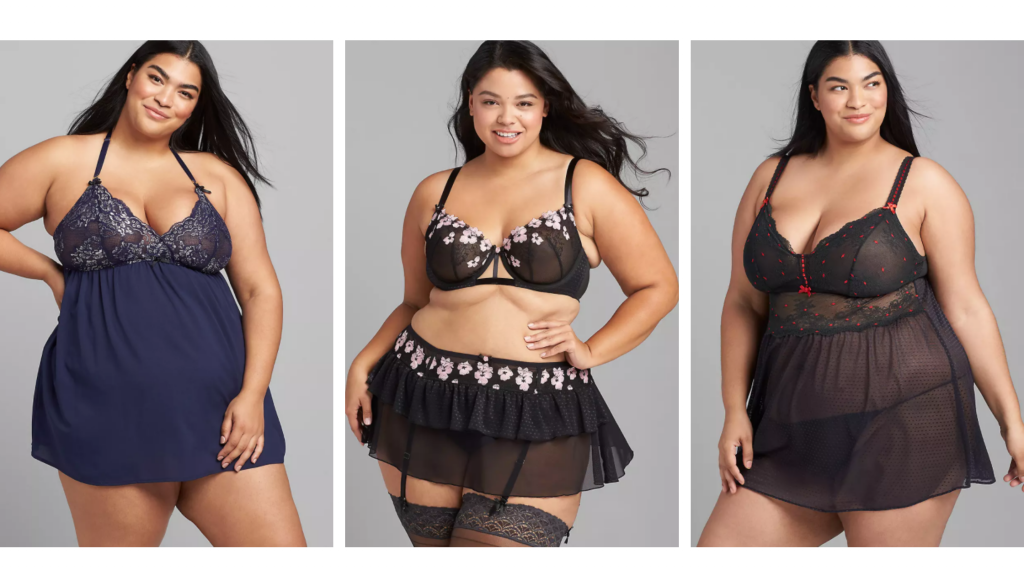 Brand #4: Honeysuckle LLC 5X Lingerie
I am HEREEEE for these FEATHERS!!! This plus size 5X lingerie is gorgeous, with curve hugging fabric and feathers to make an unforgettable entrance. The 5X fits a waist measurement of up to 53″.
From the brand: "This luxurious feather trimmed plus size lingerie dress will give you that "savoir faire" essence & have you unnecessarily walking around your chateau with a glass of wine in hand thinking about what you're going to buy with your sugar baby inheritance — JUST to feel the buttery mesh fabric cascade against your skin. With a mermaid silhouette to show off your curves paired with flared sleeves, it gives you the perfect amount of sex appeal and dramatic "Ooh & Ahh's". Pair it with your favorite lingerie underneath or go commando, either way, it's guaranteed to get a reaction from your beau."
Shop this look here!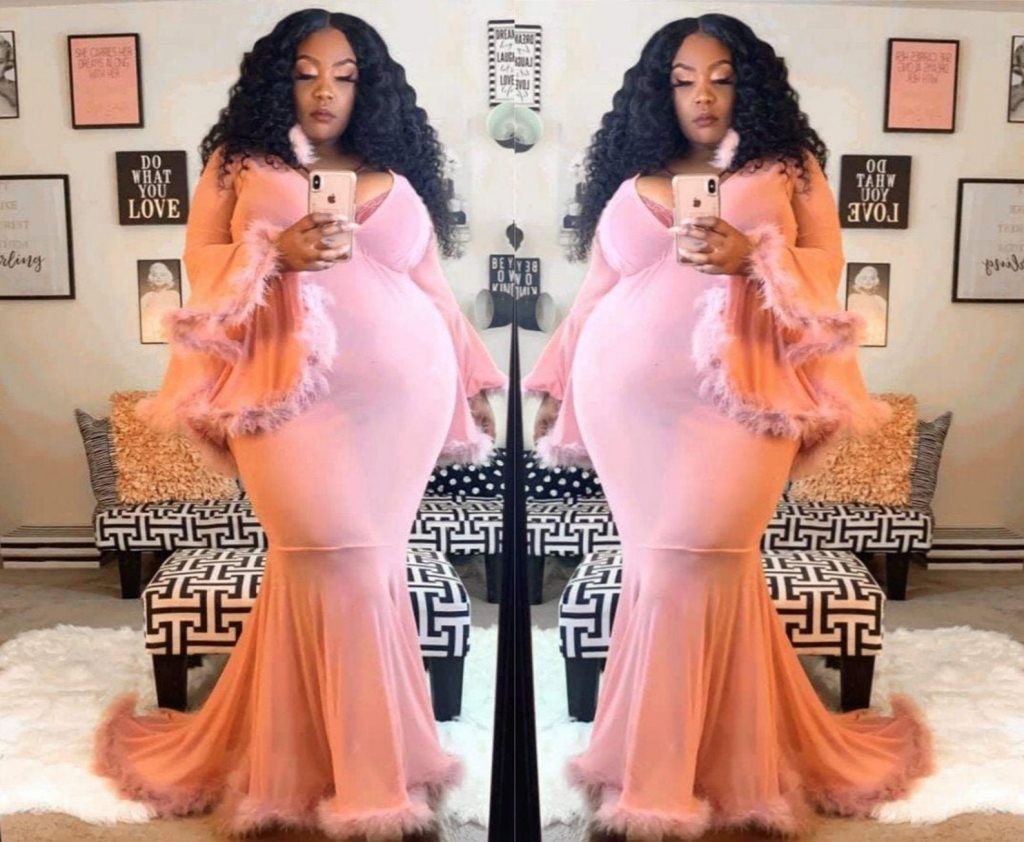 Brand #4b: Honeysuckle LLC 5X Lingerie Pleather
I love Honeysuckle lingerie, because they get that some plus size babes have more booty than bust. This custom plus size faux leather set is gorgeous, and is made in the USA! Can we talk about this glove situation?!?! Love it //need it // add it to cart, baby
Available in up to a 5X in lingerie here!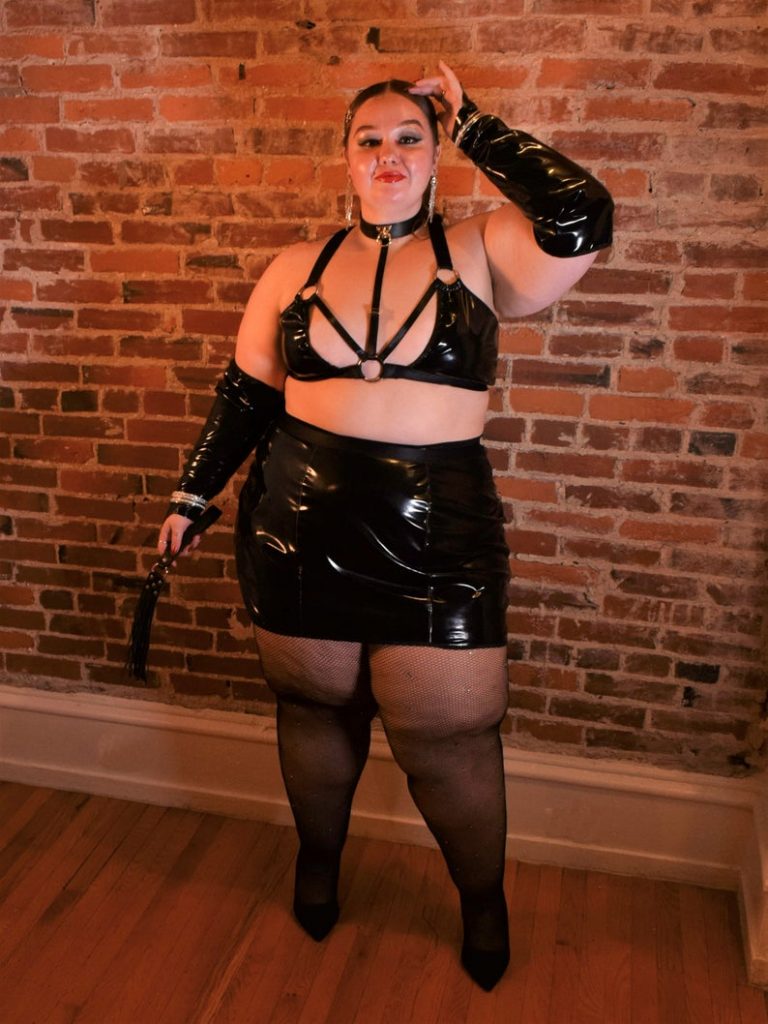 Brand #5: Ulta Popken 5X Lingerie
Ulta Popken has a cozier selection of 5X lingerie, with camisoles that are sexy, but can also be paired with a cardigan for daywear – we love versatility.
Sizing: Their size chart is a little (okay, a lot) confusing, but their size 36-38 fits a waist of approx 63″.
Check out 5X Lingerie from UP here!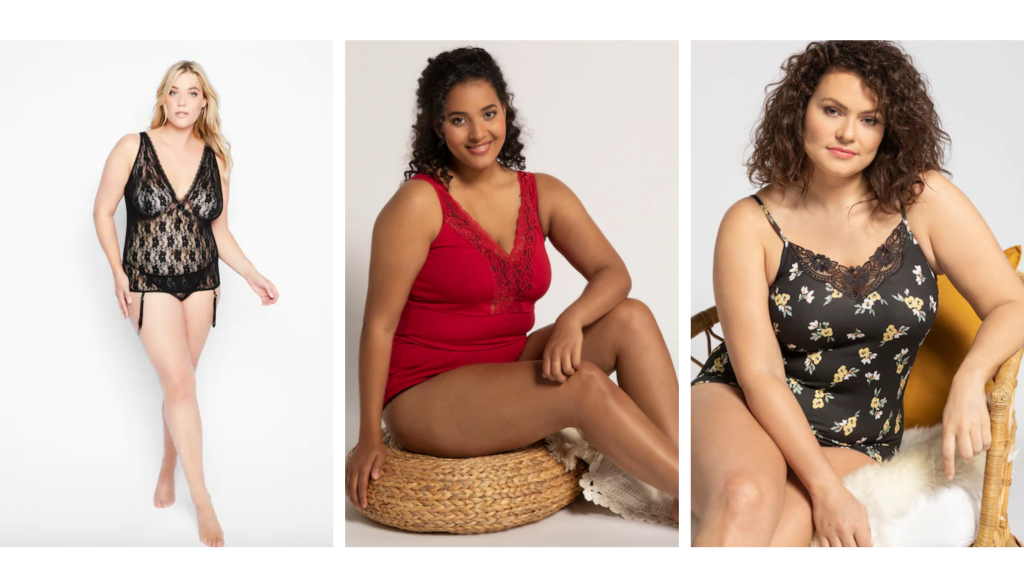 Brand #6: Bawdy Love Clothing 5X Lingerie
Another great indie brand that sells 5X lingerie is Bawdy Love Clothing! Based in the Pacific Northwest, this brand is known for their fun designs and rad photoshoots.
Sizing: A 4/5 fits up to a low waist of 68 inches
From the brand: "Having intimate apparel designed specifically for our body-types, and with a focus on our own pleasure was a revelation that we quickly realized we needed to share with the world."
Check out their 5X lingerie here!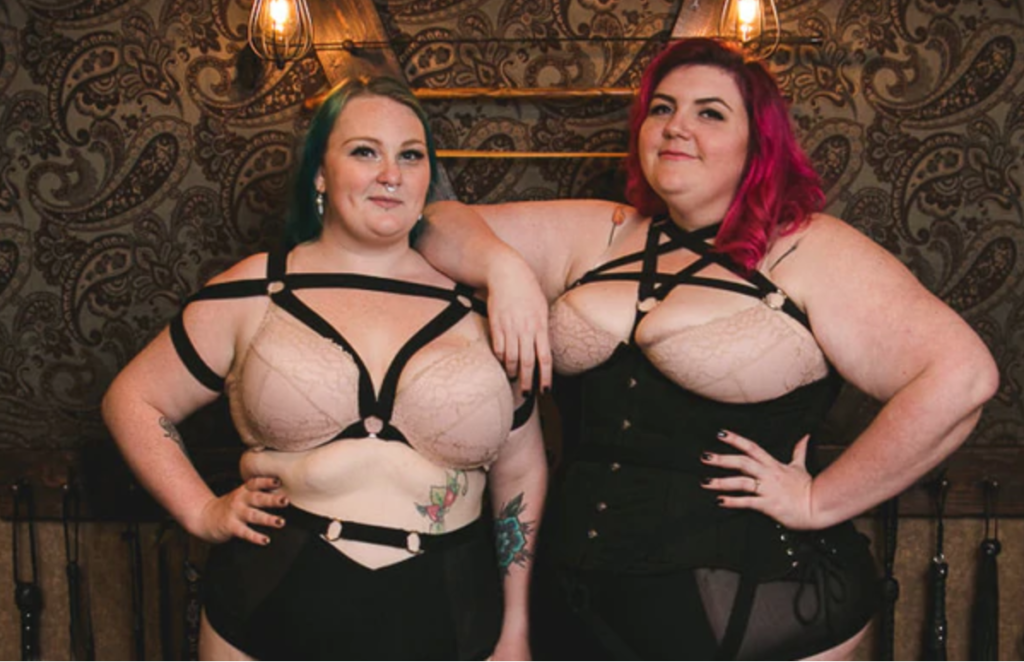 Brand #7 for 5X Lingerie: Impish Lee
Ok, we've covered the larger brands that carry plus size lingerie in a 5X – so now let's talk about CUSTOM lingerie from Impish Lee!
From the brand: "Designing your own intimates is simple with just a few clicks of your mouse! Choose your design, fabrics, and size, to create exactly what you want."
Sizing: From the brand: "If you fall outside of our sizing range, we can most likely still accommodate you!"
If designing your own sounds too stressful, you can also shop the Impish Lee collection page!
Shop 5X lingerie here!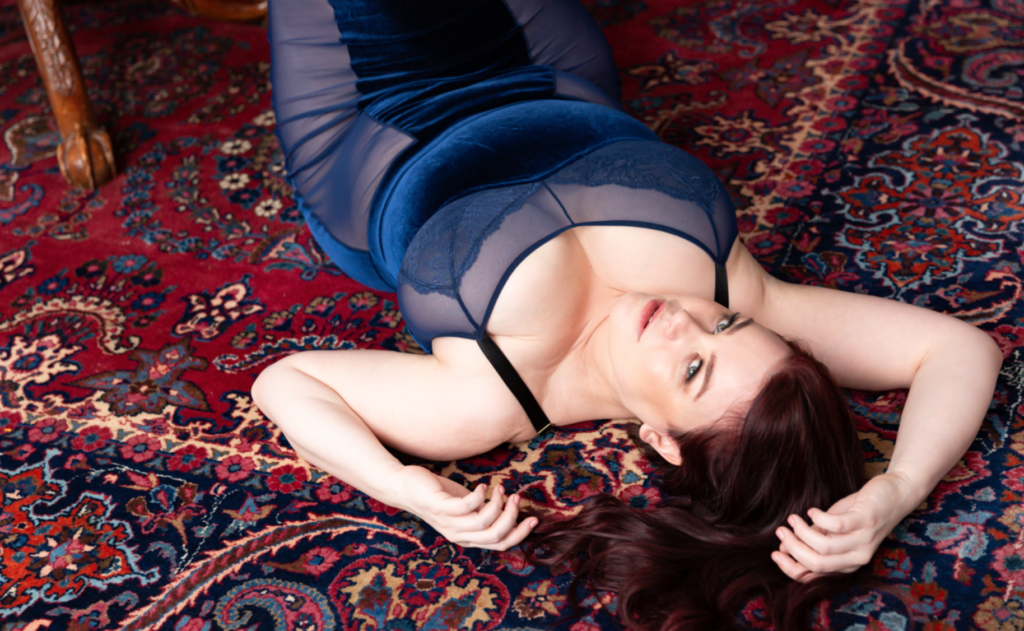 Brand #8 for 5X Lingerie: Smart Glamour
Smart Glamour makes lingerie in up to a 12X, which I love!
Sizing: Up to a 79 inch waist
Shop their plus size lingerie here.
Brand #9 for 5X Lingerie: Hey Maven
Ok, come through Hey Maven! This kitschy and cute lingerie brand goes up to a size 10X!
Sizing: Varies by piece, their 10X can fit an 86 in waist – but each piece has different sizing, similar to a size chart for nylons! I'd email before ordering!!
From the brand: "Hey Mavens! is a line of handmade lingerie which is designed and ethically produced in Nashville, Tennessee. With an emphasis on comfortable fits, quirky prints, luxurious velvet, and body neutrality, our designs are created to delight the wearer, and make them wanna dance in the mirror."
Shop 5X lingerie here!
Want more 5X + Fashion?
Looking for more plus size fashion finds in a 5X ++? Check out these blog posts:
Want EVEN MOREEE More Plus Size Fashion Recommendations?
Be sure to subscribe to my email list to learn about new fashion brands and plus size fashion recs! I love sharing fashion finds and shopping recommendations, so be sure to subscribe!!