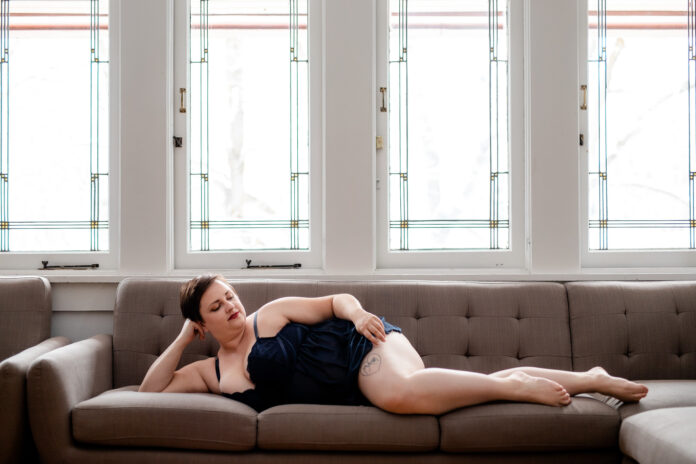 Hey there! This post contains affiliate links.  Using my links means I earn a commission, which helps me create more rad content.  More on affiliates here.
I am QUITE the advocate for boudoir photo sessions, because I know that boudoir photography can be an incredibly empowering experience. I recently wrote a post about how to find and prepare for a boudoir session here, and today I'm going to share my photos with Honey Lark Boudoir, a traveling boudoir photo studio that serves Salt Lake City, Ogden, St. George and Utah County. They also travel across the USA all year long, so if you're looking for a boudoir photographer, reach out and see when they'll be in your area!
They can go just about anywhere!
This blog post is all about my Valentine's Day plus size boudoir photoshoot!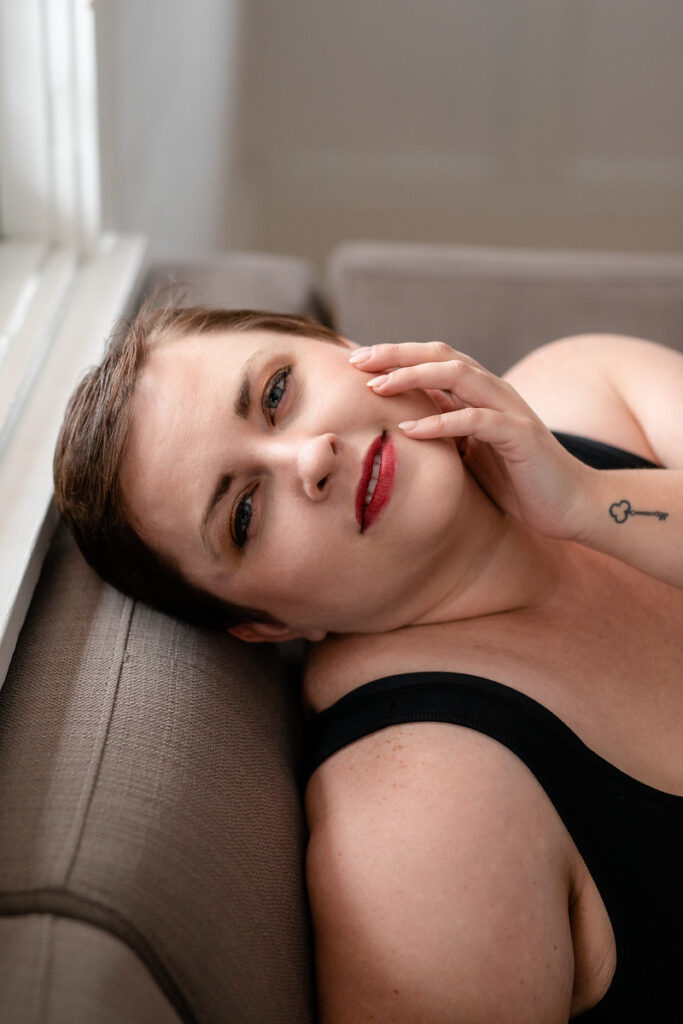 Below, I've shared:
How I found Honey Lark Boudoir & why I chose them
How I picked lingerie pieces/ my thinking behind the pieces I chose
How the session went with Kyle and Tori
TL;DR: You Should Book with Honey Lark Boudoir
If you've arrived at this post because you're thinking of book a boudoir session in the Salt Lake City (or Utah) area, I think you will have a blast with the team at Honey Lark Boudoir. They're a traveling studio, meaning they can get to your area quite easily!

How I found My Utah Boudoir Photographer in Salt Lake City
As a member of the LGBTQ+ community, finding a photographer in Utah can be… stressful. Sometimes I feel that my messages to photographers go unanswered, because the photographer see "Queer Activist" in my bio.
I know this is a good thing (who wants to work with a hateful person?!), but it does make it more stressful to find a photographer.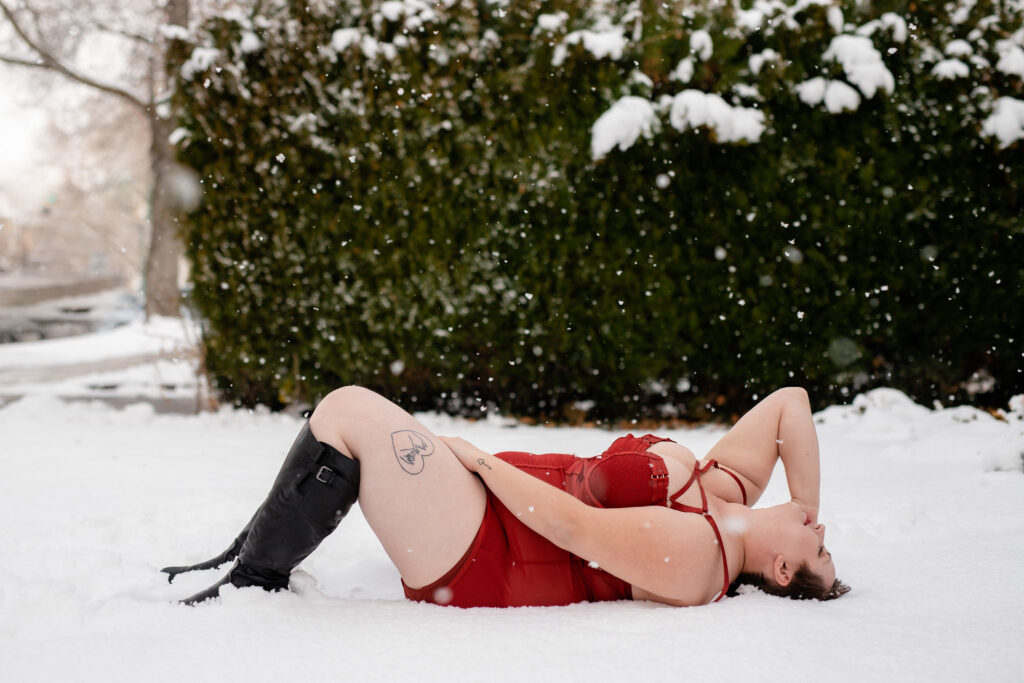 Using Instagram to Choose a Boudoir Photographer
As I shared in this post, one of the best ways to find a boudoir photographer is by searching for geographic focused tags on Instagram. Any photographer worth their salt is regularly posting to the platform, and you can use "CITY NAME + BOUDOIR" to see different work.
Example:
#Denver Boudoir Photographer
#OgdenBoudoir
#Salt Lake City Boudoir Studio
Etc
I did this, and it made it easy for me to see the work of different photographers. I personally look to see a boudoir photographer posting photos of more "alternative" looking people, because the photos photographers choose to put on their feeds shows who their ideal client is.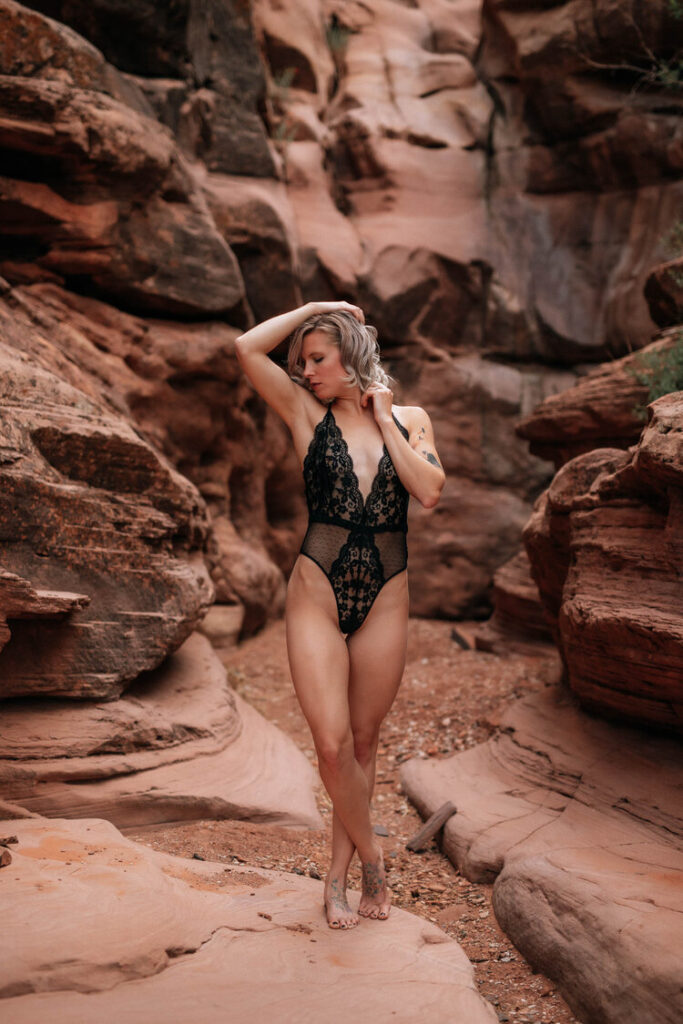 Why I Chose Honey Lark Boudoir
I chose Honey Lark Boudoir because they have beautiful lighting, and they show people in a variety of poses on their site and on their Instagram. They had photoshoots in beautiful national parks and photo studios, showing a real range and knowledge on lighting.
They also had the most diversity of folks (by far) that I saw, and I appreciated that they showed people with varying facial expressions, outfits, etc.
Boudoir is really all about how the client wants to be seen, and Honey Lark Boudoir does such a great job of celebrating the already present beauty of their clients.
Why I Chose This Lingerie
As you may have seen from my Instgram Story, I choose 3 different looks for this session. My goal in working with Tori & Kyle was to show the different kinds of outfits you can choose for boudoir.
Curious about fit? My measurements at the time of this shoot were 50″ bust, 44″ waist, 49″ hip!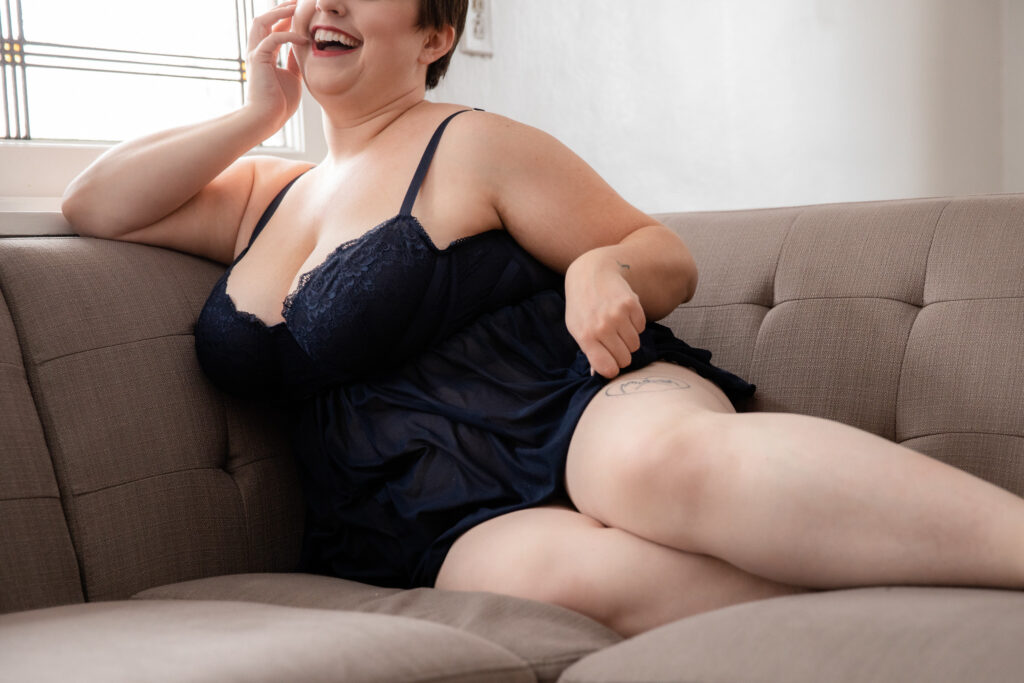 Outfit #1: Cacique Underwear & Black Tank Top – Androgynous or Masculine of Center Boudoir
Boudoir doesn't have to include lace and chiffon! I rocked a sort of 90's Calvin Klein inspired look with this pair of underwear from Cacique (Lane Bryant), and you my LGBQ+ friends could use underwear from TomboyX.
This set features beautiful lace cups, with a harness around the middle that then frees into organza. From Torrid: "A harness-inspired front accentuates your bust, while a sheer mesh skirt adds wispy movement to this sexy look."
Get This Look Here:
Cacique Underwear (I'm wearing a 20/22)
Shop TomboyX here
Masculine of Center, Non-Binary & GNC Boudoir
I would love to see folks of all genders do a boudoir session, so if you're on the fence, do it! If you have questions about choosing outfits or a location, my DMs are always open to my LGBTQ+ family members. <3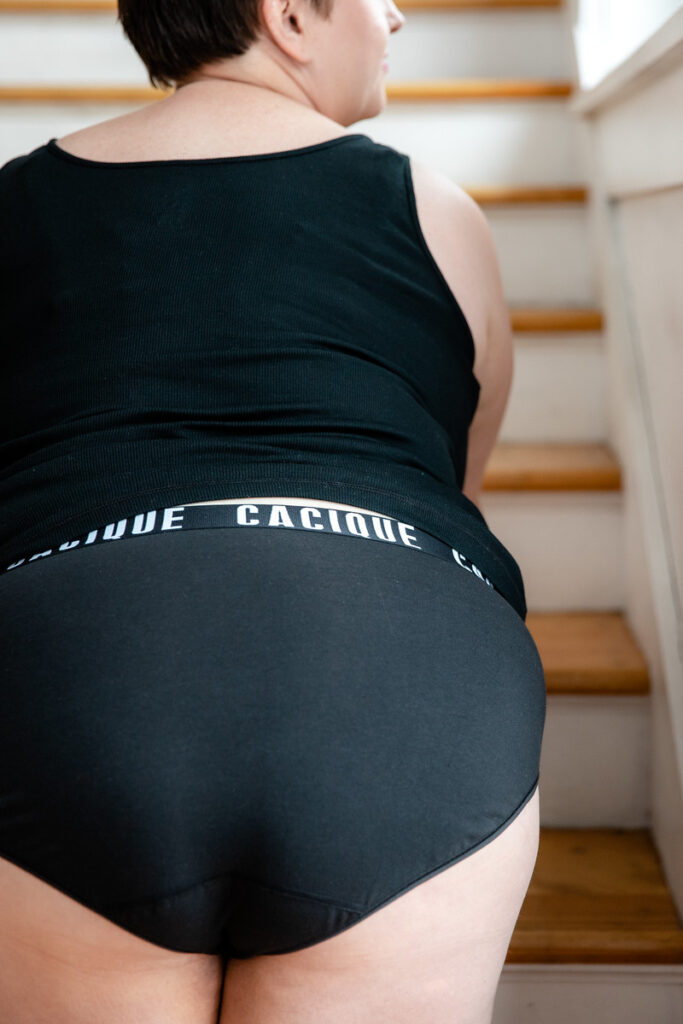 I think that "Babydoll" pieces are a great go-to for folks trying lingerie for the first time, or people who are working to love their body more. For many plus size babes, we feel comfortable drawing attention to a certain area of our bodies.
Plus, babydoll sets are flowy and fun, so that's always a plus!
Get A Similar Look Here
Shop Torrid Babydoll & Chemises HERE. I'm wearing a size 3 in this piece!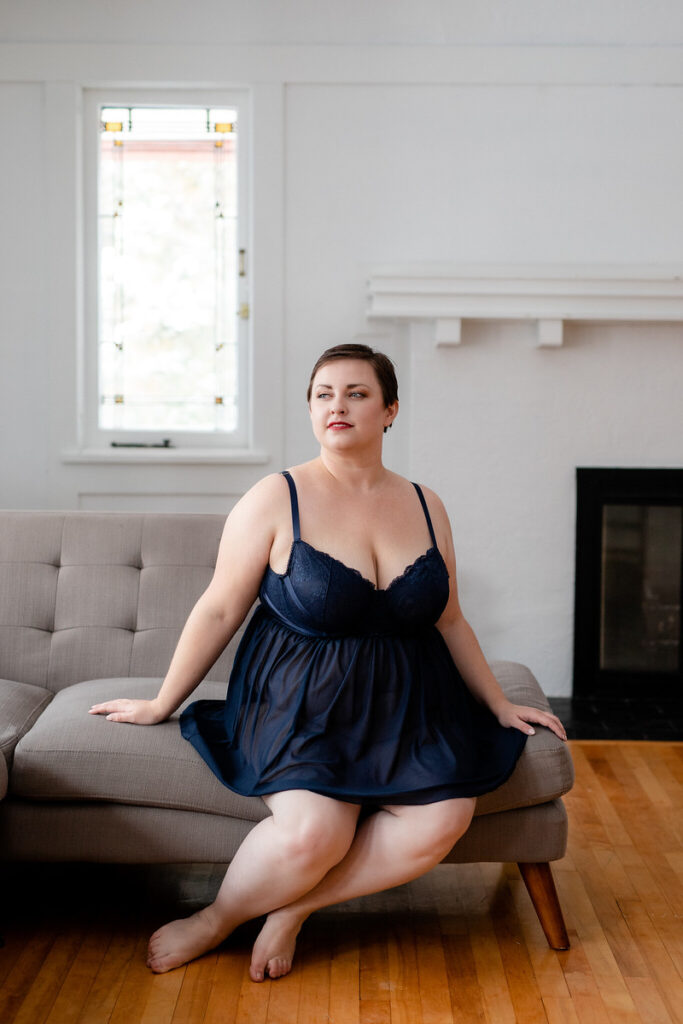 For my last piece, I wanted to get out of the box a little bit more! Be a little more daring and sexy, if you will.
I found this strappy red bodysuit at my local Torrid, and I wasn't quiiiiiiite sure how to feel about it. It looked a little complicated to put on, but I decided that I'd try anyways.
If I failed miserably, no one but me would know, lol!
Get A Similar Look Here
At the time of publishing it looks like this bodysuit is out of stock, dang it! However, Torrid has oodles of plus size strappy lingerie looks on their website!!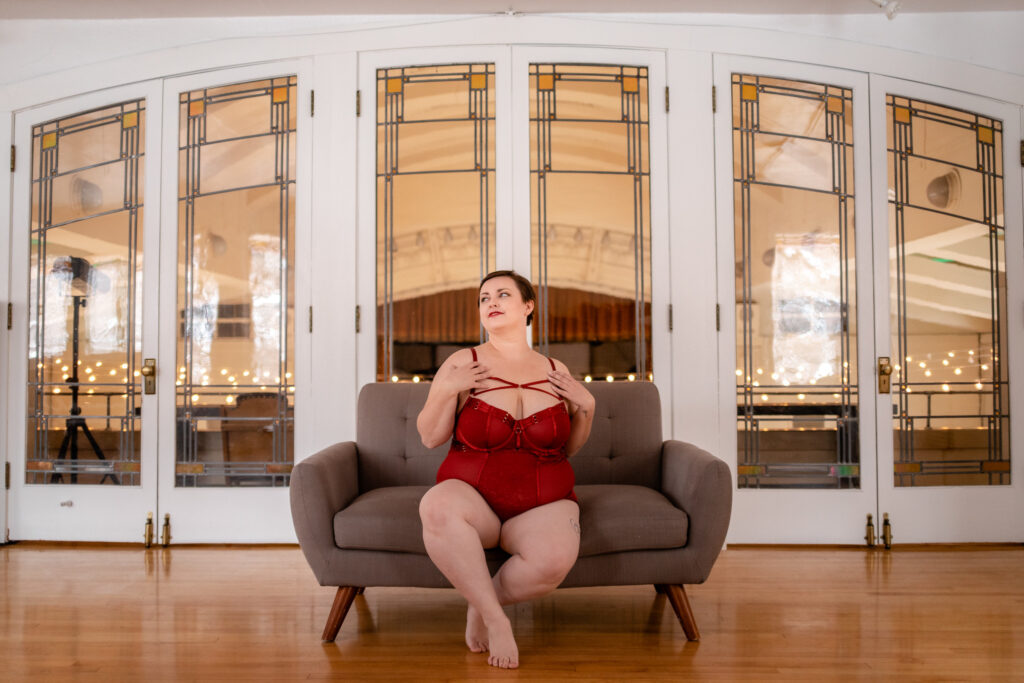 << Trying to figure out where to get lingerie? Check out this post!>>
How the Photoshoot Worked
I thought it would be helpful to share how my photoshoot with Honey Lark Boudoir worked, as in what happened "behind the scenes." This way you know what to expect from a session!
Pre-Photoshoot Survey
Before my photoshoot, the team sent me a survey to learn more about what kind of photos I wanted and what I was comfortable showing. They made it clear that I could always change my mind at my photoshoot.
Location Selection & Arriving
Honey Lark Boudoir sent me a few locations to pick from, and we had the photoshoot in Salt Lake City, Utah. We met outside, and we had a quick greeting before getting inside where it's warm!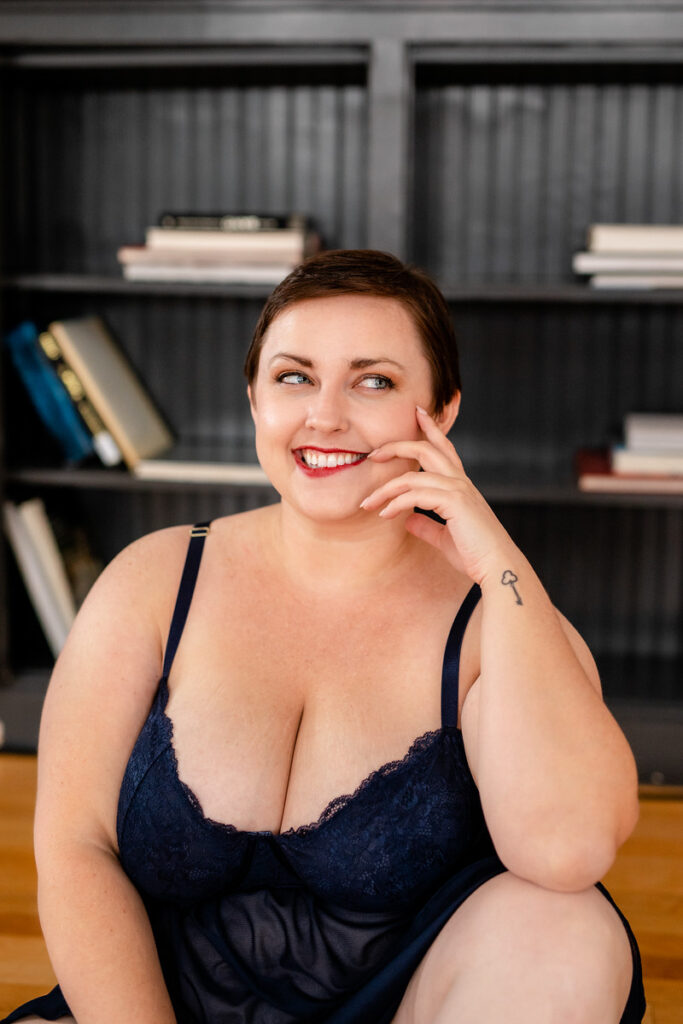 Light Testing & Set Up
I showed the team all of my looks so they could plan shots with all the info they needed, and while I got changed they set up their equipment.
Boudoir Poses & Pacing
i've worked with a LOT of photographers, and the Honey Lark Boudoir team was SO EXCELLENT at showing me how to pose. I didn't feel pressured or on the spot, and taking photos with them was incredibly fun.
Kyle often jumped on the couch or got on the floor to show me poses, and Tori was good at making sure my hair was in place and everything was where it should be.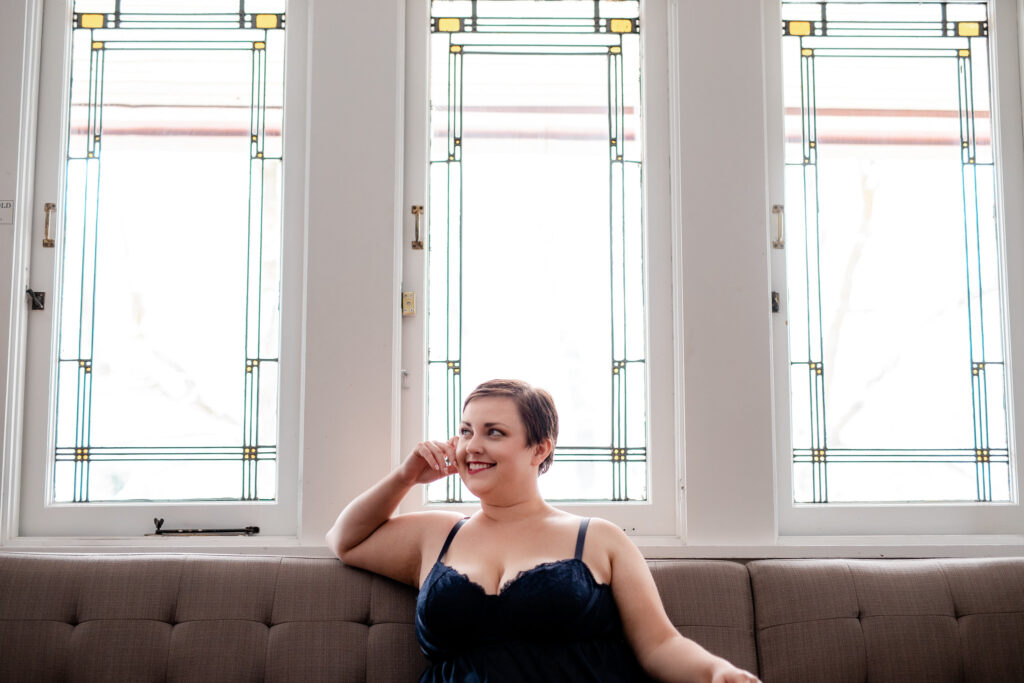 2 Hour Photoshoot
My photoshoot was about two hours, and we had a little extra time at the end to go and get adventurous outside! I got all up in the snow, and I had a freaking blast!
After the Photoshoot
Tori and Kyle sent me an online gallery with photos from my session via email. The photos are fab, and I love them!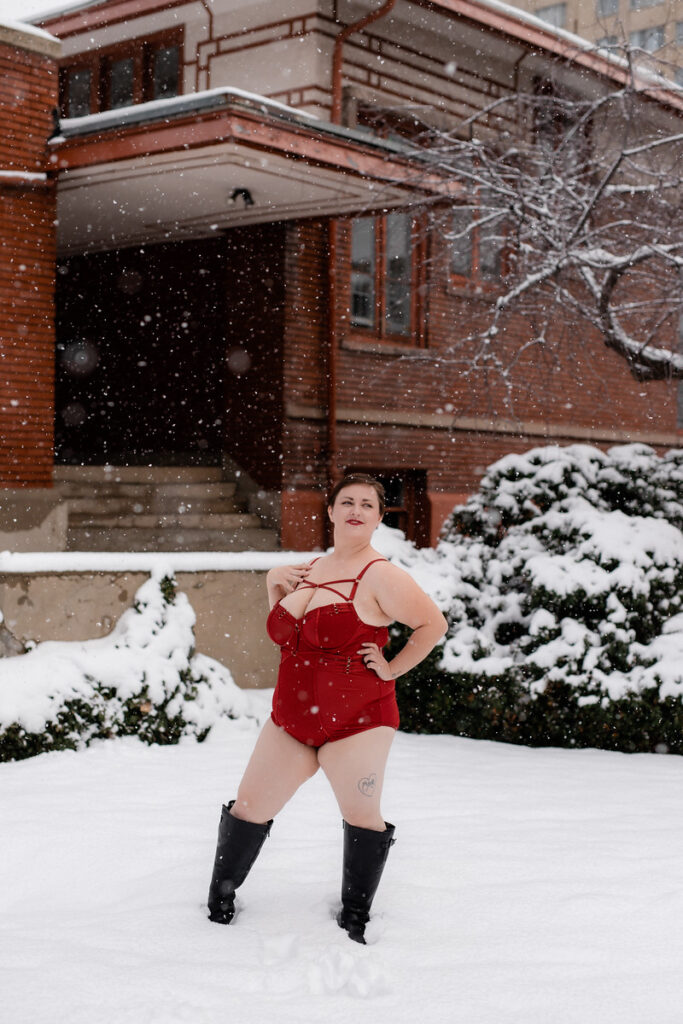 This blog post was all about my Valentine's Day plus size boudoir photoshoot!
Upcoming Honey Lark Boudoir Sessions
This fun boudoir studio has photoshoots coming up in the following locations:
St. George, Utah
Lehi & Salt Lake City
Ireland & Iceland
Omg, how fun would it be to have an outdoor boudoir photoshoot in Ireland or Iceland?!?!
You can learn more about upcoming sessions here.
Let's Connect!
Are you looking to see more body positive content in your feed and email inbox? Join me on Instagram and Facebook for editorial photoshoots and fun outfits, and if you wanna stay-in-the-know on my blog, subscribe here!
Note: This blog post was first published on January 19, 2020. It was last updated on August 5, 2023!