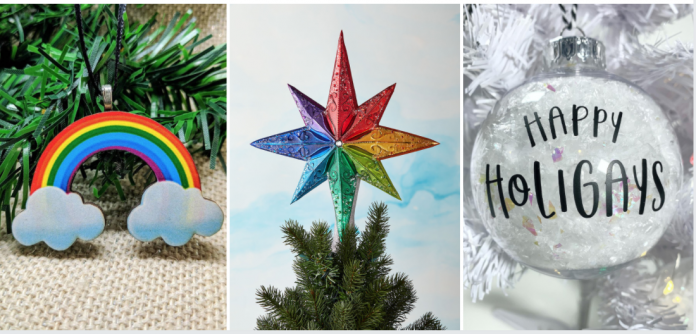 Hey there! This post contains affiliate links.  Using my links means I earn a commission, which helps me create more rad content.  More on affiliates here.
I love LOVEEEE decorating for Christmas! This is the first year I'll be decorating my own tree by myself (wooo single lady life!!), and I've been doing a lot of research on fun and kische Christmas tree ornaments.
I want to have a classy / luxurious tree, but one where folks get a cheeky grin when they get a bit closer – to see some fun LGBTQ holiday ornaments!
Below, I've shared my fave LGBT ornaments!
#1 LGBT Trans Christmas Ornament: The Agenda ($14.99 USD)
Okay, I make jokes about the "Gay Agenda" all of the time, and I love this "Trans Agenda" holiday ornament. This is a great gift for a friend who is trans, and I'll be putting it on my tree to celebrate the trans members of my chosen family!
From the maker: "This 3D ornament is about 3in tall, foam and comes a tree hanging hook. All of our ornaments are 100% hand sculpted and hand painted and and can be purchased with any pride flag of your choice. This ornament is hard yet lightweight, and will hand nicely on any tree. Our items are not factory made, so no one item is a complete replica – expect a little handmade charm and love!"
Shop here!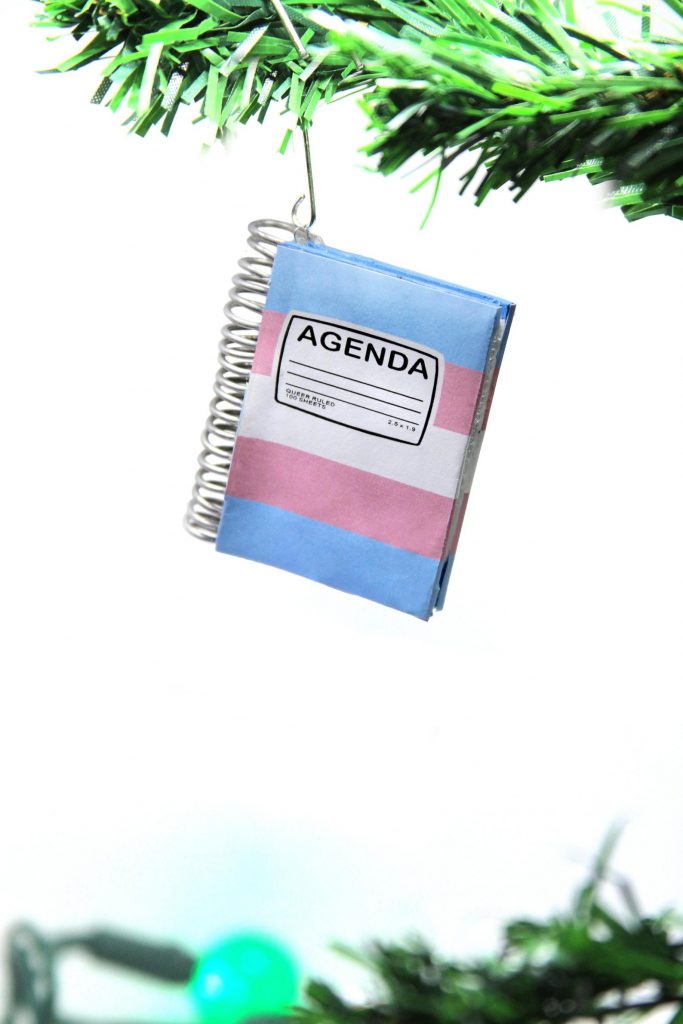 #2 LGBT Christmas Ornament: Rainbow Pride ($10 USD)
This rainbow ornament is so fun! It's 2 inches tall and made from wood, available with a red or green ribbon.
Shop here!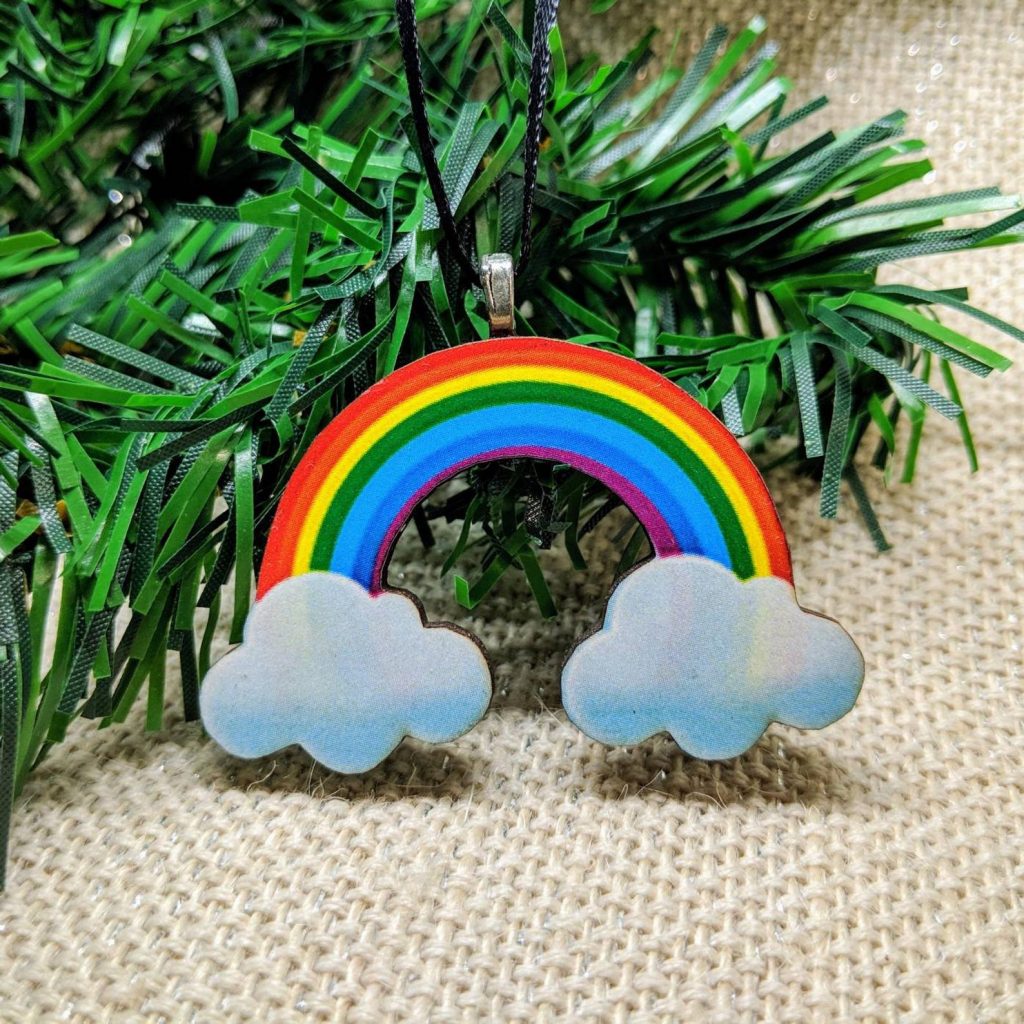 #3 LGBT Christmas Ornament: Merman ($36.99 USD)
There are a PLETHORA of LGBT merman pride ornaments for a Christmas Tree! One of my life goals is to have a tree with *only* these super fun merman ornaments!
From fireman to cowboys to a few… more NSFW options, these make a great gift and ornament!
Shop here!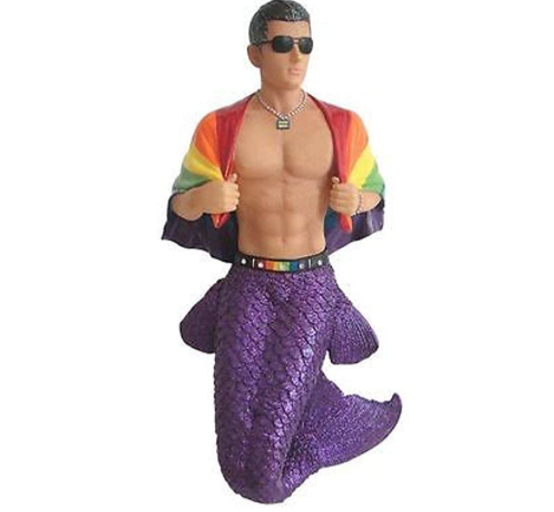 #4 Unicorn Christmas Tree LGBT Ornament ($12 USD)
Okay, so we could argue that a unicorn isn't automatically an "LGBT ornament," but that is not the kind of energy we want around these parts! I love this unicorn ornament, as it's perfect for a silver/gold holiday aesthetic!
This aluminum ornament is lightweight! From the maker: "The aluminum material allows our ornaments to be light and delicate as they dangle from the twine. The tumbled grey/silver finish shines with a slight sparkle in the light. Subtle surface variation is normal, including small scratches and variable texture; please refer to our pictures for more detail."
Shop here!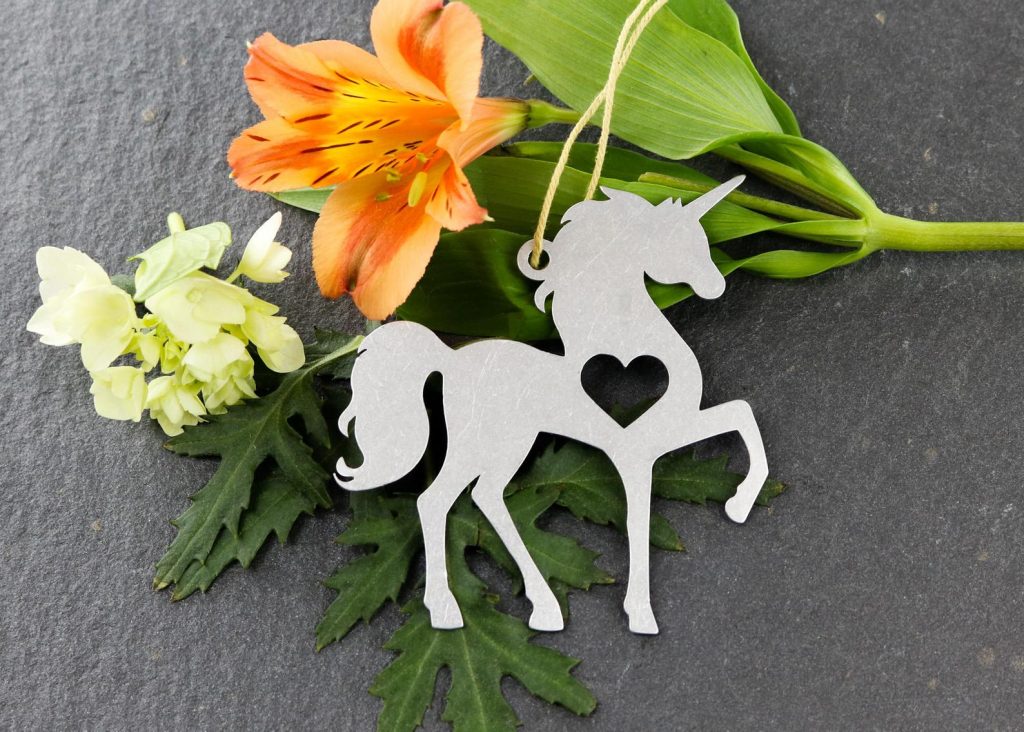 #5 LGBT LOVE Christmas Ornament: The Agenda ($19.99 USD)
Inspired by the "LOVE" statue in New York, this LGBT Christmas tree ornament is a great addition to a festive Christmas tree.
Snag it HERE!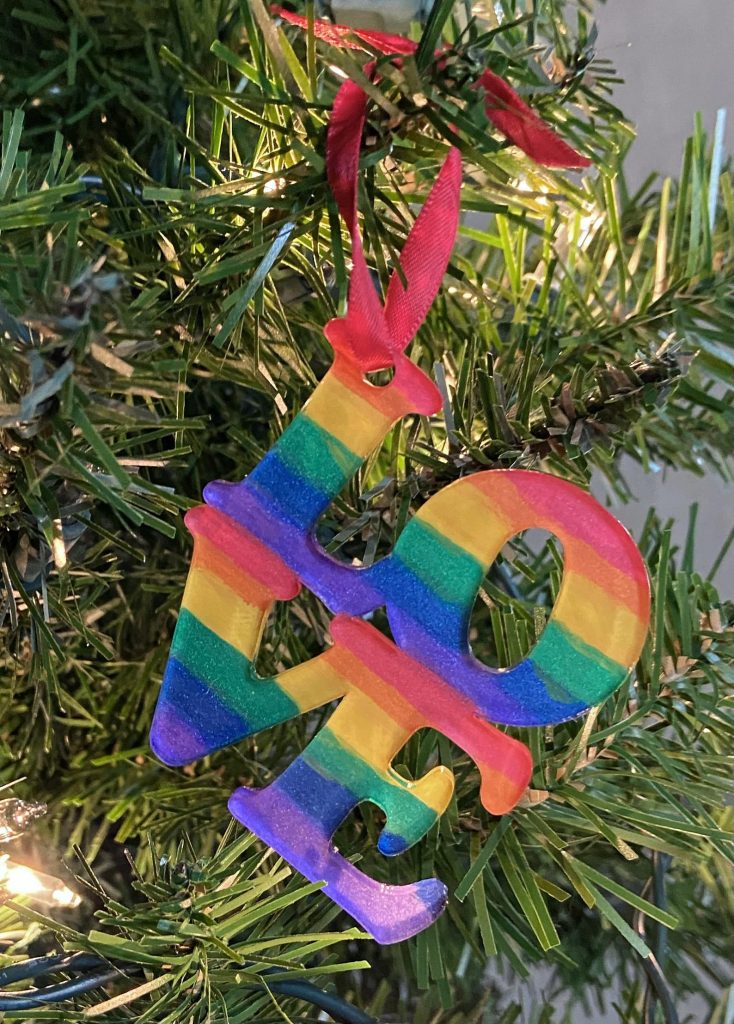 #6 LGBT Christmas Tree Ornament: Christopher Radko Rainbow Stellar Finial ($150 USD)
I gasped when I saw this Christmas tree star (apparently, they're called a "finial"? Who knew!)
This finial is made of glass and measures 4″W x 4″D x 14″T.
Shop here!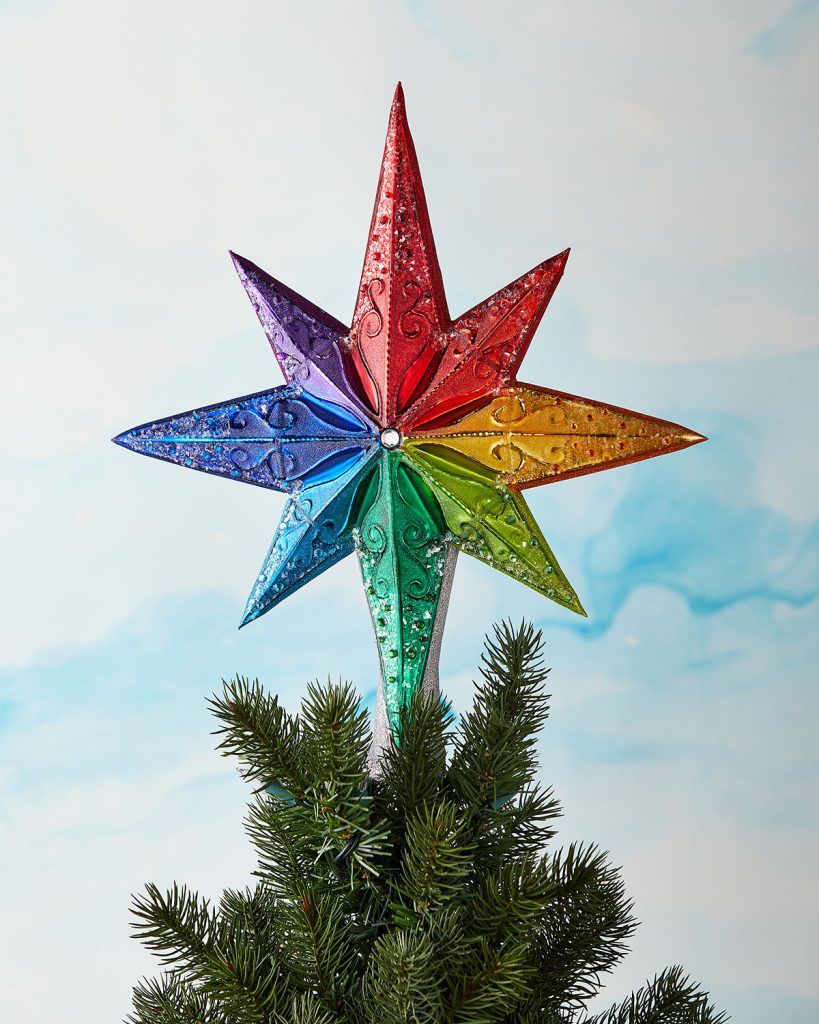 #7 LGBT Christmas Tree Ornament: Happy Holigays Ornament ($11.90)
We love The Holigays!! This round ball ornament has words printed over it, making it a fun accent on a Christmas tree!
Shop here.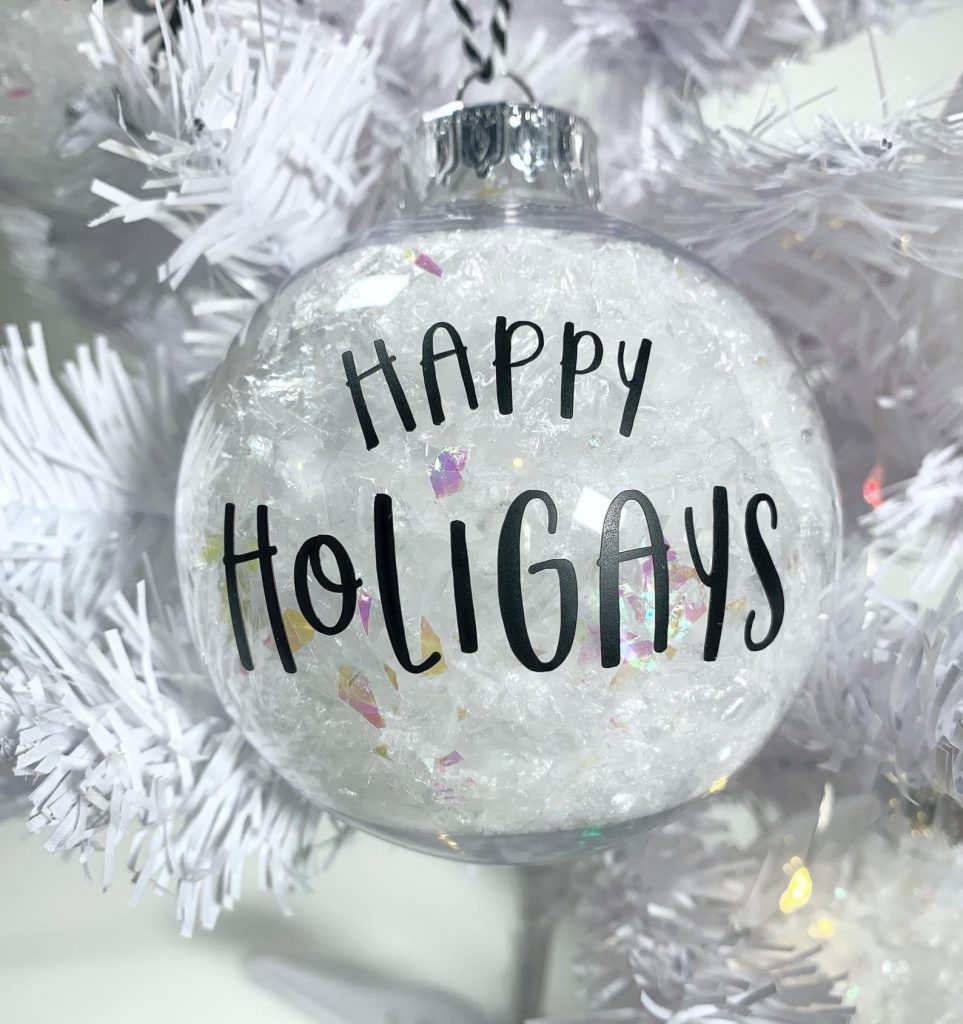 #8 LGBT Christmas Tree Ornament: Rainbow Pride Flag Tree Skirt
Okay, so technicallyyyyy this isn't an ornament – but I couldn't leave it off! This tree skirt is 44″ around, and it's so fun! The maker is based in Brooklyn, New York!
Shop here!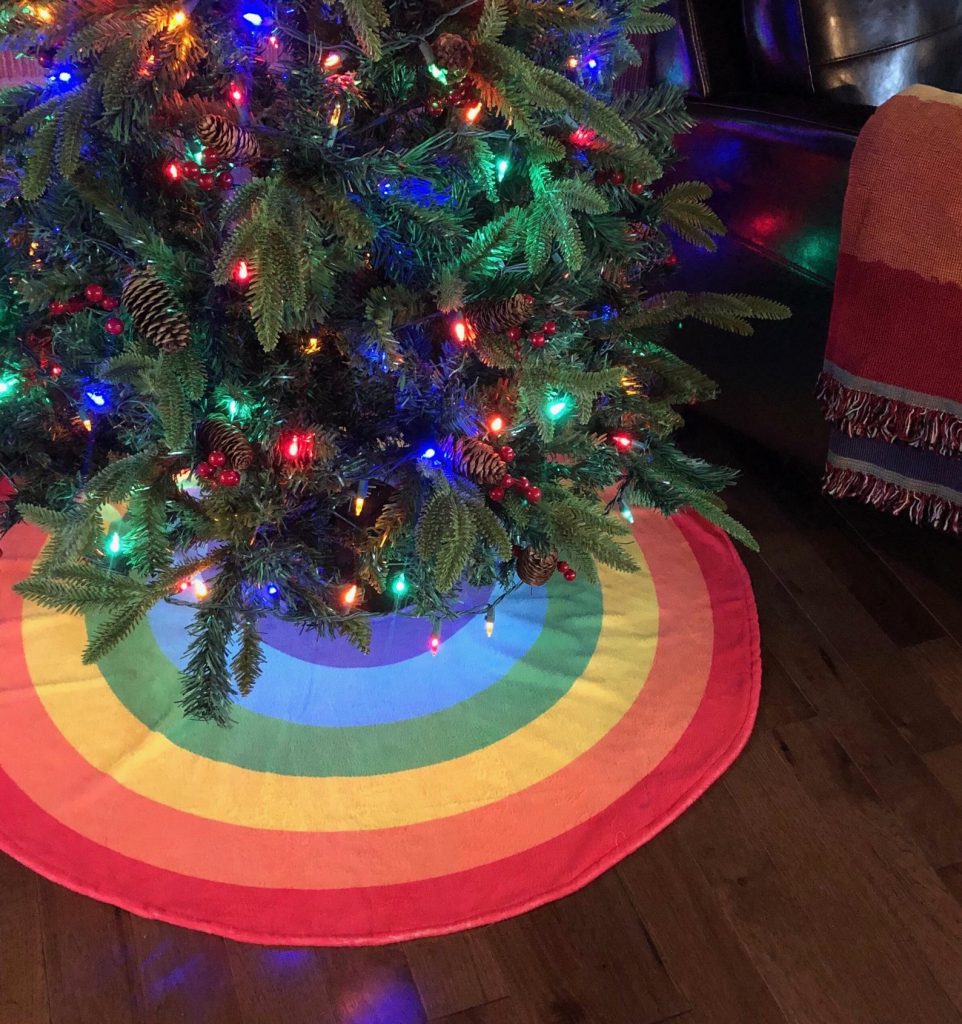 More LGBT Gift Guides
Want to do a bit more shopping with my cute gay help? Here's a few posts:
Hi, I'm Brianne
Thanks for visiting my blog today! I write about plus size fashion, travel and anything that I want (AKA lifestyle topics, lol).
If you love LGBT fashion, be sure to join me on Instagram! Into planning your dream home and helpful posts? Come hang on Pinterest!
Want to stay in-the-know about my best and most popular posts? Sign up for my email list, here!
Have a great day!