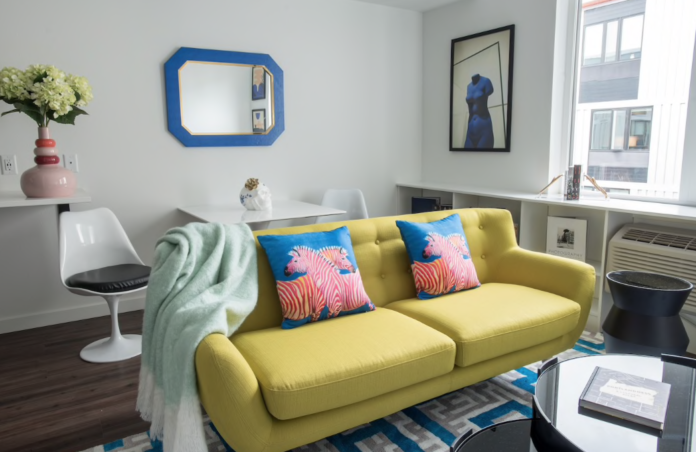 Hey there! This post contains affiliate links.  Using my links means I earn a commission, which helps me create more rad content.  More on affiliates here.
I travel *quite* a bit, and I'm blessed with a wide network of friends who offer me sofa beds and guest bedrooms when I'm in town.
When I travel with friends, they usually choose the Airbnb and we split the costs accordingly. I don't do much (if any) research, I just Venmo my friend who books.
Recently, I booked my second ever Airbnb(can you believe?!). It was such a bewildering experience, and I knew that it was TERRIBLY important to share it with you.
[Heads up! This post uses affiliate links, and you help me earn $$ when you use my links. More on affiliate links here!]
TL;DR: This review is LENGTHY. If you're thinking of booking a Nuovo property, save yourself a massive headache and pass. They take forever to respond, they don't resolve issues, and they don't take responsibility. 0/5 stars here.
A Note on Negative Reviews
Being a blogger, it is easy to "drag" brands, and, indeed, a number of bloggers have built their career on doing this.
I do not like this, and I do not do this.
As someone who consults with up-and-coming brands, I know that mistakes happen. Best intentions and systems are created to provide an excellent customer experience – and sometimes issues pop up. I only post negative reviews when a brand fails to:
Recognize and apologize for their mistake
Remedy the mistake through a discount or other effort
Share how they've changed internal systems or practices to ensure the mistake doesn't happen again
Aaaand, you know me! I regularly give public commendations to staff who provide great service, and I email businesses to let them know about stellar employees.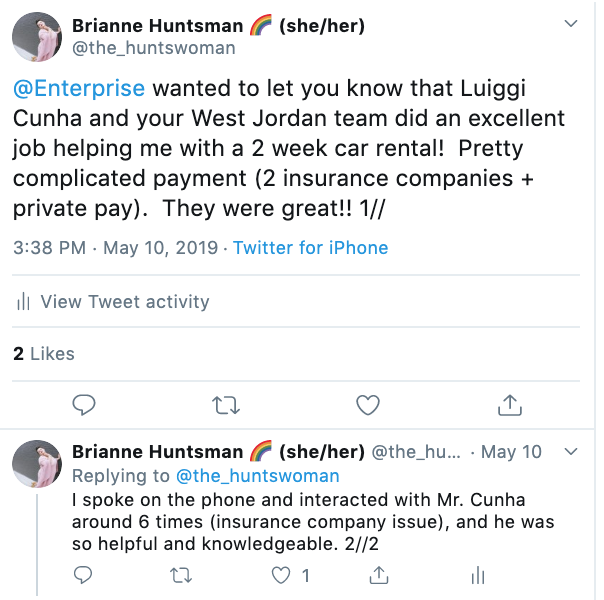 Booking an Airbnb in Portland
Okay, now that allllll of that is out of the way – let's talk about booking an Airbnb in Portland!
I drove to Portland to do fittings for my fashion collection. Portland has an amazing community of plus size models and LGBTQ+ people, making it a great place to cast for fashion. I rented a Nissan Rogue via Enterprise (great experience I'll be sharing!), and I drove the ~12 hours to Portland.
I debated off and on about which Airbnb to book, and I eventually settled on an apartment with Nuovo Properties – I loved both the blush and blue couches in these photos, and I figured I could film some YouTube videos in the space as well.
Warning Sign #1: Slow Response Time
I sent a message off to Nuovo, as I wanted to get an Airbnb with the pink or blue couch – NOT that greenish yellow couch. I knew the blue or pink couch would show up better on-camera.
I messaged a few hosts on Airbnb, and Nuovo took almost a full day to get back to me – while the other hosts responded in a few hours. I should've gone with the hosts that responded quickly. I know that's a "No duh!" moment, but I was so excited about those dang couches I ignored it.
Takeaway: If a host on Airbnb takes a full day to respond, go somewhere else.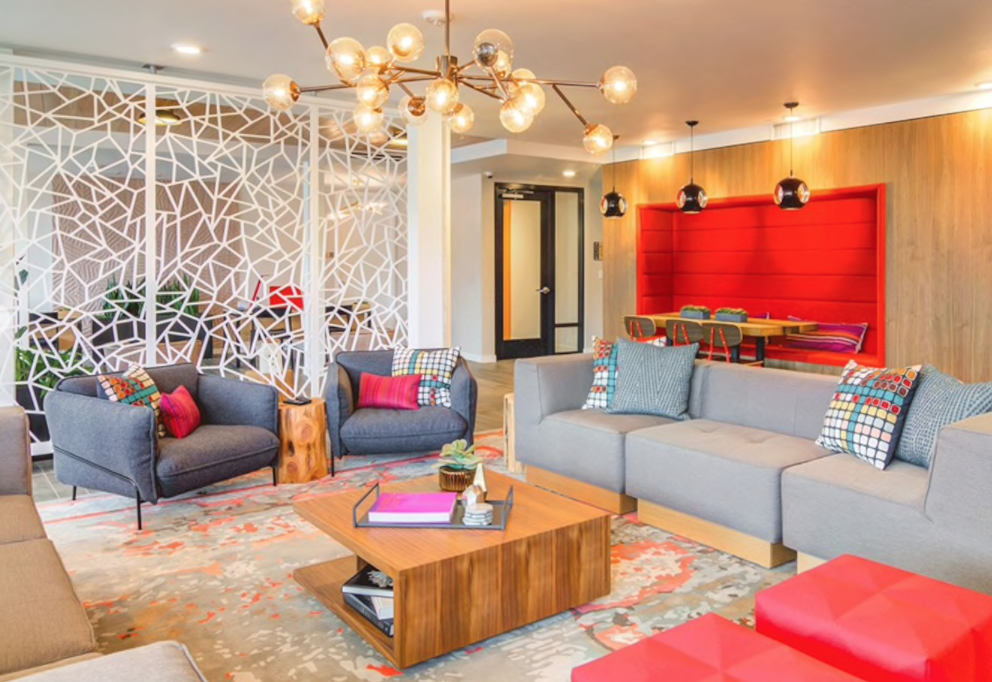 Warning Sign #2: Which Apartment, Exactly, Am I Getting?
From looking over Airbnb in Portland, it's pretty clear that Nuovo owns at least 5 (?) units in this apartment building – and it's not clear what unit you'll get when booking.
The listing is here, and it has alllll of the photos you see up there. Are you getting the blue bed? Green bed? Who knows!
Confusing Booking
I don't get why they don't just have a listing per apartment? Having a bunch of identical listings – showcasing 3+ apartments – makes it hard for the staff to track who is having an issue.

But I Booked It!
I was on the fence, but then the two other Airbnbs I was looking at booked up. Airbnb waits for no woman!
So, I went with Nuovo Properties. I didn't want to wade through 10+ pages of options again.
MISTAKE!!
Locked Out at Night – Check In Horror Story
On the Airbnb app, you select a check-in time when booking. I selected a check-in time of 9PM, as I'd be going to my Airbnb after getting drinks with a friend.
I pulled up to the apartment building, and there wasn't a whole lot of street parking near the entrance. Parking can be a pain in PDX, so I was prepared for this. I had about 5 trips worth (a looooooot of garment bags) I needed to take up to the listing, so I turned on my hazard lights and parked near the entrance.
Call Box Broken & Empty Lobby
I pulled up the check-in instructions (that I had to message Nuovo to get, they forgot to send them), and I punched in the code.
Nothing.
Then I punched in the code again, and the call box started making weird noises.
It was like the dial-up noise from the 1990's mated with a cartoon robot. With some Darth Vader breathing thrown in.
"Uh oh," I thought to myself. "This isn't good."
The lobby was empty, and I couldn't knock on the glass with a big hopeful smile. No one was around.
Crying Next to the Call Box
Y'all, I argued with that call box for almost two hours, keying in the entry code to try to get in. The call box would randomly start calling units, making weird noises and just not working.
"Great," I thought. "Not only am I frustrated, I keep calling units in the building!!"
I kept keying in the door code, and it took about 20 minutes each try to get the call box to open the door. I had to repeat this 4-5 times, as I had a lot of stuff from my car to load in.
At one point, I was locked out for a half an hour, with my garment bags, sewing machine and luggage in the lobby – while I stuck outside. And, I started crying. It was dark! I was tired from driving and frustrated.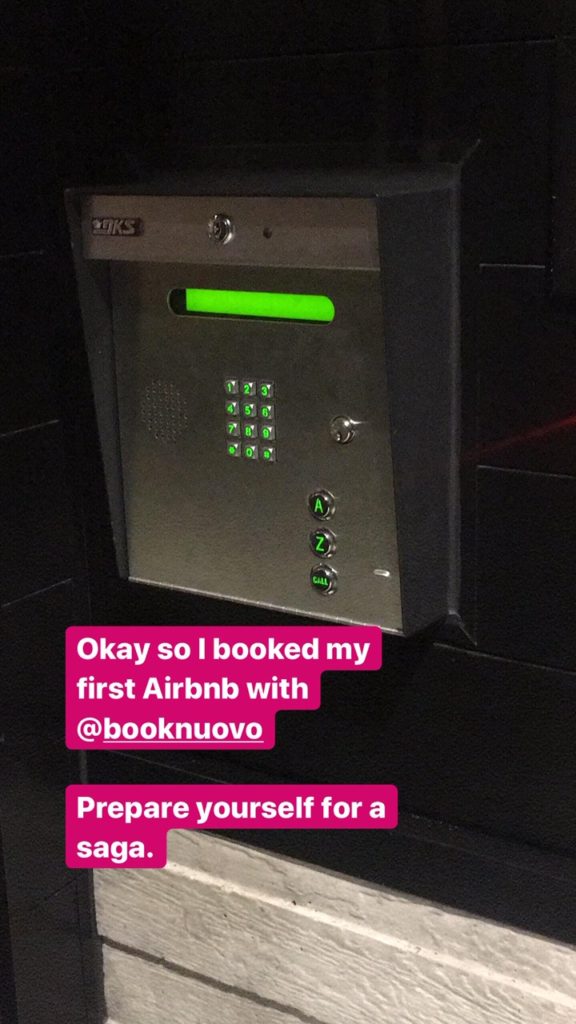 Picture me, leaning against the wall, in the dark, crying while keying in a door code over and over again. Not a cute experience.
In retrospect, I should've called Airbnb help, canceled and got a full refund instead of arguing with the call box.
Calling Nuovo Properties for Help
Standing outside trying to get the call box to work, I realized I should just call the company. I was under the impression that if a check-in time was available, they'd have staff on-hand to help me out.
Nope! Nuovo Properties offices are in Florida, and there was no one there.
NOT CUTE.
Safety Issue.
The real thing that spurred me to write this post was feeling so unsafe. I was in a dark and unfamiliar neighborhood. The lobby was empty. I was traveling alone, and I couldn't get in.
I've traveled solo all over the world, and struggling to get in I had a real concern for my safety. But by the time I realized I should have just left, half of my items were inside the lobby. Pieces that took hundreds of hours.
I couldn't just leave them.
Cue Anxiety Attack
After I got all my stuff into Airbnb, I had a not-fun panic attack about the whole ordeal. I shared what was happening on my Instagram Story, and I was just so mad I had spent my money to book a cute place – that I couldn't access.
I really appreciate y'all coming in my DMs and being so kind with this issue. I felt scared, alone and like a total idiot for booking this apartment. <3
Oh, and remember those cute couches? I got the green one. Salt in the wound, truly.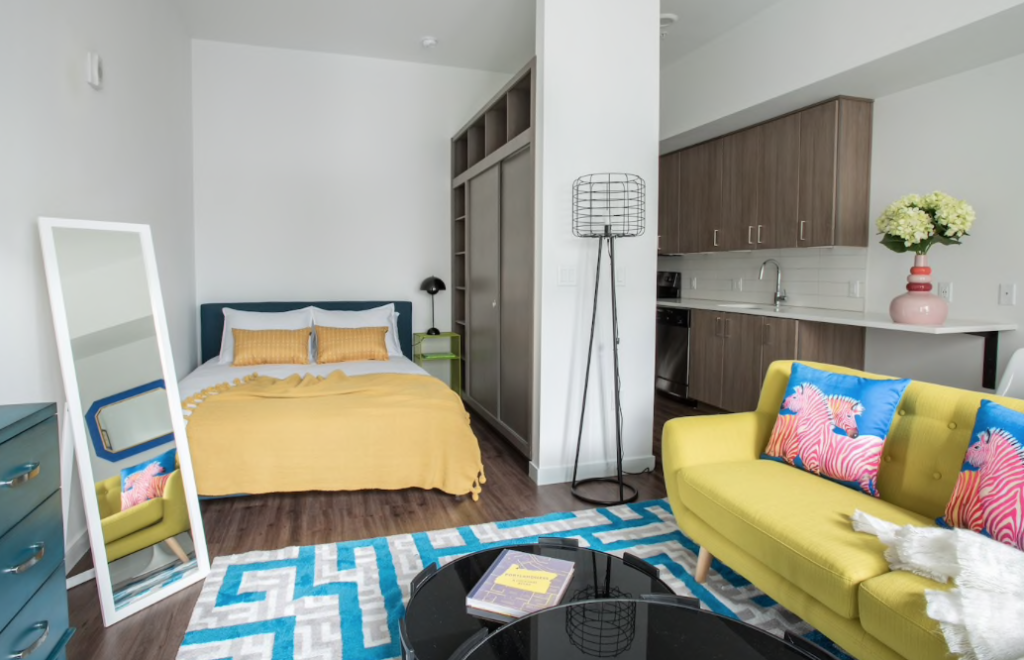 Issue #2: Freezing AC
I couldn't figure out how to turn off the AC unit in the apartment, so I froze for 2 days. It took Nuovo 1 day to send someone over, after I sent a request to get the AC turned off.
I went and *bought* a blanket I was so cold.
It was here I realized that Nuovo was actually more like a crappy landlord, not a "host."
It was here I realized that Nuovo was actually more like a crappy landlord, not a "host."
Lack of Operations/Systems at Nuovo
I won't bore you all with a play-by-play of all the messages I exchanged with Nuovo Properties, but at the end of allll of this it was pretty clear to me that Nuovo has severe issues with their operations and internal systems.
Contacting via Airbnb, phone, email, etc led to very different response times and, well, friendliness of the staff. I felt like I was talking to 3 different organizations.
It may be that their customer service reps on Airbnb can't access email, or that the people who answer the phones can't check Airbnb – but overall, it was clear that the people I spoke with were not empowered to help me with my issues. Great example of organizational silo-ing, here.
Terrible Yelp! Reviews
Because I was booking through Airbnb, it didn't occur to me to check Yelp! or Trip Advisor for reviews – like I would for a hotel!
Turns out, the reviews agreed with my experience. 1/5 stars abound!
Asking Airbnb for Help
I messaged Nuovo about these issues and (not-surprisingly) there was quite a delay in getting back to me. I messaged, emailed and called a LOT. So I took to Twitter to ask Airbnb for help.
I know hosts get "dinged" if Airbnb Support gets involved, but Nuovo wasn't being responsive.
Airbnb was pretty responsive, and I appreciate how in the app the support team let me decide when to ask for a partial refund from the host. I felt in charge of the remedial process, which I really appreciated.
$20 Refund?
I was a big fan of the process, until after checking out Airbnb support let me know that I had been issued a $20 refund. On a $400 rental.
TBH, they should've just refunded $0. This was insulting.
Airbnb also didn't let me share how I felt about this refund, making my case as "CLOSED" in the app, before I could respond. Cute.

I Travel a Lot – No Airbnb for Me?!
This experience taught me a LOT. I figured out that renting an Airbnb from a property management company is NOT a good idea (who needs landlord stress while traveling for fun or for business), and I also realized that I should probably just stick to hotels.
Hotels have someone available 24/7 if you're locked out of your room. They can turn off your A/C if needed! In less than a day!
Should I Give Airbnb Another Go?
Have you had terrible Airbnb experiences? Do you only use hotels? Are there tips or tricks to booking that I've missed out on?
FURTHERMORE, do you have a hotel in Portland, Oregon, you'd recommend? Because I'm going back up to Portland in a couple of weeks – and I'd love a recommendation!