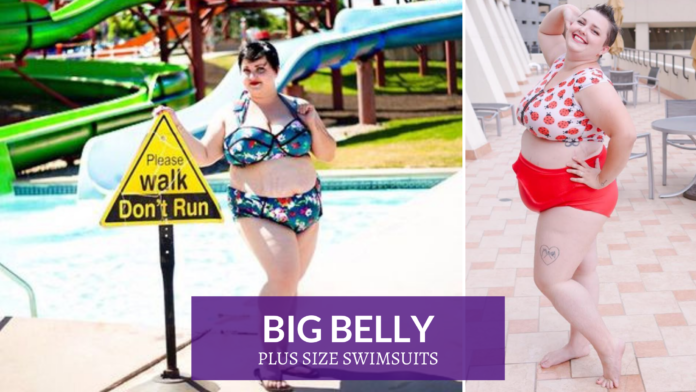 Hey there! This post contains affiliate links.  Using my links means I earn a commission, which helps me create more rad content.  More on affiliates here.
If you've landed on this page, it's probably because (like me!) you're a plus size babe who is looking for a plus size swimsuit for a big belly. I'm definitely "apple shaped," and finding plus size swimsuits that I feel cute in can be hard!!
I've tried a loooot of plus size swimming suits as a plus size model and blogger over the years, so I'm sharing my experience + my recommendations in this blog post!
This blog post is all about plus size swimsuit for a big belly!
[Note: This blog post was originally published on Feb 17, 2021, and it was last updated on May 23, 2023. Please check with the brand on availability and pricing, as these change frequently.]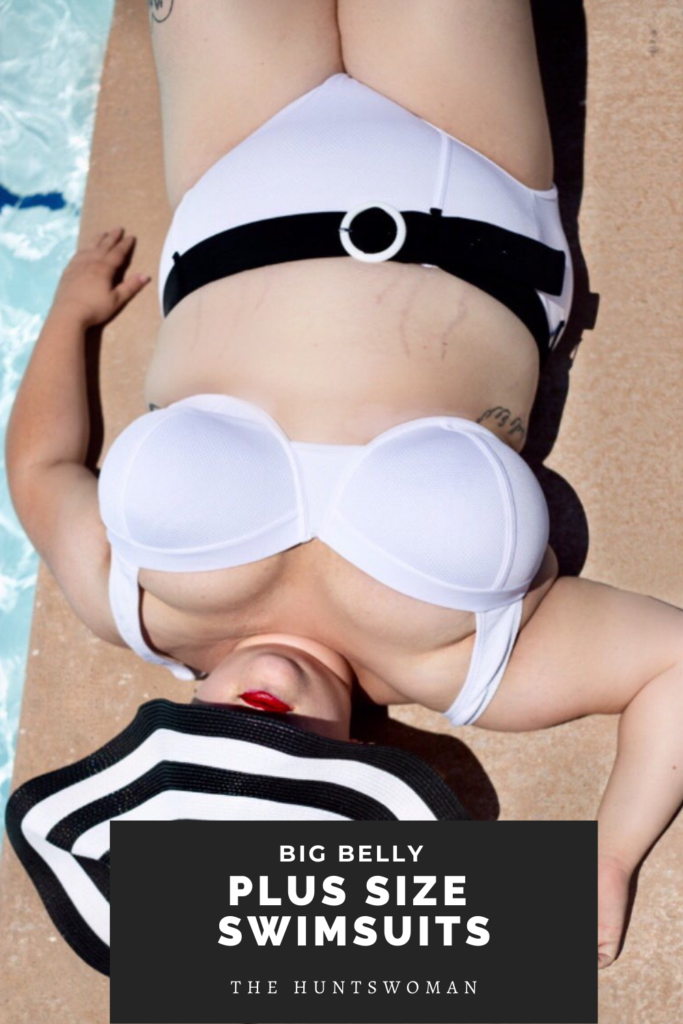 When it comes to shopping online for a plus size swimsuit for a big belly, you're going to want to take your measurement! Specifically, you're going to want to measure around the FULLEST section of your tummy for your "hip measurement."
This is sometimes called your "low hip" measurement.
In this roundup, I've shared 7 plus size swimsuits for babes with a big belly. I've included info on sizing, and I've also noted what swimsuits I personally own!!
Before we get going, here are 3 tips for finding a plus size swimsuit for a big belly:
Look for swimsuits that advertise support! I find that swimsuits that have mesh or compression to work well. No, it's not because it makes you look smaller (I don't think it does, anyways), it's because swimsuits that advertise "compression" are made from fabrics that support my belly.
Get a high waist two piece swimsuit! Separate bottoms are so much more supportive, I've found, because if you find some with compression or a lot of supportive construction, you're good to go! Most brands (besides Torrid) do not include that kind of belly support in their one piece swimsuits. Now, hear me out, I know that a lot of people really do not feel comfortable in a two piece swimsuit. SO, if that's you, you can find a flowy swim top and separate swim bottoms (see my #2 rec below), so it *looks* like a one piece. I've found having separate bottoms to be a GAME CHANGER for me!!
Test a LOT of brands! In my experience, only a small FRACTION of plus ssize swimsuits are shown in store. I really encourage you to order from brands online, try different brands and see what works for you.
Buy Two – Or Make a Reminder for Swims Sales! Then, when you find a brand or suit that works for you? Buy two colors, or make a reminder in your Google Calendar to come back and try to buy another one at the end of the season on clearance! Your future self will thank you! (Hot tip: I always send out an email every year to remind folks to stock up on swim, so join my email list to get a heads up!
Let's get started!!
I loveee this red plus size swimsuit for a big belly from Amazon! This high waisted swimsuit looks like it's a one piece, but it's not! It's two pieces, allowing for more room for my stomach. Also, this plus size swimsuit comes in a BUNCH of colors. The product page on Amazon has swimsuits with cutouts on the hips, and this swimsuit does NOT have those. So be sure to "mouse over" (wave your mouse over) all the photo product options, to find one you like!
Sizing: This swimsuit is available in up to a size 3X
Shop this plus size swimsuit here!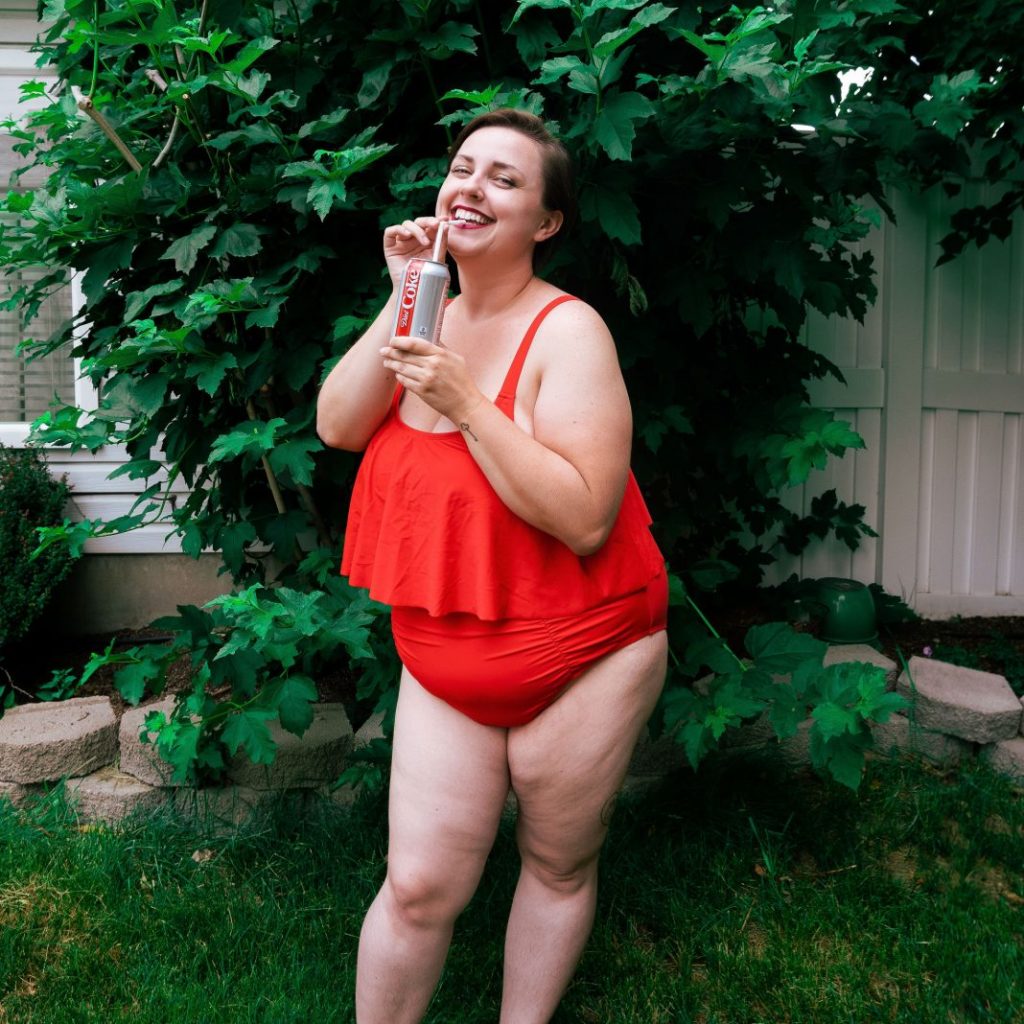 Torrid is my go-to place for a plus size swimsuit for a big belly, because I LOVEEEEE their high waist two piece swimsuits. I'm longwaisted, which means that one piece swimsuits usually don't fit me very well (and the belly situation? Not so great, ugh).
The bottoms on the Torrid two piece plus size swimsuits have a lot of support, and they **stay put**!! I've learned to look for swimsuits from Torrid who have seaming or sewing along the bust cups. Having a bust cup that has more pieces usually means more support, and I can get great support and a high waist swim bottom from Torrid! (If you hate underwire, keep on scrolling!)
Sizing: Torrid makes plus size swimsuits in up to a 6X!
Shop plus size swimsuits for a big belly HERE!
I snagged a green plus size two piece swimsuit from LB a few years ago, and I am SUCH a fan! I wore that suit so much it basically disintegrated! (NOT LB's fault, lol. I swim like every day in the summer and took it on 3-5 trips over two years. I got more than my money's worth!)
I've shared a photo of myself in their super great briefs! There's a narrow band accross the top that worked well for me!
Shop plus size swimsuit for big belly HERE!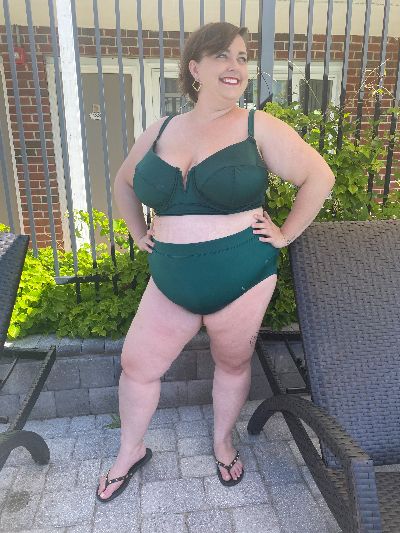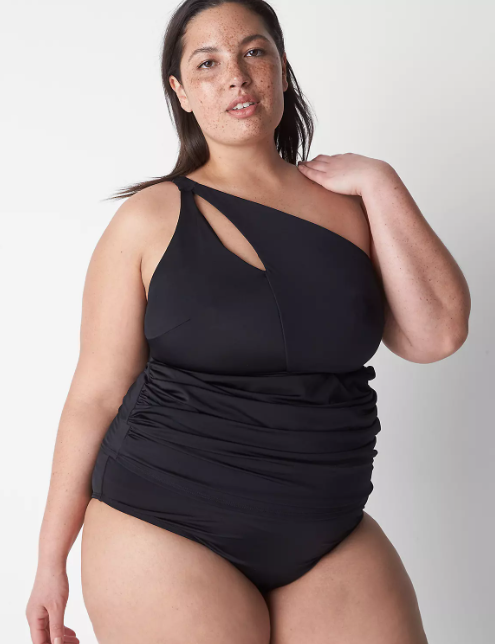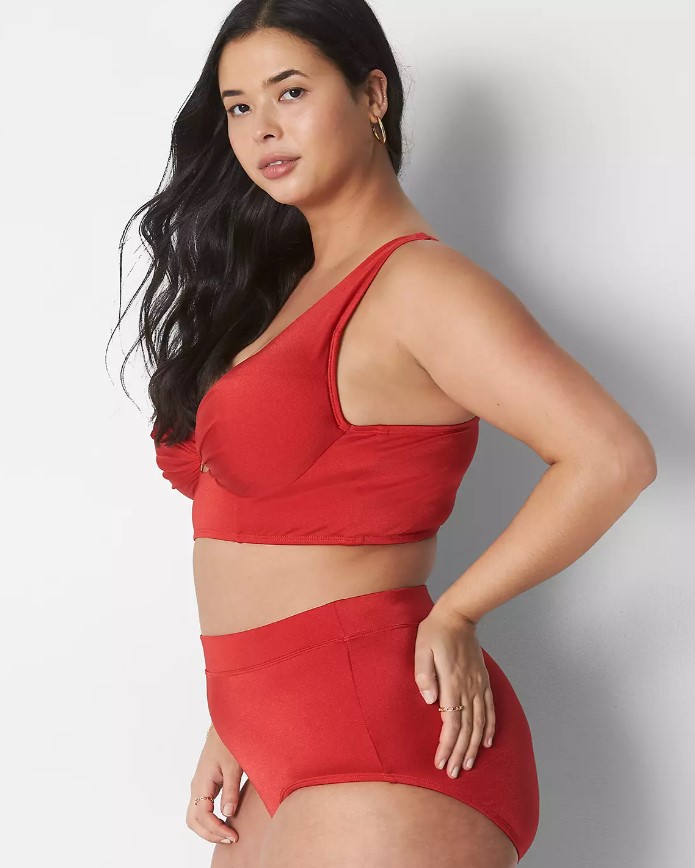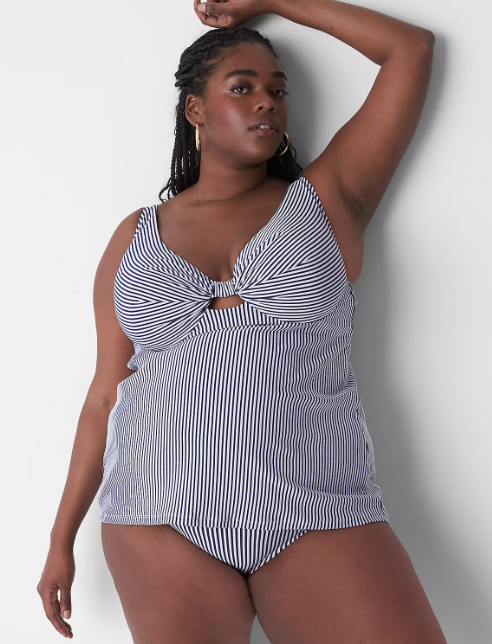 Next up on our quest to find the best plus size swimsuit for a big belly, is Alpine Butterfly Swim! I really love that this brand! It's an indie brand, and it is super trendy! I love how their images celebrate diverse bodies, and they SHOW what their swimsuits look like on plus size babes with big bellies.
Sizing: Alpine Butterfly Swim makes plus size swimsuits in up to a 6X!
Shop plus size swimsuits for a big belly here!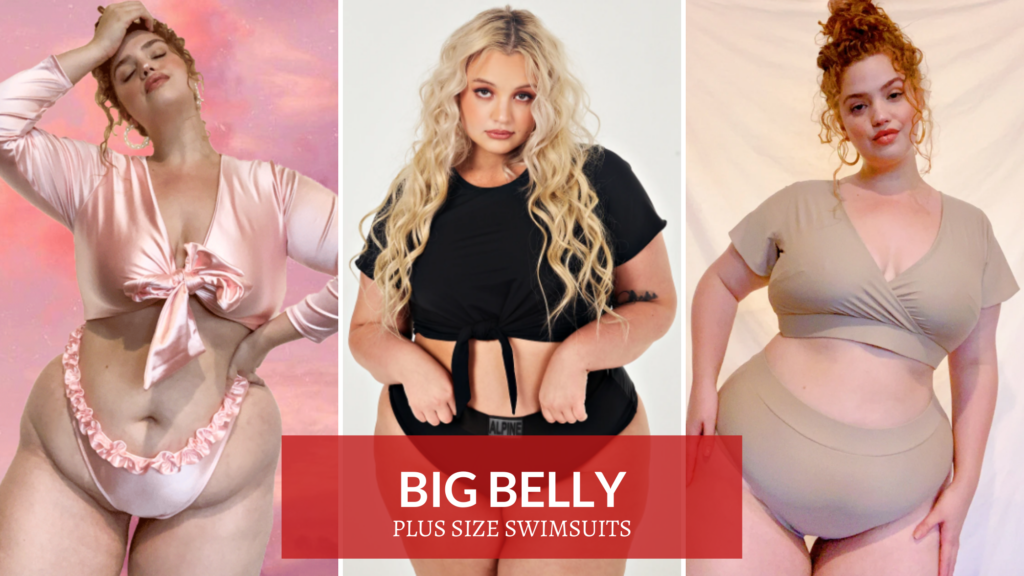 Update: GabiFresh announced last year she's not continuing her collab with Swimsuits for All — which is SUCH a bummer! I am keeping this part of the blog post up, tho, because you can find Gabi Fresh swimsuits on reseller sites, like Poshmark, Mercari, DePop, etc etc.
UPDATE: In 2023, I am so STOKED to share that Gabi Fresh has done a collaboration with Eloquii – and the two swimsuits I have personally tried — are GREAT for plus size people with a big belly.
Thank heaven for Gabi Fresh and her swimsuits! They are a gamechanger for busty plus size babes, as well as apple shaped plus size babes who carry their weight in their stomach!!
(The image above of the white swimsuit is me rocking a swimsuit from GabiFresh – but its's no longer in stock!)
She designs both plus size two pieces and one pieces, with some pieces having underwire.
Shop plus size swimwear for a big belly here!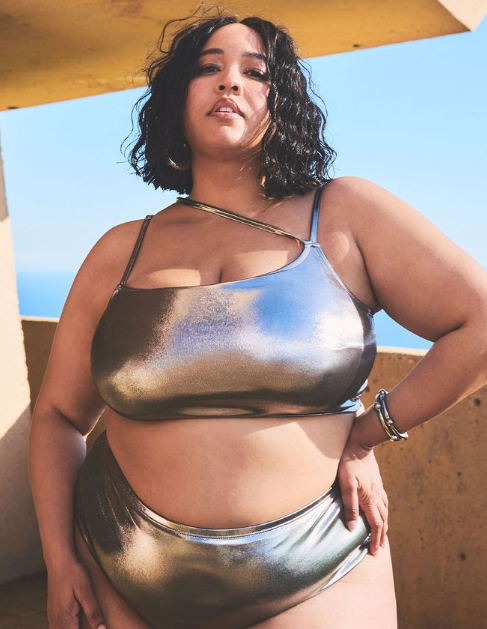 I was really surprised to try out ModCloth swimwear, and I found they have great styles for apple shaped plus size babes!
I loveeee the ModCloth one piece plus size swimsuits! They're perfect for a babe with a big belly, as they have ruching and extra stretch if you need it!! At time of writing this update, ModCloth didn't have a whole lot of options – so be sure to check back if their website is pretty bare! <3
At time of my update in 2023, ModCloth hasn't released these type of swimsuits in 2023!
Sizing: ModCloth goes up to a size 24 or 4X
Shop plus size swimwear from ModCloth HERE!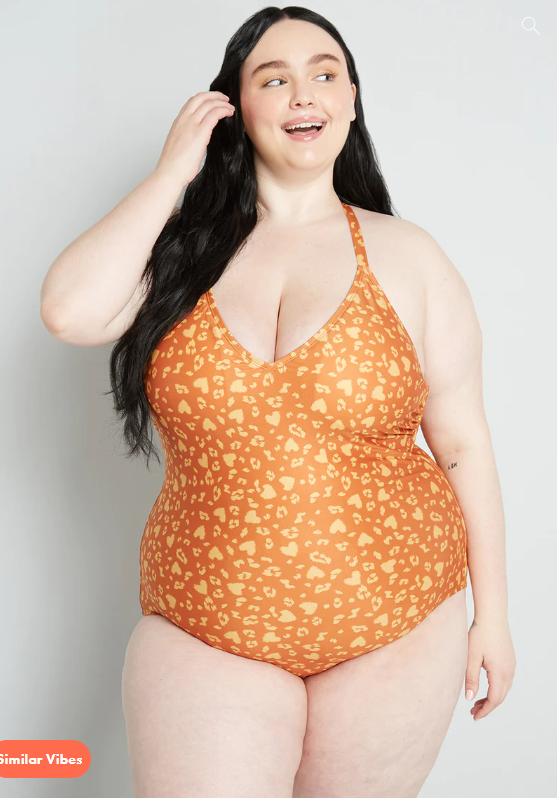 ---
This blog post was all about plus size swimsuit for a big belly!
See more posts on plus size swimsuits below!
More Plus Size Swimsuit Tips!
Looking for more plus size fashion roundups? Check out these posts:
Stay in Touch for More Product Reviews!
If you want to stay up-to-date on my reviews, I recommend joining me on your favorite social media platform (Facebook, Instagram or Twitter).
More of an email kind of person? Subscribe here!