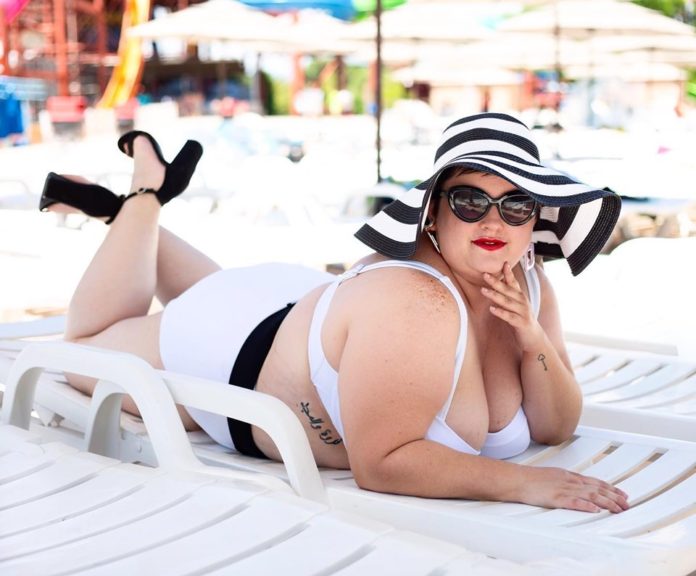 Hey there! This post contains affiliate links.  Using my links means I earn a commission, which helps me create more rad content.  More on affiliates here.
I've been leveling up my game when it comes to photoshoots.  I used to get my outfits, pick a location and just #MakeItWork when I get on site.  But this year, I created looks with specific locations in mind, at my local Seven Peaks waterpark.
[Heads up! This post uses affiliate links, and you help me earn $$ when you use my links. More on affiliate links here!]
I did have to adjust on the fly (parts of the park were closed for construction, womp), but I still had fun modeling these swimsuits. I was kind of worried about doing a photoshoot while other folks were, you know, swimming, but I got lots of compliments and questions on my swimsuits. I think other curvy ladies don't realize the plethora of plus size swimsuit options available online, and a few had never heard of the brands I was wearing!!
Below, I've shared the 4 suits below, with notes on size and fit.
Do me a favor: If you fall in love with a suit in this post, please use my link when purchasing it. I earn a small commission (around 5%), and I use my earnings to create more fabulous content and editorials.
Swimsuit #1: 2 Piece Blue Swimsuit from ModCloth
I really liked the cut of this two piece plus size swimsuit, particularly how the bust cups had different pieces. I've found that having multiple pieces in the bust creates a lot more support (I'm an H cup), and still looks cute.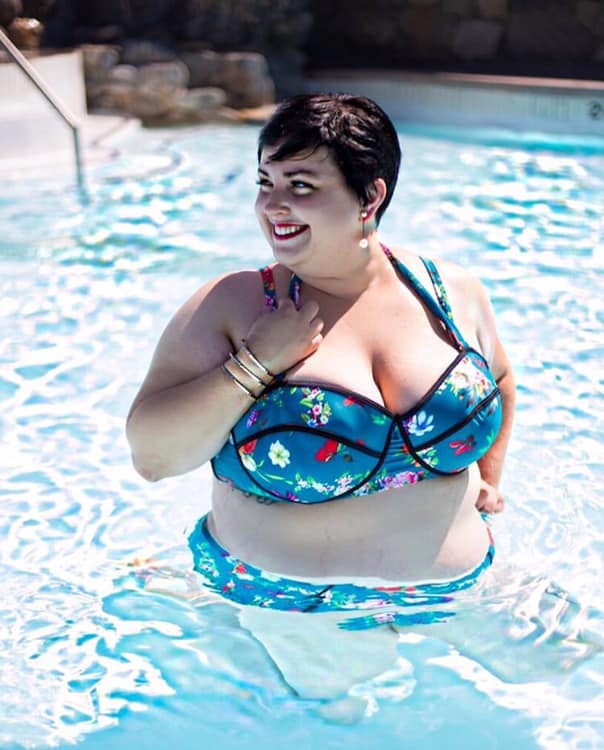 I snagged this ModCloth swimsuit in a 4X, and I really appreciate how ModCloth offers the SAME swimsuits In sizes XS – 4X. Sometimes brands leave us with less than cute options in "Plus Land," and I got a lot of compliments on this suit. The plus version of this suit is a little different than straight sizes, as it has additional straps for more support. I'm all for It!!
I went down waterslides and played in this swimsuit, and I did adjust the underwire a couple of times. The bottoms stayed up and didn't sag, also a must!
You can buy this swimsuit here!
This suit also has underwire (woohoo), which I find absolutely necessary. If you're not a fan of underwire, read on to swimsuit #2!
Swimsuit #2: Rainbow Swimsuit from ModCloth
Hellooooo, Pride! When I saw this swimsuit on ModCloth.com, I knew I had to try it. The rainbow bottoms are super fun, and can be paired with a variety of colors in tops. I picked the red top (recommended by ModCloth).
This swimsuit as fun to wear, and the material worked well. This top is definitely not as supportive as swimsuit #1, but not everyone is a fan of underwire. It still has a bit of padding, and everything stays where it's supposed to!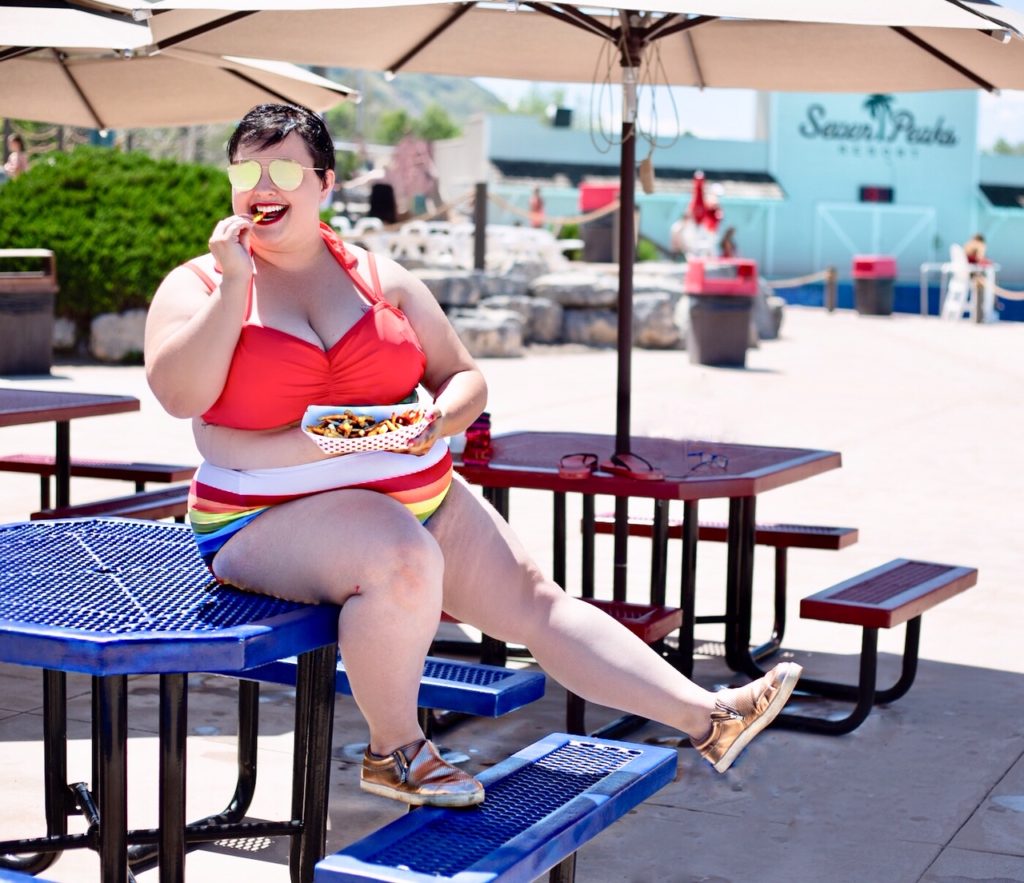 TBH, I was a little worried about wearing a rainbow swimsuit at a park in Provo, Utah, (which is known for being ultra conservative//not down with LGBTQ bloggers), but it was totally fine.
This swimsuit would be great for Dinah Shore, Autostraddle A-Camp or other pride events. Or, if you're going on vacation somewhere fun like Barcelona (love those beaches!!) and you want to put out the bat signal, so to speak. 😉
You can buy this swimsuit here:
Swimsuit #3: White Bikini from GabiFresh x Swimsuits for All
Y'all. I love fashion that has an editorial and aesthetic vision behind it. I liiiiiive for the GabiFresh x Swimsuits for All drop EVERY YEAR, and this year I tried the white swimsuit.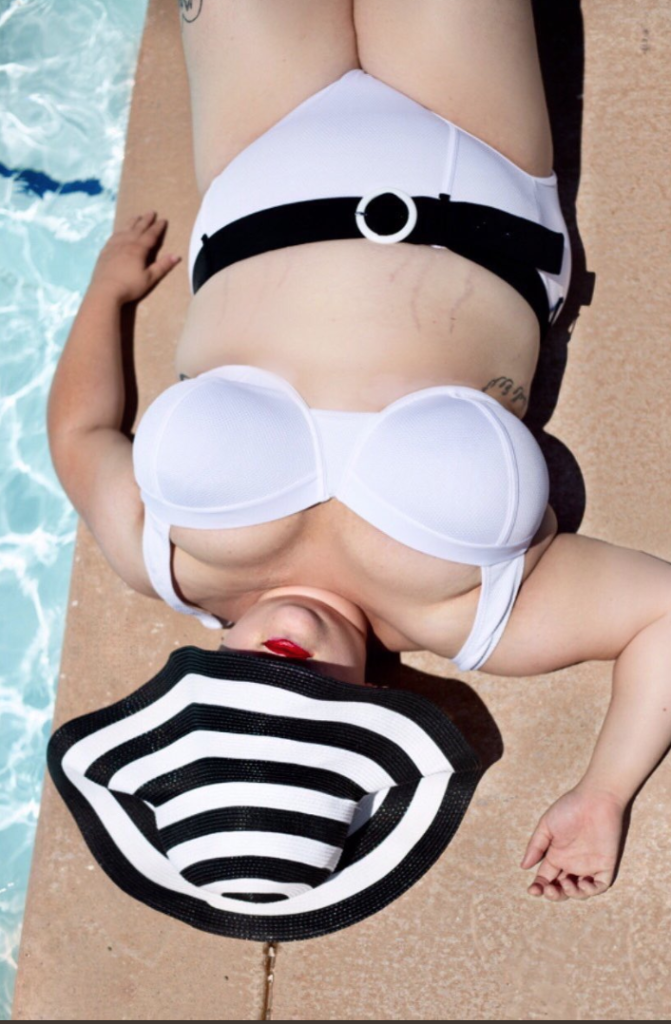 This top is like a literal bra, but one that's made for the water. It fits well, made me feel both mod and glamorous like gosh dang Audrey Hepburn.
This image of Audrey actually inspired the styling of this suit!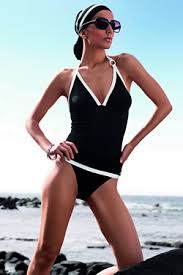 I was a littleeeee worried about the bottoms looking like a diaper (real talk), but the black belt fixed that!
I paired the suit with this black and white sunhat from Target, and added red lipstick. Truly ready for my Roman Holiday in this ensemble!
Top: 48H Bottoms: 24/26. Get yours here.
Swimsuit #4: Burgundy High Neck Bikini from Torrid
This look book really inspired me to get out of my comfort zone, my comfort zone being comprised almost entirely of Torrid suits.
They're supportive, and I can try them on in-store! What's not to love?!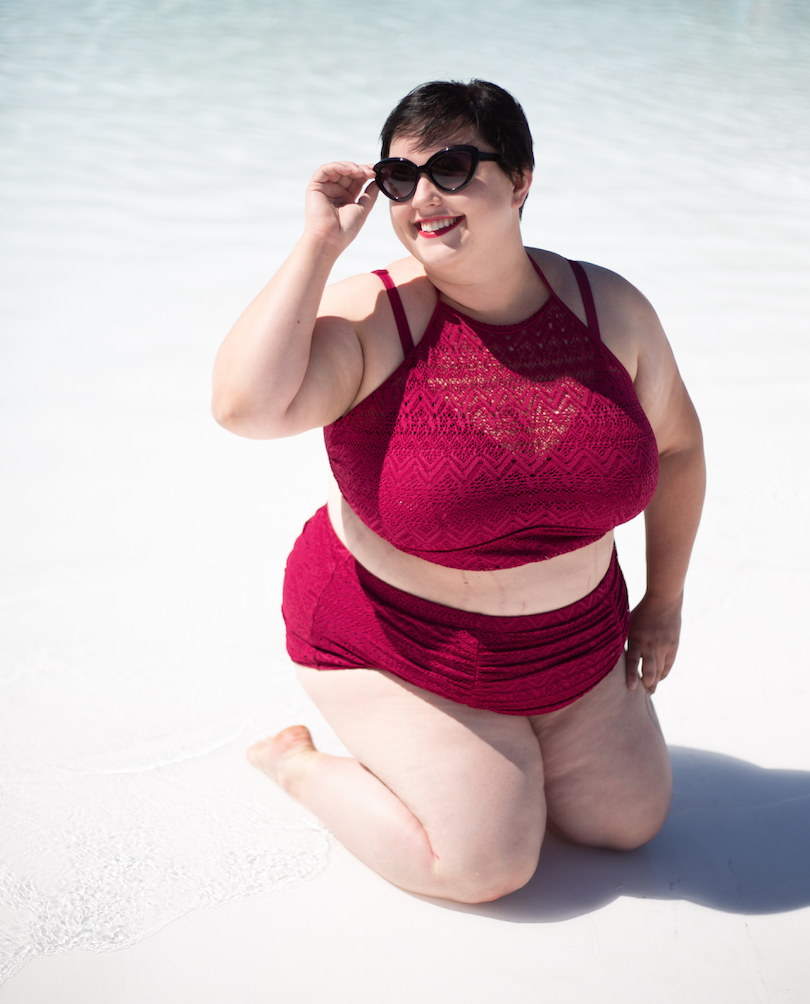 This high neck swimsuit is a new aesthetic for me, and was fun to wear in the sun! This swimsuit has a set of straps that go over the shoulders, keeping your neck pain free.
I'm rocking this two piece plus size swimsuit in a 3x!
View more details here.
Diversity in Travel Blogging
I'm excited to take these suits on trips I have lined up for the next few months! Prepare for more travel content from your fave queer babe (that's me, in case you were wondering!).
Want more plus size fashion content? Be sure to subscribe to The Huntswoman Newsletter.
[FTC Notice: This post contains affiliate links, meaning I earn a small commission if you purchase a product through my link. Affiliates help me write more great content, and I only endorse products I truly love.]