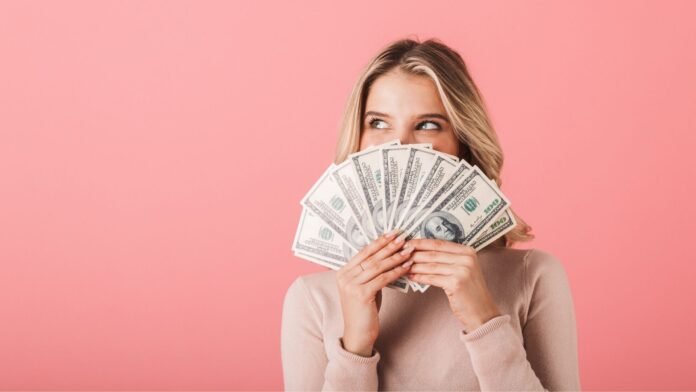 Hey there! This post contains affiliate links.  Using my links means I earn a commission, which helps me create more rad content.  More on affiliates here.
This last year, I decided it was TIME.
It was time for me to start doing some financial self-education, and learn about things like investing, retirement, interest rates, etc. And in the course of gaining that knowledge, I found that a lot of the "money saving advice" foused on not spending money on things I like.
A lot of financial bloggers are basically like, "IF YOU BUY STARBUCKS YOU WILL NEVER RETIRE, AND YOU WILL SUFFER FOREVERRRRRR!"
Yeah, I don't think that's happening, bro.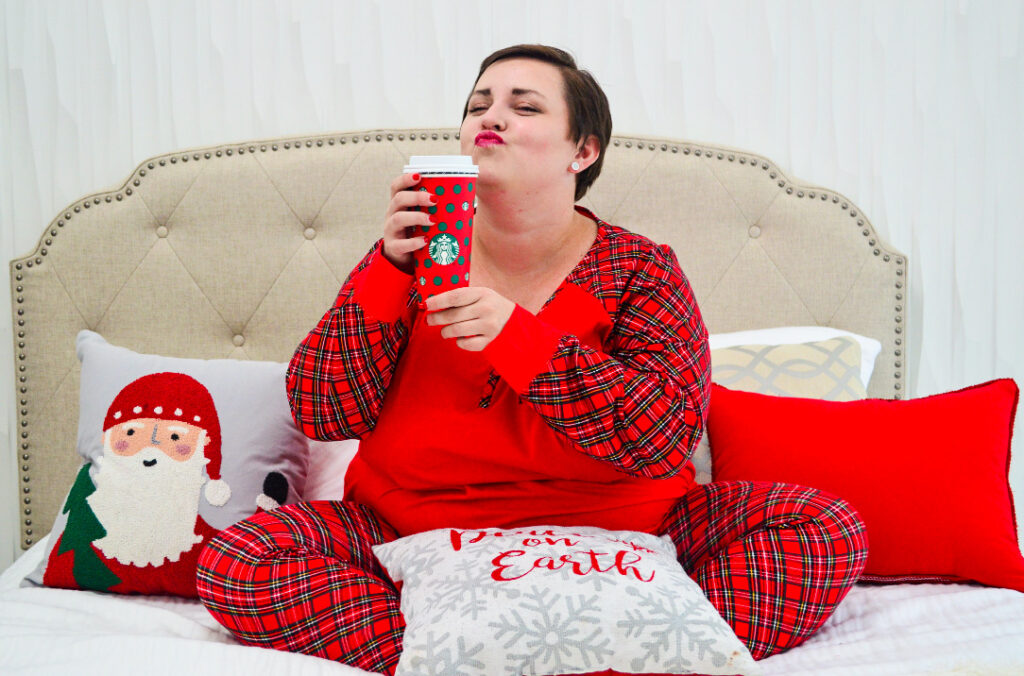 I am out here earning money because I gotta pay for my life, AND because I like to buy things that bring me joy.
i have expensive taste and ZERO APOLOGIES FOR IT.
Introducing: Money Rerouting
So, I've started doing what I call "money RErouting." I've gotten real REAL with myself, and I've started to look at where I'm spending money – and if it's bringing me the most joy and usage.
It's a strategic reframe, going from another to-do list item "Call credit card company to renegotiate interest rate" to "Call credit card company to renegotiate interest rate AND USE THE MONEY SAVED TO GO OUT TO A HELLA NICE RESTAURANT EVERY THIRD FRIDAY OF THE MONTH!"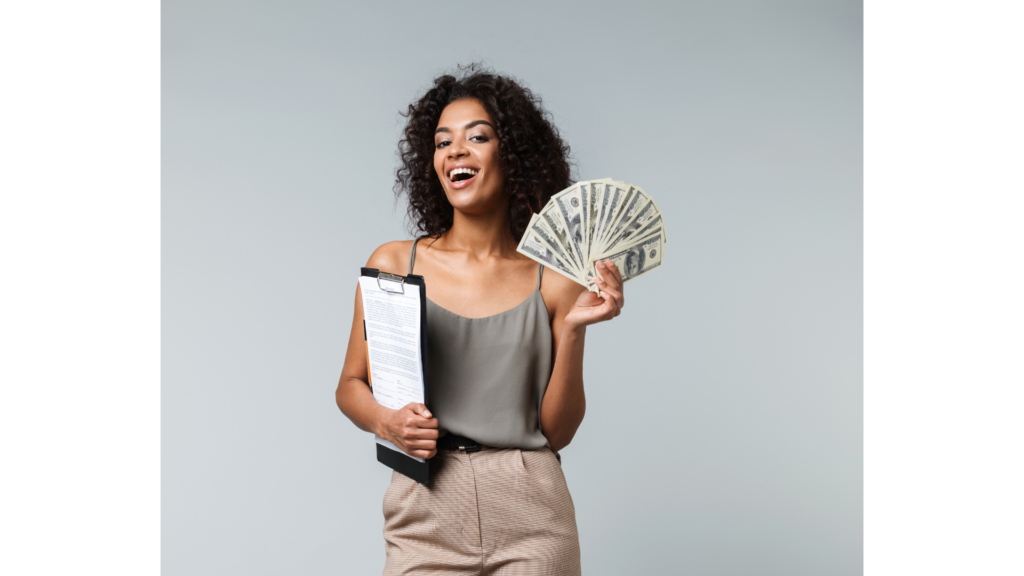 See what I just did there? I reframed dealing with money to include a joyful experience or product. If it's a chore, you won't save money nearly as proactively.
Often, I reroute that money elsewhere. Sometimes that means I reroute that money into paying my credit card down (it's gonna feel SO GOOD when that's paid off) or it means going to ASOS to find a freaking awesome plus size OOTD.
Tips for Having More Money in 2020
Below, I've shared some of the best tips I've found, along with a few I've come up with. I've even included a handy dandy little calendar, for you to use to check each of these off.
It's not enough to *know* how to reroute money. We gotta actually, you know, do the dang thing. Hence, a calendar.
Tip #1: Catch Sneaky Charges on Your Cell Phone Bill
While shopping for a new cell phone plan (I pay like double what I should be, tbh), I started paying more attention to my cell phone bill.
I needed to know how much data I was using.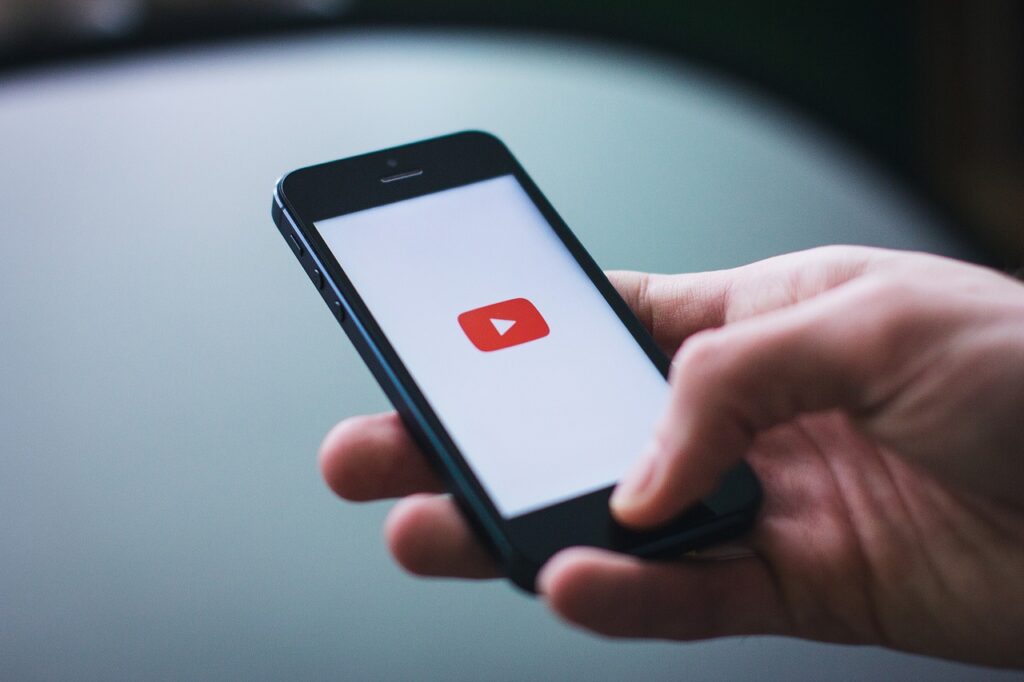 Lower Your Phone Bill SUPER Easily
So, I called up Sprint and asked them. And while I was on the phone, I figured it couldn't hurt to have them go over my bill to see if I could cut it down.
Script: "Can you go through each of the charges on my bill, and explain what they're for?"
TURNS OUT that Sprint had added on ~$30 – $40 per month in weirdo extra charges and services I hadn't asked for. These had started out as freebies with a new phone, and they had stuck around.
Let's get those bad boys removed!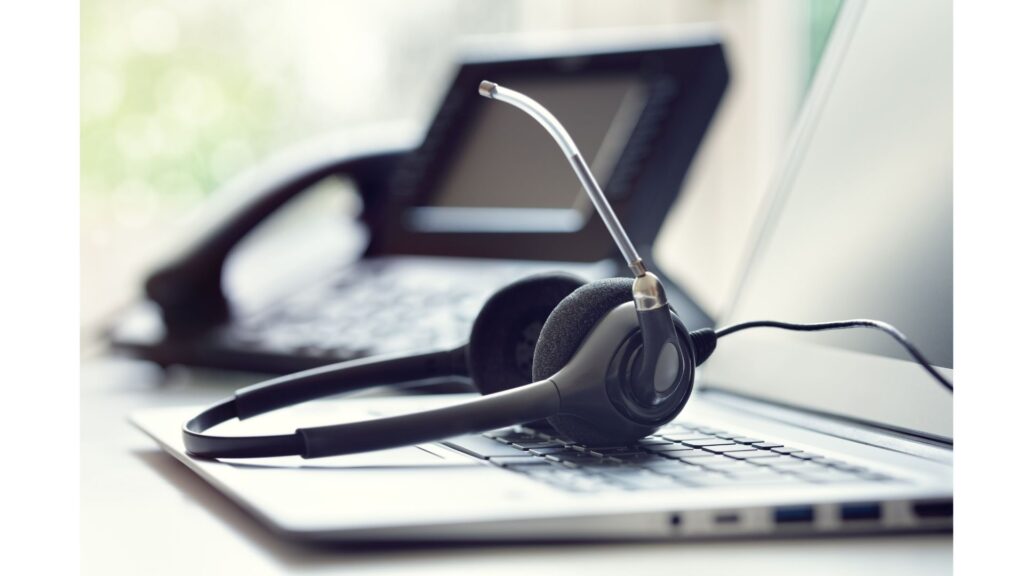 Be Polite – BUT FIRM
Script: "I'm not sure how these charges were added to my account. Can you please credit them back to my account?"
Y'all, I have to tell you. I **CRINGED** asking for an account credit back. But the person helping me did it without batting an eye.
My phone bill is covered next month (woo!), and I've lowered my bill by about $40! That money is going to pay down my credit card, because the interest rate is HEINOUS. I increased my automatic payment by this amount.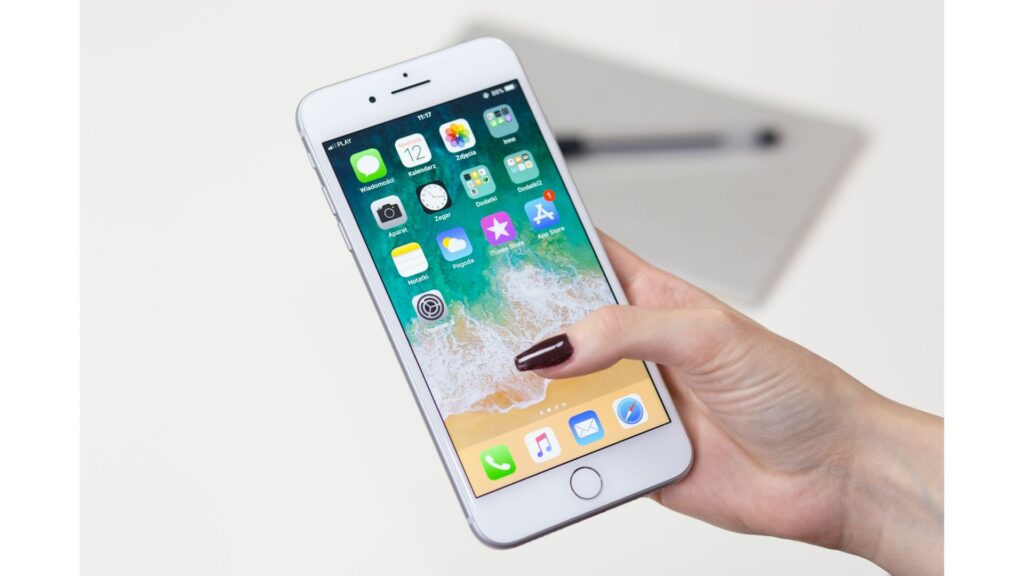 Free Streaming on Disney Plus?!
And, while you're there – ask if your phone company has any free memberships to Disney Plus, Hulu, etc. My parents have Verizon, and they were able to get some sweeeeet perks just by being a customer.
Tip #2: Buy Clothes on Poshmark (You Were Already Going to Get!)
Alternatively, you can save money by BUYING an item on Poshmark instead of new. I have a few favorite kinds of jeans from various brands, and I keep an eye out for the style+color+size combo on Poshmark!
I've set up Google Alerts for specific items I want, but not badly enough to pay full price immediately.
Want $5 off your first purchase? Use referral code "The_Huntswoman" when you sign up!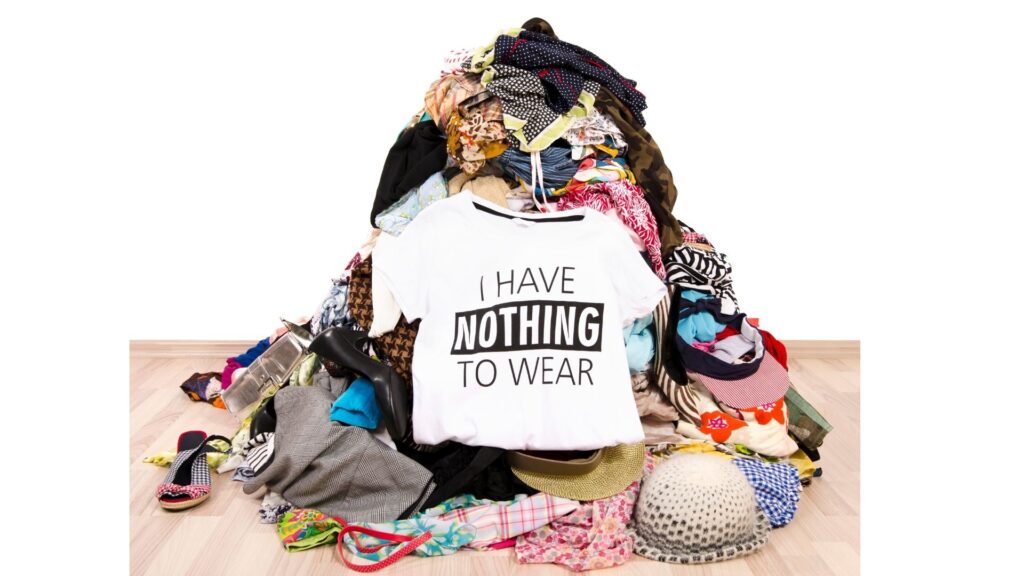 A few months passes between seeing it and buying it, but that's okay! I save quite a bit! (Also, if you have a Premme black leather jacket in a size 2 – GET AT MEEEEE!)
Tip #2b: Sell Clothes on Poshmark ($700 earned)
This year, I held my first closet sale EVER, and I made about $700 selling items. I was a dork and used Instagram, and I so wish I had used Poshmark – it would've made shipping and payments 1,000,000% easier.
Poshmark is a favorite place for bloggers, because we get a LOT of clothes – and don't have room for them.
Aaaaand I'm betting that YOU probably have a good amount of clothes that you'd love to get out of your closet – and into someone else's.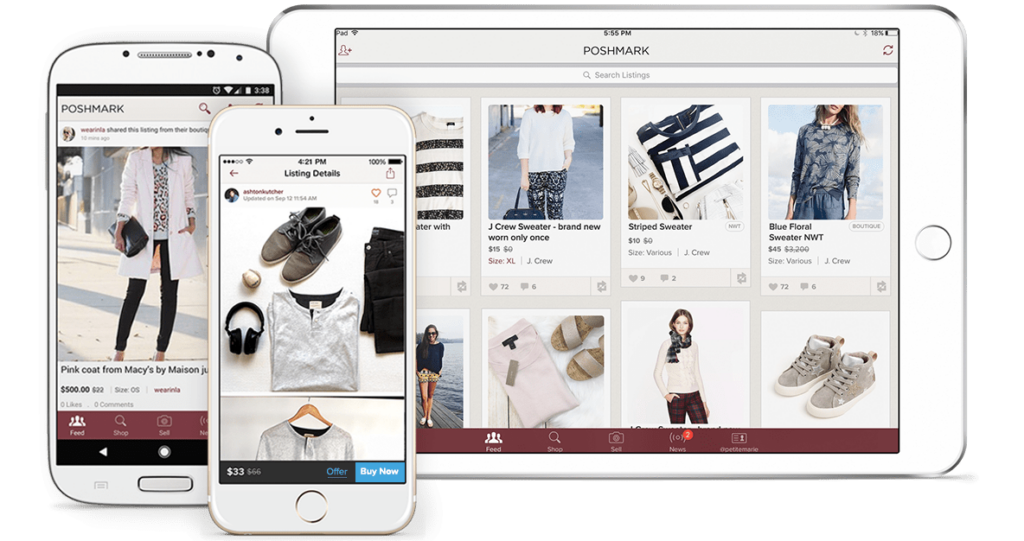 Here's how I got my ish together for a closet sale:
1 hour going through my drawers and closet
2 hours washing clothes
1 hour photographing
2 hours uploading images & descriptions
I didn't make myself go through EVERY SINGLE ITEM of clothing I own, because that's ridiculous. That's a huge task that would never happen. Instead, I set a timer so there were clear start and end times.
Get $5 off your first purchase on Poshmark by using "The_Huntswoman" as your referral code!
Tip #3: Use the Drop Mobile App to Earn Gift Cards
Recently, i went to Boston to visit my BFF Kate. We stayed at the W Boston, and we took a lot of Lyfts!
Kate volunteered to cover all the Lyfts, and I covered other expenses. It was while we were in a Lyft that she told me about the Drop App:
"You use the app when making purchases, like at Starbucks or Lyft. You get points for those purchases and then can redeem them for gift cards!"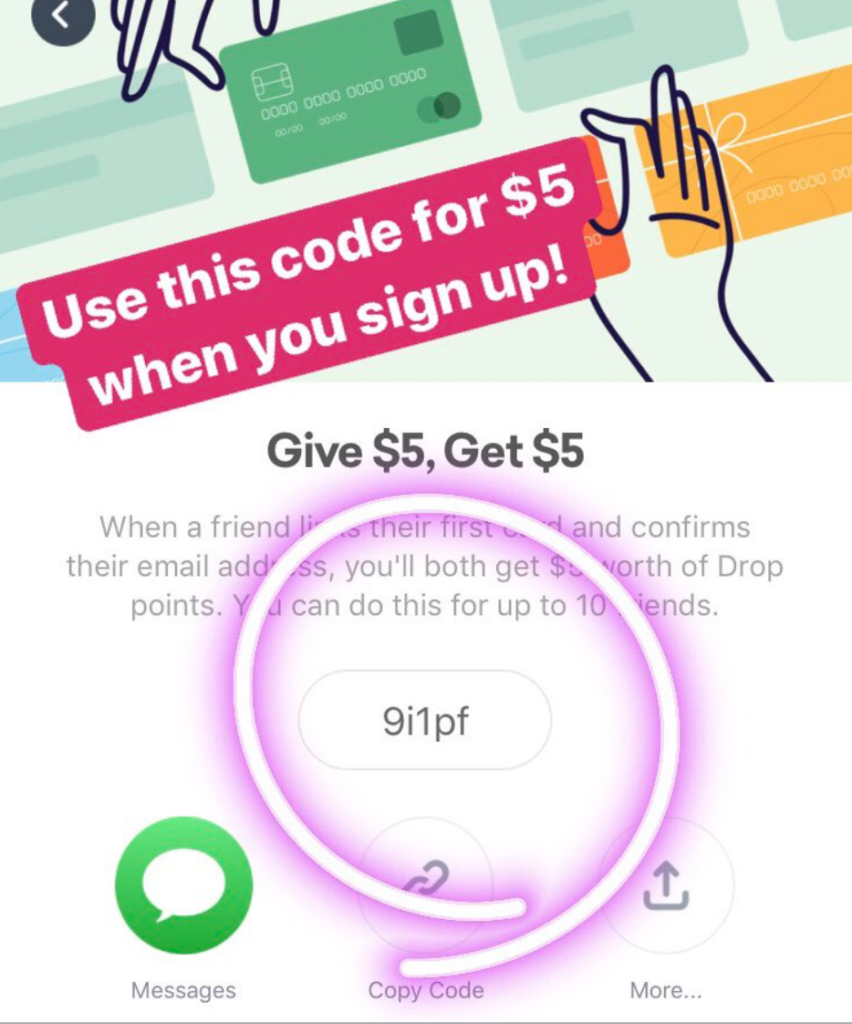 I was a little incredulous at the gift card part, thinking that they would be for companies I never shopped at. But Drop has American Airlines (woo air travel), Whole Foods (we all gotta buy groceries), ULTA, ASOS and more!
I'm already buying Lyfts and Starbucks, so I'm excited to be truly getting more bang for my buck.
Download Drop here, and use my code "9i1pf" to get $5 worht of Drop points. I'll get $5 too, and we all win!
Tip #4: Check GroupOn FIRST!
Y'all, I didn't realize how freaking USEFUL Groupon is until this year. You can find fun activities (plays, tickets to attractions, etc etc) on the website. I've started checking GroupOn for deals before buying:
Massages
Movie & Theatre Tickets
Attractions
Oil changes
New Tires
New restaurants
Pet Grooming
Pilates Classes (on a Reformer)
Art Classes (Pottery)
GroupOn is also a great place to find new activities and restaurants (which I love).
Sign up here
Tip #5: Get More Out of Your Travel Budget with Hotels.com & Hotel Tonight
I love these two travel websites. I do a lot of travel (wooo LGBT travel!), and I've recently gotten into staying at boutique and unique hotels.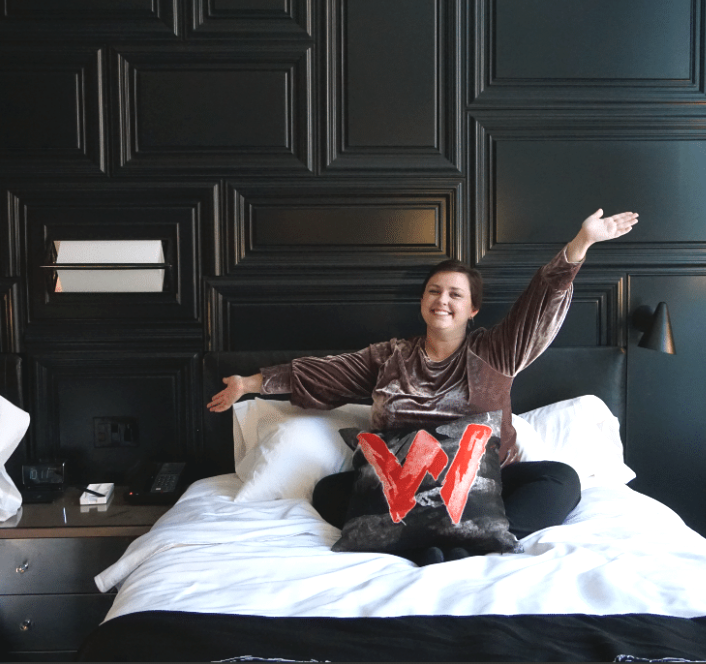 Let's talk about the perks of these two sites:
Hotels.com: This is a great website, as it has a "punchcard" feature where you get a free night at a hotel after 10 nights. I"m gonna be booking anyways, so I may as well get that free night! Use this link when you sign up, and you'll get 2 bonus nights towards your reward night on their first booking and I'll get 2 bonus nights as well. Terms & conditions apply, see hotels.com for details.
HotelTonight.com: You've probs seen their ads on Tinder! This website gets you stellar last minute deals on hotel stays. You don't get a free night like Hotels.com, but you can save a lot of $$$ – and spend that cash elsewhere on your vacation. Use Code "BHUNTSMAN1" to get $25 off your first stay on HotelTonight! (I get $25 off my next stay, too!)
Use Code "BHUNTSMAN1" to get $25 off your first stay on HotelTonight! (I get $25, too!)
I'm all about saving money where I can – and then LEVERAGE that money into more experiences on my travels.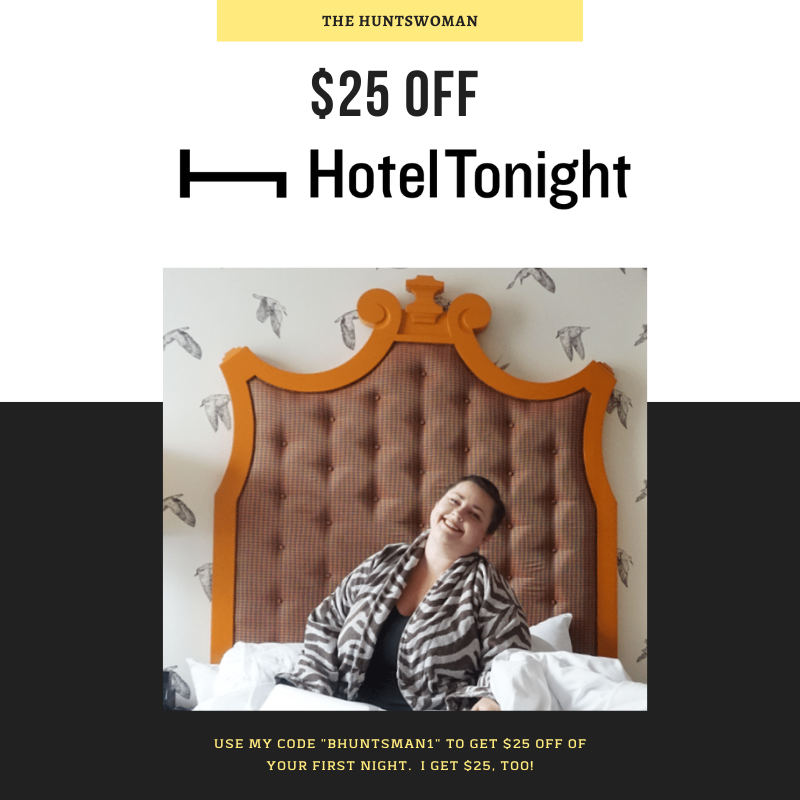 Tip #6: At the Store? Price Check Your Items on the Store App or Website!
I recently learned that prices online are often 10-20% lower than in-store. (Idk how this incentivizes people to shop at brick and mortar stores, but I digress.)
And many stores will match their online price (or the price of competitors), but YOU have to ask.
I've saved money at big box retailers by looking up my items on the website before checking out. (I do this before getting in line, because it's rude to hold up a line!)I love shopping at these stores, and this is a great way to save some $$$ on stuff I'm already buying!
Shoutout to Sarah Conley and Nikki Garza for this tip!
Tip #7: High Interest Rate on Savings Accounts at Ally Banking or Wealthfront
This hot tip comes in from reader, Tori L, who used the high savings account rate on her Ally savings account to help pay for her wedding.
I've never used Ally (and I'm not a licensed financial advisor), but I am VERY intrigued by their savings account that has a 1.8% interest rate (at time of publishing). My current savings account at US Bank has, wait for it,
wait for it,
wait –
US Bank has a .01% interest rate for savings accounts (at time of publishing). 1.8 vs .01? I think we know who the winner is.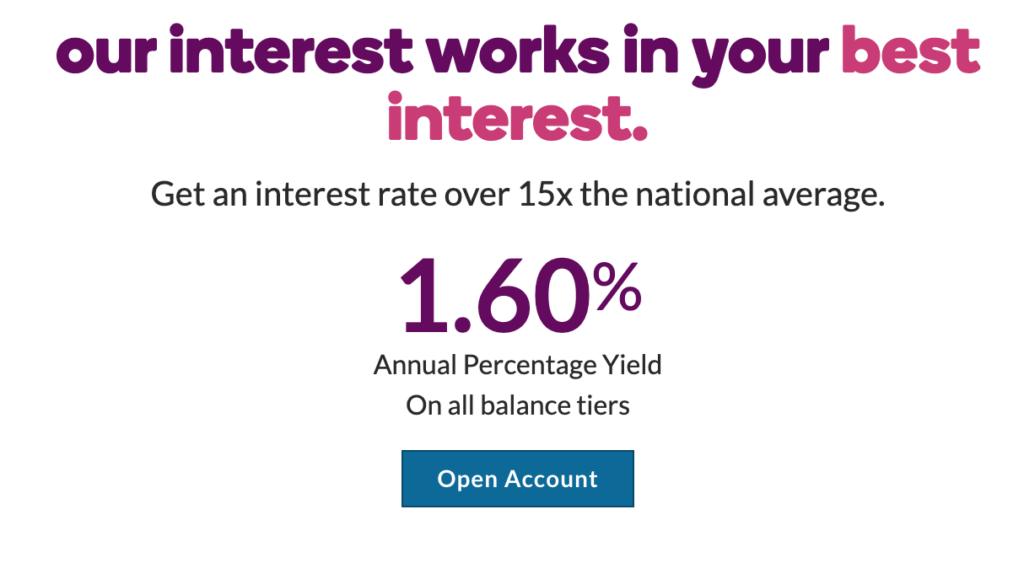 As a freelancer, I put aside about 30% of my income for taxes. I'd LOVE to earn more interest on money that's just sitting there! By moving my money to Ally, I could earn wayyyyy more in interest.
HECK YES.
Reader, Kent B, added, "I think Wealthfront has a slightly higher interest rate than Ally, so something to check out!"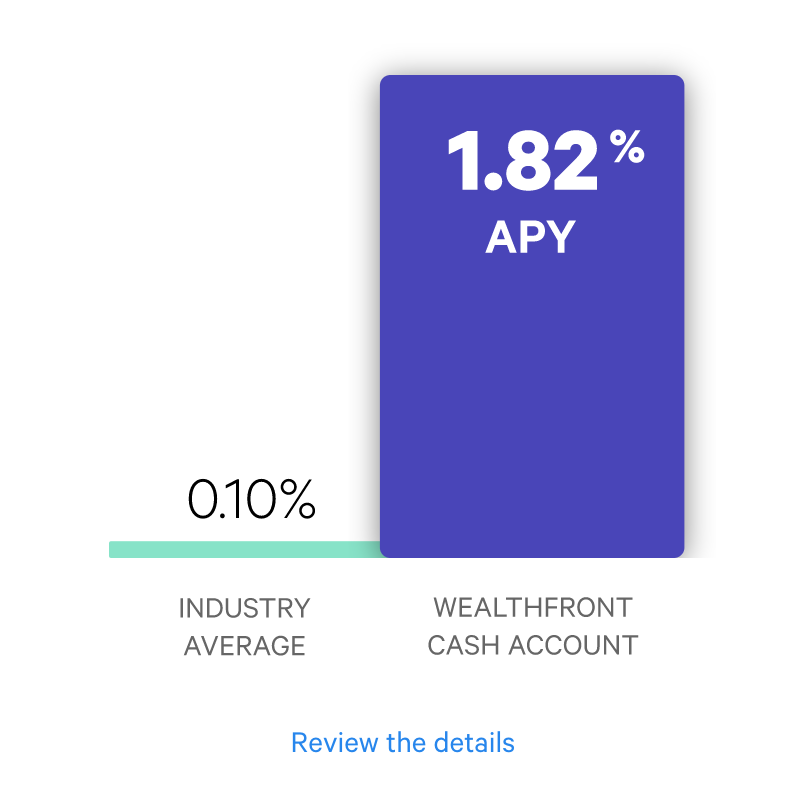 [Be sure to do your own research on these options before signing up!! I don't know a lot about this, so due diligence, people! #DontSueMe!]
Check out Ally here and Wealthfront here.
Tip #8: Triple A
If you own a car, you NEED Trip A. This service has saved me thousands. From locking my keys in my car to getting a flat tire – the folks at Triple A are lifesavers. A tow truck alone can cost $500+!
Bye bye, vacation fund!
I go with the Premiere membership, because I often take roadtrips. There's a lot of highway from Salt Lake City to Las Vegas, and I need my tow truck to be able to get a lot of miles.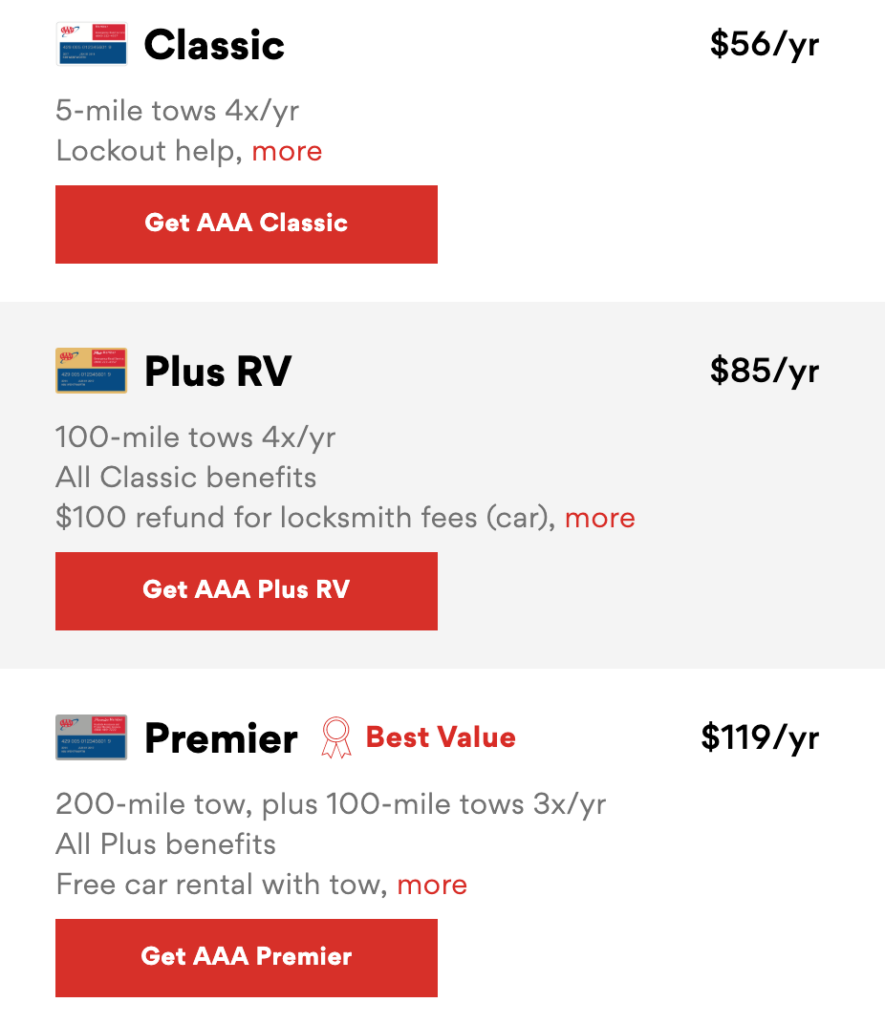 I can't take credit for finding Triple A, as my mom as been a member for DECADES – and give me my membership as one of my Christmas presents.
You can also use your Triple A card to get discounts on hotels and other perks. Heck yes!
Sign up here.
Tip #9: I'm Marrying My Accountant
Okay, not really. 😉 But this year I started meeting with my accountant every few months – instead of just at tax time.
Y'all, my accountant saved me $1,000 by making a simple change from my taxes done with Turbo Tax. I wrote more about that experience here.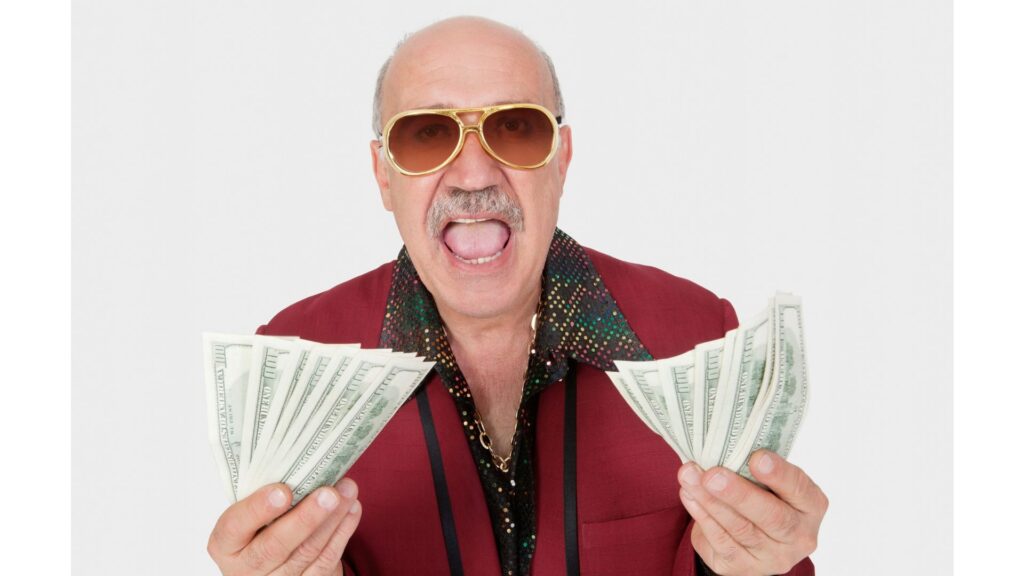 Accountants Are NOT Just for Rich People
This tax year was 2016, where I was in school full-time and traveling all over. I think I netted like $32K that year! Accountants are not just for the rich. They can help you pay less in taxes by using retirement accounts, and keeping more of your money for you!!
I can fund the military industrial complex or contribute more to my 401K? I know which option I'm going with!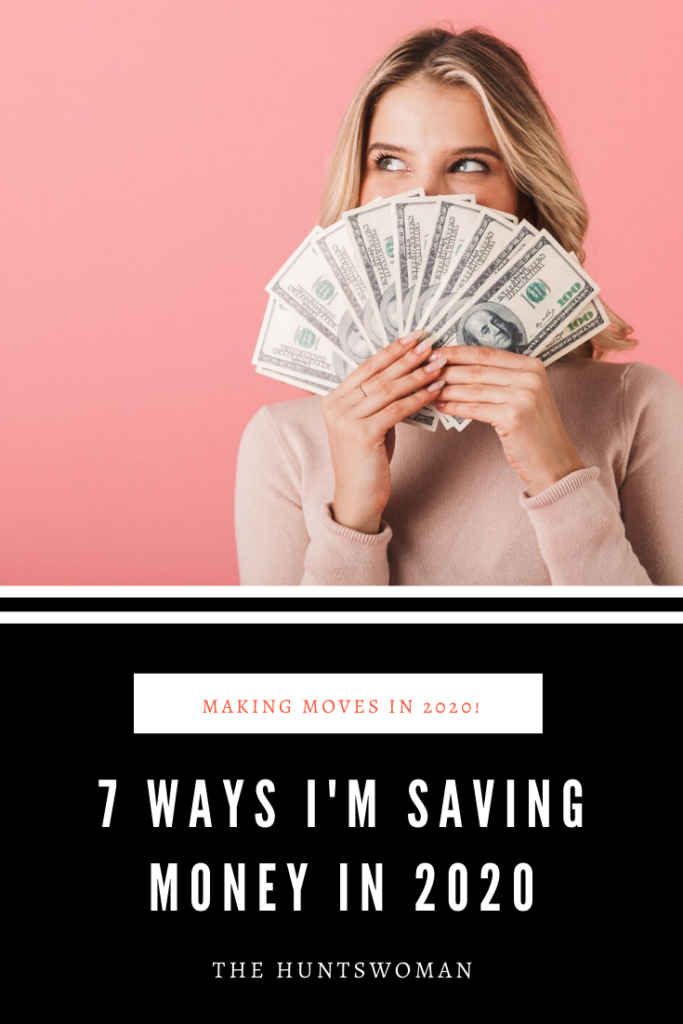 If you're in Utah and need a recommendation for an accountant, let me know!
Money RErouting Calendar
Below, I've shared a graphic that you can print out to help you save money! This calendar helps you put a dang plan in place, to make your money stretch – and buy more of the things you love!!
I've made the calendar in black and white, so it's easier to print! Enjoy!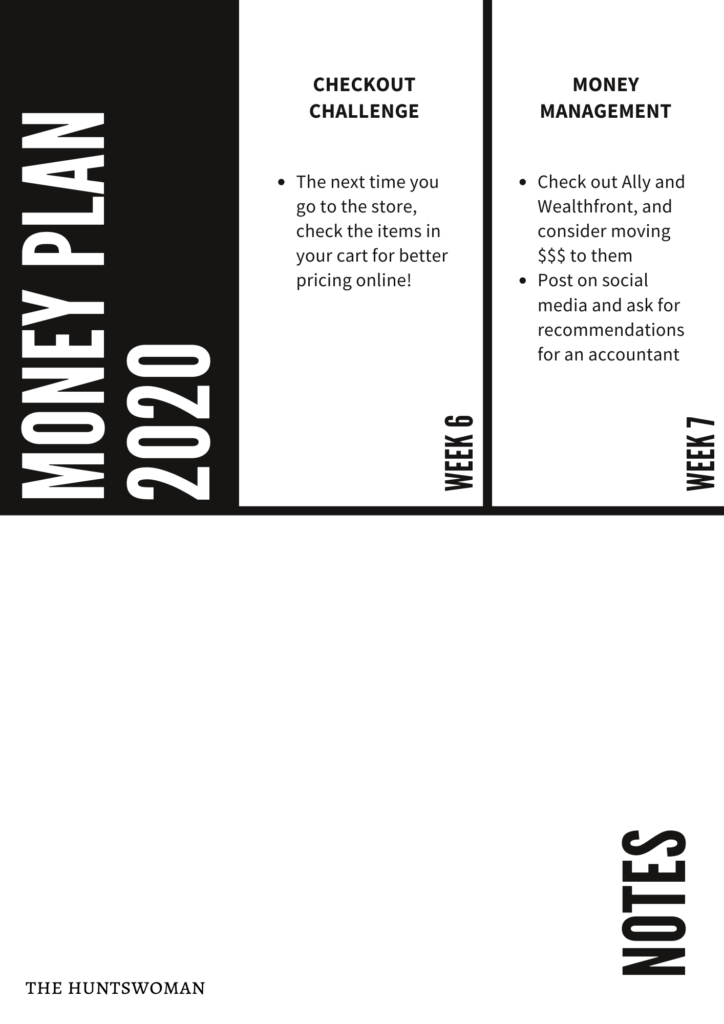 More Money Tips in 2020!
I'm excited to be sharing more learnings about money – and having fun with it – in 2020!. Be sure to subscribe to my newsletter so you don't miss out!
[FTC Notice: This post contains affiliate links, meaning I earn a small commission if you purchase a product through my link. Affiliates help me write more great content, and I only endorse products I truly love.]