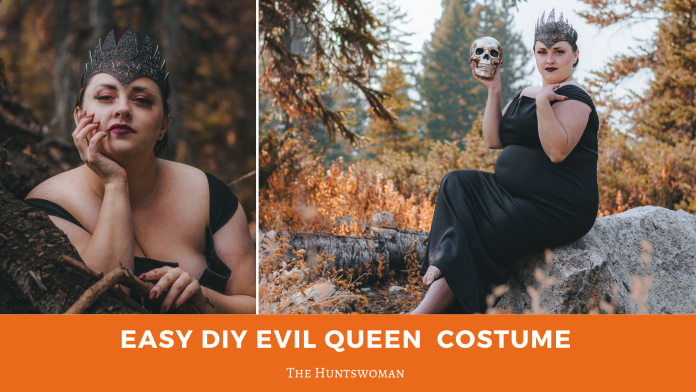 Hey there! This post contains affiliate links.  Using my links means I earn a commission, which helps me create more rad content.  More on affiliates here.
I love LOVE LOVEEEE Halloween. I'm one of those people who plans a Halloween Party and includes at least 3 costume changes.
No regrets!
That said, I'm not a super big fan of only being able to wear a costume a few times a year. It makes much more sense to create a plus size Halloween costume from pieces that you can wear all year, along with a few accessories to complete the costume!
Below, I've shared a DIY witch costume with pieces all from Amazon!
<< Love photoshoots and fashion content? Be sure to join my email list!! >>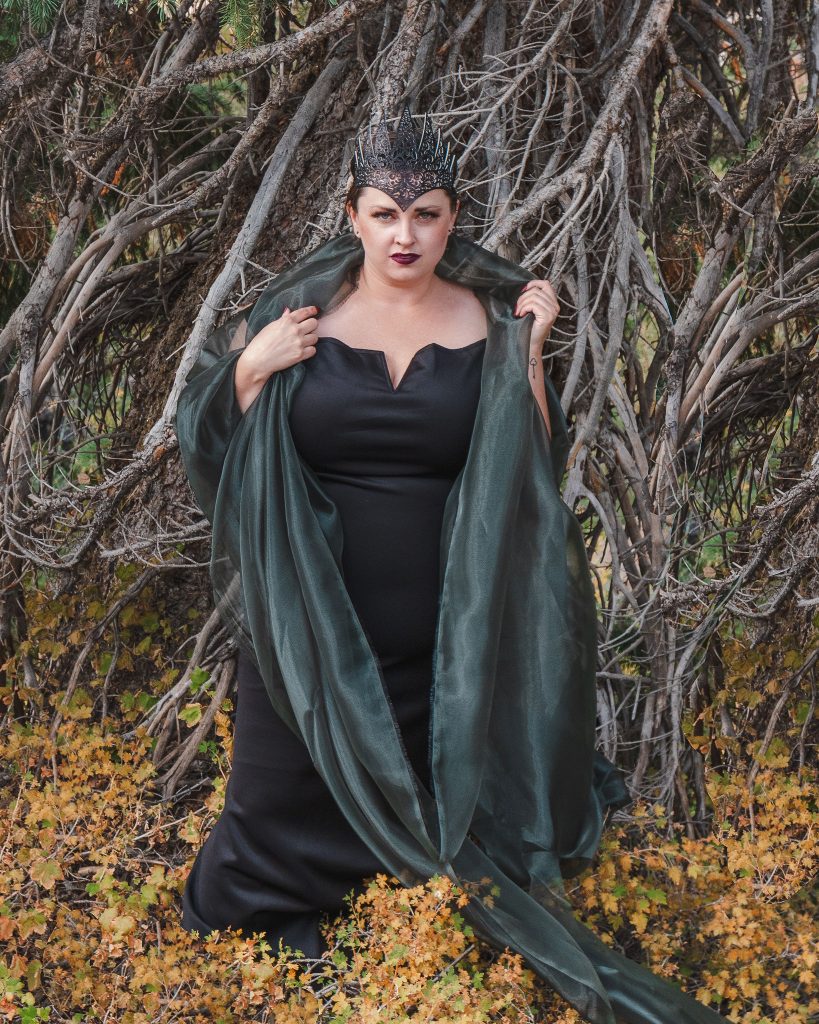 Shoutout to My Utah Photographers!
This photoshoot was a "Double Shoot" with photographers Angela Petersen of Visuals by Gie and Karisa of Photos by Kuku. These are both super fun Utah photographers to work with!
<< Want more posts like this? Join my email list here, and my fashion email list here! >>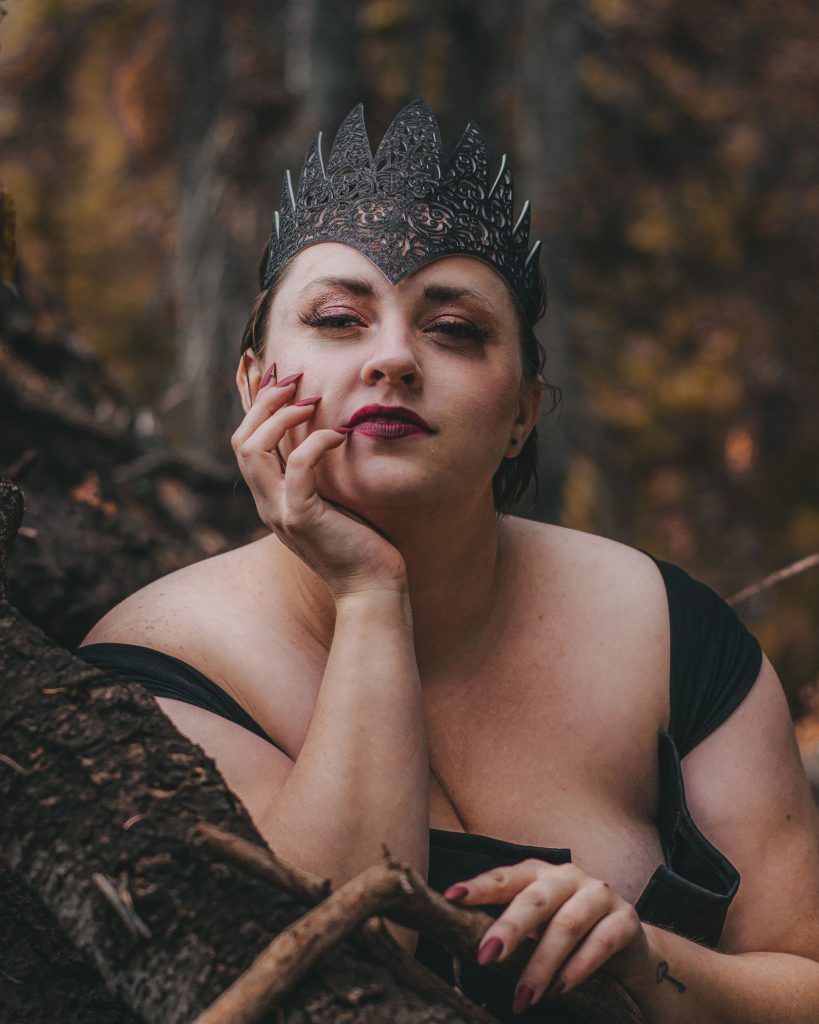 DIY Evil Queen Costume
Below, I've shared links to all of the pieces in these photos. If you're in a hurry and just need things via Amazon Prime YESTERDAY, then here's what to get:
I love that I can use this crown for years to come, as it's super easy to store (it's bendy!), and the crows can double as Halloween decorations for next year. A floor length black dress is definitely a wardrobe staple, making this diy evil queen costume easy to do!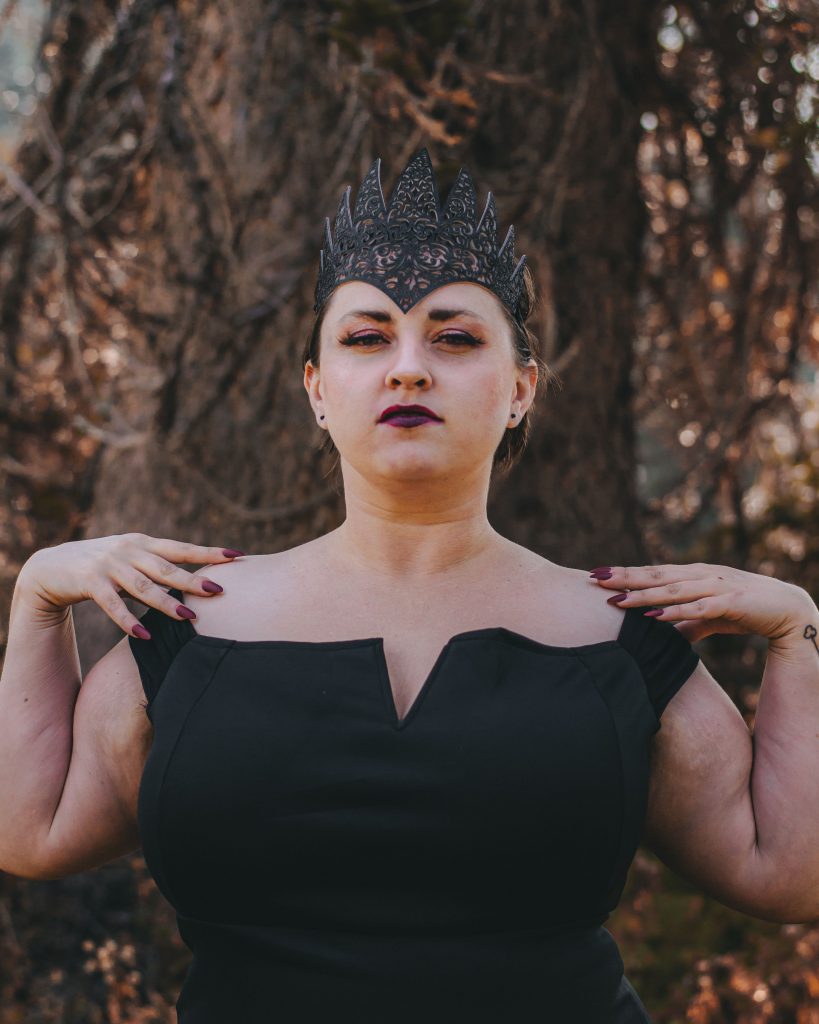 Crown Review – Evil Queen Black Crown from Leg Avenue ($10.37 USD)
Amazon has a ton of different options for a black crown or tiara, but I wanted a big and statement making crown – without having metal pinch my head!
This black crown is perfect for evil queens who have larger heads (ie me), who want an easy crown that will STAY PUT!!! This crown is "Die Cut" and it's made from polyester, easily molding to your head.
The back of the crown is a stretch elastic, making it much easier to arrange around curls or your evil queen updo!
Shop this evil queen crown HERE.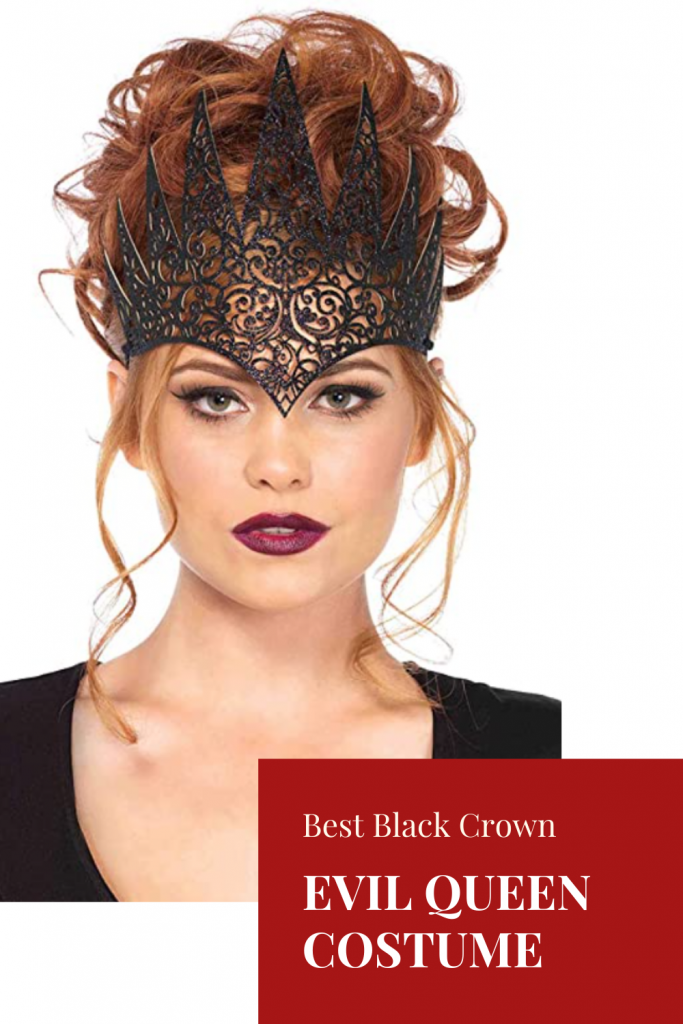 Plus Size Black Gown Review – DIY Evil Queen Costume | Women's Plus Size Off Shoulder Long Formal Party Dress Evening Gown
Next up comes THE DRESS! I wanted to keep the dress for this DIY costume simple, so that I can wear it to a variety of events – or use it for other costumes in the future! 🙂
I went with this plus size black gown from Amazon, honestly because it ships via Amazon Prime! I needed it ASAP, lololol. (Link to dress HERE.)
Black Dress for DIY Evil Queen Costume
I also liked the neckline, along with the little dip for a bit of vavavoom!!! There's a bit of structure in the small v on the neckline, making it stand up straight – a must for an evil queen! ;). This gown is made from stretch fabric and hugged my curves, making it a great piece. I liked the slight "Mermaid Skirt" where the skirt flares away from my hips.
Note: If you're over 5'6″, I'd go with a different gown! This dress hit the ground with a pair of 2″ block heels, making it a great length for my 5'4″ self. If you're a tall goddess, get a different gown! :*
Shop this plus size witch gown HERE.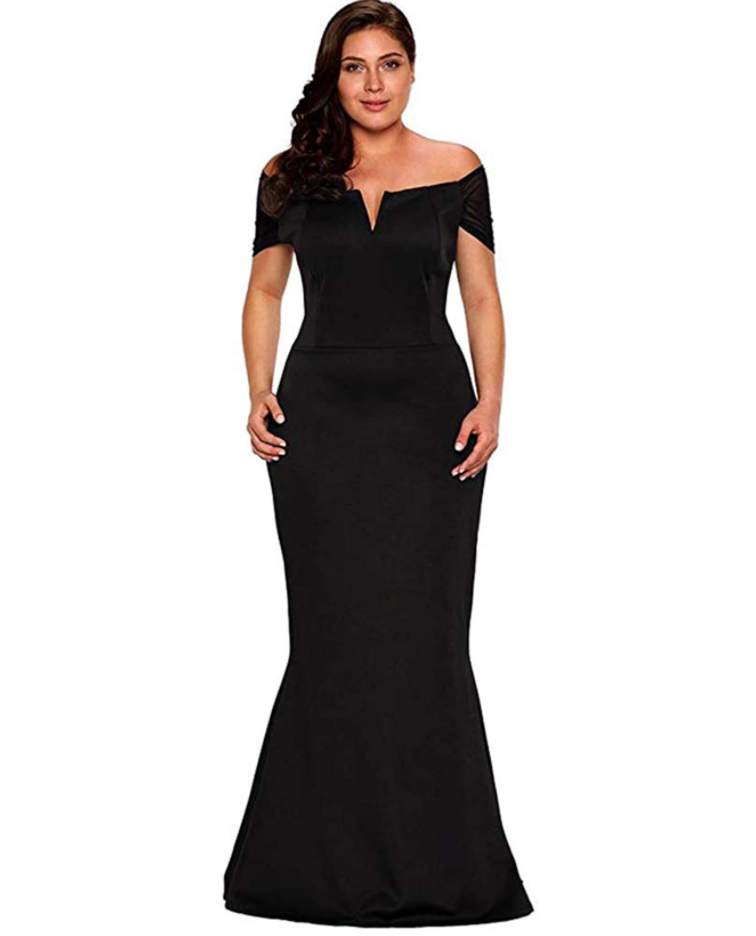 Note on Sizing for Black Dress for DIY Evil Queen Costume
So, I carry my weight in my lower stomach. I wore a pair of Spanx with this dress, but it would've fit without the Spanx. I wear a size 22 on bottom in Lane Bryant, or a Torrid 2. My waist is 43 inches in these photos, but Amazon didn't have measurements for hips – hence, Spanx!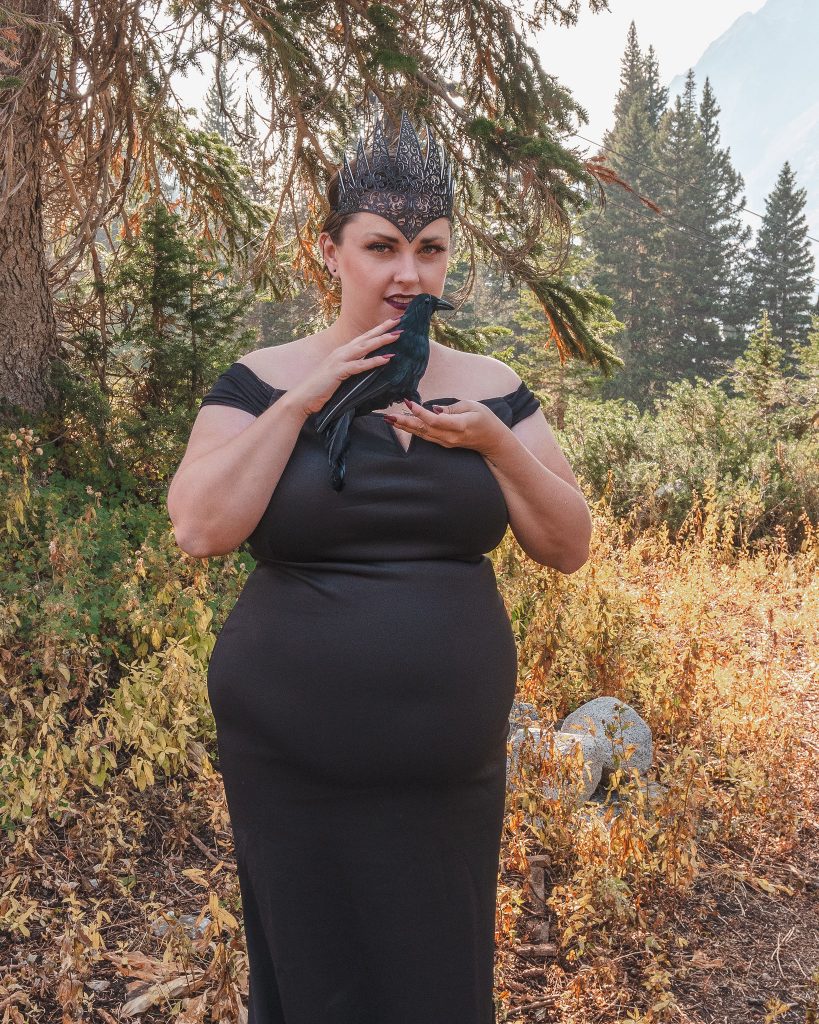 Crow Familiar – DIY Evil Queen Costume
Every witch needs a familiar – or a flock of them! I was intrigued by these large crows on Amazon, as they have feathers!!! Overall, these are fun for photos, but I don't think you MUST have them – as there's no way to attach to your shoulder.
They're great Halloween decorations and props for photos, but they can be cumbersome!
Shop Crows Here!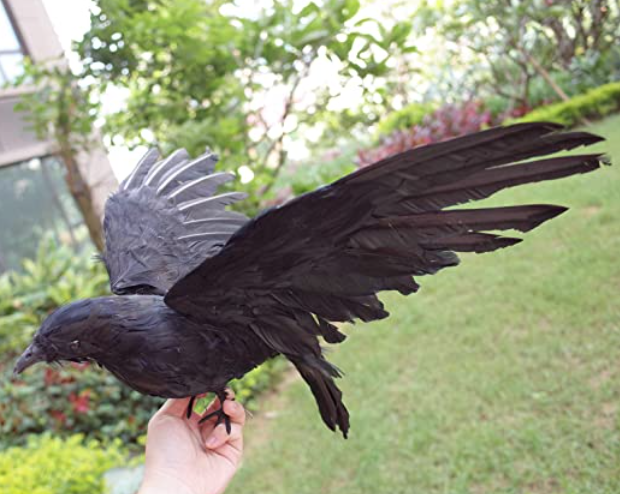 Makeup LEWK – DIY Evil Queen Halloween Costume
I snagged this palette from Target for $14.99, making a smokey effect. I paired it with a pair of Eylure full lashes (love this brand!). For the photos I have press-on nails from KISS.
Not a Fan of These Press-On Nails, TBH!
I love the color saturation on this makeup palette, and I'm a fangirl for Eylure. That said, I did NOT like these fake press-on nails. It could be that I put them on wrong (I'm used to getting my nails done in a salon), but they pinched my nail bed and snapped off rather quickly after the photoshoot.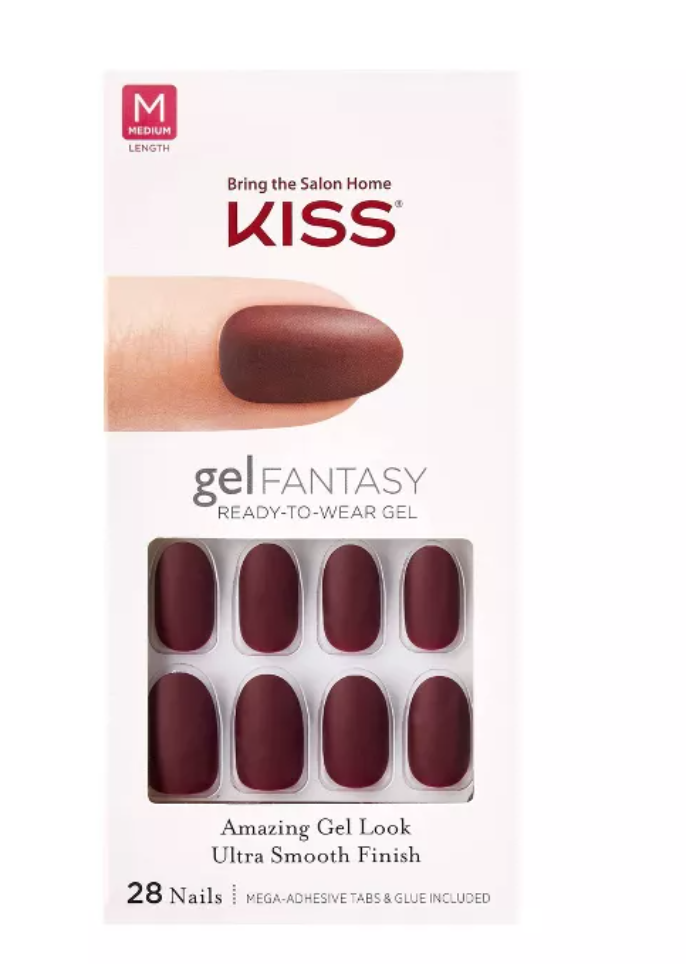 DIY Evil Queen Halloween Costume – Plus Size Model
Alrighty, now that we've had some fun going over products and recreating this easy DIY evil queen costume, let's share photos from the photoshoot!
Photos by Kuku
Love photoshoots and fashion content? Be sure to join my email list!!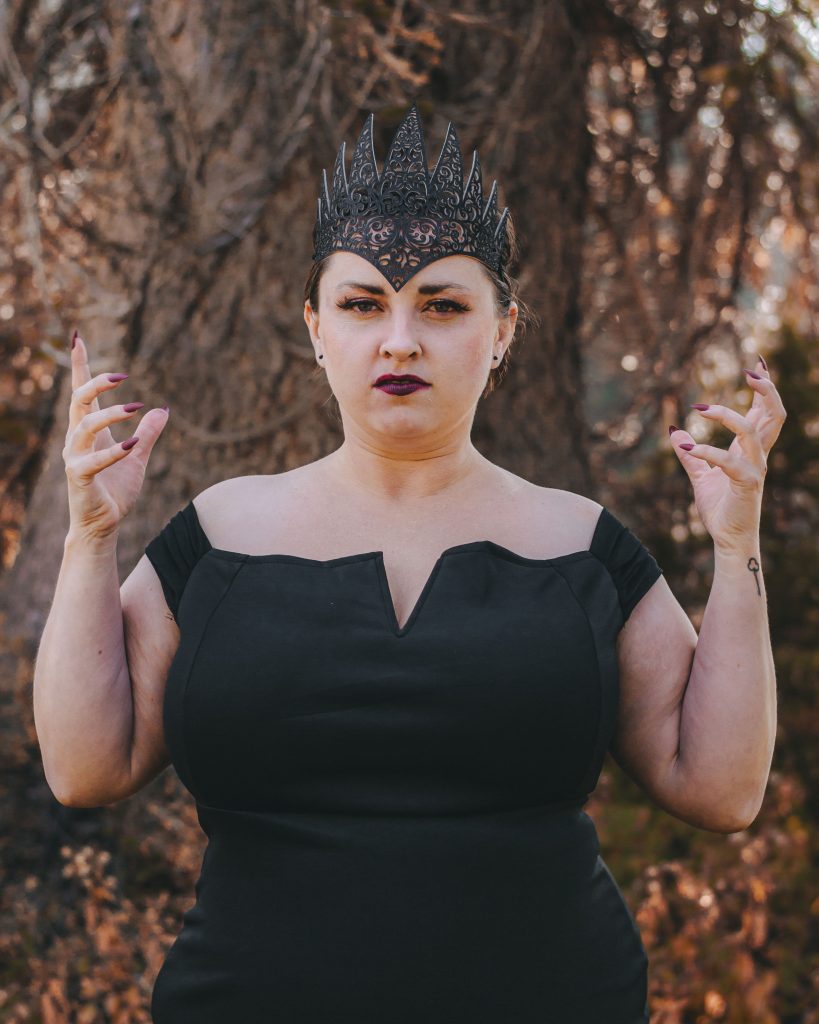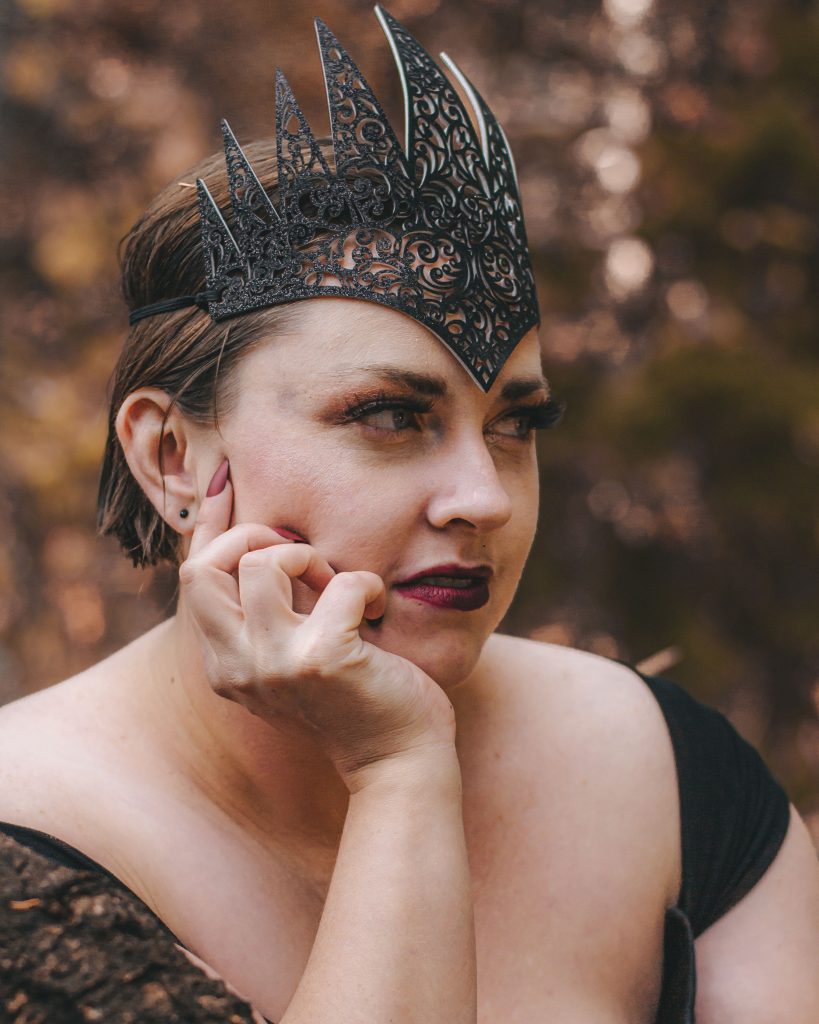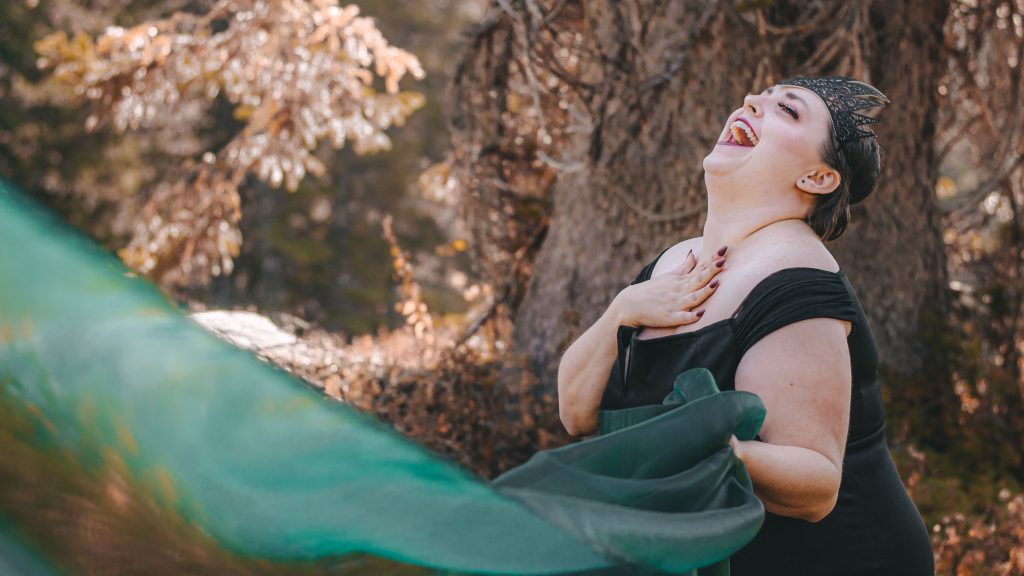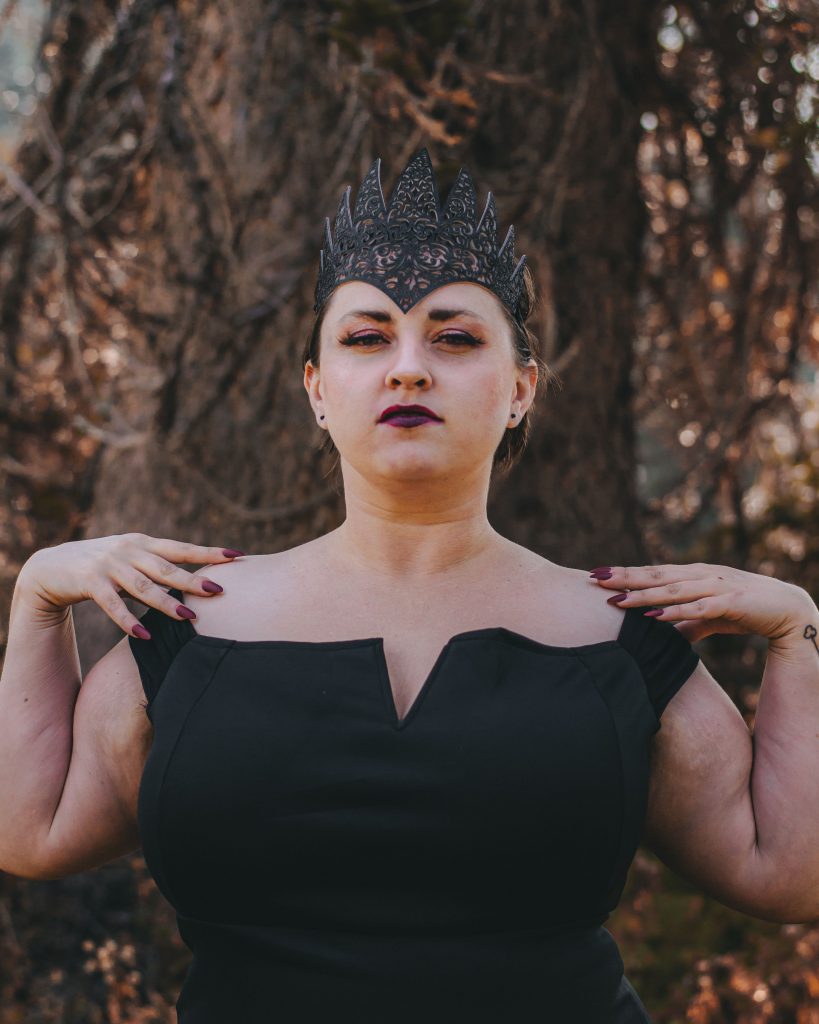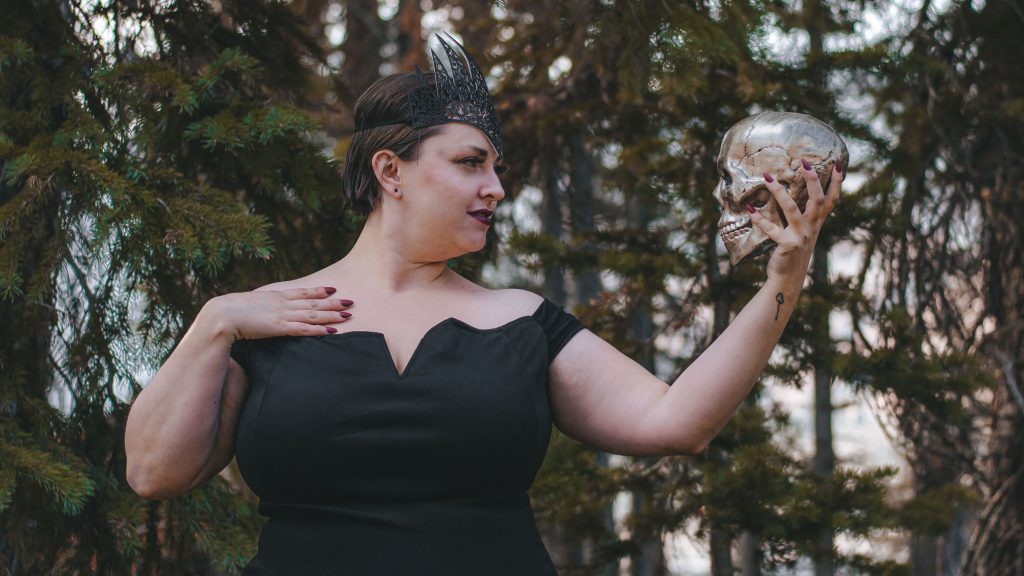 Visuals by Gie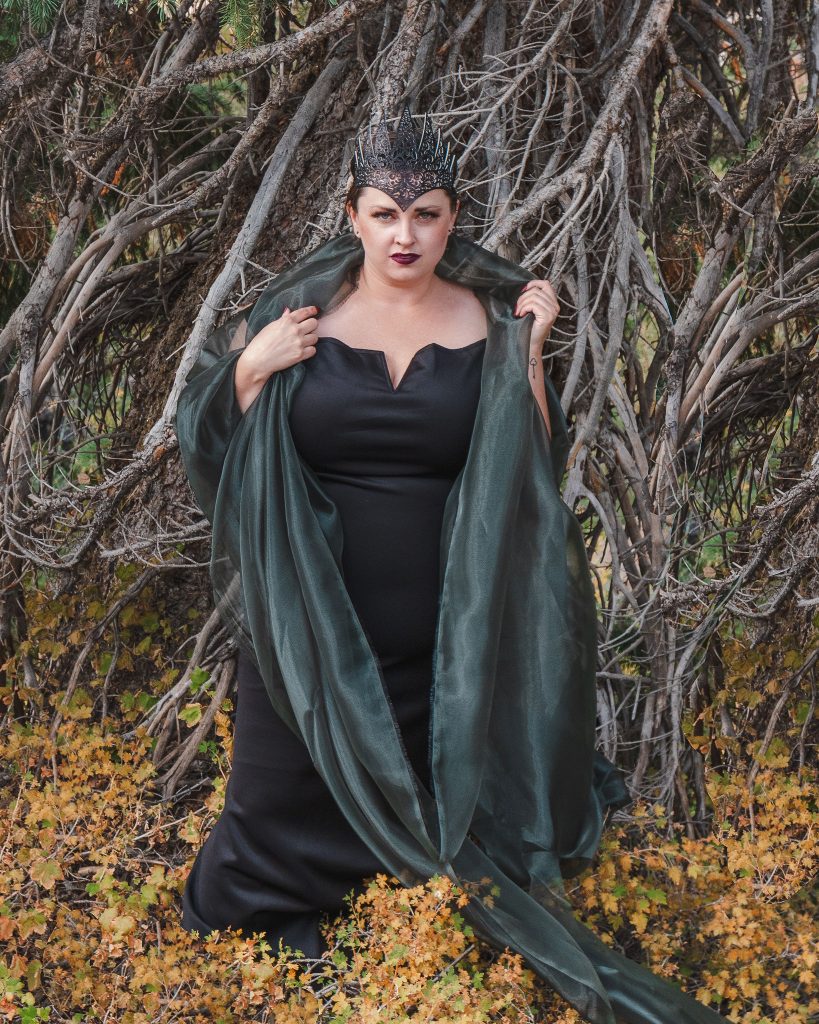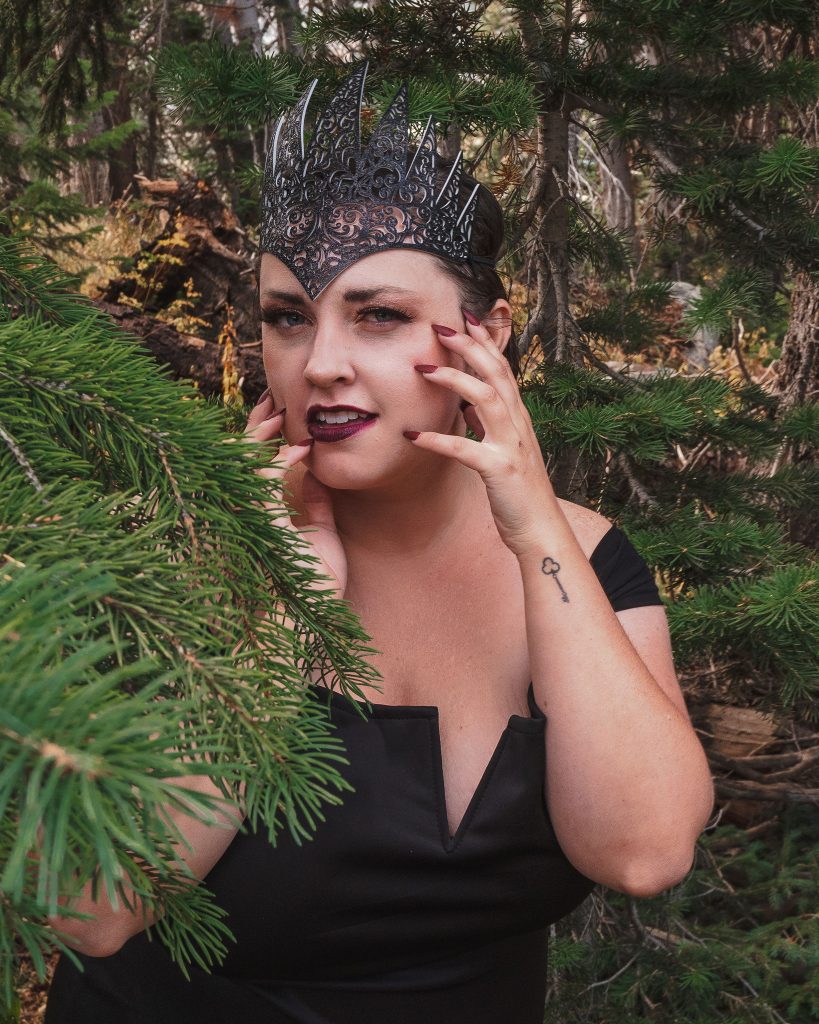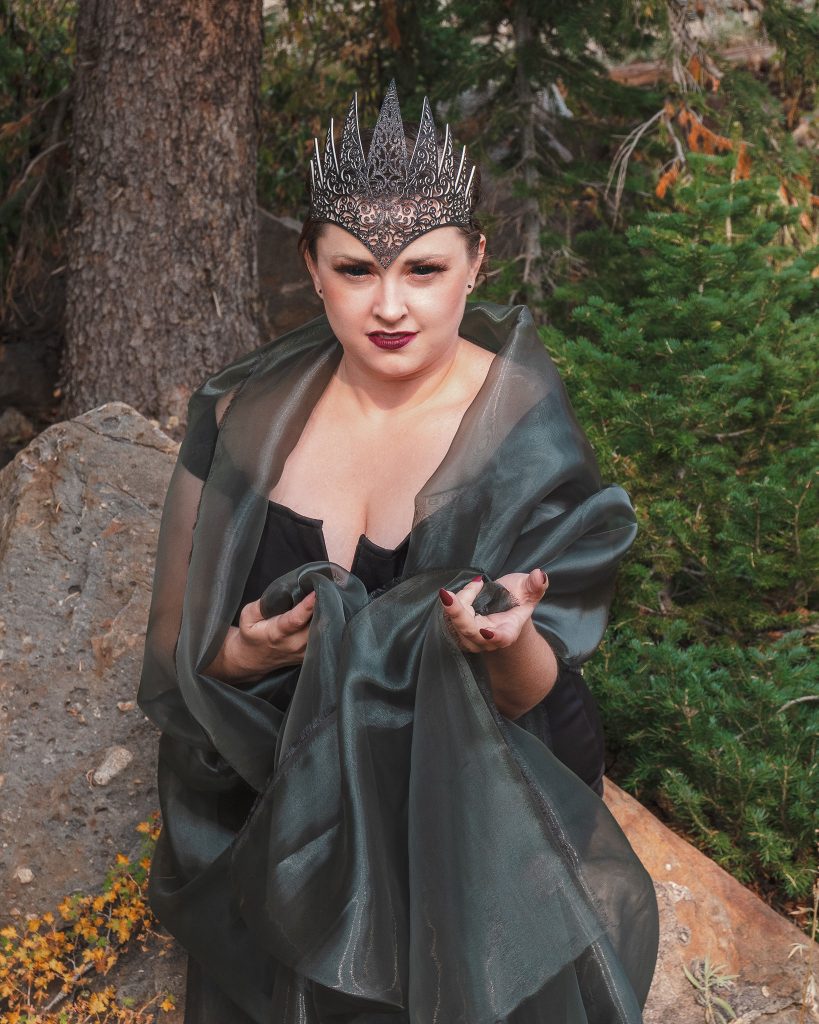 More Costume Tips & Reviews
If you want to stay up-to-date on plus size fashion blog posts, I recommend joining me on your favorite social media platform (Instagram or Twitter).
More of an email kind of person?  Subscribe here!