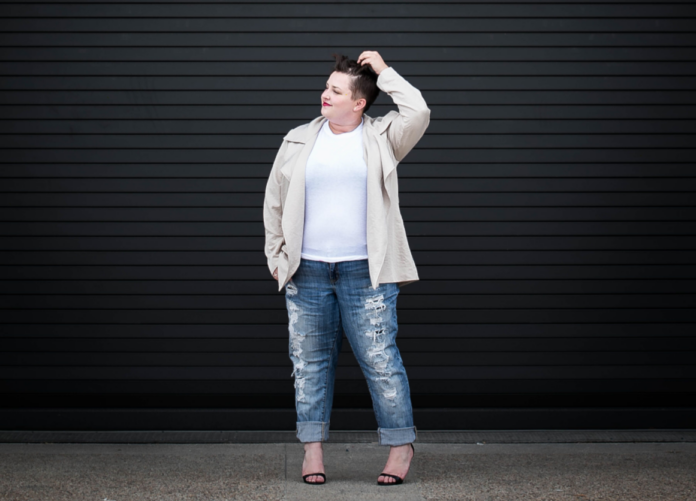 Hey there! This post contains affiliate links.  Using my links means I earn a commission, which helps me create more rad content.  More on affiliates here.
Let's talk about plus size boyfriend jeans!!!
When I initially found a pair of distressed boyfriend jeans at my local Torrid, I didn't realize that I was *about* to have a Cinderella + glass slippers MOMENT.
I was going through the clothing racks, and the light blue texture of these jeans caught my eye. I pulled them out and considered them, eying them up and down.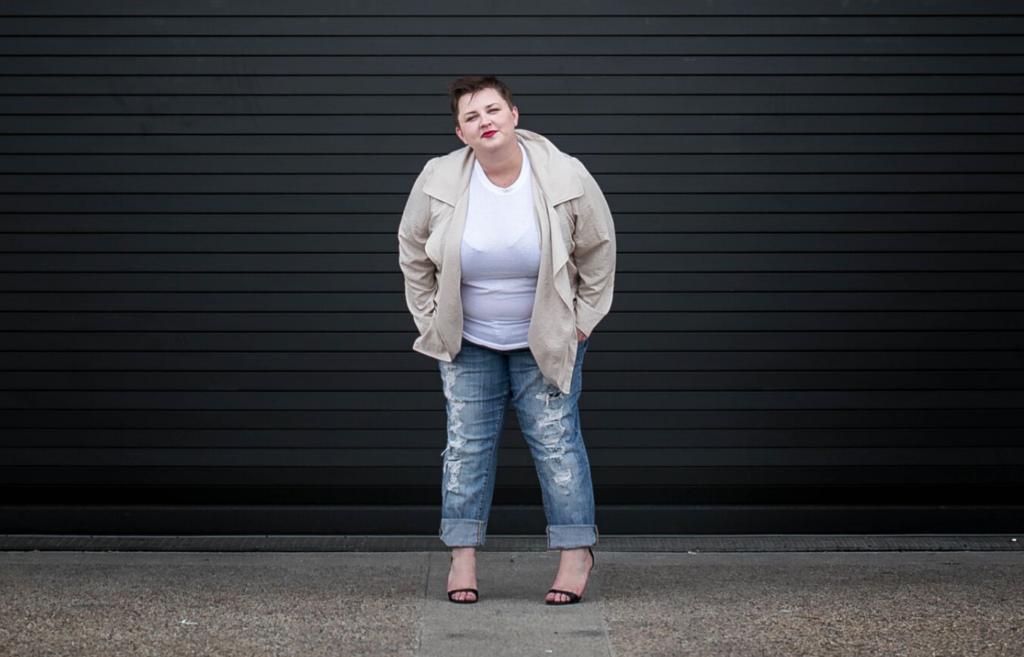 I normally go for FITTED curve hugging jeans – I'm a jeggings girl (a review of my fave pair here), and this was when I was letting go of all clothing having to look "flattering" or make me look smaller.
Ew, right!
Learning to dress for joy has been a whole thing! Okay, now back to my Cinderella moment with these jeans in the store:
The straight leg of the pants and the thick fabric made me pause. I've been a plus size jegging girl for YEARS, but these pants reminded me a lot of LEVI'S ads from the 1980's.
I decided to give them a whirl, and I'm SO GLAD I DID.
I LOVE PLUS SIZE BOYFRIEND JEANS
Trying on these jeans, made out of a heavier denim fabric, was a total game changer for me. I felt chic and cool! The heaviness of the fabric, the stiffness of it, really made a difference here – I think those are key features for a good pair of plus size boyfriend jeans!
I love boyfriend jeans, because I think they are such a fun and relaxed "cool girl" aesthetic. You can pair them with a tighter top, dress them up or done, add some heels for a nice summer lunch – the chic possibilities are ENDLESS.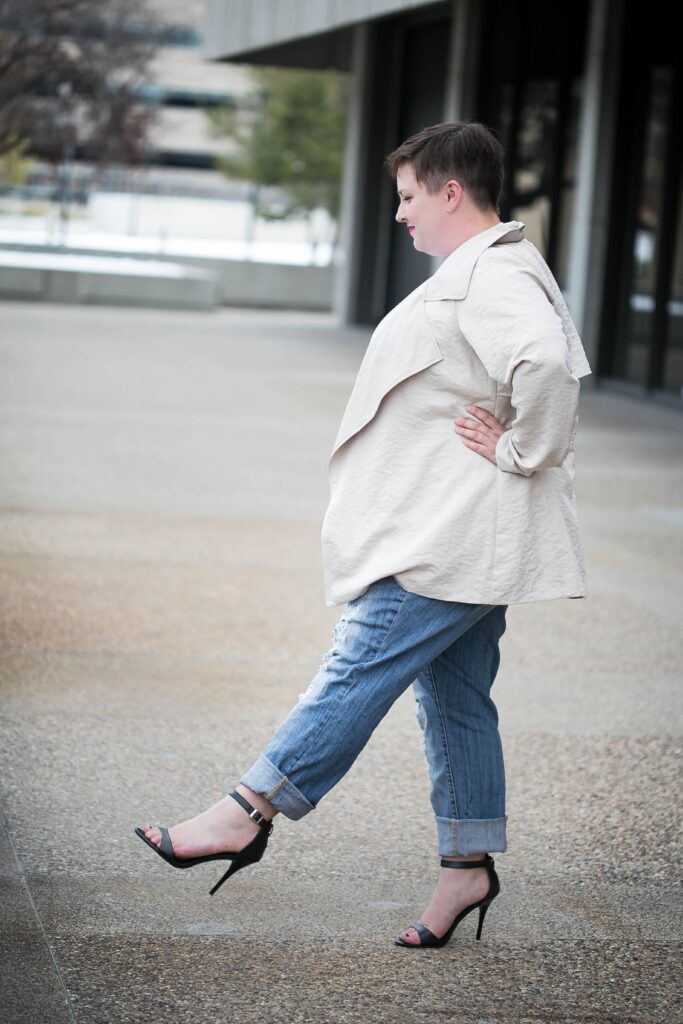 Styling Plus Size Boyfriend Jeans: Paired with a White T-Shirt & Light Creme Jacket
I styled my plus size boyfriend jeans with a white v-neck t-shirt from Torrid, light creme jacket from Maurices and block heels from Torrid (LOVE their wide width shoes, review on where to find plus size heels here!).
I stayed in a lighter color palette, and I could definitely also a see a more grunge look happening with boyfriend jeans!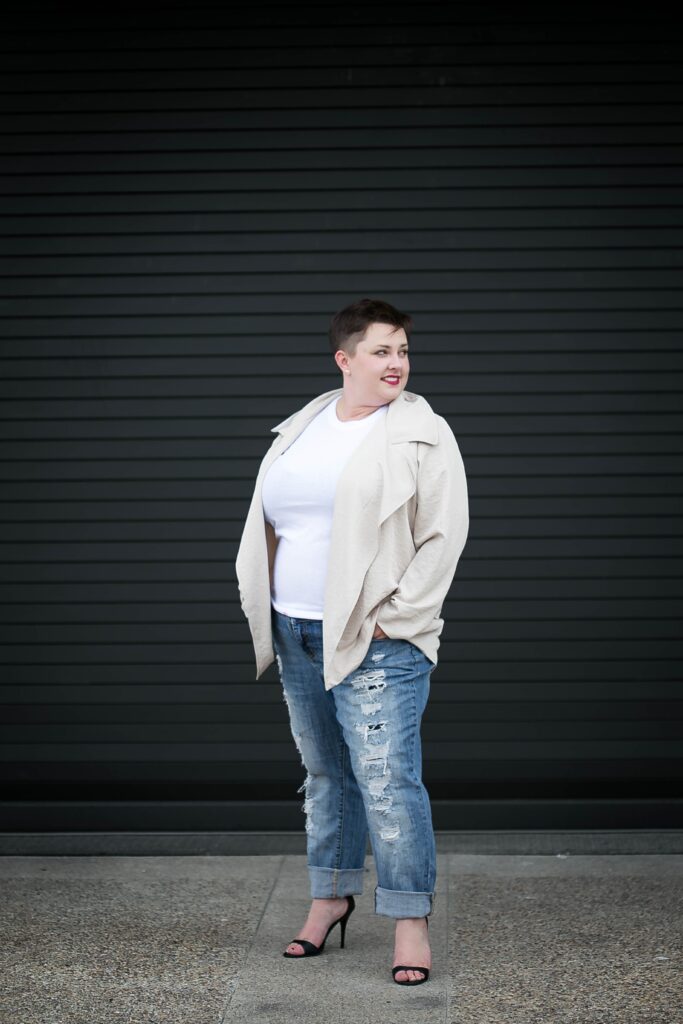 << Want more plus size fashion editorials && outfit ideas? Join my email list here!! >>
Seeing My Body in a New Way
I'm used to only wearing clothing that accentuates an hourglass figure or really hugs my body.
Wearing boyfriend jeans is similar to wearing a more boxy dress – it takes you a minute to adjust how you think you're *supposed* to look, but the compliments will pour in!!
Fashion doesn't have to be "flattering"! And what IS flattering anyways?! Making myself look smaller?! I don't think so!!!
And, Of Course, a Faux Hawk!
It's been a good few years since I came out of the closet, so I the term "boyfriend jeans" kind of makes me roll my eyes.
What about butch GIRLFRIEND jeans, huh?!
I kind of miss my faux hawk, looking at these pictures! It's so fun to style looks with short hair like this!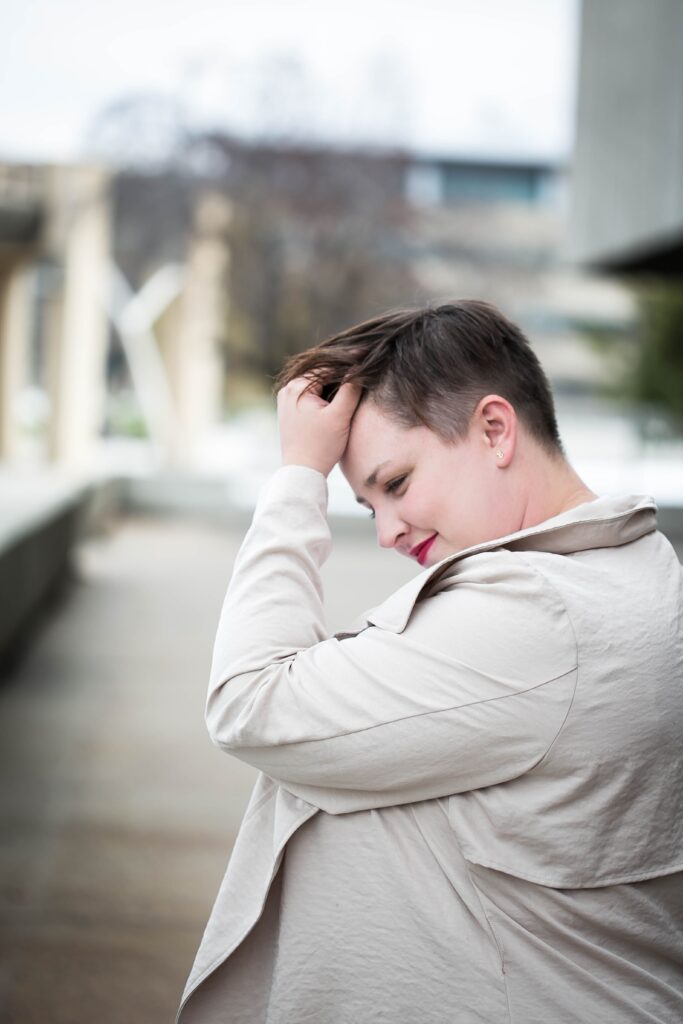 YOUR turn!! How You Choose a Good Pair of "Boyfriend" Jeans
Jokes jokes.
Here's a few of my tips on how you pick a good pair of plus size boyfriend jeans: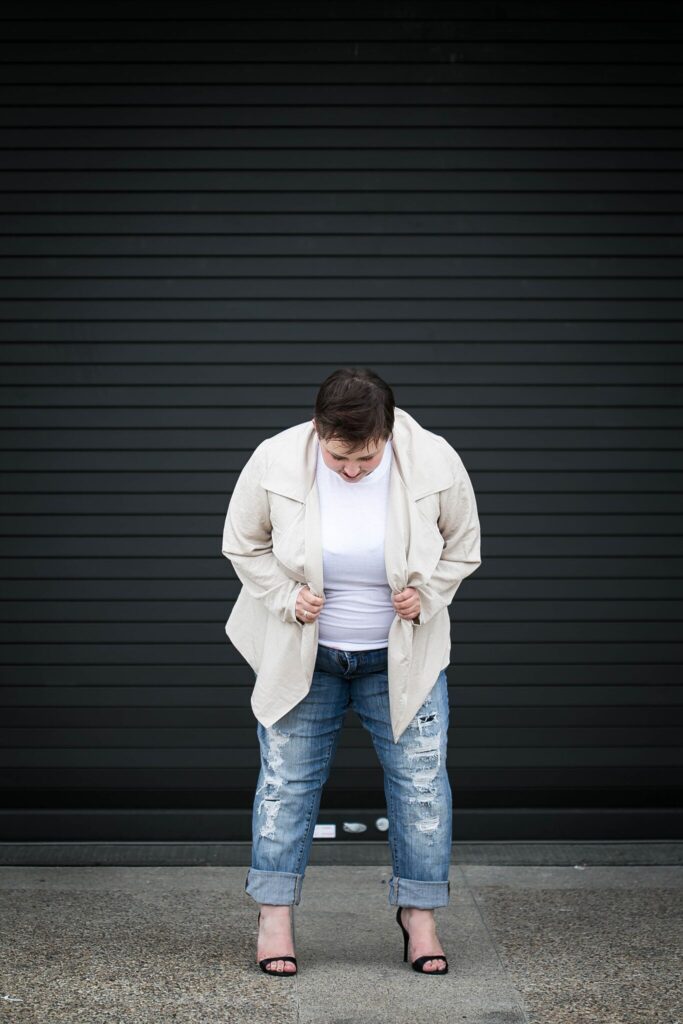 Tip #1: Little to No Stretch is GOOD!
To get the desired relaxed look but straight legs of a boyfriend jean, it's important that the fabric not have a lot of stretch fibers in it.
If you're like "Uhhh…. Fibers? What are you talking about?" I got you!
On all pieces of clothing sold commercially, you can look at the tag to see the makeup of the fabric. The tag will tell you what fabrics – and what that fabric is made out of – to make your clothes.
If you see lycra or spandex on the tag (more than like 10-20% of the fabric make up), then move along! Those jeans won't hold their "Boyfriend" shape! We're looking for mostly cotton jeans!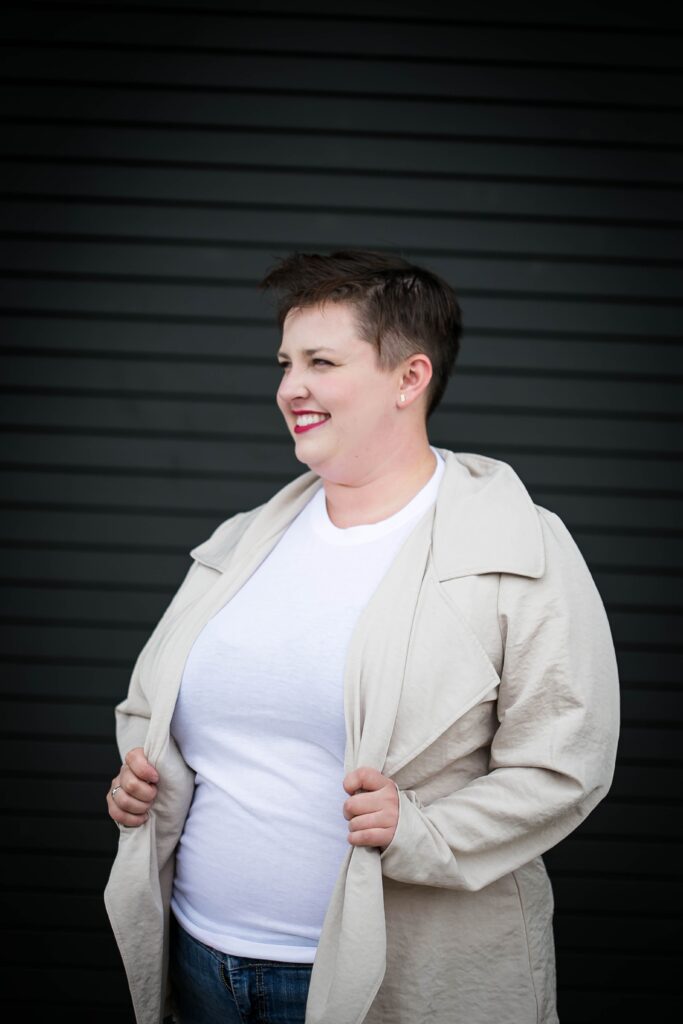 Tip #2: Thicker Fabric
Because we're not getting stretch fabric, it's important that the jeans FEEL thick. A good pair of plus size boyfriend jeans is NOT gonna feel the same as jeggings. The denim fabric should not be thin like you'd see in jeggings!!! If it's too thin, the lack of stretch fabric – remember Tip #1? – will mean you'll rip it when you squat or bend over.
Truly nightmare fuel, am I right?!
We're looking for THICK fabric. Like jean jacket feeling.
Tip #3: The Crotch Situation // Chub Rub
Make sure that the pants fit comfortably, and your upper thighs aren't touching. I've tried on a good amount of plus size boyfriend jeans, and I've found that man designs have a low crotch – meaning that the crotch hits lower than it should, and my thighs rub together.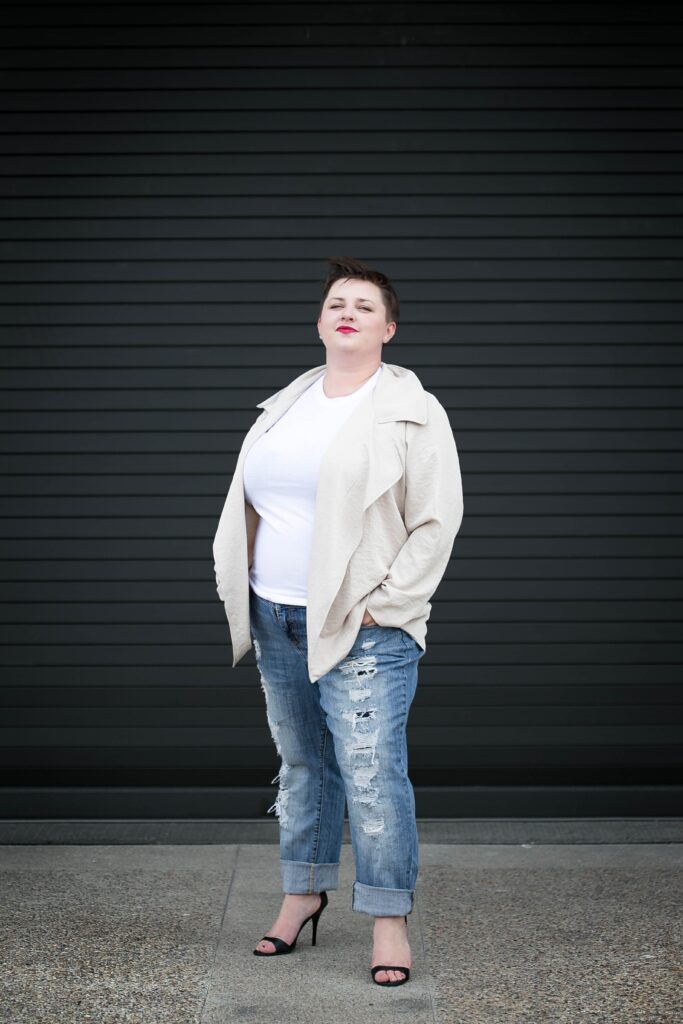 Where to Buy Plus Size Boyfriend Jeans
Okay, now that I've sold you on trying boyfriend jeans, I want to share where the heck to find them!
Torrid has been my go-to for plus size boyfriend jeans for years. I especially like the distressed look of these jeans!
Torrid Plus Size Boyfriend Jeans go up to a size 30, and they retail for up to $80 USD (ish).
Shop Torrid Boyfriend Jeans here!
Another one of my plus size favorites is the brand, Eloquii! I bought my first pair of jeans from Eloquii in January of this year, and they've held up quite nicely!
Shop Eloquii plus size boyfriend jeans HERE!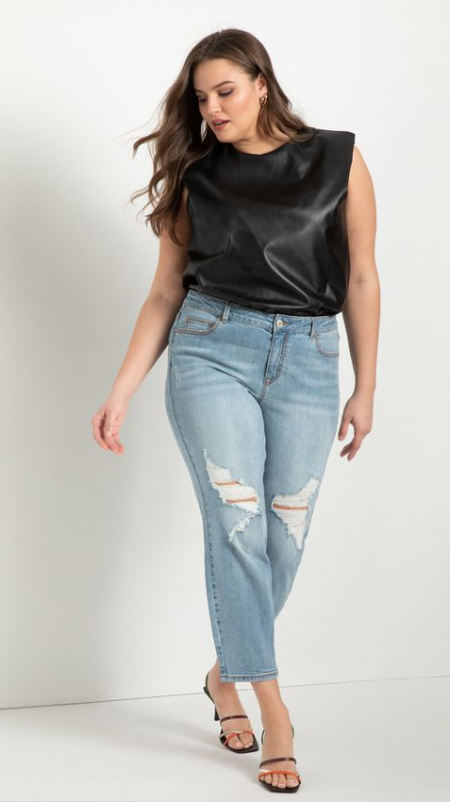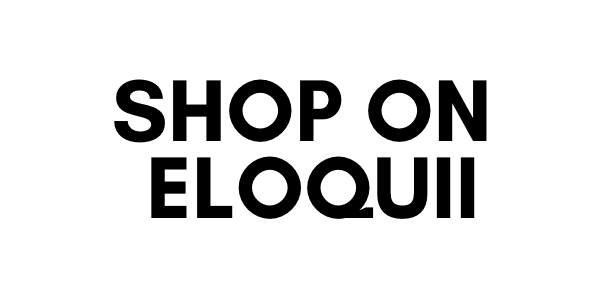 Brand #3: Plus Size Boyfriend Jeans from ASOS
Oh, ASOS! How I love thee! There are so many brands to choose from on ASOS, and I loved these cuffed boyfriend jeans from Simply Be!
Shop plus size boyfriend jeans at ASOS Curve HERE!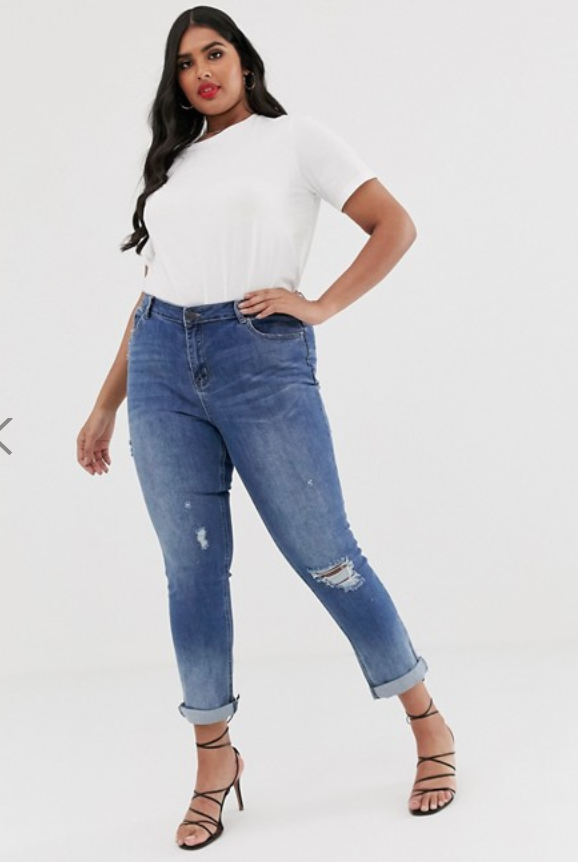 Brand #4: LEVI'S via Amazon Prime
The brand that started it all, LEVIS! These dark wash plus size boyfriend jeans are a great wardrobe staple. They go up to a size US 26!
Shop plus size boyfriend jeans on Amazon HERE!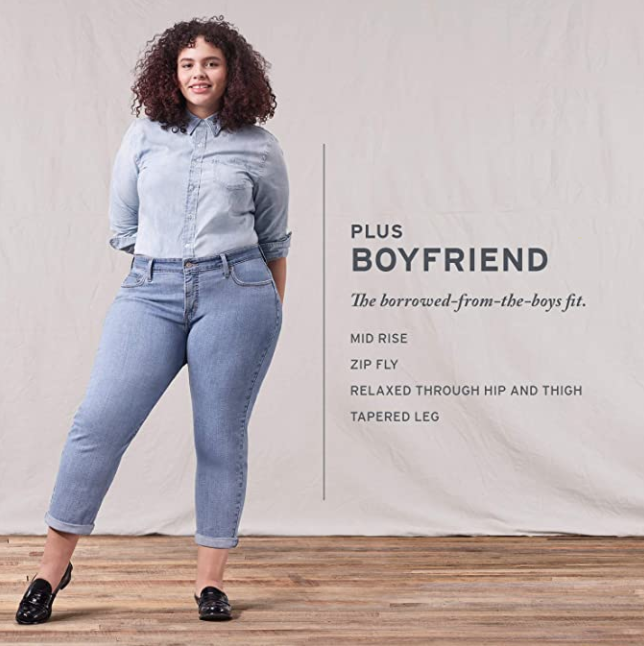 What to read next —>
Love plus size fashion? Here are a few other posts I think you'll love:
Love Plus Size Fashion? Join VIP!
If you want to stay up-to-date on wonderful plus size imagery and new brands to try, I recommend joining me on your favorite social media platform (Facebook, Instagram or Twitter).
More of an email kind of person? Subscribe here!