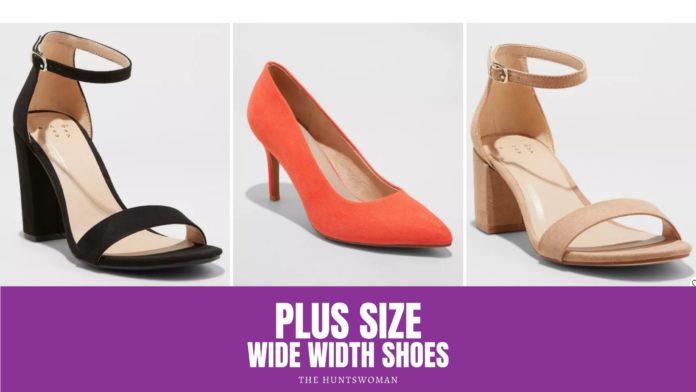 Hey there! This post contains affiliate links.  Using my links means I earn a commission, which helps me create more rad content.  More on affiliates here.
Hi bestie! Being a plus size fashion blogger and fashion designer means that I spend a lot of time looking for plus heels for wide feet! I've learned a lot of tips and tricks for finding wide width high heels, and below I've shared my favorite brands to shop for plus size heels for wide feet!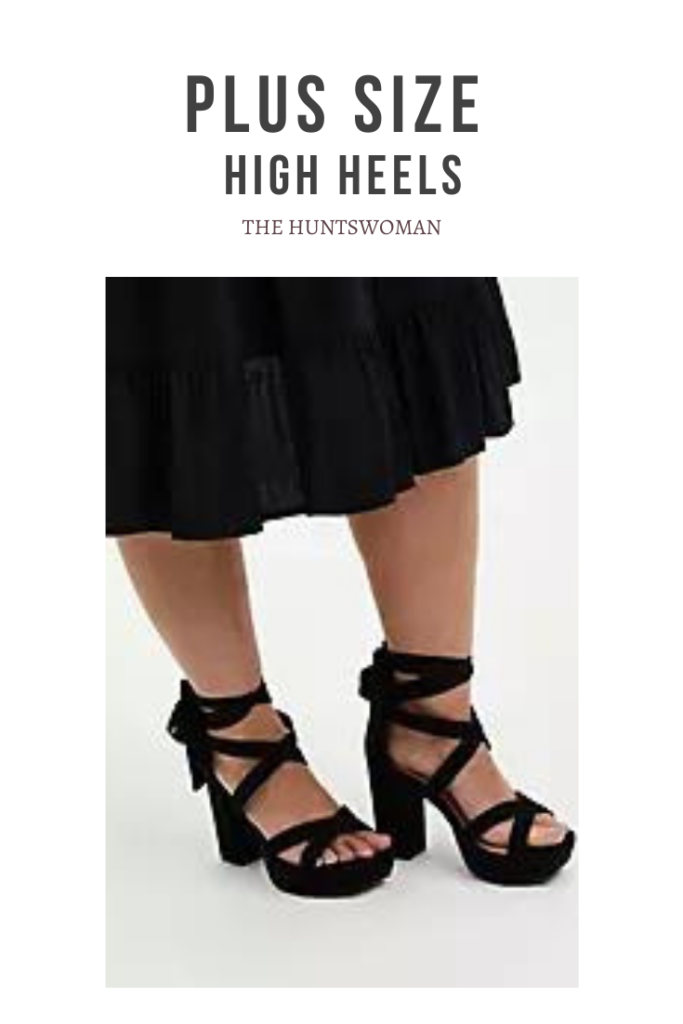 Plus Size Heels for Wide Feet – HOT Tip
Before I jump into my shopping guide and resources for wide width high heels, I wanted to share a hot tip – SHOE STRETCHERS!
I didn't know that these existed, until my blogger bestie, Leah of Voluptuous Leah, shared this tip with me! These don't work for all shoes, and it can be a gamble depending on the material.
That said, if you have heels that *almost* work, these are a great resource! Snag them on Amazon here.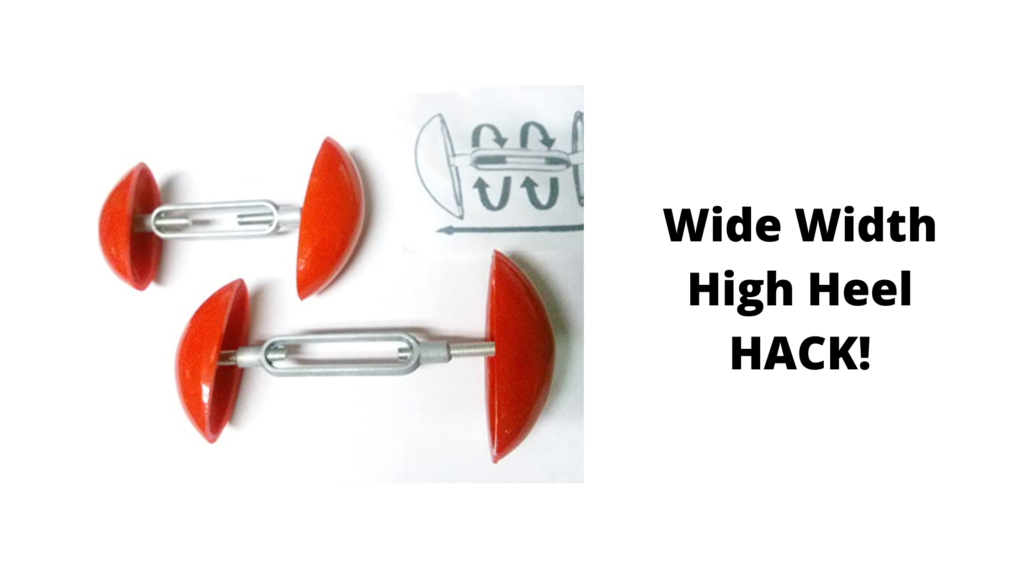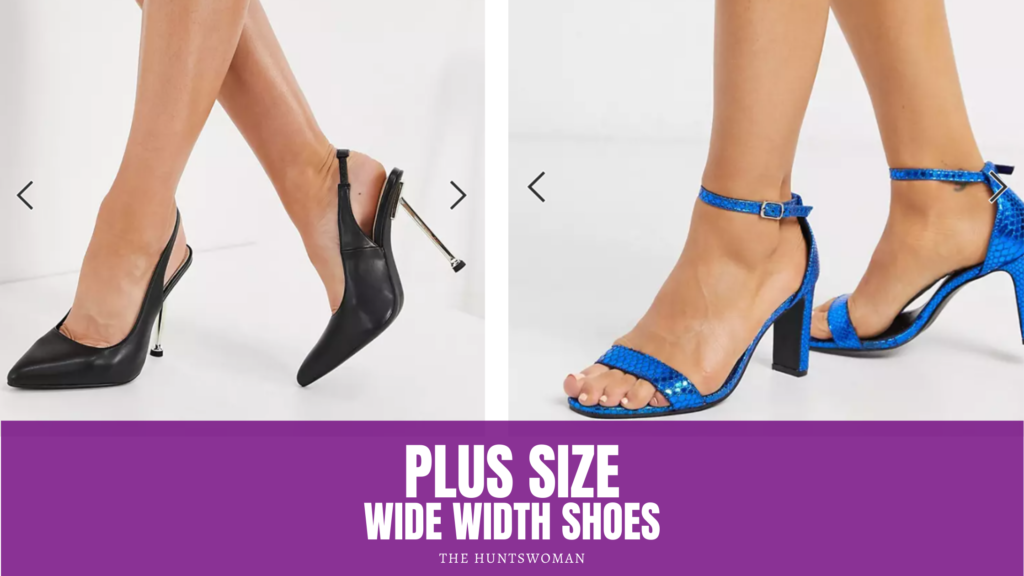 Okay, first up on our list of where to shop for plus size high heels is ASOS! The brand is based in the UK, and i've purchased a number of wide width high heels and wide width boots from them over the years.
When shopping on ASOS, the prices will vary by quite a bit, as ASOS has its own line and shoes, and the brand also carries other brands. I'm such a fan of wide width plus size heels at ASOS!
ASOS has:
Wide width ankle boots for plus size babes
Wide width lacey sandals
Wide width mules for plus size fashionistas
Wide width block heels
The brand carries up to a shoe size US 13, which I love! I also keep a regular eye on their sales section, as fabulous wide width heels often go for a STEAL!!
Shop wide width plus size heels on ASOS by clicking HERE!
Brand #2: Plus Size Heels for Wide Feet: Target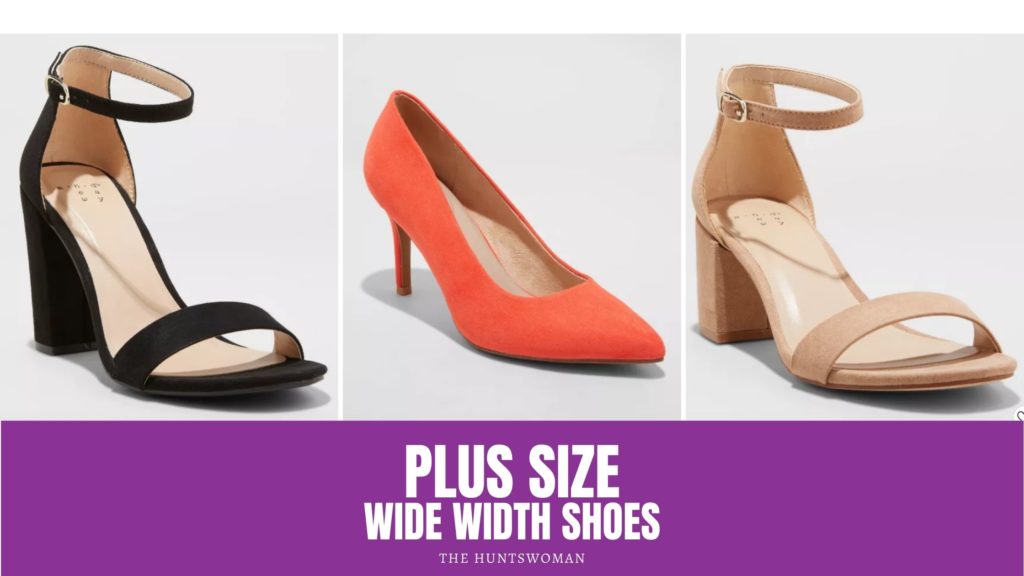 Okay, so a lot of plus size fashion loves don't know that Target carries wide width heels! And we all freakin' love Target, so this is super important info!
The problem is that Target doesn't carry wide width plus size heels in most of their stores, which means we have to shop online. I like to order my wide width heels from Target online, and then go to the store to pick them up. I try on my purchase inside of the store, and then I return what I don't like and what doesn't work.
I particularly love the wide width block heels from Target – I own multiple pairs!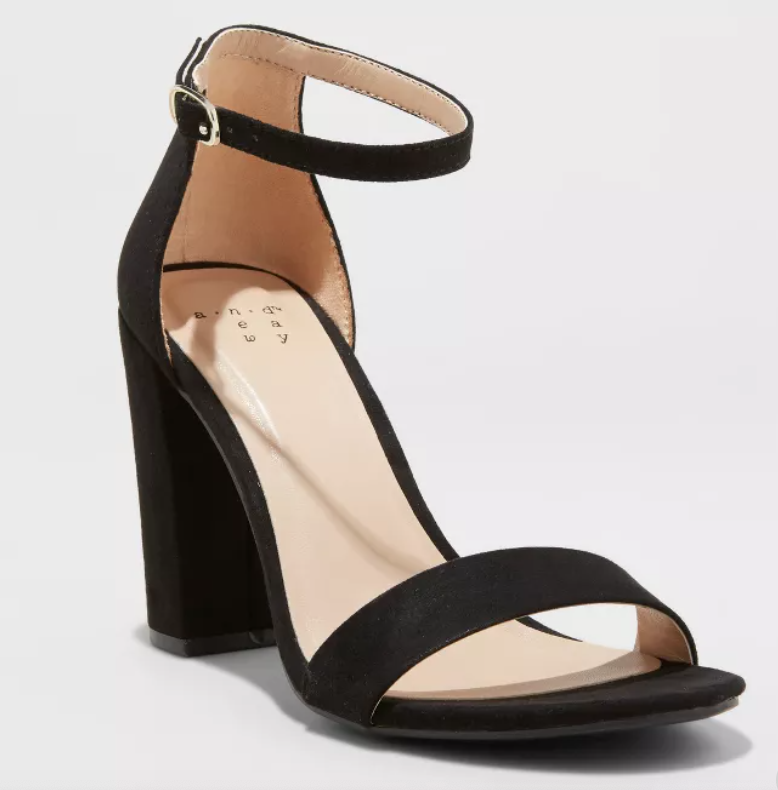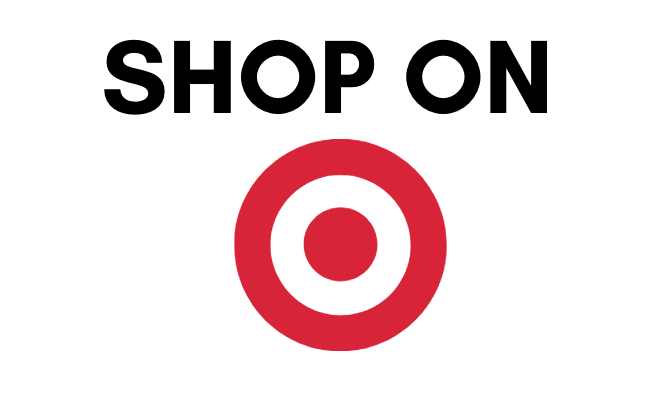 (I really hate having to take returns back to the post office, lol!)
Shop plus size wide width heels at Target HERE!
Okay, next up on our journey to find the most fun and fabulous wide width heels for plus size babes is… AMAZON!
Real talk, there are so many freakin' options on Amazon. My recommendation is to use SUPER specific search terms (color, style, size, etc) when looking for wide width heels.
Also, Amazon has wide, extra wide and extra EXTRA wide width shoes listed on their website. Use the search filter on the left to make your selection!
Shop wide width heels on Amazon for plus size babes HERE!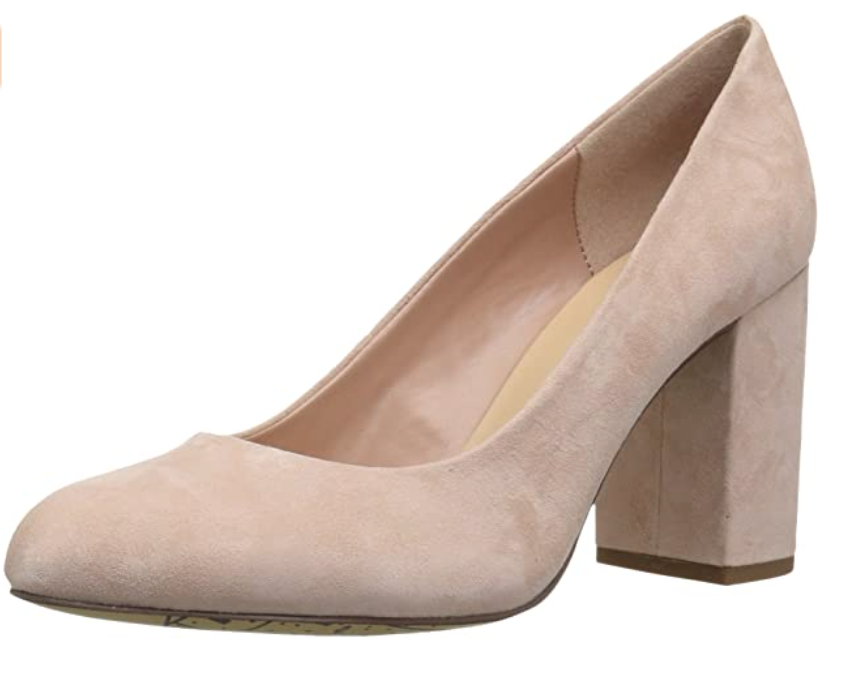 Brand #4: Plus Size Heels for Wide Feet: Torrid
Y'all, when it comes to trendy plus size high heels for my wide feet, Torrid is my ride or die!
The offering in-store varies widely (see what I did there? ;)) by location, and so I usually shop online. There's a lot of styles that are also only available online.
Similarly to Target, I like to place a Torrid order online and pick up my purchase in-store (woohoo free shipping). I try on items and then return what doesn't work. I usually use my Torrid credit card for the perks, and then pay off my purchase in-store as well (gotta keep that credit score up!)
Shop wide width plus size high heels HERE.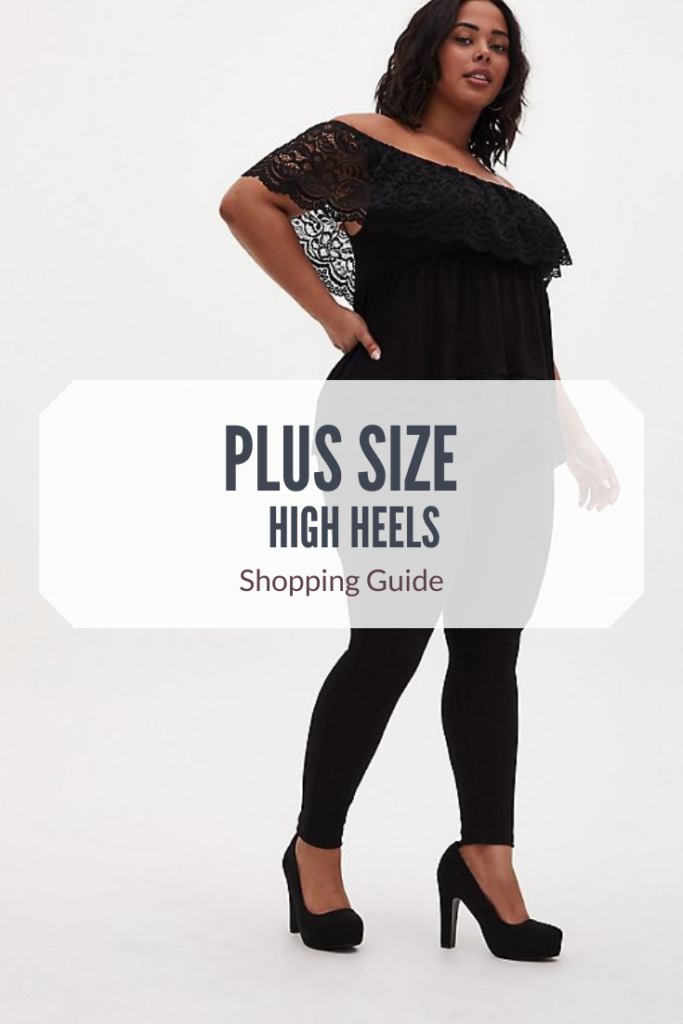 Brand #5: Plus Size Heels for Wide Feet: SHEIN
Real talk, before writing this blog post, I didn't know that SHEIN offered wide width high heels? I can't speak to the quality, but if you need trendy shoes for a photoshoot or short event, they may be one to try!
Shop wide width shoes on SHEIN here!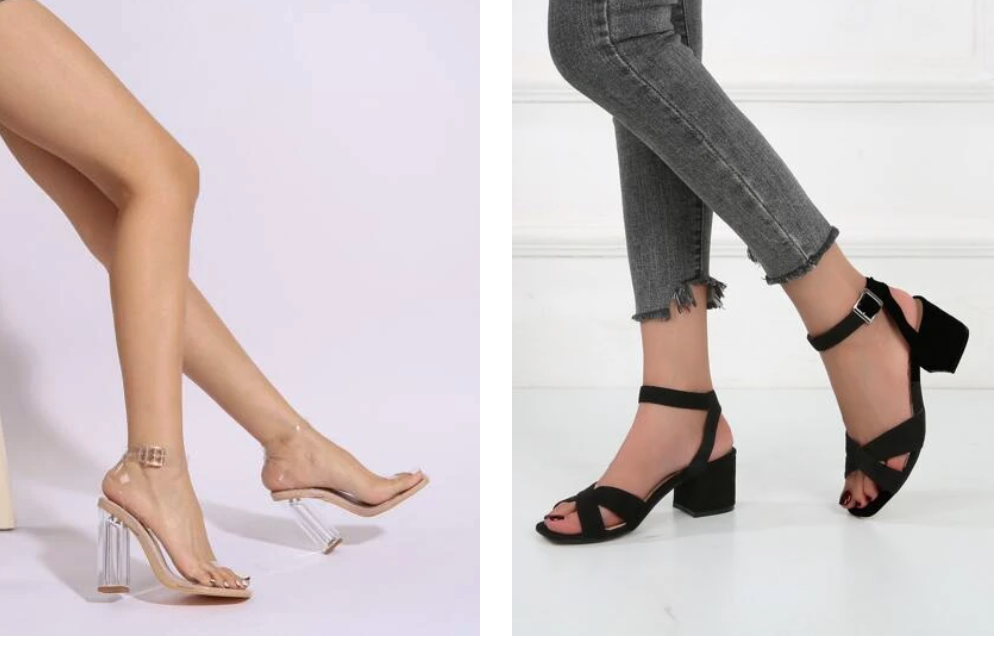 Brand #6: Plus Size Heeled Boots for Wide Feet: JustFab
JustFab has some of the MOST fabulous plus size wide width heels, but I don't love their subscription model. If you're down to play the subscription and payment game, then be sure to check them out!
At time of publication, the brand only had wide width heeled boots available, so be sure to check that you're ordering heels that explicitly says it's "wide width."
Shop here!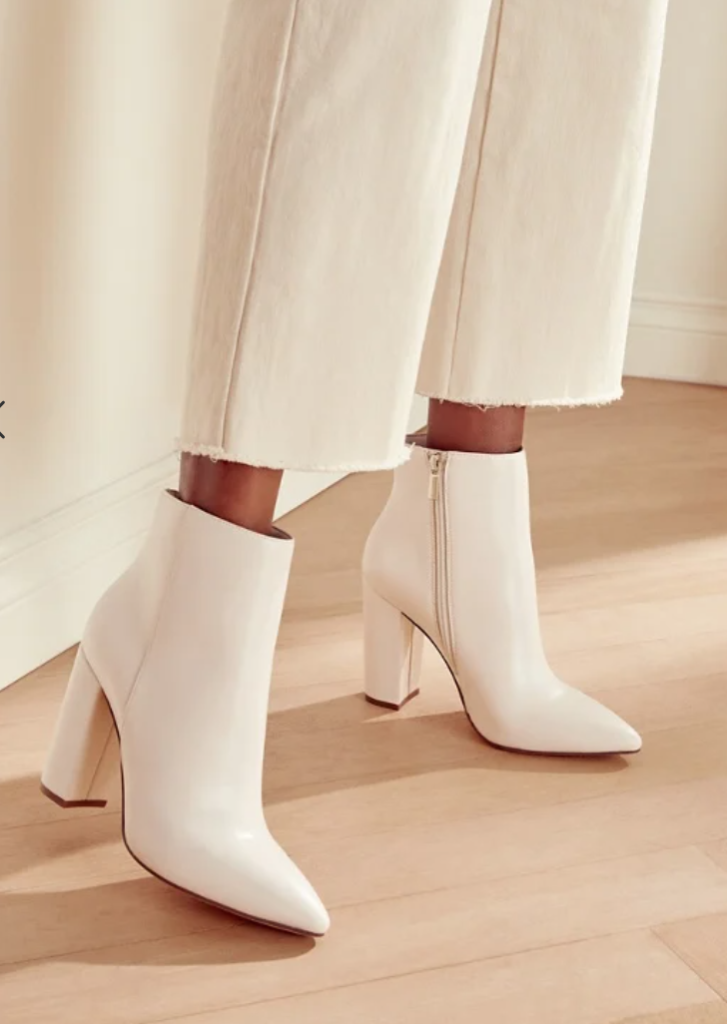 Brand #7: Clear Acrylic Plus Size Heels for Wide Feet: Boohoo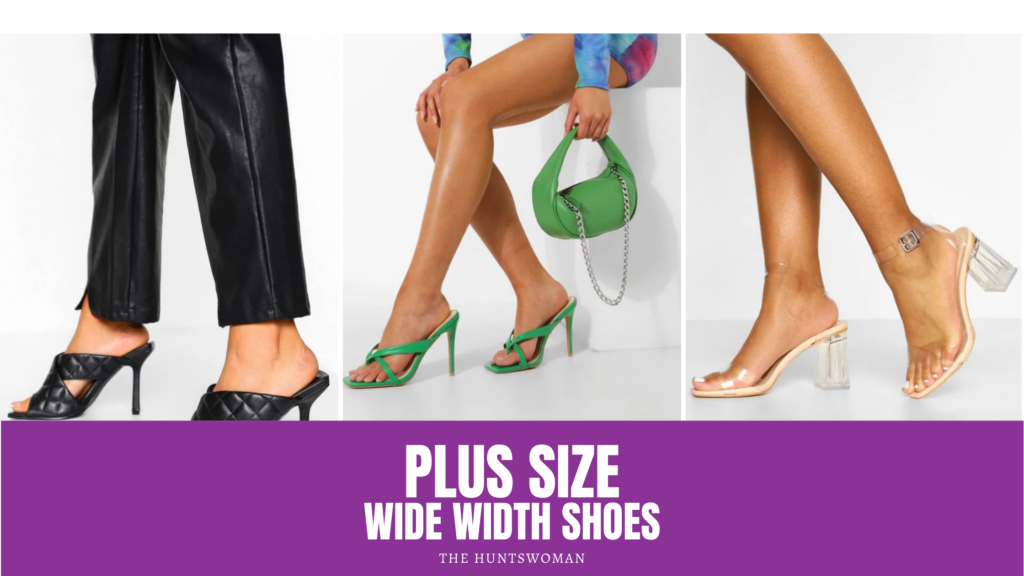 I love finding SUPER trendy wide width high heels on Boohoo for my fashion editorial photoshoots. At time of publishing, Boohoo has the largest selection I've found of clear acrylic or lucite heels.
Shop wide width plus size heels from the brand HERE!
More Plus Size Fashion Reviews?!
Okay, so there's my review of the BEEEEST plus size jeggings out there. But, wait! I have more reviews to share:
Reviews to your inbox!
Every week, i send out an email with the very best plus size fashion posts, along with helpful blog posts about growing your career! Subscribe here.