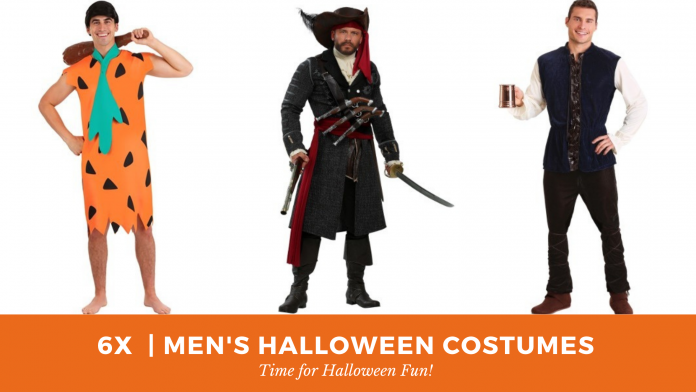 Hey there! This post contains affiliate links.  Using my links means I earn a commission, which helps me create more rad content.  More on affiliates here.
Hello and welcome! If you've landed on this here blog post, it means that you're look for big and tall men's Halloween costumes, or you're shopping in that particular section of the internet today!
I'm Brianne (the writer of this here post), and I love writing shopping guides for folks who just want to know their options, pick and move on with their day! You may also be interested in this blog post featuring my favorite big and tall stores, or plus size men to follow on Instagram.
Okay, now that we've been introduced – let's talk Halloween costumes, specifically Halloween costumes for men in a 6X!!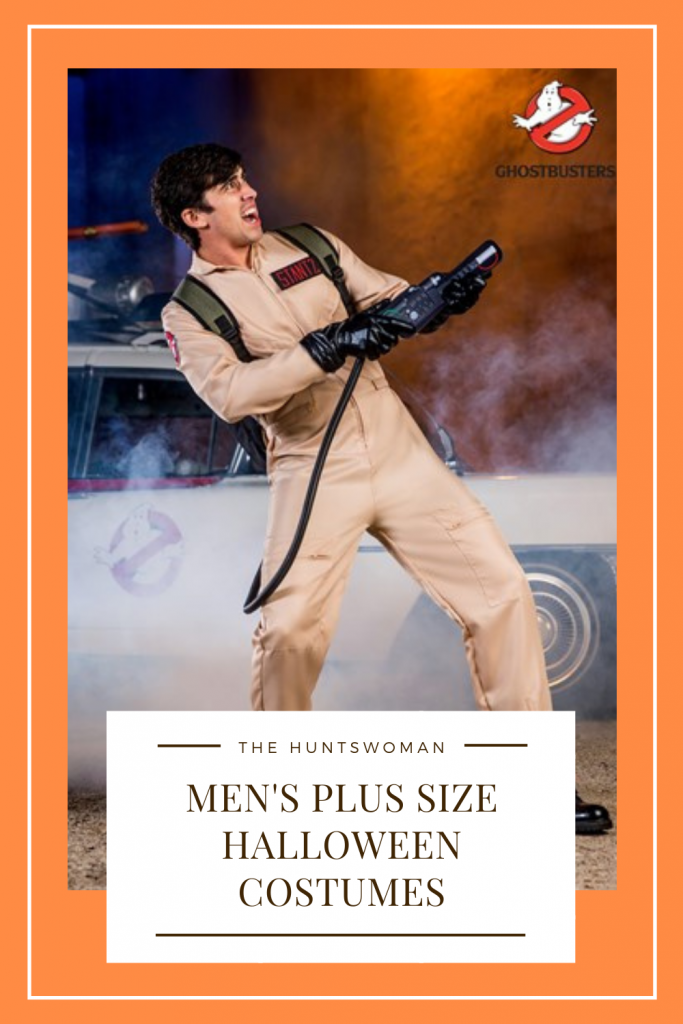 Plus Size Men's Halloween Costumes – 6X
We're going to start with costumes that come in a 6X, because if they're available in a 6X then they're DEF available in a 5X! Logic, FTW!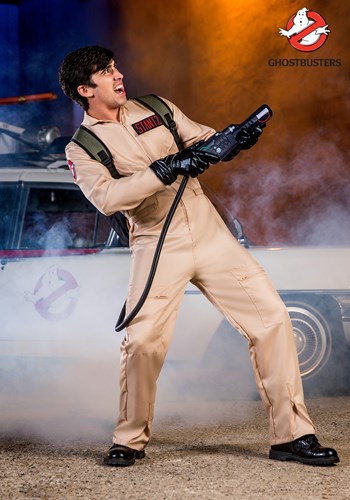 Honestly one of the MOST iconic movies of all time is Ghostbusters, which has the added benefit of being a FABULOUS Halloween movie. The jumpsuit comes with handy pockets, and the name tag is customizable – so you can be your favorite ghostbuster!
The costume fits measurements up to Chest: 69.5″, Waist: 68″.
Shop here!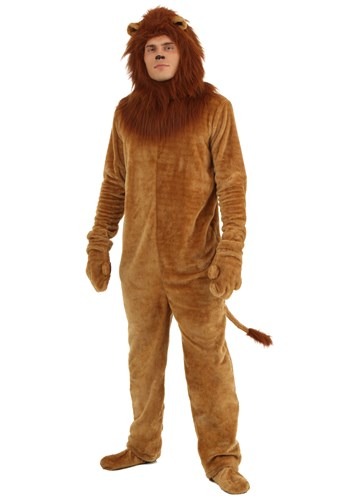 This plus size men's Halloween costume is PERFECT for a group costume, whether for a group Wizard of Oz theme, a ringmaster and their lion, or a whole Lion King situation if you'd like!
It fits measurements up to Chest: 76″ and has a torso length of 40″!
From the brand: "The costume starts with a soft, fleece jumpsuit that fits with a zipper along the back. The jumpsuit is a tawny color and it even features a faux fur collar and attached mitts. The attached tail dangles down in the back and even has a tuft of brown fur at the end. The shoe covers fit over most pairs of shoes, so you can wear your most comfortable pair of kicks as you live like a lion! To finish off the whole look, the costume comes with a faux fur hood that has a shaggy lion's mane around it. Just fasten it in back, and you'll be ready to feel like a lion!"
Shop this big and tall costume here!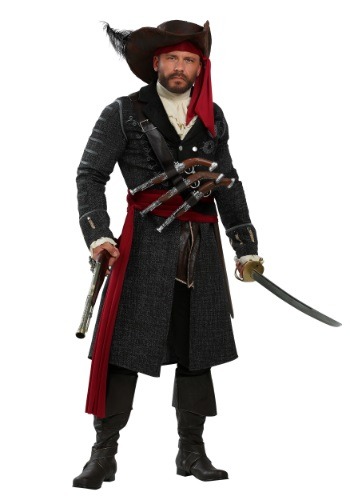 Ready to take on the Seven Seas for Halloween, or just want to look really cool? This Big & Tall Men's Pirate Captain Costume does a great job of letting folks know who the Pirate Captain is, with it's rad black jacket and this front belt situation!
This men's costume fits measurements up to Chest: 73.5″ and Waist: 67.75″.
From the brand: "The woven jacket features screen printed details, and an attached false vest front truly emits the the aura of a true captain, not like some of those other pirate costumes that make you look like some run of the mill cabin boy. The jabot adds an elegant touch, while the sash and cross belt add a touch of authenticity. The boot covers help turn a normal pair of shoes into buccaneer boots, while the hat puts the finishing touch on the look."
Shop this big and tall men's costume here!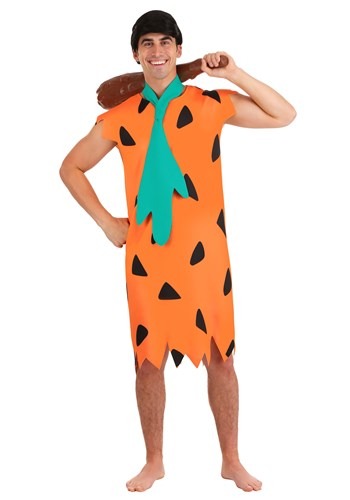 A classic men's Halloween costume (and fun group costume as well!) is the Fred Flintsone costume. Probably best for indoor Halloween parties, as it can be chilly out there!
This costume goes to a Big & Tall 6X, fitting a Chest measurement of 64″.
From the brand: "The costume comes with a bright orange, pullover style tunic. It's made out of a spandex blend material, so it stretches to fit. Of course, it has black spots on the exterior and it even has the "tattered" edges to make it look like the one that Fred wears in the cartoon series."
Shop this big and tall men's costume here!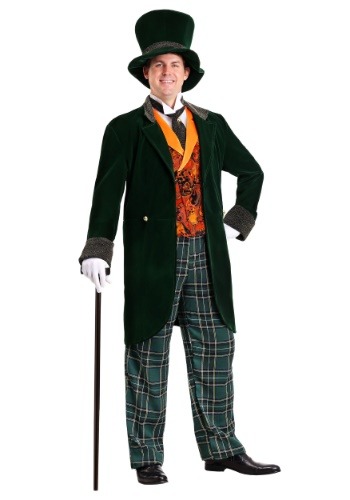 I love the design of the Halloween Costume, going full on "old school" with this Alice & Wonderland look!
This plus size men's Halloween costume fits a 7X, with Chest: 78″ and Waist: 76″, respectively.
From the brand: "This costume has a velvet overcoat and matching trademark top hat. They look spot-on over the decoratively printed vest, while the plaid trousers are a perfect style for any occasion. All you'll need is a fancy pair of shoes to go with your quirky new costume, and you'll be the toast of Wonderland in no time!
Shop here!
<< Want more posts like this? Join my email list here, and my fashion email list here! >>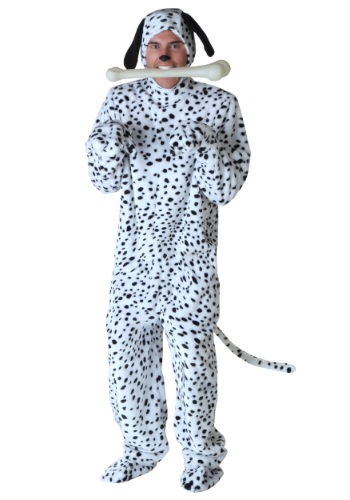 A true Cruella De Vil costume is not complete without one (or a few!!) Dalmatian puppies! This plus size men's Dalmatian costume is perfect for a group costume, and doesn't require a lot of prep work!
The Big & Tall costume goes up to a 6X, with a Chest measurement of 72″!
From the brand: "The costume is a soft bodysuit, which comes with attached mitts and matching shoe covers, and you'll feel more puppy-like in no time. The costume also features an attached tail, and a headpiece with big floppy ears, which are both essential!"
Shop this plus size men's costume here.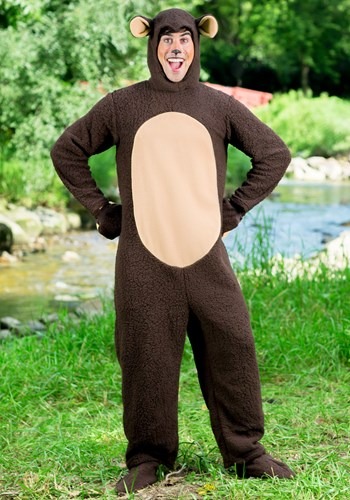 This is a great men's Halloween costume for a new "Papa Bear," or the guy who wants to lecture folks on forest fires at the Halloween party!
This comfy plus size men's Halloween costume is available in up to a 6X, fitting a chest measurement of 74″.
This costume comes with a jumpsuit (with attached bear mitts), bear ears and shoe covers!
Shop plus size men's Halloween costume here.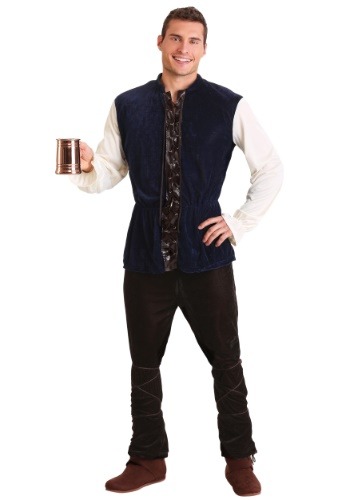 This is listed as a "Tavern Man" costume, but I think if one added a crown, we have a Prince Charming option here! Or maybe a Big & Tall Flynn Rider?
This Halloween costume fits up to a 6X, with measurements Chest: 72″ and Waist: 74″.
From the brand: "Costume vest is made of 100% polyester velvet, faux leather & interlock knit fabrics. The shirt has center-front cord lacing through eyelets in strips of faux leather. Brown interlock pants have elastic waist, attached cord ankle ties."
Shop here!
More Big & Tall Fashion Posts
Need more shopping advice for plus size guys? Check out these posts:
More Plus Size Fashion Reviews
If you want to stay up-to-date on plus size fashion blog posts, I recommend joining me on your favorite social media platform (Facebook, Instagram or Twitter).
More of an email kind of person? Subscribe here!