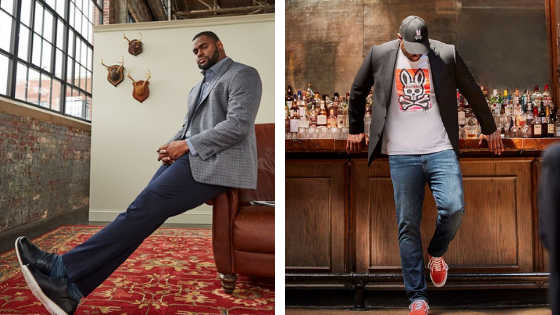 Hey there! This post contains affiliate links.  Using my links means I earn a commission, which helps me create more rad content.  More on affiliates here.
If you've landed on this blog post, chances are you're looking to upgrade your wardrobe! You're looking to level up your wardrobe, but you're not totally sure where to start!
I got you!
[Heads up! This post uses affiliate links, and you help me earn $$ when you use my links. More on affiliate links here!]
Below, I've shared 7 business casual outfit ideas for husky guys, helping you build out a stylish wardrobe!
Big & Tall Outfit Idea #1: Classic Light Sports Coat & Dark Jeans
When building a wardrobe, you want to pick versatile pieces. The light gray sports jacket is a great pick, as you can dress it up with a collared shirt or down.
Check out this light gray sports coat from DXL!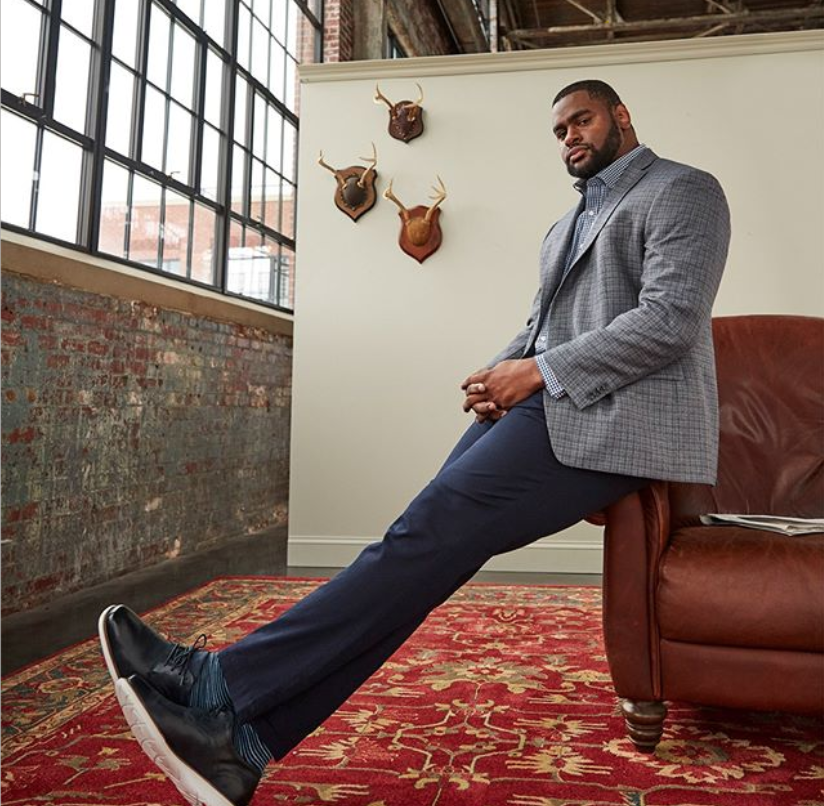 Husky Outfit Idea #2: Dark Jeans, Cable Knit Sweater & Button Down Shirt
This is a classic outfit, with straight leg dark jeans, a cable knit sweater and plaid button down shirt.
Check out this sweater from DXL here!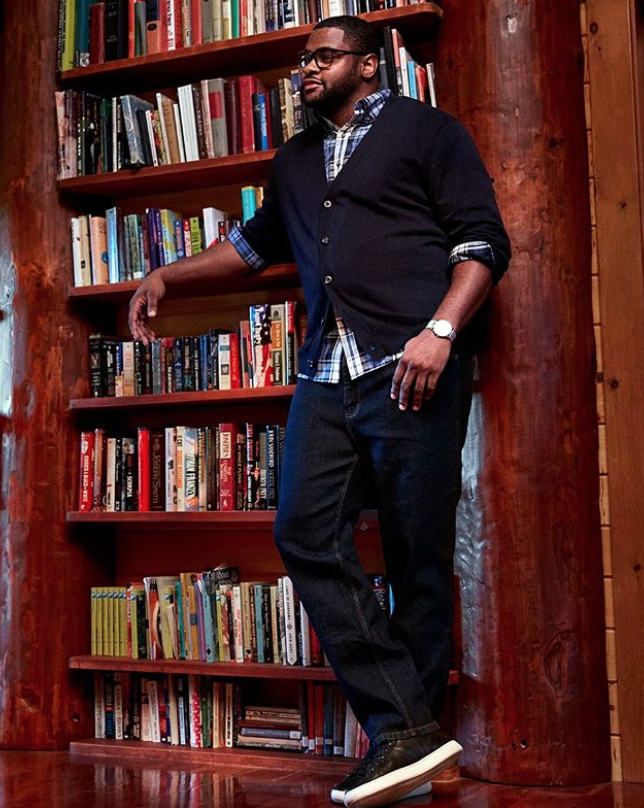 Big & Tall Outfit Idea #3: A Little Rock'n Roll with a Graphic Tee
If you work in a creative industry, you may get some chuckles if you show up in a button down shirt – but you still want to look put together.
This outfit with a graphic tee and baseball hat is the perfect mix. Make sure to pair your dark sports coat with jeans that fit really well for a polished look.
Shop husky graphic tees here.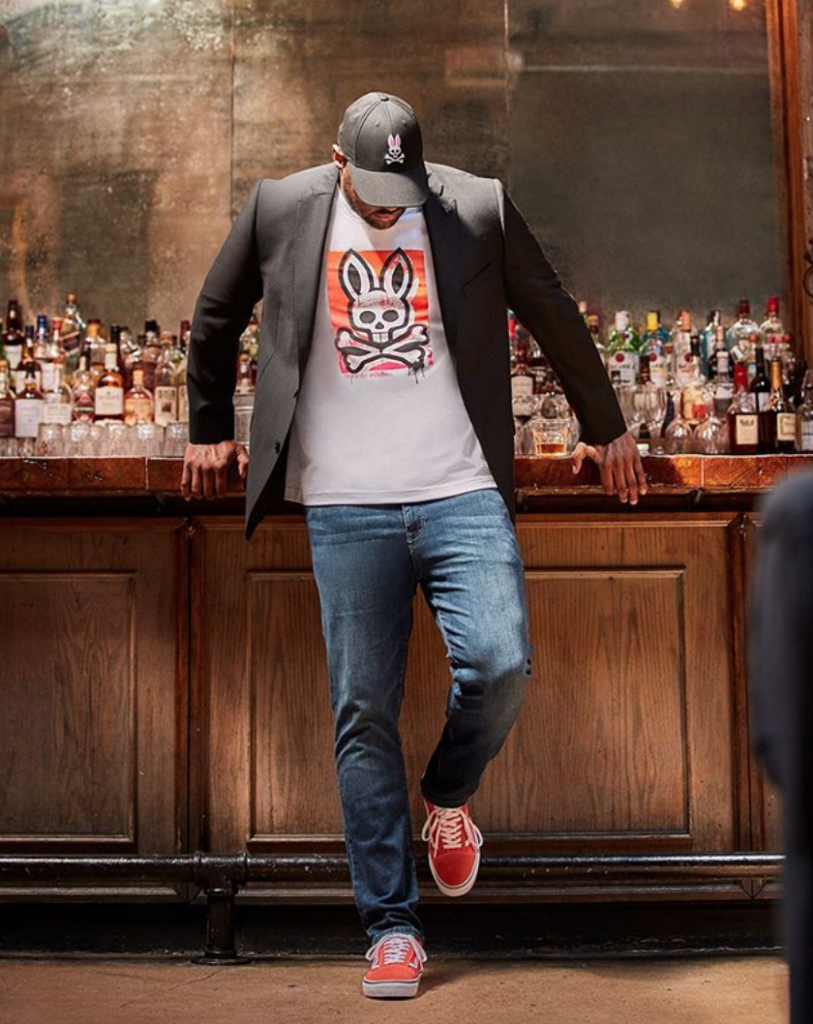 Husky Outfit Idea #4: Small Pattern Polo Shirt
Solid color polo shirts can be a little too "golf course," so not all husky men are into them. Instead, consider snagging a few polo shirts with smaller patterns (like this one from DXL) into your wardrobe mix.
These are great shirts to travel with, as they're resistant to wrinkles.
Shop here!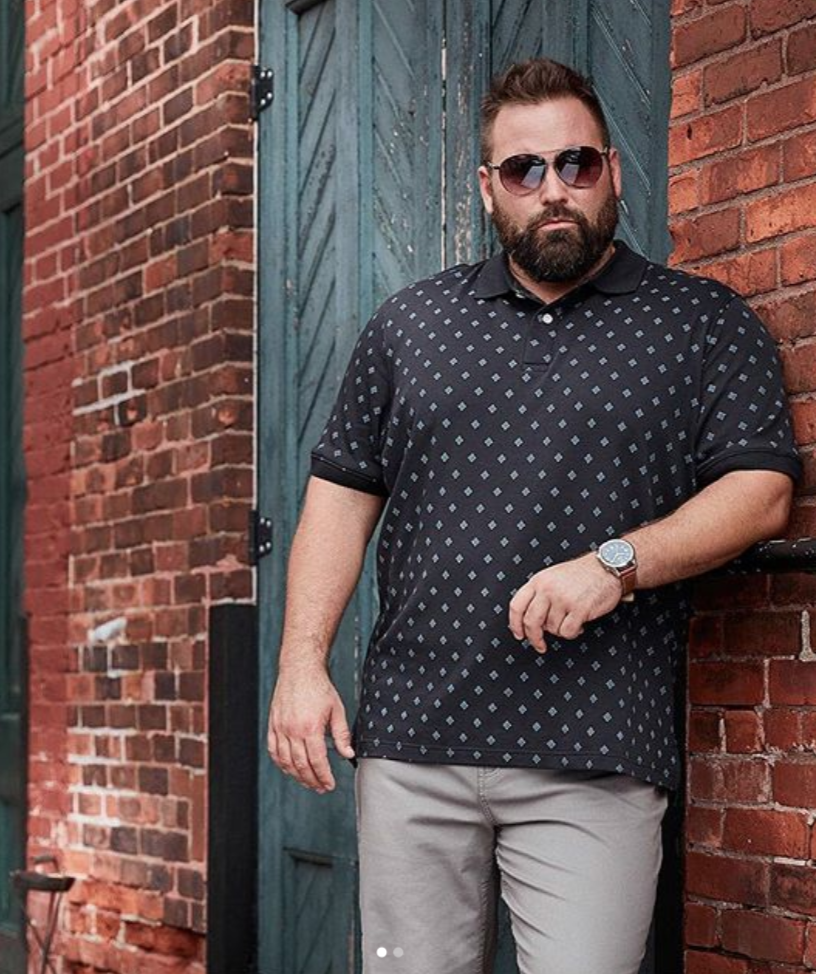 Big & Tall Wardrobe Idea #5: The PEACOAT!
Something that every gentleman needs in his wardrobe is the PEACOAT. Go for a peacoat in maroon and pair with a scarf for the cold months, and stay stylish in the cold.
Shop DXL for husky overcoats HERE.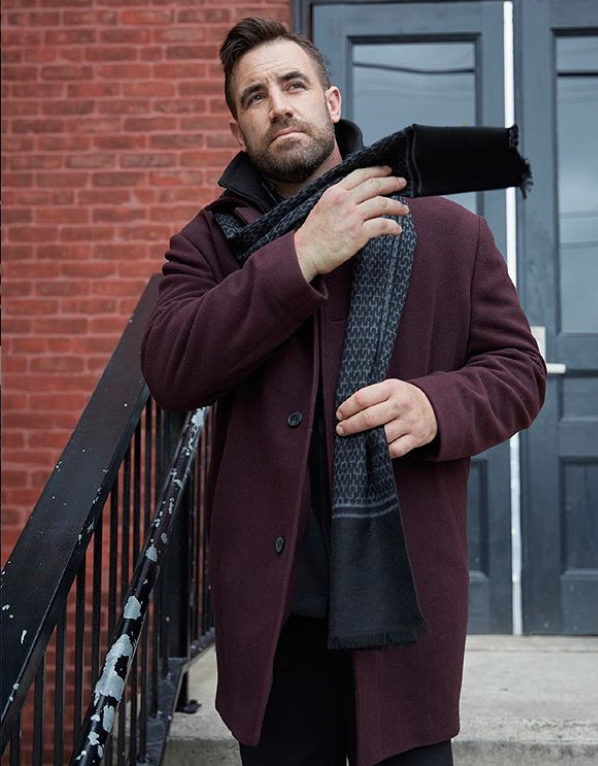 Big & Tall Wardrobe Idea #6: Quarter Zip Pullover
Hoodies can be a little too casual for some offices, so the quarter-zip pullover is your new go-to jacket. Pair with a variety of pants, and dress up or down depending on what you put under it.
Shop this navy quarter-pull sweater here.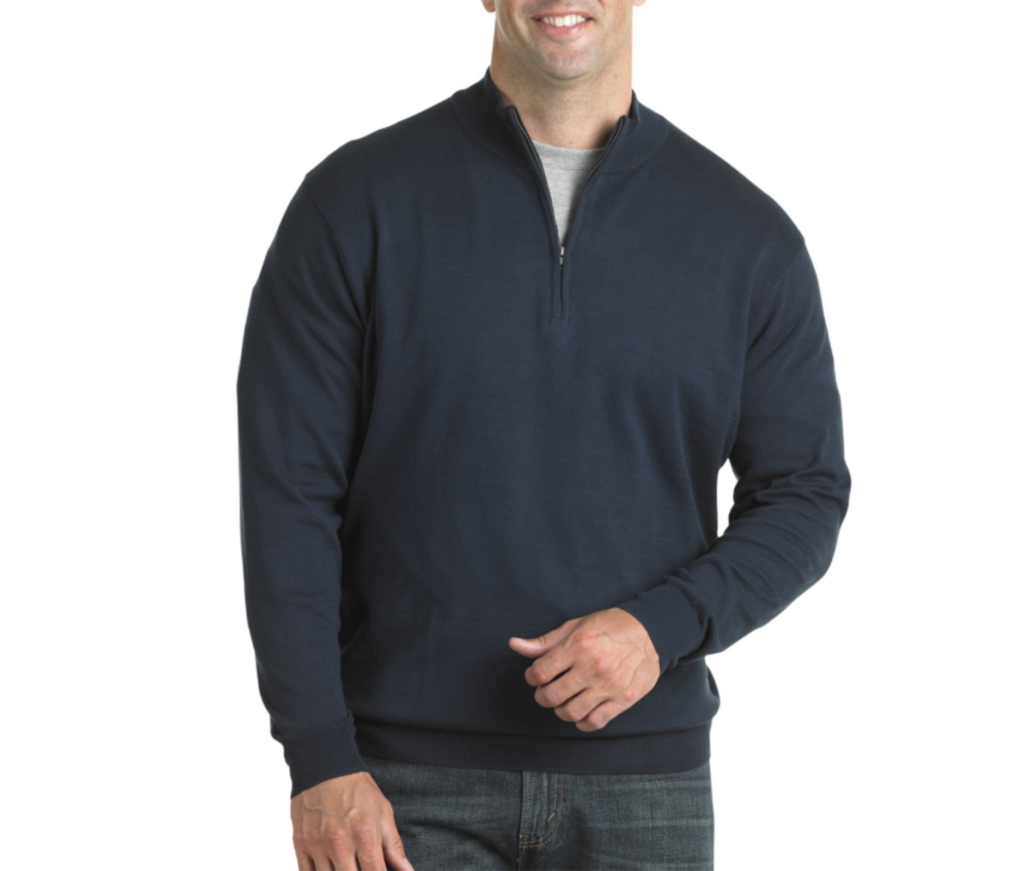 Big & Tall Wardrobe Idea #7: Sweater with a Shawl Collar
A shawl collar makes me think of a lead character in a Hallmark movie, and this is a great GQ look for a husky guy!
Be sure that the sweater fits well (no pulling or wonky pulling).
Shop here!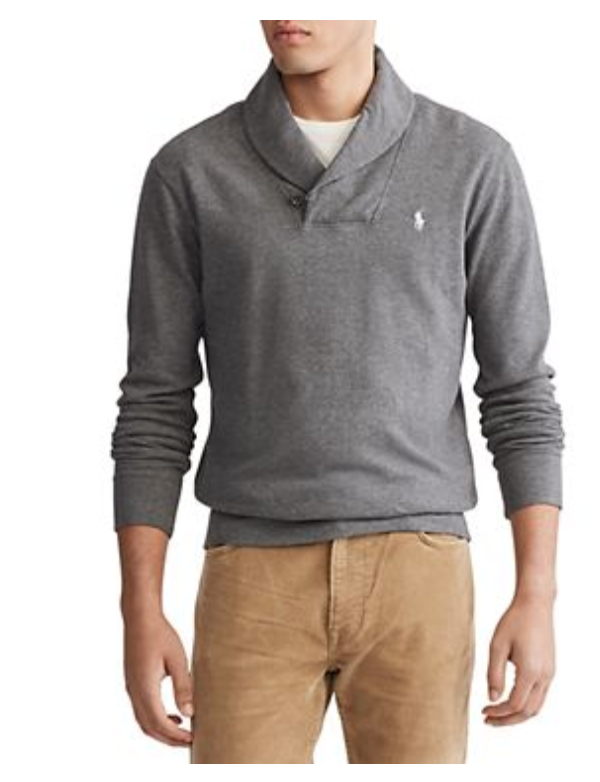 Bonus: Statement Socks
If you want to show your individuality at work, statement socks with fun patterns can be a great way to do so! These can peek out under suiting or dark jeans, and they're also a great conversation starter.
Shop here.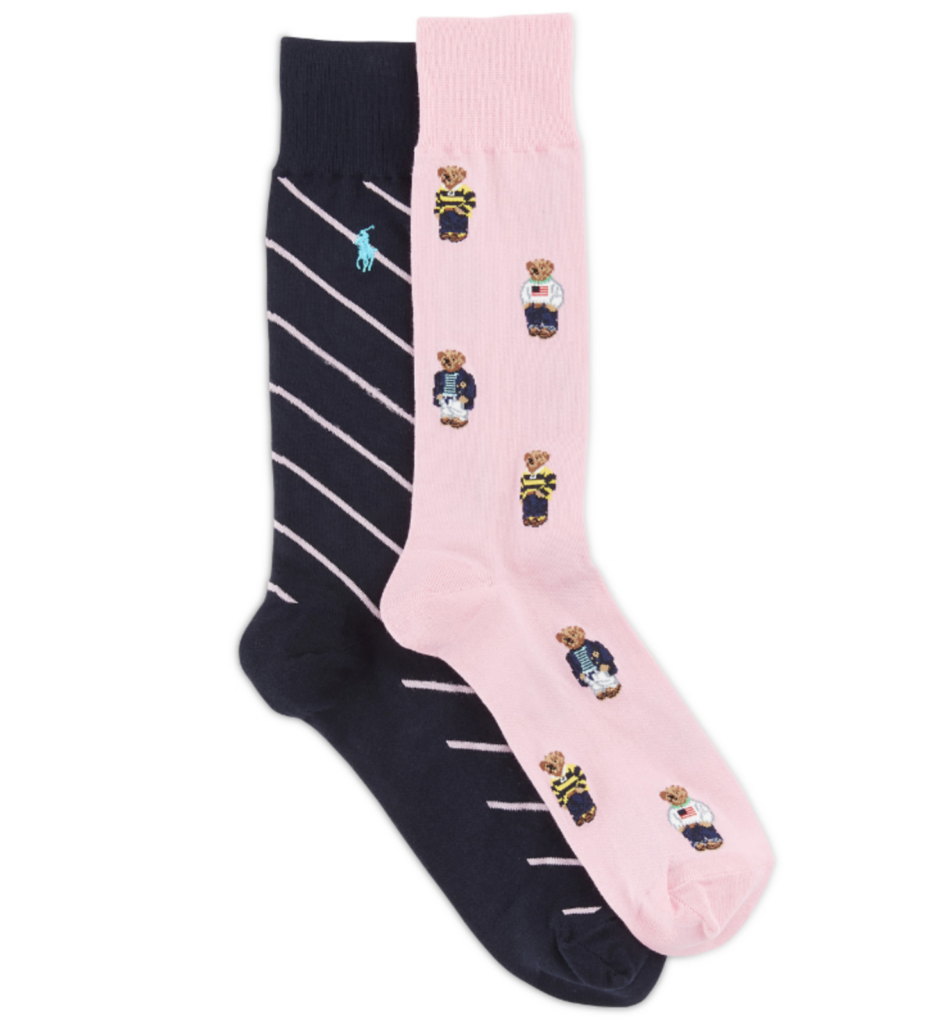 Want more plus size + content? Be sure to subscribe to The Huntswoman Newsletter.
[FTC Notice: This post contains affiliate links, meaning I earn a small commission if you purchase a product through my link. Affiliates help me write more great content, and I only endorse products I truly love.]