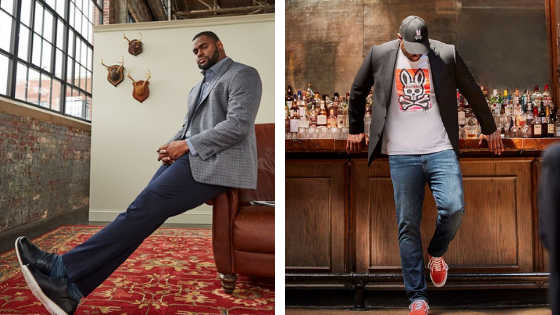 Hey there! This post contains affiliate links.  Using my links means I earn a commission, which helps me create more rad content.  More on affiliates here.
If you've landed on this blog post, chances are you're a big and tall guy looking fo business casual outfit ideas. You're looking to level up your wardrobe, but you're not totally sure where to start!
I got you!
Below, I've shared 7 business casual outfit ideas for husky guys, helping you build out a stylish wardrobe! Finding clothes and high quality wardrobe pieces as a plus size guy can be hard, and I hope this blog post helps!
[Note: This blog post was originally published on June 28, 2020. It was last updated on April 4, 2022. Items may be out of stock!]
Big & Tall Business Casual Outfit Ideas
In my guide below, I've included info on sizing, availability and other helpful info from my experience as someone who often shops for a big and tall guy.
Please note that availability varies, so don't be afraid to click around the website if your size is sold out in a particular piece!
Ok, first up – let's talk about one of the classic big and tall business casual outfits – featuring a sportcoat!
When building a wardrobe, you want to pick versatile pieces. The light gray sports jacket is a great pick, as you can dress it up with a collared shirt or down with a black v-neck. A high quality sportcoat is one of my top recommended wardrobe investment pieces, and people often wear a sportcoat for years!
Check out this light gray sports coat from DXL!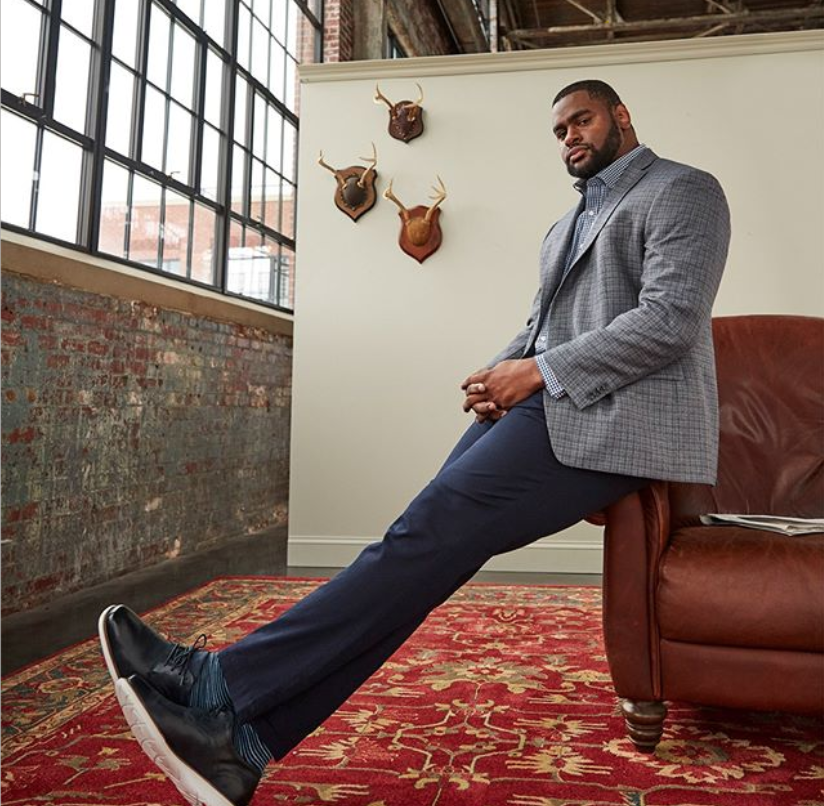 Next up, we have another wardrobe classic for plus size men – the cable knit sweater and button down shirt!
This is a classic outfit, with straight leg dark jeans, a navy cable knit sweater and plaid button down shirt. This is a great outfit for both spring and fall, when the weather is changing and you need layers!
Check out this sweater from DXL here!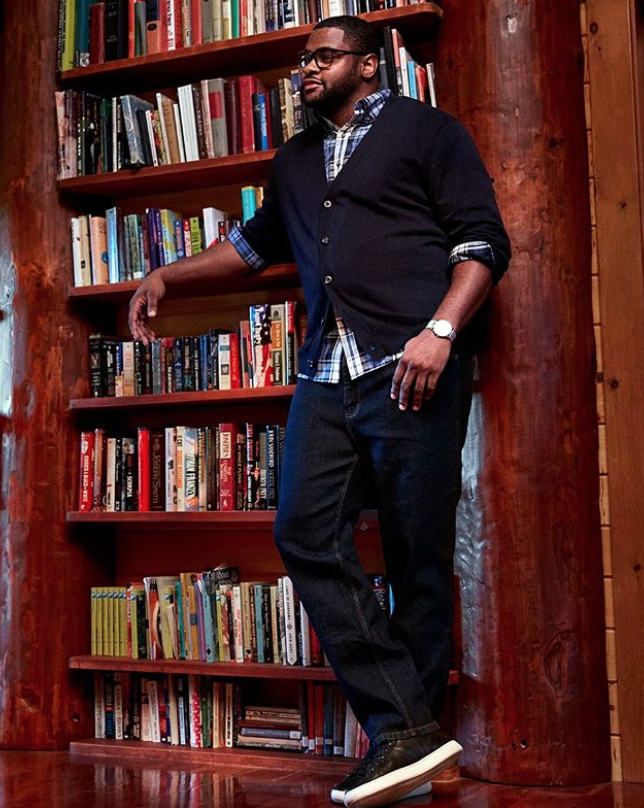 Next up, let's talk about a great big and tall outfit if you want to look more put together – but you don't want to look too stuffy! If you work in a creative industry, you may get some chuckles if you show up in a button down shirt – but you still want to look put together.
This big and tall outfit is composed of a graphic tee and baseball hat, paired with a sportcoat. This outfit is the perfect mix of professionalism and still being cool.
Hot Tip: I would make sure to pair your dark sports coat with jeans that fit really well for a polished look. I also love how this model is styled with some rad Vans shoes. Converse chucks or other street fashion shoes woul also work!
Shop husky graphic tees here.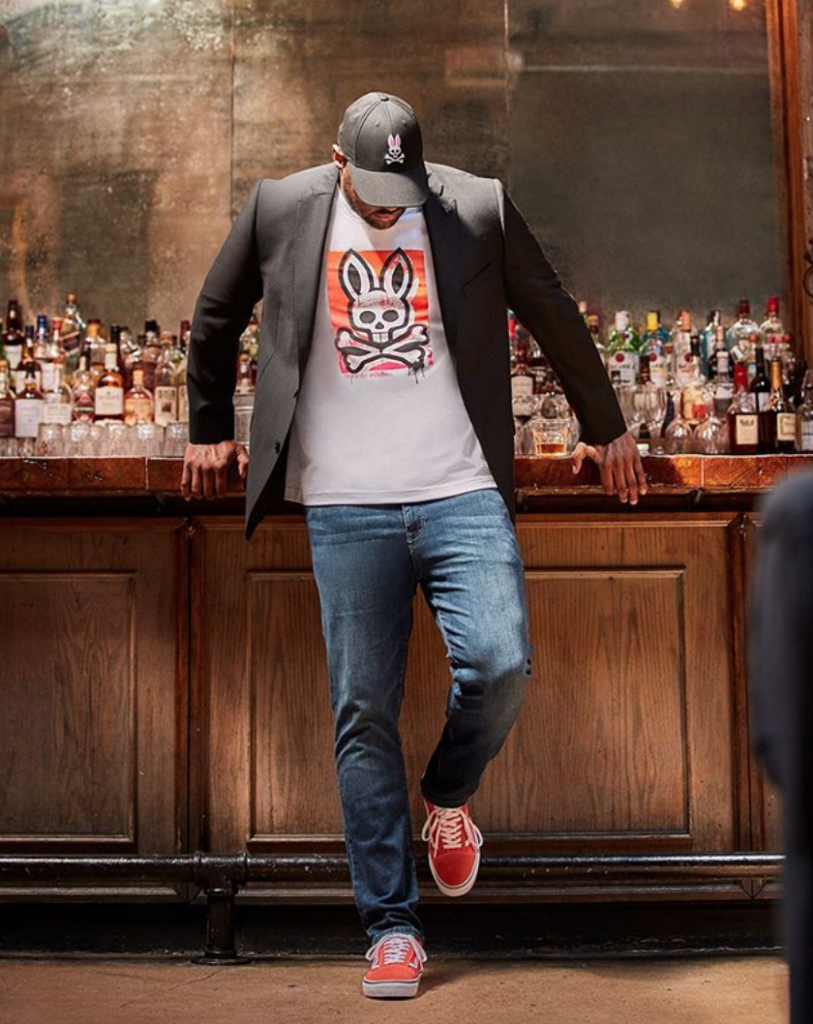 Husky Outfit Idea #4: Small Pattern Polo Shirt
Want to be comfy AND look stylish? Well then, my friend – I highly recommend you look into getting a big and tall men's polo shirt with stretch in the fabric. On a men's retailer website, you can look at the product details section and analyze what is listed for the fabric. It may take some Googling, but I look for fabric blended with different types – there's often more stretch in blended, or "tech fabrics", then there are in clothing that is 100% cotton.
Mix it up with patterns! Solid color polo shirts can be a little too "golf course," so not all husky men are into them. Instead, consider snagging a few polo shirts with smaller patterns (like this one from DXL) into your wardrobe mix. I would pair a patterned plus size polo shirt with chinos or fitting khakis.
These are great shirts to travel with, as they're resistant to wrinkles.
Shop big and tall men's outfits here!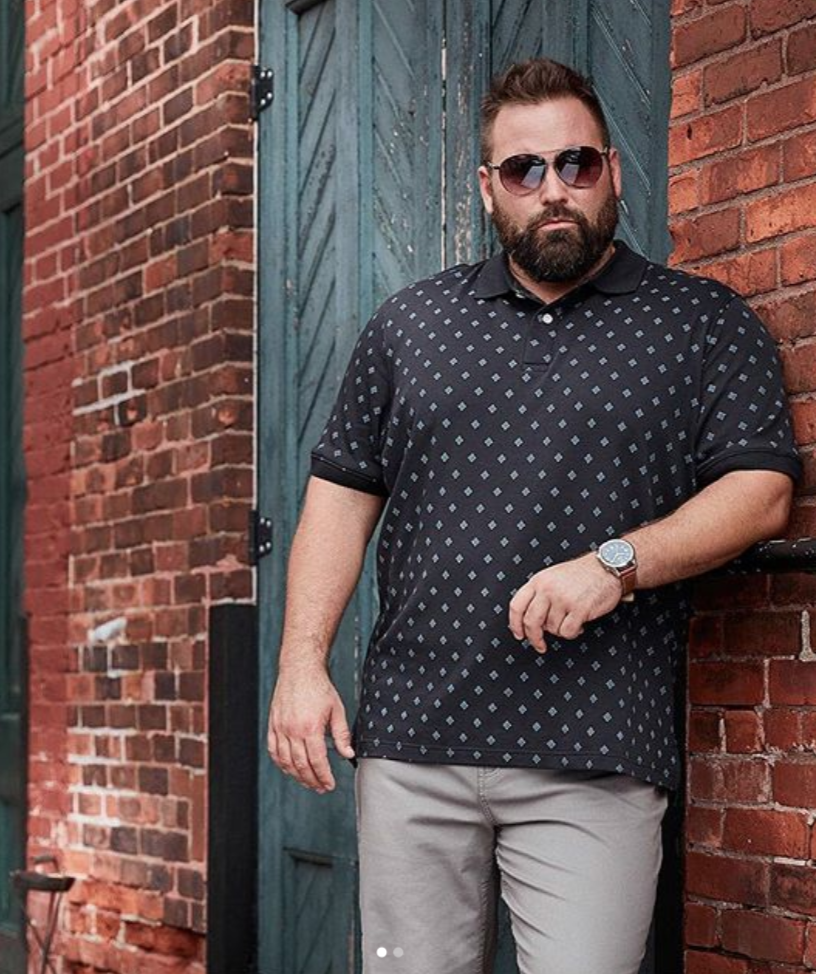 Something that every gentleman needs in his wardrobe is the PEACOAT. A peacoat is an easy way to add in style for your daily work uniform.
For extra style, I recommend going for a peacoat in maroon and pair with a scarf for the cold months, and stay stylish in the cold.
Shop DXL for husky overcoats HERE.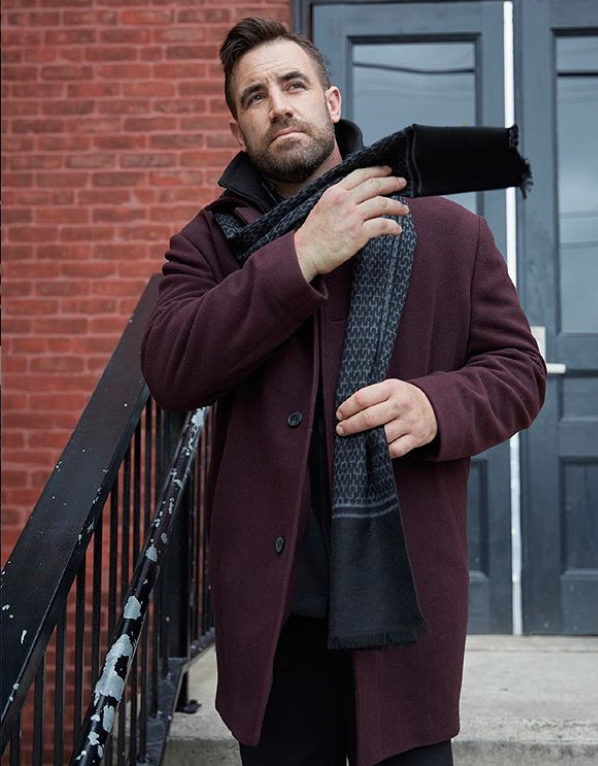 Hoodies can be a little too casual for some offices, so the quarter-zip pullover is your new go-to jacket. Pair with a variety of pants, and dress up or down depending on what you put under it. For example, adding a collared dress shirt to be more uptown, or a crewneck for a more relaxed outfit.
Shop this navy quarter-pull sweater here.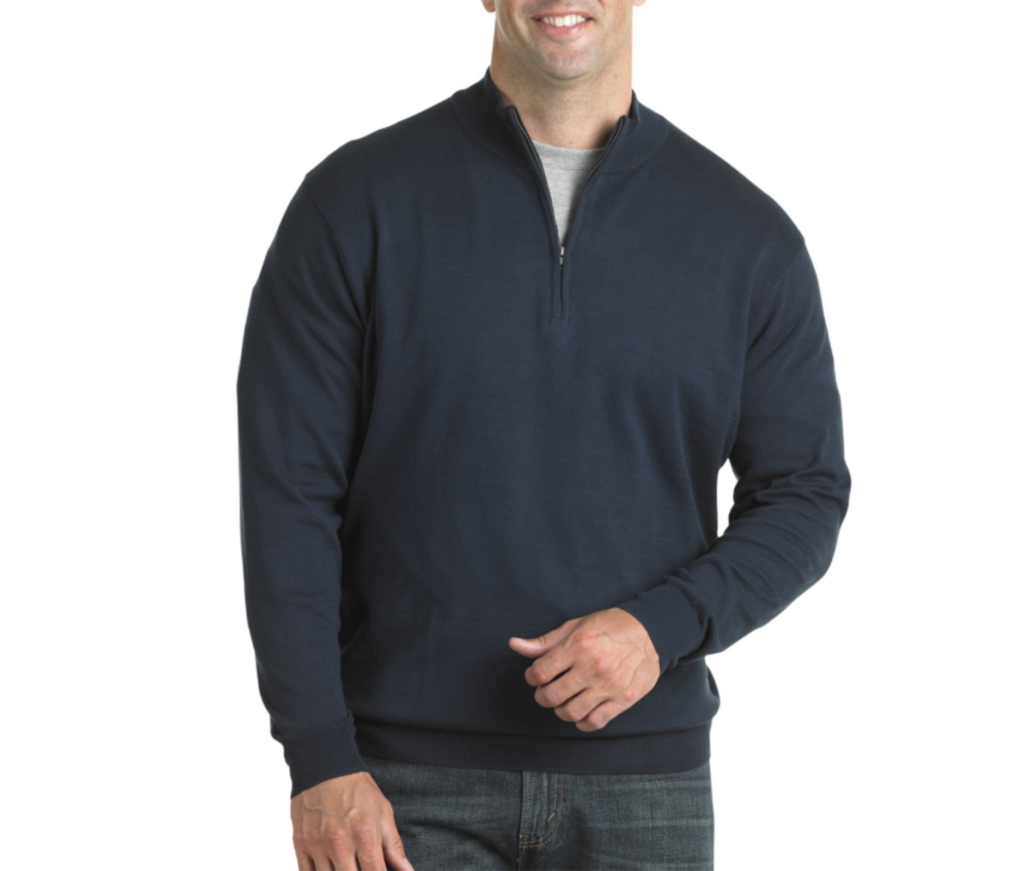 I am such a fan of this big and tall outfit from DXL, as it mixes different textures. The stylist styled the plus size gray dress slacks with a dark denim jean jacket, graphic tee and white sneakers.
This is a great outfit for a guy who wants to be a bit more bold in his fashion choices, as well as get more wear out of a 3 piece suit!
I'm not sure exactly what's pictured in this image, so here's my best guess:
Shop this look here!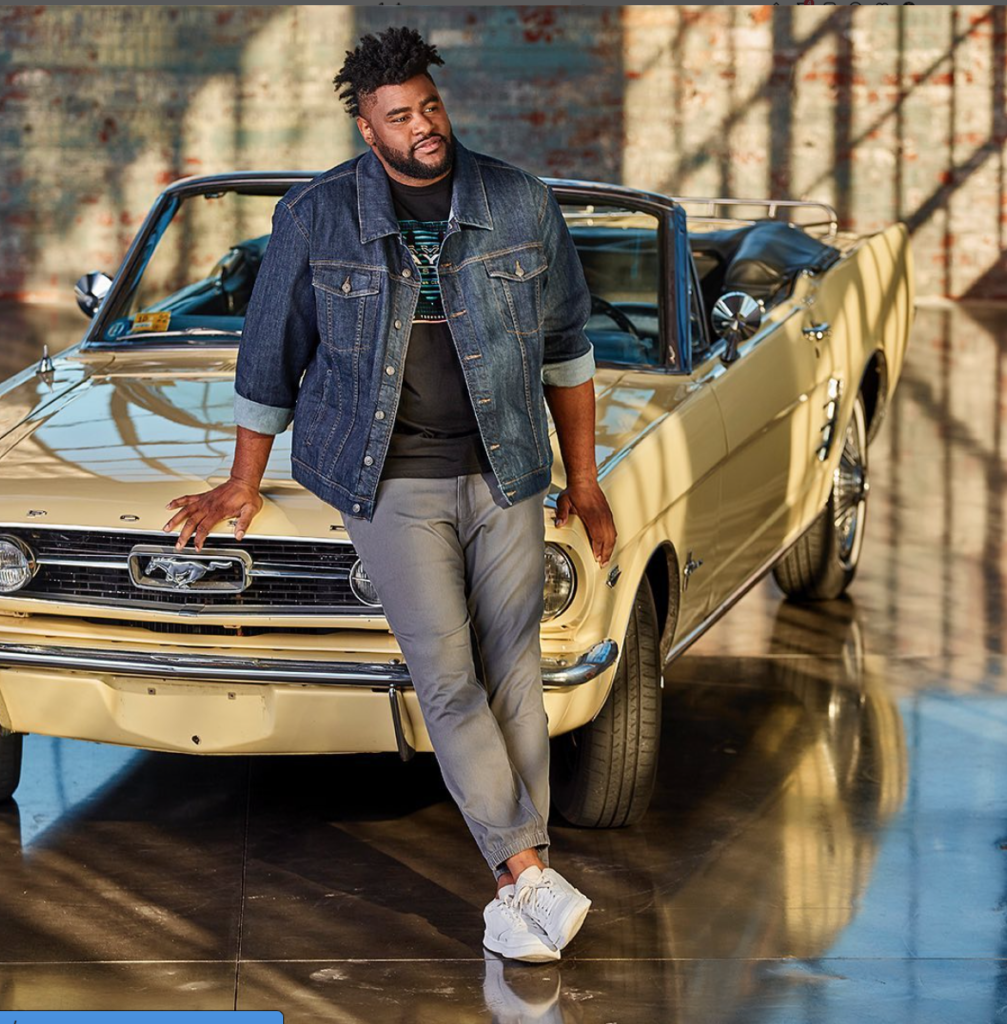 A shawl collar makes me think of a lead character in a Hallmark movie, and this is a great GQ look for a husky guy!
Be sure that the sweater fits well (no pulling or wonky gaping). Pair it with dark denim, khakis, chinos, etc!
Shop this plus size men's wardrobe staple here!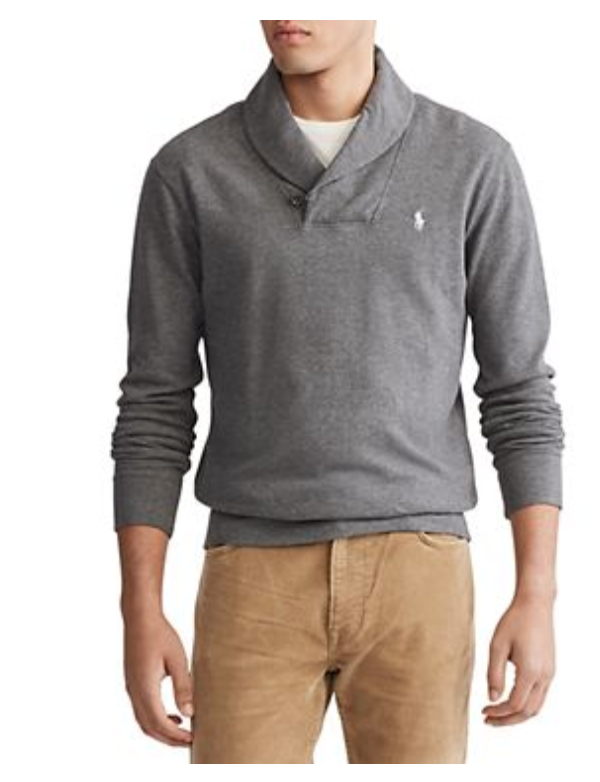 Bonus: Statement Socks
If you want to show your individuality at work, statement socks with fun patterns can be a great way to do so! These can peek out under suiting or dark jeans, and they're also a great conversation starter.
Shop here.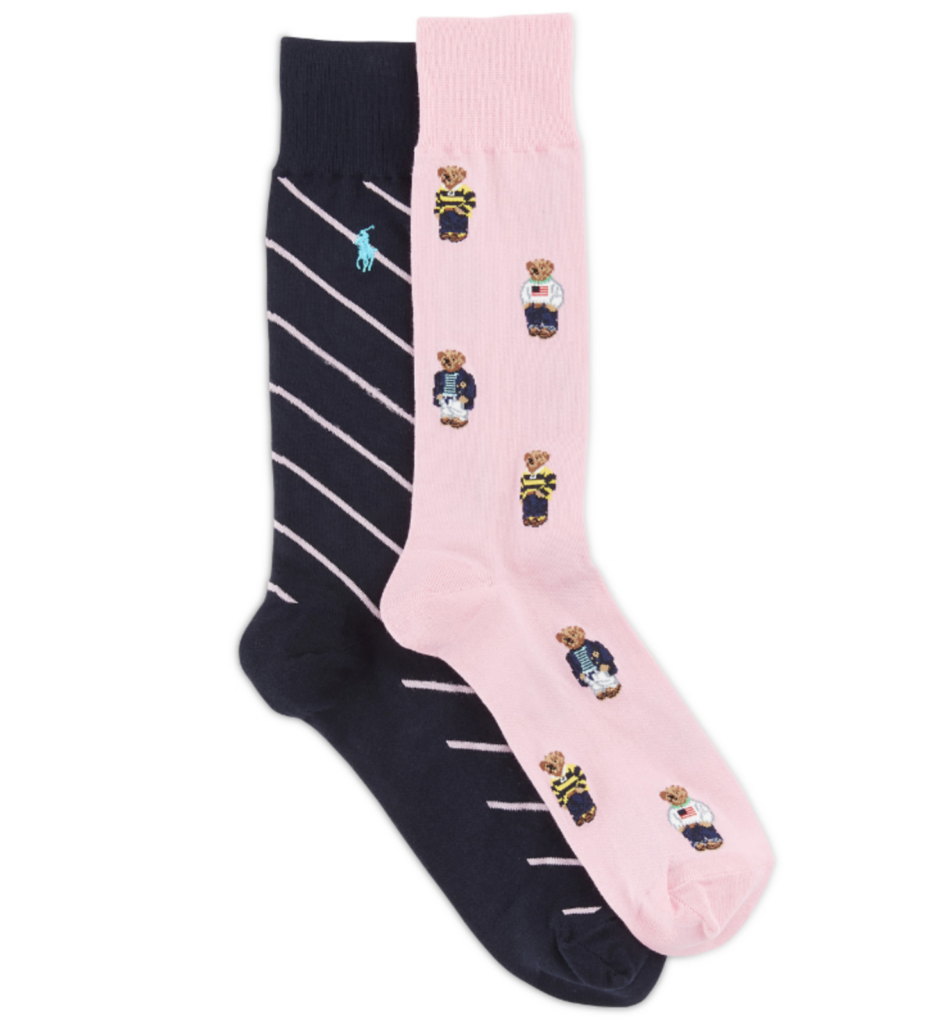 What Big & Tall Post to Read Next –>
Want more big and tall men's fashion tips? Here's what to read next:
Want more plus size + content? Be sure to subscribe to The Huntswoman Newsletter.