Hey there! This post contains affiliate links.  Using my links means I earn a commission, which helps me create more rad content.  More on affiliates here.
The holidays are right around the corner, which means it's time to start planning gifts! "I should write a plus size gift guide," I said to myself. So I am.
Why a "plus size gift guide"? During the end of the year, I often get questions from readers, who are trying to find gifts for their bestie, girlfriend or loved one – who is plus size. Usually, the folks asking me are asking because the personal they love is a plus size fashionista, and/or they're diving into body positivity.
I've held off on writing a plus size gift guide (and body positive gift guide), until now!
Note: This blog post was originally published on October 5, 2021. It was last updated July 26, 2023.
This blog post is all about plus size gift ideas.
The struggle in writing a plus size gift guide is this: I have a lot of plus size clothing items that I know would make good gifts – but only if the clothing fits.
I know how important it is to give gifts that fit the body of the person who is receiving the gift. It is critical to not just know a plus size person's sizes – but to know what brands they wear that size in. It feels AWFUL to get a gift that doesn't fit. It is embarrassing. It brings up a whole bunch of body stuff.
It feels AWFUL to get clothing as a gift – and it doesn't fit.
So, knowing this, I've made a section for plus size gifts that are clothing related – and a section with body positive gifts. That's TWO gift guides. (I know, I know. Two gift guides in one?! I'm so generous. ;))
Let's get started!
** List 1: Plus Size Gift Ideas – Plus Size Clothing **
Okay, let's get started with plus size gift ideas for clothing!
Folks, I first saw these plus size pajamas from my friend, Miranda!! She's a plus size blogger who writes about being a mom + living in the Southern US! I saw her in these jammies, and I instantly ordered a similar pair. The brand stopped making those, so I tracked down a super similar item! These plus size pajamas so classy and chic!
These are soft pajamas with stretch – and they look so chic! Most pajama sets that look like this have zero stretch, and are super uncomfortable!
The pajama set goes up to a size 38-40! I usually wear a 3X in Torrid, and I snagged the size L – these run a little big.
Shop this plus size gift here.
Next up on our guide with plus size gift ideas are WIDE CALF BOOTS!
These are a staple in a plus size winter wardrobe, and they make a stellar gift. (Plus, finding out someone's shoe size is a little bit easier than finding out their clothing size, lol.)
I wrote a whole guide on plus size boots here, and I've shared a few of my fave styles below!
The first set in green ($169.95) is for the plus size fashionista who loves to stand outt, and the second set in black are for plus size babes who need a solid pair of black plus size fashion boots ($79.50)!
Ok, so this gift idea is for plus size babes who LOVE SELKIE. If you've never heard your person GUSH over Selkie dresses, then don't get this gift lol.
A good litmus test is to ask, "Hey, have you heard of Selkie?" And then see what happens, lol.
If she's a fan, she'll probably pull out her phone and show you her favorites. 😉
Sizing
Selkie makes dresses in up to a 6X!
Check out this plus size gift idea HERE.
I am OBSESSED with this top. Seriously, I think it ends up on all of my plus size fashion shopping guides.
I have it in multiple colors, and I wear a 1XL with a 54″ bust! I seriously bought like 10 of these, as a sort of work uniform! I love them!!!
Shop this plus size gift here.
#5: Plus Size Gift Idea: Motorcycle Jacket from Eloquii ($149.95 ++)
This plus size motorcycle jacket is a staple in the plus size fashion space. It comes in 6+ colors (at time of publishing).
Not sure what color to get? If the recipient doesn't have a moto jacket, I'd go with black or brown. If she does have faux leather jackets, I would look at what colors for tops + jackets she wears the most!
Shop this plus size gift here!
I have been meaning to get a camel color coat for years! This is such a chic fashion buy, and every plus size fashionista needs one!
This camel color coat from Jessica London is gorgeous, and is available in up to a size US 32. This is a great staple wardrobe piece for any chic plus size fashionista!
Shop this plus size gift here!
#7: Body Positive Gift Idea: Body Positive Sweatshirt from Rascal Honey
Sarah of Rascal Honey is one of my favorite beauty and plus size fashion bloggers. She recently released a line of merch (t-shirts and sweatshirts!), that I love.
I'm modeling this sweatshirt below!
Shop these body positive gifts here.
#8: Plus Size Gift Idea: Luxury Piece from 11 Honore ($500 +)
The holidays are a great time to invest in investment pieces, and the premiere destination for luxury plus size fashion is 11 Honore.
11 Honore even has a styling service onhand, and you can consult with them to find the perfect gift! Heads up, many of the pieces they carry stop at a size 20, so if your babe is above a size 20 — I'd probably recommend shopping elsewhere!
Shop plus size gifts at 11 Honore here!
Another great option for a plus size babe is a lingerie set from Hey Mavens! Based in Nashville, Tennessee, this woman-owned small brand makes gorgeous and comfy (and sexy!) sets. I like their sets because they're very fun and cute, without being super "va va voom" — a great lingerie option for babes building up body confidence!
Shop plus size gifts here!
Next up, a cozy plus size gift idea – Peridot Robes! This plus-owned indie brand makes gorgeous and ethically made robes in up to a 7X! People rave about them online!
I haven't tried on quite yet, but I hope to soon! <3
Shop plus size gifts here!
If figuring out sizes has you anxious, then the next best thing is to get her a clothing rental service! I love Nuuly! (My full review HERE.) If you use my link in this post, you can get $10 – $20 off your first subscription, and I will as well. A Nuuly subscription is a GREAT gift for the fashionista who feels stuck in her style and wants to try new things. It can be a challenge to try new things — and Nuuly takes off a lot of the pressure of stuff not working! You get 6 items a month, and can try new brands in your own home!
Being plus size means spending a *LOT* of time at the post office. Because we can't shop in stores, we order things online.
And then return them.
Because of this, I think a Nuuly subscription can be a fabulous plus size gift. The recipient can try out new styles – and brands! – and be a bit more bold in her selection, without worrying about the return window!
I recommend snagging a 3 month membership, so the recipient gets the most out of it!
Get this plus size gift here!
** List 2: Plus Size Gift Ideas for Body Positive Babes**
Our second gift guide contains gifts for a plus size person, if you don't feel confident in finding the right size, then these gifts are excellent!
#12: Body Positive Gift Idea: Every Body Yoga: Let Go of Fear, Get On the Mat, Love Your Body
About this book: "From the unforgettable teacher Jessamyn Stanley comes Every Body Yoga, a book that breaks all the stereotypes.
It's a book of inspiration for beginners of all shapes and sizes: If Jessamyn could transcend these emotional and physical barriers, so can we.
It's a book for readers already doing yoga, looking to refresh their practice or find new ways to stay motivated."
This book is a great gift for someone who regularly talks about body positive and shares affirmations. If you haven't seen your person do this, then do not snag this book for them! It will come across as you being judgemental!
Get this body positive gift here!
Chouette Designs is an LGBTQ+ owned demi-fine jewelry brand, and I am in LOVE with their pieces. In addition to their RTW line, they also offer customization — as well as completely custom jewelry! This is a body positive gift because the brand goes up to a size 15 in rings — making this one of the most inclusive jewelry brands out there! <3
Chouette Designs also makes bracelets and anklets that
Note: I would NOT get someone a ring if you're dating. That could get a little messy. I'd go with a necklace or other piece! 😉
Check out their body positive gifts here!
Automic Gold is ALSO an LGBTQ+ owned brand that makes gold jewelry pieces. I love how they celebrate diverse bodies and gender presentations in their maketing!
Shop body positive gifts here!
(Love this idea, but Automic Gold isn't an aesthetic fit? Check out other plus size jewelry brands here!)
Next up on our guide with body positive gift ideas are art prints from etsy!
There are many artists who have listed body positive prints on the platform, and it's really lovely to scroll through them.
Some prints can even come framed, which I love!
Shop body positive gifts here!
Sometimes you don't need more sayings or "go get 'em!" vibes, you just need some time to be IN your body, ya know?
I love spa ritual gift sets for that reason, as they can help facilitate being more intune and present in your body!
Snag this gorgeous body positive gift here!
I first found these kind of bracelet about 5 or so years ago, and I've given them as gifts — my besties have LOVED them. What's important when giving this kind of gift, I think, is to make sure that you give a bracelet that has a message your RECIPIENT will love — not necessarily one YOU like or want them to hear/read.
It should be focused on what they love!
Snag this body positive gift here!
Are you looking for a body positive gift idea that's a bit more chill? I love the body diversity on this mug from RunRiotDezign on Etsy!
Snag this body positive gift here!
Suma Jane Dark is a body positive photographer, located in Portland, Oregon. Suma is renowned for the beautiful imagery they create of plus size babes! (They also travel regularly, so no worries if you're not in Oregon.)
Suma is a plus size and fat positive photographer, and I love working with them.
Learn more about working with Suma here!
What to read next – plus size gift ideas —>
Below, I've shared some blog posts that you might find helpful!
This blog post was all about plus size gift ideas.
Stay in Touch for More Fashion Reviews!
I send the *very best* plus size fashion tips + guides via email, every week! (Sometimes I throw in info on negotiating a salary, travel – and other rad tips to live a fun life!)
Subscribe to my email list HERE for these rad resources!
Love social media? If you want to hang out on "The Gram", then you can join me on your fave social media platform! Here are links to my Facebook, Instagram and Twitter!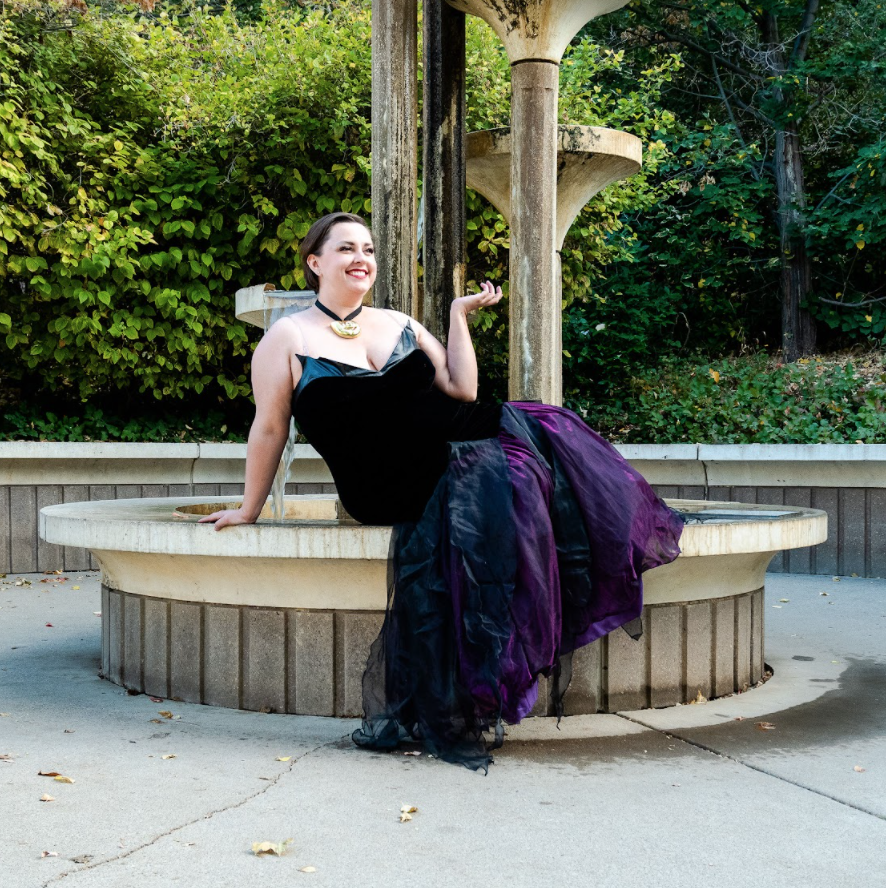 [FTC Notice: This post contains affiliate links, meaning I earn a small commission if you purchase a product through my link. Affiliates help me write more great content, and I only endorse products I truly love.]