Hey there! This post contains affiliate links.  Using my links means I earn a commission, which helps me create more rad content.  More on affiliates here.
Hello hello! Are you typing things like "Where to buy plus size rings for chubby fingers" into Google? If so, then this post on where to shop for plus size rings is for you!!
Today, I'm sharing a roundup of 11+ jewelry brands that have included plus size babes in their brands! I'm not talking rings that use stretchy strings for your cute plus size fingers, I'm talking full on plus size rings for fat fingers, lol.
This post is all about plus size rings.
[This blog post was first written on July 18, 2020. It was updated August 28, 2023!]
When it comes to ordering rings online for short fat fingers, it is helpful to have a ring sizer on hand!
This ring sizer is $3.99, and it makes online ring shopping much easier! Snag this ring sizer HERE!
I am so impressed with the collection of plus size rings from Speerit Creations (shown on plus size hands!!), that I've made them #1 on my round up of plus size rings for fat fingers!
Sizing: Up to a ring size 15
Shop their full plus size ring collection HERE!
I've also shared a few of my favorite plus size rings below:
Plus Size Rings Brand #2: Inspired By You | Size 12 Rings
Do you love sparkly gems?! SAME! Inspired by You is a plus size ring brand known for its use of colorful stones in their pieces.
Shop plus size rings here.
Another plus-owned brand is Chouette Designs!
From the founder: "Chouette Designs is size inclusive, demi-fine jewelry and adornment for everyone. Founded by Ashley Catharine after years of working in the jewelry industry, Chouette Designs is a testament to the inclusion she has always been a champion of. Chouette Designs is a women and LGBT owned brand based in San Diego, CA."
Sizing: Up to a ring size 15
Shop plus size rings from Chouette Designs here!
Torrid has been my go-to for plus size rings for YEARS! I so appreciate their range of style and options, great for a variety of aesthetics and preferences. I'm wearing Torrid plus size rings as I write this blog post!
Torrid has a good amount of fashion plus size rings, as well as stackable rings.
Sizing: Up to a ring size 12
Shop plus size rings here.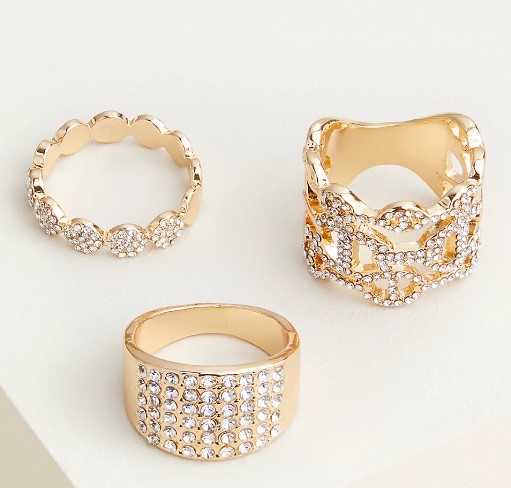 One of my favorite plus size jewelry brands (and plus owned!) is Nature's Twist, an indie jewelry brand based in the Seattle, Washington, area. In addition to having a storefront at Pike's Place Market in Seattle, they also sell online, via their Instagram Live Sales! The brand uses electroplating to make their jewelry, combining metals with natural stones like amethyst.
The plus-owned brand also has info on how they ethically source materials for their work.
Shop plus size rings here!
I was so excited when I found this Canadian size inclusive jewelry brand! I think I originally got served an IG ad for them!
From the maker: "Each Zaleska piece is created entirely by hand using centuries-old practices. Our production runs are small, limited and conscious of environmental footprint. Comfort and wearability are at the forefront of our design process, and we take pride in the quality of our materials, gemstones, and details."
Sizing: Up to a ring size 15
Shop plus size rings here!
I love personalized gifts and jewelry, so I was excited to discover Dainty Personalized Co! The brand makes dainty jewelry, including jewelry that is more personal!
Sizing: Up to a ring size 13
Shop plus size rings here!
ASOS has a variety of plus size rings, from minimalist rings to statement pieces! At time of writing, ASOS has by *far* the biggest collection of plus size rings, with over 100 plus size listed on their website.
Plain sterling bands
Snake and witchy plus size rings
Plus size signet rings
Fun acrylic rings in pastel
Shop plus size rings at ASOS here.
Looking more for costume jewelry? Lane Bryant has a range of sparkly rings, great for dressing up for an evening out on the town!
Shop plus size rings here.
This brand is new to me, and I'm glad I found them! Poirier isn't limited to plus size rings, and they have a variety of stacker and bands for plus size babes!
Sizing: Up to a ring size 13
From the brand: "Enhance your hands with lovely plus size rings, crafted to look beautiful on larger fingers. Not only are our rings sized larger for comfort, they're also designed in proportion to bigger hands to let you express yourself stylishly—and comfortably in gold and silver. Extended sizes set you free to wear rings alone or create a unique stack with several pieces on one finger. Poirier jewelry coordinates across the line, making layering simple—and fun."
Shop plus size rings here.
Based in Valencia, Spain, I am loving their plus size rings! This signet ring is perfect for plus size witches will love this signet ring from Folk Tales Market!
Shop this plus size ring here.
I found this jewelry brand on etsy! Iasthai Original is based out of the United Kingdom.
From the brand: "One of a kind sterling silver jewellery handmade from start to finish in the UK. All stones are completely natural and ethically sourced."
This plus size turquoise ring below is STUNNING!
Sizing: Specific to each piece [see brand for details]
Shop all Iasthai Original pieces HERE!
Automic Gold is a NYC-based brand, owned by members of the LGBT community. They use recycled materials (woo sustainability) to make their minimalist jeweler.
Sizing: Up to a ring size 16
Shop their plus size rings here!
This post was all about plus size rings.
Additional Brands to Consider:
What to read next…
If you love plus size fashion, here are the posts you should check out next:
Let's Hang Out Online!
Be sure to SHARE this post! Clicks to a piece of content lets me know if I should make more like it! More shares & clicks means more FREE info for you!
Want more plus size business + money content? Be sure to subscribe to The Huntswoman Newsletter.
[FTC Notice: This post contains affiliate links, meaning I earn a small commission if you purchase a product through my link. Affiliates help me write more great content, and I only endorse products I truly love.]