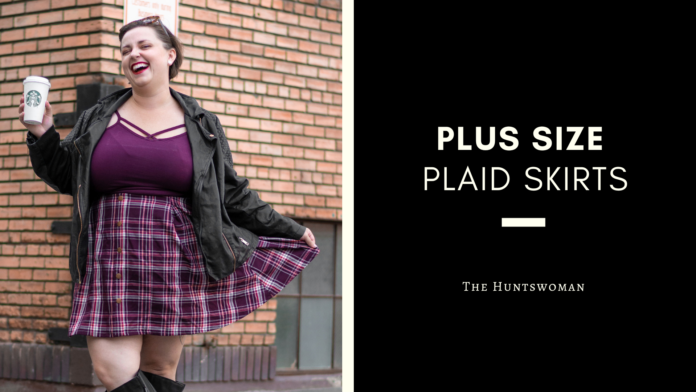 Hey there! This post contains affiliate links.  Using my links means I earn a commission, which helps me create more rad content.  More on affiliates here.
Hi bestie! Today on my blog, I'm sharing 11 different plus size skirts to shop for fall 2022! Recently seeing the plus size plaid skirt on the Eloquii website (for Pre-Fall 2022), made me go, "Wait, am I into this? I think I'm into this!" I have been eyeballing plus size plaid skirts for a while, but I'd only really ever jumped in once before (photo of me below in a plus size plaid skirt)!!
For a while I was worried about wearing a plus size plaid skirt bc MEN TM, but then I was like, "eff it! They don't get to have this!
This post is all about plus size plaid skirts.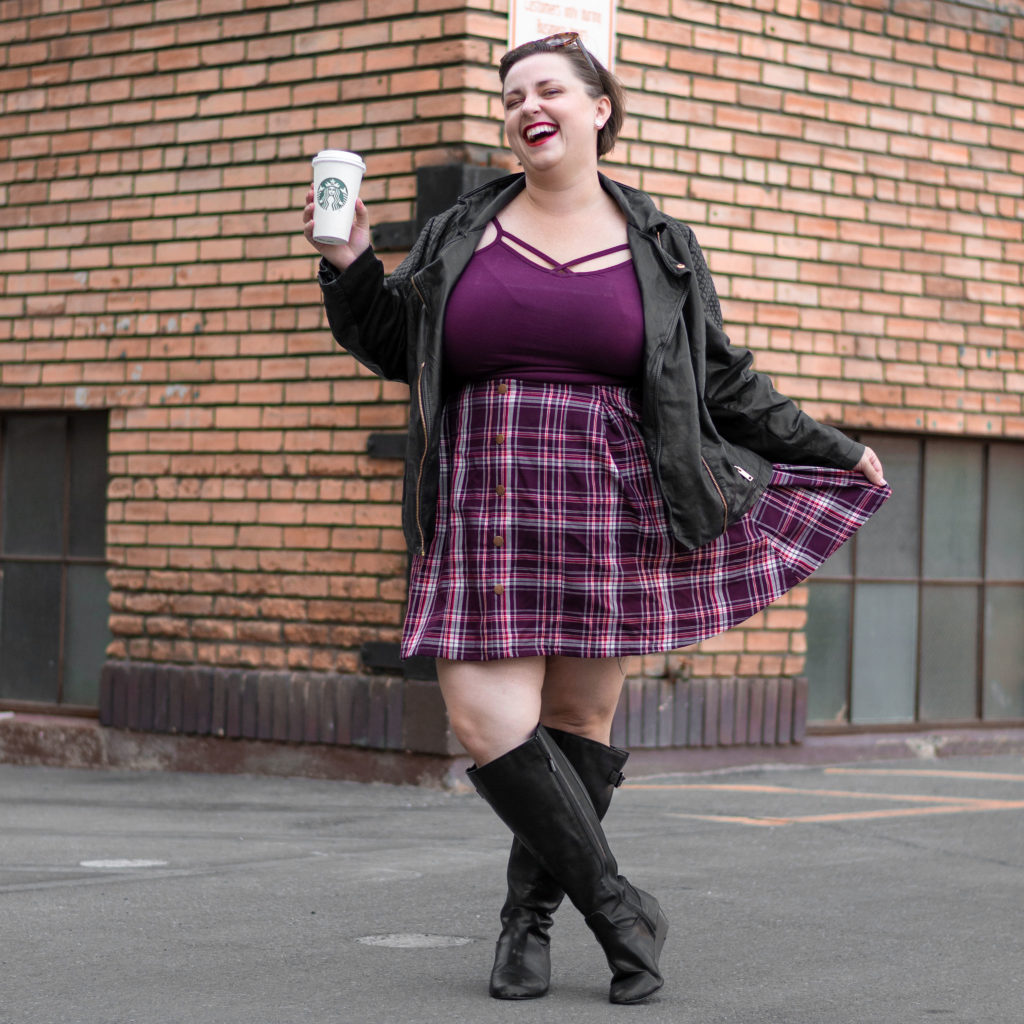 This trend is a bit more new to ME (I know this trend has been around forEVER), so I don't have a lot of photos of myself in a plaid skirt. Just the cute one above, from Torrid!
So I'm sharing my fashion research-in-progress in this post, showing you CURRENT research I've been doing on what brands in 2022 have plus size plaid skirts, as well as hoping to get some outfit styling ideas.
I hope to share more updates here, as well as on my Insta and TikTok!
I've also included information on sizes available! Remember to check the size chart and take YOUR measurements, as a size in one brand is not the same measurements as another! Always be sure to measure yourself and check the size chart before purchasing!
Okay, so first up on this roundup of plus size plaid skirt outfit ideas, we have THIS plus size plaid skirt from Eloquii, the one that inspired this whole blog post! I love how this outfit is fun and youthful, but still very much for an ADULT with the sleek and chic sweater. I love that this sweater has VISUAL interest, and I think you could find a similar sweater out there when this one (surely) sells out!
The Eloquii stylist team styled this plus size plaid skirt outfit with white pointed toe booties, which are so fun! At the risk of going Americana, I would perhaps pair my red sock booties with this look!
Shop this plus size plaid skirt outfit here!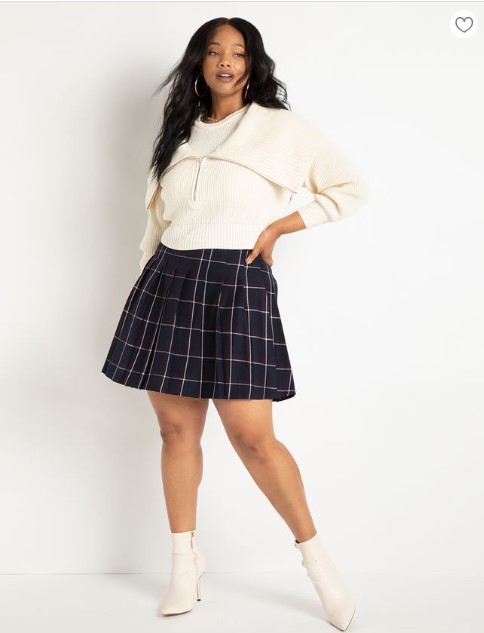 Okay, it's time for Amazon to enter the chat! I found a suprising nubmer of plus size plaid skirts (most up to only a 3X) on Amazon, so I was STOKED when I found this outfit photo from Romwe.
The stylists at Romwe put this outfit together to be more street fashion, with iconic white combat boots, an off the shoulder top and bold jewelry. Add in a min-bag and slicked back hair, and this is feeling more Gen Z meets YTK fashion. Thank you for diversifying our outfit inspo options, Romwe team!
Shop this plus size fall fashion outfit here!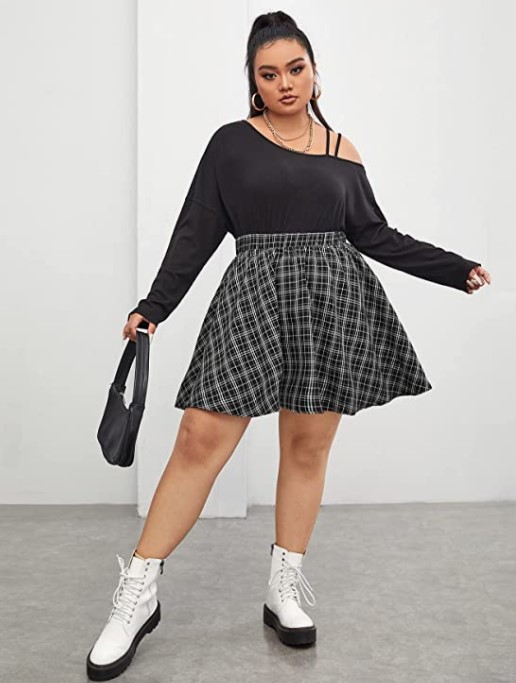 Next up we have this plus size plaid skirt outfit from Torrid! This feels a big more spring/summer, but the shoes do give it a plus size fall transition season feel. The Torrid team took this skirt (goes from a size 0 to 6X), and paired it with a simple white tee and jean jacket.
I'm a big fan of Torrid graphic tees, and I think a graphic tee (ina black, navy, or pink — pulling colors from the skirt) would also be fun!
Check out this plus size plaid skirt here!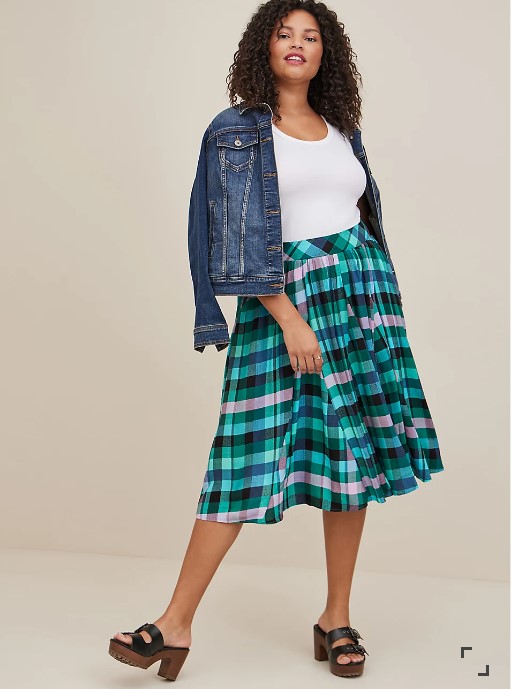 How cute is this brown plaid plus size skirt? This is such a chic plus size outfit, I love the brown plaid paired with the white sweater and white booties. Paired with a brown small purse?! So cute! Love the gold chain and gold jewelry.
Check out this plus size plaid skirt outfit here!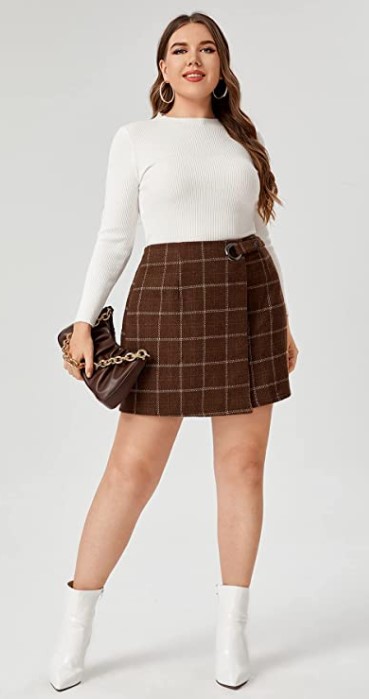 #5 Plus Size Plaid Skirt Outfit: Punk Neon Plaid SKirt with Combat Boots from Hot Topic
Ok besties, it's time to get a little punk! Every now and again, I like to get a little witchy with my everyday fall aestheitc. Hot topic has a number of plus size plaid skirts, all in line with this same vibe
This plus size plaid outfit has a long sleeve black tee (a black mesh tee would also be fun, if you're into being a bit more sultry), paired with combat boots. I'd add fishnets or black tights in the colder months!
See more plus size plaid skirts here!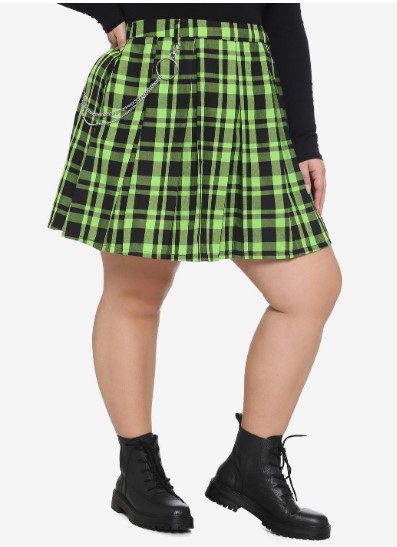 Ok, so this next plus size plaid skirt outfit shows how a plus size plaid skirt can be worn in spring or summer (sptrappy heels and a romantic white blouse), but then I think you could pair this with a black turtleneck or navy mock neck turtleneck and wear with black tights and booties for a fall look!
Sizing: 0 – 4X on Fashion to Figure
Check out this plus size plaid skirt here!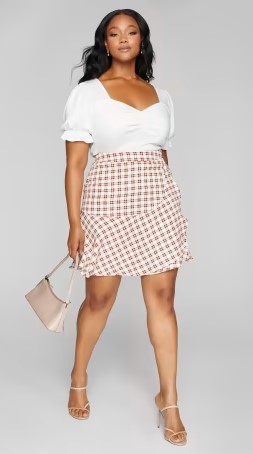 #7 Plus Size Plaid Skirt Outfit – Navy Blue and Brown Suspender Skirt from Unique Vintage
Ok, now let's talk about pinafores or "skirts with suspenders"! This fun vintage vibe is from Unique Vintage (a brand that takes vintage styles and adds more stretchy fabrics and other manufacturing to making pieces easier).
I love how the brand stylists created this plus size outfit, pairing the plaid skirt with a silky-esque button down blouse with fun detailing. When I was looking for photos for this roundup, most plus size plaid skirts are just shown with a t-shirt. Which is fun, but I love seeing brands do more! This outfit is paired with strappy vintage shoes (I'd wear booties or boots, because I live in Utah where it snows before Halloween), and I love the contrasting green purse!!
See more details of this plus size plaid skirt here!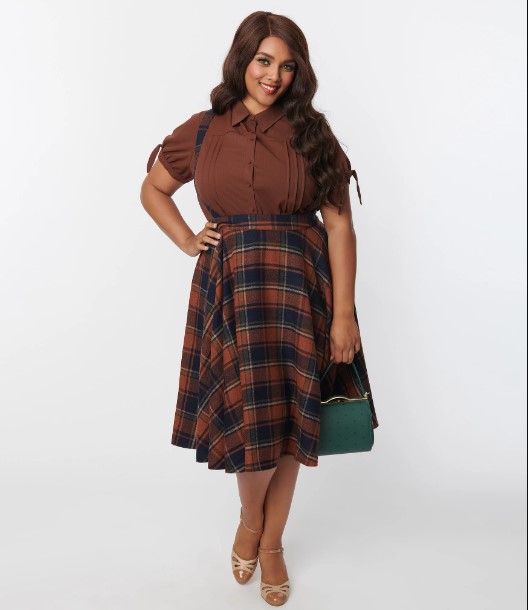 Ok, I wish that Boohoo USA showed their plus size clothing on plus size models (I volunteer!!!!), but all that said they do goup to a size 26!
This plus size plaid outfit is SO CHIC! This is a timeless look, and reminds me of Princess Diana. The turtleneck and simple skirt with gold hoops? Stunning! I'd add black tights as it gets more cold, with booties. This is truly such a classic plus size plaid outfit for fall!
Check out this plus size plaid skirt HERE!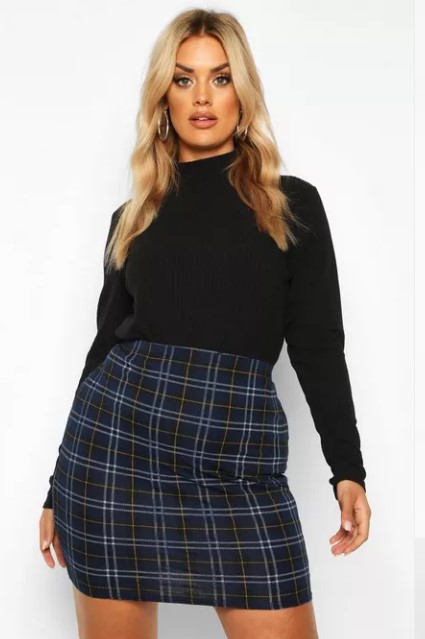 Ok, so if you love the plus size plaid skirt look, but you're not superrrr good at keeping your knees together when seated (I get that life, bestie!) then this longer plaid skirt from Unique Vintage is a good option.
I like that it's plaid, but from far away you can't tell! I think this adds visual interest. I love how the Unique Vintage styling team paired this orange skirt with a dark purple blouse with a fun collar (evoking a Peter Pan collar, imho!). Purple and orange is such a fun Halloween combo.
If I wanted to style this plus size plaid skirt into a fall friendly outfit for after October 31, I'd add a brown knit top or sweater. Brown with orange keeps the vintage vibes of the outfit while adding some warmth! I'd pair with brown boots or add white/cream books to really get that mod look!
Check out this plus size plaid skirt here.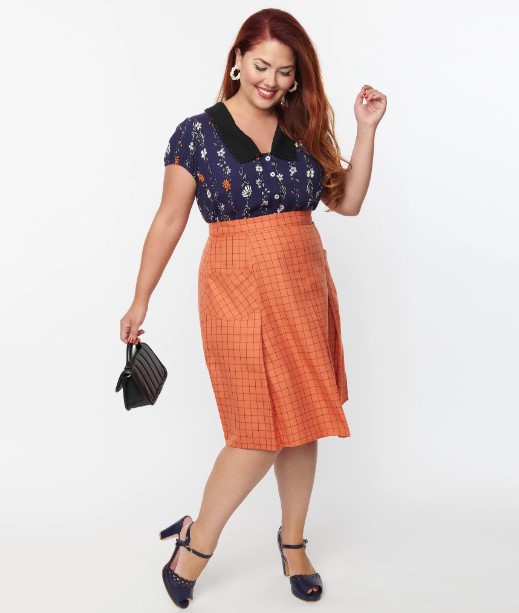 Ok, Boohoo USA! Let's bring some RED into the chat! Doing my research for this post, I kept trying to find red plus size plaid skirts (or colors not in a neutral) and it was tough!
Boohoo styled this plus size plaid pinafore skirt with sleek long sleeve tees and sleek ponytails. I would probably try out a pussy bow ty blouse, a sheer blouse or maybe even a chunky cardigan to play with textures!
Overall, love this styling and this is a super cute plus size fall outfit! These are avaiable in up to a size 24. This style is also available in Khaki Green!
More deets on this plus size plaid skirt here!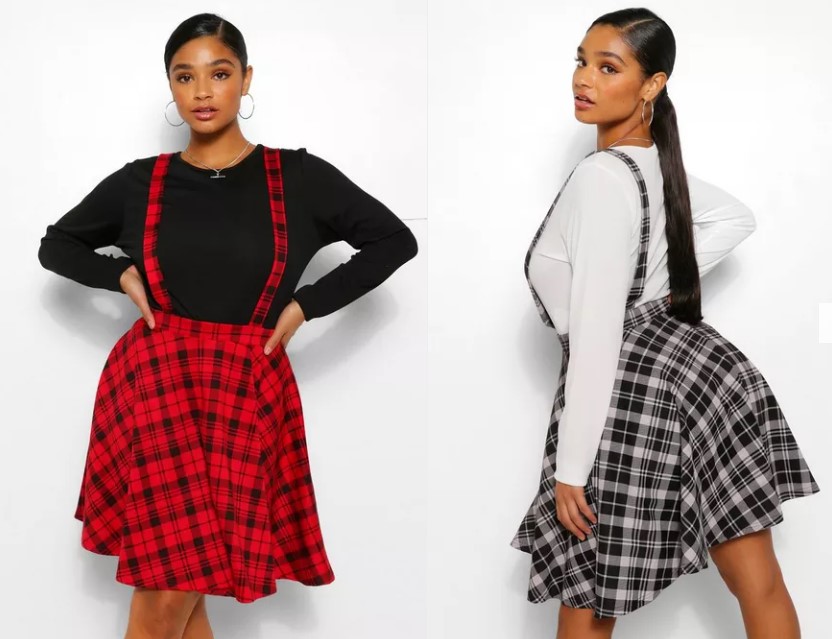 Ok, I almost didn't include this plus size plaid skirt outfit in my roundup, because this skirt is almost sold out! And in the plus size fashion world, it SUCKS to fall in love with something and realize it's gone. And, because there are so few brands that make plus size options, it's not very easy to just "go and find it somewhere else"!
So, now that you know that this skirt is going fast // probably sold out, let's talk about the STYLING.
This was the only plus size plaid outfit idea featuring an oversized sweater, with a front tuck. BRILLIANT! I love seeing the partial front tuck! Then styled with the chunky boots and socks?!!? And a chunky ring and statement earrings?! I am in lURVE!
I don't go for this oatmeal cream color (in the sweater), because I spill a PSL on myself like everyday unti lthe Christmas drinks come out (lol), BUT if you can keep yourself latte-stain free, this is a super cute plus size plaid outfit!
Shop this plus size plaid skirt here!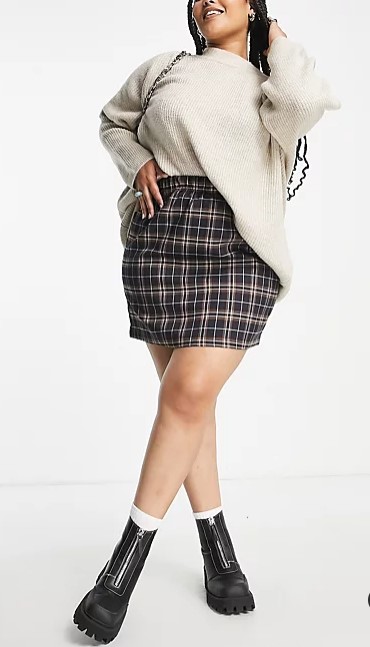 Ok, so I had such a hard time finding plus size plaid skirts, I wanted to share this one– even though it's not an OUTFIT!
This plus size plaid skirt from Amazon goes up to a size 4X, and it's available in a bunch of other plaid colors and solids as well! I'm probs gonna order it, just to give it a more thorough review!
Shop this plus size plaid skirt here!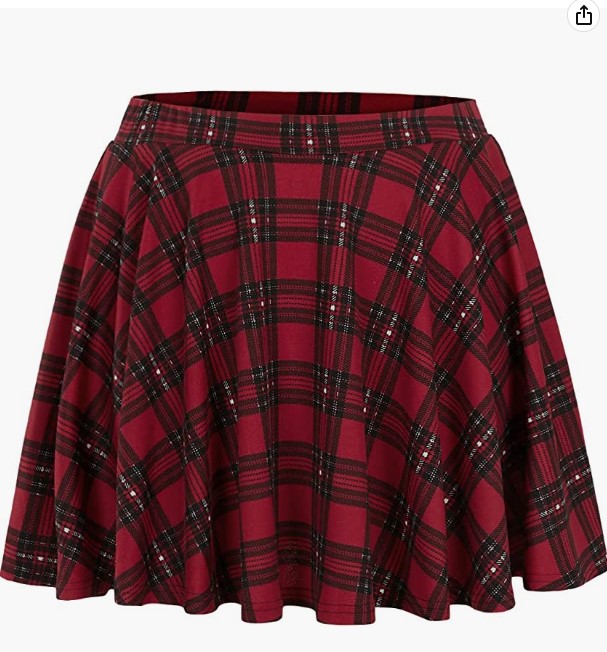 This post was all about plus size plaid skirts.
More Plus Size Fall Fashion
I hope you found this roundup helpful! i'm excited to try this classic fall trend myself! If you're looking for more plus size fall inspiration, be sure to check out my posts below!
Want More Plus Size Fashion Tips?
I love finding the best fashion and lifestyle products, and delivering the best tips to my readers! If you want to stay in-the-know, be sure to subscribe to The Huntswoman email list! No spam, pinky promise!
More into social media? Join me on TikTok HERE and Instagram HERE! (If you're into Twitter, I'm here!)