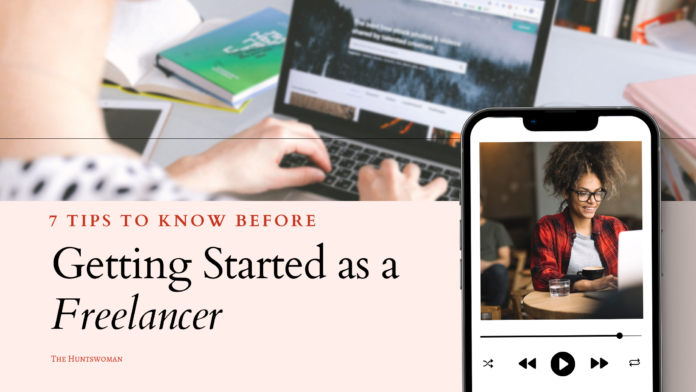 Hey there! This post contains affiliate links.  Using my links means I earn a commission, which helps me create more rad content.  More on affiliates here.
Hey there! Today on my blog, I'm going to share my 7 BEST tips to know before you start freelancing as a side hustle. This post is meant for folks who have been interested in freelancing for a while — could be weeks, months, or heck, even YEARS — but haven't really dived in. Or folks who have just gotten started freelancing, but they (you!) know that it's time to do some research.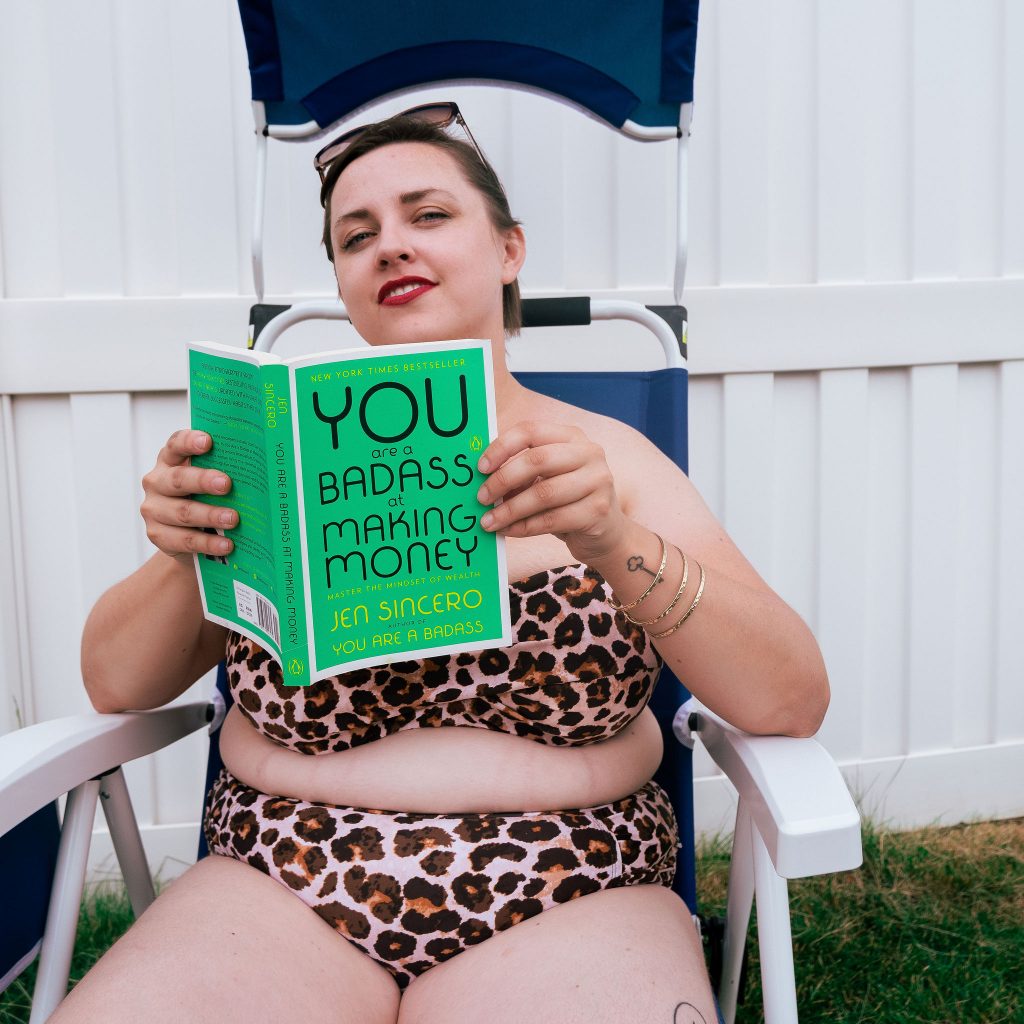 Tips for Get STARTED Freelancing
Ok, before we JUMP into things, I want to tell you a bit about my background. Not to yap yap yap on about myself (although I love talking about myself! lol), more to make sure you have an idea of WHO I am and MY experience — so you can better decide for yourself!
I got started freelancing when I was 19 or 20 years old
I started off as a VA or Virtual Assistant
I quickly grew my skillset, learning specific skills to increase my hourly rate
I have freelanced in recruiting, for marketing agencies, influencer marketing, social media, startup scale and financial projections — the list goes on!!
Below, I've shared tips I wish someone would've shared with ME when I got started — as well as super specific tips based on my EXPERIENCE, sweetheart. These are not general fluffy tips!!
Let's get into it!
But first, some related posts:
#1 Tip for Getting STARTED Freelancing: Get Your Money Right
Ok, so before we dive into the ins and outs of freelancing, you must MUUUUST get your money right. This includes things like your MONEY MINDSET (if you talk bad about money you just simply won't make money), as well as other things to know.
Honestly, this could be a whole blog post — which is why I offer 1:1 coaching!
When getting started freelancing, you need to understand:
If you're working as a freelancer, you're probably going to pay your own taxes. This means that your hourly rate as a freelancer has to be WAY higher than what you would make at a 9-5
You need to do research on what people in your niche are making (online researching, networking, twitter, etc) so you don't get taken to the cleaners
You need to prioritize the skills and projects that PAY MORE!! While some folks make bank freelance writing and copy editing, I would say the grand majority DO NOT!! the more technical skills you have (or can aquire) the better
Know your labor laws! Working 40 hours a week as a freelancer, in my opinion, is STUPID. It also may be illegal.
Overall, you must BUCK UP and learn about how to set up bank accounts, contracts, work with a CPA or licensed accountant, etc, to become a freelancer. No one knows everything, but you MUST be willing to put in the not-so-glamorous work and CYA!
#2 Tip for Getting STARTED Freelancing: Get MEAN & GET CLEAR
If you struggle with setting boundaries or let folks walk all over you, then you are gonna have a TOUGH TIME as a freelancer or contractor. Many companies and orgs (even nonprofits, sadly) SUCK THE LIFE out of freelancers. They don't pay for health insurance, time off, sick pay, etc, and they will push on your boundaries.
It is very important to have clear rules around things like:
How fast you reply to emails
How a delay on the client side will result in a delay on your side (put another way, if they get you edits the night before a deadlines that are 2 weeks late, YOU'RE NOT GONNA MAKE THE DEADLINE)
Who the key decision maker is at an org
Additionally, don't give out your phone number to freelance clients. If you have to (say you're a MUA or photographer), get that second number or Google Voice number set up. I do NOT give out my number to clients.
You cannot hint with clients. You cannot ALLUDE. You have to be a clear communicator and get all your stuff in WRITING. Whenever one of *my* clients tells me that they came to an agreement with *their* client, I always ask, "Is it in writing?"
You need to have a clear trail of CLEAR communication.
See this post with some helpful sentences and phrases to aid your communication.
#3 Tip for Getting STARTED Freelancing: Never Bad Mouth Clients
Y'all, it makes me CRINGE when I see freelancers and solopreneurs create TikToks and Reels about bad client experiences — or talking bad about a client during a "Story Time" without naming the client.
MOFO! Who are you creating content FOR?! Do you want more clients? Because you're not going to get them talking poorly abou tthe ones you've got!!
Further more, if you find yourself having a poor client experience — 9/10 it's your fault. It's on you and your communication. See #2!!
Talking smack about past clients gives "Pick me energy," but the freelance version. Sure, you may gain engagement, but who cares if your fellow business owners agree? We want you to be ALIGNED WITH YOUR FUTURE CLIENTS.
#4 Tip for Getting STARTED Freelancing: No Sick Days & Mental Health
My beloved, this one is a hard one for me, but I feel like I must share it with you.
Freelancers don't get sick days.
Freelancers don't get mental health days.
Sure, you can build them in with a project timeline — absolutely!! But, if you plan on being a full-time freelancer, you must learn to work when you don't feel like it. I have finished whole freelancing projects while SOBBING. I am not saying it's healthy, and I'm not saying it's right.
If you mess up, people aren't forgiving. They may express sympathy, but they will "reallocate budget" AKA they will go find someone else to do the job reliably.
Think of it like being a plumber. If your plumber has an off day, then you're probablyyy gonna go find a different plumber, right?
I've learned to pad my deadlines to allow for mental health or other life issues to pop up. If I think it's gonna take 3 days, I quote 1.5 weeks, minimum. Freelancing can be very detrimental to your mental health, and you better be able to scrape yourself up and get shiz done. If not, I truly believe that a 9-5 salary job — with the existing safety nets — may be a better call for you. (Or you keep your 9-5 and freelance on the side.)
#5 Tip for Getting STARTED Freelancing: Separate Bank Account for Taxes
Honey, I'm not an accountant, so I can't tell you how much money to put aside. What I *CAN* tell you is that I really messed up when I got started freelancing. I spent the money I made (I was in college and in my early twenties), and then that tax bill came DUE!
And I was lucky to have the cash!
Overall, I recommend creating a SEPARATE bank account at a SEPARATE BANK to PUT YOUR TAX MONEY IN! Trust me, I have learned the hard way just how easy it is to dip into one's savings account for a fun trip or a 2AM order on ASOS.com! Put that ish in a separate bank and do not touch it!
Now I have a whole money system set up (thank God), but whew resetting my money mindset and learning all of this was a journey! I am thankful AF to be living in so much abundance now, let me tell you!!
#6 Tip for Getting STARTED Freelancing: Stop Trading Time for Money
This next one is a little advanced, but I want to let you in on it now. As a freelancer, you're still trapped. You may be making more money working a 9-5 and freelancing, but you're still trading time for money. You are only going to become FREE by creating ways (or allowing ways!) of accepting money into your life that don't require you to trade your time.
#7 Tip for Getting STARTED Freelancing: Hire a Cleaning Service
As a freelancer, you are a business owner! And as I tell my clients who are business owners, "You have to get very strategic on h ow you spend your time. How you leverage it."
There are only so many hours in the week. If you're making $50 ph as a freelancer, then it makes sense to pay someone $35 ph to clean your house. Because you still come out ahead after paying them!
For my full rant/post on hiring a house cleaner more ETHICALLY, see this post!
I recommend this book on freelancing to ALL my clients who are freelancers. It's not available on audio, and I truly cannot recommend it enough. She really shares such great info, and I wish I had found this earlier in my career!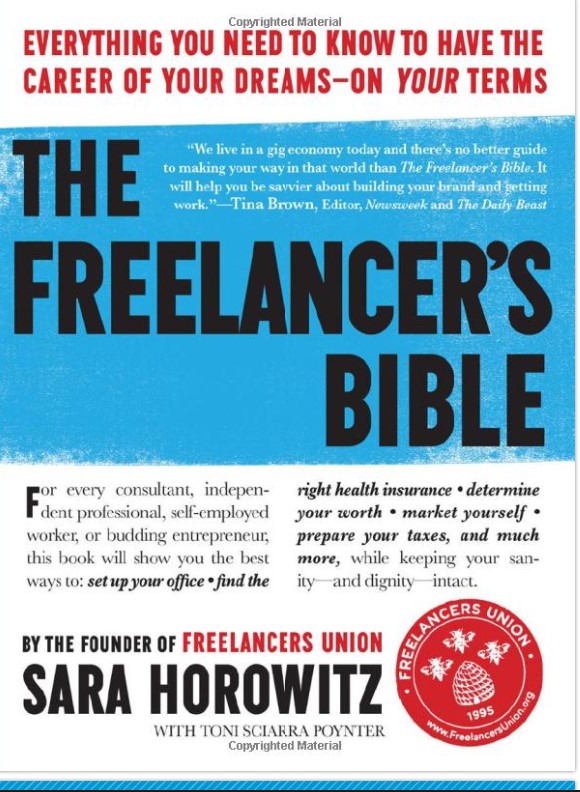 More Posts from Me
Hi, I'm Brianne, and I write a LOT of business posts. Honestly, most of my business takes are shared to my Twitter and TikTok, but I have written a lot of business content.
I recommend scrolling through my Business vertical HERE on my blog!
You can also book a 1:1 one-off session with me HERE to get more personal advice, or check out my long term coaching programs here!
Get More Info Via My Newsletter!
If you want to stay up-to-date on posts from The Huntswoman, I recommend joining me on your favorite social media platform (Facebook, Instagram or Twitter).
More of an email kind of person? Join my business and career focused email list here, and/or my fashion-focused email list here!