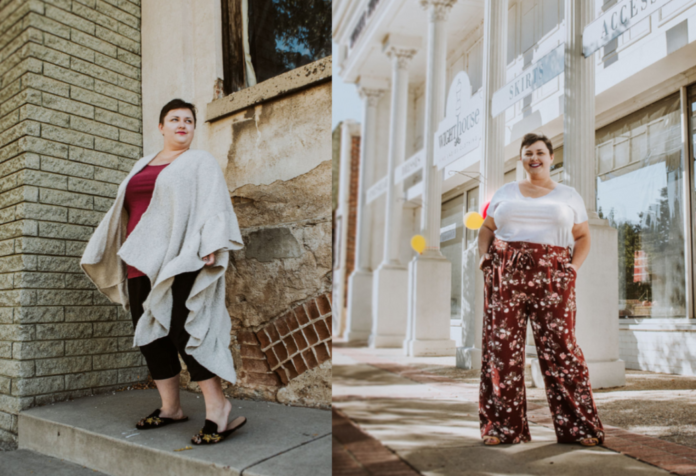 Hey there! This post contains affiliate links.  Using my links means I earn a commission, which helps me create more rad content.  More on affiliates here.
Y'all, I have been making jokes about "falling" into fall fashion SO MUCH the last few week, I'm surprised no one has been groaning in response.  ????????
It's important to laugh at your own jokes, just saying!
Okay, so I snagged some fall pieces from Torrid, that I LOVED! I teamed up with Alexandria, a Utah photographer, to photograph them.
[Heads up! This post uses affiliate links, and you help me earn $$ when you use my links. More on affiliate links here!]
There's this erroneous idea that Medicaid/Medicare will pay for long term care, and that's partially correct. BECAUSE before a facility will accept state $$$, you have to go thru what's called a "spend down" period.

— Brianne – White Ppl Google: "Black Wall Street" (@the_huntswoman) May 30, 2019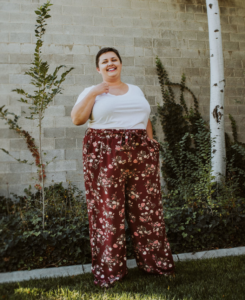 Below, I've shared my thoughts on the pieces, as well as a few pieces I've got my eyes on.
Okay, so real talk:  I'm 5'3″, and I've always felt kind of conflicted about wide leg pants.  I now Stacy and Clinton from What Not to Wear *meant* well, but some of the fashion "rules" they shared stick in my head.
One of those rules was, "No wide leg trousers if you're short!"
But I LOVEEEE these wide leg trousers.  I feel like a powerful bossbabe when I wear them.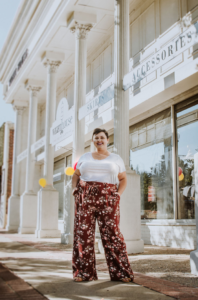 I'm 5'3″ on a tall day (ahem), and these trousers hit the floor with 2.5″ wedges.  The waistband had some stretch, and the crepe fabric moved nicely while I strutted in front of this small town boutique.
I paired these pants with a Torrid white tee ($18.83), and I wasn't feeling a jean jacket, but you could easily add a leather or denim jacket to this #look.  A forest green or navy blue top would also look cue with these pants!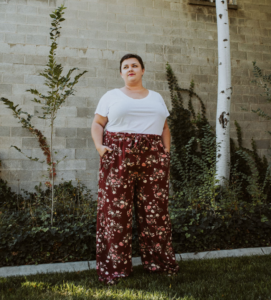 My low hip (fullest part of my stomach) is about 52″, and I wore a 3X in the trousers and the top (54″ bust).
I cannot even DESCRIBE TO YOU how much I love velvet.  Truly, when September hits, I'm so excited to get allllll of my velvet pieces out of wardrobe storage (AKA bins under my bed, lol).   This hits the glamazon model just above her knees, so on me it'd be more of a skater dress.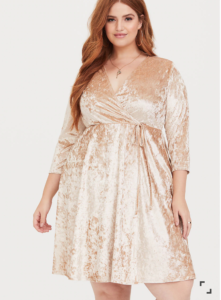 I love playing with hard and soft, so I'd definitely pair this dress with a plus size moto jacket and/or black boots.
"WTF is a Ruana?" you may be asking yourself.  My new friends at Biddy Murphy shared that:
Ruanass are originally from the Andes region of Venezuella. The word ruana comes from the 'Chibcha' meaning "Lord of Blankets". They are usually square or rectangle shaped with a head hole and a slit from that hole down the middle to the edge. 
Um, excuse me – "Lord of Blankets"?  I am 112% down to rock that title and this super soft ruana from Torrid.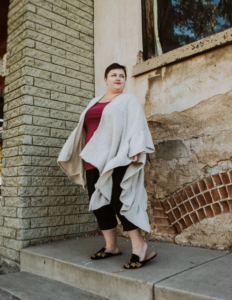 When I first walked into Torrid, this ruana jumped out at me.  I normally avoid gray things, but the fabric is so soft (and the ruffles are so fun), that I left with it.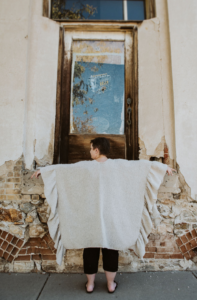 I'll definitely throw this on when I head out for errands this fall, or when I go to get some work done at a Starbucks.  It's one size, and because it's basically an elevated fashion blanket, will fit up to a 5X at Torrid.
Okay, I know this coat definitely screams WINTER, but I live in Utah and it gets cold quickly here.  This faux fur collar is SERVING some UES realness.

Y'all, this post has taken on a sort of royalty-theme.  Between fur collars and "lord of blankets," we have been having a good time!
I love how Torrid switched the grain on the ruffle hi-low hem, adding a bit of extra interest.  Black moto here.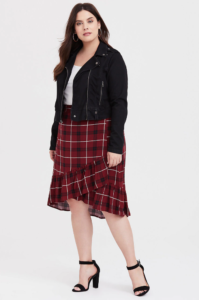 There's the roundup!  If you'd like to keep in touch, be sure to subscribe to weekly my newsletter, so you'll never miss out on reviews like this!