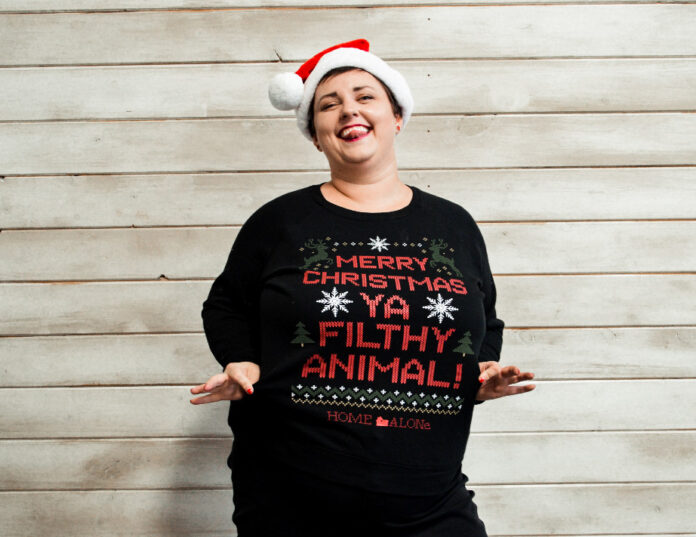 Hey there! This post contains affiliate links.  Using my links means I earn a commission, which helps me create more rad content.  More on affiliates here.
Hello, fellow Christmas nerds! I have put together this roundup with plus size Ms. Clause dresses, ugly Christmas sweaters and a host of other kitschy outfit ideas for your Christmas party that you started planning 5 months ago. In June. 😉
Let's begin, shall we?
[Note: This blog post was originally posted on November 6, 2019. It was last updated November 1, 2021.]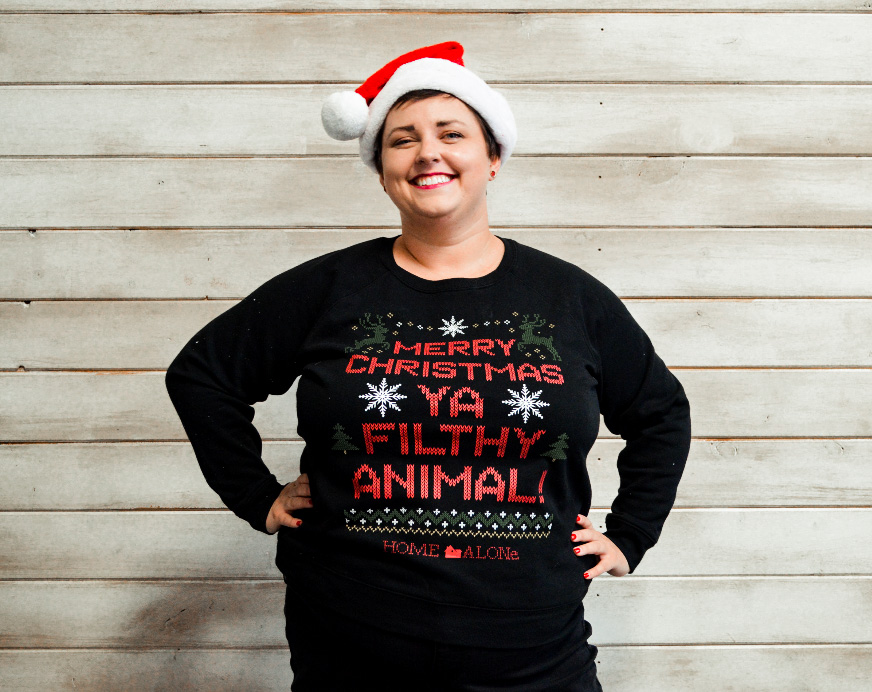 Plus Size Ugly Christmas Sweaters
Ok, so when it comes to plus size ugly Christmas sweaters, I recommend choosing a style you can wear for years to come! I would go with classic meme references etc.
After all, a plus size Christmas sweater can really only be worn during the end of the year – so we need to make the most of the space a plus size Christmas sweater takes up in our closet!
#1: The Holiday Collection from Unique Vintage
Okay, so i've shared Unique Vintage in a few roundups, but I have to be real with you – I've never tried this brand! That said, they have super cute plus size kitschy dresses for the holidays, from dresses with applique reindeer to fun prints featuring Christmas lights.
Unique Vintage goes up to a 6X. Shop here!
#2: Plus Size Christmas Sweaters from ModCloth
ModCloth is my go-to for fun statement pieces – just hipster enough without going full Portlandia!
They have a collection of plus size holiday sweaters, as well as some cute Christmas-themed accessories!
ModCloth makes pieces available in up to a 4X. Shop here.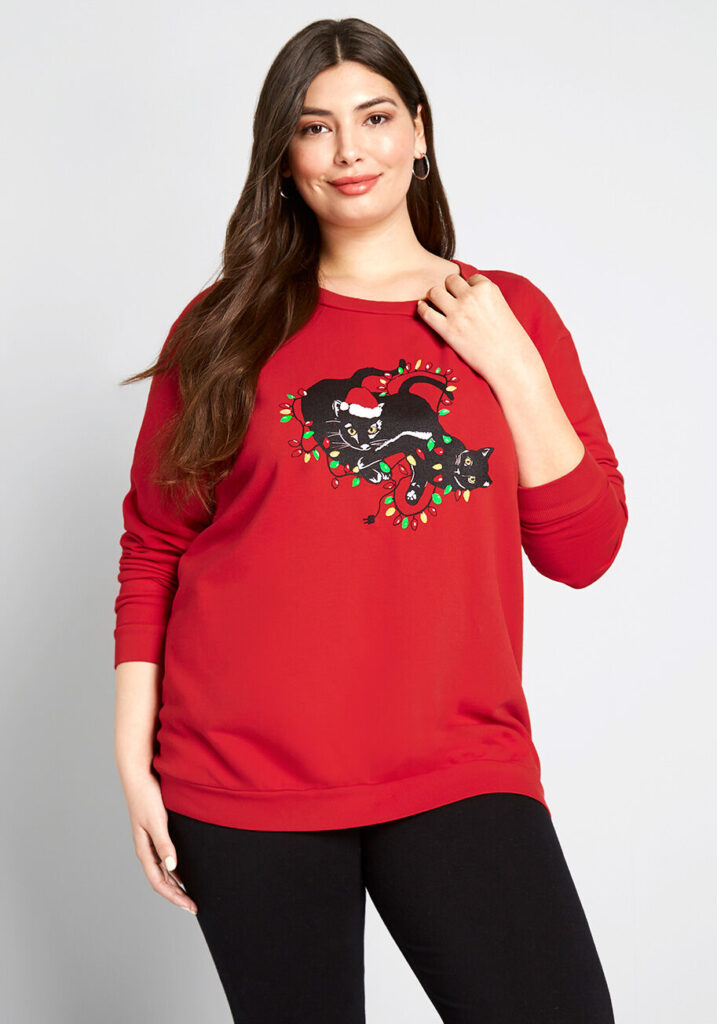 #3: Corny & Kitschy Plus Size Christmas Sweaters from ASOS
Wow! ASOS really brought their tacky A-game in the Christmas sweaters department! We've got glittery letters, old school classic Christmas sweaters than look like they're from the 90's, etc etc.
They also have fun sweaters in their men's section, so don't be afraid to hop between men's and women's here!
ASOS goes up to a 24 in women's and 6X in men's. Shop here!
#4: Witty Plus Size Christmas T-Shirts & Sweaters from Hot Topic
If you're a MARVEL fan or general nerd (me too!), you'll want to check out the plus size sweaters and tees in Hot Topic's holiday section.
For their holiday collection, Hot Topic goes up to a 3XL. Shop here!
#5: Ugly Christmas Sweaters from RoseGal
RoseGal is constantly changing their stock of ugly Christmas swaters, so if you see one you like – SNAG IT!
Most sweaters available in up to a 3X. Shop here.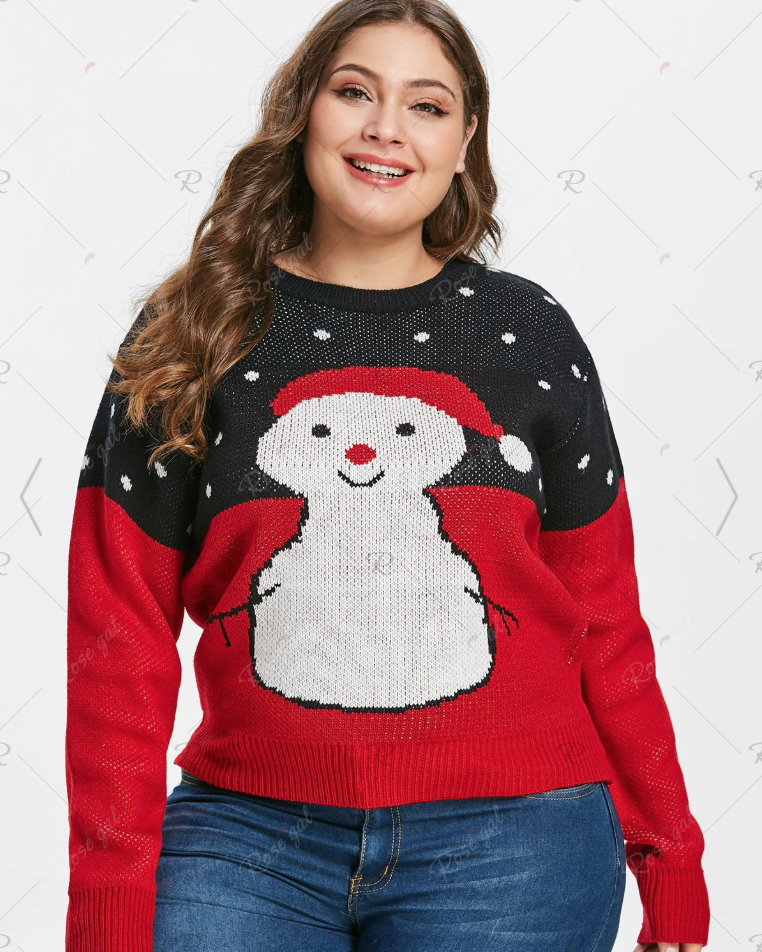 #6: Plus Size Santa Costumes from Yandy
Christmas is basically Second Halloween (thanks, Tim Burton) so if you're ready to rock a full-on plus size Christmas costume at your holiday party, look no further than Yandy.
Yandy is known for its plus size lingerie, but the company also has plus size Christmas costumes!
These costumes are available in up to a 3X. Shop here!
7. "Merry Christmas Ya Filthy Animal"
We love a reference to the fabulous holiday movie, Home Alone! This fun plus size sweater from Torrid is super fun and comfy – and printed, so it's not sratchy like other sweaters.
Buy here.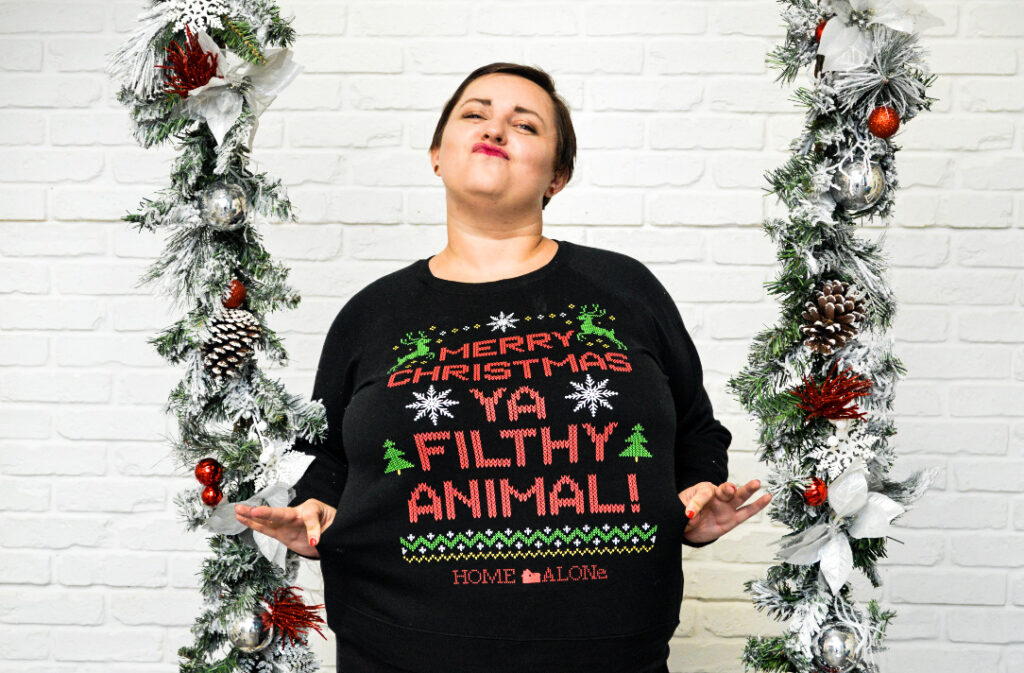 That's All For Now!
I'll be adding other plus size Christmas sweaters to this listicle as I find them. If I've missed a brand, feel free to pop in in my inbox with a link!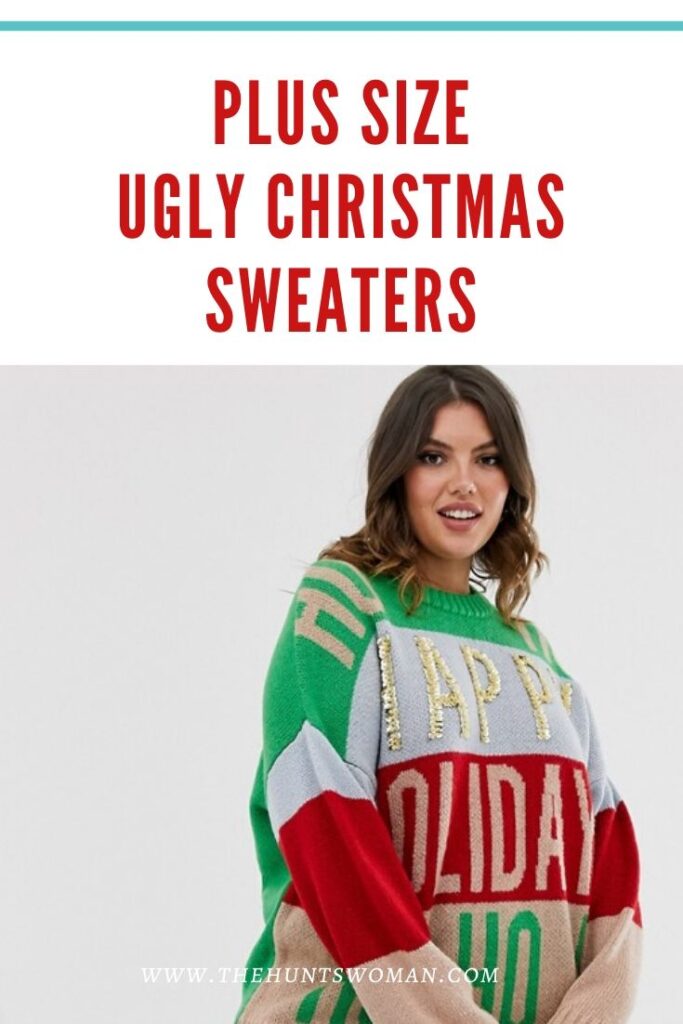 Love this post? Be sure to subscribe to The Huntswoman Newsletter.
[FTC Notice: This post contains affiliate links, meaning I earn a small commission if you purchase a product through my link. Affiliates help me write more great content, and I only endorse products I truly love.]