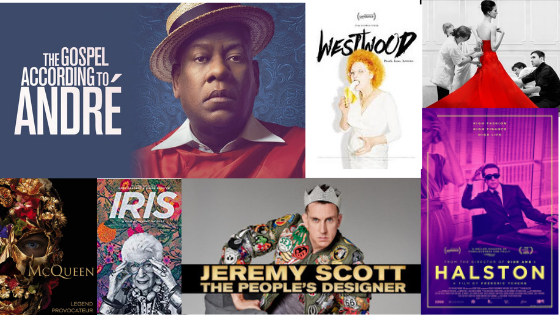 Hey there! This post contains affiliate links.  Using my links means I earn a commission, which helps me create more rad content.  More on affiliates here.
I'm a fashion nerd (and professional fashion designer), and I always have documentaries and podcasts playing in the background while I sew. Fashion history incorporates art, politics and business – making it a fascinating topic even if you don't work in the industry.
So, without further ado, here are my favorite fashion documentaries and series. (Hot Tip: I imagine there are broke fashion students checking out this post – if you're looking for free fashion documentaries, be sure to use CTRL+F and search "Free".)
FYI: I've shared affiliate links to documentaries where appropriate. If you purchase a documentary, please use my links! I earn a small commission which helps me write more awesome content.
Documentaries about Vogue Magazine
Documentaries about Fashion Houses and Designers
McQueen (2018) | I've read every book I can find about McQueen (and there are many), and this film shared insights about the designer I didn't know. Watch on Amazon for $9.99.
Westwood: Punk, Icon, Activist (2018) | I saw this documentary film about Vivienne Westwood at the Sundance Film Festival. It really buoyed my hell-raising and activist heart, as I have debated how "activitsty" I can be in fashion. Watch for $9.99 on Amazon.
Halston (2019) | This movie tells the story of Roy Halston Frowick, "Halston" who is quite the fashion maverick.
Ultrasuede: In Search of Halston (2011) | Another Halston documentary that you CAN stream. Watch here on Amazon for $9.99.
Dries (2017) | Documentary focused on a designer I consider to be "niche famous," Dries Van Noten.
Dior and I (2015) | Follows the journey of Raf Simmons' first Dior fashion show. Rent for $3.99 on Amazon.
A Man's Story (2010) | The director filmed fashion designer, Ozwald Boateng, for 12 years to create this film. Rent on Amazon for $1.99.
Jeremy Scott: The People's Designer (2015) | One of my all-time favorite fashion documentaries, I feel like this film really got at the heart of Moschino and Jeremy Scott. Watch on Netflix or Amazon for $4.99.
Manolo, the Boy Who Made Shoes for Lizards (2017) | This documentary portrayed Manolo Blahnik in an endearing and inspiring light. Buy this movie $14.99 on Amazon.
Unzipped (1995) | This documentary really paved the way for other designers on the list, telling the story of the Isaac Mizrahi's 1994 fall collection. Watch for free on YouTube.
L'amor Fou (2010) | Fashion film about the career of Yves St. Laurent, which plays special attention to his relationship with his partner, Pierre Bergé. Watch on YouTube for $2.99.
House of Z (2017) | This film on Zac Posen made me ache, due to its portrayal of the wide reaching impact and implications of ambition in fashion. Watch on Netflix.
Lagerfeld Confidential (2007) | This film about Karl Lagerfeld is currently on my "To Watch" list. This is listed for $194.95 on Amazon, which seems.. not correct. If you find it somewhere else, please shoot me an email!
Alber Elbaz and LANVIN (2017) | I could listen to Alber Elbas talk about fashion for days on end. Watch the 50 minute short film on YouTube for free.
Alexander Wang (2017) | This documentary is a short (25 minute) look into the brand. Watch on YouTube for free.
iris Van Herpen (2018) } One day we'll get a full documentary (or docuseries – cough Netflix) on this avant-garde designer. Until then, watch this 12 minute feature on YouTube.
Fashion Icons & Models
IRIS (2014) | Next to the word "iconic" in the dictionary is a photo of Iris Apfel. This film does an excellent job of sharing her history, while staying firmly in what is happening in the now. Available on Hulu alongwith a monthly subscription, or on Amazon for rent for $2.99.
Catwalk (1995) | This documentary was a bit of a precursor to ANTM, following the model Christy Turlington throughout fashion shows in the early 1990's. Watch for free on YouTube.
Bill Cunningham (2010) | Woven into the very threads of runway shows and street fashion is fashion photographer, Bill Cunningham. This film is an overview of his life and career. Stream on Amazon for $3.99.
Whew!
There are always more documentaries to list, and I'll be sure to check back every few months and add documentaries I find!
Stay in-the-know on new fashion brands? Be sure to subscribe to The Huntswoman Newsletter.
[FTC Notice: This post contains affiliate links, meaning I earn a small commission if you purchase a product through my link. Affiliates help me write more great content, and I only endorse products I truly love.]