Hey there! This post contains affiliate links.  Using my links means I earn a commission, which helps me create more rad content.  More on affiliates here.
Today on my blog, I'm sharing the most UNIQUE and perfect rainbow gifts for 2023. I love rainbows (proud EXTRA AF maximalist here), and I'm so excited to share a list of thoughtful rainbow gifts I would love to give as a present.
This blog post is all about rainbow gifts.
If you've landed on my gift guide, chances are you've seen other rainbow gifts show up in your Google search results…
… And the results are just really not that great. Many rainbow gifts look super cheap or tacky (in a bad way), sold by various print on demand companies. While some of those companies are rad AF, many of them have flooded the marked with (in my opinion) pretty ugly rainbow gifts.
I put together this rainbow gifts guide for folks who, like me, love giving rainbow gifts — but they want those gifts to be thoughtful and CUTE.
I've carefully curated this gift guide (seriously, the amount of product research I did for this post was a little INSANE), and I've only included rainbow gifts that I would be STOKED to give (or receive)!
Hey, gifts are my love language! 😉
Let's get to the rainbow gifts!
#1 Rainbow Gifts: Hanging Air Balloon – Home Decor
Sometimes, you just want to give a gift that imparts JOY — one that doesn't have to be functional.
THIS is that gift!
I can picture giving this rainbow gift to the world traveler (baloon festival, anyone?!), engineer who loves the history of air travel, as well as the cutie pie who just loves whimsy!
Get this rainbow gift for adults here!
#2 Rainbow Gifts: Jonathan Adler Rainbow Trinket Tray
Ahhh, Jonathan Adler — how you TEMPT me! I am such a fan of this LGBT-designer, and here he really elevated the trinket tray into a piece of rainbow art. I love the raindrop details.
From Jonathan Adler: "A little piece of heaven in the boldest colorway there is, our Dripping Rainbow Trinket Tray brightens any bedside, bathroom, or tabletop. It's also a fast and fabulous way to corral your small treasures. Crafted from high-fired porcelain with real gold accents. Packaged in a nifty gift box, it makes a perfect hostess present (or pick-me-up for yourself)."
Snag this rainbow gift for adults here!
#3 Rainbow Gifts: Colorful Rainbow Set of Wine Glasses
From the brand: "Keep your drink cold and classy with this Plastic Colored Wine Glasses Set by The Wine Savant. Designed for indoor and outdoor use, these colored plastic wine glasses are perfect for serving your favorite alcoholic beverage in style."
Snag this rainbow gift for adults here!
#4 Rainbow Gifts: Rainbow Office Chair (Bungee Seat)
Y'ALL! I HAVE BEEN LOOKING FOR A RAINBOW OFFICE CHAIR FOR LITERAL YEARS!
And then I was randomly (ok, not so randomly) served an ad featuring THIS rainbow chair, and I was STOKED! The designers at The Container Store really outdid themselves with this one!
Some Helpful Gift Details:
Patented system uses a series of individual bands wrapped in polyester on a powder-coated steel frame

Supports up to 450 pounds
Snag this rainbow gift for adults here!
#5 Rainbow Gifts: Kate Spade Rainbow Drop Earrings
I adore these rainbow drop earrings from It-Girl brand, Kate Spade. The design choices, from how far to space the stones (cubic zirconia) apart, to the color selection, are really just impeccable.
Snag this rainbow gift for adults here!
I have been SUCH a fan of rainbow bath mats for a few years, mostly because they make me smile so big!
This is a great rainbow gift for the morning person in your life who loves pops of color, or the grouchy grumpy pants who could use some cheer when they get ready in the morning! 😉
Shop this rainbow gift here!
I'm always looking out for my dog dads, moms and pet parents! This little doggie outfit is so cute, with the words, "Life of the Party" paired with a rainbow motif!
Shop this rainbow gift here!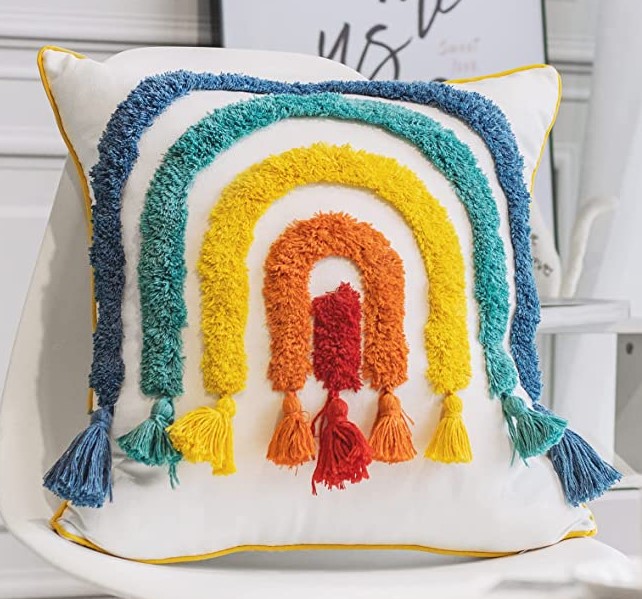 Ok, bestie, there are SO MANY rainbow pillows — so I made sure to do my research and find some truly unique rainbow gifts for this one.
Trouble is, I just could NOT choose between these three pillows — and then I remembered that this is MY blog, and I'm in charge! Lol.
These are such fun accent pillows for a variety of personality types. I'd get the first rainbow pillow as a gift for someone who is a bit more boho and has that sort of ~cool girl~ aesthetic. The next rainbow pillow would be for my fellow unicorn-loving EXTRA people. Final pillow would be such a great rainbow gift for the green thumb or houseplant obsessed flower child!
Get this rainbow gifts for adults here!
#9 Rainbow Gifts: Rainbow Serving Platter
Ok, I deserve a trophy for finding this next rainbow gift! I looked through SO MANY websites trying to find a fun rainbow service platter or party tray. This one is so cute for various get togethers, including summer BBQs and Pride parties in June, right?!
Problem was, I couldn't find any brands that agreed with me! There was nary a rainbow shaped party serving platter in SIGHT!
Finally, my stick-to-it-ness won out, and I found this super cute muted rainbow party tray. I love how you can separate the dip (salsa, etc) from the chips or veggies! I think that this is the perfect rainbow gift for the extra AF rainbow-loving bestie who ALSO loves to host get togethers!
From the maker: "Use the large and small compartments for tortilla chips and guacamole, shrimp and cocktail sauce, broccoli florets and melted cheese or strawberries and cream cheese dip. The clever curved dish is also handy for serving olives or cherries, with the smaller portion helpfully holding pits."
Buy this rainbow gift here!
#10 Rainbow Gifts: Pride Fluff Yeah Faux Fur Slingback Sandal
There's maximalism, and then there's MAXIMALISM, darling! These fluffy Ugg sandals have lived RENT FREE in my head since they were released. I'm obsessed. This rainbow gift is perfect for the chaos muppet in your life!
Snag this rainbow gift for adults here!
#11 Rainbow Gifts: Anthropologie x Scrabble
Y'all, I cannot get over how AESTHETIC the Anthropologie x Scrabble game is?! This is a gorgeous and more subtle rainbow gift.
Get this rainbow gift for adults here!
This rainbow gift is perfect for a coworker or loved one who loves office supplies (they exist!!) who also have a fun sense of humor. This could also be a fun White Elephant gift!
Snag this funny rainbow gifts for adults here!
#13 Rainbow Gifts: Iridescent Rainbow Headboard
I feel like the person who would want an iridescent rainbow headboard also secretly (or not-so-secretly) loves Rainbow Dash. I just have a FEELING.
Snag this rainbow gift for adults here!
#14 Rainbow Gifts: Rainbow Sandstone Decorative Object
Sometimes,, you want a more subtle rainbow gift. When I saw this simple rainbow object, I instantly thought about how great it would look in a therapist's office – showing inclusion and love, while also maintaining an aesthetic. 😉
Snag this rainbow gift for adults here!
#15 Rainbow Gifts: Rainbow Statue Head with Rainbow Horn
Ok, so I already have a unicorn bust in my apartment, but obvi I need two, right?! I mean this one has a SPARKLY GLITTER RAINBOW HORN!!!
Snag this rainbow home decor gift here!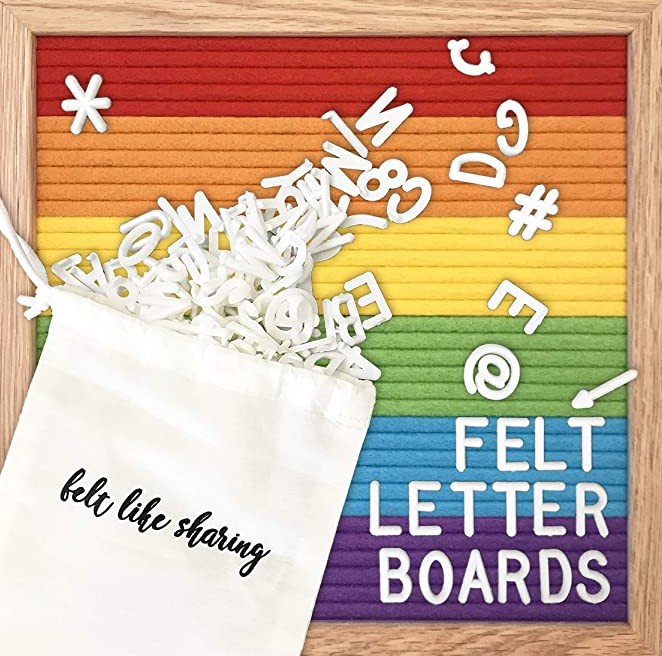 Ok, so fun fact about me — I love letterboards! They're a functional gift for people who want a cute way to share their WiFi password, as well as a fun way to leave messages (snarky and cute!) for your loved ones.
I could NOT decide between these two rainbow gifts — so I included both! I love how they also have slightly different rainbow color schemes!
Shop this rainbow gift here!
#17 Rainbow Gifts: Rainbow Sneakers from Katy Perry
TBQH, I missed the memo on Katy Perry having a SHOE BRAND?! Shoutout to Nordies for keeping me in the loop! I love these clean white sneakers juxtaposed with a BIG OL' RAINBOW on them.
Get this rainbow gift here!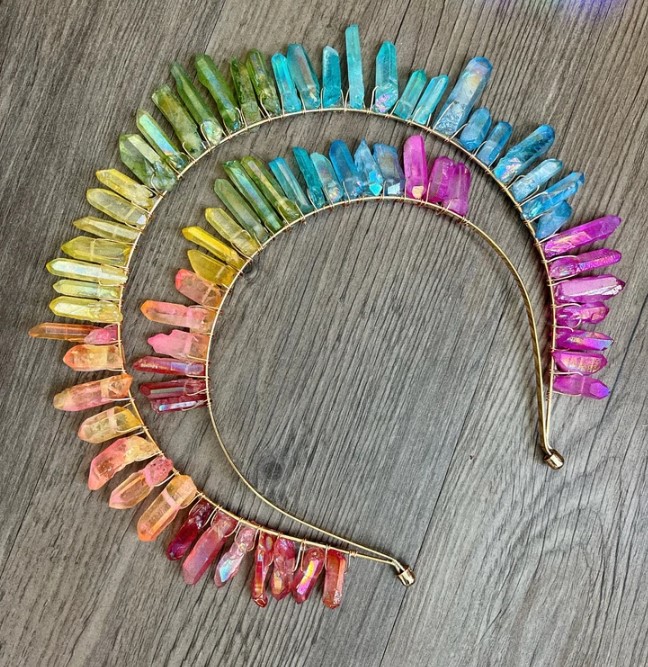 Ok, if this is the first blog post of mine that you've read (welcome!), then you may not know that I love crowns.
I have been known to call out, "Life is short, throw on a crown!!"
I collect crowns and they're such a fun gift! I'm betting if you're shopping for a gift for someone who LOVES rainbows then there's a good chance that they'll love a rainbow crown or tiara.
"But where will they wear it?!" You ask! My friend! There's just about NOWHERE I wouldn't wear a rainbow crown. Maybe I wouldn't wear it while in an airport, but I could be persuaded! 😉
Snag this rainbow gift for adults here!
Ok, real talk — I almost took this rainbow gift out. This is a SUPER niche gift, but I would love to get a rainbow gift like this (for a rad editorial photoshoot), so I decided to keep it in!
If your recipient is like me, some sort of content creator meets visual artist meets rainbow lover – then THIS is an excellent gift! <3
From the maker: "PRIDE rainbow flag Headdress with branches and rainbow butterflies. Natural looking branches reach approx. 12″ high and the entire headpiece is 15″ wide across. The headdress comes on a headband. This piece is perfect for PRIDE festivals and nature photoshoots."
Buy this rainbow gift here!
Ok, if you've been on Instagram for longer than… 5 minutes then you've probably seen someone's photo of a rainbow bagel!
While I've never tried a RAINBOW bagel (but I love bagels, le duh), I still think this is a fun gift for someone who loves cooking and trying new recipes.
From the brand: "What was once an NYC novelty you had to wait hours in line for (booo!) is now the newest addition to your breakfast menu (yay!). This kit has all the fixings you need to rope, loop, and bake 12 scrumptious bagels that are crisp on the outside, chewy on the inside, and bursting all over with a kaleidoscope of colors. Just supply your own sugar, flour, and water. Oh, and be sure to think of a good social media caption; they're too pretty—and you'll feel too proud—not to post. Made in Brooklyn."
Snag this rainbow gift for adults here!
#21 Rainbow Gifts: Set of Colorful Vases
I have a set of rainbow vases just like this one (I got it as an apartment housewarming gift!), and I've loved tucking these in various spots in my home. These can also be displayed all in one spot – think a kitchen windowsill or altar space for meditation!
Shop this rainbow gift here!
This rainbow gift was another rainbow gift I got as an apartment housewarming gift!
I cackle a little to myself every time I open my door — and I ALSO think of the person who bought me this!! This is a fun and useful rainbow gift!
Get this rainbow gift for adults here!
Ok, people are SUPER into macrame wall hangings right now. I've never gotten on that trend (I like COLOR if you can't tell), but this wall hanging has me considering it! I think that this is the perfect gift for the trendy home decor pal or loved one who also loves rainbows!
Buy this rainbow gift here!
#24 Rainbow Gifts: Rainbow Basket Gift Idea from My Mom
Ok, this next rainbow gift comes to you courtesy of my MOM! (She's a cutie!)
In the last couple of years, my mom has started making little gift baskets for Christmas and birthdays — getting a fun basket and filling it with little items!
This is a great idea for just about everyone, and I would put together this kind of rainbow gift for new home owners, someone who is off to college or another person in the midst of a life transition! A rainbow gift like this is just so thoughtful (I love the little gift baskets from my mom!)
Add a little strategic tissue paper, and your gift is good to go — and will delight people, I'm sure! <3
Get this rainbow gift for adults here!
#25 Rainbow Gifts: Rainbow Candles (Arched)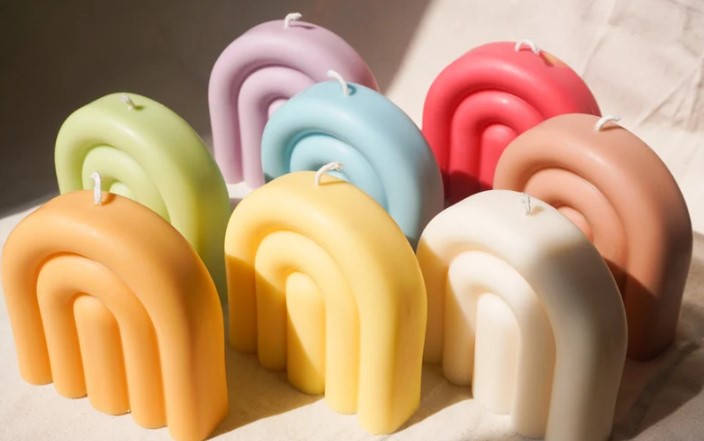 Can you tell I had a hard time choosing just WHAT trendy and aesthetic rainbow candle to include for this gift listing?
From solid arch candles for the Glossier Girl in your life, to rainbow pride candles to traditional rainbow candles — I had a blast finding these candles from small makers!
Buy this rainbow gift here!
#26 Rainbow Gifts: Rainbow Lightbulb for Tech Geeks
This next rainbow gift is perfect for an engineer or tech geek who loves nerding out over science and circuitry!
From the maker: A rainbow in the dark? Yes, it's magic—created by hundreds of tiny LEDs. This vintage-inspired bulb has a vibrantly glowing rainbow "filament" that would blow Edison's mind."
Snag this rainbow gift for adults here!
Ok, I looked at a LOT of very cute rainbow earrings, and these won my heart! They're simple but RAINBOWS – and dangle! So fun! This a perfect rainbow gift for someone who doesn't have a lot of room in their placec for larger gifts (those dang NYC apartments!) or who likes more simple — yet fun!! — presents.
Shop this rainbow gift here!
Seeing this next rainbow gift made me feel SO SEEN, because I have a little stack of various notebooks and things in a corner of my kitchen — and I need one of these for it! So handy!
This would also be a fun desk organizer!
Get this rainbow gift for adults here!
#29 Rainbow Gifts: Bright Rainbow Bookends
At this point, I'm kind of an expert on rainbow bookends — not to brag or anything.
No, but for REALS, I looked at a bunch of rainbow bookends before deciding on this one! Some rainbow bookends were cute, but I just didn't trust the design of them — they need to, you know, actually hold books upright!
Buy this rainbow gift here!
#30 Rainbow Gifts: Rainbow Crystal Ear Crawlers from Kurt Geiger London
These ear crawlers (unfortunate term for this gorgeous kind of earring!) are gorgeous. The design reminds me of a crown — in the best way.
Shop this rainbow gift here!
#31 Rainbow Gifts: Artconal Rainbow Vase for Flowers
If you're confused by this next rainbow gift, it's ok, I've got you, bestie!
This rainbow gift is a rainbow VASE for flowers — isn't it so rad?!
Snag this rainbow gift for adults here!
This next gift might be a stretch — I don't know if people actually get each other a CABINET, but a girl can dream!!
I've had my eyes on this cabinet for a while. I love the midcentury vibes paired with some COLOR! I can see this in an entryway or home office!
Shop this rainbow gift here!
#33 Rainbow Gifts: Kånken Rainbow Water Resistant Backpack
We love an adventurer! This rainbow gift is great for the student, traveler or someone who is just a Kånken fan!
Buy this rainbow gift here!
#34 Rainbow Gifts: Retro Vintage-Inspired Mug
A mug is ALWAYS a fun gift to give!
From the maker: "Vintage Rainbow Mugs were our favorite from the 1980s! This sturdy mug, is ready for your morning coffee and to create morning joy. It will withstand the microwave and dishwasher."
Get this rainbow gift for adults here!
#35 Rainbow Gifts: Colorful Glass Rainbow Mug
Some people just aren't… ceramic mug PEOPLE, ya know? Like sometimes a rainbow gift-lover gives off more ~sophisticated society lady~ vibes, so I HAD to include this rainbow mug in my rainbow gifts guide! <3
Buy this rainbow gift here!
#36 Rainbow Gifts: Rainbow Tabletop Lamp (3rd image down)
A rainbow tabletop neon lamp? Here for it! I chose this one (out of a PLETHORA of options) because of the stand and color scheme.
I like red to be the largest color of the rainbow, ok?!
Shop this rainbow gift here!
This is one of those gifts you CACKLE when you see, because you know it's PERFECT for the person you're shopping for. The little hearts in the rainbow mug eyes just KILL MEEE WITH CUTENESS.
If seeing this gift doesn't inspire some UNHINGED GLEE, then it's probs not the gift for you!
I'd get this rainbow mug for just about everyone in my life (I'm chaotic rainbow evil sometimes), but especially for my kawaii-lovers, emoji nerds, gaymers, and gamers!
From the maker: "Perfect for coffee and tea, this large colorful ceramic mug comes with a lid and can hold up to 20 oz of your favorite beverage."
Get this rainbow gift for adults here!
Sometimes (not always) us rainbow ladies are classy and elegant. This is the gift I'd get someone with more refined tastes, who also takes joy in COLOR! I love ruanas (this rainbow gift is called a "ruana," a real word and actual type of clothing), because they make me feel so much more put together — when literally all I did was drape myself in some gorgeous fabric! Win win!
From the maker: "This wrap's glowing colors warm your heart while the generous silhouette keeps the rest of you cozy."
Buy this rainbow gift here!
Another mug for my rainbow mug people! This one is more retro-inspired and has a different sort of color scheme for the aesthetic-minded among us!
Shop this rainbow gift here!
These rainbow wind chimes are so gorgeous I would hesitate to put them outside?! These are a great gift for the windchime lover, as well as those who love the great outdoors — or sitting on their patio and looking at the outdoors while seated with coffee (in a rainbow mug!) or wine.
From the maker: "Rolled, cut, and formed by hand, each stoneware disc is tinted with a special pigment before firing at more than 200 degrees Fahrenheit. The result is a pair of rainbow-inspired hanging works of art that sway in the wind to create a serene soundtrack indoors or outdoors."
Get this rainbow gift for adults here!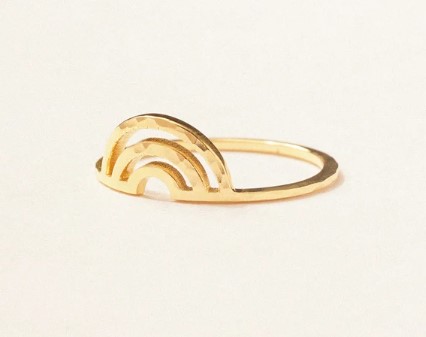 Rainbow rings on RINGS, baby cakes! I curated a selection of rainbow rings for the minimalists to maximalists, just for you!
Buy this rainbow gift here!
#42 Rainbow Gifts: Rainbow Planter for Houseplants
Listen, I avoid house plants, but I have SO MANY besties who love their little plant children! (Does that make me a plant auntie or godmother?!) I'd snap up this gift for my rainbow and plant-obsessed besties in a heart beat. I also love the gloss/sheen on this!
Get this rainbow gift for adults here!
#43 Rainbow Gifts: Set of Christmas Ornaments
I did a whole roundup of rainbow Christmas ornaments HERE, but I just had to include this set of rainbow ornaments — they're just stunning! This is such a great rainbow gift for the Christmas and Christmas tree lover! <3
Buy this rainbow gift here!
I looked at a LOT of rainbow blankets, but I decided on this one because it looks so cozy, the colors are vibrant — and you can get it in two different sizes!
From the maker: "Perfect for snuggles or as a stunning accent throw in any room! These blankets are made from chenille blanket yarn."
Buy this rainbow gift here!
Ok, this next rainbow gift is going to get me some side-eye from bibliophiles, but I regret nothing! Books can be great for your brain AND serve as gorgeous home decor.
Shop this rainbow gift here!
#46 Rainbow Gifts: Fenestra Book Ends from the MoMa Design Store
Listen, I could spend a King's Ransom at the MoMa Design Store (so many trinkets!!), and these rainbow bookends really caught my eye!
From the brand: "Add bold pops of color and visual interest to your bookshelves, desk or mantelpiece with this set of four Fenestra Bookends, which stack to form beautiful, modern compositions. When nested together, they resemble a window with a landscape view ("Fenestra" is Latin for "window"). The compact and versatile design helps you organize your books without taking up too much space, as they add character to your home."
Get this rainbow gift for adults here!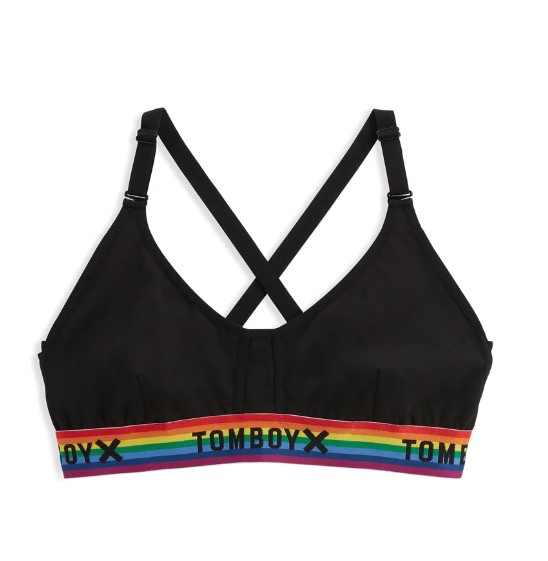 I've been a fan of TomboyX clothing for years! I've modeled for this LGBT-owned company in the past (had a blast!), and their black set with a rainbow accent is perfect for the person who loves rainbows, but doesn't want to be decked out in full rainbow regalia!
Buy this rainbow gift here!
Doing a photoshoot with a rainbow pool float like this is on my bucket list for 2023! This is just such a fun rainbow gift for the sun-loving babe who is always down to jump in the pool!
Shop this rainbow gift here!
Does this belong in a child's room — or is this 3D hanging art?!
BOTH!
I debated about including this in my rainbow gifts guide, but I just love the whimsy and balance of this piece. I don't have kids, so I'd have it as an art piece, likely in a corner!
Get this rainbow gift here!
I am SUCH a fan of Unique Vintage (I never shut up about the brand), and I have had my eyes on these rainbow heels for a minute! I love the shade of the colors selected, and that solid green heel?! Swoon-worthy! These heels celebrate a rainbow-loving aesthetic, without being too literal!
Buy this rainbow gift here!
Finding rainbow sunglasses that *I* would want to wear (and therefore add to my rainbow gift guide!), was a tall order. Luckily, Unique Vintage created this dynamic rainbow sunglasses design – with rainbow frames and lenses!
Get this rainbow gift for adults here!
#52 Rainbow Gifts: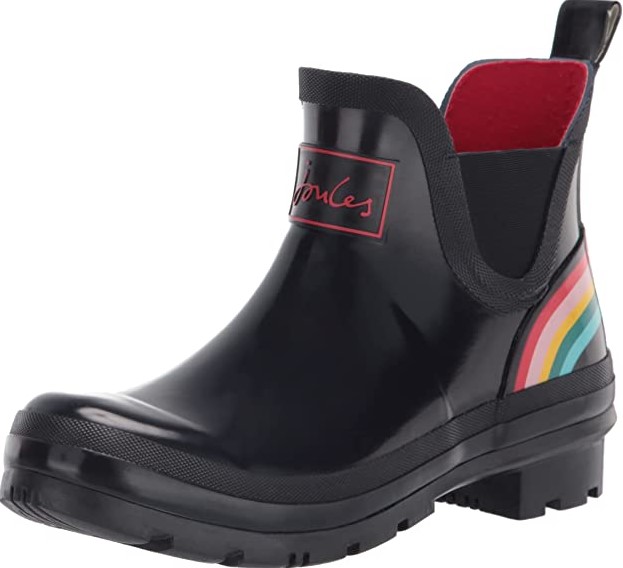 Click the image to shop!
#53 Rainbow Gifts: Large Muted Rainbow Floor Rug
Next up on my rainbow gift guide, I wanted to include a fun rainbow rug — with an arched rainbow — that could work in a variety of rooms. While this product photo is obvi staged for a nursery or children's room, I really think this rug could look SO CUTE in a bright office or living room!
Product Details:
Available in 3 sizes: 5'x7′, 3'3″x5″, 6'x9′
Stain-resistant and shed-free flat pile construction
Wood-floor-safe recycled cotton bottom
Machine Wash cold in front load or top load machine without agitator in middle. Air-dry flat
Shop this rainbow gift here!
What to read next —>
I love giving gifts! Below are a few other posts I've written that I think you'll LOVE!
Do You Wanna Join VIP?!
Want more content like this? Then I recommend joining my fashion-focused email list is here! If you want to stay up-to-date on posts from The Huntswoman, I recommend joining me on your favorite social media platform (Facebook, Instagram or Twitter).
Finally, my business and career email list HERE!! I don't really have an LGBT-focused email list or book-focused email list, but stay tuned!
I have two email lists because folks have different interests! For lovers of this post, I recommend joining both lists and following me on Twitter, where I share a lot of blogger tips and info!