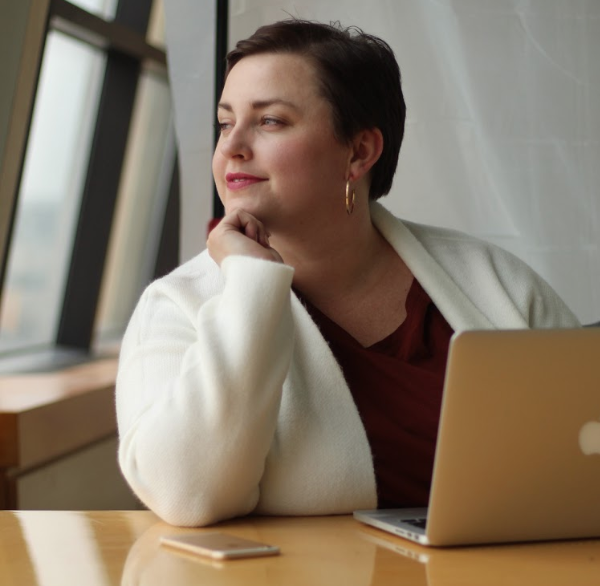 Hey there! This post contains affiliate links.  Using my links means I earn a commission, which helps me create more rad content.  More on affiliates here.
It's here!! It's finally here!
I've been posting about my vision board on my Instagram Story and Twitter, sharing my process and BTS goodness – as well as tips and examples to help folks make their own vision board.
(If you're like, "WTF is a vision board?!?" go here.)
Are We Instagram BFFs?
Now, if you're not hanging out with me on Instagram and Twitter, be sure to come on over. Buuuut if you missed the tips I shared, I'm going to recap many of them in this here post.
Not only do I post lots of plus size fashion and OOTDs, I also share career, business and life tip that I find in my work as a coach and doing my own personal development.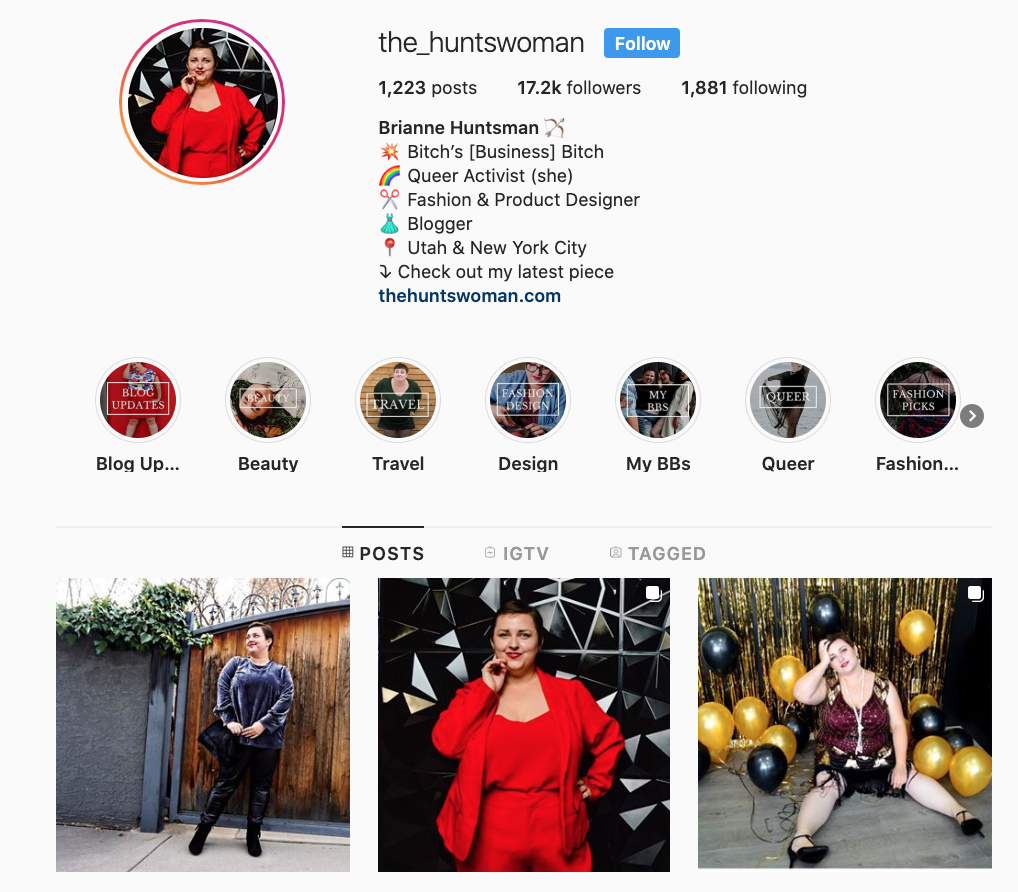 Organizing This Vision Board Partyyyy
I've divided this blog post into 2 parts. The first part is the "how-to" mini guide, and part two is a walk-through of my vision board.
Tips and prompts for making a vision board are helpful, but I think it's critical for you to see the magic in action. Plus, I believe that the more folks who know about your vision board and dreams – the more chances for serendipitous manifesting magic and connections!
Okay, let's get started!!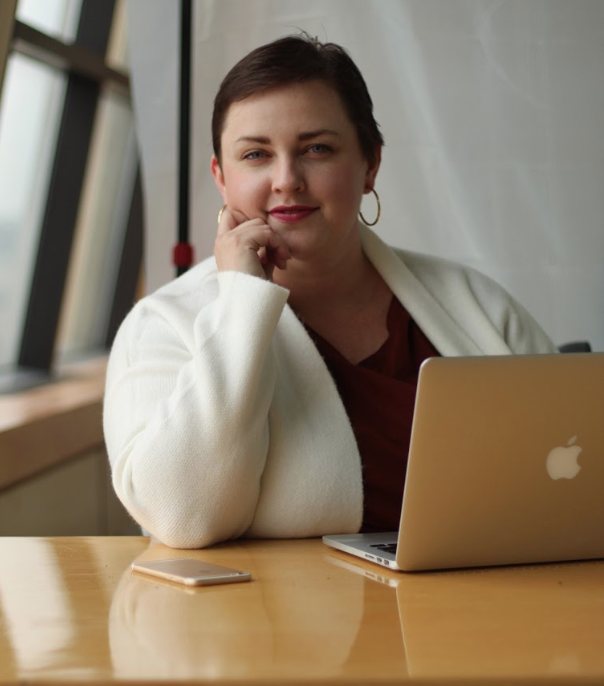 How to Make a Vision Board: Tricks, Tips & Steps
Okay, I know you're probs really excited to dig into your vision.
But hold on one second.
You Gott Do the Pre-Work
It is ABSOLUTELY CRITICAL that you do a recap and processing of the previous year. You can't get to where you want to go if you don't know where you've been. I shared my process for recapping the year and processing it here.
You need to understand what went wrong and what went right. So take a few hours to delve into 2019, and you'll be exponentially better prepared to make your vision board.
Goals vs Vision – What do I control???
Fun fact: A majority of the things on my vision board are things I don't have majority control over. If something is 100% on me and within my control, then it goes into goal planning (you can see my plan for Jan-March of 2020 here). I make specific tasks for the month that support those goals.
A *** vision board *** is for big and audacious goals and dreams. The stuff that you and I can't completely control – things that need a bit (or a lot) of divine intervention.
Goal Example: Release my "Art of Negotiation for Influencers Course"
Vision Board Example: Get signed to a prestigious modeling agency
One of those I have complete over (the course) and one of those I don't!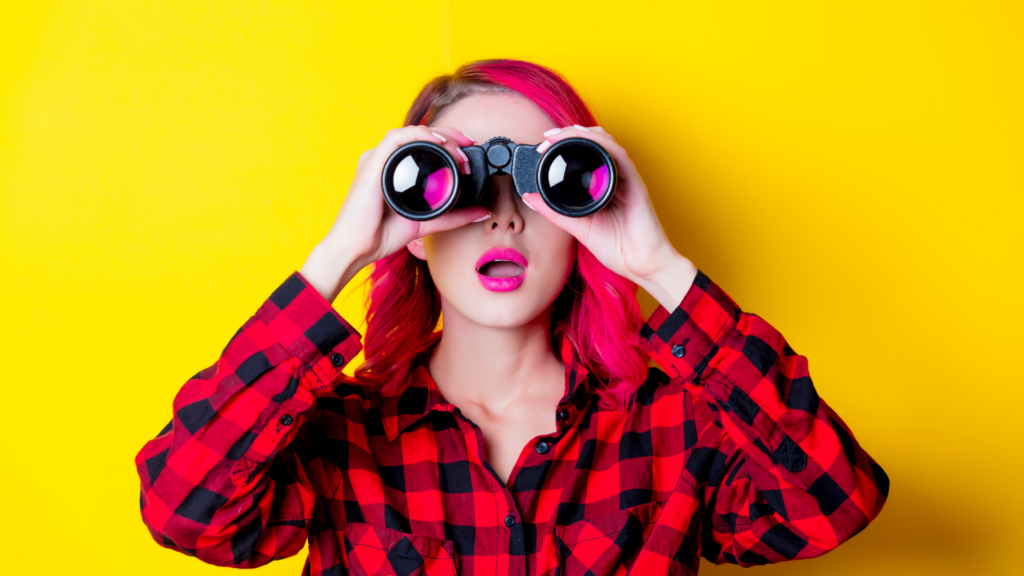 Okay, now that that's out of the way, I'm going to share some tips.
Caveat: Vision board coaching sessions is something I offer 1:1 to clients, and those calls take TiME. There's no way for me to share all I know in one post, but I want to get you on the right path. Let's go!
Step 1: Get Your Images for Your Vision Board
Okay, so first up! We gotta get our images. A lot of folks like to have vision board parties, and they go through magazines and rip out images.
I'm not a fan of this method, because you're limited to whatever the EIC of that publication felt like putting in. You may find images you like, but they don't symbolize or represent WHAT YOU REALLY WANT!
When people go through magazines, they'll see a photo of a cool car or a vacation, and say, "Oh, that's cool."
It's cool that that image is cool, but you need to find images that resonate with you and amp you up.
Lukewarm images are a no go. They're frankly not good enough.
Vision Board Images on Pinterest
I recommend creating a Pinterest board to pin images that make you go, "HECK YEAH THAT IS WHAT I WANT IN MY LIFE!!" (You can see my vision board images on for 2020 on my Pinterest by clicking here.)
"HECK YEAH THAT IS WHAT I WANT IN MY LIFE!!"
Don't pin images of a beach. Go deeper. What beach do you REALLY want to visit? Is there a beach in a specific country? Do you want crystal blue water and snorkeling? Do you want to lounge on one of those inflatable thingies with a margarita?
As you look at images, if you don't get an immediate "OH YEAAAAAAH" then pass. Emotions are key.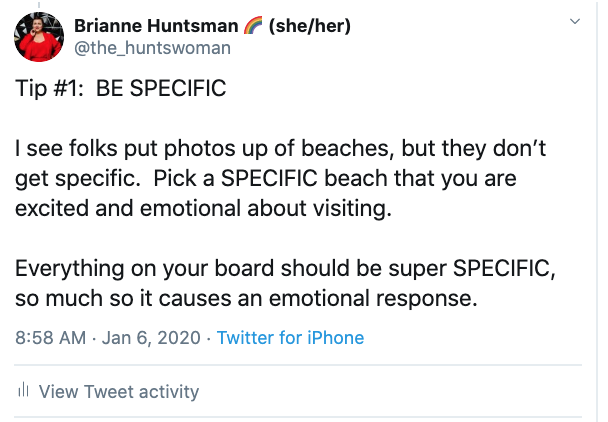 We're building your dream life here, and wishy washy feelings about "okay" images will just. not. do.
Step 1b: Vision Board Prompts
"Okay, Ms. Huntsman," you may be thinking. "I get the need for strong feelings, but I don't know what to type in the search!!! I need examples of what to put on my vision board!"
Fair! Here are some prompts to consider:
What are the top 3 places on your travel bucket list? What specific sites in those locations do you want to see? (See my Greece example below)
What type of romantic relationship do you want? What does your love language look like? Are you dating? What does your dream person look like?
MONEY!!! What # do you want to see in your bank account? Do you want to contribute a certain amount to retirement? Start a business or side hustle?
Health & Wellness: How do you want to feel in your body? What health challenges are you facing that you'd like help with? Do you want to start therapy in 2020? (Make sure the images you choose INSPIRE you. They should not make you feel bad about your body or yourself.)
Cars & Toys: Is there a car or other big purchase you want to make? Do you dream of an emerald tiara (same tbh)? A boat?
Home & Living Spaces: What type of house or apartment(s) do you want? What is the design style? What do the details look like, like the door or type of faucet? (See my bathtub plans below!)
Learning: What things do you want to learn or try this year? Cooking classes? Salsa dancing?
These are just a few examples and ideas on what to put on your vision board, but they should get your brain moving!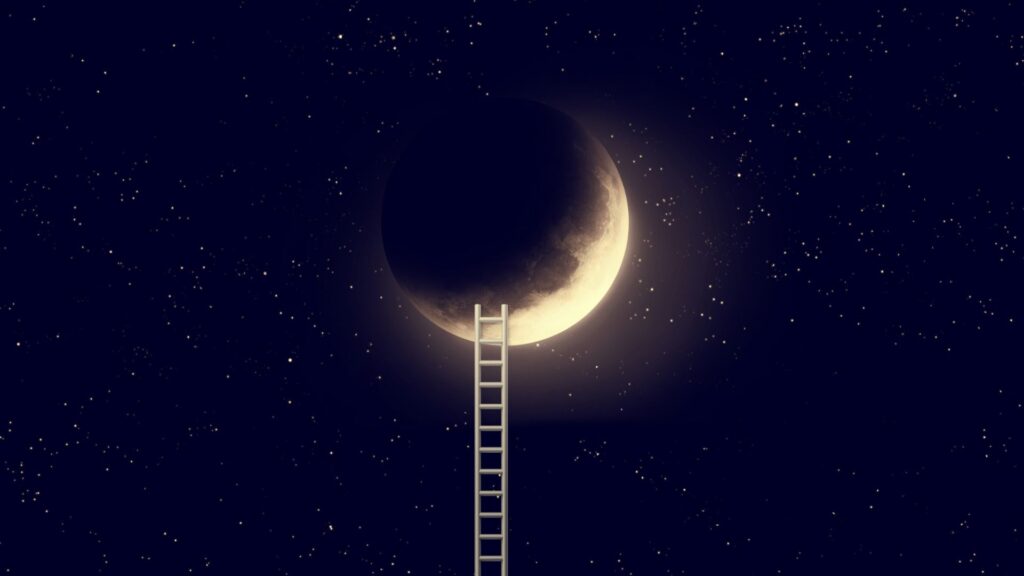 PAUSE!
I can imagine some of you might be saying,"But, Bri! How will I make this happen????? I could never be this lucky!"
I hear you, darlin. The whole idea behind a vision board is that you want things and experiences – but you're not sure how to go about getting it, exactly. The vision board is meant to be like a giant billboard to The Universe, where you signal exactly what you want.
You can't get what you want if you don't give yourself space to envision it. <3
Step 2: How to Make Your Vision Board IRL
A classic mistake I see people make when creating a vision board is leaving it on their computer. Digital vision boards just aren't as effective as physical ones.
Y'all. A vision board is only powerful if you, you know, SEE the VISION for your life. (Other folks write out their vision and listen to a recording, lmk if you want details on that!)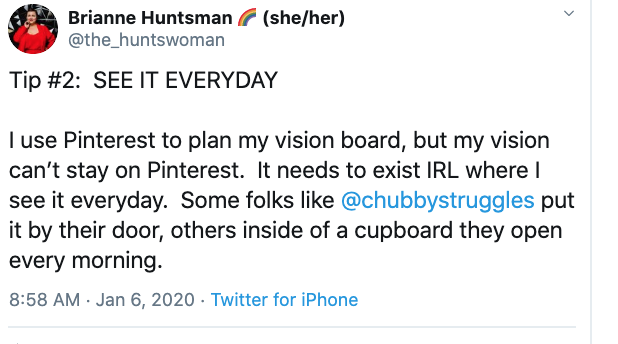 A vision board should be where you can see it. If it stays on your comptuer and you never look at it again – well, it won't get you very far. So save all your images from Pinterest, get them printed in color and put them on your poster board. Glue those bad boys down.
Where to Put Your Vision Board
I like to put my vision board in a new spot every month, so my brain is forced to really SEE it and process it. (Otherwise my brain skips over registering its existence.)
I put my vision board in various places in my house, such as:
On my bathroom mirror
In my bedroom
In front of the toilet (sorry tmi?)
By the dinner table
Over my desk
Remember, you've gotta see it every day.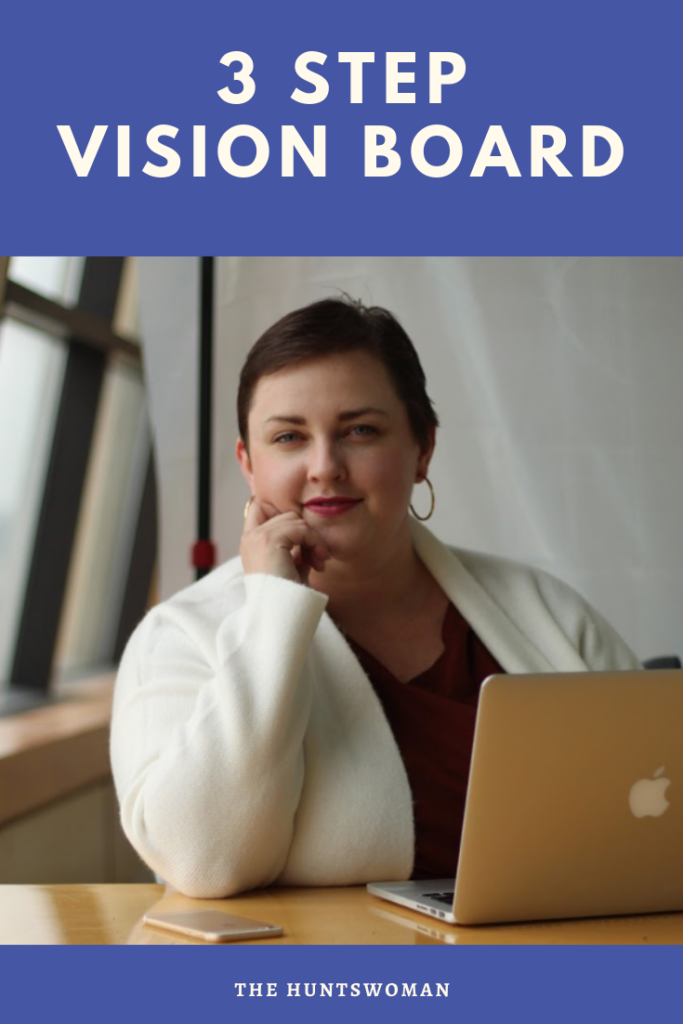 Step 3: Using Your Vision Board – Speak Your Vision
Many folks finish up their vision board, dust off their hands and call it a day (or a year). They may hang it up, but they don't ever really LOOK at it again.
You are not done with your vision board once it has been made!! Engaging with your vision board on a daily and weekly basis is CRITICAL. Doing this puts your dreams at the front of your mind, so you can take advantage of opportunities and inspiration on a daily basis.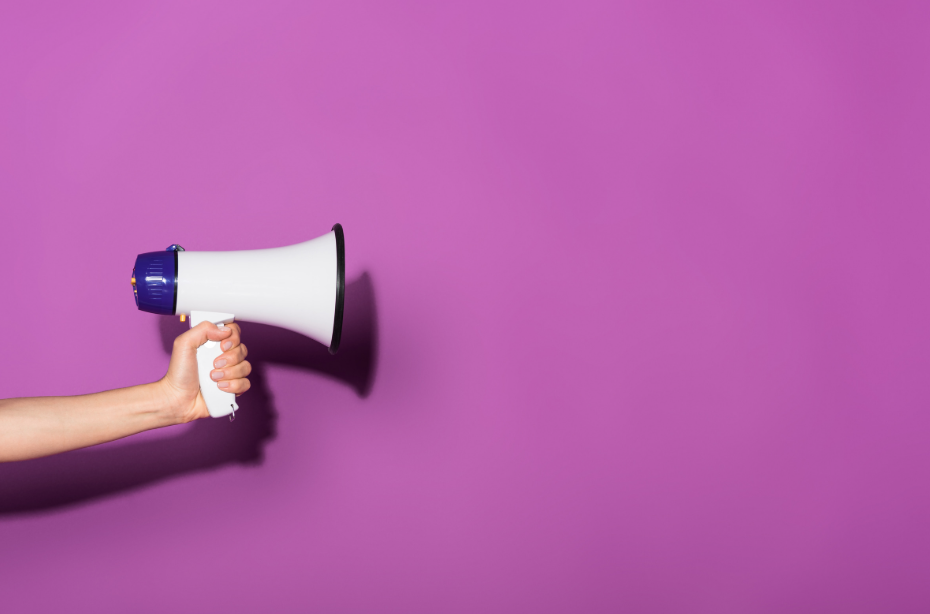 Mind hack, FTW!
So, your job is to go through each image and speak about it! Talk to God, your Self or an imaginary friend through everything. A coach can really help you go through and get SPECIFIC about what you want, which can be more difficult than it sounds.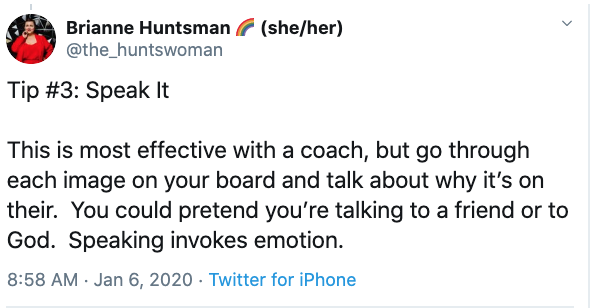 I recommend that on your "Self-Care Day" (for many this is Sunday) you have a standing appointment in your google calendar to do this.
Seriously. Put it in your calendar.
Go on.
RIGHT NOW!!
Bonus Vision Board Tip: You Can Add & Remove Images
I didn't share this on Twitter, so blog readers get an extra something something!
As you talk your way through the vision board on a weekly basis, you may one day go, "You know, I don't really want this any more."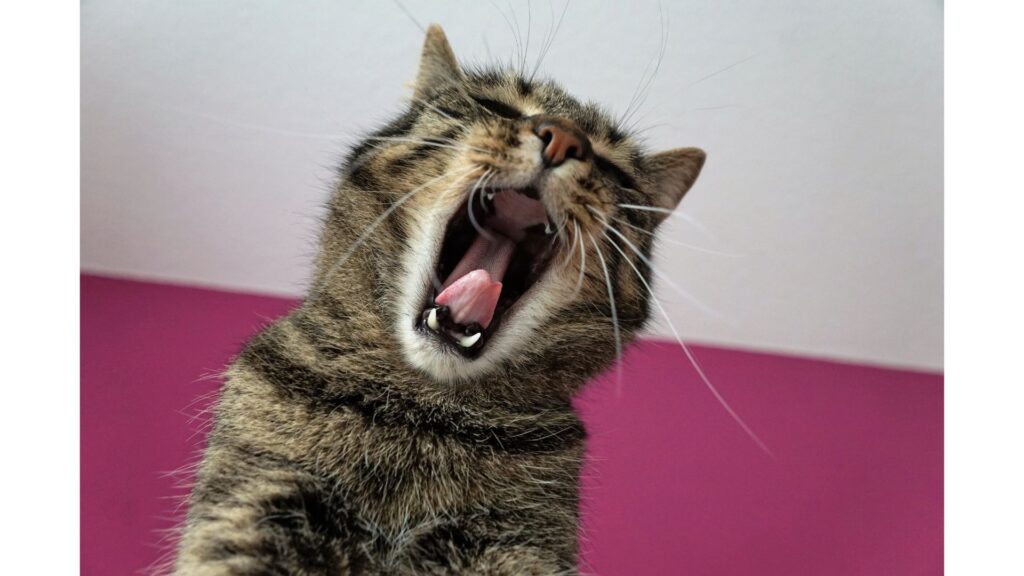 AND THAT IS 100% OKAY!
A vision board can offer you extraordinary clarity, and you can add and remove images as you please. <3
Part 2: My Vision Board
WHEW! Okay, so I am SO EXCITED to share my vision board with you. At the time of writing, i haven't gone through and printed out images. I'm going to do a little "show and tell" for the final version over on my YouTube channel.
I feel a little vulnerable opening this up to the internet, but it's a good kind of vulnerable. You can't get what you want if you don't ask for it!
#1: Model at the CHROMAT NYFW Fashion Show
Oh yeah, we are just JUMPING IN HERE PEOPLE! I love this brand, I love the models they use, and I would love to stomp that runway.
#2: Visit & Travel Around Greece for 2-4 Weeks
I have been DYING to visit Greece, and I want to take all the extra AF blogger photos available. I see myself going with my BFF, Kate Rose. I'm looking for infinity pools, luxury accommodations, island hopping and blue roofs.
I would love to bring a photographer along for the ride, to get all of my dream photos. I'm obsessed with the blue roofs, and I have no apologies for it!
One of the places I will to stay is the Canaves Oia Hotel & Suites. This luxury hotel is carved into the cliffs in Santorini looking out to the Aegean Sea. The whole hotel looks like perfection, with helicopter tours, yachting and a spa that looks NEXT LEVEL.
I will stay in the River Pool Suite, because it has it's own pool!
#3: Move into My Dream Apartment
I am ready to live somewhere that's all mine, and I am lowkey obsessed with JLo's Manhattan apartment.
This image of Cobalt Chronicles moving speaks to my soul. It really embodies how ready I am to move!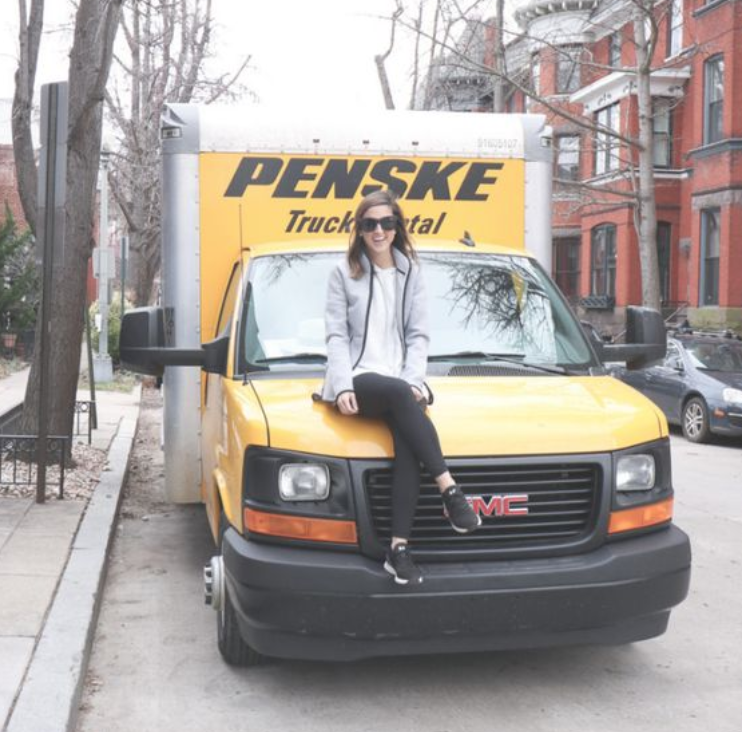 I am excited to move into bright, roomy and airy space, with a space for my fashion studio that's a separate room. I want big floor-to-ceiling windows, dark wood. It was funny pinning home decor inspiration to my Pinterest, because I thought my style wasn't cohesive until I took a step back!
#4: A Doorman at My Apartment!
I am ready for an apartment I love, and I am all about having a doorman. TBD where I end up (Los Angeles? NYC? London?)
A doorman makes me feel safe, and I love visiting friends who have doormen.
#5: Instagram Verified!
This definitely belongs on a vision board, because I don't have control over this one. I'm going to wake up to that little blue check!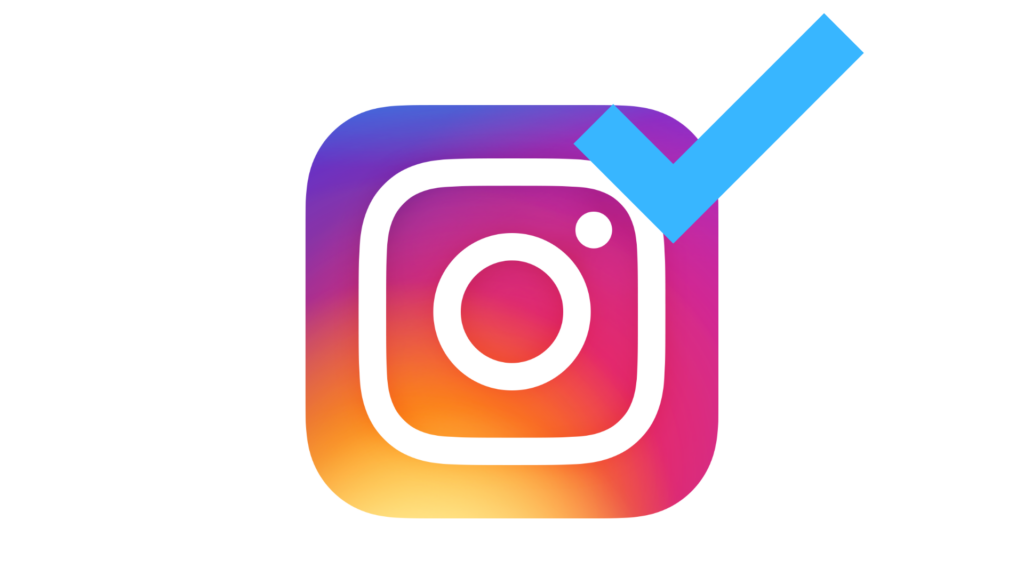 #6: Brands to Work With
I've been pretty choosy about partnering with brands, and I'm ready to up the number of partnerships I do each year!
I have a ton of ideas, and here are a few that excite me:
Spirits Brands
Luxury plus size fashion
Hotels & Resorts for LGBT Travelers
Cool tech products and iOS apps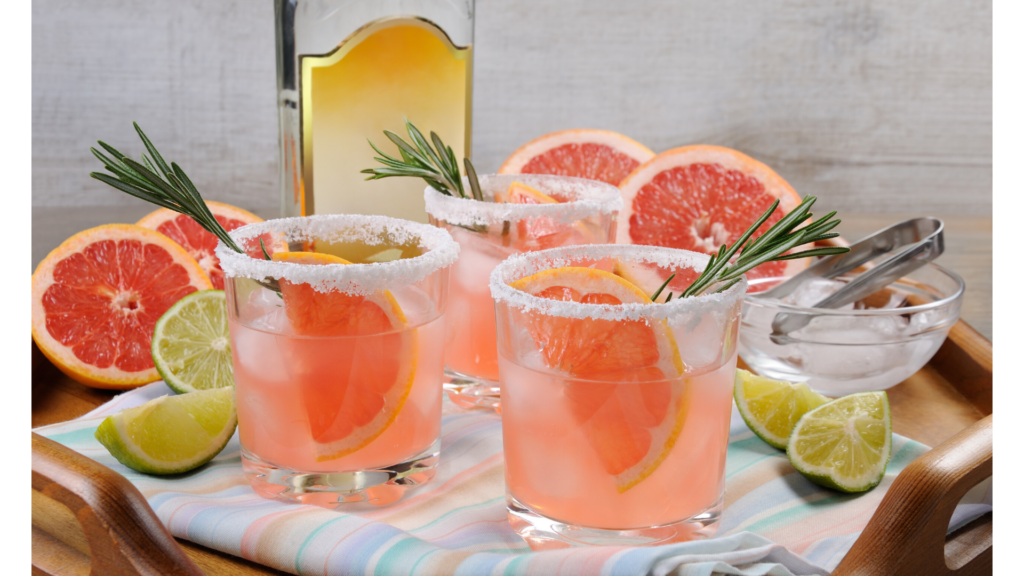 #7: Mercedes G-Wagon
Y'all, this is my DREAM CAR!!!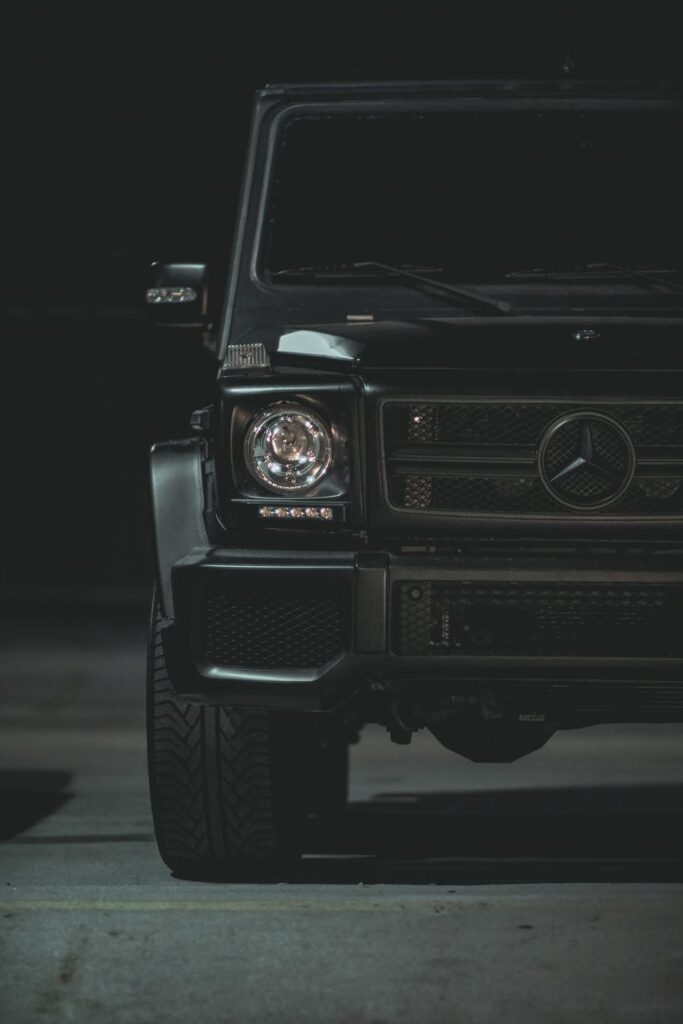 #8: Chase Sapphire Reserve Card
I've gotten into finance blogger and learning in the last year, and the perks of the Chase Sapphire Card really appeal to me. My credit score is almooooost there!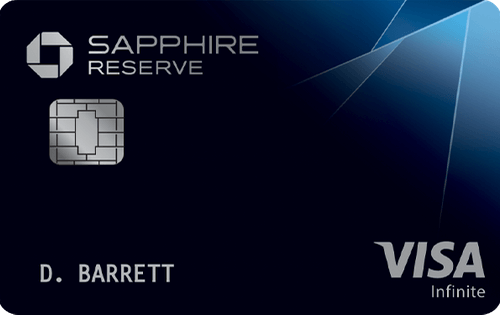 #9: Incredible Editorial Shoots
I'm proud of how I leveled up in my creative director skills in 2019, and I'm ready to grow the production team for some insane photoshoots!
Meeting passionate creatives is half planning and half kismet, so putting this out there! I'm ready for cliffs, drone photography, billowing dresses and more!
Thank You for Reading!
I didn't share all of my vision board on this post, because, well, I'm still finessing it for my YouTube video debut! If you'd like to book a session to build your vision board, contact me on my consulting site here!