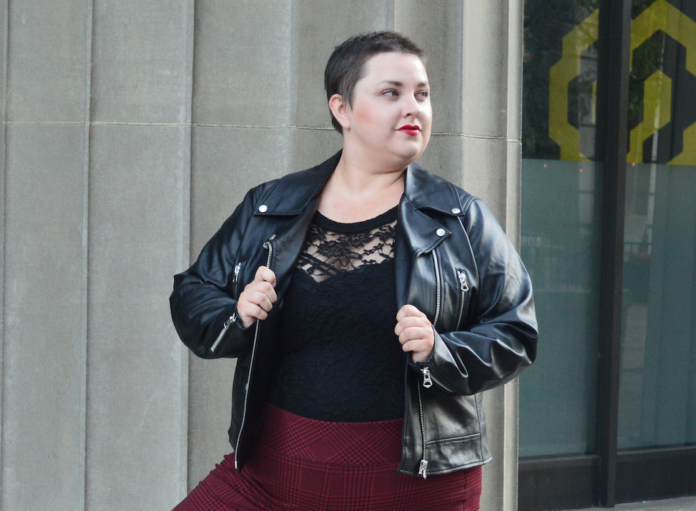 Hey there! This post contains affiliate links.  Using my links means I earn a commission, which helps me create more rad content.  More on affiliates here.
The temperature has finally started to drop in Utah, and I am drinking a PSL (Pumpkin Spice Latte) as I write this!
Fall is my FAVORITE FREAKING time of year, and not just because of my Starbucks drink options. I feel creatively rejuvenated by fall (and I love winter), and I love the holidays and fall fashion.
Oh boy, do I love fall fashion!
[Heads up! This post uses affiliate links, and you help me earn $$ when you use my links. More on affiliate links here!]
Everyone Needs a Leather Jacket. Or Five.
A fall staple that I think every person should have in their closet is a leather (or faux-leather) jacket! A great leather jacket lasts YEARS, and can be styled with a variety of clothing pieces (from gowns to ripped jeans).
But *finding* a leather jacket, especially in plus sizes, can be a challenge. Below, I've shared a listicle of where to buy a plus size leather jacket, with notes on pricing and whether the piece is faux-leather or actual leather!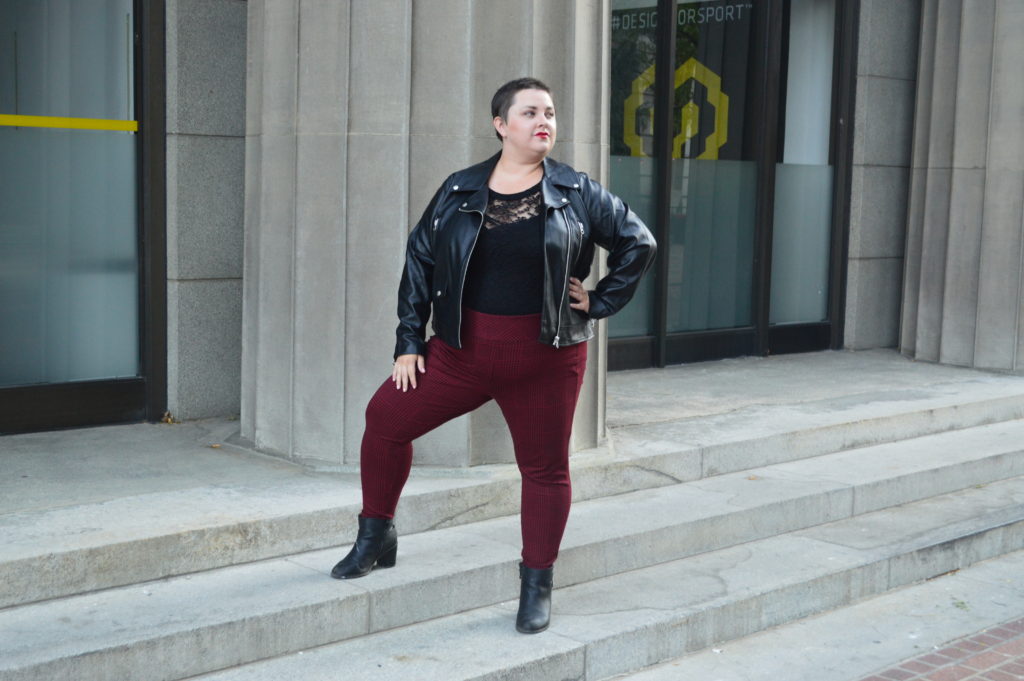 Did I miss a brand? Be sure to pop in the comments with a recommendation!
Brand #1: Torrid – Motorcycle Leather Jacket
Torrid is my go-to place for leather jackets, and in the fall they usually have several to choose from. I recently snagged this leather motorcycle jacket ($98) in a 3, and I love the hardware. It's also cut a bit longer and hits at a great spot in my body. (Other moto leather jackets have hit at the fullest part of my stomach, which I do NOT enjoy.)
This faux-leather jacket is available in up to a 6X (size 30) here.
You can see the Torrid top ($42,99) and pants ($68.90) t that I styled with this jacket!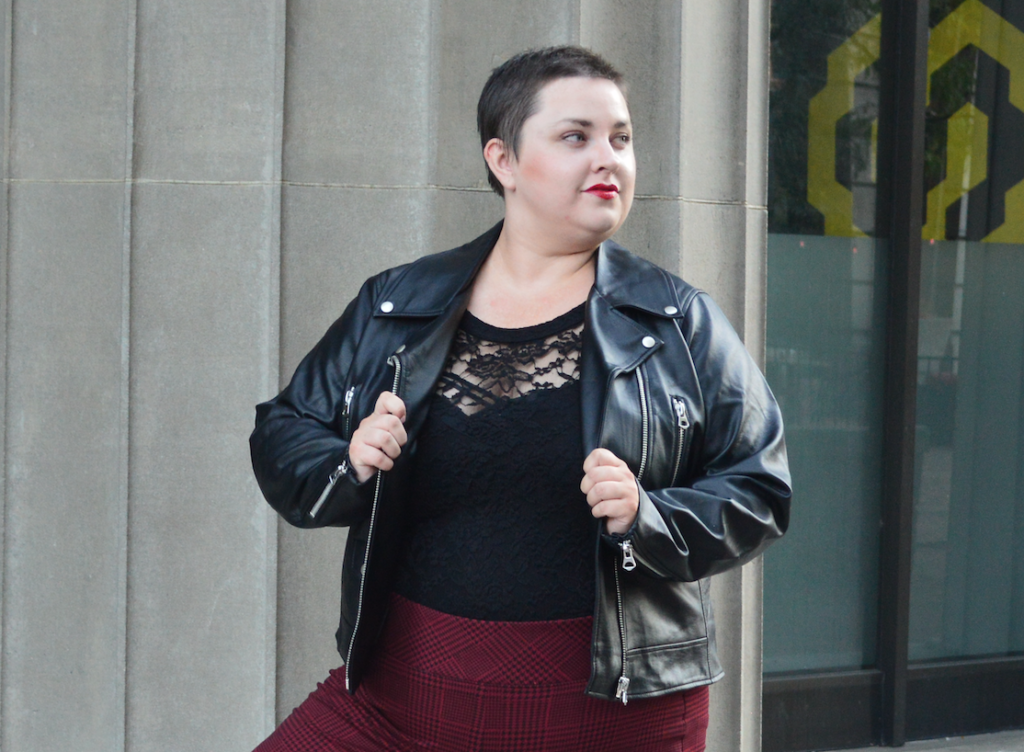 Brand #2: City Chic – Red Leather Jacket
City Chic has a variety of leather jackets, but this leather jacket in red is my absolute fave! It has a collarless neckline aaaand functioning pockets. We love pockets!
I love how they styled this as a "leather and lace" duo with this dress!
This jacket is $139 USD and can be purchased here.
Brand #3: 11 Honoré – Luxury Leather Jackets
11 Honoré is the go-to shopping destination for plus size shoppers who love high quality and luxury pieces. Currently, 11 Honoré has pieces from the iconic brand, VEDA, on the site.
The jacket on the left retails for $948 USD and the one on the right for $998. Available in up to a size 18.
Shop here.
Brand #4: ASOS – Biker Leather Jackets
Ahhh, ASOS! Where would we be without you? ASOS currently has two "biker" leather jackets in plus sizes, with this one at $56 USD which is available in up to a 26, and this one at $76 USD available in up to an 18.
I'm a big fan of the ASOS shipping membership program, Premiere Delivery, where you get free 2-day shipping for a year. I will buy multiples of a type of item (like leather jackets), try them and show them off on my Instagram story, and then ship back the ones I don't like!
Snag plus size leather jackets at ASOS here.
Brand #5: All67 – High End Leather Jackets
If you're not into fast fashion and you're looking to purchase a leather jacket (not faux-leather) that will last YEARS, definitely check out the high end luxury brand All67.
This New York based brand has a "Lifetime Leather Jacket" for $495 – $549 that is stunning. I've tried these on IRL and the leather is SUPPLE. These jackets are available in up to a size 28.
Shop All67 on CoEdition here.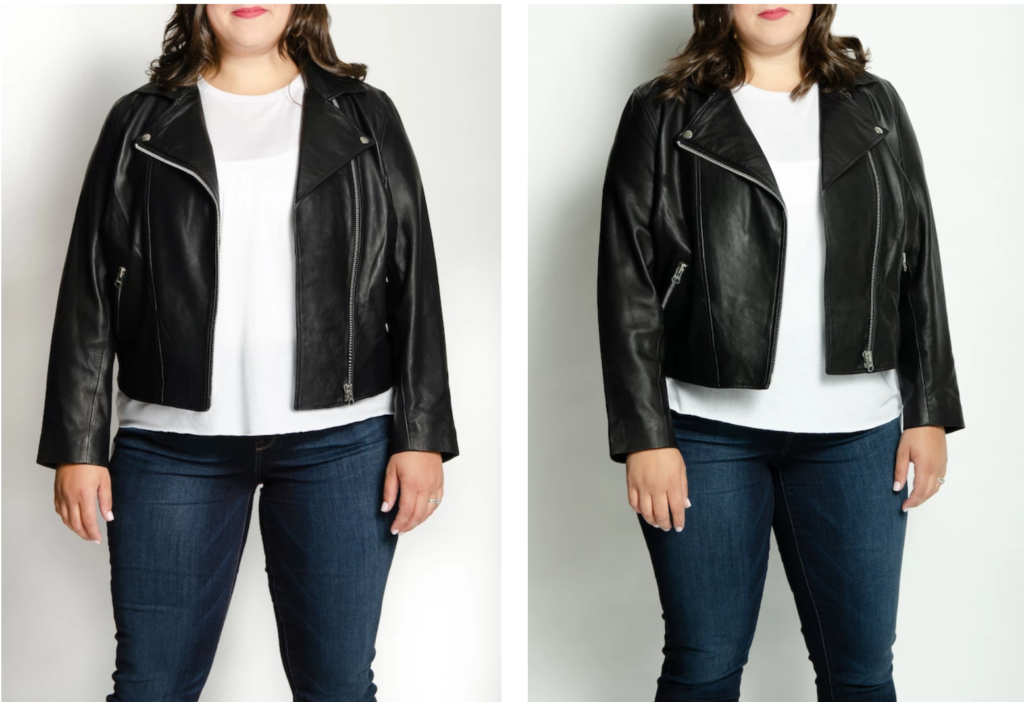 Brand #6: Woman Within – Colorful Leather Jackets
Holy heck! When I was looking for faux-leather jackets to include in this roundup, my eyes almost popped out of my head seeing all of the COLORS over on Woman Within!
The brand has leather jackets in gold, reds, blues, purples and PRINTS.
Woman Within also goes up a size 32, and I'm so stoked about this collection of outerwear!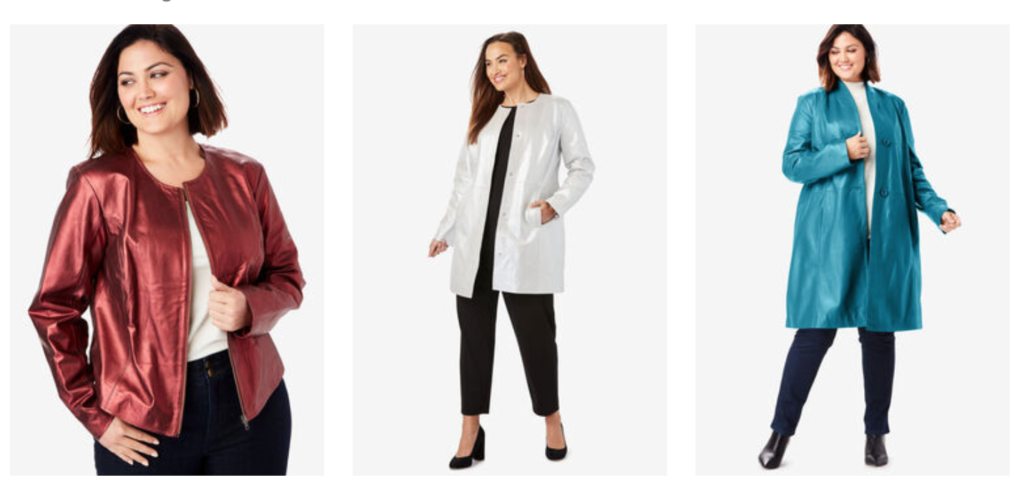 Brand #7: Wilsons Leather – Brown Leather Jacket
Finding a plus size leather jacket in brown is a little more difficult than in black. Luckily, Wilsons Leather has this high-quality brown (Nutmeg) leather jacket available in up to a 3X!
Snag this jacket here.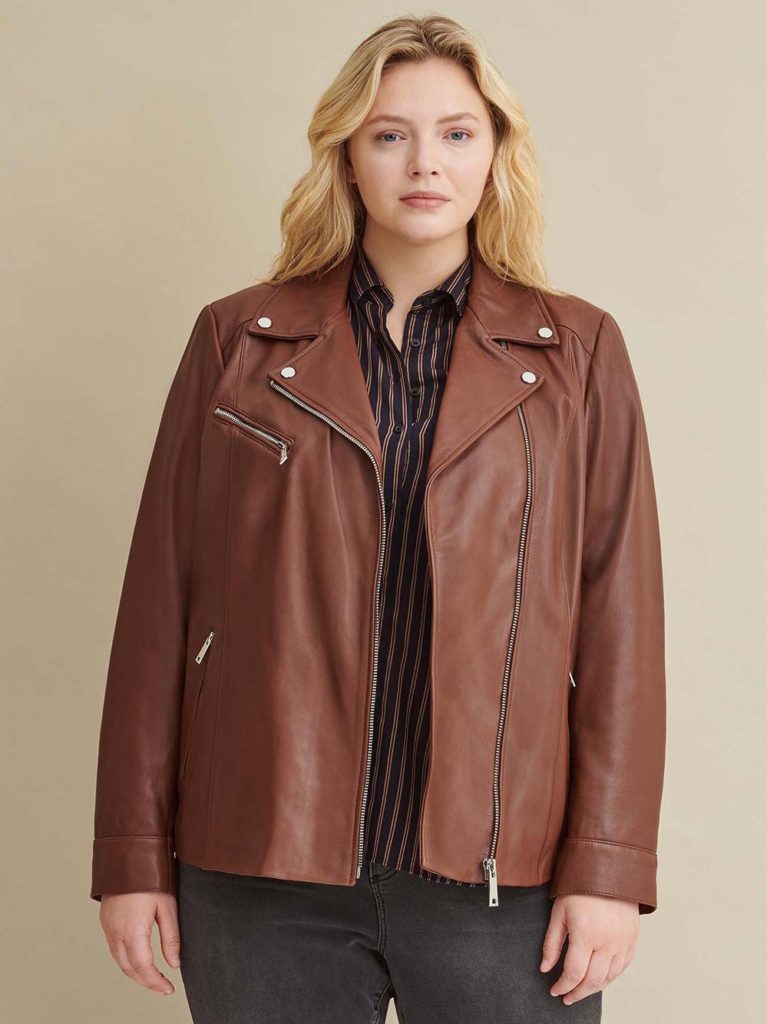 Brand #8: Faux Suede Jacket from LOFT
Okay so technically this jacket isn't faux leather or leather, but I consider suede to be a cousin of leather – right? This light pink suede jacket from LOFT has a motorcyle cut – and it's gorgeous.
Available in up to a size 26, this jacket retails for $130 USD.
Shop here.
Brand #9: Waterfall Faux-Leather Jacket from Simply Be
SimplyBe has a number of faux-leather plus size jackets, but what really stood out to me was this waterfall jacket. It's available in two shades of brown as well as black, going up to a size 28 for $58.49 USD.
Brand #10: Joe Brown Leather – Luxury Plus Size Leather Jackets
Perusing the SimplyBe website, I found this ochre leather jacket and fell in love. This jacket is available in sizes 20-32, and it is definitely a staple wardrobe piece. This jacket retails for $259.99, and there are other Joe Brown Leather Jackets (one in green!) available on the site.
Shop here.
Brand #11: Eloquii – Unique Leather Jackets
A favorite for fashion forward plus size babes, Eloquii, raises the bar every season for what we expect to see in faux leather!
They have a variety of leather jackets, including TWO DIFFERENT PINK leather jackets this season?? We are truly blessed.
Both of these jackets are the same cut, with 3 other colors available. for $149.95.
Shop here.
How to Find a Well-Fitting Plus Size Leather Jacket
Finding a leather jacket that fits well is KEY. I've definitely tried on plus size faux-leather jackets that are too bulky or fit me…. oddly.
When it comes to shopping for plus size clothes, it's important to remember that each brand designs for different body types. If a piece doesn't fit you well, your body isn't the problem! The brand may be targeting consumers who carry their weight differently or are different sizes.
When I try on a leather jacket, here's what I look for:
Sleeve Length: The sleeves should hit about an inch before your thumb knuckle.
Jacket Hem: I have a long torso, so I look for longer leather jackets. I like my leather jacket to hit a few inches above the fullest parts of my stomach.
Shoulder Seams: Ill-fitting jackets have the shoulder seams falling on your upper arms – not your shoulders. This may be a design detail if you like an oversized look, or annoying if you want something more fitted!
Closures: Be sure to test zippers and pockets for usability. Some RTW plus size jackets have tiny or fake pockets!
Want More Plus Size Fashion Recommendations?
Be sure to subscribe to my email list to learn about new fashion brands and plus size fashion recs!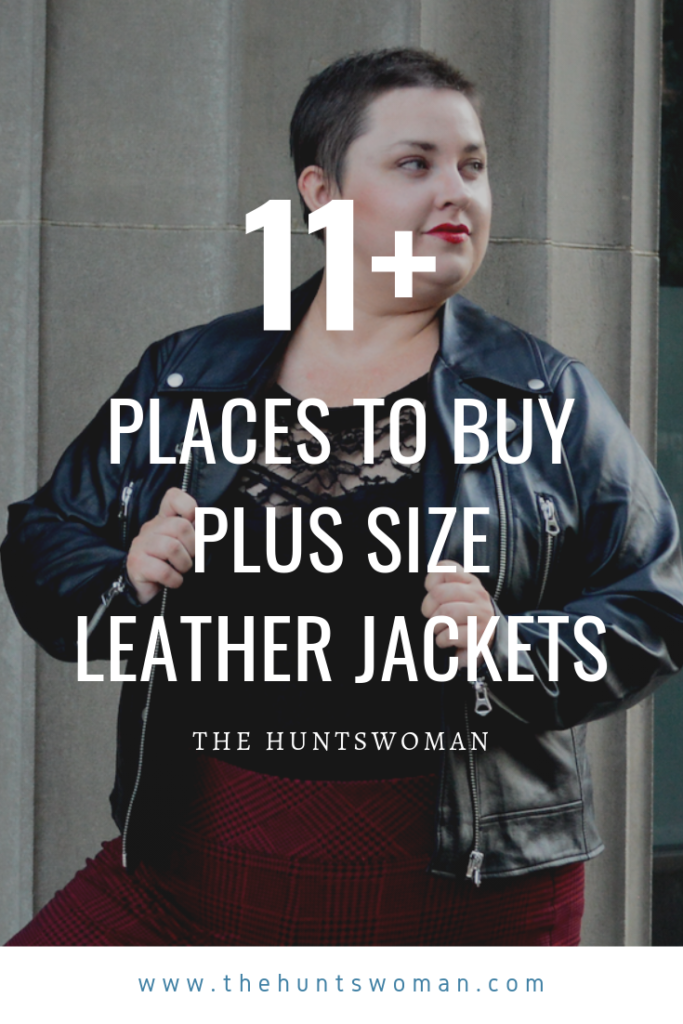 [FTC Notice: This post contains affiliate links, meaning I earn a small commission if you purchase a product through my link. Affiliates help me write more great content, and I only endorse products I truly love.]