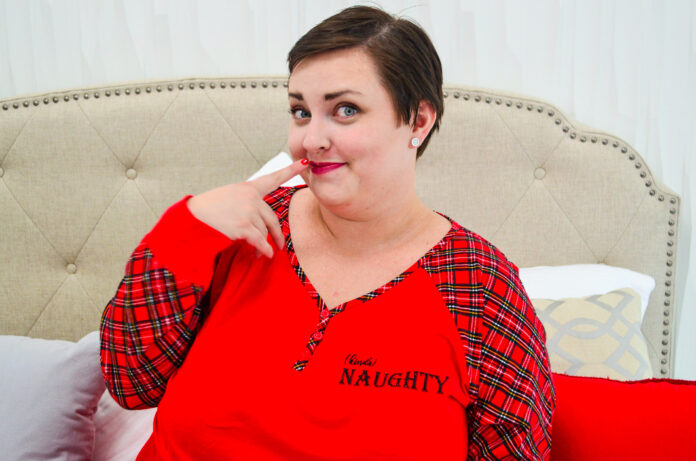 Hey there! This post contains affiliate links.  Using my links means I earn a commission, which helps me create more rad content.  More on affiliates here.
In this post, I share where to snag plus size Christtmas pajamas, both plus size onesies, family pajamas and other cute options for the holidays!
I *also* did a super fun lookbook (fashion photoshoot!) featuring plus size pajamas from Cacique at Lane Bryant. I've split the post between the lookbook and roundup, so scroll down if you're looking for the roundup of cute plus size Christmas pajamas!
Part One: Plus Size Christmas PJs! Lookbook FTW!
Every year without fail, I get new pajamas at Christmas time!
It started out as a Christmas Eve tradition. Every year on Christmas Eve, my entire family would open 1 present – holiday pajamas!
As time went on and I stopped growing, I found I didn't need a new set of Christmas pajamas every year. So, my family mixed it up and made it so we the gift could be non-pajamas.
[Heads up! This post uses affiliate links, and you help me earn $$ when you use my links. More on affiliate links here!]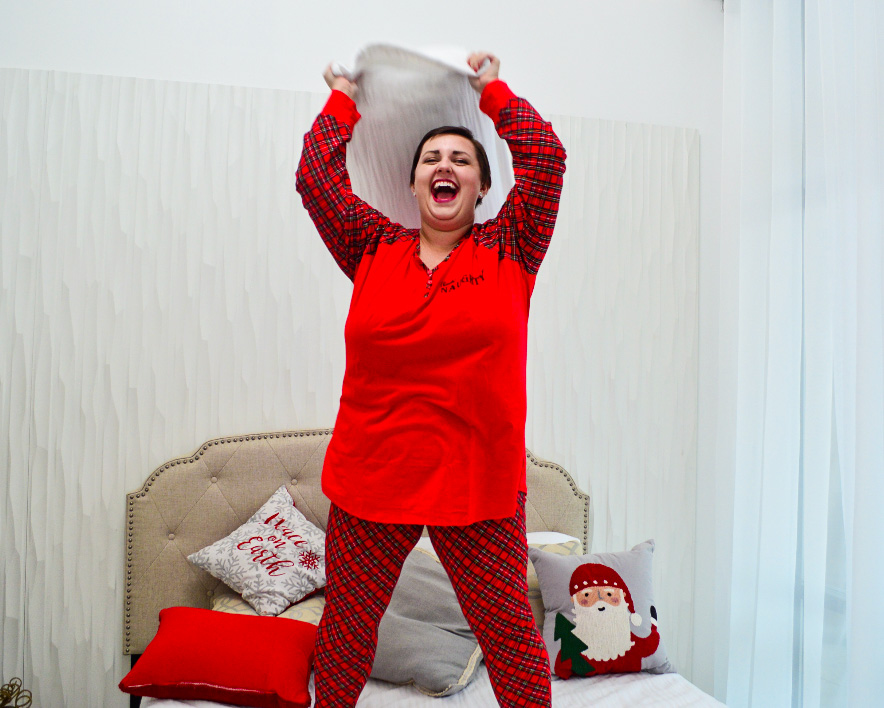 But this year, I saw these plus size holiday pajamas at Lane Bryant on Black Friday – and I knew I NEEDED THEM.
Plus Size Holiday Pajama LEGGINGS
Most plus size PJs have loose bottoms. I move around a lot at night (I'm a flailer!), and loose PJ pants get all tangled up.
So, I almost always go with leggings for bottoms.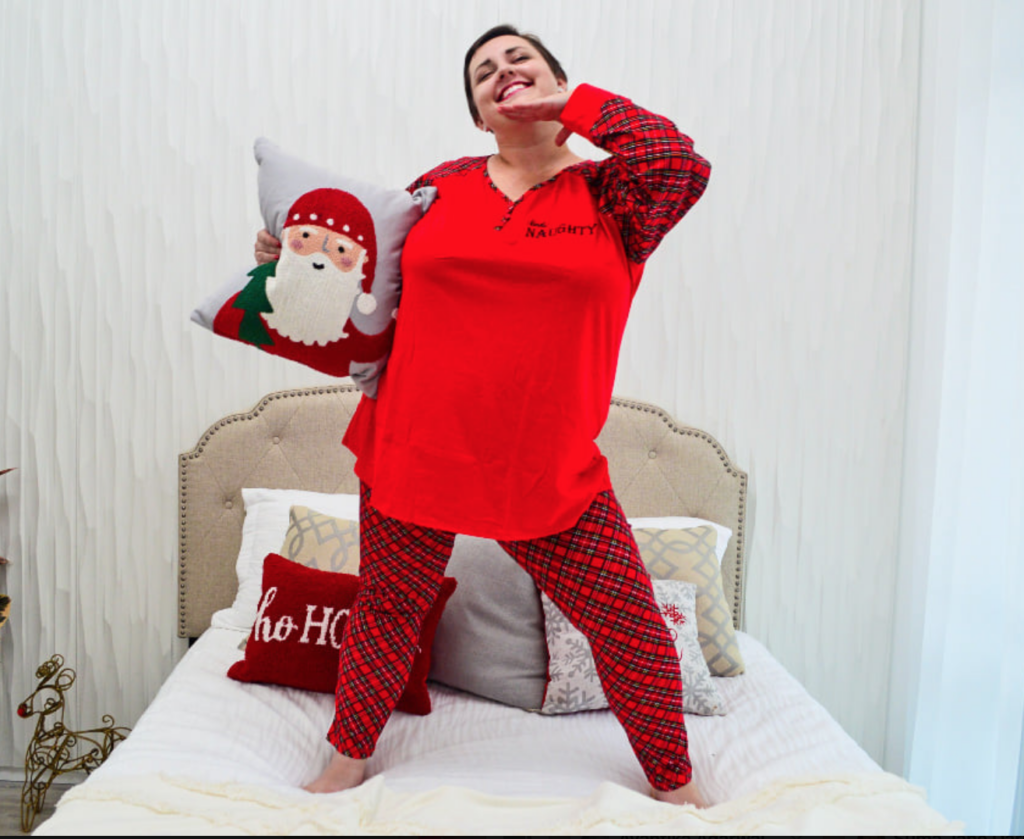 This Christmas set from LB had leggings, score!
Shop here.
Christmas Plaid FTW
I'm a big fan of plaid, and loved how the sleeves match the leggings. The top is a bit longer, so this could also double as a sleep shirt!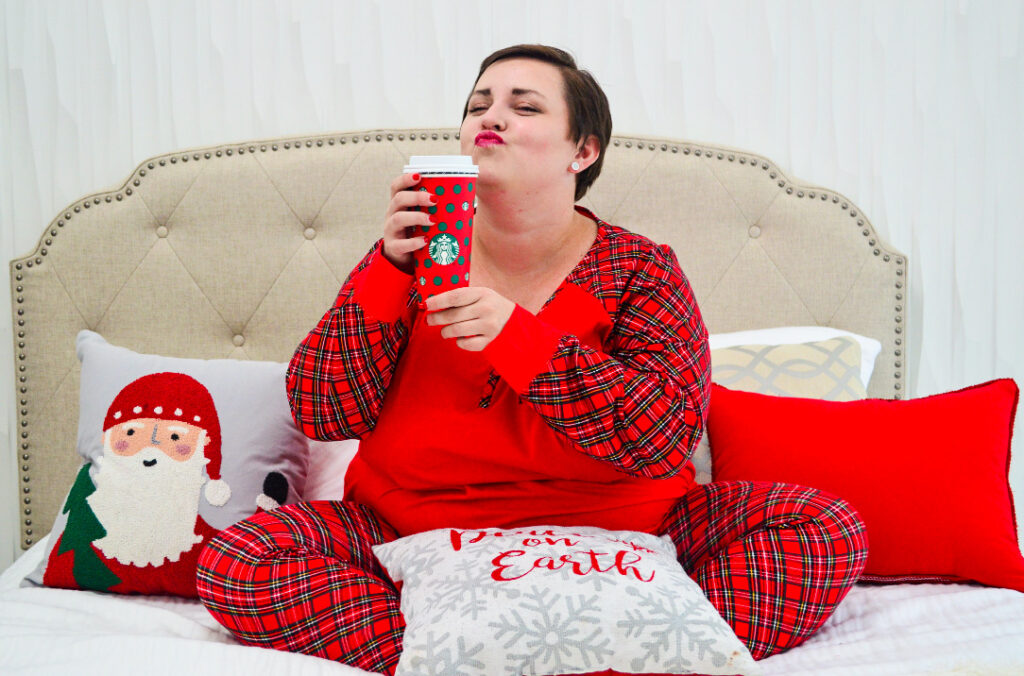 The Naughty List
I loved the sassy text across the top. Sassy enough to make it fun, but not so sassy I can't wear it on Christmas morning!!
See more pajama sets here!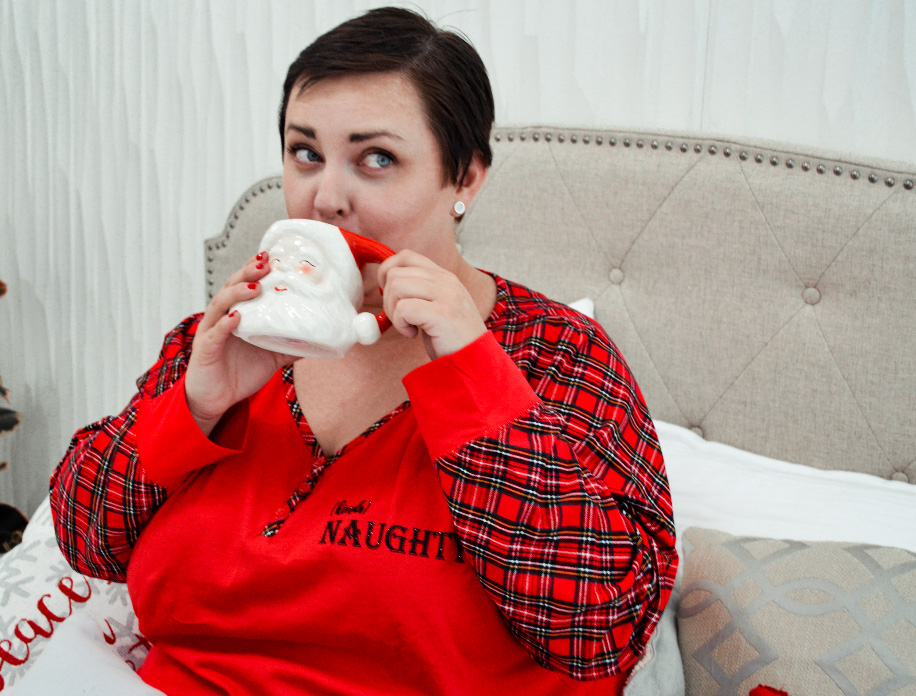 Part Two: Where to Get Plus Size Christmas Pajamas!
Are you on the hunt for plus size Christmas pajamas? Here are my favorite places to shop:
#1: Plus Size Christmas Family Pajamas – Target ($20)
I love seeing photos of families in matching Christmas pajamas, and stores have started offering plus size family pajama sets as well!
From doing a lot of research online, I think Target is going to be your best bet for plus size Christmas pajamas! I love this elf set from Target, and they also have a black and red plaid option!
Get these matching plus size family pajamas HERE!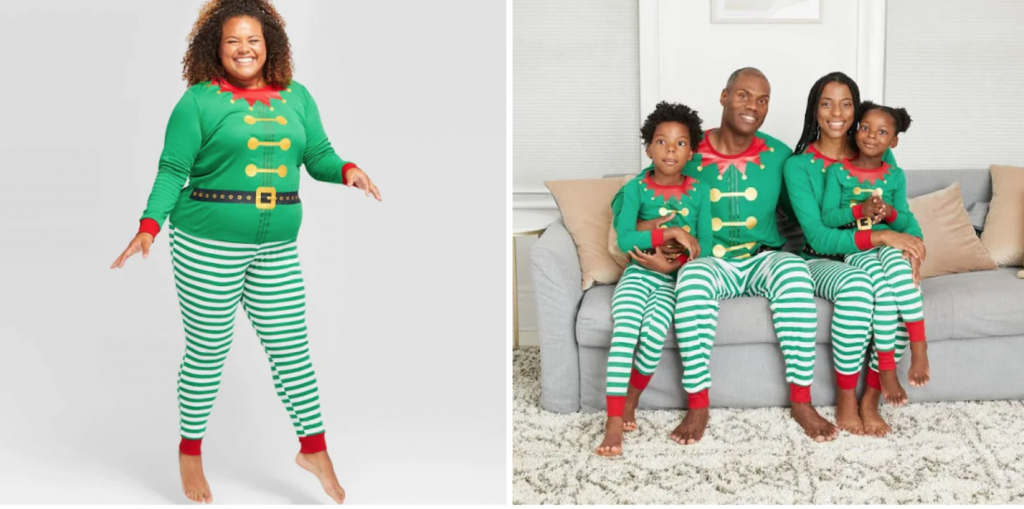 #2: Plus Size Christmas Onesie! – Tipsy Elves ($79.99)
We all love super fun Christmas pajamas, and this plus size Christmas onesie is freakin' cute! This plus size Christmas onesie is $79.99 from Tipsy Elves!
Shop this plus size onsesie HERE!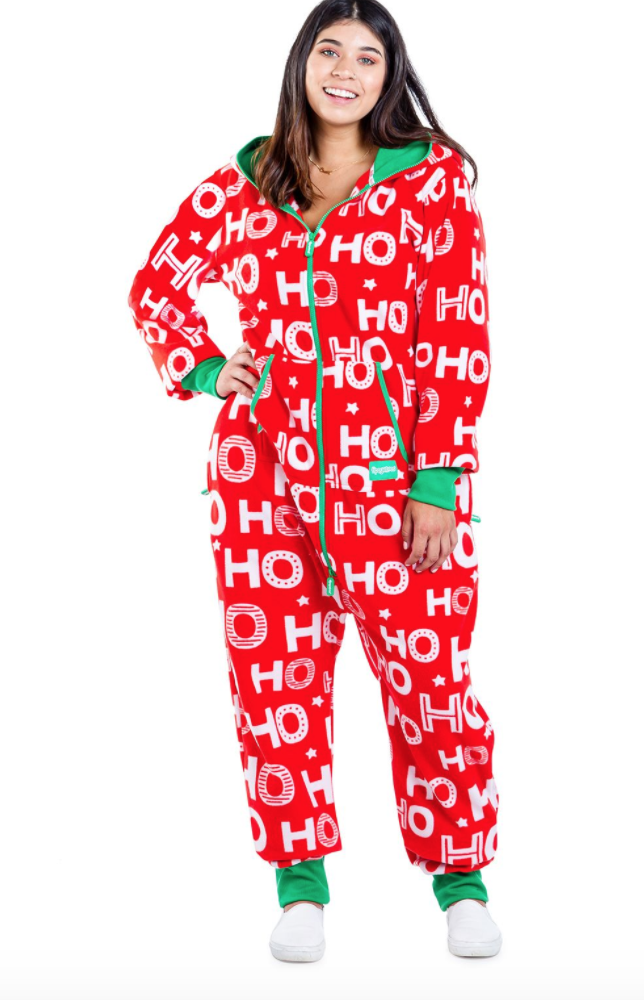 #3: Plus Size Christmas Pajamas – Kohls!
Kohls has an INSANE selection of plus size Christmas pajamas, including plus size family pajamas, plus size onesies and more sophisticated options like the plus size Christmas set below!
Shop here.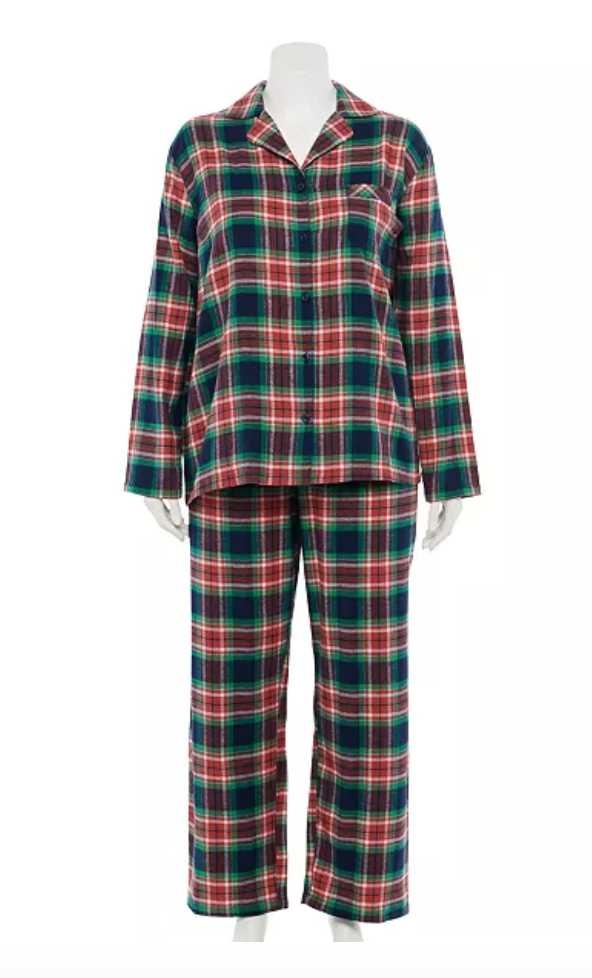 #4: Plus Size Grinch Christmas Pajamas – Macy's
This is one of my favorite Chrismas movies, and this plus size pajama set is super cute for both Christmas morning – and to wear the entire holiday season!
This set is available in up to a 3X, and is also available as a family pajama set!
Shop here.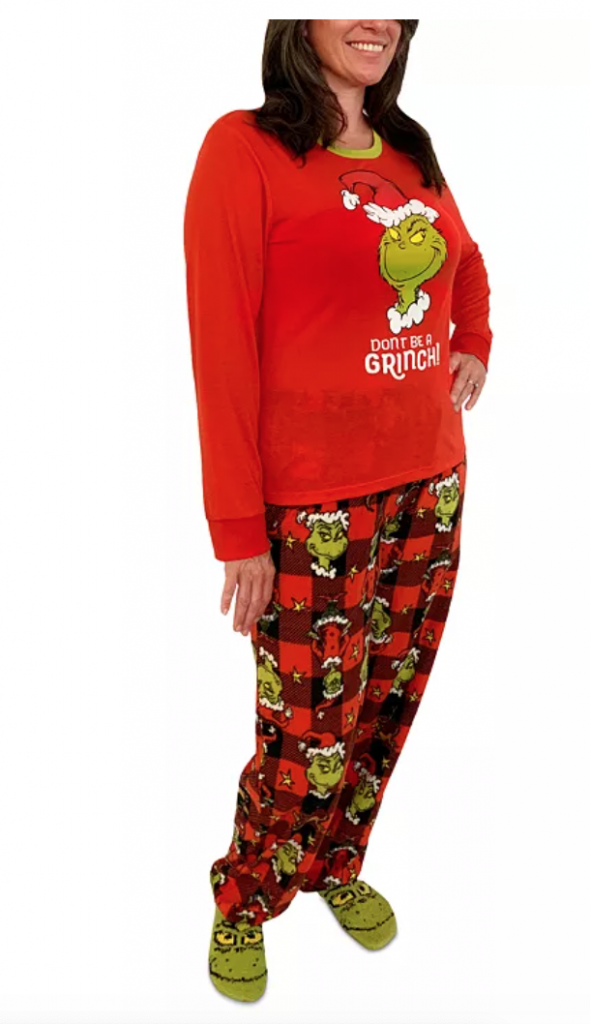 #5: Plus Size Cute Christmas Pajamas – Lane Bryant ($49.95)
Love pink? Then this is the plus size Christmas pajama set for you! I love the snowflake detailing on this set, making it perfect for some winter selfies!
It's available in up to a size 30!
Shop here.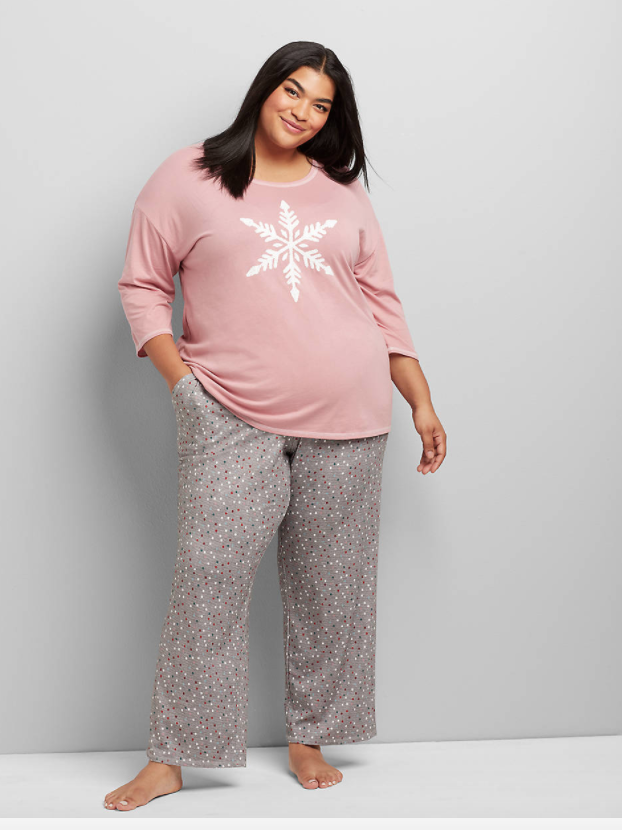 #6: Red Satin Sleep Set – Torrid ($49.99)
How gorgeous is this deep red satin sleepwear set from Torrid?
Shop here.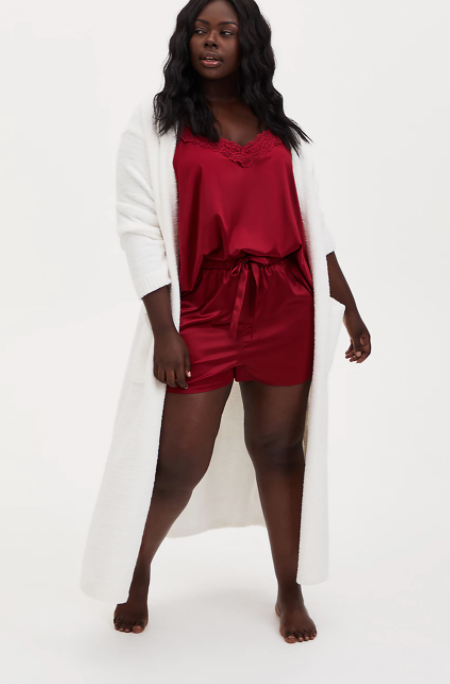 #7: Plus Size Christmas Pajamas from Woman Within
I love high end fashion, and this sleep set SPEAKS to me. I'll def wear something like this while spending Christmas at The Plaza.
Shop here.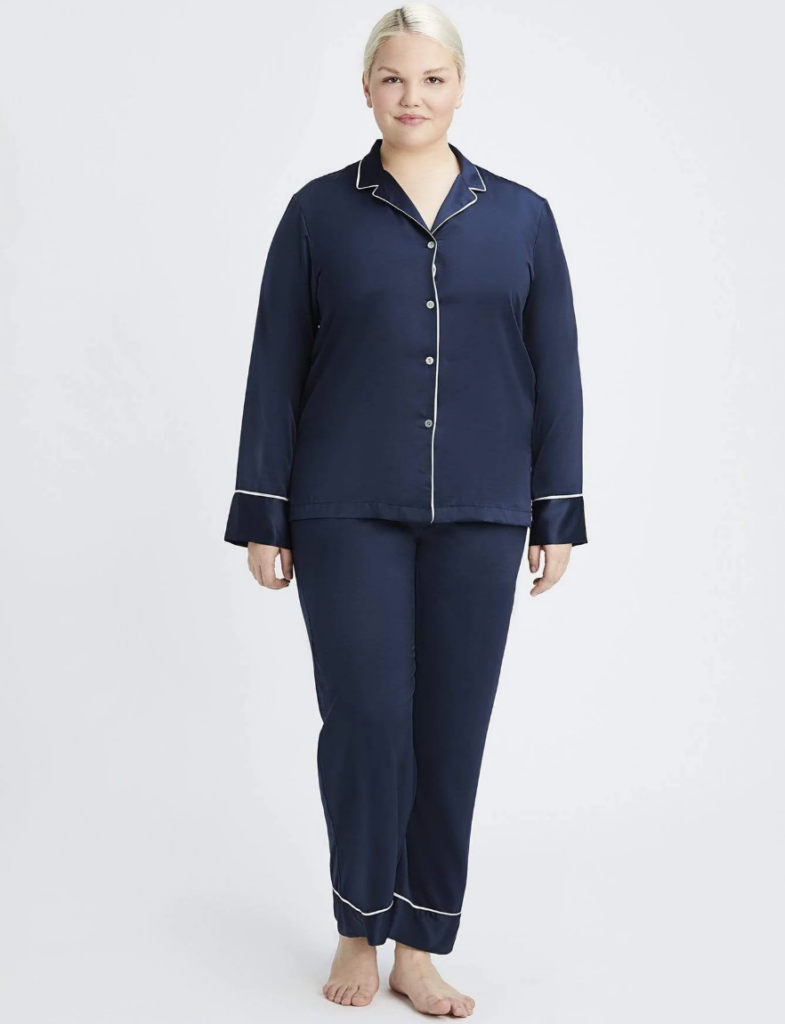 Want More Plus Size Fashion?
Do you love reviews and recs like this? Be sure to join my email list, where I send out only the best content every week!
[FTC Notice: This post contains affiliate links, meaning I earn a small commission if you purchase a product through my link. Affiliates help me write more great content, and I only endorse products I truly love.]