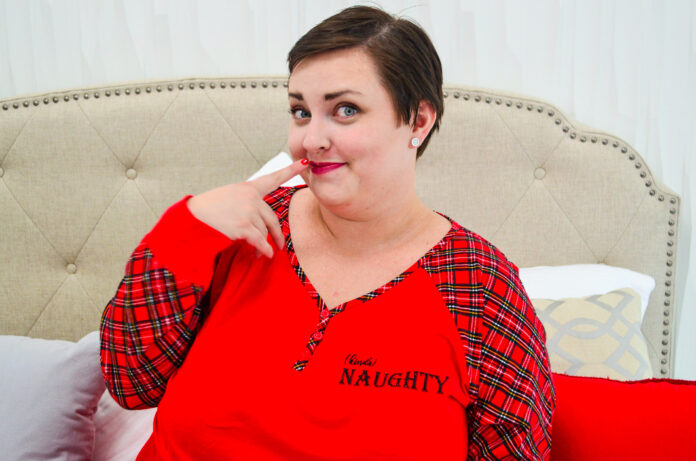 Hey there! This post contains affiliate links.  Using my links means I earn a commission, which helps me create more rad content.  More on affiliates here.
Every year without fail, I get new pajamas at Christmas time!
It started out as a Christmas Eve tradition. Every year on Christmas Eve, my entire family would open 1 present – holiday pajamas!
As time went on and I stopped growing, I found I didn't need a new set of Christmas pajamas every year. So, my family mixed it up and made it so we the gift could be non-pajamas.
[Heads up! This post uses affiliate links, and you help me earn $$ when you use my links. More on affiliate links here!]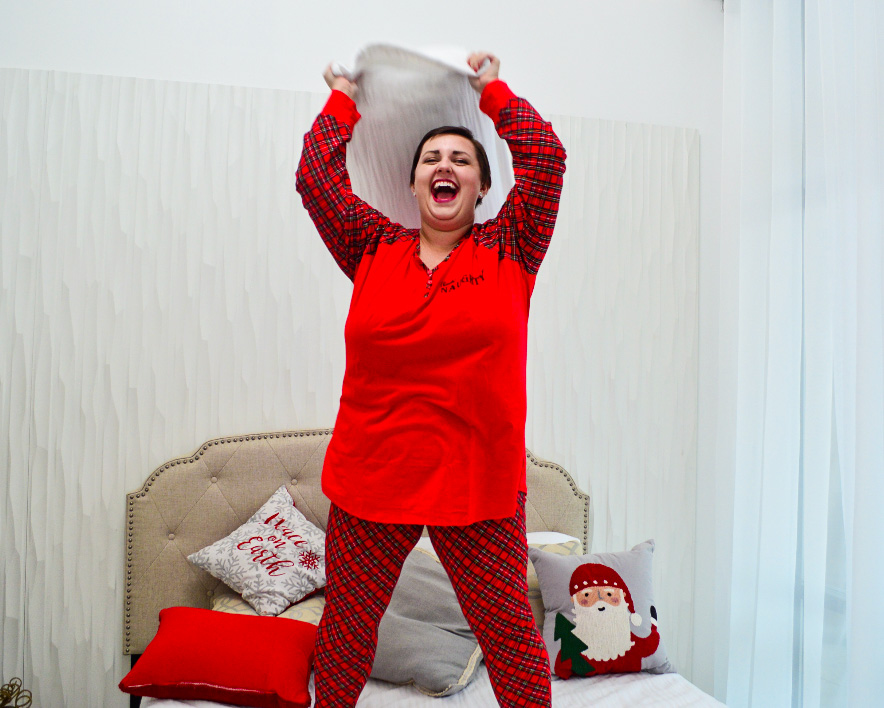 But this year, I saw these plus size holiday pajamas at Lane Bryant on Black Friday – and I knew I NEEDED THEM.
Plus Size Holiday Pajama LEGGINGS
Most plus size PJs have loose bottoms. I move around a lot at night (I'm a flailer!), and loose PJ pants get all tangled up.
So, I almost always go with leggings for bottoms.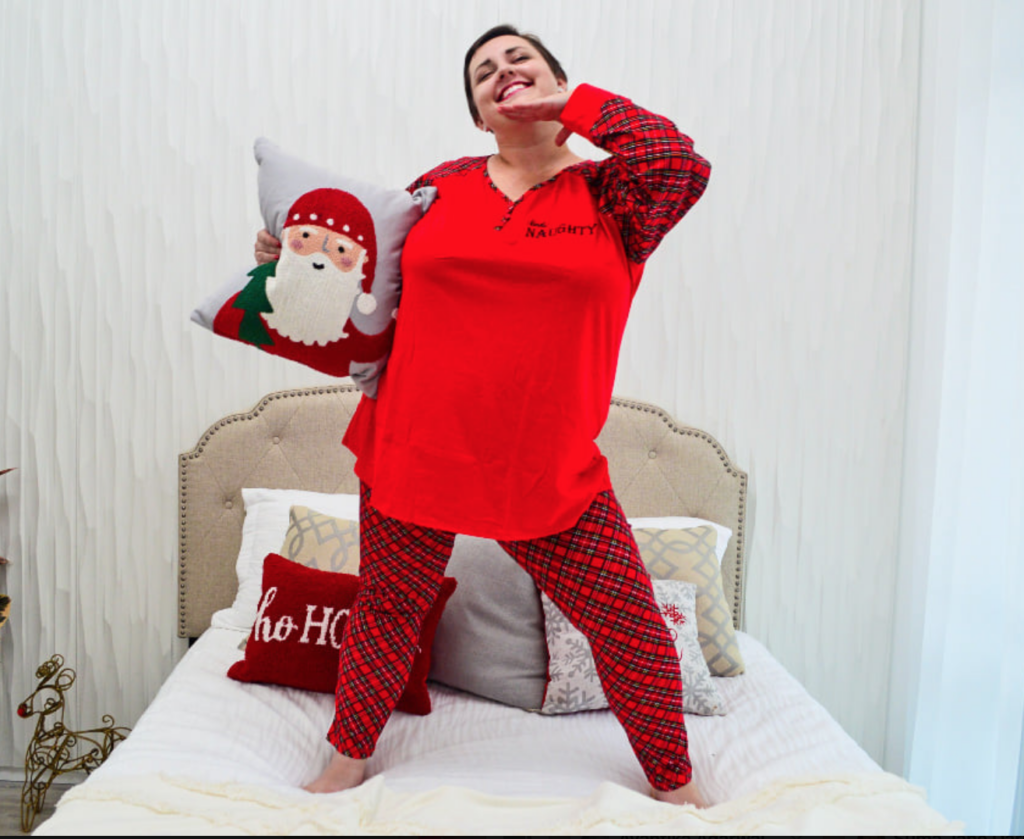 This Christmas set from LB had leggings, score!
Shop here.
Christmas Plaid FTW
I'm a big fan of plaid, and loved how the sleeves match the leggings. The top is a bit longer, so this could also double as a sleep shirt!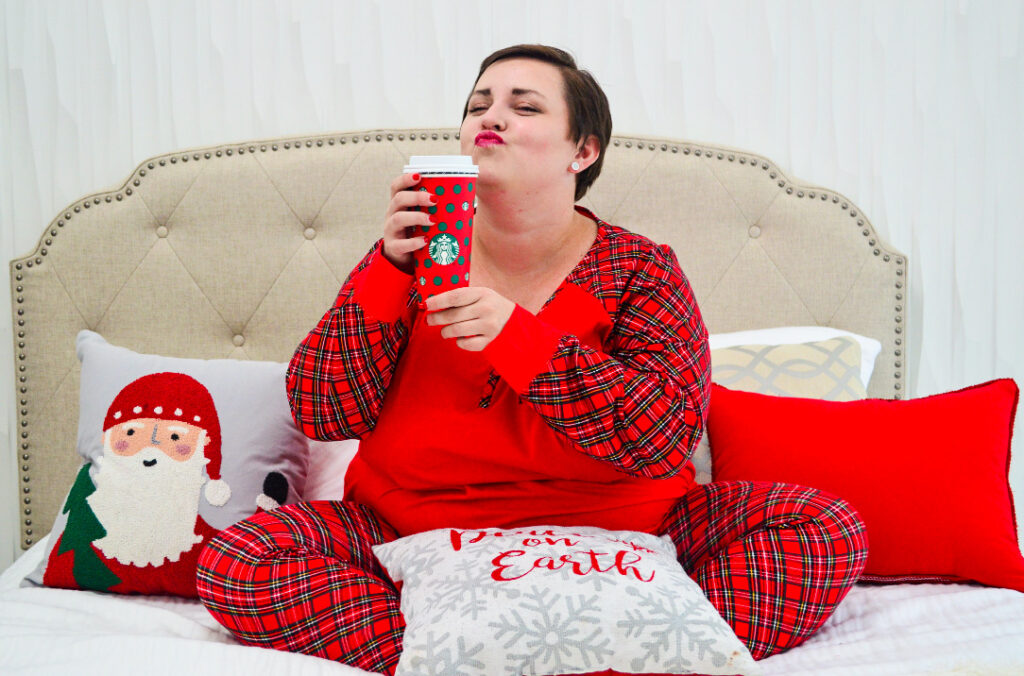 The Naughty List
I loved the sassy text across the top. Sassy enough to make it fun, but not so sassy I can't wear it on Christmas morning!!
See more pajama sets here!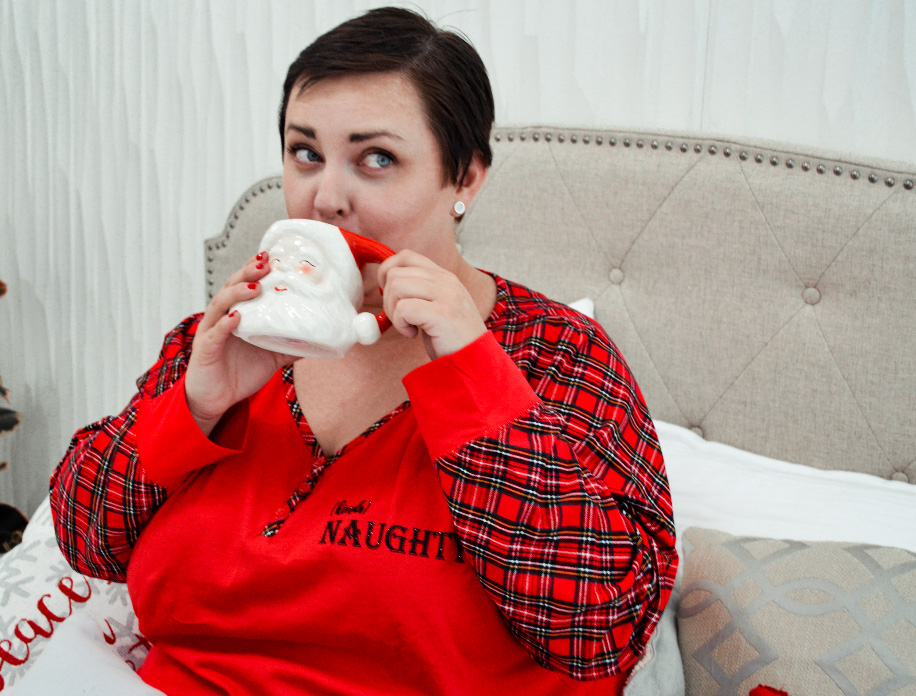 More Plus Size Christmas Pajamas I Love!
Are you on the hunt for plus size Holiday pajamas? Here are a few of my faves:
#1: Purple Plus Size Holiday Pajamas
Y'all know I love purple! The sparkly script on this set is super cute. Shop here.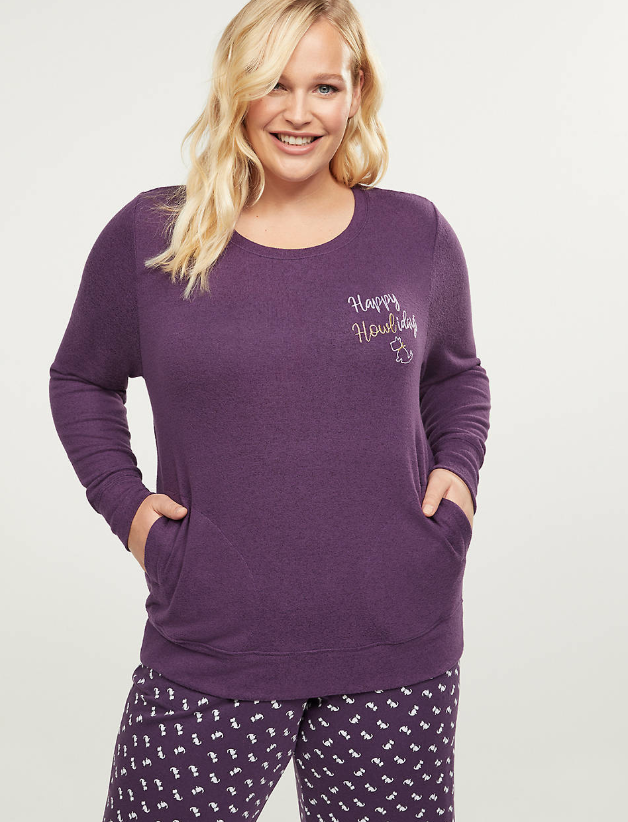 #2: Tis the Season to Be Sleepy Set
We love a little sass on our sleepwear! This cute set also has monogramed "Zzzz" on the leggings. So cute!
Shop here.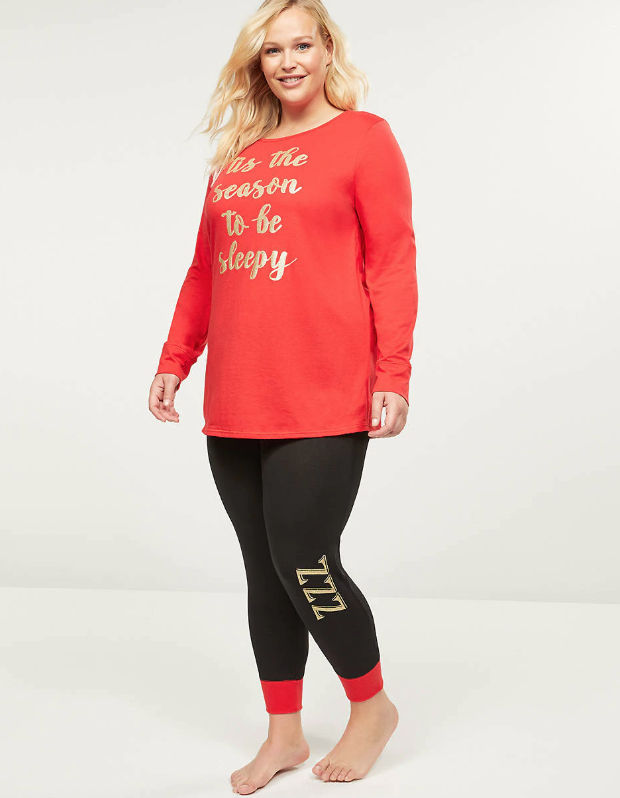 #3: Brushed Jersey Sleep Set With Metallic Details
This sleep set is quite swanky, and it's currently sitting in my cart!! And the top has POCKETS!
Shop here.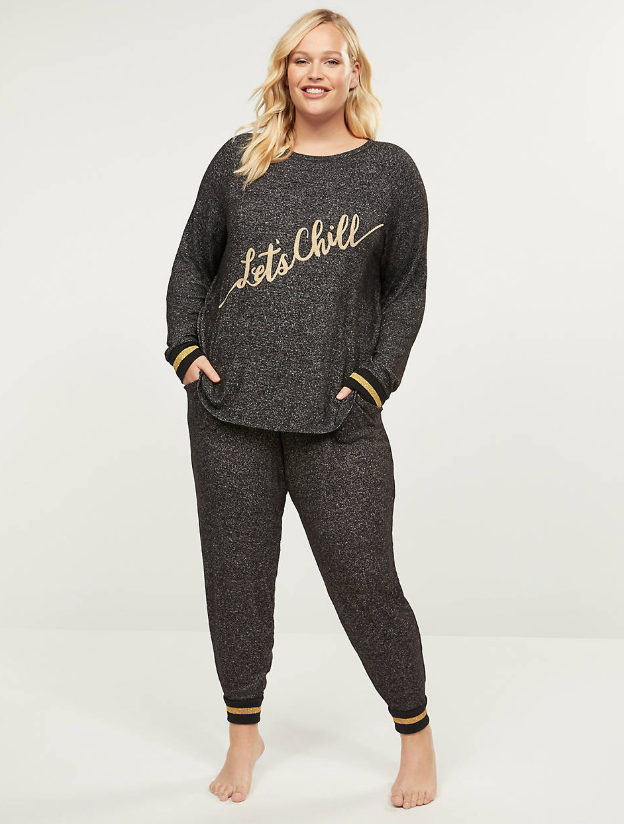 #4: Plus Size Cartoon Christmas PJs
Pajamas are gender neutral, and I'm not afraid to peruse the "Men's" section on ASOS! This PJ set is perfect for dog lovers.
Shop here.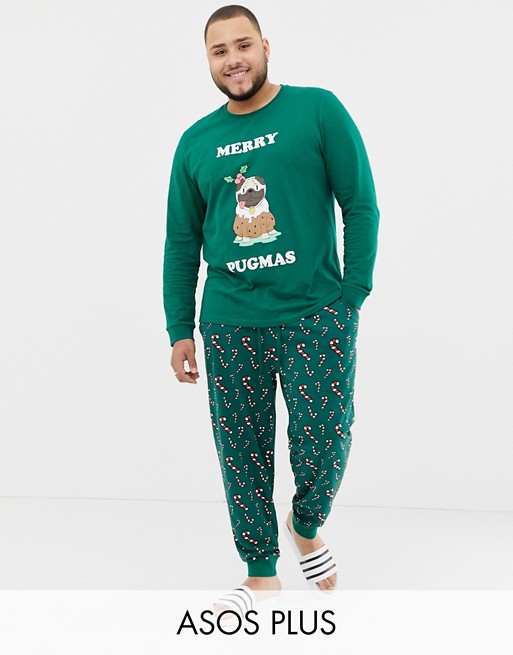 #5: Love of Slumber Sleep Shirt
It's a "No Pants Pajama Party"! But seriously, I love a good sleep shirt! This sleep shirt is still Christmas-y with it's red background, but can be worn all year round!
Shop here.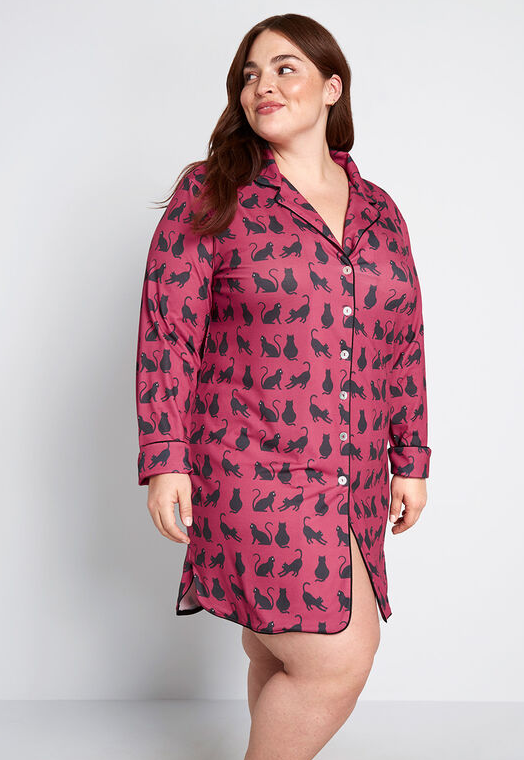 #6: Plaid Red Sleep Dress // Shirt
If you're also a lover of plaid, check out this sleep shirt! I can definitely see myself making Christmas breakfast in this piece from LOFT!
Shop here.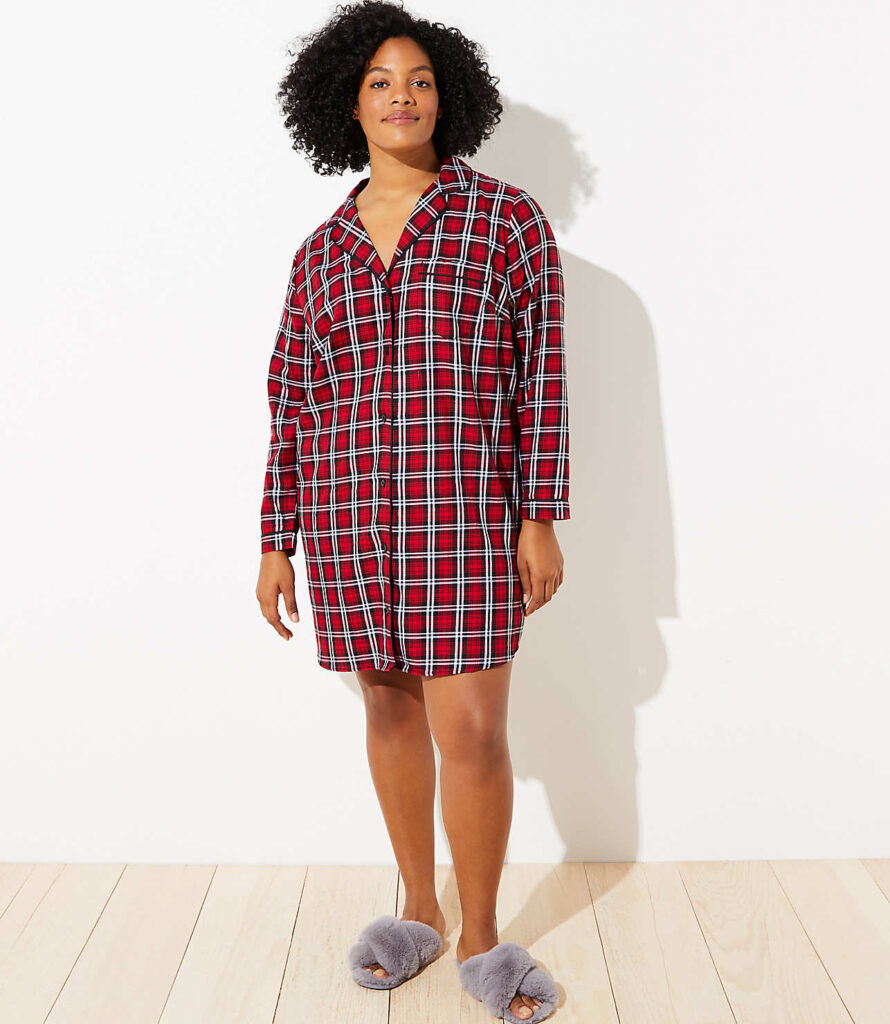 #7: Feather Satin Essential Pajama In Night
I love high end fashion, and this sleep set SPEAKS to me. I'll def wear something like this while spending Christmas at The Plaza.
Shop here.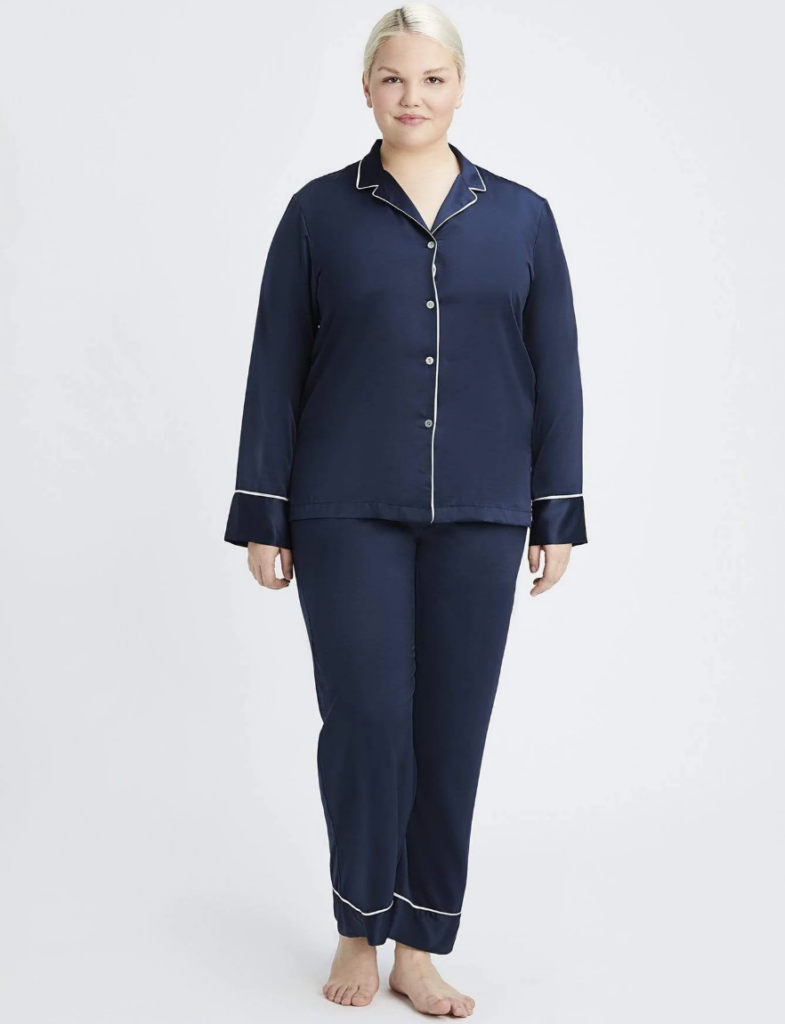 Want More Plus Size Fashion?
Do you love reviews and recs like this? Be sure to join my email list, where I send out only the best content every week!
[FTC Notice: This post contains affiliate links, meaning I earn a small commission if you purchase a product through my link. Affiliates help me write more great content, and I only endorse products I truly love.]