Hey there! This post contains affiliate links.  Using my links means I earn a commission, which helps me create more rad content.  More on affiliates here.
I don't "work out" in a typical sense. Sure, I have a gym membership. Thaaaat I haven't used in probably over a year.
Growing up, especially as a teenager, I viewed working out as a sort of punishment for my body.  It wasn't fun, and I felt like I was only doing it correctly if I hated every minute of it.  I worked out for swimsuit season, not for wellness.
Plus Size Nike Review
Now, as humans, we're supposed to be active everyday. And sometime in my mid-twenties, I looked around and said, "I am really not interested in dedicating time every darn day to being MISERABLE." Right? Like why go out of my way to feel bad about myself and my body.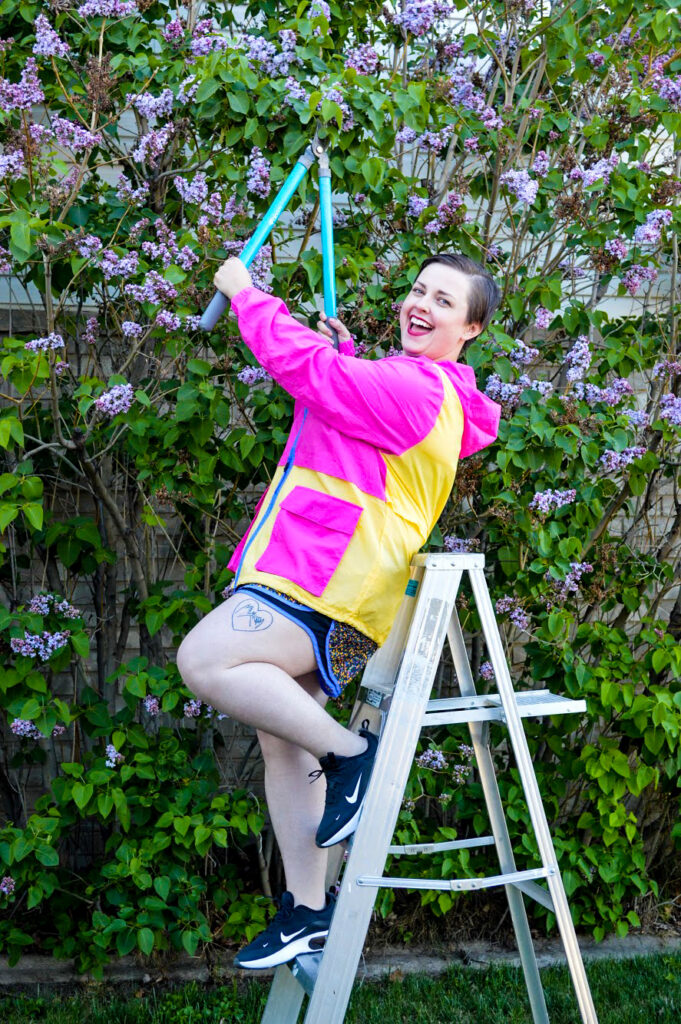 [FTC Notice: This post is part of a paid collaboration with NIKE. As always, the copy and review reflects my IRL opinions. Thank you to NIKE for their support!]
A New Normal: Introducing "Joyful Movement"
There was a sort of transition period between viewing workout as a punishment and viewing physical exertion as a way to be present in my body. Somewhere along my journey in "Body Positive Land," I found the term, "joyful movement."
It hit me like a ton of bricks. Seriously. Earth. Shattering.
Instead of viewing exercise as a self-imposed torture, what it would it look like if I actively pursued and did things in my body that made me feel good? That got my heart rate up, blood pumping, and endorphins firing off? Could I find a way to work out that didn't leave me feeling bad about myself? Could I pursue joyful movement and exercise and take all the self-flagellation out of the picture?
YES.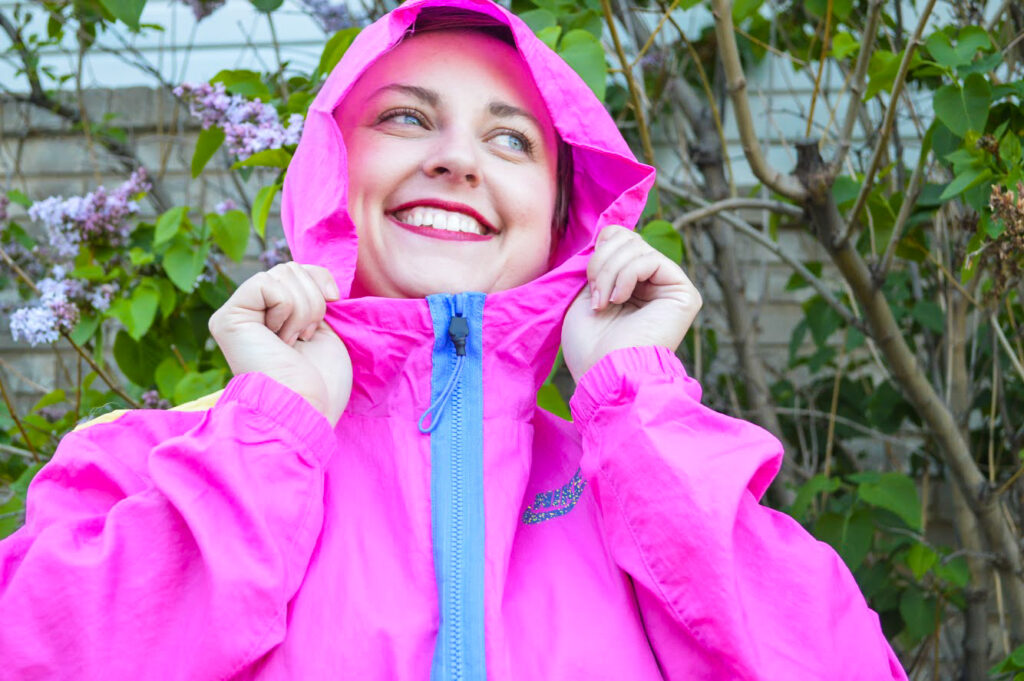 Enter: Gardening.
As I started to search out what felt GOOD to me and my body, I realized I had already kind of been doing it. For years!
Gardening. I had been gardening.
You know what's super fun for me? Digging in the dirt. I have always loved planting flowers, gardening, tearing up weeds, transplanting trees, spreading mulch, and really cultivating my space. Because it was so fun for me, I didn't view it as exercise.
Even though I definitely feel every muscle of my quads when I garden. Also, sometimes I feel like I discover new muscles, lol.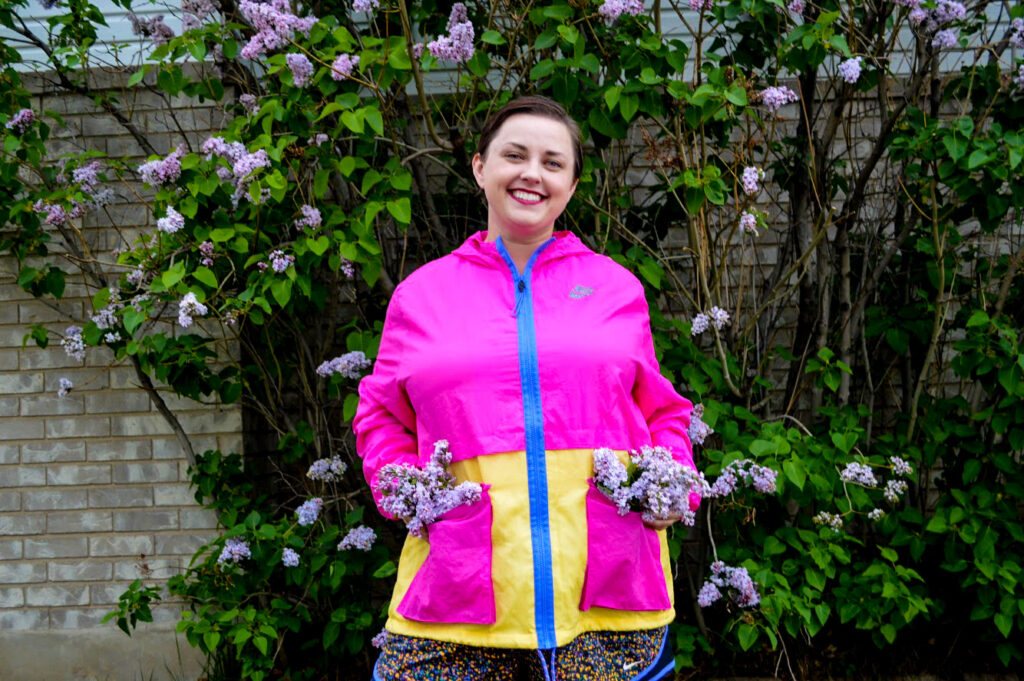 Gardening & Yard Work as a Workout: What to Wear???
When working in the yard, there are bursts of exertion and sweating – and then I cool down, as I sit and focus on a specific area. The trouble with all of this is temperature control! I'm either sweating a LOT or I start to shiver as my sweat cools.
It's uncomfortable. How the heck does a plus size babe plan for this environment?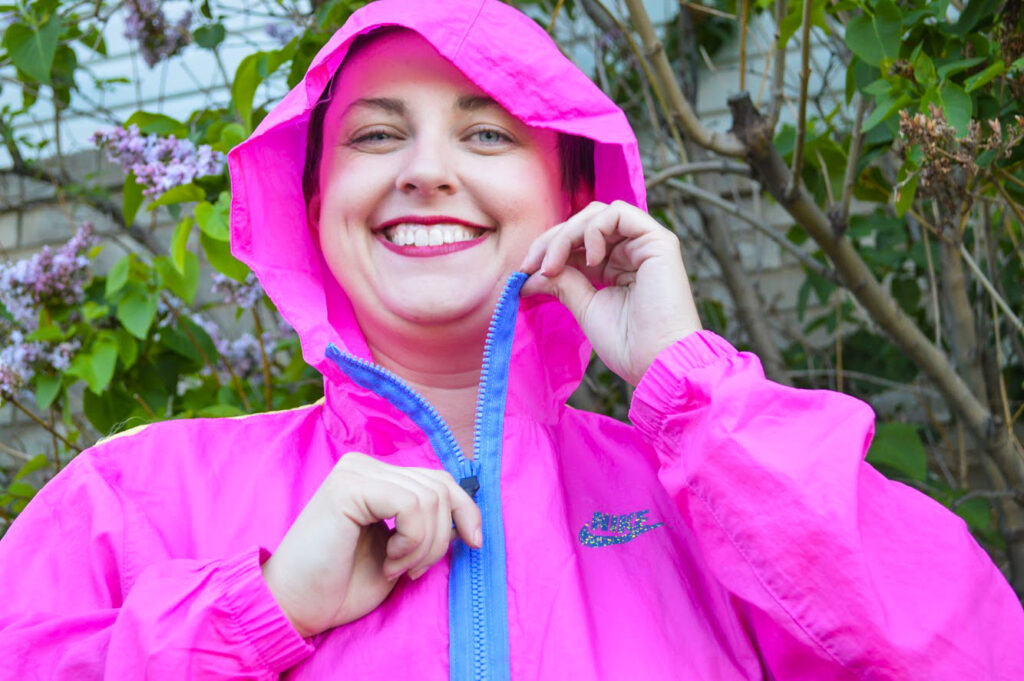 Plus Size Workout Wear for Yardwork (& LIFE)
Okay, this is where things get kind of serendipitous. My go-to yard work and gardening uniform has always been tennis shoes (gotta protect the feet!!), athletic shorts and a rain jacket.
So, when the NIKE team reached out to ask to me share how I *actually* use my NIKE gear, I *instantly* knew what to share. I chose the following pieces from the latest drop, and I've shared how they fit – and I've also included some styling ideas. It's the era of athleisure, darlings, and we can have a lot of fun mixing our workout gear in with other pieces in the wardrobe!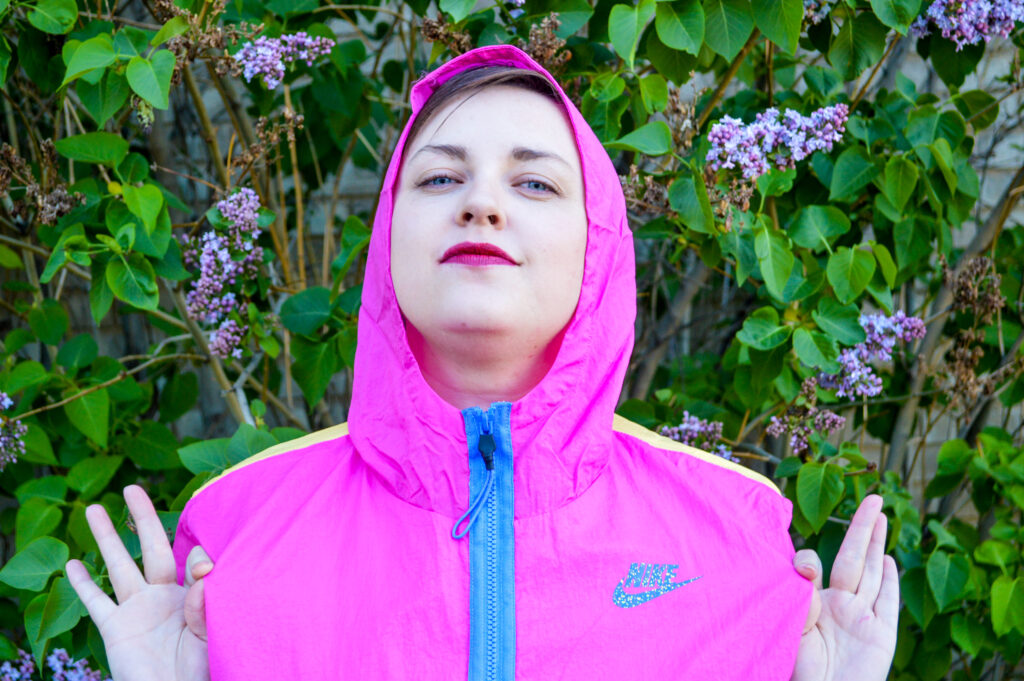 Quick Note on Sizing (Up to a 3X)
The #1 question I'm asked when reviewing pieces is, "Is the size chart accurate?" I totally get this, as I hate having to send items back that don't fit right.
I took my measurements before ordering my pieces (46/38/51), and ordered a 1X based on my hip measurements. The pieces fit great. I'm wearing a size 9 shoe.
The Fit & The Links
Bookmark these two pages – and be sure to snag this jacket, it won't be in-stock for long!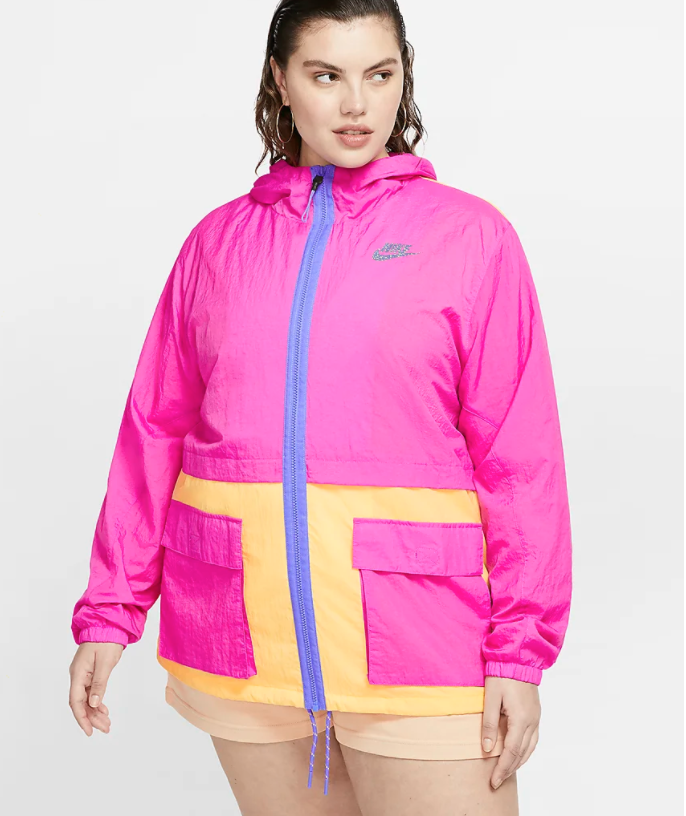 Nike Sportswear Icon Clash Jacket
OKAY, LET'S TALK ABOUT THIS JACKET.
*Deep breath*
I won't scream at you in capslock, but I am really struggling not to.  I have been searching for a fun and bright plus size rain jacket or windbreaker for YEARS.  ACTUAL years.  
Seriously. I've had a google alert set up and everything.
So when I saw this color combo (my sister called it "The Starburst), I knew that this would be great for athletic activities, as well as be super fun to style for future street fashion photoshoots.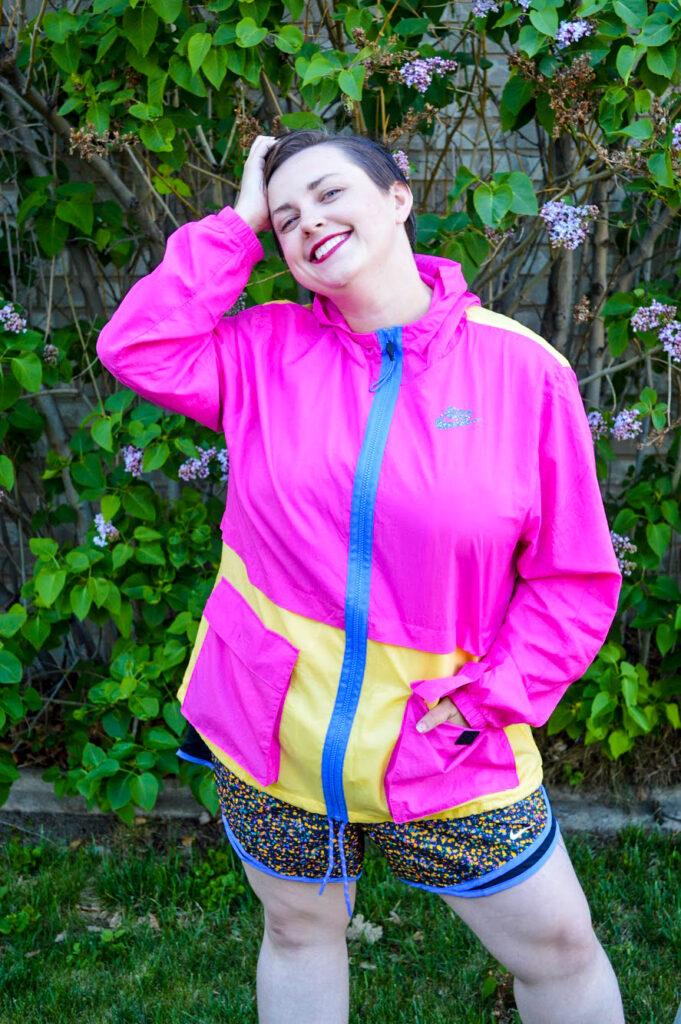 Okay, let's talk about the jacket's features:
Cinch at Wrists: As a short person, I'm constantly shoving up my sleeves. If I can avoid taking a piece to a tailor, I do! I loved that this jacket had "cinched" sleeves, staying put on my wrists (or at my elbows, if I wanted to shove it further up).
Lightweight Woven Material: I want coverage for when it rains (or to protect my skin on sunny days), so the weight of the fabric is perfect. Protects from spring showers, while also not getting too hot.
BIG POCKETS: These pockets are DEEP, making them perfect for snacks, my phone, headphones, and other goodies I need to have on-hand.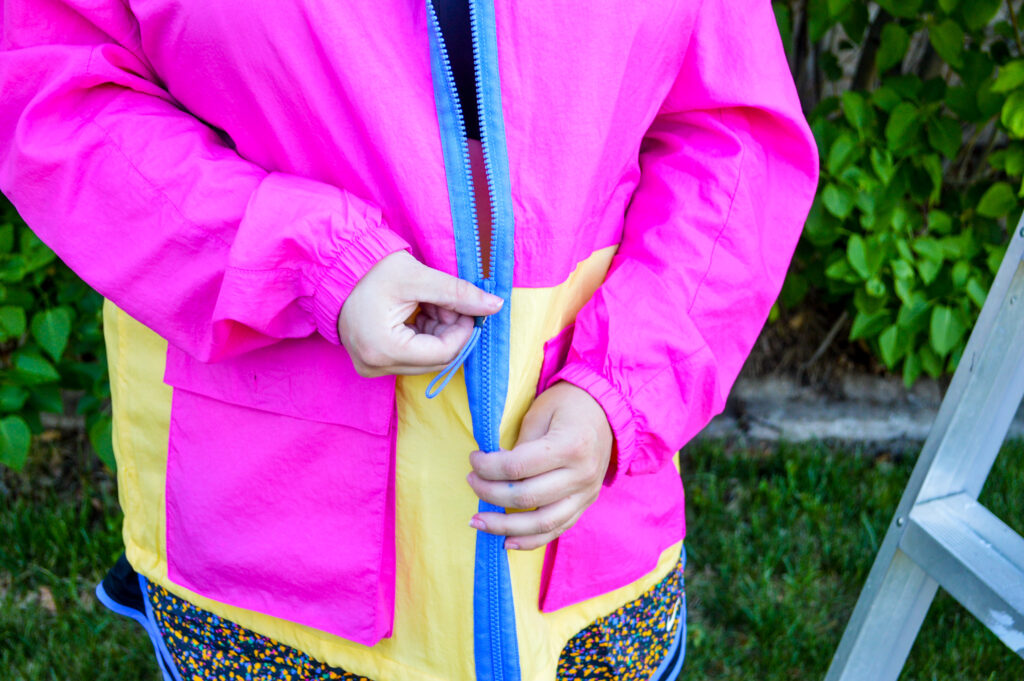 Since purchasing this, I've gone grocery shopping in this jacket, worked outside in my backyard on my laptop, taken some FIRE selfies, etc. This piece has RANGE.
Want to snag yours?  Shop here!
Review: Nike Tempo Icon Clash Plus Size Running Shorts
Okay, folks, gather around.
Let's talk about running shorts and our arch nemesis: chub rub.
I love wearing lightweight running shorts (I call them "swishy shorts"), especially during the summer. It gets HOT (over 100F) in Utah,and denim shorts just don't breath well. I wear running shorts all summer long, putting together different looks with graphic t-shirts, and adding a leather or denim jacket at night.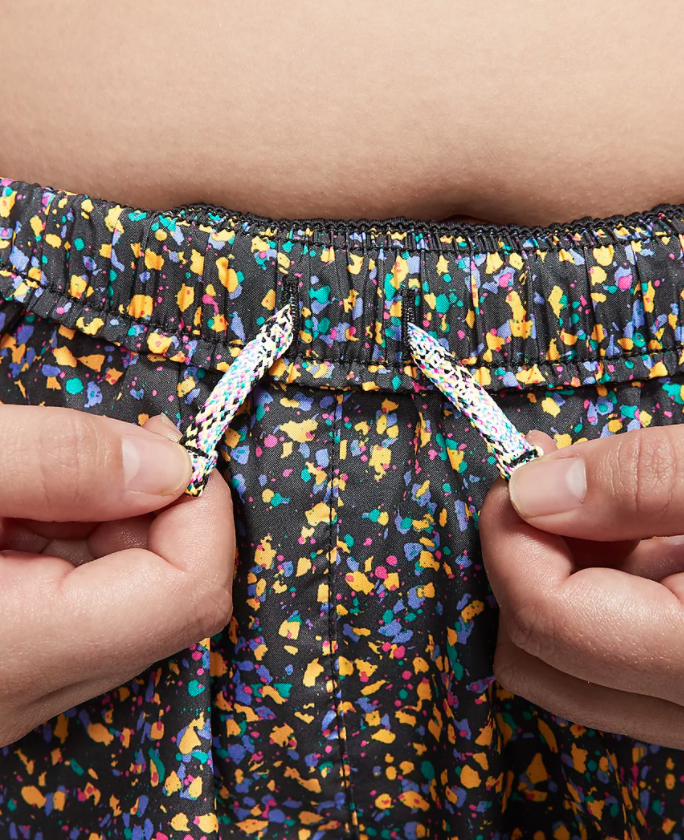 Chub Rub Problems
That said, there's a design flaw in many shorts, where the actual leg part of the shorts is too short and the crotch is too long. Put in non-fashion designer speak, the shorts can be pulled up to one's waist, but they don't protect the thighs against chub rub.
HELLOOOO, NIKE!
When I got the Tempo Running Shorts in the mail, I was a little nervous to try them on. I can't recommend a product if I don't believe in it, and I have tried many a running short that has me waddling around at the end of the day due to thigh chafing.
BUT NOT THESE!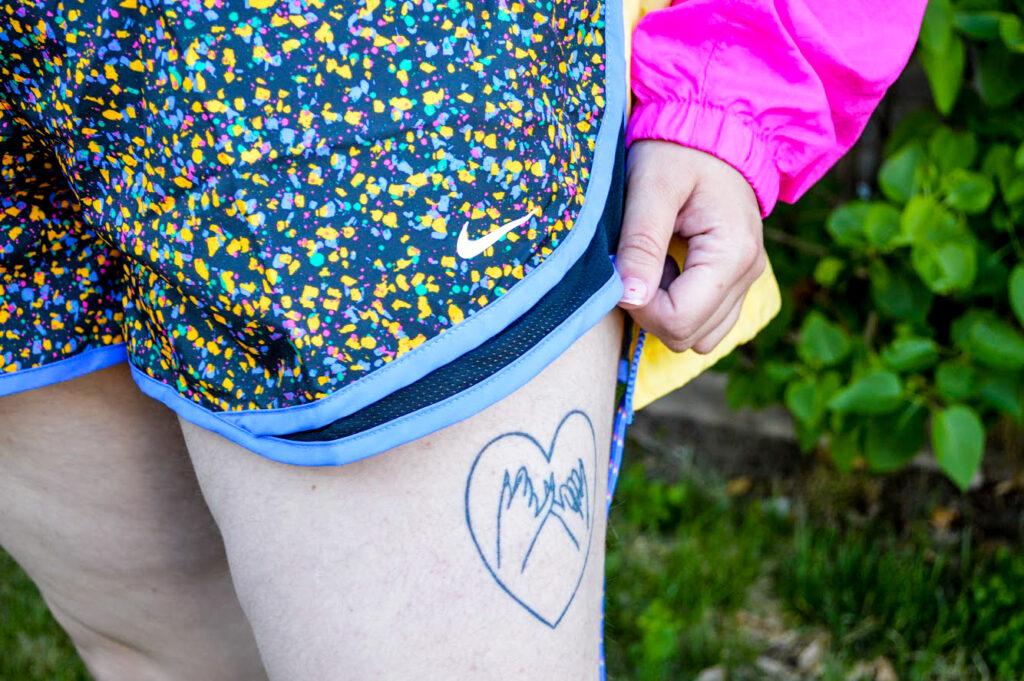 The NIKE Design Team really hit the nail on the head with these bad boys, as the crotch:pant leg length ratio is what I've been looking for.
Fit & Design Review
Let's dig into design specs on these plus size running shorts:
Waistband: The waistband has a good amount of give, without sliding down one's bottom. I've done a lot of yard work in these shorts, and I didn't have to stop and yank up my shorts once.
More Sustainable Fabric: These plus size running shorts are partly made from recycled bottles, helping to reduce emissions!
Squatability: I made up this word, I think, but you get me! I was able to easily squat and move around in these, without seams pulling or feeling like stitches were gonna pop!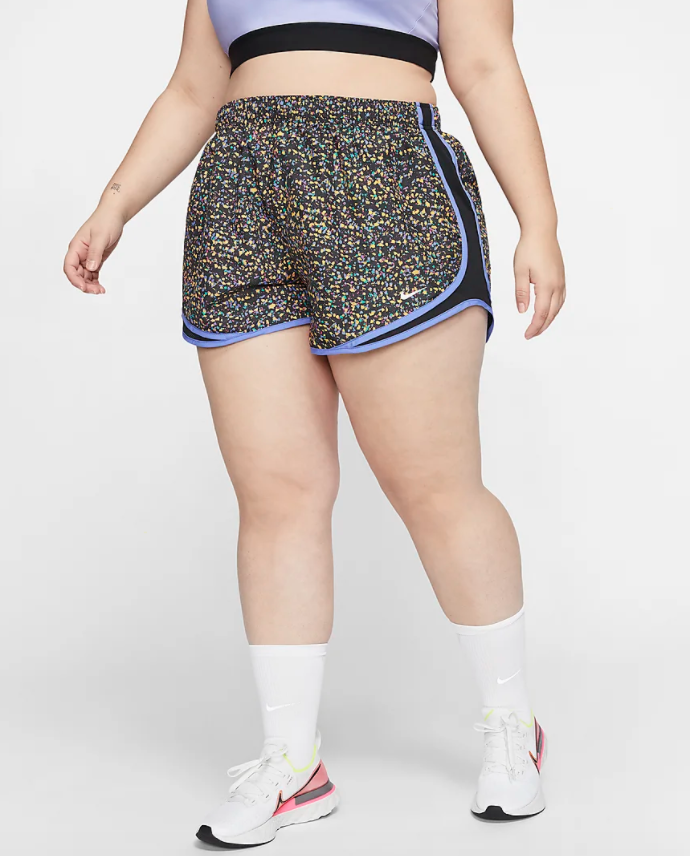 In addition to wearing these for working out, they're also optimal "Brunching Athleisure Shorts."  They're cute and bright, making a fashion statement at my fave brunching spot.  I'll also wear these at a resort I'm visiting this summer with my extended family.  These will be great to take on and off as I have fun on jet-skis and barbecue!
Check out these plus size workout shorts here!
Women's Nike Air Max Dia Review
I'm one of those people who needs shoes for LITERALLY every occasion, and I'd had my eyes on the Women's Nike Air Max Dia shoes for a minute. I wanted cushioned shoes to wear for errands and activities (like, you guessed it, gardening!) that would offer support but weren't full-on workout shoes.
When I found these, I was STOKED. I love the futuristic look, and they're incredibly comfy. Also, the dirt washed off super easily from them, making them a great versatile shoe!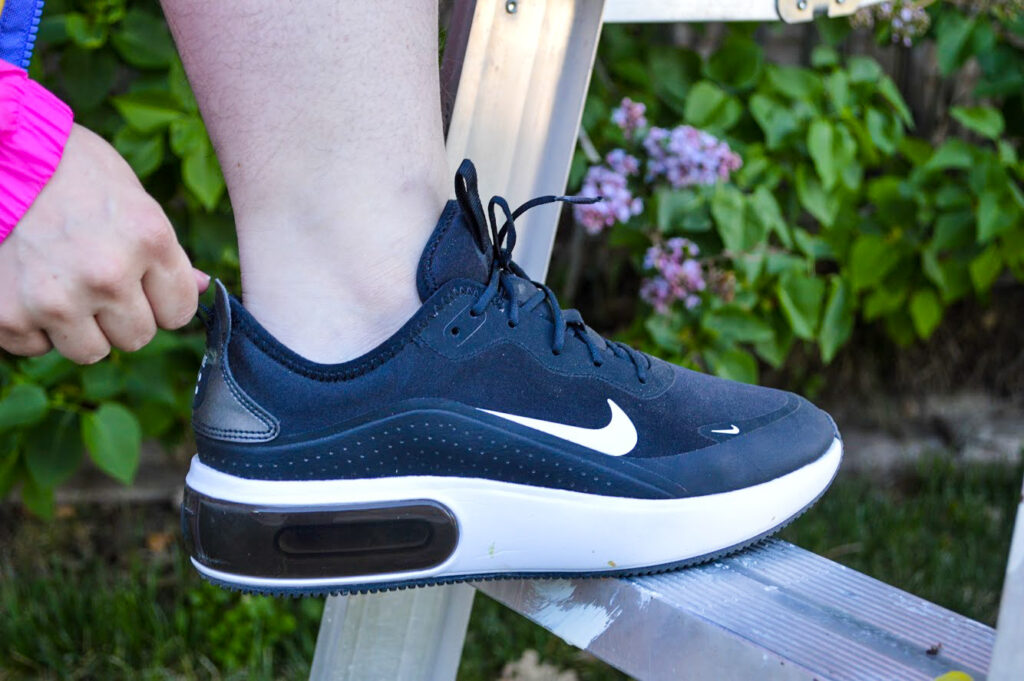 Fit & Design Review
Futuristic Look: Nobody wants boring shoes!! I love the futuristic look of these.
Easy to Wash Off: I hate dirty sneakers. I canNOT handle wearing them. These have been covered in dirt multiple times, and the dirt has been super simple to wash off.
Shop the Nike Air Max Dia Shoes here.
Other Plus Size Fashion Picks
I've got a my eye on a couple other pieces from the collection, namely the Nike One women's Running Tight (in pink, of course) and the short sleeve top. The running tights look super comfy for days spent working from home, and the short sleeve top would be a fun summer piece – it's a bit longer than a crop top, and I'd style it with black high waisted shorts!

The RANGE of Nike Icon Clash: Other Looks!
I had a lot of fun doing the photoshoot for this review. Below, I've shared some of the looks from my Blogger BFFs, other plus size babes who reviewed and styled this collection as well.
More Plus Size Fashion Reviews
If you want to stay up-to-date on plus size fashion blog posts, I recommend joining me on your favorite social media platform (Facebook, Instagram or Twitter).
More of an email kind of person? Subscribe here!