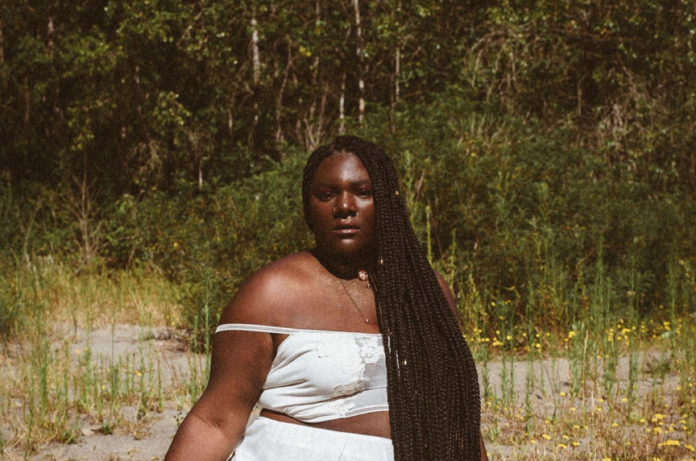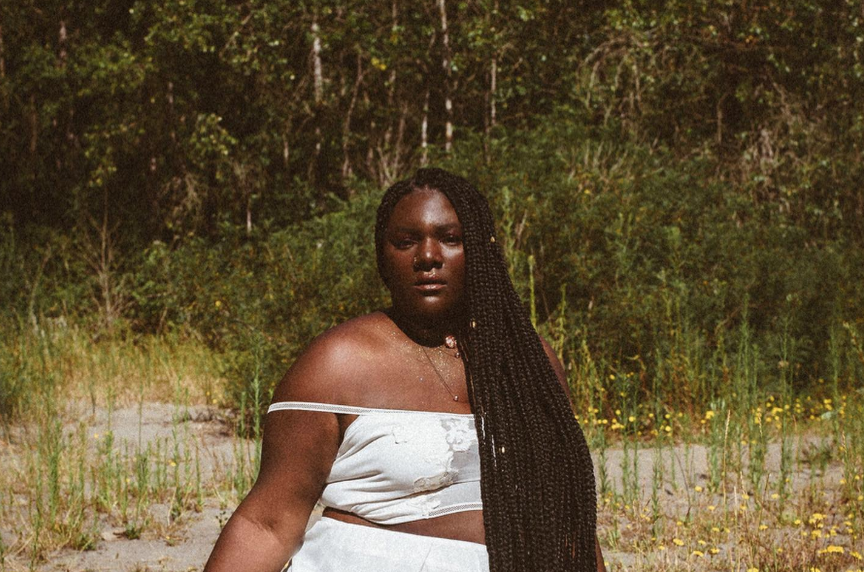 Hey there! This post contains affiliate links.  Using my links means I earn a commission, which helps me create more rad content.  More on affiliates here.
Welcome to a new series on The Huntswoman, where I interview and spotlight some of my favorite LGBT creators. Be they musicians, models, photographers, dancers, composers, artists or some combination of the above, my goal is to share magical people with you!
Kicking off this wonderful new series is musician Kanda Mbenza-Ngoma. You have probably seen an ad (or five) featuring Kanda as a model. Kanda connects with the camera in an astounding way, and this ability to connect with the viewer extends to her work as a musician.
[Heads up! This post uses affiliate links, and you help me earn $$ when you use my links. More on affiliate links here!]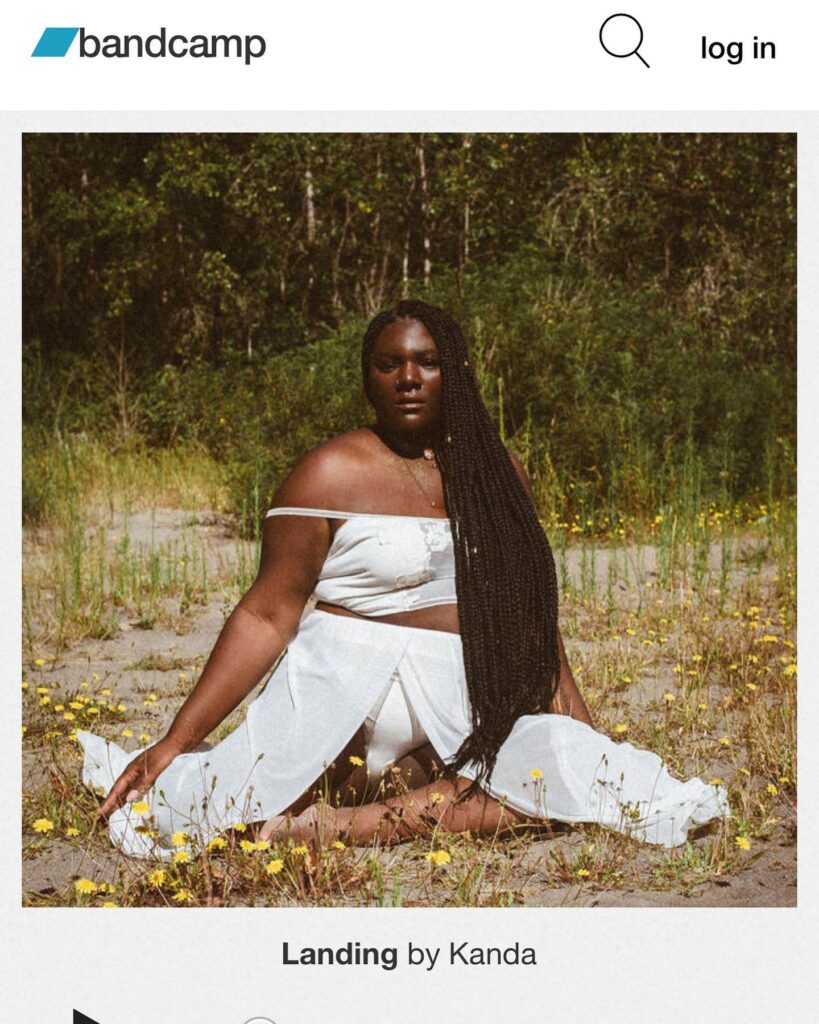 Short Official Bio
Kanda is a first generation Congolese-American singer songwriter, model and artist of many types. After growing up in Boise, Idaho, she moved to Portland to study music and is a graduate of Portland State University with a degree in vocal jazz. Her main focus in all the art she participates in is showcasing the healing of the fat, black, femme in its many facets.
Below, I've shared a little Q&A with this wonderful musician. Be sure to listen to her new album, Landing, on Bandcamp, here.
Brianne: You've recently released "Landing," and i'm so excited for you! What was the main source(s) of inspiration for you?
Kanda: Thank you! I am pretty excited about it myself. I had a lot of inspirations for this project. At the beginning of my creation of this project, I had just graduated college with a degree in jazz and felt super aimless. I had a super traumatic experience of college and was just at the beginning of realizing that I have known a lot of trauma in my life.
At the time, I never knew myself to truly be valuable, important or worthy of even my own care. I was reckless with myself because had not known to be truly cared for by self. I ended up in a really traumatic relationship that left me with the choice to either choose myself or choose a life lived for others.
I chose myself.
Through choosing myself I decided to start working on my personal traumas. To go from a life completely lived in complete dissociation, to a process of landing into my own body, life and desires. I decided to try and create a home out of myself. This project was mainly me casting spells and manifesting a home out of my life.
This project was mainly me casting spells and manifesting a home out of my life.
I also had this dream at the turning point of me deciding to make a project out of the material I made. In the dream, my ancestors were shackled and put on a boat. On that boat they fought and succeeded in overtaking the crew and the ship drifted to an island. On the island, it became clear that it was a safe place for them to tend to their physical and emotional wounds. It was time to heal. I believe that this dream was telling me that it was time to tend to my wounds and heal. My goodness has it been a continuous and intense ride.
BH: That is just beautiful. Thank you for sharing this and sharing your beautiful work with the world.
Can you tell us more about the journey behind creating this album? When did you get started, how long did it take, etc? I ask this because I feel that creatives don't always know what to expect when embarking on a journey . like yours, and I know this will help others on their way.
Kanda: I got started on this project before I knew it was a project. I was super self-defeating when I started writing in 2016. I just deeply needed to express my feelings at the time and would write songs in my room and gather friend's or family's recording equipment to record in my bedroom. I stopped writing and recording for about a year because of life and low self-esteem. But after I started to tend to my wounds, I started to write again in 2018. I don't think that I realized that I had enough material for a cohesive and clear project until March of 2019.
By the time it became clear to me I was making an Ep, I started coming up with visual concepts and living in the project non stop. It was a very long journey with a little burst of energy at the end.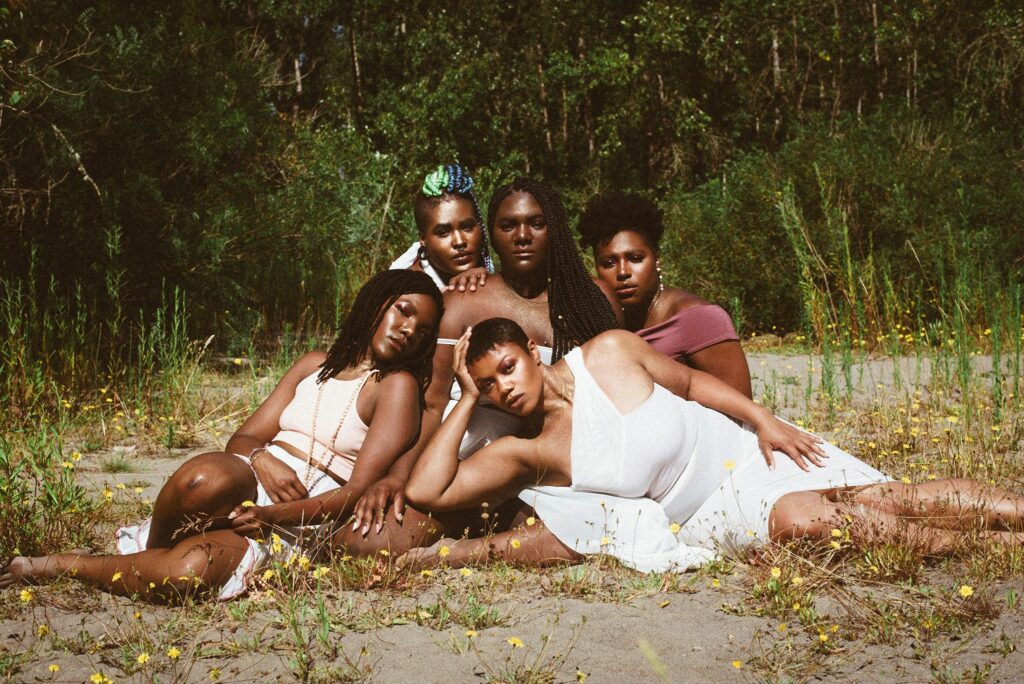 BH: Thank you for going on that journey.
BH: Did you write songs with anyone or were they all by you?
Kanda: I collaborated on the song "Landing" with my little brother, Edo (King E.D.O) of whom is an amazing producer and rapper. He created the beat and instrumental for my title track "Landing".
All the other songs I completely created myself. I am a little bit of a control freak when it comes to the music so I had to make sure that I had the vibe completely right. I totally did something new in creating everything on my own, but I really believe that the emotional and spiritual journey that each musician is on in their lives comes through in the music. I really wanted to make sure that my journey was fully showcased and that the vibrational content was what I needed from the project.
I feel super fortunate to have linked up with Jesse Munroe Johnson who was able to help me get it mixed, mastered and polished to really showcase the story and vibe I was going for.
BH: I love this team effort. What do you wish you had known when you started this process?
Kanda: I am still constantly fighting against my worthiness monster who tells me I am not worthy enough to contribute my voice into the collective consciousness of music out there. I think that I wish that I knew that it was one day at a time and one dream at a time.
I think that I wish that I knew that it was one day at a time and one dream at a time.
I continuously have to tell myself that my voice, perspective and talent are enough to be me and to share. I just wish that I had covered my whole life in more affirmations. I let myself get super rocky when I started. But also, I never thought that I could finish anything for myself so I would let pre "Landing" me know that I CAN DO IT CAUSE I DID IT.! (This reminds me that I need to let current me know that I can do it again a little more often.)
I CAN DO IT CAUSE I DID IT.

BH: I am writing that on my mirror. "i can do it cause I did it!" Can you talk a bit about the album art? What mood were you trying to invoke?
Kanda: I was entirely going for a healing oasis vibe. I wanted things to be naturey and lush. I wanted to sort of say "this is a place for healing". I visually featured only black femmes and queer babes. It was super important to me to showcase black femmes in my life that helped me get to where I am.
I would not have been able to make the visuals happen without my amazing team! Coco Madrid was the person who kept the visual eyes on the prize. Her and I have a connection beyond this world. I was able to mood board a little of the vibe and she completely caught my drift.
I also super feel fortunate to have worked with Michelle Lepe (Photo Bruja) and Evan James Atwood who were able to photograph and film the dreams that I had in my mind. It was super important to me to have my community represented in the creation of this so my team was full of either POC, fat babes, queer babes or femmes. I am part of these communities and so it had to be a FUBU ( for us by us) situation completely. All of these details deeply contribute to the visual and auditory content of this project.
"[…] my team was full of either POC, fat babes, queer babes or femmes."
BH: The imagery is simply stunning. What else would you like your new listeners (those reading this) to know?
Kanda: I guess first I would like to say thank you for bearing witness and listening. It means a lot to have a project that was conceived of super hard work be birthed into this world. I hope that it sparks something in you.
I hope that it sparks something in you.
Second, I want to say that healing is super revolutionary. When we start to tend to our wounds we are able to build and create things we are proud of. We all deserve to have foundations that allow us to celebrate our wins, safely grieve through our losses and everything in between. Healing isn't easy but it's super important in order to create a world that is equitable and desirable for us to live in.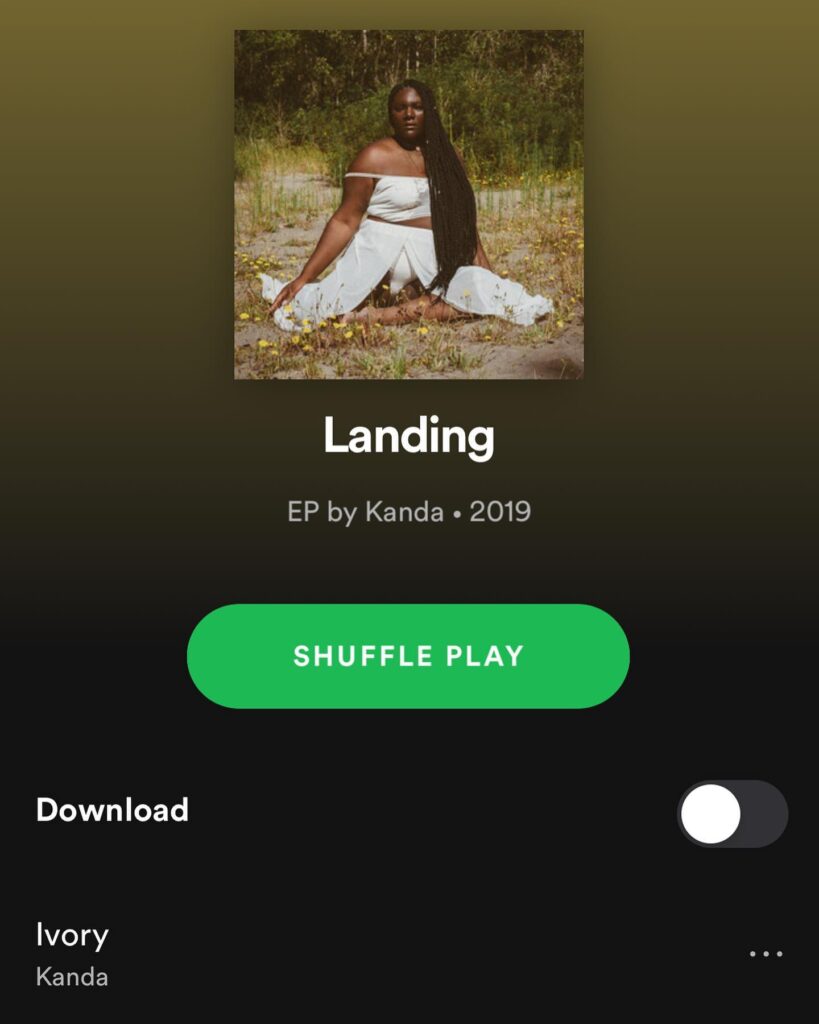 Thank you, Kanda.
Thank you, Kanda, for sharing your beautiful work with us today. You can listen to Kanda's album (and pitch in $5 for future work) here. You can also join Kanda on Instagram here, Facebook here and her website here for more updates and beautiful images.
Follow This Series on LGBT!+ Creators
Want more LGBTQ+ creators in your feed? Join me on Facebook or Twitter, where I'll be sharing these stories.