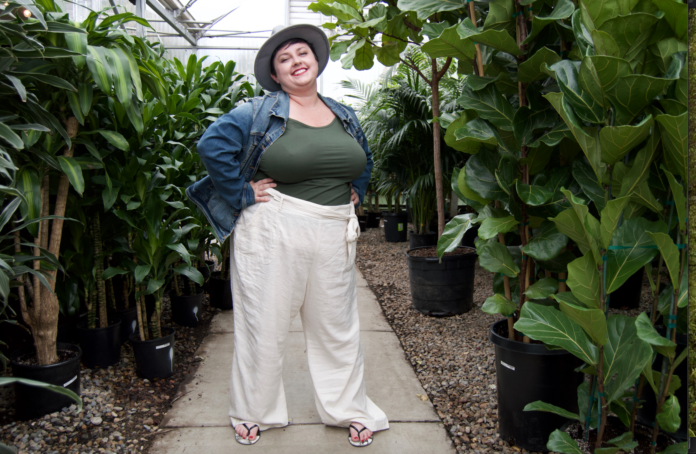 Hey there! This post contains affiliate links.  Using my links means I earn a commission, which helps me create more rad content.  More on affiliates here.
Summer is here, and that means it's time for travel and outfits that withstand the heat. And while I love a cute pair of shorts, they're not always appropriate (or comfortable) to wear. Jorts are not very breathable, my friends.
Jort chafing is REAL, y'all.
[Heads up! This post uses affiliate links, and you help me earn $$ when you use my links. More on affiliate links here!]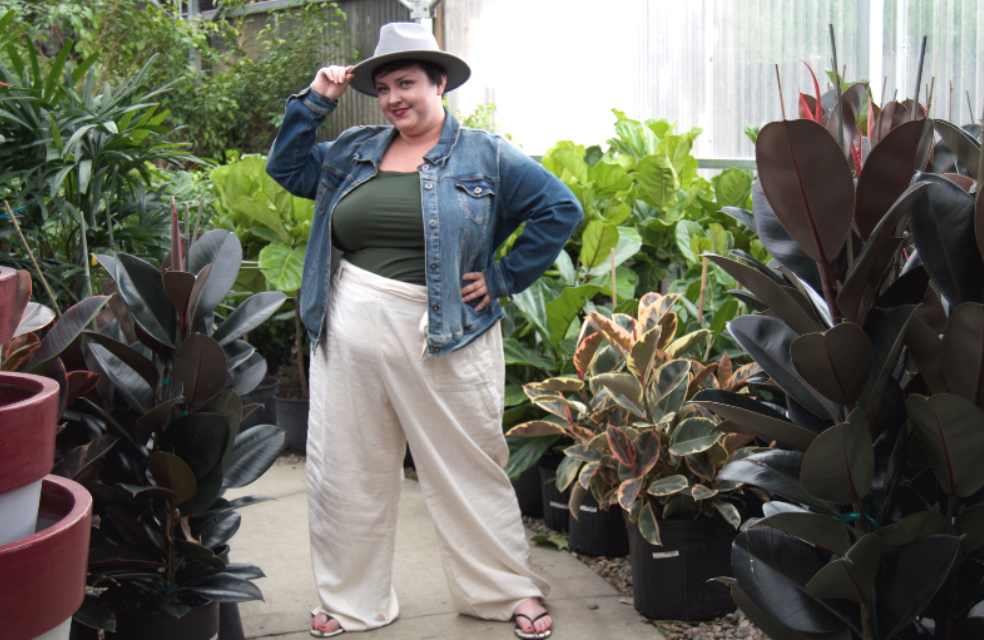 Hot Weather Loophole: Linen Pants
However, there is a très chic solution for dressing in the hot weather: Linen Pants. Linen is basically a lightweight cotton, and it also dries faster than cotton.
Fun Factoid: Linen was used as a form of currency in Ancient Egypt, and the word "linen" is also considered by some linguists to have influenced the word "lingerie."
Most linen fabric we have today is interwoven with other fibers, usually to add a little bit of stretch.
Below, I've shared a tropical blogger look book (all from Torrid). A big thank you to my photographer, Yadel Huest, a lifestyle and high fashion photographer in Salt Lake City.
I've been on the hunt for a pair of plus size linen trousers for quite a while, and I literally stumbled across these at Torrid.
I love wearing white, but it has to be the RIGHT kind of white. These wide leg linen trouser pants are ivory, giving a refined look to an outfit that fits in at Martha's Vineyard or Cape Cod.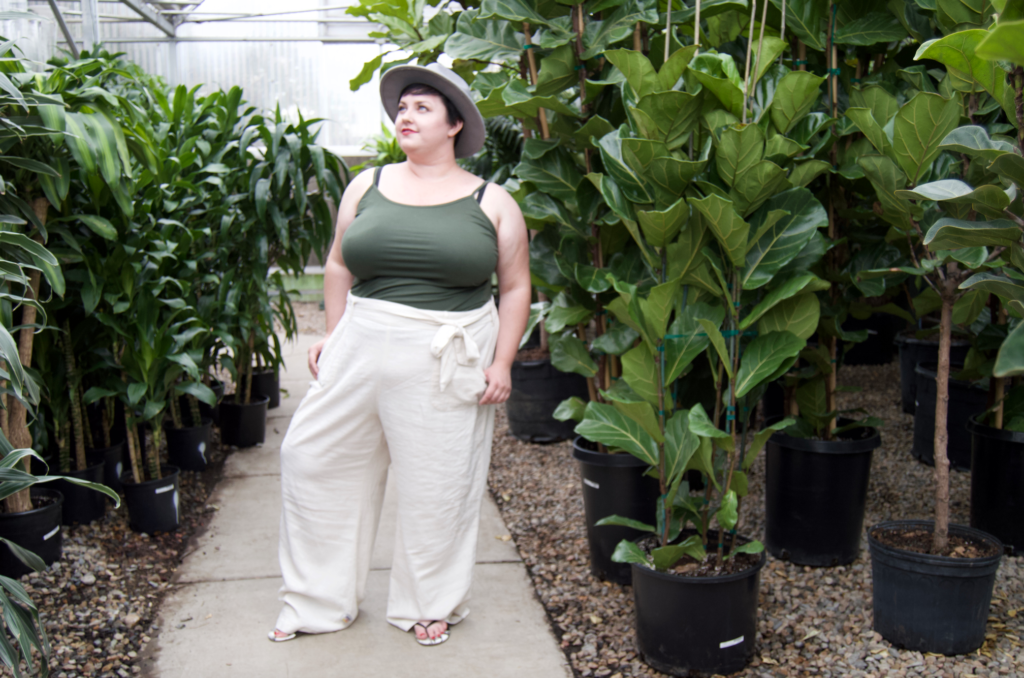 Perfect Amount of "Billow"
Key to any trouser is what I call the "billow effect." Pants need to be billowy, but not have so much fabric I feel like I'm wading through it.
Shop these linen pants here.
<<Stay in-the-know on new plus size brands? Be sure to subscribe to The Huntswoman Newsletter.>>
Styling Linen Pants
There are a variety of ways to style linen pants, but I like to keep things simple with a cami and jacket. Layers help keep you warm during cool summer nights, and are also a smart idea if you're on holiday going in and out of restaurants and shops.
I styled my linen pants with thee: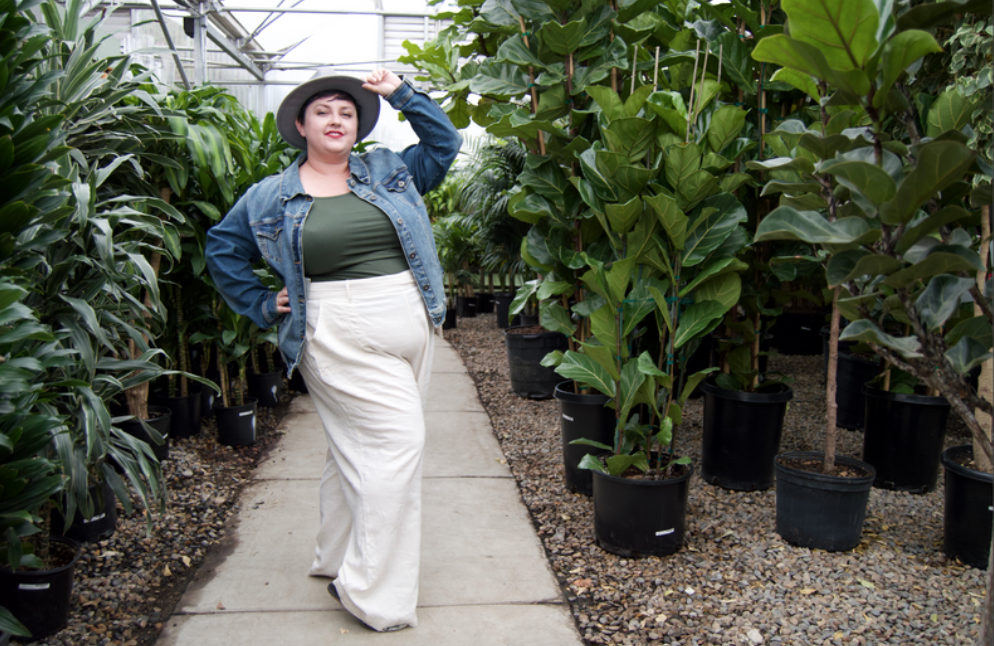 After accidentally leaving my much-loved jean jacket in Portland on a trip, I have been trying (and failing) to find the perfect jacket. I wanted a medium wash jacket that also "nips in" at the waist.
Also, I'm long waisted and the jacket needs to hit my hips.
When I found this jacket, I had to have it! It fit all of my requirements!! I ordered it online here, and I had it delivered to my local Torrid store. I like to deliver things to my local Torrid, because I can try it on in-store and immediately return it if the piece doesn't live up to my expectations.
Plus, you know, free shipping. 😉
I snagged this jacket in a size 3, and I have a 54″ inch bust. Get this jean jacket here.
I Love Plus Size Camisoles
I have a veritable rainbow (lol) of camisoles, because they're so dang handy! Wear under a shrug or open blouse, under a jean jacket or blazer – they're the perfect layering piece.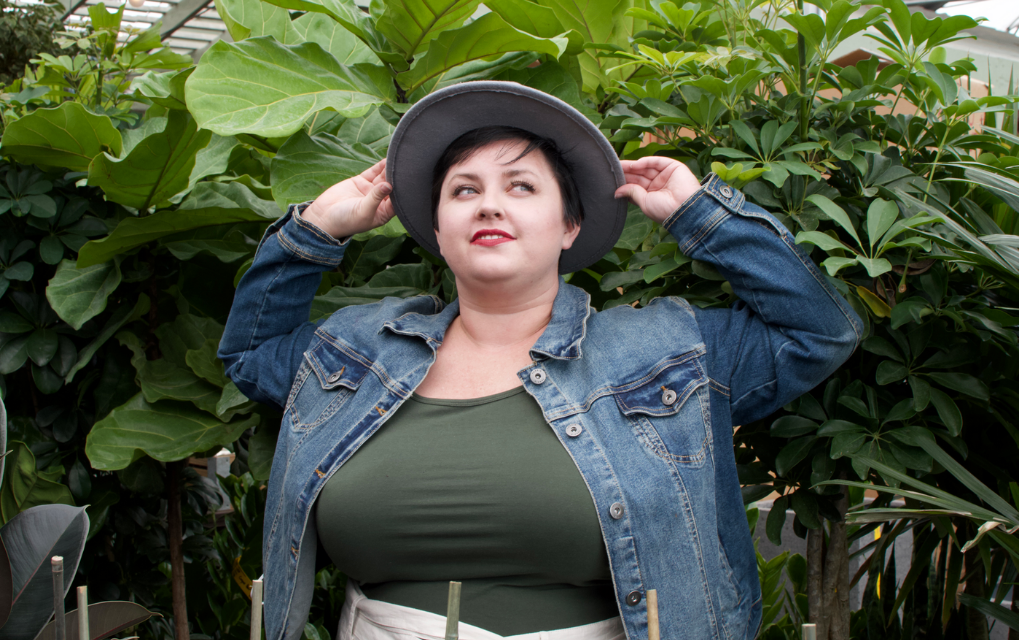 For this look book, I chose the olive green "Foxy" cami from Torrid. This cami is a little bit thicker, making it ideal for outerwear. (Some people like to wear camis under a t-shirt, and this one is a bit too thick for that!)
I'm wearing this in a size 3. Get yours here.
Hats for Big Heads
Full transparency here – I have a big head. Literally and figuratively. Hats in the women's section in other shops do NOT look good on me. The proportions just aren't right.
So when I found this gray hat with a satin bow, I loved it – but I wasn't expecting it to fit!
It totally did, and now it's mine forever.
Snag yours here.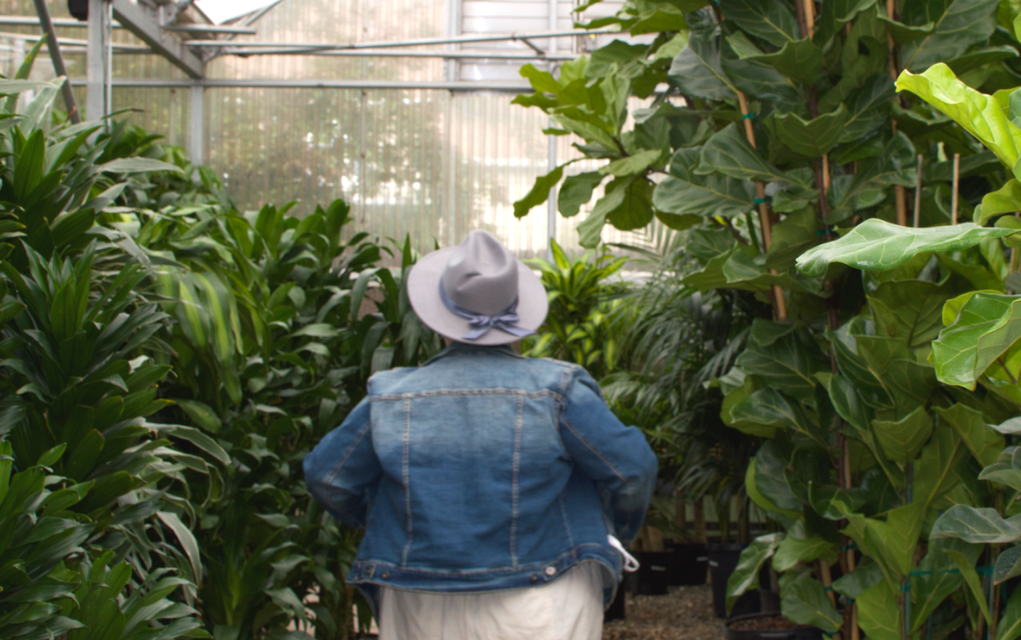 What are your tips for dressing for hot weather?
I'm expanding my summer wardrobe – and I'm curious! What wardrobe staples are a must for summer? Let me know in the comments!
Stay in-the-know on new plus size brands? Be sure to subscribe to The Huntswoman Newsletter.
[FTC Notice: This post contains affiliate links, meaning I earn a small commission if you purchase a product through my link. Affiliates help me write more great content, and I only endorse products I truly love.]