Hey there! This post contains affiliate links.  Using my links means I earn a commission, which helps me create more rad content.  More on affiliates here.
Hey there! If you're googling, "Should I go to Stanford Reunion?" then THIS blog post is for you! I went to Stanford Reunion last fall (in 2022), and I'm currently planning the early stages of my trip out to Stanford Reunion in October 2023.
Should I Go to Stanford Reunion?
Talking about reunion with friends and frenemies (BEING REAL), I realized that there was a whole contingency of Stanford grads that didn't go to reunion. For me, I slammed the doors shut on Stanford after doing a crap ton of on campus activism, and I lost touch with people. And, real talk, it makes me sad!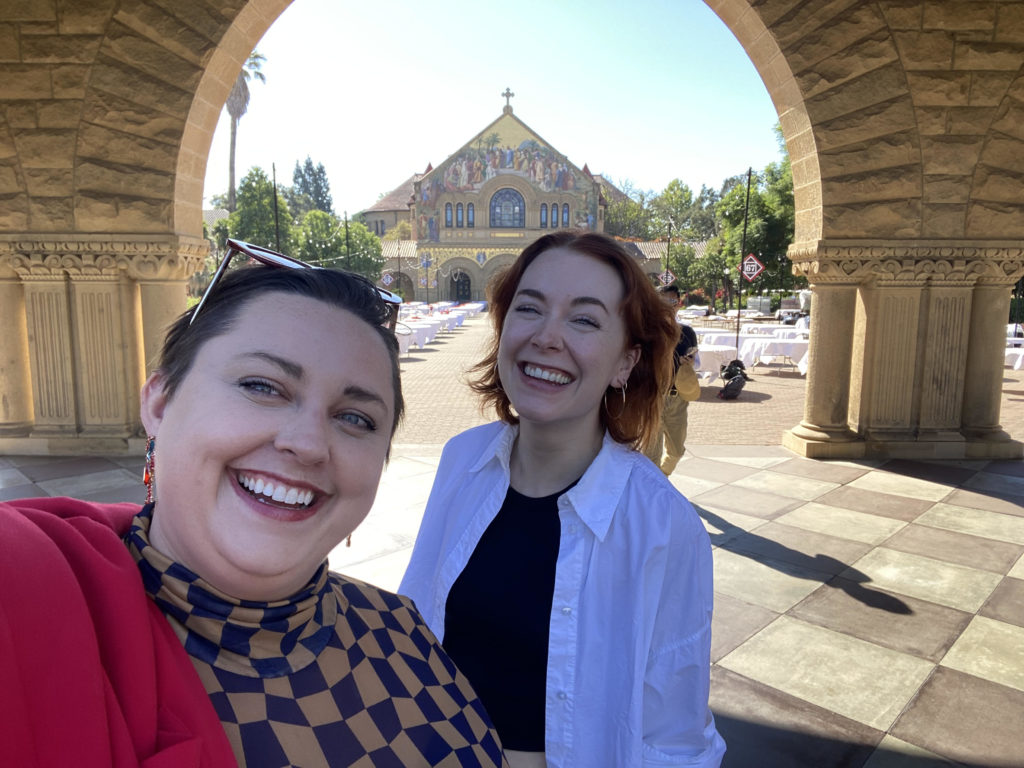 Attending reunion in 2022 showed me that a lot of my fellow queer activists and hell raisers also weren't going to reunion, which was SUCH a bummer. We all heavily invested in our communities at Stanford, and for one (very valid) reason or a set of 13 reasons, we decided not to engage with Stanford post-graduation.
Many (some?) folks left Stanford with some pretty deep wounds, myself included. My goal in writing this is to provide a space for those conversations to happen, as well as to encourage people to come to Stanford Reunion. Not for the alumni association or football game (although that's cool if that's your jam,! It's mine! I'm a new member of the Alumni Association!!). Rather, for all of the weirdos and misfits to connect again. <3
I'm not writing this to suck up to Stanford (I know you were thinking it!) Rather, I'm writing this for all of my fellow weirdos and misfits to connect again. <3
Real talk, this blog post is my attempt to convince my friends and besties to attend Stanford Reunion 2023. BUT!!!!!! But I know that acting like it's all roses and sunshine will NOT convince people, so I've done my best to share a SUPER honest review, alongside a guide for folks thinking of attending reunion.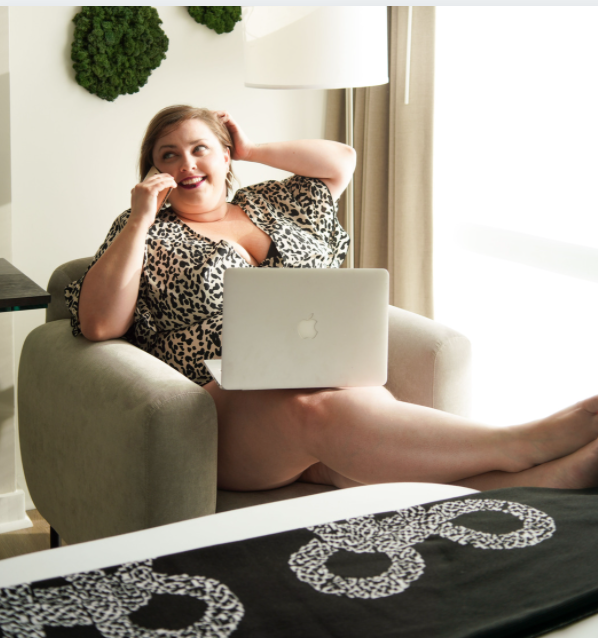 Why I'm Writing This Post (Blame it on FOMO)
I was REALLY surprised (and then bummed!) to see so many of my friends attending my 5 year reunions (yes, plural reunions — more on that in a MINUTE). Growing up, attending college reunion was not something my family talked a lot about, so it wasn't really on my radar!
Until I experienced ULTIMATE FOMO seeing folks post to their IG Stories about being at reunion. Seeing all of those posts made me send out a group text informing my Stanford besties that we would *ALL* be attending future reunions (in a joking-not-joking menacing tone).
I really want to see other LGBTQ+ folks and other friends come back for Stanford Reunion. I totally understand why folks don't want to, and I would LOVE to co-create a space inside of reunion for us weirdos. <3
Note: The grammar and sentence structure in this blog post is NOT perfect. I'm publishing this in May, after sitting on it since… last October. I don't put every blog post through copy editing — in fact, I have a whole brand ethos of "F*ck it! Post it!!"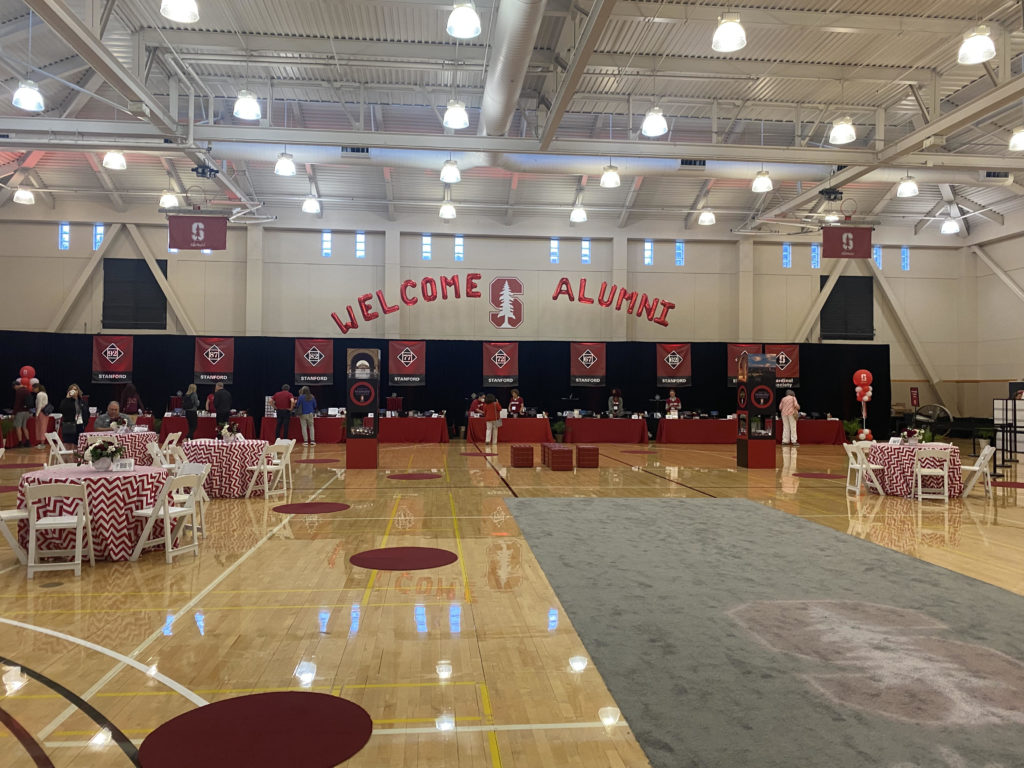 Where We're Going
Ok, SO! This post is kind of lengthy! Because I have a lot to say!
Section 1: Who I am // Where I am // My Stanford experience
Section 2: My (super biased) overview of how Stanford Reunion works (this is not exhaustive!)
Section 3: PLANNING! How me and my BFF, E, decided on what tickets to get and other deets
Section 4: MONEY! What I spent on travel, accommodations, rideshares, food & drinks, etc etc
Section 5: Misc tips and info that doesn't reallyyyyy fit elsewhere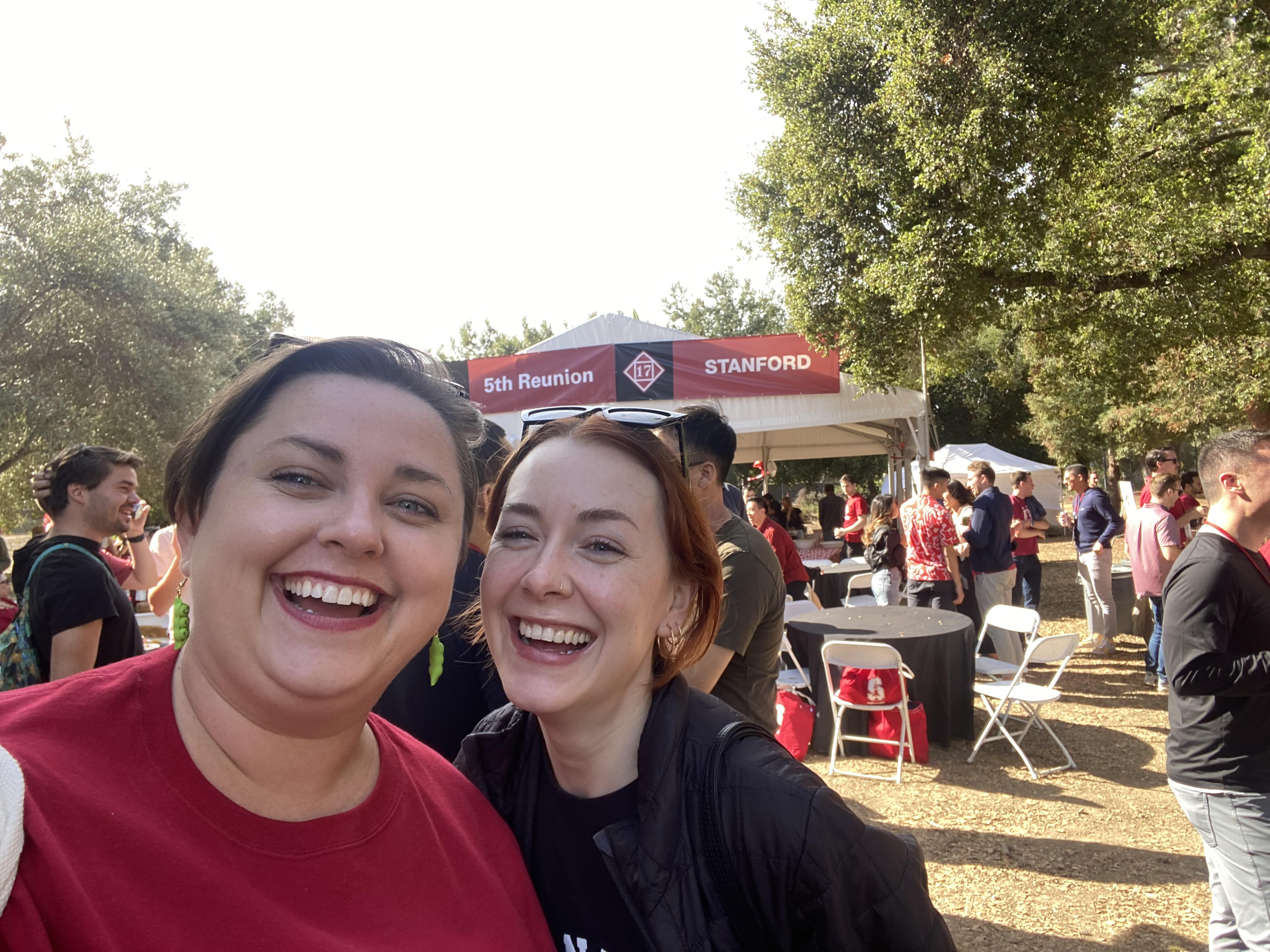 Section 1 || Who I am // Where I am
When writing guides to an event or travel destination, I always ALWAYS make sure to include some biographical info about me. My ultimate guide to Stanford Reunion will have nuggets useful to everyone, buuuuut will probably be less useful for someone who is married with 4 kids and bringing everyone to Reunion, ya know??
-So, brief overview:
My original graduation year was 2013, but I actually graduated in 2016 (fifth year and 2 years off, ish)
I studied Product Design at Stanford (yep, post-it note girlie, right here!)
I am very involved in the LGBT community, and I staffed at the LGBT-CRC in college.
I *also* ran away from that self-op life to a co-op. I lived at Terra for two years
I have no kids, and I don't have a partner/spouse creature!
I own my own businesses! I'm a coach/consultant, and I'm also a lifestyle blogger. YOU are currently on my lifestyle blog!
I live in Salt Lake City, Utah, at time of writing this!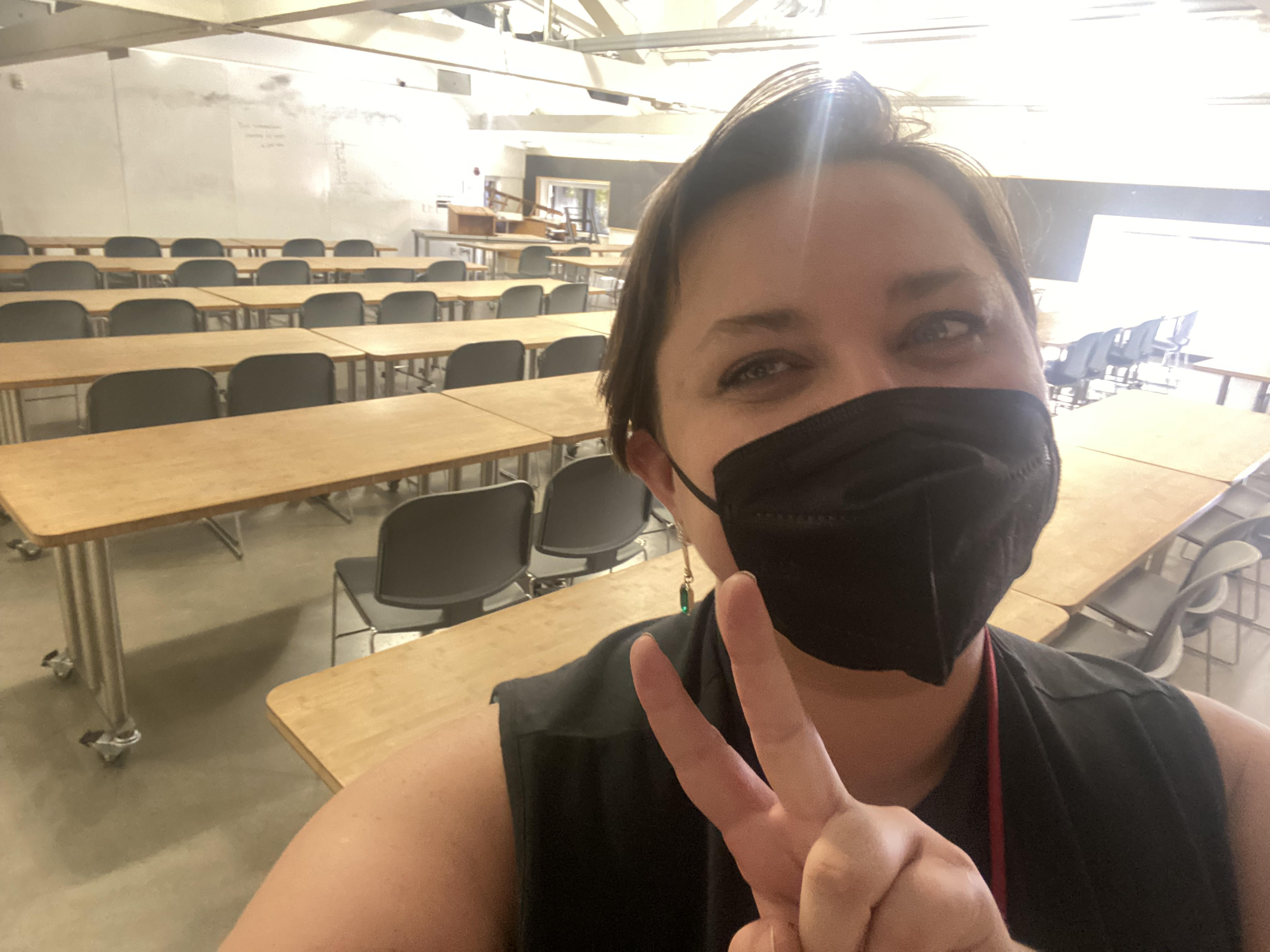 Section 2a || Stanford Reunion Was Healing
Ok, SO! I didn't *quite* know where to shove this section! After moving it around a bunch and overthinking it, I'm just going to shove it in here.
Something E and I were both surprised by was how GLAD we were that we came to Stanford Reunion. I had an incredible time going through the Stanford d.school (I was a PD major), and E got to reconnect with a lot of rad people.
I got coffee with my Patti, the person who led my honors cohort in Feminist Gender & Sexuality Studies, and while we were (honestly!) kind of (really!) nervous to go, we're so glad we did.
I'm not saying this to drag Stanford or anything, more I want other queer folks to know that is TOTALLY valid to be resistant to coming to reunion — and for us, it was 100% worth it. E and I both commented that going around Stanford reminded us of a lot of fond memories, and it's normal to only remember a lot of the negatives (cramming for a final, campus activism, the gay drama, etc)…. because that's how our brains are wired.
Ok! I'll stop gushing now! TLDR — if you're on the fence, take the plunge!
And, if you need a reunion buddy for 2023, send me a DM on Instagram! (I mean it!) I know it can be hard to go back, especially if your core Stanford group of friends isn't going. I'll be holding some little mixers and stuff in 2023, and I'd love to invite you!
Section 2b || Overview of Stanford Reunion
Ok, so! The first thing to know about Stanford Reunion is that it takes place October 19-22, 2023, over homecoming weekend.
Tickets go on sale sometimes in August (at least that's what I was told last year), and you purchase tickets for either the WHOLE SHEBANG (woot) *or* you purchase tickets by event && day.
Dinner on The Quad
Tickets for Dinner on The Quad (TBT, right?!) go FAST! When booking tickets, E (my bestie) and I debated for WAYYYY too long.
When we arrived at Stanford for Reunion, I realized why. E and I walked through the quad when they were setting up dinner, and ALL class years have like 2-5 ish tables. Because I assume I'm the center of the universe, I thought that Dinner on The Quad would just be for the 5 year reunion peeps, but it was EVERYONE.
(IDK why this didn't occur to me, but now YOU know!)
Lots of Signage & Golf Carts
Something that I appreciated about Reunion is that there were a LOT of people staffing the event, so it was easy to ask for directions or info. There was also a good number of shuttles and shuttle stations. I'm not comfortable reviewing the accessibility aspect, as we didn't use those services. <3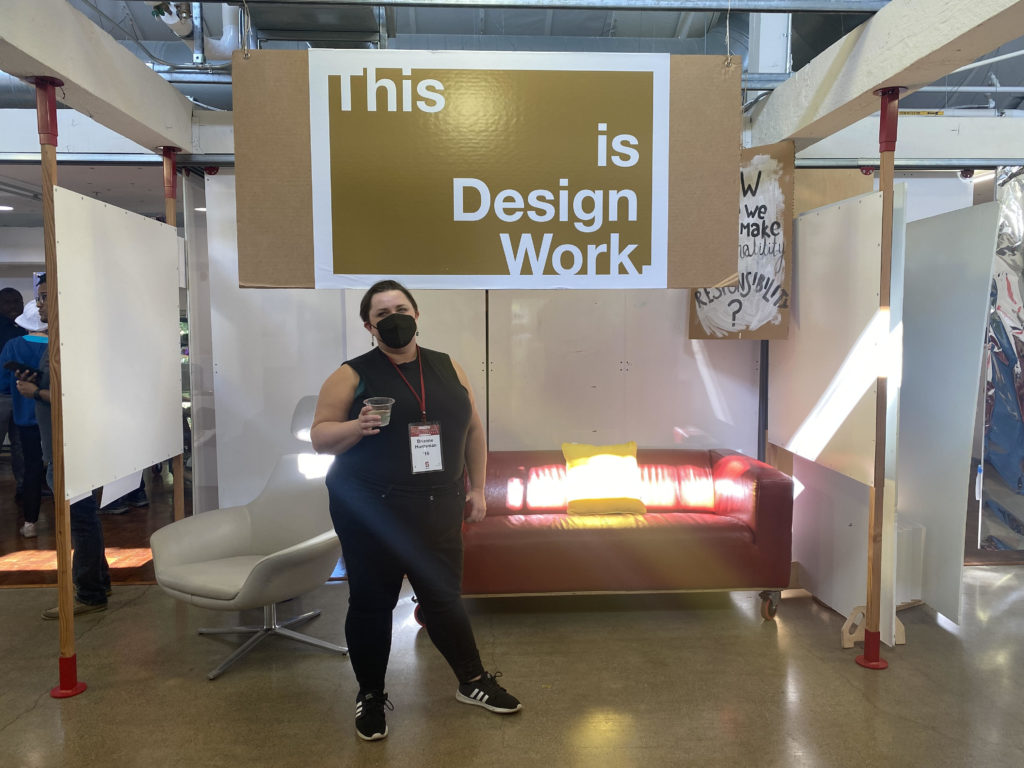 Section 3 || Deciding *YOUR* Travel Dates && Planning
When it came to planning our ~Stanford Reunion Journey~, E and I got brunch to go over the schedule and look at the dates.
Originally, I wanted to just buy tickets for EVERYTHING, but budget-wise that would mean I didn't get to do as many fun things *in* the area on arrival (ugh, adulthood).
We weighed the pros and cons, and eventually bought tix for Friday and Saturday. Overall, this was a good call for us, as we had a lot of meetups and hangouts outside of the official reunion. If your friend group is gonna be SUPER into events, it makes sense to buy everything. (For 2023 Reunion, I plan on buying the package that includes everything.) We were really going for E's 5 year reunion, so I was cool being a bit more "chill" on the ticket front!

TLDR: We bought tickets for two days of reunion in 2022. I'll be buying tickets for the whole event in 2023.
Time Off & Working Remote
Additionally, I knew that I could spend the whole 4 days at reunion, because I own my own consulting/coaching business. I knew that a lot of my clients would be *AT* (or around) reunion, so this was a pretty cool business trip. BUT, E had to ask for time off of work at a new position they had recently started, so the vacation days were limited!
I arrived at SJC on Wednesday night, and E came later on Thursday night. E worked remotely all day Friday while I ran around to meet people for coffee, etc.
Issues Registering – Whoops!
Ok, I gotta say that the Stanford Alumni team REALLY came through for myself and E when it came to booking for reunion. We had waited last minute (classic), and we had to jump through some forms and hoops to get access to our Stanford Alumni account. Stefany Rodriguez and the team really came through for us and made stuff happen! Shoutout to Stefany!! <3
(If you're thinking that YOU haven't registered as an alumni, def reach out to the Stanford Alumni office!)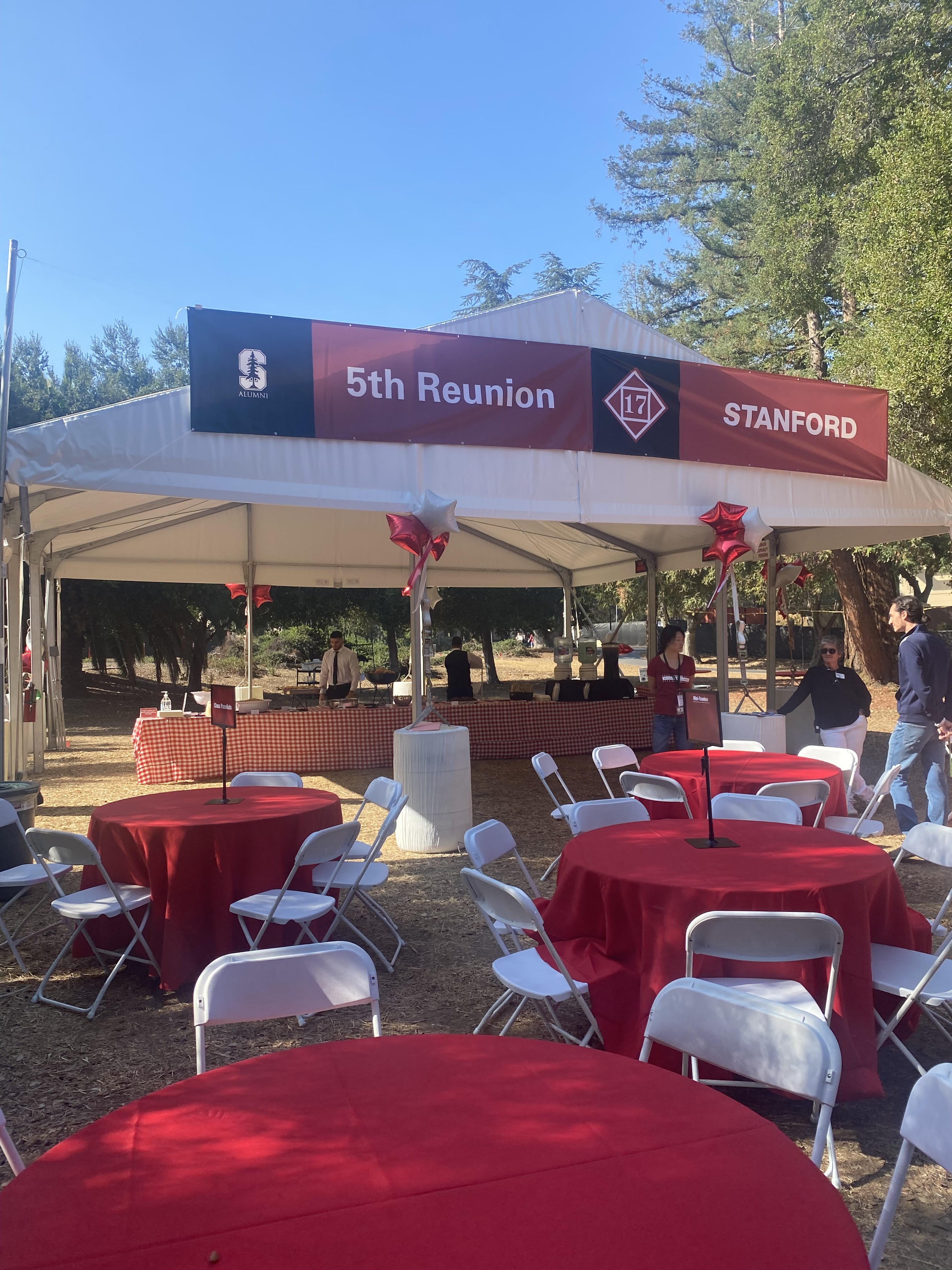 Stanford Reunion App
Ok, so! In planning our travel and what we'd do when we were at Reunion, we actually DID use the Stanford Reunion Mobile App.
When I first got emails about the app, I kind of rolled my eyes (not gonna lie)! I've gone to a number of conferences and events with their own mobile app, and they're often glitchy and… frankly not worth the space on your phone.
BUT! This Reunion App was pretty robust, and it was fun to scroll through (read: creep on) the bios of attendees.
There was one small issue, where the Friday night party wasn't on the app – so we missed it. But we ended up getting drinks at our hotel with a big group of friends, so that was totally ok!
TLDR: The mobile app IS worth downloading and using!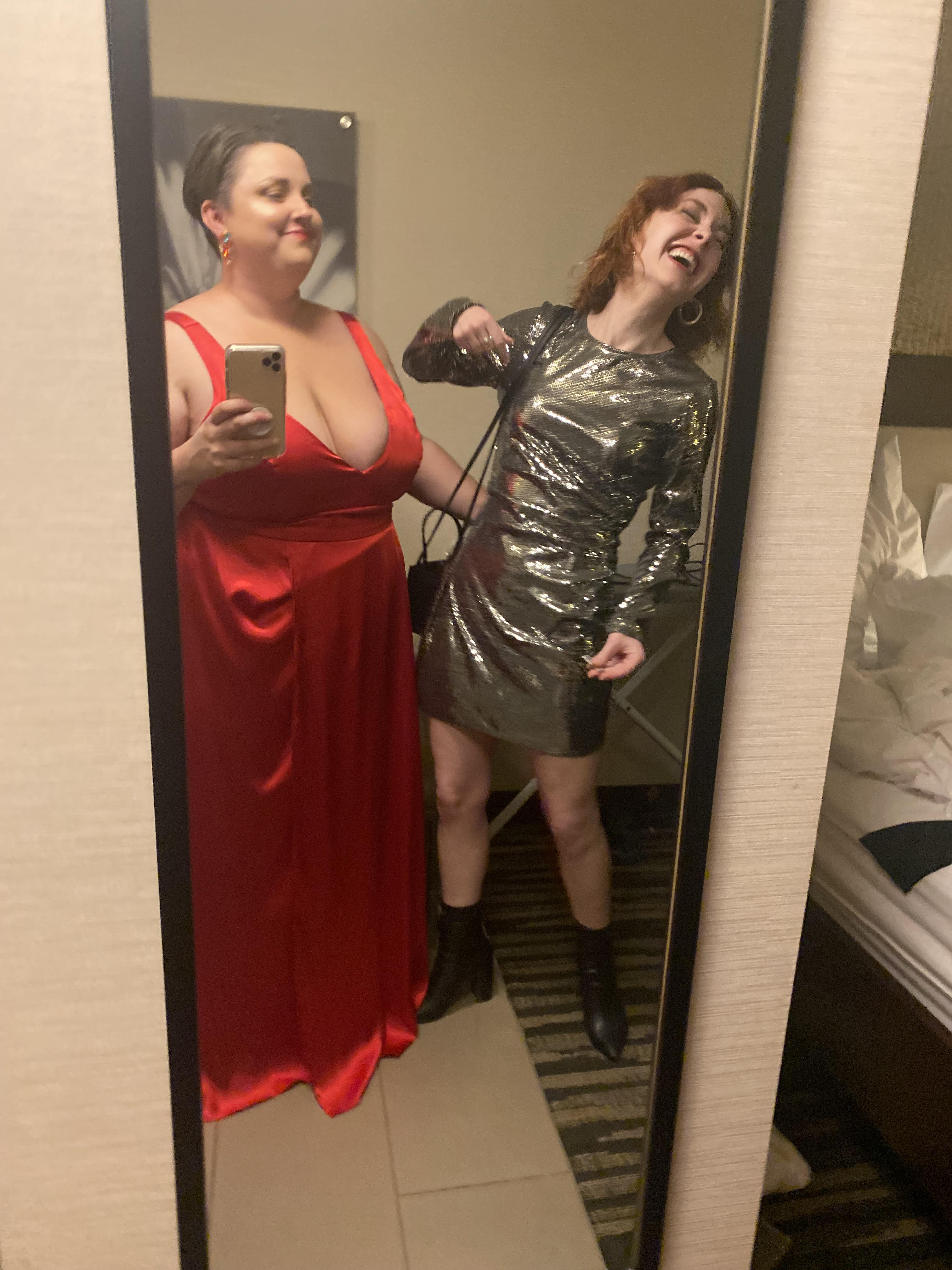 Seeing Stanford Friends Outside of Reunion
Remember when I shared my secret-not-so-secret plan to get more of the weirdos and misfits at Stanford Reunion?
I knew when planning my trip out to the Bay Area that I would *not* be able to convince some of my cutie gay gremlin friends to come to Reunion. It wasn't happening.
SO! Instead what I did was set up a few events to meet up with people. A lot of folks are still in the Bay Area post-graduation, ya know?!
Thursday Night: Set up dinner with Stanford engineering bestie, Alison
Friday Day: Set up coffee meetings
Friday Night: Invited all friends in the area to come to our hotel and hang out next to an outdoor fireplace and drink cocktails
Hot Tip: If you're planning on attending Stanford Reunion, I would make a short list of 5-7 (max 10) people you want to connect with, and then make plans BEFOREHAND. It was also clutch hosting a get together at our hotel, because we could invite all the people we wanted to see!
Hot Tip: Plan in advance to see your top 5 people Reunion weekend, reaching out beforehand! If you want to be super proactive, reach out to people ahead of time to make sure they're going to Stanford Reunion!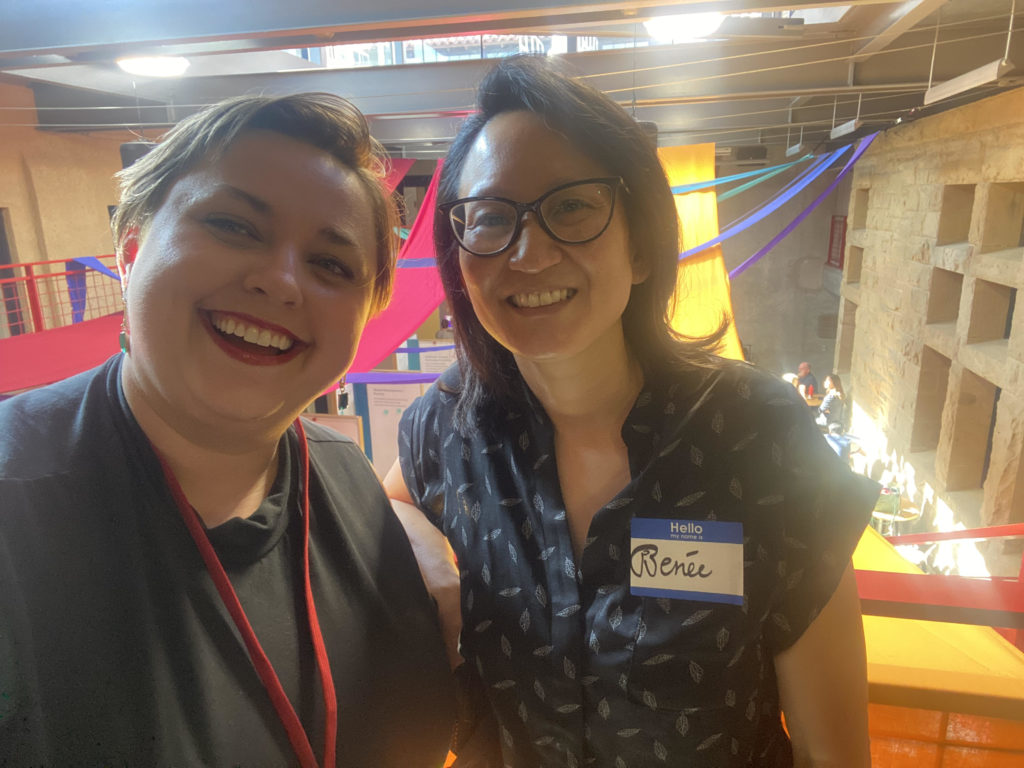 Section 4 || How much does Stanford Reunion Cost?
Stanford Reunion prices change each year. An all-inclusive registration runs around $900, if my memory is correct! You can also purchase tickets by day or by event.
One of the things I love LOVE to do as a blogger is talk about the topics folks don't really talk about! I think it's helpful for folks to see what I spent to attend Stanford Reunion. I showed up with a pretty loose budget/idea of costs.
To keep things simple, let's pretend I paid for everything myself (not splitting costs on a hotel room, etc). Adding everything up, I would've spent $2,706 solo! But, because I shared a hotel room with 2 queen beds with my bestie, the total is closer to $2,256
I spent around $2,300 to attend Stanford Reunion in 2022.
Note: If you're worried about costs, you can apply for the Stanford Reunion grant (info on their website).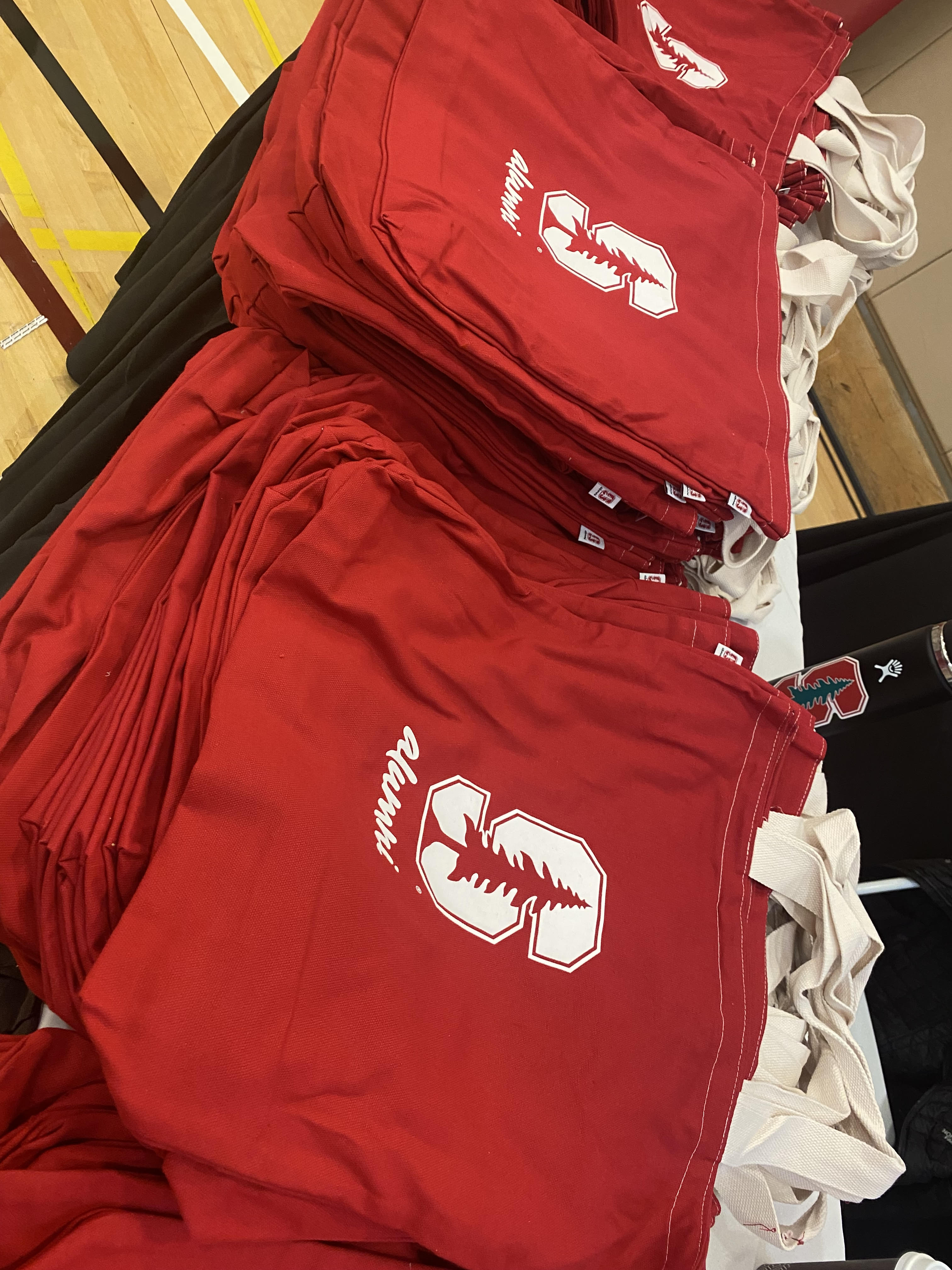 Flights: Flying from SLC to SJC, I spent $450 roundtrip on Delta Airlines
Reunion Tickets: $341
Hotel: We stayed at the Hilton Garden Inn in Palo Alto, and we used E's credit card miles to book a room. I thought hotel prices would be SUPER high during Stanford Reunion week, but they really weren't! We stayed 3 nights and our room probably wouldn't been around $900 USD with taxes and fees. (This isn't exact, sorry!)
Snacks, Drinks, etc: We spent about $200 on snacks and drinks at the hotel. They had a bar as well as bottled cocktails, which was super fun. Having this onhand was a GAMECHANGER, and it made hosting a little party much easier.
Lyfts: Because E paid for the room, I covered all the Lyfts — so that info I do have EXACTLY! Woo! Total this was about $315 USD. (Break out of these costs below)
Food: All in all, we just went with the flow on meals. We ordered in a lot (restaurants had long wait times). Overall, about $80 – $100 a day on food, including delivery, tip, etc.
Souvenirs: We had to go to the gift shop, OBVIOUSLY! I spent $170 here.
October 19 Lyfts
To SLC airport: $30.89
From SJC to hotel: $52.75
October 20 Lyfts
October 21 Lyfts
October 22 Lyfts
$18.05
$13.65
$12.99
$9.99
$17.99
October 23 Lyfts
October 25 Lyfts
Section 5 || Misc Tips & Info
Ok, so! There area few other topics I'd like to cover that didn't really fit in another section:
Classes without Quizzes: I wish I had made it to some of these, but I didn't!
Mini-Reunions: This was less relevant to me, as it wasn't an "official" reunion year for me! But these look cool!
Football Game: I'm not a football girlie, so I have no idea here!
Overall, my top tips // as well as a few things I had done differently:
Go with the FLOW! E and I had ideas on what we wanted to do, but we didn't have a rigid schedule — there's just too much going on for that!
Pack multiple pairs of sunglasses — it's bright out there! Also, I wish I had brought a phone battery bank
Plan to STOP IN! There wasn't an official reunion time at the LGBT-CRC, so E and I went to the WCC (Women's Community Center) meet and greet, then headed up after. We also went to the Stanford Pride Mixer, which was fun (and we were super overdressed, lol)
ADVANCED REACH OUT! I wish I had reached out more to people before coming, like 3-4 weeks before! Some folks came to Reunion because they knew E/I would be there, and I wish I had reached out to more folks!
Finis & Final Thoughts!
Ok, so there's my guide to Stanford Reunion! I'm always happy to answer questions via email or my Instagram DMs. If you're a Stanford friend I've lost touch with — feel free to reach out! And, if you're a Stanford grad I haven't met, I'd love to meet you!!
XoXo,
The Huntswoman