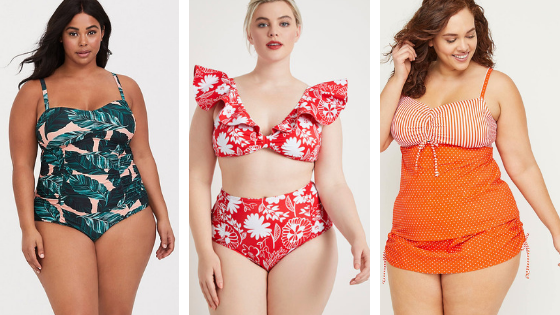 Fun fact for you – a really great time to buy clothing is at the end of the season. Early September is the best time to snag cute swimsuits for around $20!

I wish I had learned this years ago, so now I'm telling you!

It's counter-intuitive to look at swimsuits right now, because we're planning our looks for fall (helloooooo plaid!), but stores are getting rid of summer inventory to make space for boots, cardigans and graphic tees that say stuff like, "PSL FOREVER!!" ????????
Plus Size Swimsuits on Sale!!
You can get swimsuits from places like ModCloth, Torrid, Lane Bryant and Eloquii – for 50% to 80% off!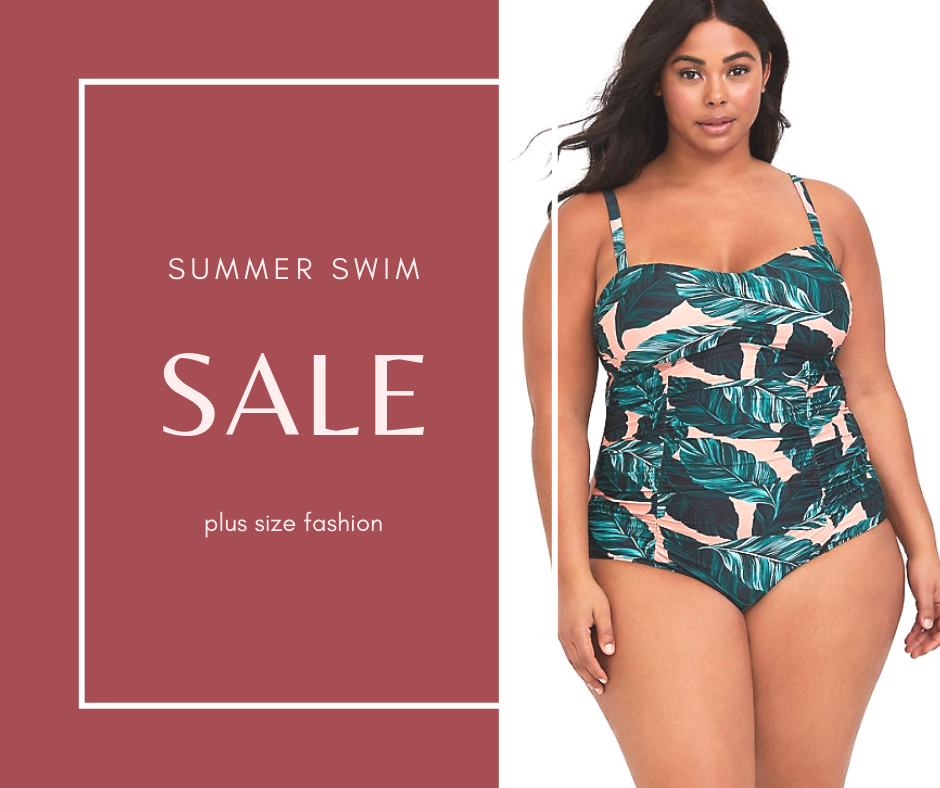 UGH, but where's my size?
But here's the thing with shopping at end of season. It can feel like all the cute stuff exists – in every size EXCEPT yours. It can take a lot of time to find something cute in your size, which is why I've put together this listicle.

I've found a few dozen super cute swimsuits on sale, and I've listed them all in a post. Swimsuits I'd ACTUALLY wear (and a few I've bought, ahem), not swimsuits that make you go, "LOL that is HEINOUS. No wonder it's marked down. ????"

In the guide, I've noted what suit is available in which size, so you can find one in your size SUPER FAST.
I'm testing out being a sort of personal shopper for y'all, because I spend so much time on these sites – someone should benefit!
Real talk: I do earn around a 5% commission from this guide if you buy something, which helps pay for things like website hosting fees so I can keep making content and guides like this.
ELOQUII Swimsuits on Sale
Eloquii is known for bold colors, prints and cuts. Eloquii is for bold babes, ready to strut their stuff at the pool!! Here are some of my favorite suits from them:
Was $79.95 | Now $19.97
I love the bands on this swimsuit! Perfect for a beach vacation this winter.
Details here.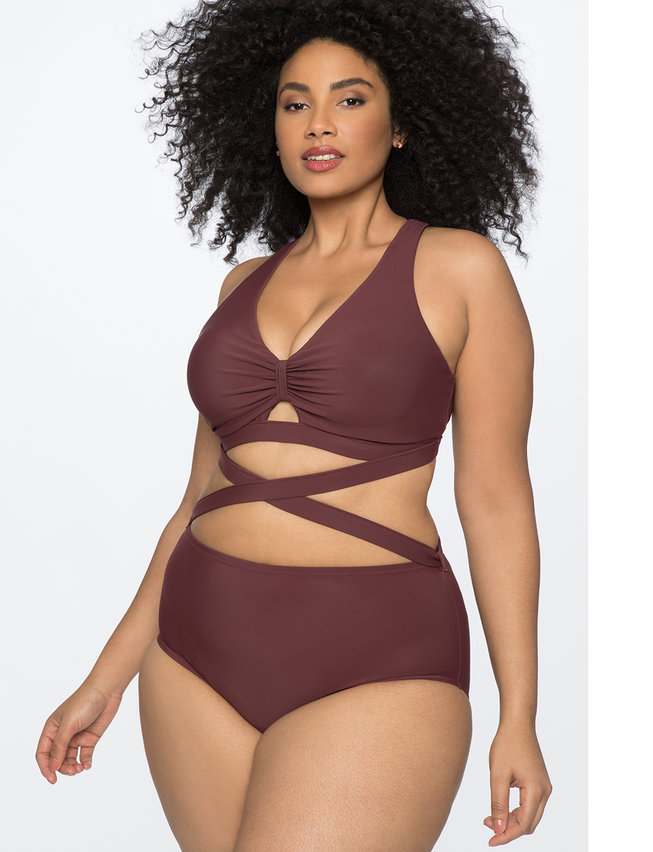 Was $49.95 | Now $19.97 (Bottoms are $13)
I love the dainty shoulders on this plus size bikini! This print will be perfect for selfie photos or a pool party. The top doesn't have underwire or lining, and the high waisted bottoms are super cute!
Details here.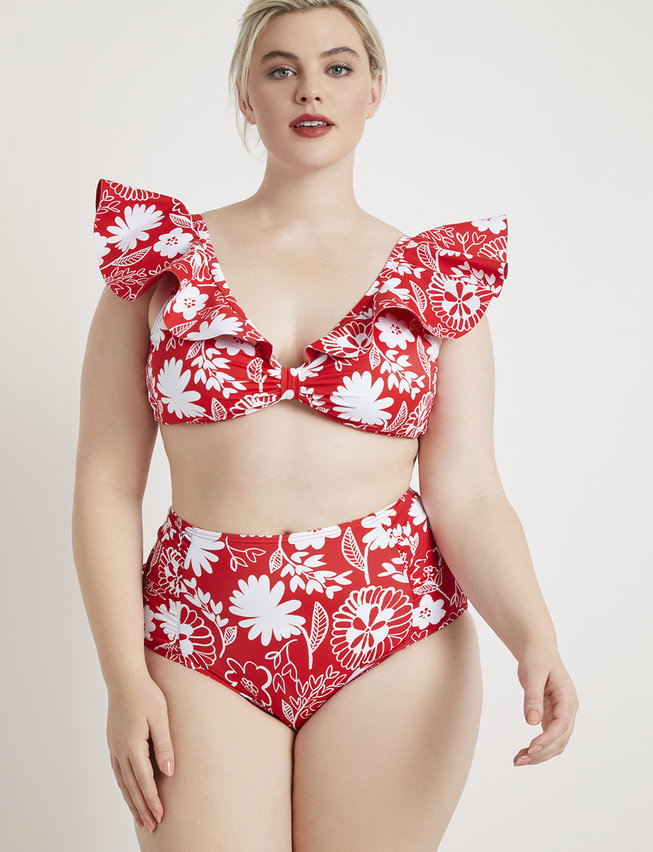 Was $79.95 | Now $19.97
I love that this swimsuit is different, without being so "out there" that you'll weird out people at the pool! That blue is gorgeous. Cerulean FTW! Straps are adjustable.
Details here.
ModCloth
ModCloth is known for vintage-inspired pieces, and I love how they adjust swimsuits for different sizes (their plus size swimsuits have extra straps or support as needed)!
Their Outlet has been picked over, but there's one cute swimsuit left!
Was $79 | Now $11.97
This ruffle swimsuit is super cute, and provides a little more coverage than other suits on this list – while still being bold!
Details here.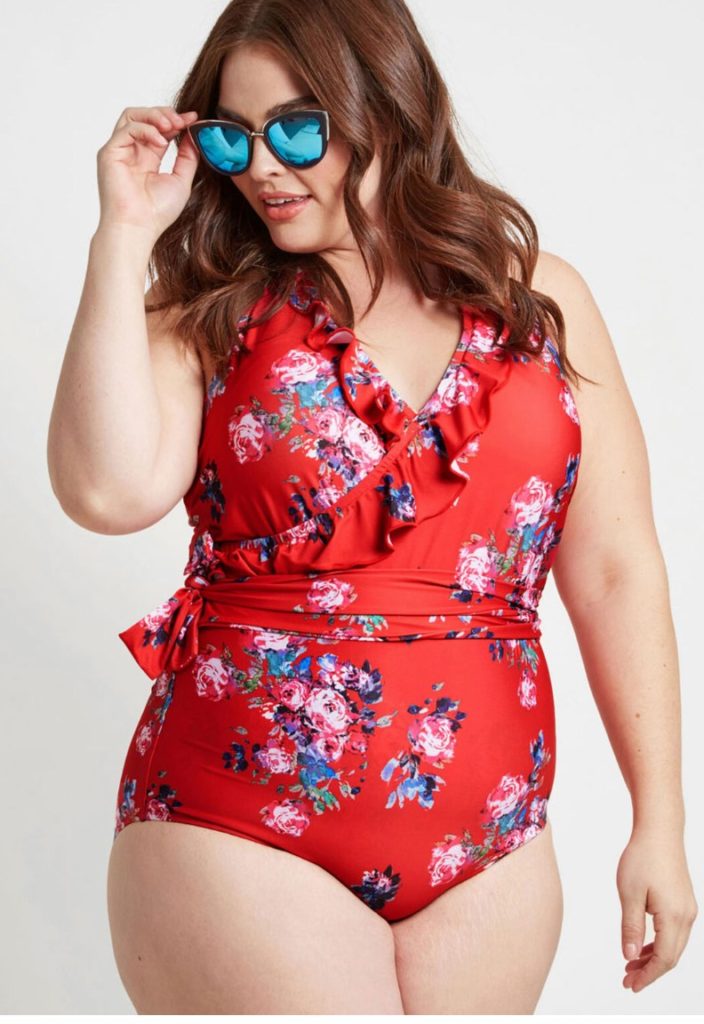 Torrid Plus Size Swimsuits
Torrid is one of my fave swim brands, because their underwire technique is AMAZING. (I'm an H cup, and having supportive bras is a must.)
Was $88.90 | Now $62.23
It is IMPOSSIBLE to find a Torrid swimsuit during the winter months, so if you've got winter travel planned (be it a hot tub at a ski resort or a beach vacay), be sure to get your swimsuit NOW!
Love the print on this one! Details here.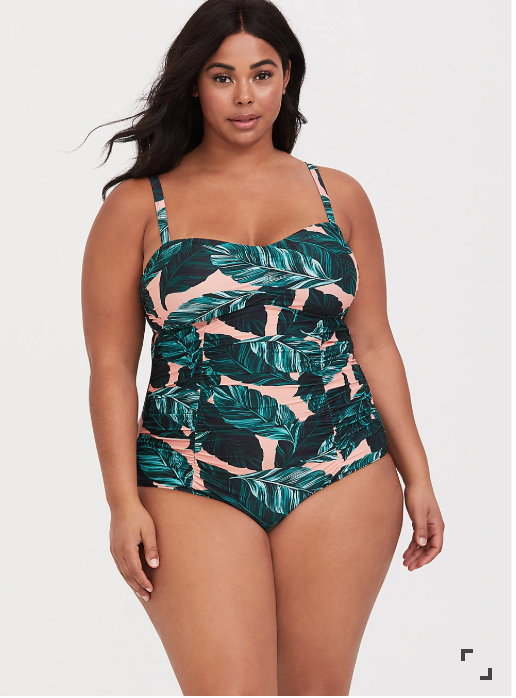 Was $98.90| NOW $29.48
Which Harry Potter house are you in? (I'm Slytherin, obviouslyyyyy.) . This swimsuit has a super cute swimskirt, and will leave people wondering what house you're sorted into!
Details here.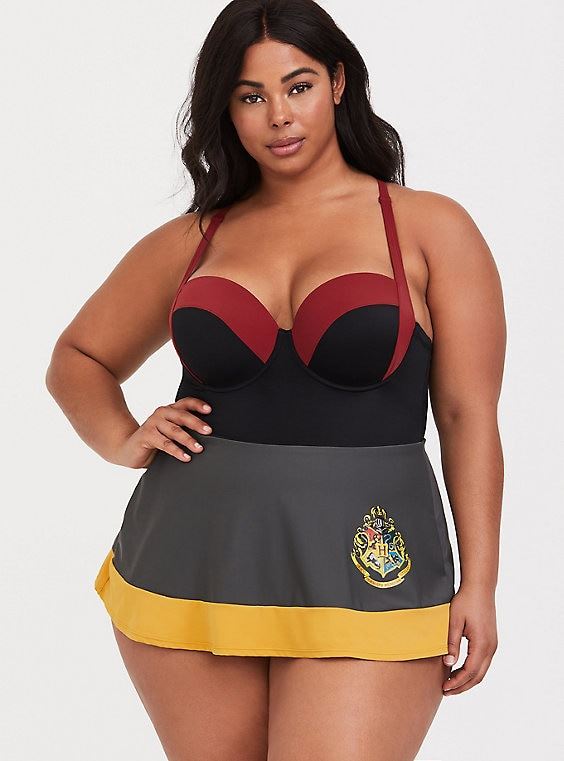 Was $78.90 | Now $33.49
I love this swimsuit because it has DIFFERENT CUP SIZES AVAILABLE! You can opt for a regular cup or a "Full Cup" if you're a bit bustier. The emerald color is gorgeous.
Details here.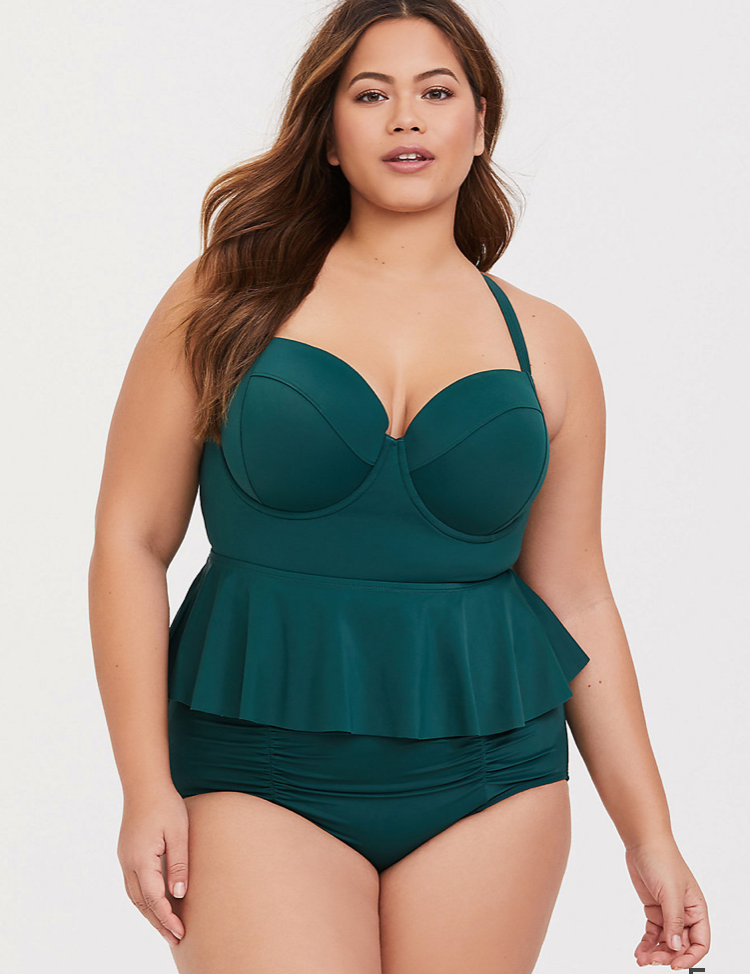 CoEdition Swimwear Sale
CoEdition is a platform that brings together smaller and independent brands in one place – so you don't have to go from website to website. LOVE the array of styles and options on the platform.
Now $44.50
Are your ready to get on a paddle board or waverunner? Protect your arms from getting rubbed raw by a lifejacket with a rashguard!
Details here.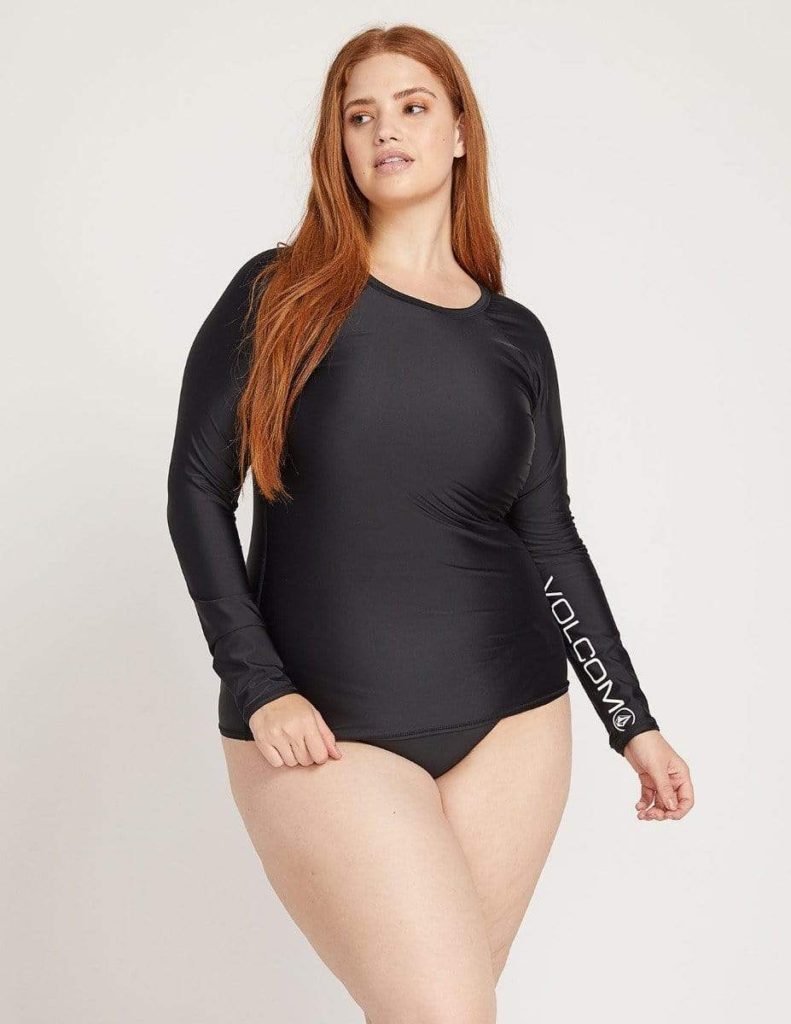 Lane Bryant
Lane Bryant swimsuits haven't really gone on sale, except one!
Was $58 | Now $21.99
If you're team "no wire bra," this swimsuit is perfect for you.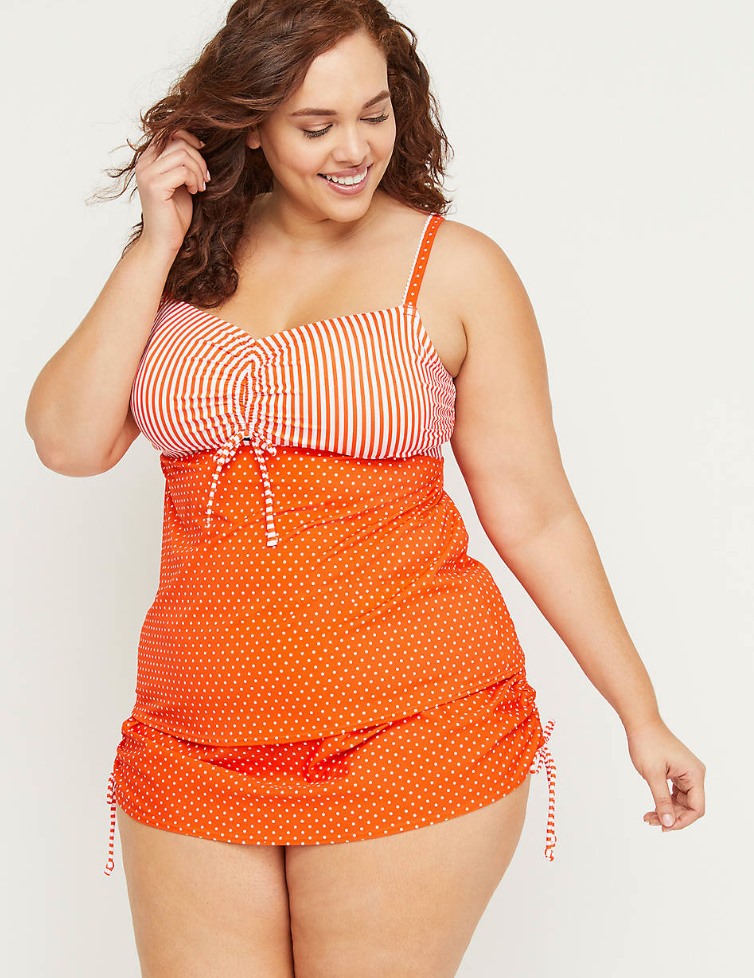 Still looking?
Didn't find a swimsuit you love? That's okay! Here are links to the swimsuit sale webpages of some of my favorite plus brands:
Thank you for visiting this guide, and check back for fall fashion roundups next week!