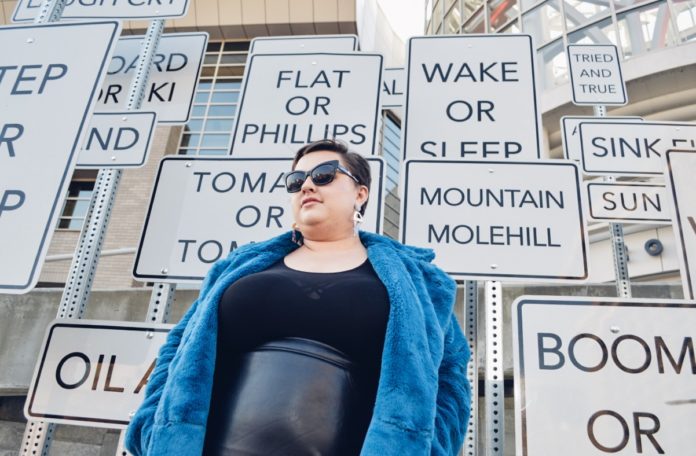 Hey there! This post contains affiliate links.  Using my links means I earn a commission, which helps me create more rad content.  More on affiliates here.
I love making a statement. When I buy clothes, I do so with the intention of saying something. Clothing is a method of communication, in my book.
I think the way we dress communicates what we want to share that day. Some days, I am an HBIC in heels and a blazer. Other days, I would like a neon sign that says "GO AWAY" flashing above me, wearing an OOTD of leggings and oversized sweatshirt.
[Heads up! This post uses affiliate links, and you help me earn $$ when you use my links. More on affiliate links here!]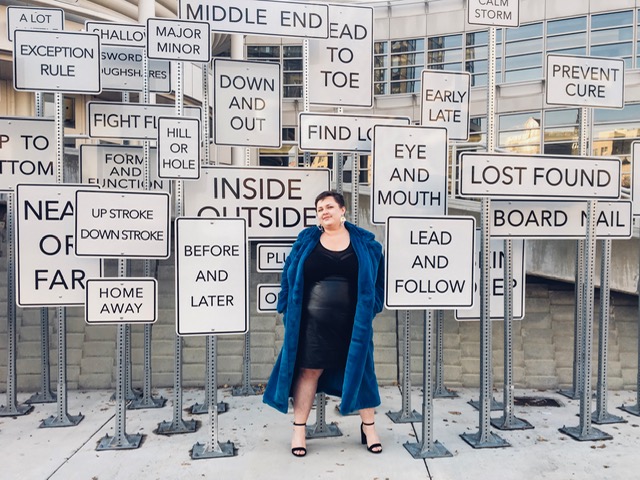 And, when I saw this blue fur coat from Elvii (c/o of CoEdition, where it's currently on sale!) I had to try it. This is a plus size longline fur coat, with no closures (it's open!), and it's 100% polyester.
What is this blue coat saying?
The faux fur showed a love of luxe, a sort of millennial and cruetly-free take on Cruella de Vil. That, with the fun blue color, shows the wearer doesn't take themselves too seriously.
A Homage to Cookie Monster, Perhaps?
It could also be seen as a sort of homage to the Cookie Monster. My friend Dani of @IAmDaniAdriana now lovingly and jokingly calls me "Cookie Monster" after this coat.
Hey, Cookie Monster is a dude who knows what he likes and ain't afraid to show it!
Y'all Have Strong Feelings about Blue Faux Fur!!
I really respect fashion items that inspire hatred or love – to me, that's the epitome of good design. When I pulled out the coat on my Instagram Story, and shared try-on pics – folks had OPINIONS.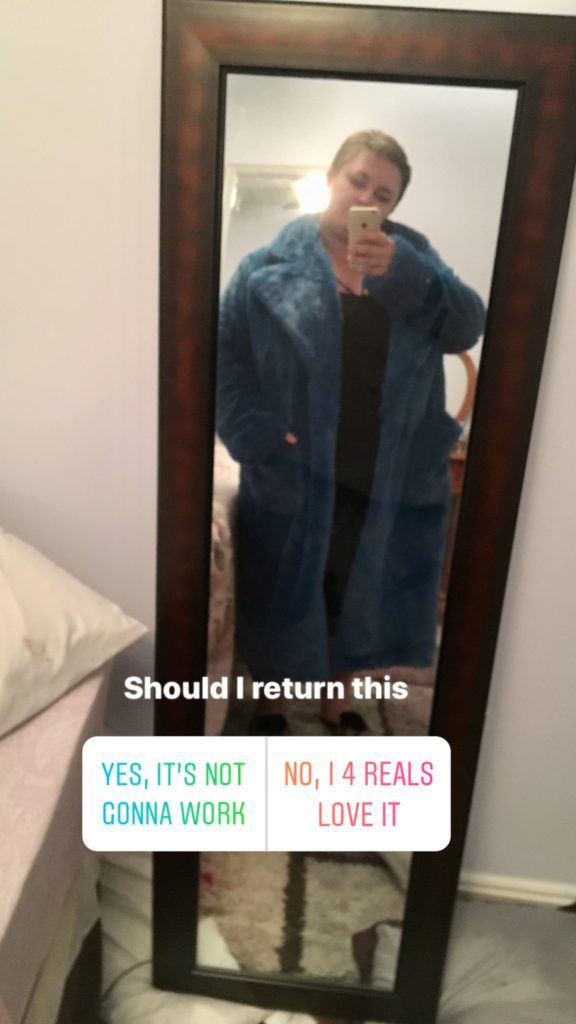 I love it! This makes a statement
It looks like a bathrobe on you – maybe get it hemmed?
Love the color, but is it too big?
This is SO YOU!
Here's a few of my fave comments from my Facebook page:
I really loved how folks shared their honest opinions. I live for debating fashion and design choices!
Styling It
So, I decided to go all in, and photograph this piece. (Shoutout to my sister, Marissa, for being an awesome street photog!!) . This coat was WARM! I'm used to freezing a little bit during winter shoots!
<< Real Quick: Are we hanging out on Instagram? Be sure to check out my feed! >>Be sure to check out my feed! >>
Tips for Buying
After wearing it around for the shoot, I decided it was just too oversized. I purchased a 22, even though the chart said I should go with a 20. I should've gone down 2, maybe 3 sizes.
Overall, a super fun item that turns heads wherever I go! I had fun wearing this coat around downtown Salt Lake City, taking pictures outside of the Utah Museum of Modern Art.
You can snag this coat from from CoEdition here.
What do you think?
Do you love or hate this Elvii faux fur coat? Tell me what you think in the comments, I won't be offended!
If you'd like to see more posts on plus size fashion and traveling in 2019, etc be sure to subscribe to The Huntswoman Newsletter.
NOTICE: This post may contain affiliate links, from which I earn a small commission. All opinions are my own, and I only recommend products I believe in.