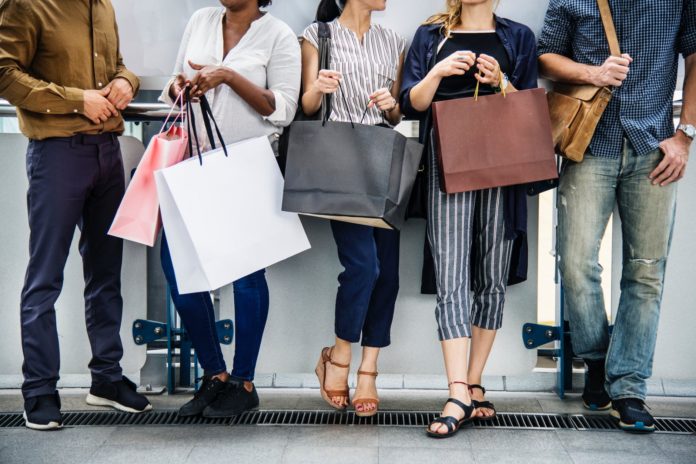 Hey there! This post contains affiliate links.  Using my links means I earn a commission, which helps me create more rad content.  More on affiliates here.
I see this question online a lot, usually from entrepreneurs who are looking to build an online presence on a platform they control (i.e., not Etsy).
It's important to have a presence on Etsy for discoverability (Etsy has spent a lot of $$$$ getting eyeballs on the website, so it's good to list at least some of your products there), but how many times have you asked someone where they got a cute necklace, throw pillow or candle and heard them say, "Oh, I got it off of Etsy!"
Shopify or WooCommerce
Please, bring joy to small entrepreneurs everywhere and STOP SAYING, "I got it off of Etsy!"
Gurrrrl, I know engineers who work at Etsy, and I know they didn't make that cute AF bracelet.
So, we know we need to build stores to grow brand recognition, and also to retain access to customer emails and info.
The question is, "Which dang ecommerce platform do I use?"
Below, you'll find advice on choosing between WooCommerce and Shopify, some of the easiest WYSIWYG (what you see is what you get) platforms around. Overall, I recommend viewing these platforms as a temporary solution — eventually, you want to get so many sales that you can afford to have a custom ecommerce website created, so everything is **exactly** how you want it, and you'll have more control over things like checking out, tracking orders, etc etc.
Note: I didn't include Magento, because even though it's an industry leader, the $18,000 price tag makes it not-so-friendly for folks starting out.
1. What's Easiest to Use?
Shopify, hands down.
2. Make it Pretty, Make it WORK
Shopify: So, Shopify has about 50 themes that you can use, and ~10 are free. They outsource these themes to their developers — and they're dang pretty! Overall, they're easy to use and they look great.
WooCommerce: Technically, WooCommerce doesn't have design themes. WooCommerce is *actually* a "plug-in," which basically means it's a feature that you integrate into a WordPress theme. (Note: If that already sounds overwhelming, just go with Shopify for now.)
WooCommerce does offer a "Storefront" template for free, and you can buy other WooCommerce themes on Storefront (from $39 to $129).
The gist: Pretty even score here when it comes to looks.
3. Blogging Baby!
Shopify: Y'all, I **HATE** how the store blogs on Shopify look. I did a bunch of blog posts for a client, and really got acquainted with the feature there (they use Shopify). It's not searchable, doesn't really let you use keywords, etc etc. Blogging is such an important part of any online store, both for SEO and because you want to create content people want to read. And ugly blogs are not enticing to readers.
WooCommerce: So, WordPress originally started out as a blogging platform, so it's safe to say that the blog feature is better than Shopify's. However, it's not as intuitive as Shopify's blog, and you'll need to install an SEO plug-in (I recommend Yoast) for correct SEO.
The gist: WooCommerce is better, but requires more work to setup than Shopify.
4. Pricing
Oodles of people have written about this, so here's my fave article that compares pricing between Shopify and WooCommerce.
Shopify: Based on the plan: $9, $29, $79, $179 (per month).
WooCommerce: Based on the plan: $5-$100 (per month).
5. Accepting Payments
So, the whole reason you're creating an online store is to collect that $$$$.
Shopify: The Platform accepts PayPal (yippee!), and also has its own credit card processor — if you're in the USA, Canada or Australia. If you're from anywhere else, you'll need to set up a 3rd party processor.
WooCommerce: You'll use WP plug-ins to accept payments. While using Paypal and(credit cards (via Stripe) is free, you'll have to pay various fees for Amazon Checkout, Braintree, etc.
The gist: You'll have to pay to play with either of these platforms, so take a look at your Etsy store (or customer research you've done on your own), and see what payment options are most important for your customers.
Overall
If it were me, I would go with WooCommerce, because the ability to customize things and add plug-ins is hugely useful. However, if you're wary of tech and don't have budget to pay for a developer to troubleshoot a few hours a month (~$300), I'd definitely go with Shopify.
Appreciate this article? Give it a "????"! Do you need help marketing your ecommerce business? Drop me a line here, or we can chat on twitter.
What to Read Next —>
Love posts about ecommerce and owning a business? Here are a few other posts I've written that I think you'll enjoy!