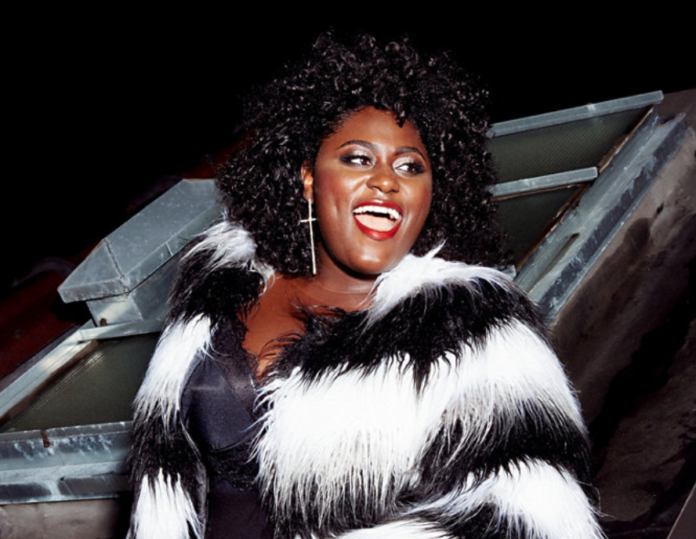 Hey there! This post contains affiliate links.  Using my links means I earn a commission, which helps me create more rad content.  More on affiliates here.
The holiday season has STRUCK, which means treating new boots for winter, winter tires and figuring out how to fix hat hair.
[Heads up! This post uses affiliate links, and you help me earn $$ when you use my links. More on affiliate links here!]
Can you tell I live in the mountains?  ????????????
[Heads up! This post uses affiliate links, and you help me earn $$ when you use my links. More on affiliate links here!]
One of my absolutely favorite part about the holidays is HOLIDAY PARTIES. Whether they're "end of year" parties that your employer hosts, Hannukah parties where my Jewish friends torture me good-naturedly with a game of dreidel or a Christmas party with a pageant (complete with bath robes), I am allll about a good party.
Buuuut, for some reason, finding a dress for a holiday party can be, well, difficult. It seems like companies think we only shop for dresses to wear to the club or we're campaigning for "Best Dressed Spinster Aunt."
I put together this list of options that I love, along with info on where to wear it – and how to style it. null
Dress Option #1: You're the Host!
Perhaps the most fun way to dress for a holiday party is to host one, and set the dress code!
I dream of putting together a sort of ANTMxHoliday Party, where guests are told to dress extra AF.
This Peplum Blazer with Satin Bow from Eloquii ($139.90) takes wrapping presents to a WHOLE NEW LEVEL. Almost avant-garde, but still wearable, this is blazer is definitely on my Christmas list. You're the gift when wearing this! 😉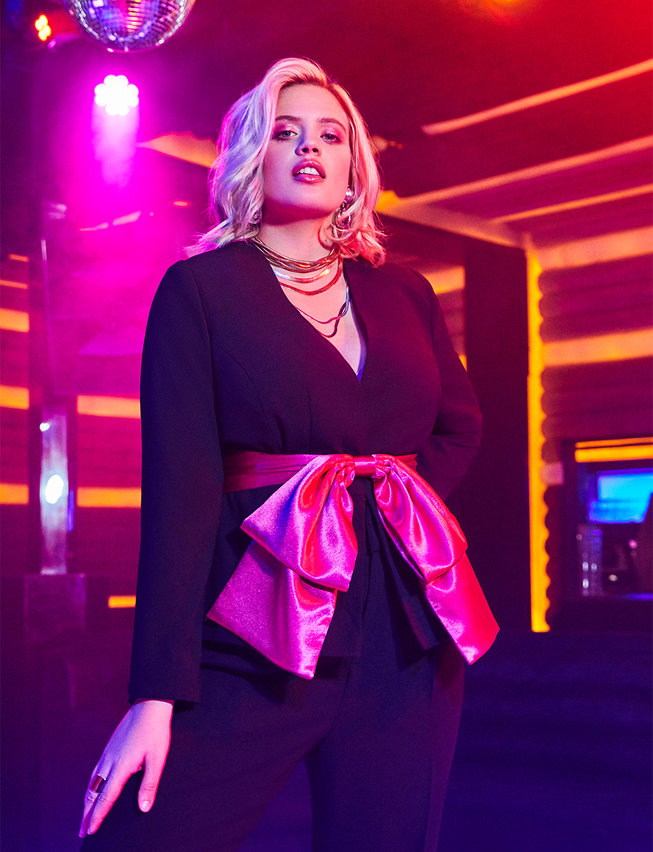 Continuing with our gift theme, this red Ruffle Shoulder Dress from Eloquii ($139.90) is sort of Whoville meets Booty dress. This shoulder is a moment, a perfect backdrop for your champagne glass while you give a toast.
Also available in black. pink and white – you may want to get a few colors!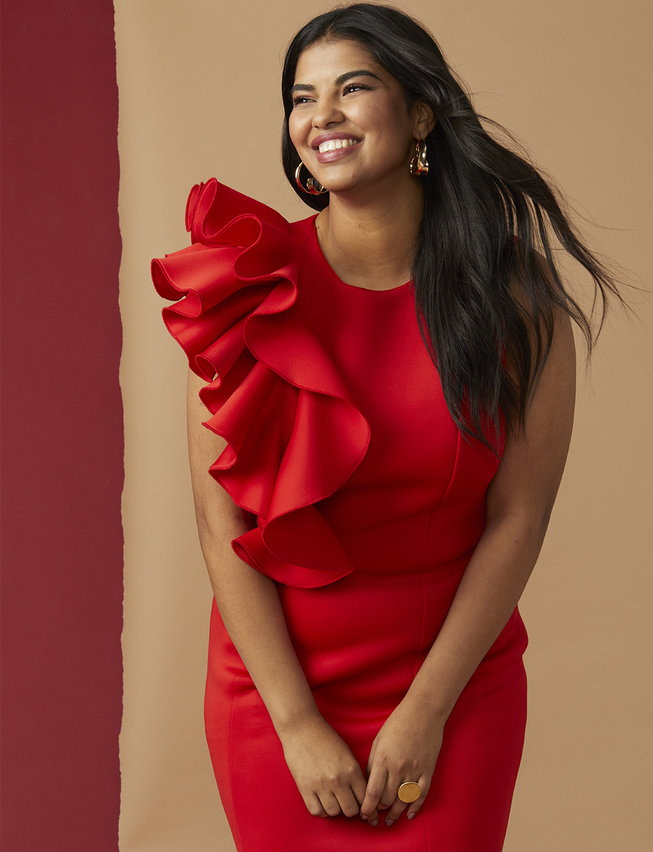 Listen, there's no such thing as "too fancy" in my book. If you're going to host a party, make it black tie! This v-neck gown from Simply Dresses is stunning, and it's only $199?!
Dress Option #2: "End of Year" Company Party or Company Christmas Party
Generally, these sorts of events tend to be a little more ~fancy~. If it's black tie, I recommend snagging a floor-length gown with some glitz, like this Sequin Siren Maxi Dress from City Chic for $189.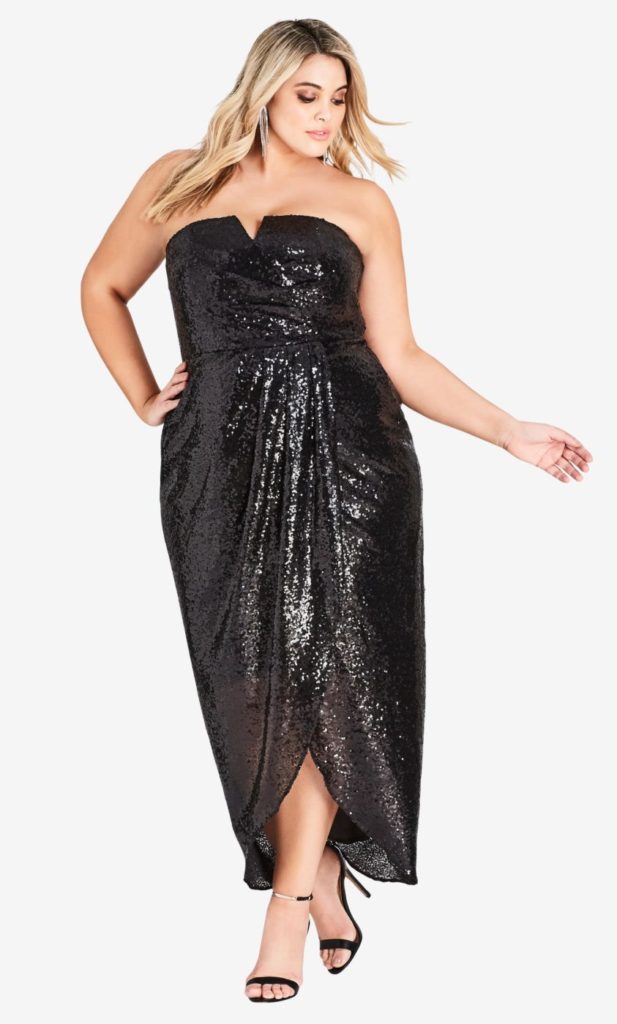 If the company is a forward thinking, and you know you need to show up in something FABULOUS (but aren't excited about sequins), may I suggest this embroidered plus evening dress from Simply Dresses ($99)? The embroidered leaves on this dress are constructed using metallic mesh – giving sparkle without going full-on disco.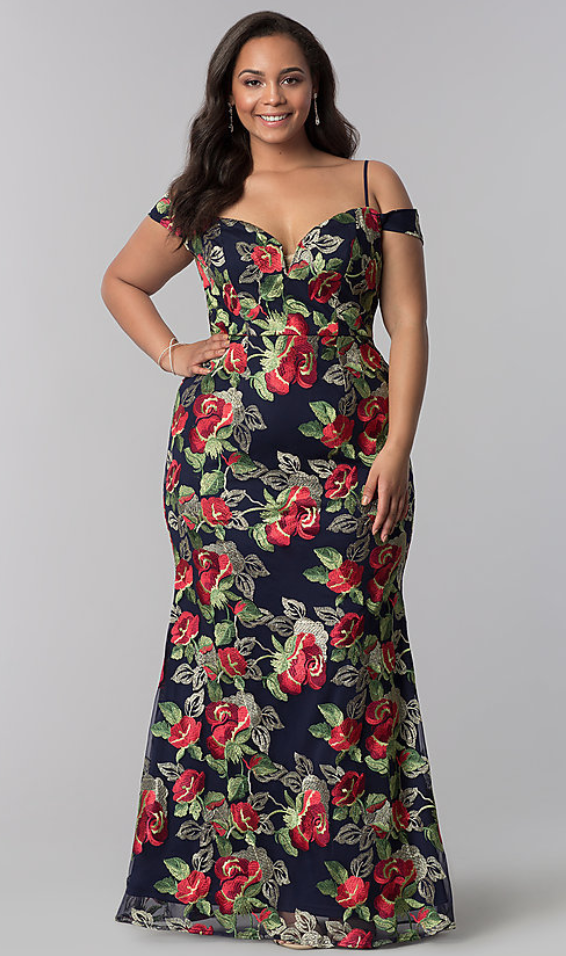 Avoid dresses made of cotton or dresses you'd wear during the day. Satins and chiffons are your BFF for this event!
If you're looking for a designer frock for the company party, be sure to check out 11 Honore. The Long Miu dress by Zero + Maria Cornejo is a statement look without trying too hard ($1,295). The draped goddess silhouette is perfect for a black tie event, with a slit that's va-va-voom, but stops around the knee!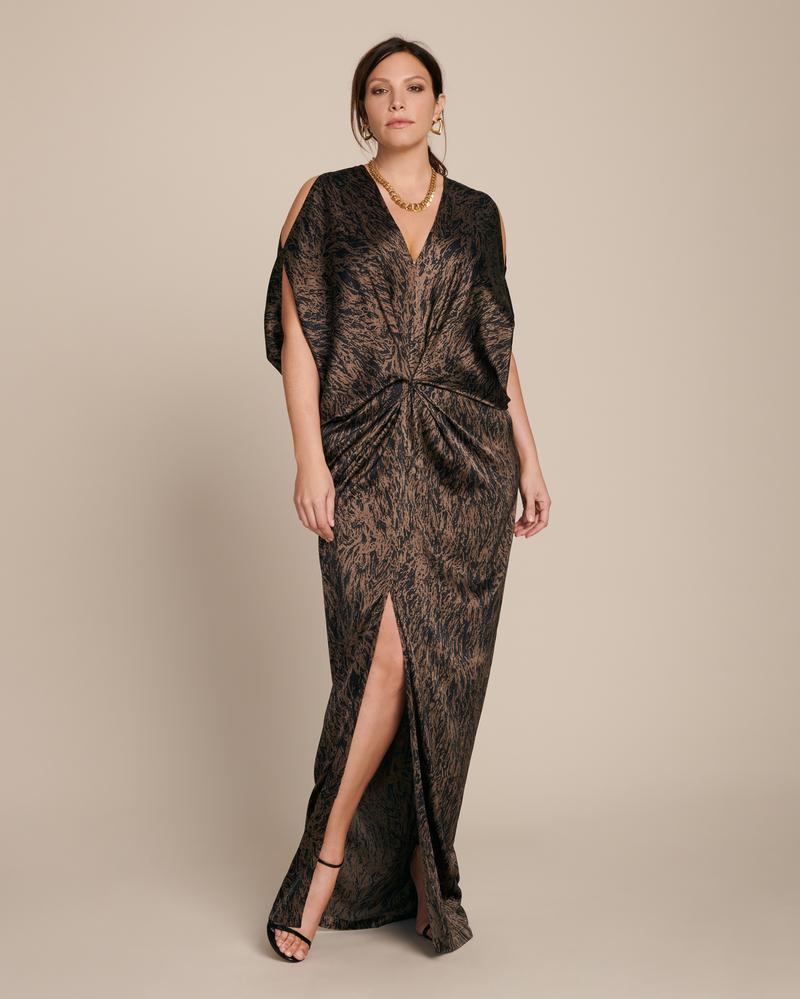 Dress Option #3: Friend Gathering (That doesn't include ugly sweaters)
When getting together with friends to celebrate, I always like to go a little bit above and beyond – outfit-wise. Who doesn't want to take smashing OOTD pics with one's friends?
This Shegul Cece Slip Dress in gold from CoEdition ($295) is THE dress for that sort of occasion. It's perfect for the holidays, because helloooo, who doesn't love gold silk that looks like crushed velvet?? But it can also be repurposed for another time of year.
Add on a black moto, and you have a LEWK. Get out the self-timer and WORK IT with your besties.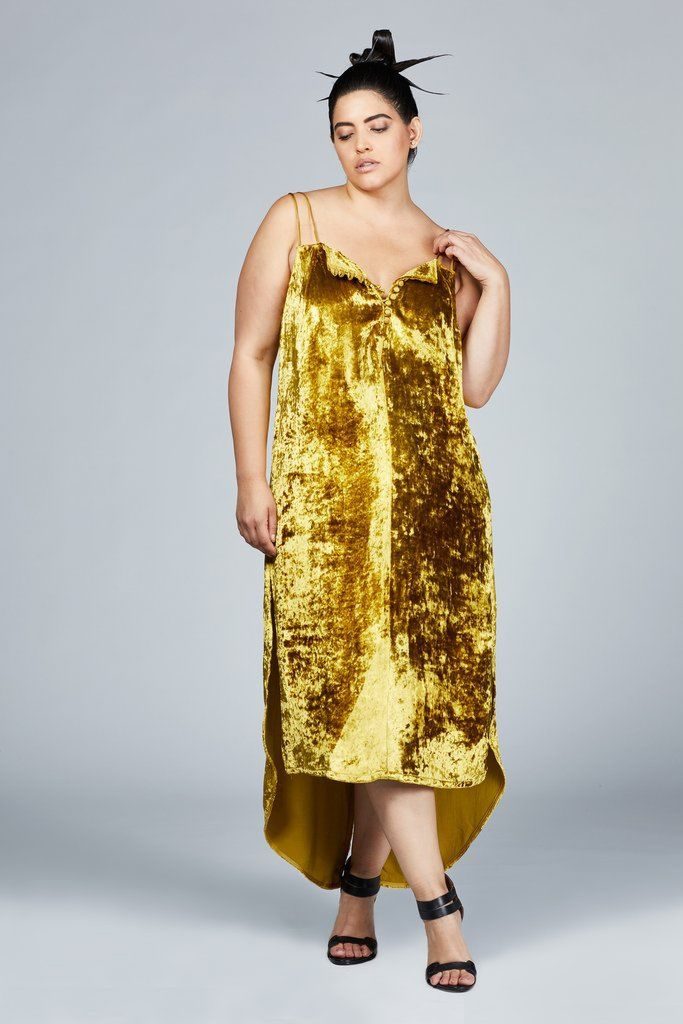 Listen, friend. You have to CREATE moments to where wearing a fur jacket makes sense. If you've been dying to rock a faux fur (and I know you have) check out this faux fur jacket Danielle Brooks designed for Fashion to Figure ($62.95).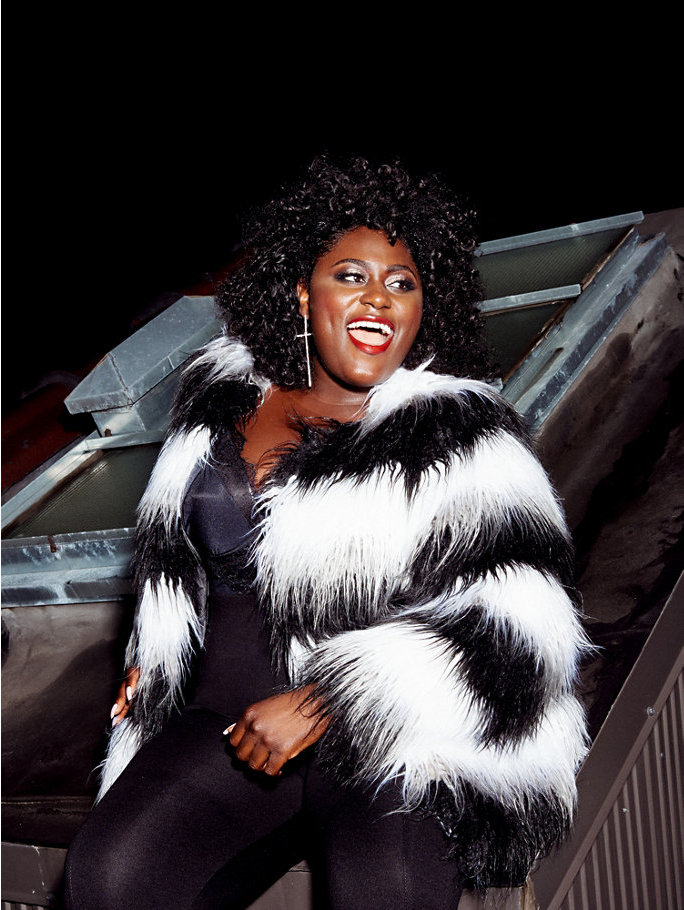 If you want to be a little more lowkey, this long sleeve Sequin Sheeth dress from Eloquii ($149) is a great piece. A festive color, with details that the sequins that both elevate and standout– this is the perfect dress for the babe who wants to look good for the pictures, but doesn't want to setup a photoshoot (but she'll join one!).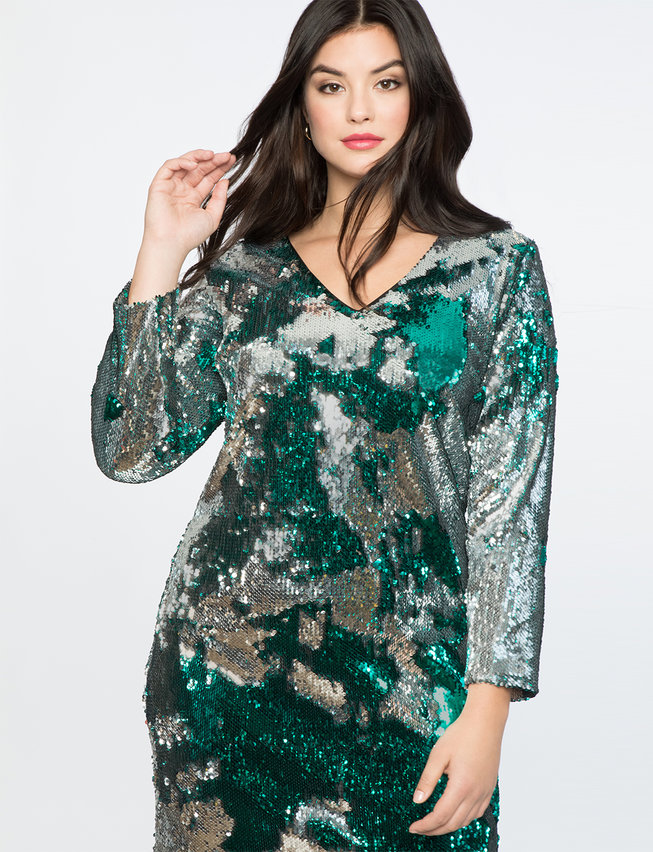 I'd pair this with stud earrings, as the dress has a ton of sparkle!
There's the roundup! What holiday looks are you planning for your end-of-year parties? Let me know in the comments!
If you'd like to keep in touch, be sure to subscribe to my weekly newsletter, to stay-up-to-date on new brands and high fashion content!
NOTICE: This post may contain affiliate links, from which I earn a small commission. All opinions are my own, and I only recommend products I truly believe in.