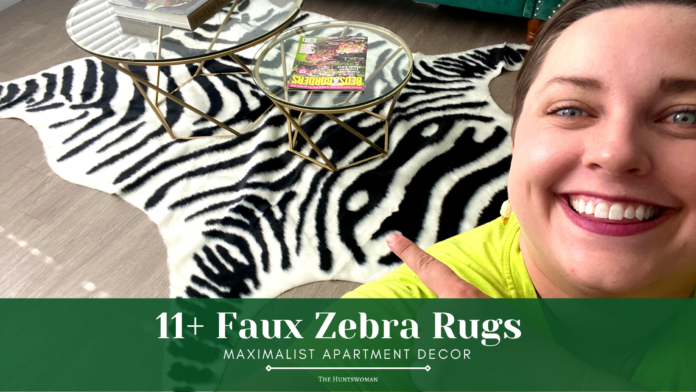 Hey there! This post contains affiliate links.  Using my links means I earn a commission, which helps me create more rad content.  More on affiliates here.
Hello hi! Today on my blog, I'm sharing 12 faux Zebra hide rugs for your first apartment! This blog post is basically a bunch of research I did on first apartment decor for my new apartment. (Okay, it's not NEW, I've been here for a year – but I'm still decorating, lol). I had a hard time finding a faux zebra rug for my apartment, because it felt like a million companies were selling the same mass produced rug.
This post is about faux zebra rugs.
SOOOO I did research and you can see which rug I bought (#2 on the list), as well as some thoughts on each of these faux zebra rugs. I also included the SIZES of each rug, so you can figure out how big of a rug you need.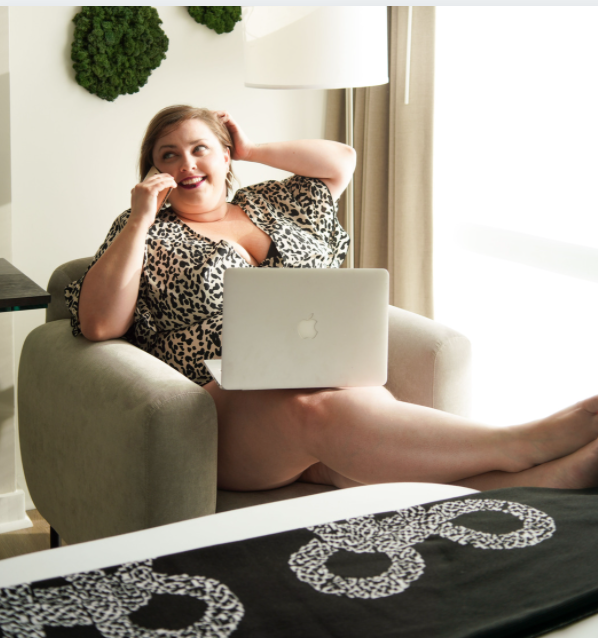 #1 Faux Zebra Rug – Dyed Cow Hide (Not a fan!)
Ok, so most faux zebra rugs I found were dyed cow hide. Now, I'm not a vegetarian, and I eat beef — so a cow hide was an option for me. And there are a TON of companies that dye cow hides to look like zebra hides.
The problem is the SMELL that cow hides can give off. In the various reviews I looked at for different faux zebra rugs, some reviews said the cow hides are STINKY AF — and others said there was no issue. Additionally, cow hide is a bit more coarse and doesn't feel great on bare feet. All in all, I'd skip the cow hide — but if you like the aesthetic, here's one of the best ones I found!
Size: 84″L x 72″W inches or 7'x6′ Feet
Get this faux zebra rug here!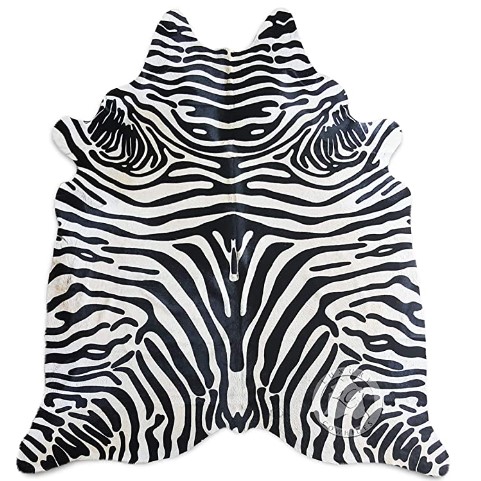 #2 Faux Zebra Rug – Faux Hide Washable Rug from Rugs USA (I bought this one!!!)
Ok, so this is the faux zebra rug I ended up going with. I wanted to find a zebra rug that's washable and *looks* like a hide (for that maximalist aesthetic from my Pinterest board and apartment moodboards!). I found this bad boy on Rugs USA and bought it during a Memorial Day sale, and I honestly love it. It's so fun! I've shared product photos below, as well as some photos from my apartment (decor in progress).
From the brand: " Made from sustainably-sourced premium synthetic fibers, our machine-washable rugs help you feel good with every step. Spill- and stain-resistant, these rugs are perfect for those with kids and pets and will hold up in high traffic areas of your home."
Size: 5′ feet x 6′ feet 7″ inches
I really appreciate all the helpful info Rugs USA has on their website about washing rugs and care. So many other companies I found for this list really don't have a lot of info — just the product to buy!
I'll be doing a dedicated review for my faux zebra rug from Rugs USA in a bit, to talk about wear and tear — and how it does after being washed!!
Get my faux zebra rug here.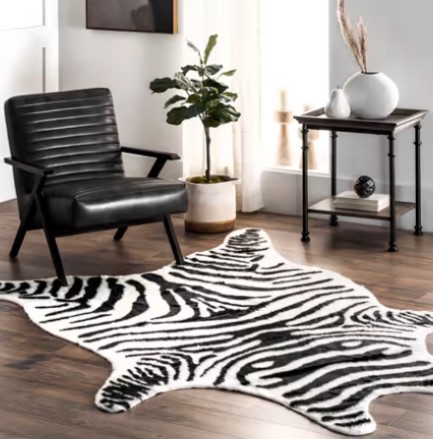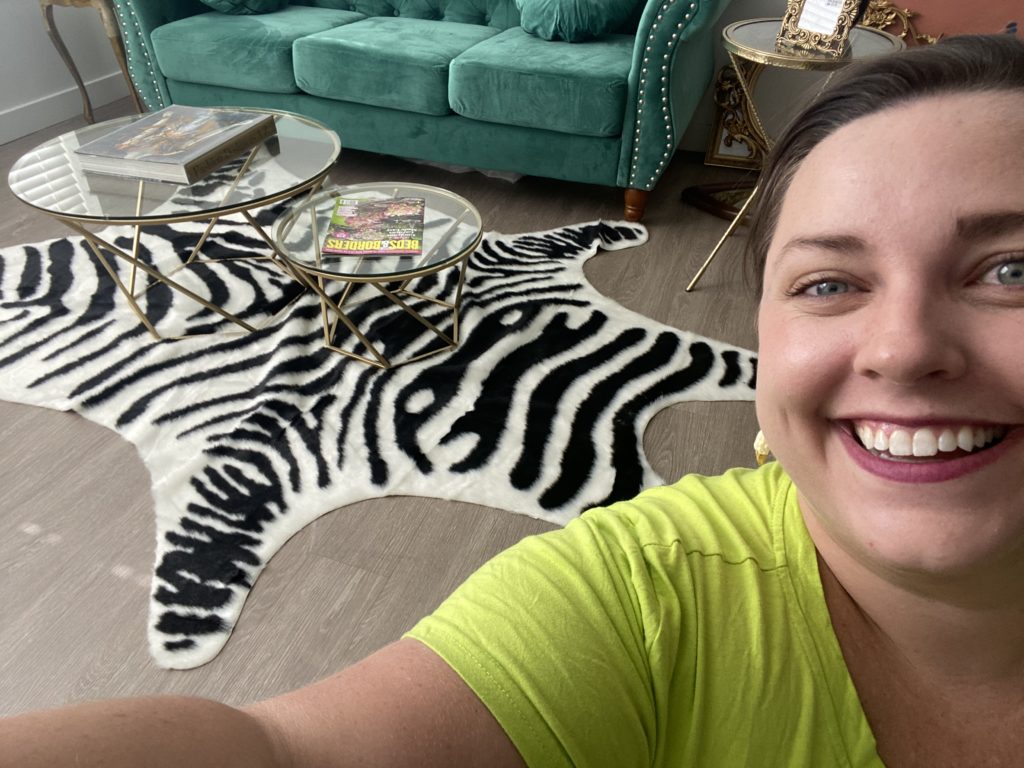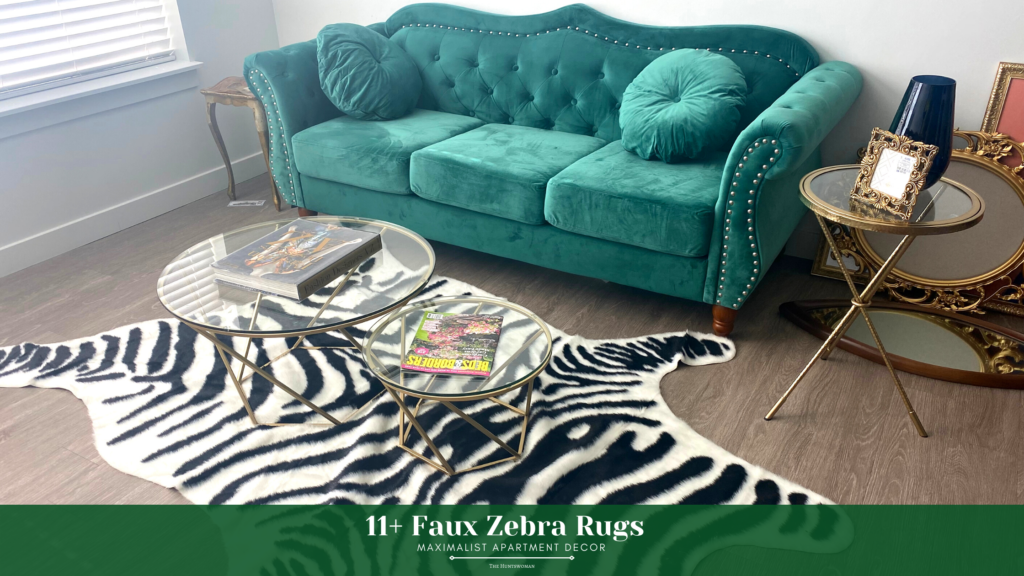 #3 Faux Zebra Rug – Maximalist Apartment Decor
Ok, next up we have a faux zebra rug that has a bit of a mane, which feels a little ick to me (you can see it in some of the product pictures)…. but you may love!!! The brand, JINCHAN, describes this rug as more of a "mat" than rug.
From the brand: "Dust and dirt on surface can be removed easily. Please try to hand wash or wipe clean with a cloth. Warning: Do not wash it by machine."
Get this faux zebra hide rug here.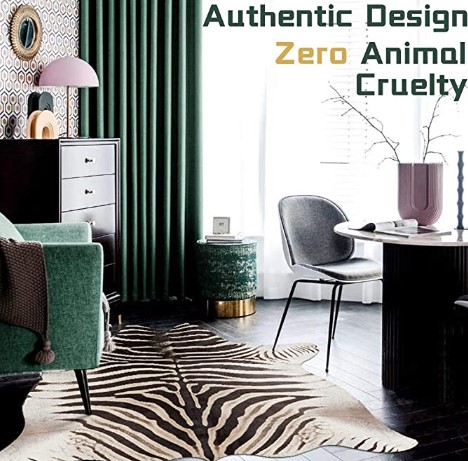 Next up, we're going for a more cozy rug! The previous rugs shared definitely have a "hide" look and feel to them, so I wanted to include this rug from Wayfair that's soft and fun to squish your toes in. This feels like a rug that would be great for a cozier room that doesn't get as much traffic as a living room.
From the brand: "Inspired by the Scalamandré wallpaper featured in a number of Wes Anderson films (and the Novogratz's home). Try layering one on top of a flat weave. Take a walk on the wild side with their updated collection of faux fur zebra rugs."
From reading over the product care listed by Wayfair, this apartment rug is not washable in your home machine and needs a professional to clean it!
Get this faux zebra rug here.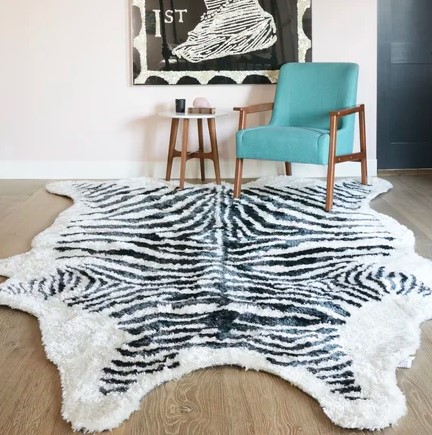 Ok, so this is another faux zebra rug that looks more like a hide. It has more white around the edges, differentiating it from the other rugs we've seen! I included it in this list because it looks aesthetically different than the other rugs shown!
From the brand: "
A large rug that fills most of the floor space is ideal. You can place the rug underneath the night stands or let the rug extend a bit past the foot of the bed. The most important thing to consider is having a comfortable landing for your feet when climbing in and out of bed. Another economical solution is to add two runners on either side of the bed."
This maximalist rug is not home machine washable and requires a professional.
Get this faux zebra hide rug here.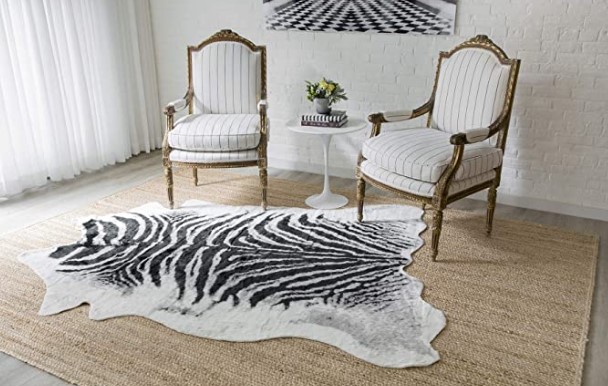 Sometimes you want a faux zebra rug, but you want to be 110% sure no one thinks it's actual zebra. This is where this rug comes in!
From the maker: "Faux cowhide carpet, upgraded according to customer requirements, with fine ruffles and non-slip design, more comfortable and durable. Zebra print carpeted interiors make your expensive furniture and sofas stand out."
Professional cleaning is recommended for this fun apartment rug.
Shop this faux zebra hide rug here!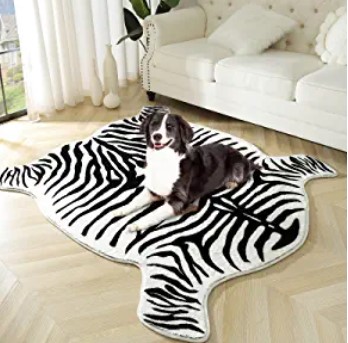 I was veryyy tempted by this faux zebra rug in pink, but I ended up going with black and white. This rug is so fun and would look great in a variety of spaces! I
From the brand: "Soft to the touch: The bold striped pattern and plush fibers feel softer than hair-on-hide leather. The soft polyester pile creates that cozy feel that looks wonderful in any room or beneath any coffee table."
Professional care is recommended for this fun maximalist rug!
Shop this faux zebra hide rug here.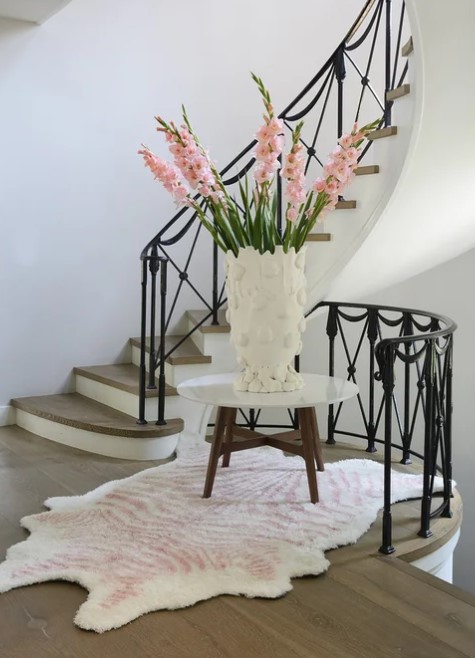 #8 Faux Zebra Rug – Printed Cow Hide Rug from Brazil
Brazil is famous for their cattle farming, and this cow hide is printed with a zebra design.
From the brand: "Beautiful zebra print cowhide rug with off-white background and black stripes. Only the finest A-grade Brazilian cowhide rug is selected and then printed with this realistic zebra pattern."
Professional cleaning recommended for this apartment rug!
Shop this faux zebra hide rug here.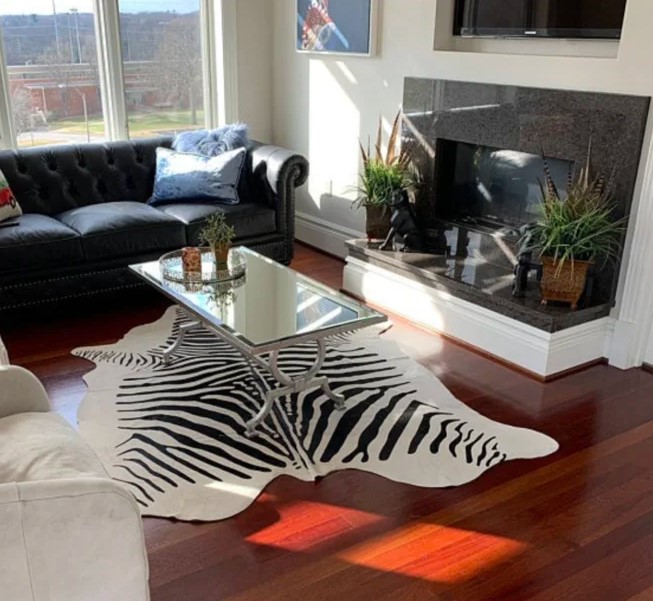 For folks who don't want as loud of a faux zebra rug, we have this faux zebra rug from nuLOOM on Overstock!
From the brand: "Add a modern and glam ambiance to your favorite room with this timeless Safari print rug from nuLOOM. Designed to mimic the look and feel of cowhide, this machine-woven rug is crafted from acrylic and polyester for contemporary style."
This fun faux zebra rug also comes in pink, and professional care is recommended for washing!
Get this faux zebra rug here!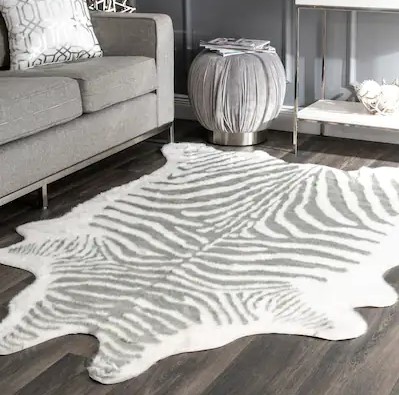 #10 Faux Zebra Rug – Pink Faux Zebra Hide Rug
From the brand: "This faux zebra hide is bound to make a statement in any room. Made from synthetic materials you get the look and feel of an authentic animal product without any guilt."
Size:79 inches (L), 60 inches (W) or ~6.5 feet by 5 feet
I love this glam zebra print rug, and professional washing is recommended
Checkout this faux zebra rug here!
This is a dyed cow hide rug that has been made to look like a zebra hide. The print pattern is a bit different from the others show, so I included it in my roundup to make it easier for you to see different options!
Like the other printed and dyed cow hides, professional care is recommended for this faux zebra rug, my friend! <3
Shop this faux zebra hide rug here!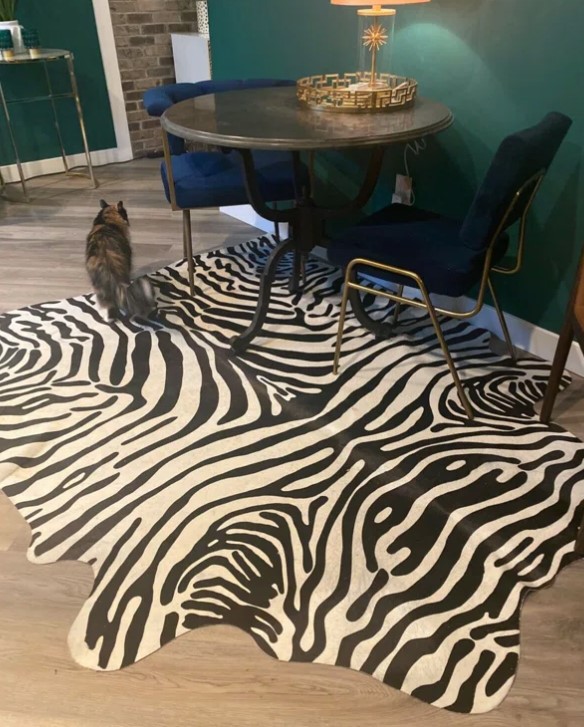 Last but not least, I had to include this faux zebra rug that's BLUE! It's sold out on several sites, so you may have to do a bit of research to find this one!
From the maker: "CRUELTY FREE: Synthetic threads allow for a shaggy and chic rug texture that is cruelty free. HIGH PROFILE PILE: 1″ high pile has a shag like feel."
Check out all the details on this faux zebra print rug here!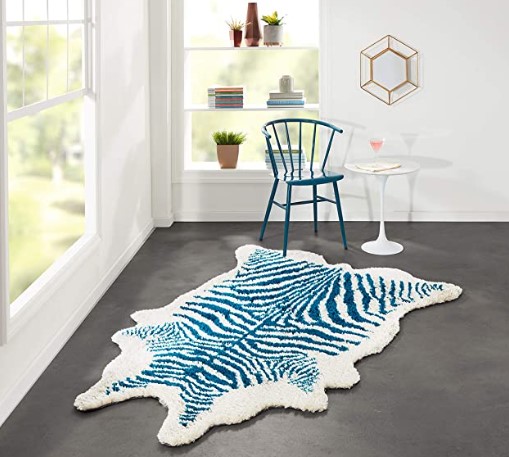 This post was about faux zebra rugs.
More Maximalist Apartment Decor Recs
I hope that you found this maximalist apartment decor post helpful! Below, I've shared a few other apartment decor (maximalist style!) posts I've written for you to check out:
Want More Great Posts Like This?
If you want to stay up-to-date on posts from The Huntswoman, I recommend joining me on your favorite social media platform (Facebook, Instagram or Twitter).
More of an email kind of person? Join my business and career focused email list here, and/or my fashion-focused email list here!