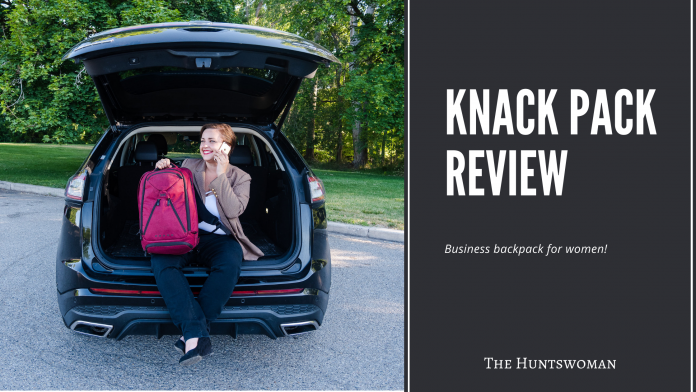 Hey there! This post contains affiliate links.  Using my links means I earn a commission, which helps me create more rad content.  More on affiliates here.
Today on the blog, i'm sharing a review of the Knack Pack, a business travel backpack. I've been working with Knack Bags for the past two years in social media and influencer marketing, and it's safe to say I really understand this expandable backpack!
Today, I'm sharing an in-depth and comprehensive review, covering topics:
Background on My Life // How I Use the Knack Pack on a Daily Basis
My 3 Favorite Features of the Knack Pack
How Much Clothing Can I Fit in the Knack Pack
Plus Size Reviews of the Knack Pack
Who Should Buy a Knack Pack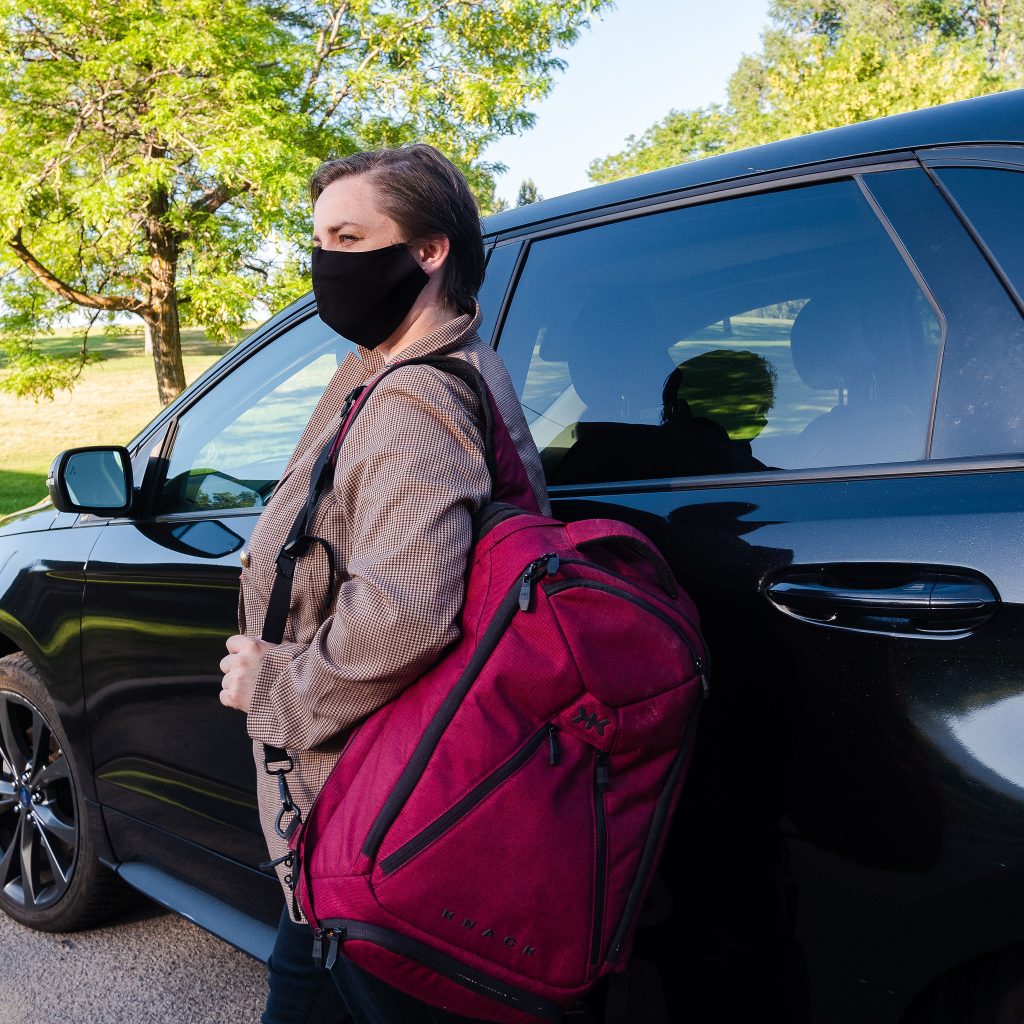 Section 1 | Background: How I Use My Knack Pack
In this section, I share a bit about my professional life, and how I use the Knack Pack as a business laptop backpack. I think that the Knack Pack is THE bag of 2020, as folks are working remotely (or mobile-y, hooking up to their hotspot while camping or road tripping!), who need to stay organized and be able to move their desk wherever they go.
I've Been Working Remotely & Working While Traveling For 10 Years!!
I've been working from home for 10 years (seriously, since I was 19). I started working remotely via UpWork (then oDesk), and I've slowly built out my empire over at The Huntswoman Group – all while traveling and working remotely!
I've consulted with marketing clients while attending fashion classes at Central St. Martins in London. I've visited top urban cities all over the USA and Europe, packing my laptop and sending invoices across timezones.
I love this life!!
But you know what I don't love? Packing for it.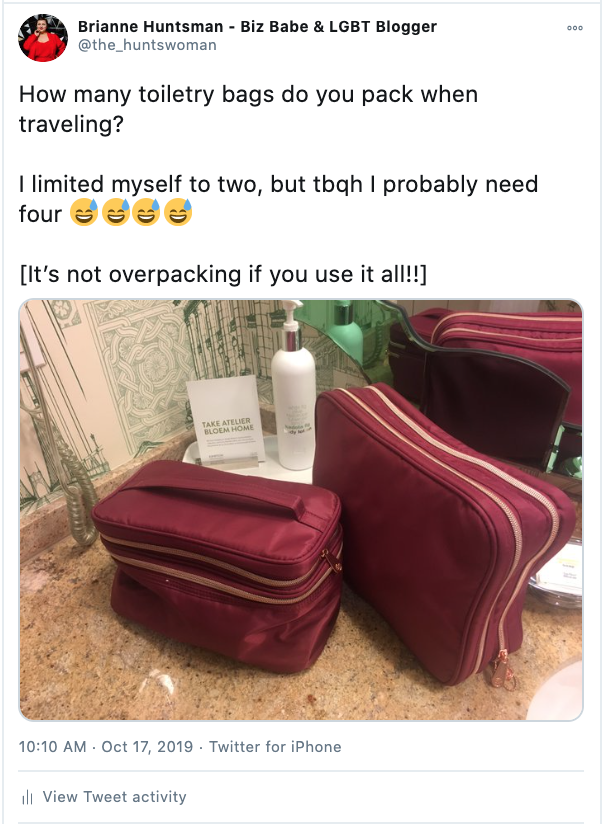 Women's Professional Laptop Bag (My Life Pre-Knack Pack)
Before I got my first Knack Pack (version 1.0), I had a faux leather tote, that had a zipped compartment for my laptop.
Y'all. This was NOT the look. This was NOT the move. My super long laptop charger got alllll tangled up in this bag, and when I pulled it out to work at a coffee shop, in my hotel/airBnB or at a client's office – that dang cord would grab allllll of my pens, threads (woo fashion design), wrappers, etc. It was an organizational NIGHTMARE.
And, it didn't look very professional. When I start a meeting with my clients, especially prospective clients, it's CRITICAL to be able to smoothly unpack my tech – nothing says, "I will make you a bucket of money" like a successful and confident IRL meeting!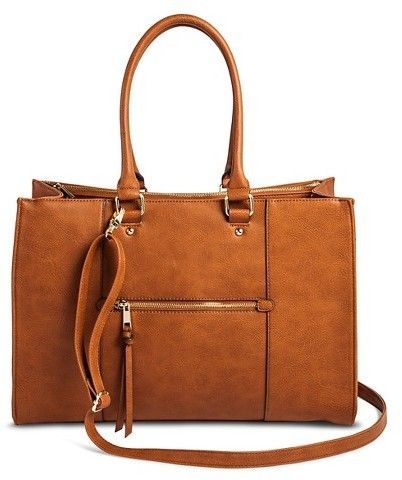 Enter, Knack Bags!
Then, Keith Bristol, CDO of Knack Bags, popped into my email inbox. We hit it off, and he sent over a Knack Pack for me to test.
And I've been using my Medium Knack Pack ever since!!
Section 2 | My Favorite Features of The Knack Pack
Okay, so I'm a designer nerd, but I had NO IDEA what a large "Bag Design Nerd" community exists online. Folks love to debate and discuss different bag features, and get specific about what they like and hate.
I think in-depth and specific reviews are the MOST helpful, so below I've shared my 3 favorite parts of the Knack Pack – as well as a few requests! I want this to be a full-fledged and honest review, so I'm going to talk about the Knack Pack as if I don't know the folks who designed and tested it!
#1 Top Fave: Top Zippable Pocket for "ADHD Heads"
We all have that friend who is ALWAYS looking for something, and, unfortunately for me, *I* am often that friend. I've implemented a lot of systems to manage my life (shoutout to figuring out ADHD, post HERE).
The design of the Knack Pack really helps me keep my sh*t together, because all of the pockets are easily accessible and FUNCTIONAL.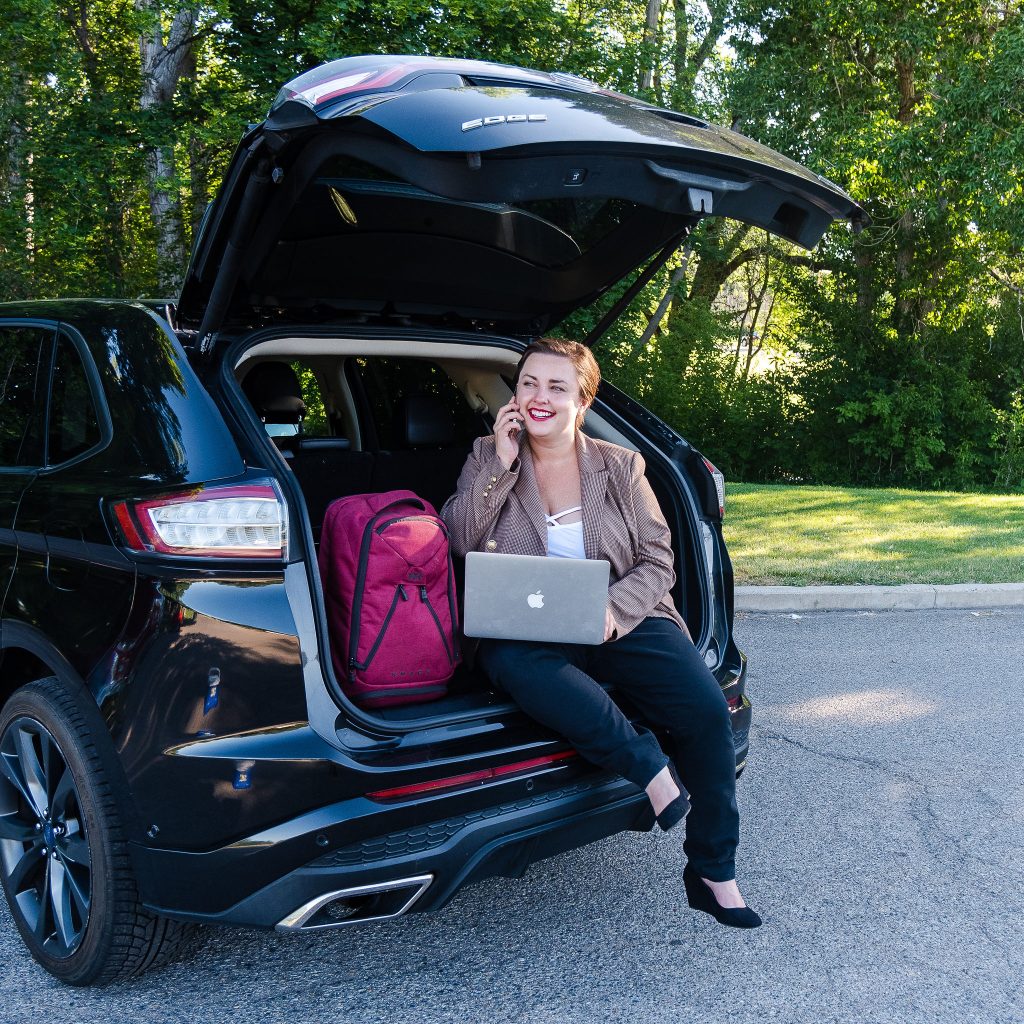 Keep Track of Your Dang Phone!!
My favorite pocket on this laptop backpack is the top zippable pocket. This pocket fits my whole hand, easily holding my iPhone Pro Max, sunglasses, and keys.
I put all of my "Need to access ASAP" items in this pocket. Pre-Knack Pack, I would have to dump my whole bag out to find my phone, or my wallet, or my boarding pass. NO LONGER!!!
My fellow ADHD Heads, this is a GAME CHANGER. I'm not going to use pocket that take longer than 3 seconds to access. Since getting the Knack Pack, air travel has become WAYYY easier. I know where my stuff is, and gone are the days where I dumped my bag out at the gate to find something.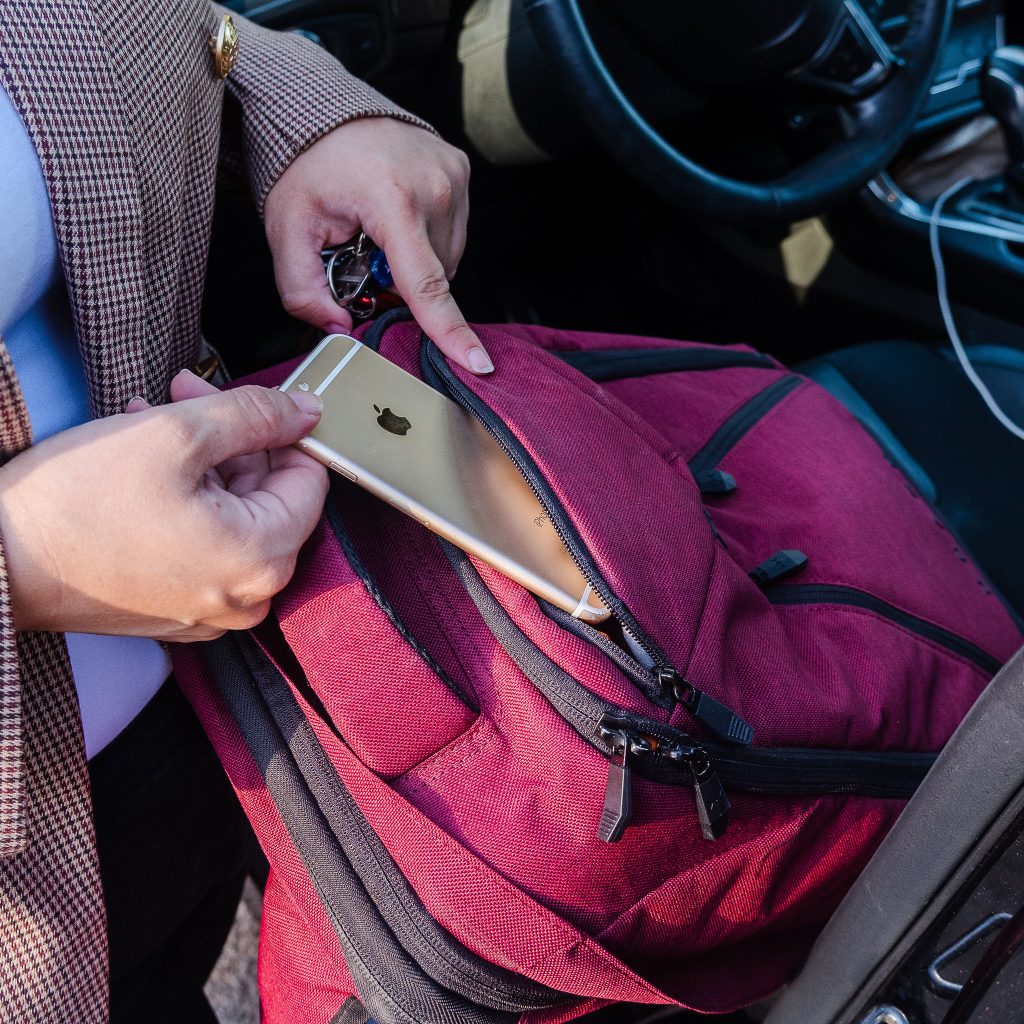 << Want more posts like this? Join my email list here, and my fashion email list here! >>
#2 Top Fave: Laptop Backpack with Luggage Pass Through
So, fun design fact about the Knack Pack. The first Knack Pack I had (version 1.0), didn't have a luggage pass through. The design folks over at Knack are SUPER into customer and user feedback, and they released Version 2.0 with a luggage pass through.
While there are Knackpackers that easily pack for a weekend trip or 4-5 day adventure with their Knack Pack – that ain't me. If I'm traveling, I'm doing photoshoots, which means I am ALWAYS gonna check a bag. I respect the heck out of one bag travel, but you'll always find me at baggage claim.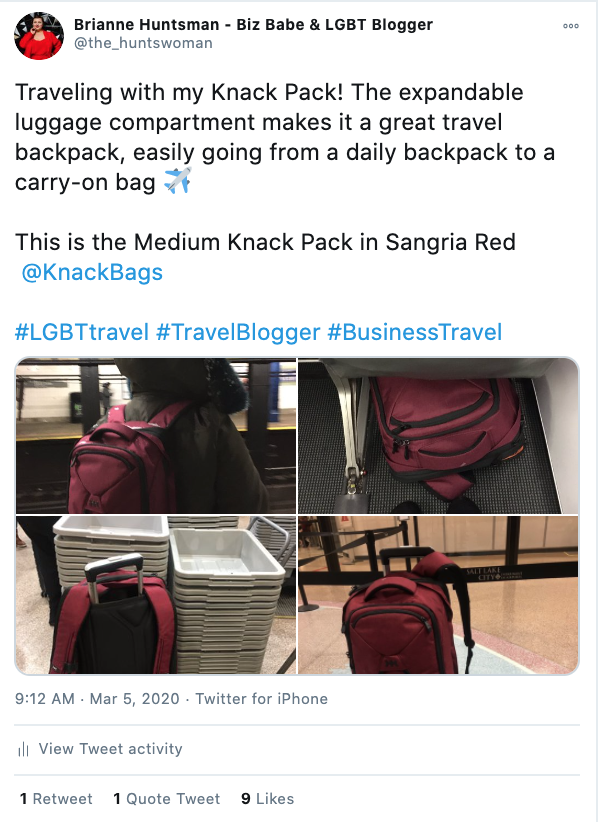 Best Laptop Backpack for Carry-On Travel
Knack gets that we all travel differently, and the luggage pass through means I can plop my Knack Pack on my carry on hardshell suitcase, and it stays PUT. (Remember my leather tote? I tried to double loop the handles over my carry-on suitcase, and it always fell off /over. So embarrassing!)
Hot Packing Tip: Pack as *IF* I Only Have My Knack Pack Backpack
Now that I've traveled all over the dang country with my Knack Pack, I've learned this hot packing tip:
I pack my Knack Pack as *if* it's the only bag I'm bringing.
All of my most important gear, clothing and tech goes into the Knack Pack. If I'm traveling and MUST pack a specific look for a street style shoot in NYC, those clothes go in the expandable luggage compartment. If I'm doing a presentation for a startup client in San Francisco, then my outfit for that day + tech is in the Knack Pack.
This way, even if my bags are lost, all my stuff is staying in my Medium Knack Pack – which fits under airline seats, so no need to worry about overhead space on the plane!!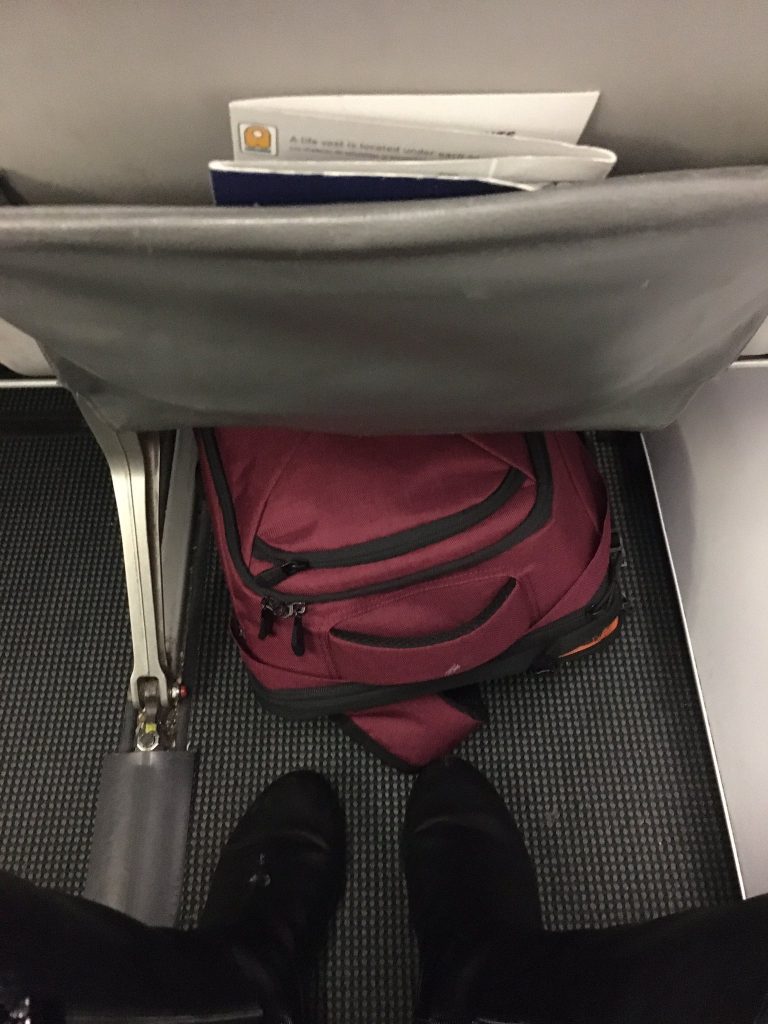 #3 Tap Fave: Outfit Versatility
Okay, I'm a fashion blogger, so I have to bring this up (obvi!)!! The Knack Pack is an excellent professional backpack, that easily transitions into a bag for seeing the sites or expanding for the airport.
Some bags really only aesthetically work for one area of life. The Knack Pack makes it easy for me to go from the airport, to a client meeting, to the subway to a trip to a local museum. No need to repack or unpack!
The designers at Knack use a smooth suiting-type fabric for the laptop bag, making it work in every setting I've taken it!
What I *Don't* Love about The Knack Pack
The only edit or request that I have for the design team is for more Knack packing cubes for different kinds of items, as well as the ability to have a charging bank sewn into the bag.
I'm not super sure about the latter, because I don't know how that would hold up to snow? That said, I'd love the ability to have a sewn in charging bank that I can use to charge my phone or laptop.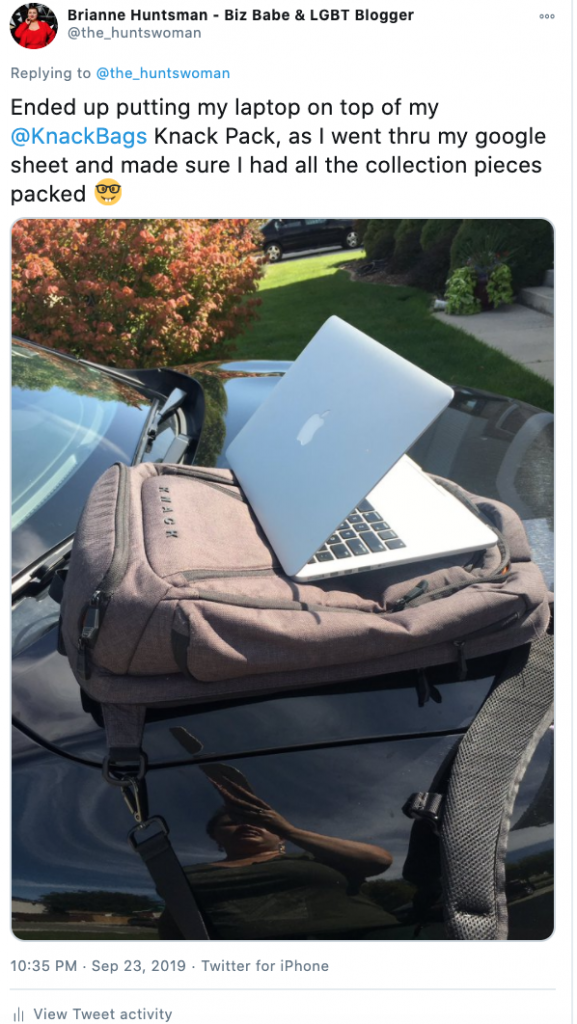 Section 3 | What Clothing Can I Fit in the Medium Knack Pack?
Looking. at the website, the Medium Knack Pack can fit 17 liters of stuff, with 31 liters available when it's expanded.
… Liters? What? How many liters does a high-low dress take up?!!?!
LET'S TALK ABOUT PACKING OUFITS!!!
So, obviously, the amount of stuff is going to be dependent on your clothing size and what season we're packing for. As I write this, I'm wearing a size 20 in Torrid pants, and a a size 18 top from Eloquii.
I can fit 2 tops, 2 pairs of pants, a toiletries bag and 1 pair of shoes in the expandable luggage compartment. In the winter, I move the toiletries bag to the main compartment to fit a wool sweater or coat.
The Knack Pack holds a LOT.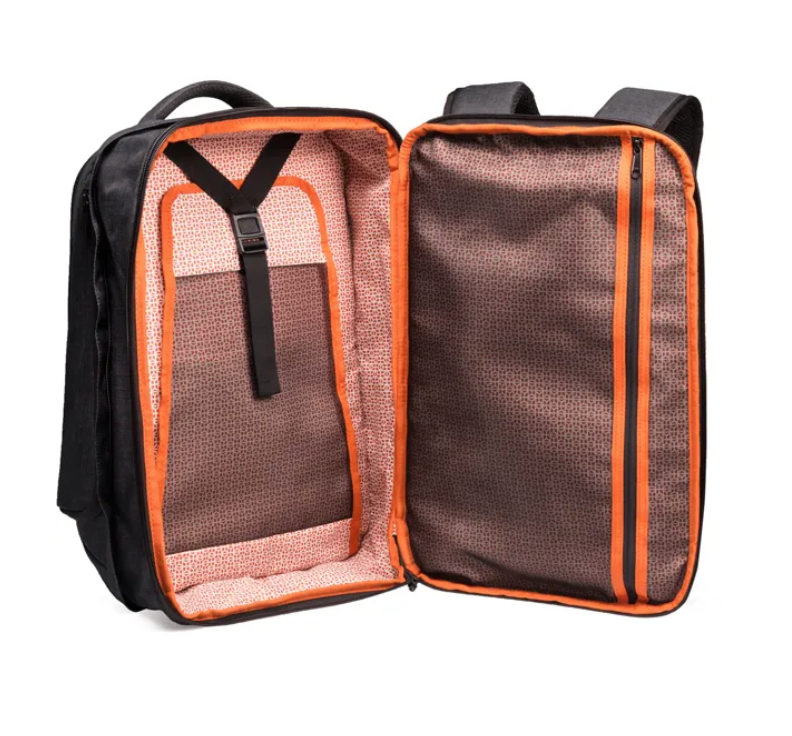 Section 4|Women's Plus Size Backpack Reviews – The Knack Pack
Okay, real talk: Some backpacks look kind of off… when I wear them. I'm a plus size fashionista who is 5'4″, and there can be a weird aesthetics moment. With 67% of women in the USA also being plus size, I know I'm not alone in this!!
If you're a plus size human who also feels this design issue, then here are a few other Knack Pack reviews from my fellow plus size fashion lovers:
My BFF Alex Sundstrom, marketing maven and Texas blogger, reviewed her Large Knack Pack HERE.
My Twitter pal, Shamika Taylor, reviewed her Medium Knack Pack as a laptop backpack HERE.
Plus size fashion photographer, Lydia Hudgens, reviewed her Knack Pack HERE.
Check out their photos and reviews to see what you think!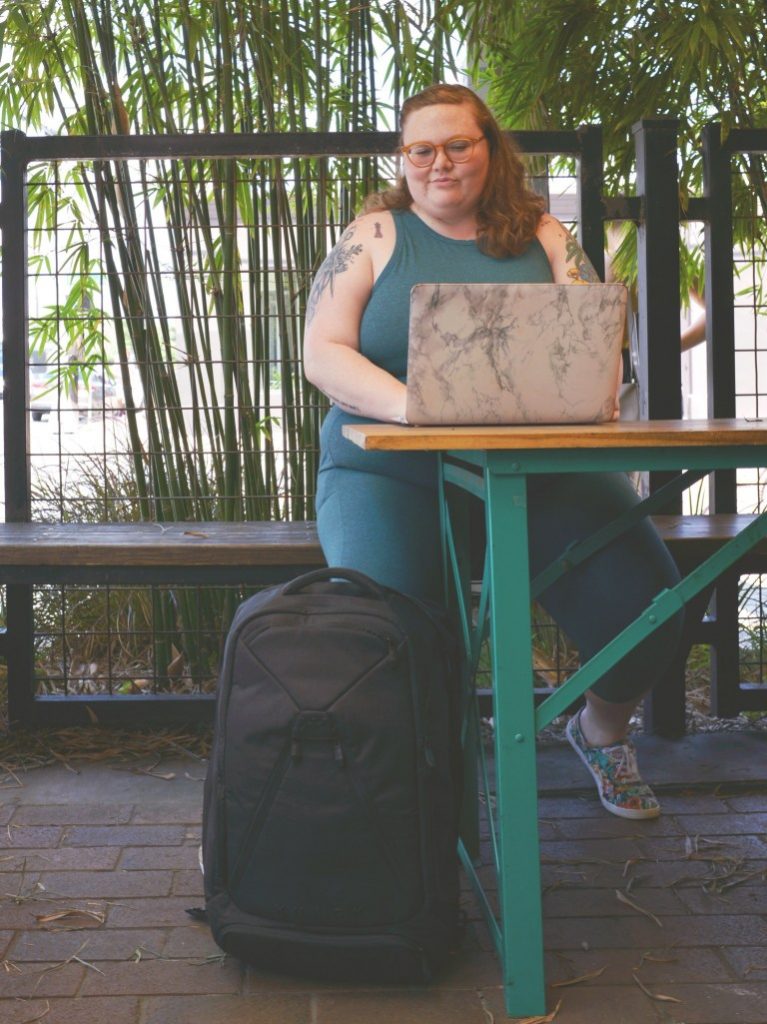 I Work From Everywhere with My Knack Pack
Looking back through my Twitter and Instagram Story, I've worked withe my Knack Pack from so many places!
Hospital waiting rooms when my cousin/BFF was getting ACL surgery
Museum cafes in Boston, LA and New York (pre-March 2020!)
The back seat of a car while exploring national parks in Utah
My back patio (AKA "home office")
Local parks
Countless airport terminals and coffee shops
Various rooms in my house, using my Knack Pack almost as a storage bin to keep all of my work stuff/tech stuff together!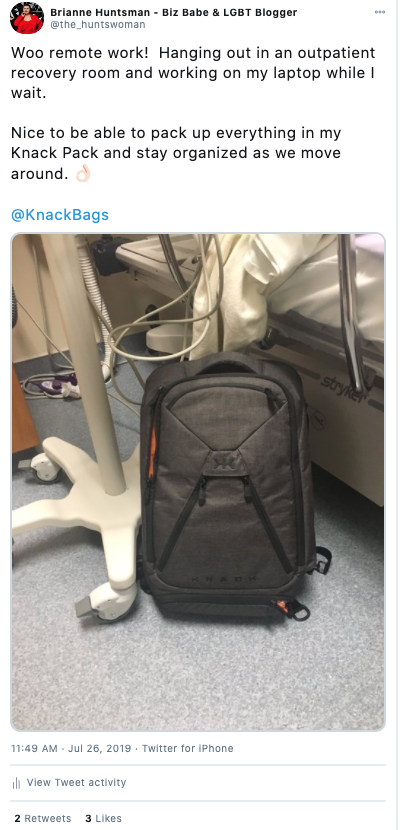 Section 5 | Who Should Buy a Knack Pack?
Like I mentioned earlier, I think that the Knack Pack is THE bag of 2020, as folks are working remotely (or mobile-y, hooking up to their hotspot while camping or road tripping!), who need to stay organized and be able to move their desk wherever they go.
We need to be able to pack up a mobile office and move, whether it's from the kitchen to the home office – or if we're road tripping while hotspoting from the front seat of the car!!!
The Knack Pack is a great fit for:
Folks who want to be organized, but don't have a lot of time to spend on getting prepped to THEN get organized
People who are working remotely, who have to share a home office or kitchen table – and need their stuff to be in one place
Fashion bloggers who need to pack multiple outfits
The Knack Pack is NOT a fit for:
People who want the look of a briefcase or tote (ie aesthetics)
People who intend to go backpacking in the remote woods every weekend. The Knack Pack is water resistant, but it was NOT designed for Bear Grills!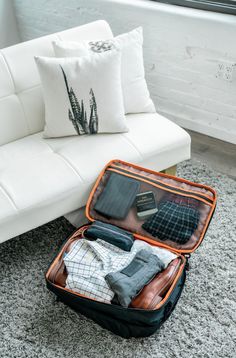 Questions?
I'm happy to answer any and all questions about my. Knack Pack! I typically. use the Medium Knack Pack (like 98% of the time), and I also have a Large Knack Pack!
3 More Helpful Blog Posts!
Below, I've shared 3 blog posts that I think you'll be interested in:
Want more women business travel reviews and tips?
If you made it to this blog post, chances are we hang out somewhere on the internet. But if this is your first time on The Huntswoman, I invite you to stick around! If you love fiery business takes on Twitter, and if you loveee fashion then come hang out on Instagram.
More of an email kind of person?  Subscribe to my fashion-focused email list here, and/or my business focused email list here!