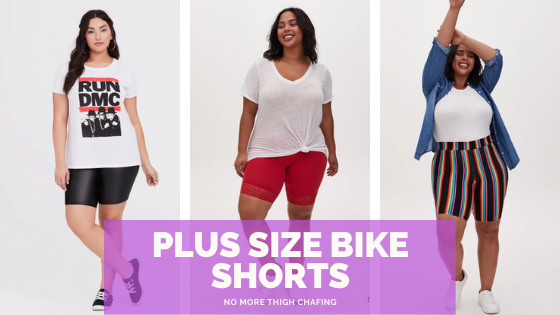 Hey there! This post contains affiliate links.  Using my links means I earn a commission, which helps me create more rad content.  More on affiliates here.
It is freakin' HOT out there, and I am NOT here for it, lol. Chatting with readers over on my Instagram Story and Twitter, I've learned that a lot of plus size babes are rocking BIKE SHORTS!
Bike shorts are fun, because they come in cool fabrics and colors – and they STAY PUT, helping to prevent thigh chafing. Plus, you know, they make your butt look good.
Below, I've shared 7 places to shop for plus size bike shorts, and I've included info on sizing!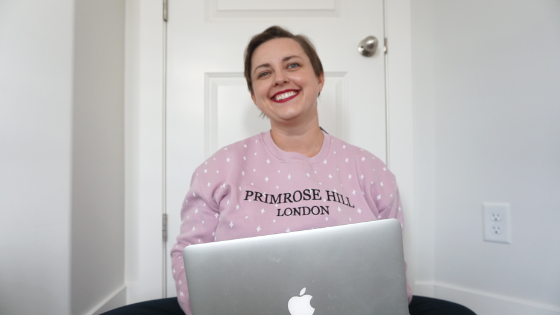 Brand #1: Torrid – Up to a 6X (64″ Waist)
One of the most inclusive brands out there is Torrid, as they go up to a 6X! Torrid has bike shorts that one would associate with working out, as well as super fun bike shorts (like faux leather bike shorts) you can use in your daily outfits!
Shop plus size bike shorts at Torrid by clicking HERE!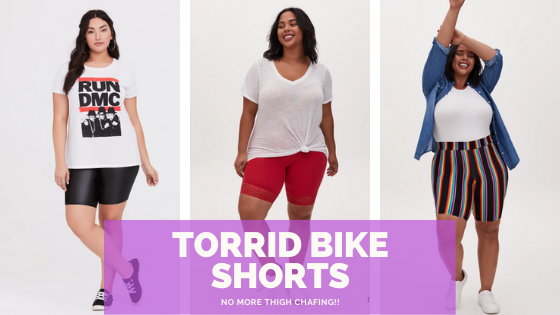 the Nike One plus size biking shorts are SUPER popular, and they do run out-of-stock! If you see your size, BUY IT!
Shop Nike plus size biking shorts HERE.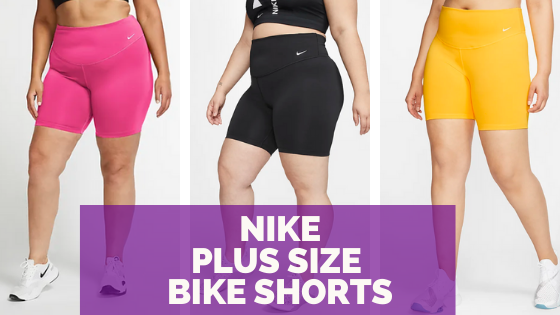 Brand #3: Day/Won Clothing – Up to a 30/32 (52″ Inch Waist)
Day One clothing was founded by plus size model, Candice Huffine, and carries sizes 0 to 32! They're also one of the only companies making ethical and sustainable plus size bike shorts. From their website:
We use recycled materials in our signature looks and manufacture on-demand in upstate New York  to ensure that we do our part to reduce to 26 billion tons of wasted clothing that fills our world's landfills each year. All of our prints are digitally constructed, never water dyed, to prevent the over-use of precious resources and the polluting of our oceans. 
Shop here!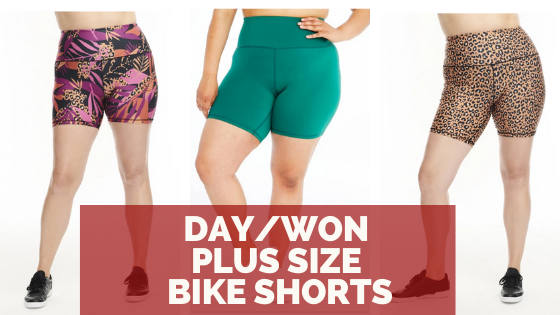 Brand #4: Just My Size on Amazon – Plus Size Bike Shorts in Up to a 5X (51 Inch Waist)
I just discovered this brand, and I'm pretty stoked about it! They have solid color (black and gray) plus size bike shorts for around $10 per pair! Their size 5X fits a 51 inch waist.
Try this brand by clicking HERE!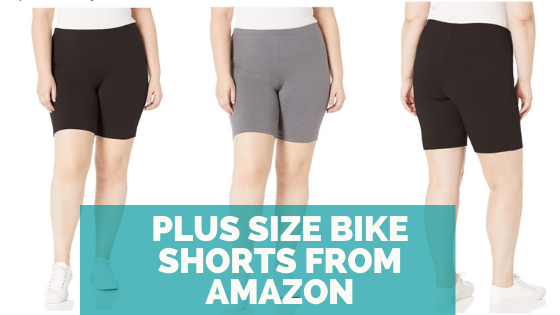 Brand #5: ASOS Plus Size Legging Shorts (Up to a 48″ Waist)
ASOS Curve is a bit different from other brands, in that they don't call these type of shorts "biking shorts." They use terms like "plus size leggings shorts" or "stretch shorts" to describe this style.
But never fear, that's why I'm here! ASOS carries these leggings in up to a size 22/24, or a 50 inch waist. Because ASOS carries different brands, be sure to check the size chart when you order!
Shop plus size short leggings HERE!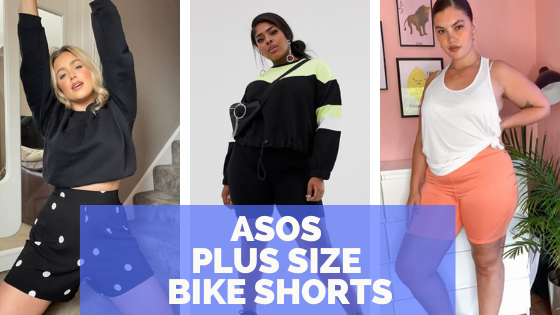 Brand #6: Pretty Little Thing (45 Inch Waist)
Pretty Little Thing is a popular plus size brand, and they carry plus size bike shorts in up to a 4X, size 22 or about a 45 inch waist. The size charts can differ by item, so be sure to check the reviews!
Shop PTL bike shorts HERE!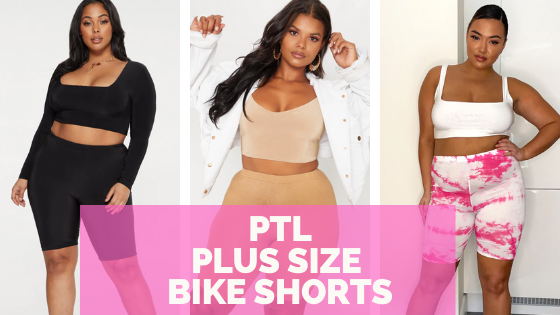 Brand #7: Rainbow Shops – Up to a 3X (44 Inch Waist)
Rainbow Shops has a variety of styles of plus size bike shorts, from tie-dye to an almost jeggings material – as well as bike shorts in solid colors.
Shop a variety of plus size bike shorts styles at Rainbow Shops by clicking HERE!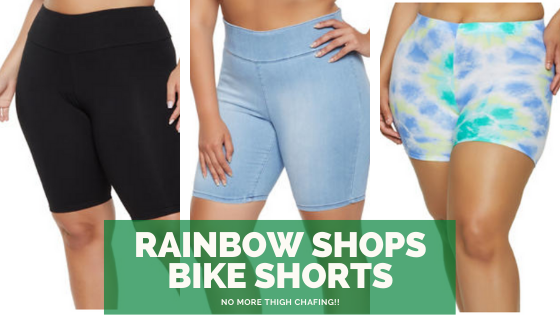 More Plus Size Fashion Reviews
If you want to stay up-to-date on plus size fashion blog posts, I recommend joining me on your favorite social media platform (Facebook, Instagram or Twitter).
More of an email kind of person? Subscribe here!
[FTC Notice: This post contains affiliate links, meaning I earn a small commission if you purchase a product through my link. Affiliates help me write more great content, and I only endorse products I truly love.]