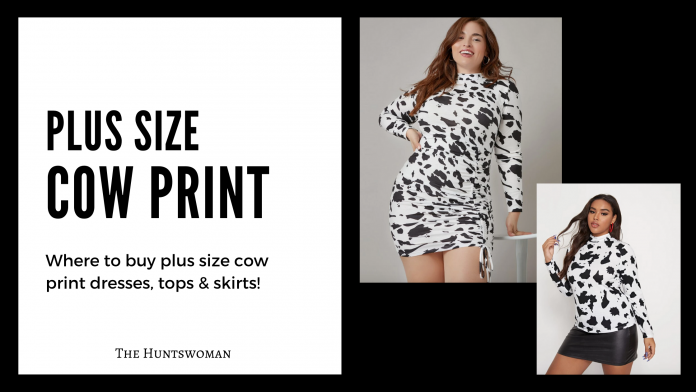 Hey there! This post contains affiliate links.  Using my links means I earn a commission, which helps me create more rad content.  More on affiliates here.
There's something super fun about dressing in cow print as a plus size babe, as I shared over here in this plus size editorial – where I'm rocking a plus size cow print t-shirt dress and Diet Coke!
I've been looking for more plus size items (like a skirt or a dress) in cow print to add to my wardrobe, so I thought I'd do a little fashion round up guide!
Here's where to buy plus size dresses in cow print, as well as t-shirts and skirts!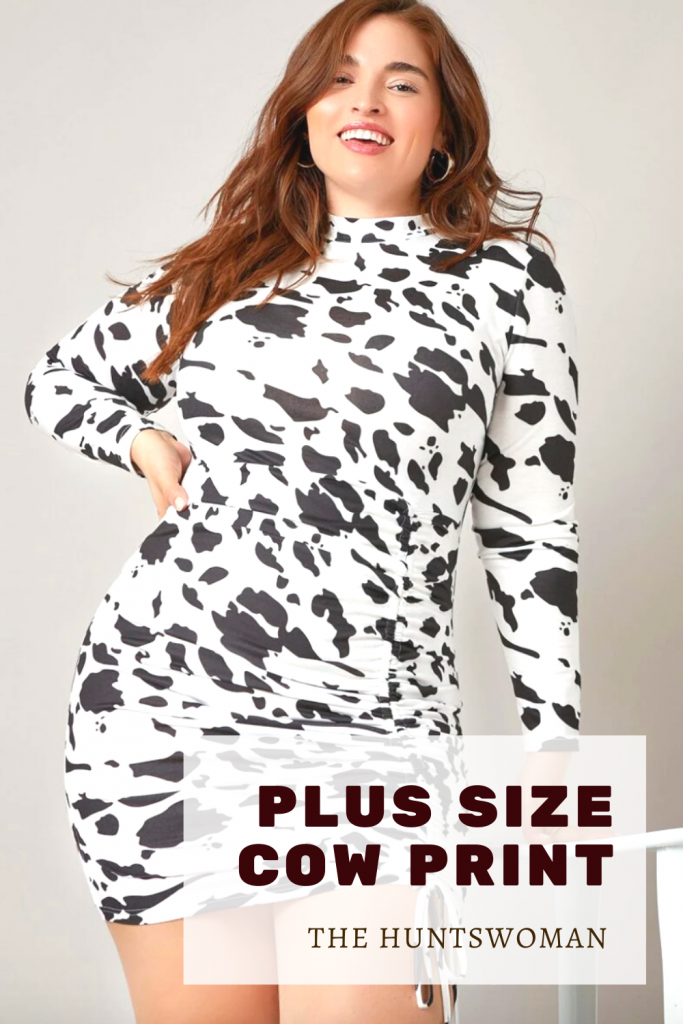 #1: Plus Size Cow Print Skirt from ASOS ($40 USD)
This plus size cow print skirt from ASOS is so freakin' cute! The high rise skirt has an elastic waistband, helping to make it super comfy! It hits just above the knee on the model, making it perfect to pair with tights and wide width knee high boots for a fall outfit!
Shop this skirt HERE.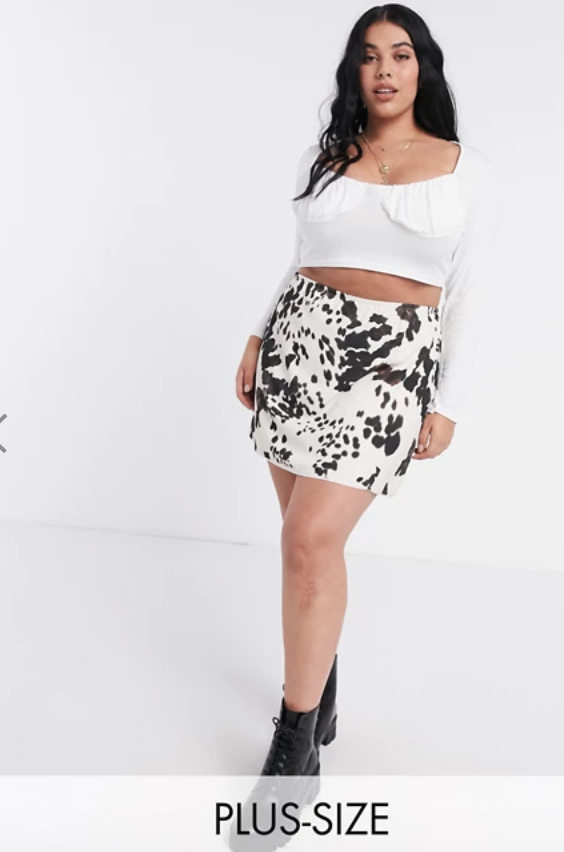 #2: SHEIN Plus Cow Pattern Drawstring Ruched Bodycon Dress
Take me to checkout, baby! This plus size bodycon dress is in a fun cow print, showing off curves with a bit of kitsche and humor! This dress is great on its own, and I love how the brand added a pair of hoop earrings. I'd pair this cow print dress with chunky or pointed black boots!
This dress is available in up to a 4XL or size 20!
Shop here!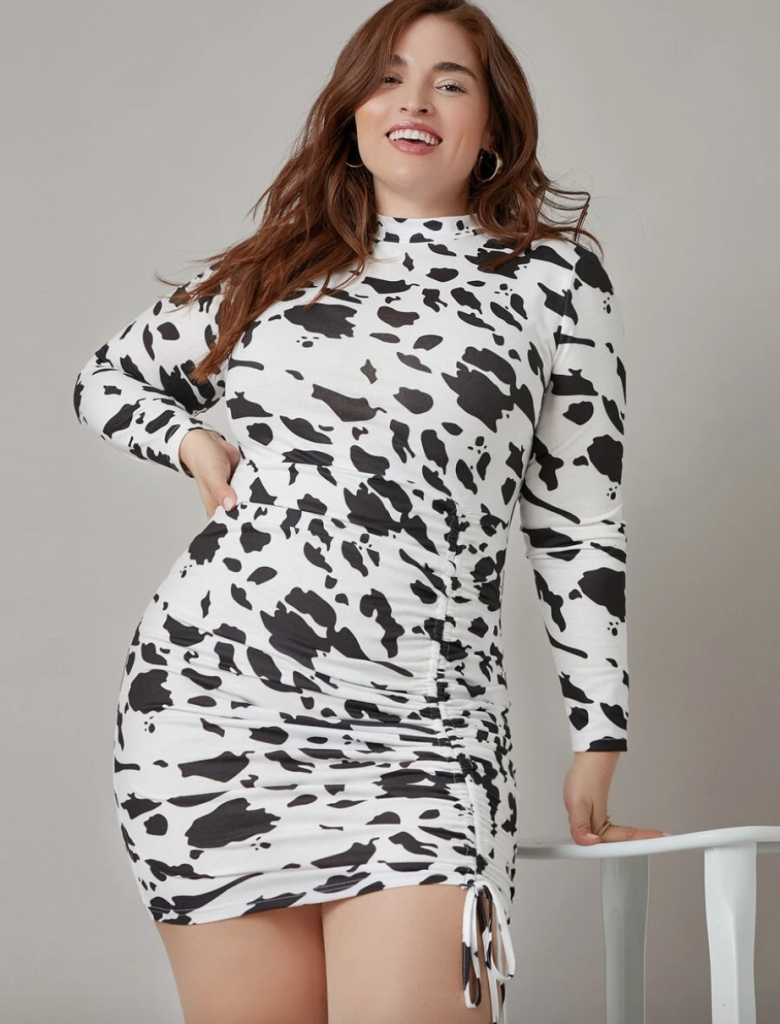 #3: Shop Trash Queen Skater Dress – Plus Cow Pattern ($47 USD)
How fun is this cow print skater dress?! It is available in up to a 5X, and it also comes in black and pink!!
Shop here!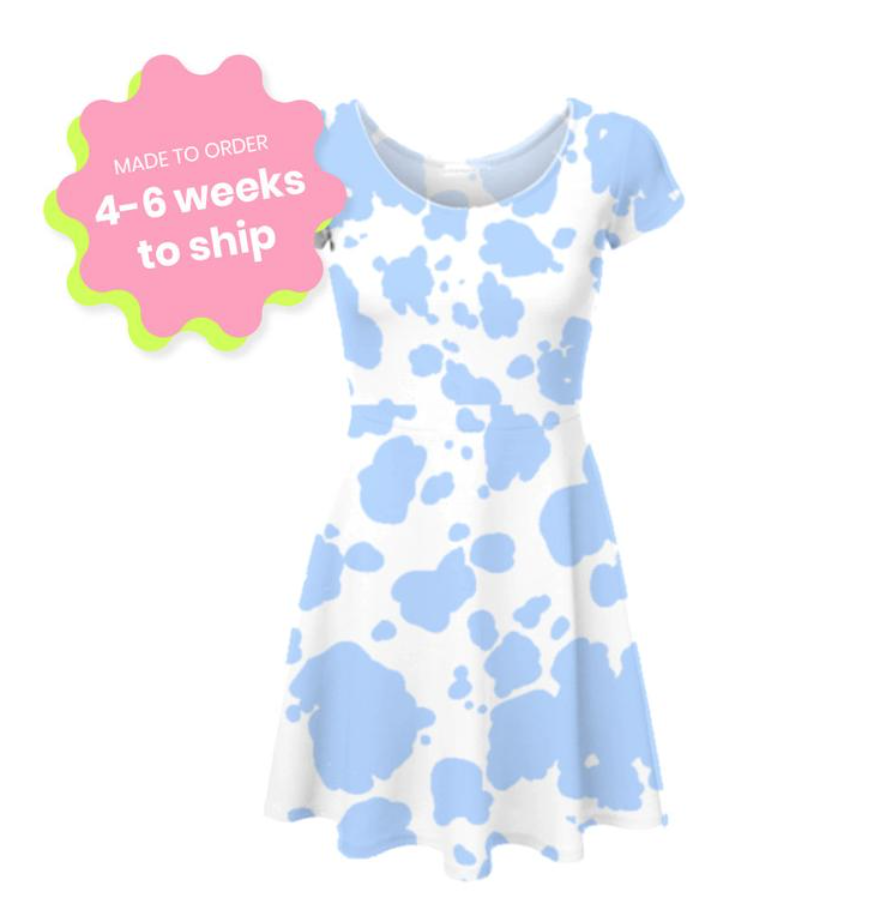 #3: SHEIN Plus Size Cow Print Mock-Neck Cow Print Top ($9 USD)
Another fun find from SHEIN is this plus size cow print long sleeved top! Perfect for jeans or plus size leather leggings! I love the red statement earring, adding a splash of color without being overwhelming.
This top can be tucked into high waisted hot pants, or left untucked for a more relaxed look.
Shop here!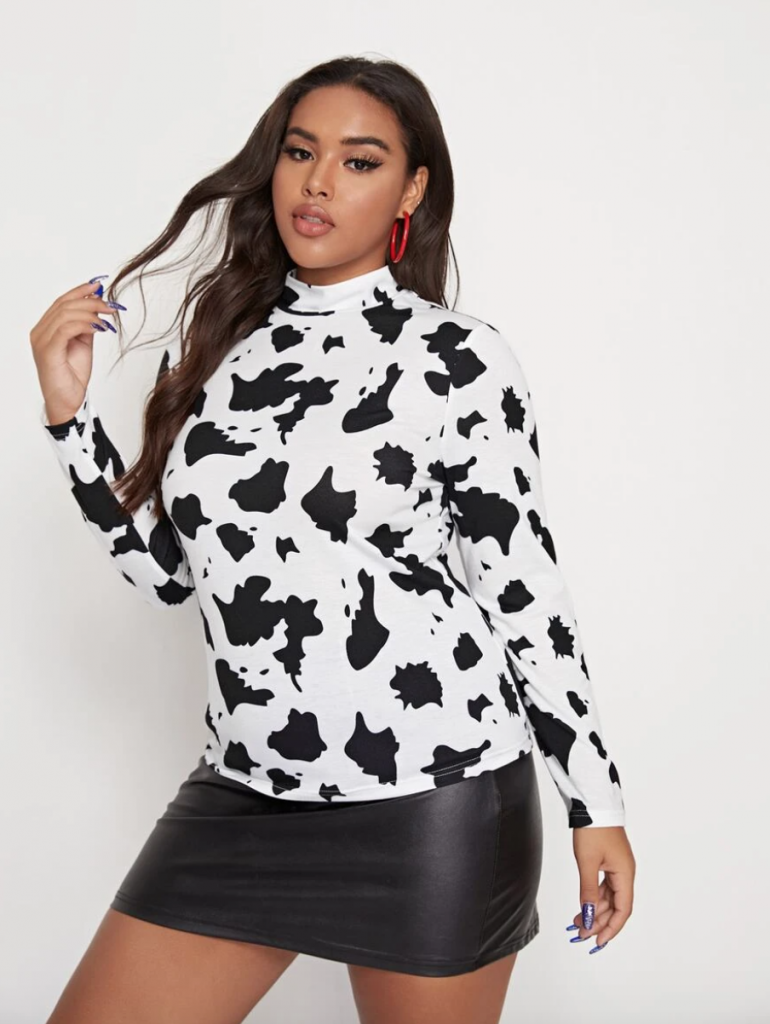 #4: Trash Queen – Plus Size Cow Print Skater Skirt ($29 USD)
I haven't heard of this brand before, but I am INTRIGUED by Trash Queen! This plus size skater skirt is available in up to a 3X, in a black and white cow print! The twirlability factor with this skirt is 10/10!!
The plus size skirt is made from thick, stretchy polyester spandex fabric that is breathable but has a good weight to it, allowing it to easily transition between seasons.
Shop here!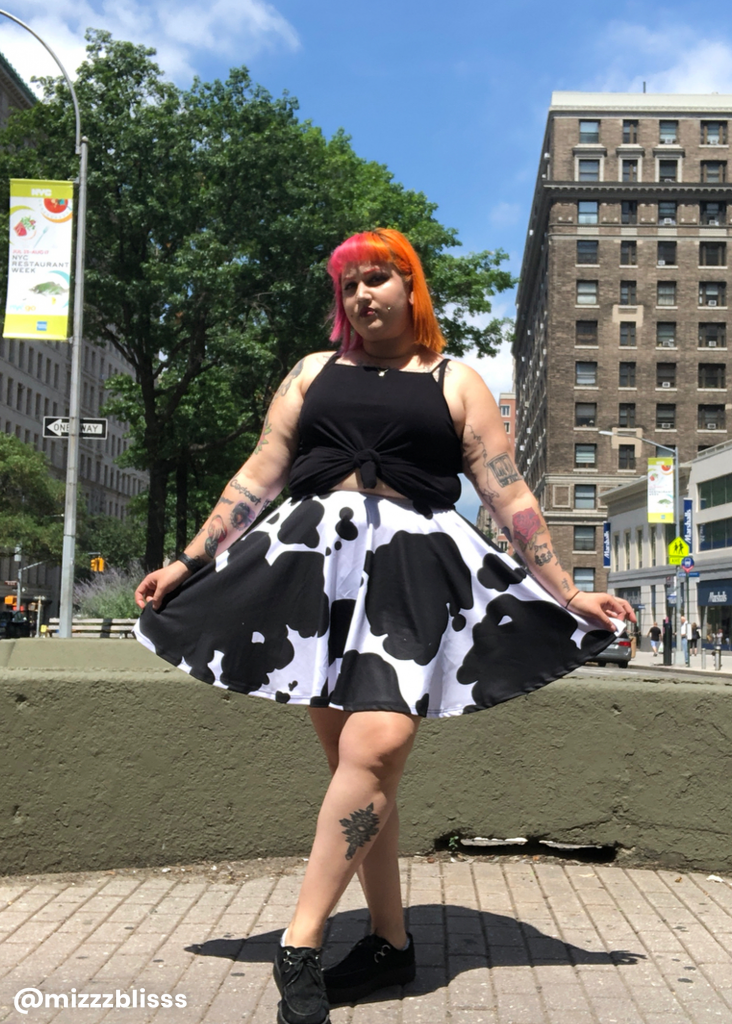 #5: Plus Size Cow Print Pants from SHEIN ($13)
These plus size pants in cow print are SCREAMING to be in a music video, IMHO! These flared leg pants are super cute, available in up to a 4X and will look so fun paired with a black tee or crop top.
Shop here!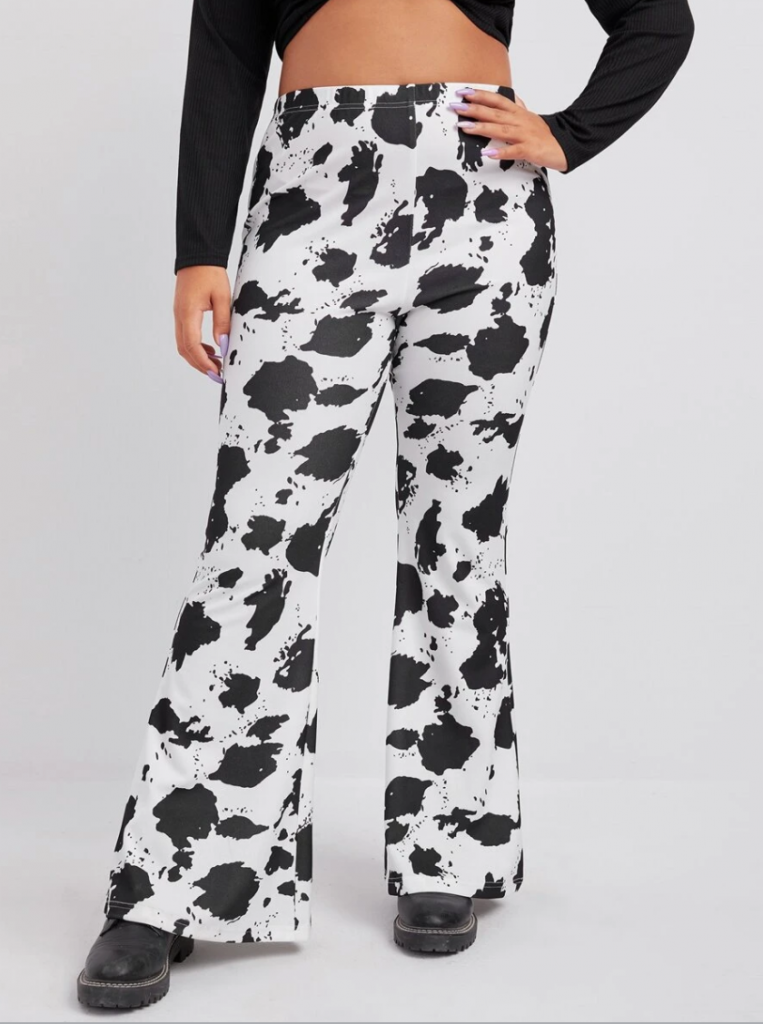 #6: Trash Queen – Plus Size Cow Print Crop Top ($34 USD)
I have been LOOKING for a plus size cow print crop top for such a long time, and I'm stoked that Trash Queen offers one!
This crop top is available in up to a 3X. From the brand: "Our crop tees are made from a breathable and very soft 90% cotton, 10% spandex stretch knit. The tee itself has slight boxy hem, and is cropped at the widest part of the ribcage."
Shop here!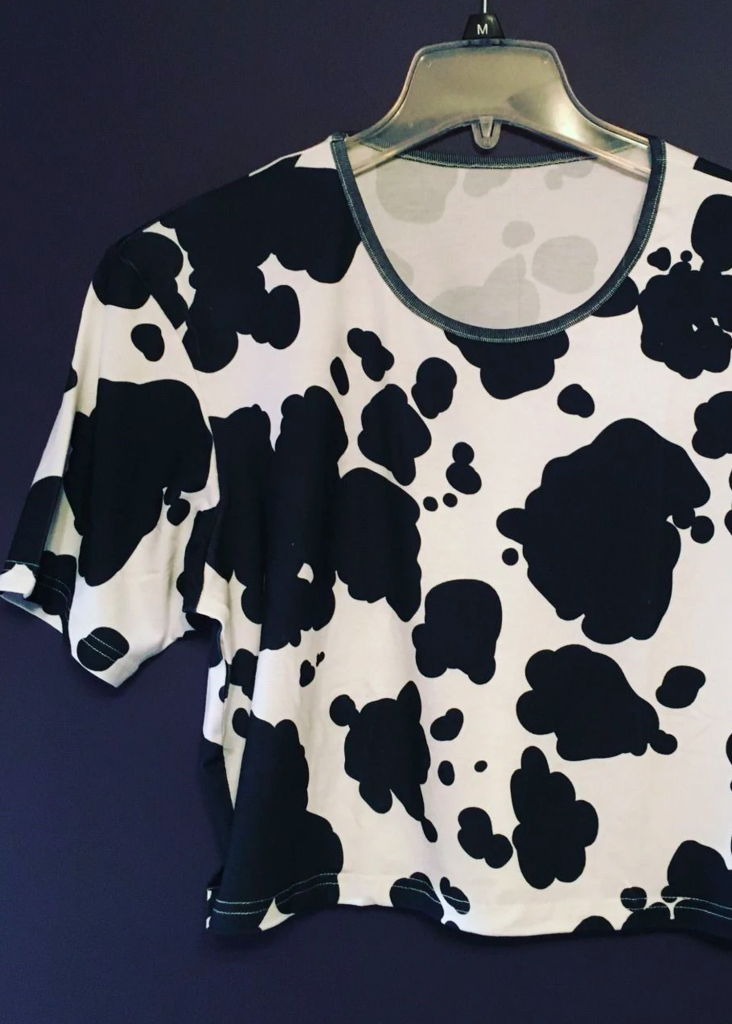 #7: Leaky Fashion – Plus Size Cow Print Bodysuit ($16 USD)
Looking for a plus size bodysuit in a cow print? I haven't heard of Leaky Fashion until TODAY, and I'm stoked to have found a cow pattern bodysuit that goes up to a 4X!
Shop here.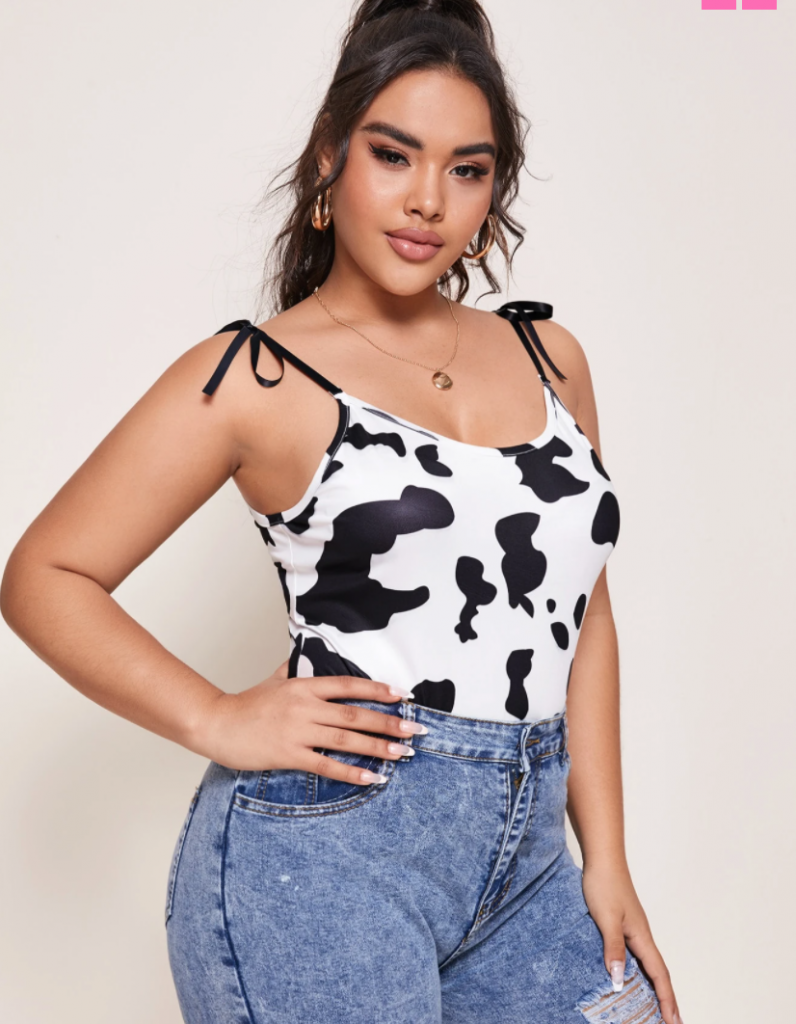 #8: Leaky Fashion – Plus Size Cow Print Cami Dress ($18 USD)
This plus size cow print dress is super fun, and I love that it's a bit more loose than a bodycon dress. There are endless ways to style this, from a jean or leather jacket, to adding vinyl black thigh high boots!
Shop here.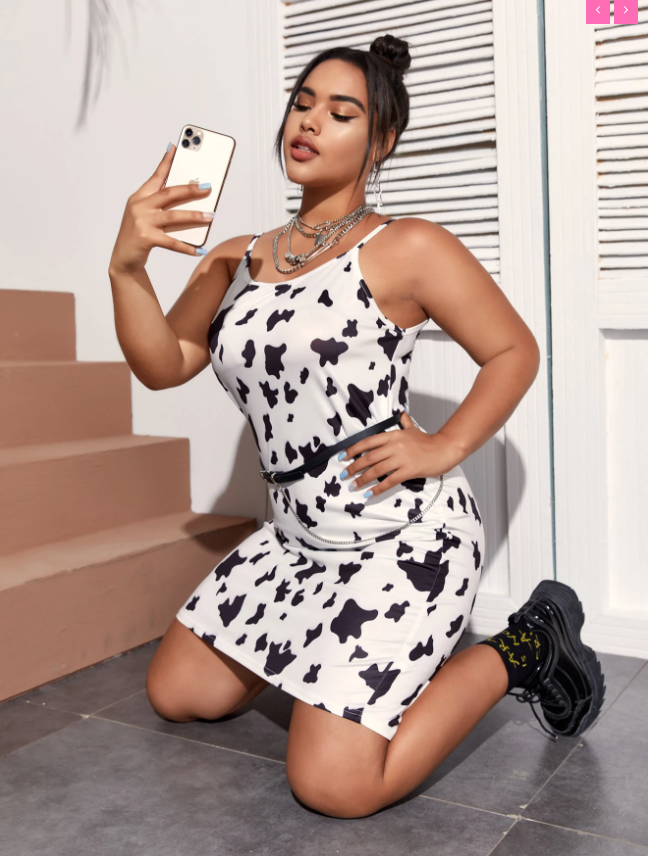 Cow Print Accessories – Face Mask, Fanny Packs & More!
So, sometimes we don't want to go FULL OUT with the cow print, and that's okay! We love a statement accessory that adds a little bit of fun and kitsche to an outfit.
Below, I've shared a few of my favorite cow print accessories!
#1: Cow Print Face Mask ($10 USD)
I did a whole roundup on plus size fabric face masks HERE, as well as a roundup on statement making//fashion fabric face masks HERE.
There are a variety of cow print fabric face masks available over on etsy, and this is one of my faves! I like face masks that go over the nose, and I like the unique print on this cow print face mask!
Shop here!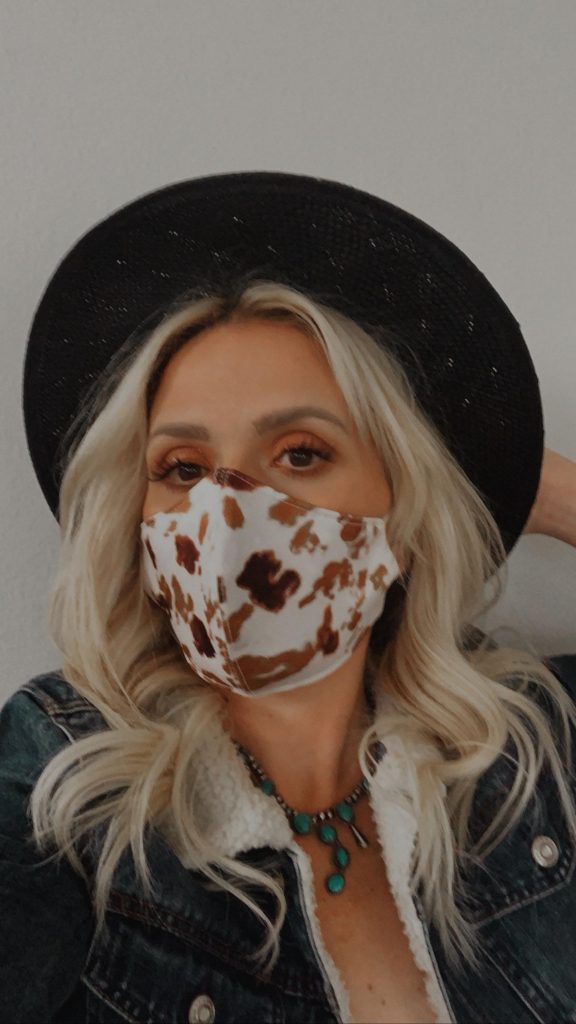 #2: Cow Print Mini Purse ($21)
We love a mini purse, especially one in a fun print!
Shop here!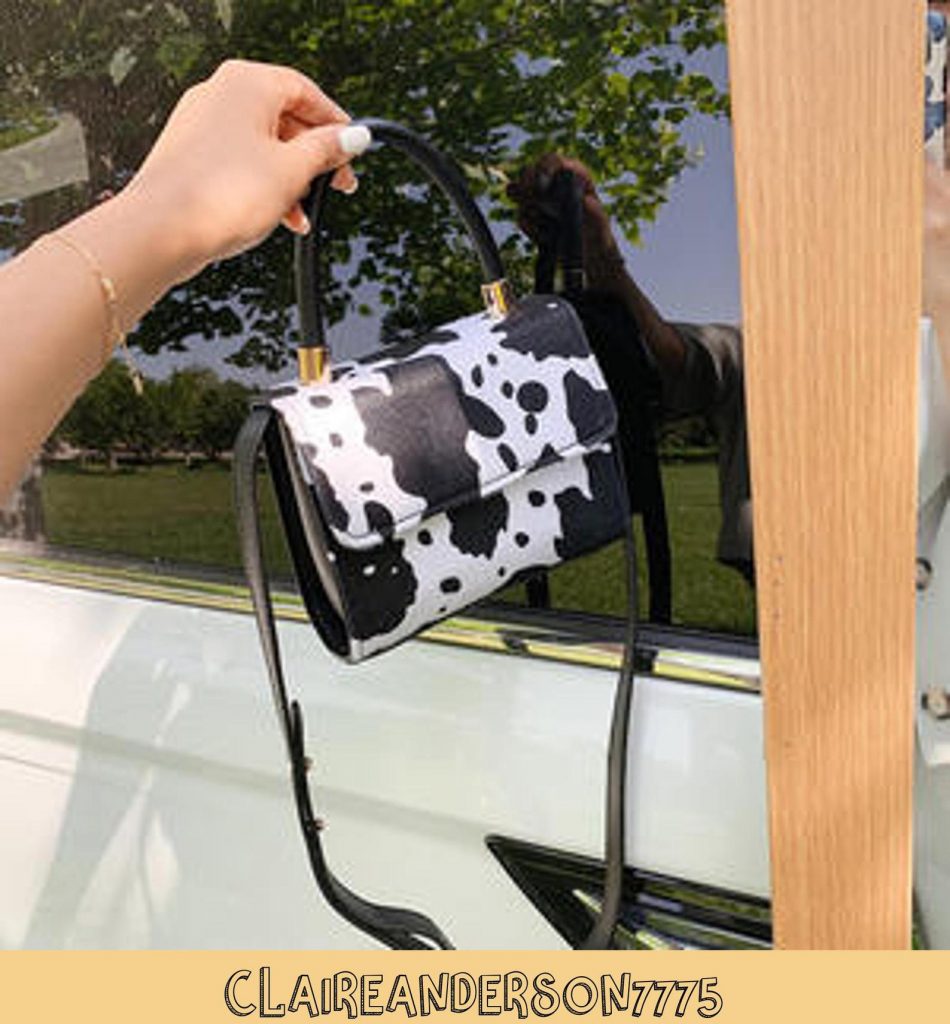 #3: Cow Print Polymer Clay Earrings ($12)
So, fun fact! Polymer earrings are actually incredibly lightweight! I love these smaller statement earrings, perfect for pairing with a black mock turtleneck top or other solid color ensemble!
Shop here!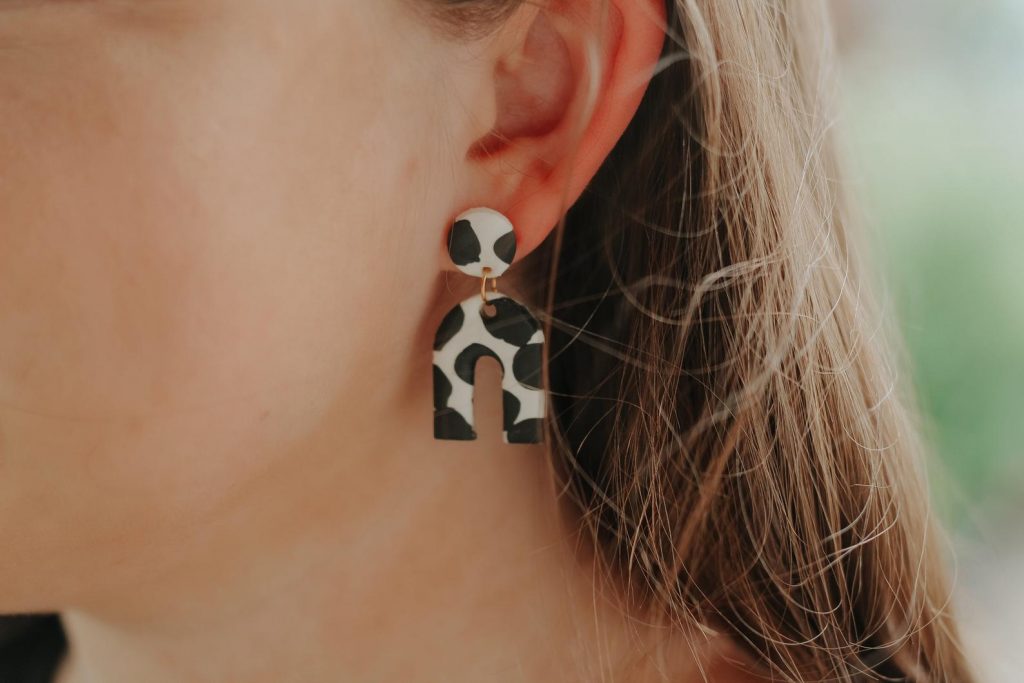 #4: Cow Print Backpack ($17.65 USD)
Sometimes, we need to carry a lot of stuff! This cow print backpack from ROMWE is super fun (love the little charm), and a great accessory for a more grunge (think band tees + high waisted jeans) outfit!
From the maker: "These unique earrings have gold sterling silver posts and backings."
Shop here!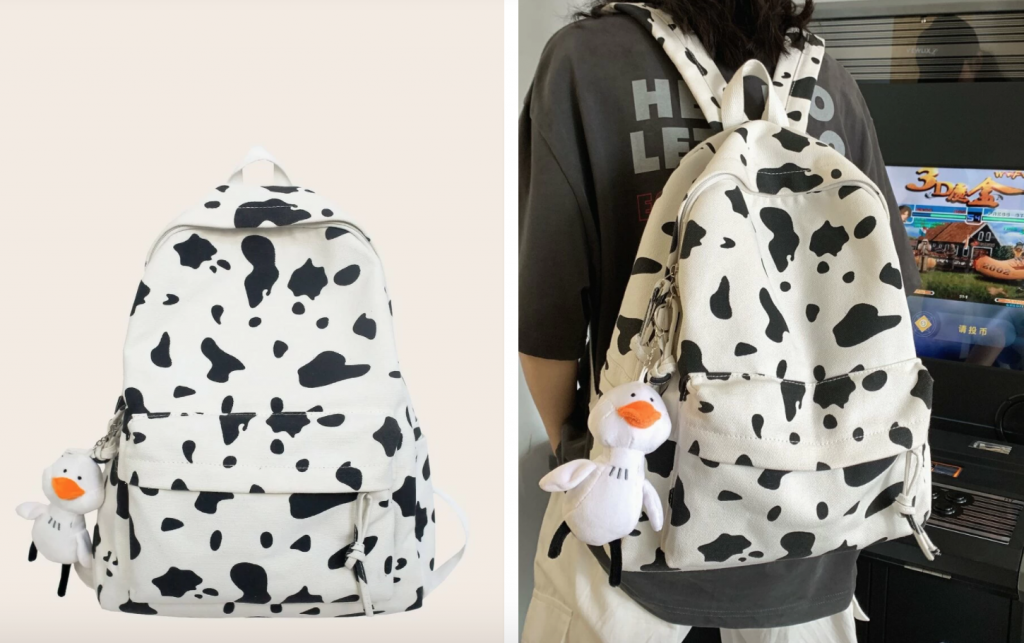 Other Hot Fashion Round Ups!
If you're into cow print, then you're probably into statement making fashion! Here are a few other roundups I think that you'll love!
Hi, I'm Brianne!
If you've landed on this blog post, it probably means that you're a fan of plus size fashion and trends! I'm a plus size fashion blogger and designer, and I love sharing plus size fashion recs – and sharing fashion photos to my Instagram!
I like to think of myself as a personal shopper for my readers, and I'd love to share my recs with you! Subscribe to my email list by clicking here!