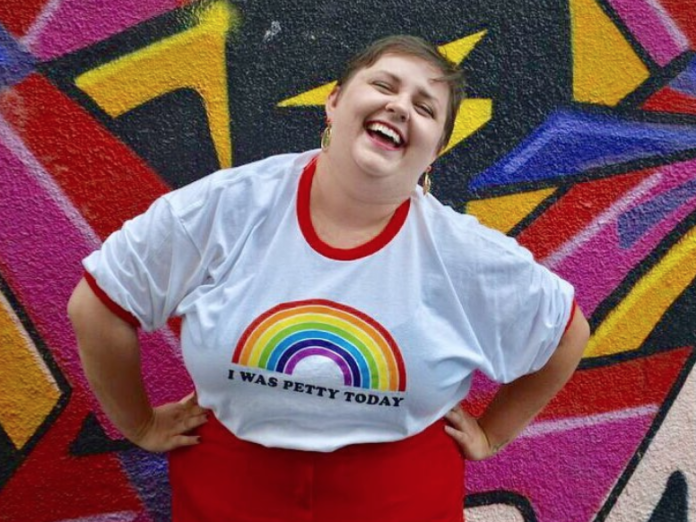 PRIDE MONTH IS ALMOST HEREEEEEEEE!!
In the past, I've usually attended, minimum, 3 pride weekends around the USA.  This year, I'm staying closer to home to work on my fashion collection, but I have so MANY THOUGHTS AND TIPS ON PUTTING TOGETHER OUTFITS FOR PRIDE.
On Theme or No?
The first thing you'll have to decide is whether or not you want to dress "on theme."  Put another way, "Do you want rainbows or nah?"  This blog post will be for the "Rainbow Brigade," and I'll post next week with ideas for Pride OOTDs that are a little toned down!
Remember: Gender is a social construct, so wear what YOU want!  I've included items from both "mens" and "womens" sections below!!
Rainbows Everywhere!!
Lemon Zesty
Bring your gay and petty ass to pride with this "I was Petty Today" tee from Lemon Zesty.
ASOS CURVE
Y'all, this UK-based company has some great rainbow plus picks for pride.  Unfortunately, most of them are soldout!  WTF?!
This Off the Shoulder Rainbow Strip Sundress ($29) is super cute!  Pop some Undersummers shorts on as well, and be cute without worrying about your thighs chaffing!
They are NOT ready for this jelly!  This Plus Longline T-shirt with Extreme Rainbow Fringe Back ($48) is going to make everyone want to take a boomerang with you, ASAP!
Hot Topic Pride Picks
Y'all, Hot Topic BROUGHT IT with their rainbow offering this summer.  Is anyone surprised?  While Hot Topic is known for creating clothes for Rebellious Youths™, don't let your age keep you from poking around!
How cute are these  BlackHeart Rainbow Ombre Plus Size Shorts ($34.99)?  They're a mid rise and go up to a size 28!  Perfect for babes who want to mix it up a little bit, and leave the rainbow tees at home.
Love the shorts idea, but don't want to go FULL rainbow?  These Plus Size Indigo Rainbow Denim Shorts ($34.99) have a rainbow stripe that goes down the side.  Great for some queer signaling for more minimalist babes! 
Lane Bryant Pride Collection
Lane Bryant recently launched "The Pride Collection," which has fun rainbows, undies and cute tees!  ALSO!  10% of sales will be donated to GLSEN®, a nonprofit creating safe and inclusive K-12 schools for all students, regardless of sexual orientation, gender identity, or gender expression.
This Fast Lane Love Pride Graphic Tee is $34.95. 
Target Pride T-Shirt
Normally, Target BRINGS IT for Pride looks, but this year I found one t-shirt.  #Awkward.  This cut off tee is perfect for summer days, but remember to put on your SPF when you wear it out and about.
ModCloth
ModCloth has rainbows all over their website, and this "It's Only Bright Knit Halter Top" plus size dress ($75) is perfect for Femme babes!
Y'all, hydrating at Pride is important because it is HOT.  Wear this $35 TomboyX Pride Sports Bra, and avoid sweat stains!  TomboyX is also owned by a queer couple, so shopping here really keeps money in the family.  I'm a 40H and I wear a 4X in TomboyX!
Finally, when it comes to choosing outfits for pride – be sure to poke around to see if a brand is donating proceeds from a pride clothing piece or is actually, you know, doing stuff for the LGBTQ community.